Portrait photography, or portraiture, is probably the most popular and one of the oldest forms of photography. Portraits are often about capturing the personality of the subject, using effective lighting, backdrops, and a variety of different candid and staged poses.
But more and more photographers take their portraits around the world without the help of a studio environment. Portrait photography, in this case, seems even more honest and candid, compared to staged pictures, as some of these people might be photographed for the first time in their life.
All About Photo has compiled the most interesting examples of such photography. Below is our list of 20 famous portrait photographers who have been able to unveil the raw beauty of our fellow humans. In this list, you'll find a mixture of famous portrait photographers from past and present to get you inspired.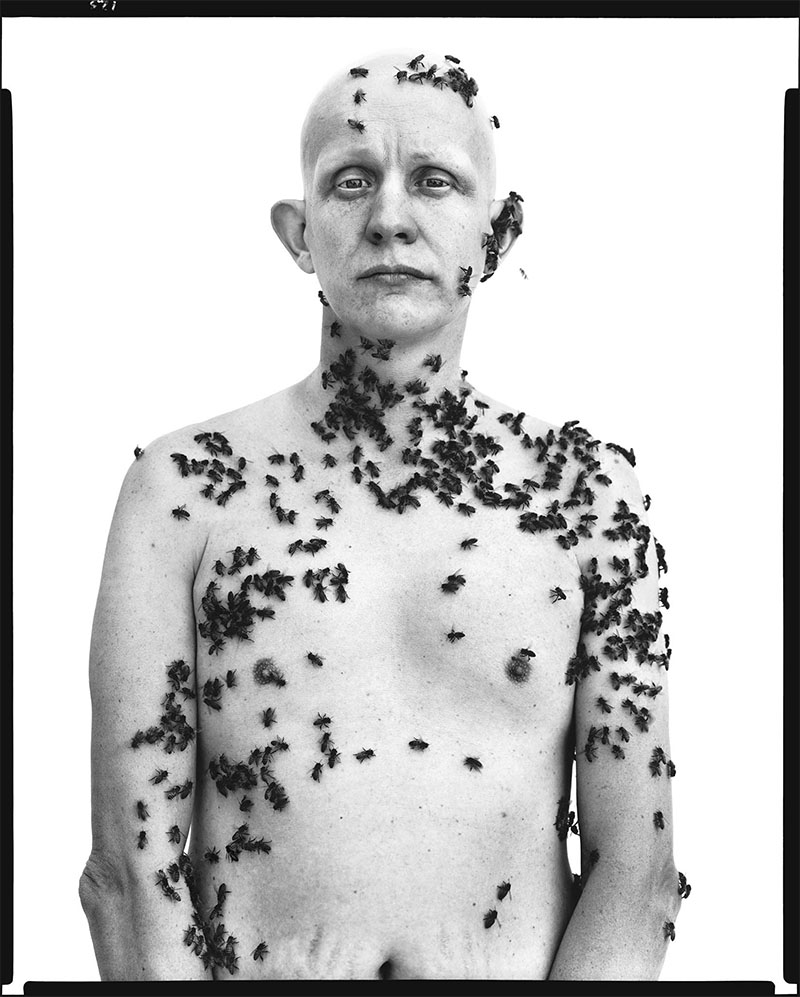 Ronald Fischer, beekeeper, Davis, California, May 9, 1981 - Courtesy The Richard Avedon Foundation / © Richard Avedon
Richard Avedon
"A portrait is not a likeness. The moment an emotion or fact is transformed into a photograph it is no longer a fact but an opinion. There is no such thing as inaccuracy in a photograph. All photographs are accurate. None of them is the truth."
Richard Avedon (1923 - 2004) was an American fashion and portrait photographer. From the beginning of his career, he made formal portraits for publication in Theatre Arts, Life, Look, and Harper's Bazaar magazines, among many others. He was fascinated by photography's capacity for suggesting the personality and evoking the life of his subjects. He registered poses, attitudes, hairstyles, clothing and accessories as vital, revelatory elements of an image. He had complete confidence in the two-dimensional nature of photography, the rules of which he bent to his stylistic and narrative purposes.
More About Richard Avedon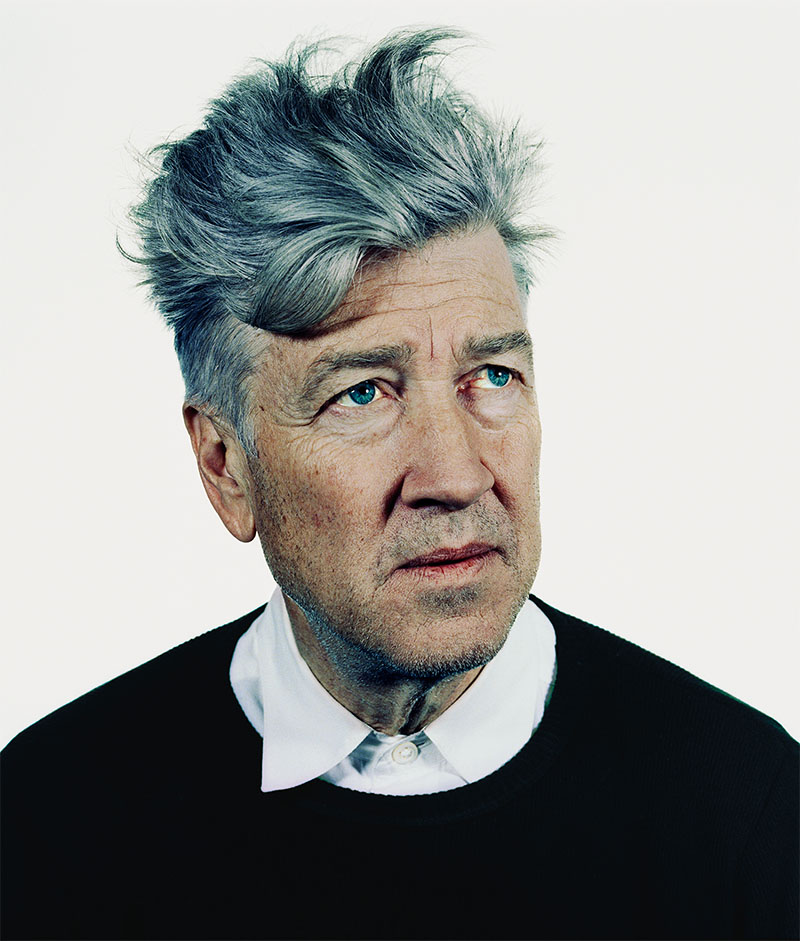 David Lynch - Courtesy Trunk Archives / © Nadav Kander
Nadav Kander
"Just showing positive, expected images of beauty and airbrushing away the conditions that make us human seems like a deception to me."
Nadav Kander is a London-based photographer, artist, and director. His work forms part of the public collection at the National Portrait Gallery and the Victoria and Albert Museum in London. Kander's work is also exhibited in numerous international galleries and museums. Renowned for his portraiture, he has, throughout his illustrious career photographed some of the most prominent figures from across art, sport and politics, most famously Barack Obama, who he captured, after his inauguration, for the cover of the New York Times Magazine. Whoever his sitter may be and what stature they may hold, Kander's aims in portraiture remain the same—to demonstrate the humanity within, rather than making a simple documentation:
"Revealed and concealed, beauty and destruction, ease and disease, shame and shameless."
as the photographer puts it.
More About Nadav Kander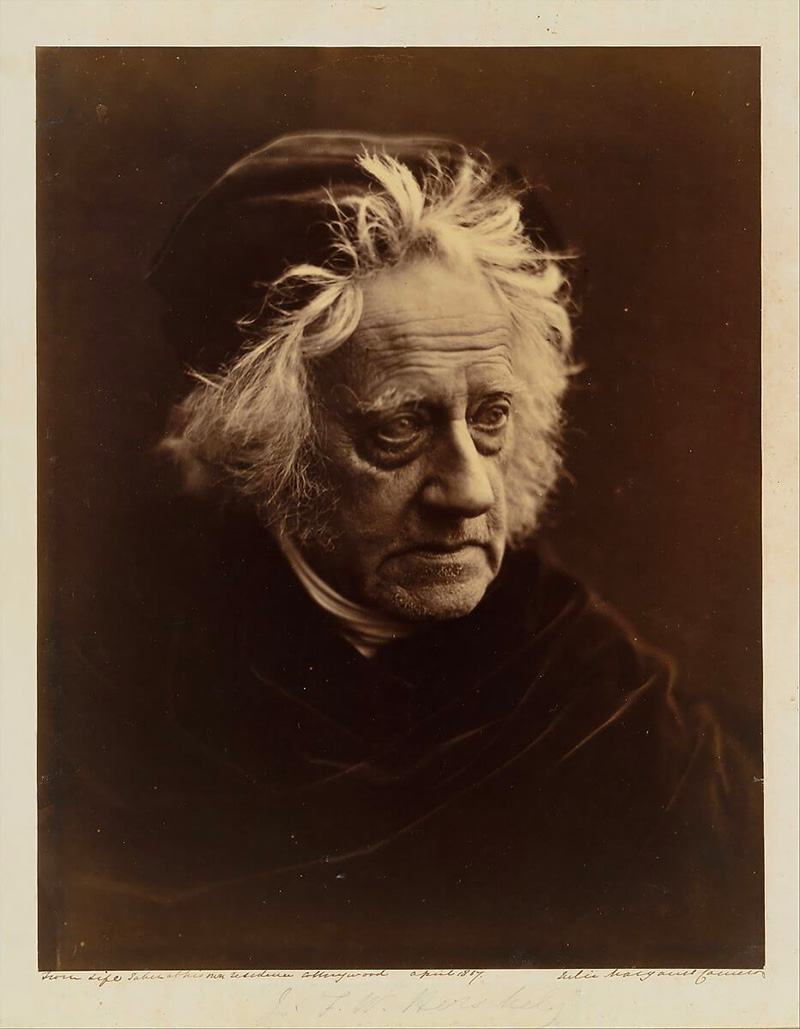 Sir John Herschel April 1867, Gilman Collection, Purchase, Robert Rosenkranz Gift, 2005, The MET © Julia Margaret Cameron
Julia Margaret Cameron
"From the first moment I handled my lens with a tender ardour, and it has become to me as a living thing, with voice and memory and creative vigour."
Julia Margaret Cameron (1815 - 1879) was a British photographer. She became known for her portraits of celebrities of the time, and for photographs with Arthurian and other legendary themes. Cameron had left no mark on the aesthetic history of photography because her work was not appreciated by her contemporaries and thus not imitated. But this situation was evidently already changing by then thanks to his popularisation of her work, for instance in 1975, Imogen Cunningham had commented
"I'd like to see portrait photography go right back to Julia Margaret Cameron. I don't think there's anyone better."
More About Julia Margaret Cameron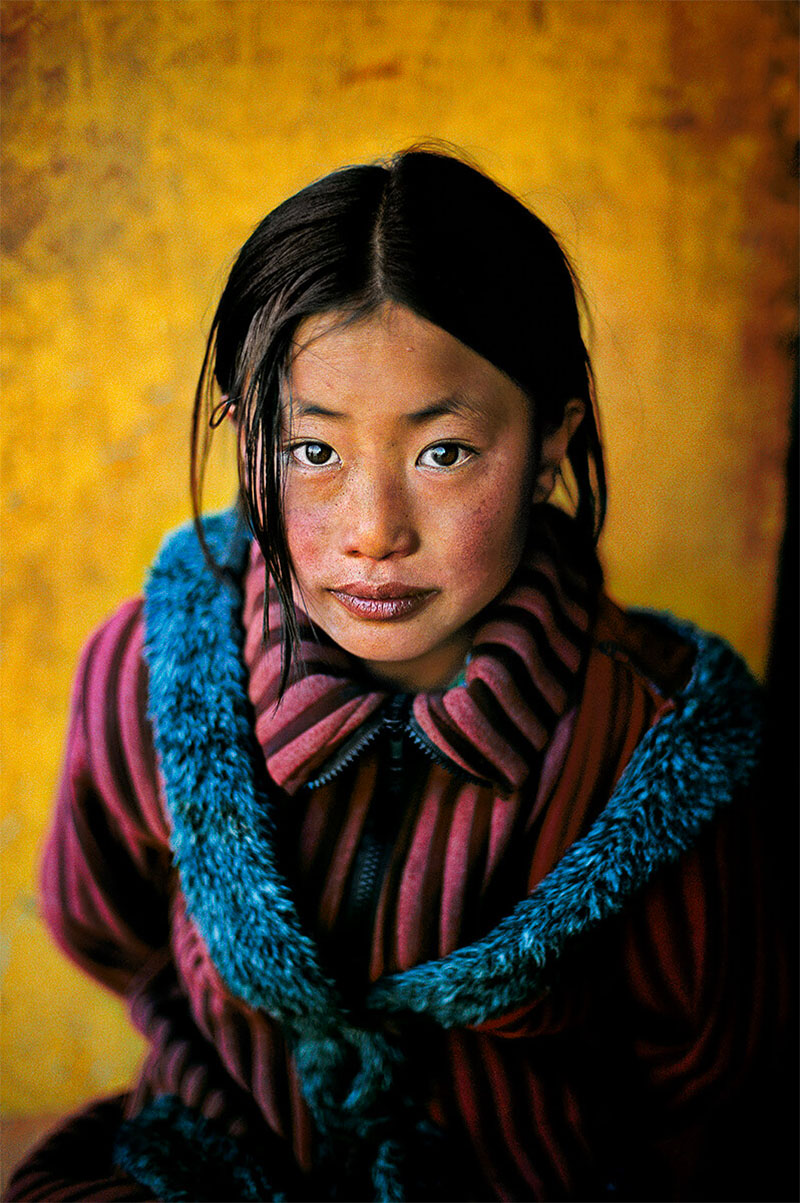 Xigaze, Tibet, 2001 Courtesy Magnum Photos / © Steve McCurry
Steve McCurry
"My life is shaped by the urgent need to wander and observe, and my camera is my passport."
Steve McCurry has been one of the most iconic voices in contemporary photography for more than 30 years, with scores of magazine and book covers, over a dozen books, and countless exhibitions around the world to his name. Steve McCurry's singular use of colour and intuitive timing unites his compositions. McCurry has photographed across the globe, producing vibrant and energetic photographs that document the breadth of human experience.
More About Steve McCurry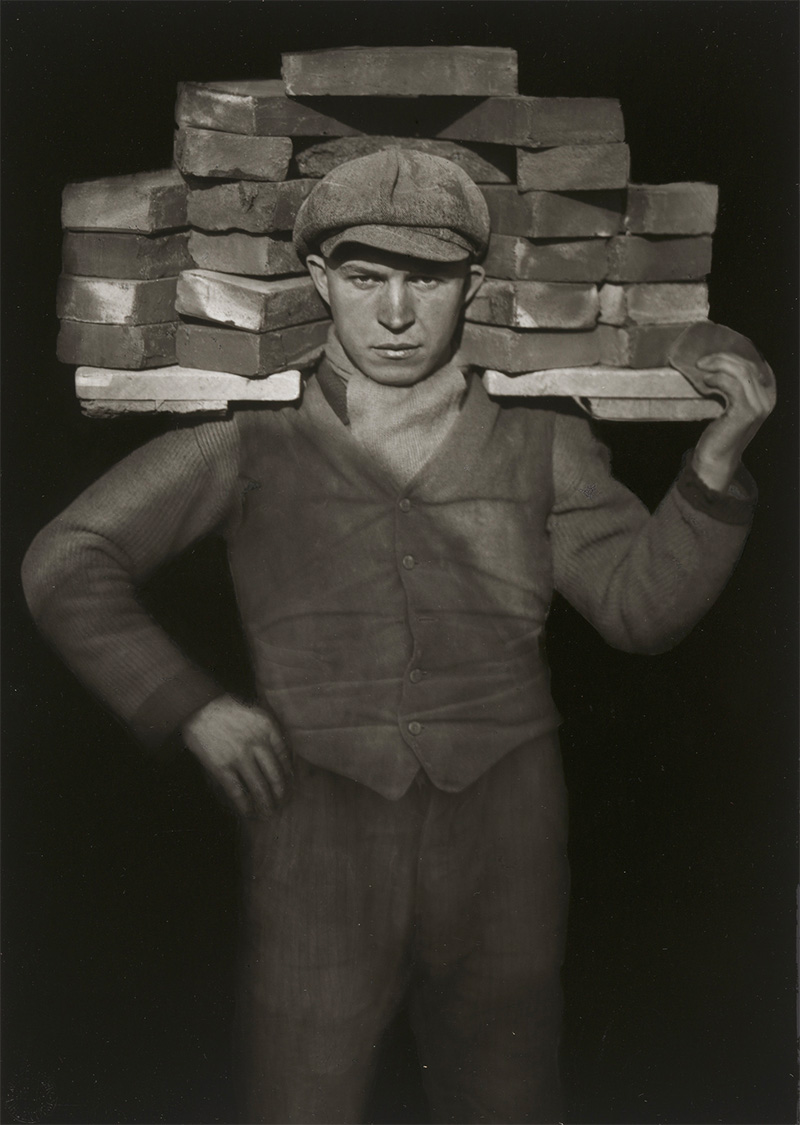 Bricklayer, 1928 © August Sander
August Sander
"Pure photography allows us to create portraits which render their subjects with absolute truth, truth both physical and psychological."
August Sander was a German portrait and documentary photographer. As a practitioner of New Objectivity, an avant-garde art movement that sought to depart from abstraction and artifice and return to realism, Sander wanted his photographs to expose truths.
"Pure photography allows us to create portraits which render their subjects with absolute truth,"
he said.
"If we can create portraits of subjects that are true, we thereby in effect create a mirror of the times."
Though his desire was to
"honestly tell the truth about our age and people,"
Sander's depiction of German people is unavoidably subjective.
More About August Sander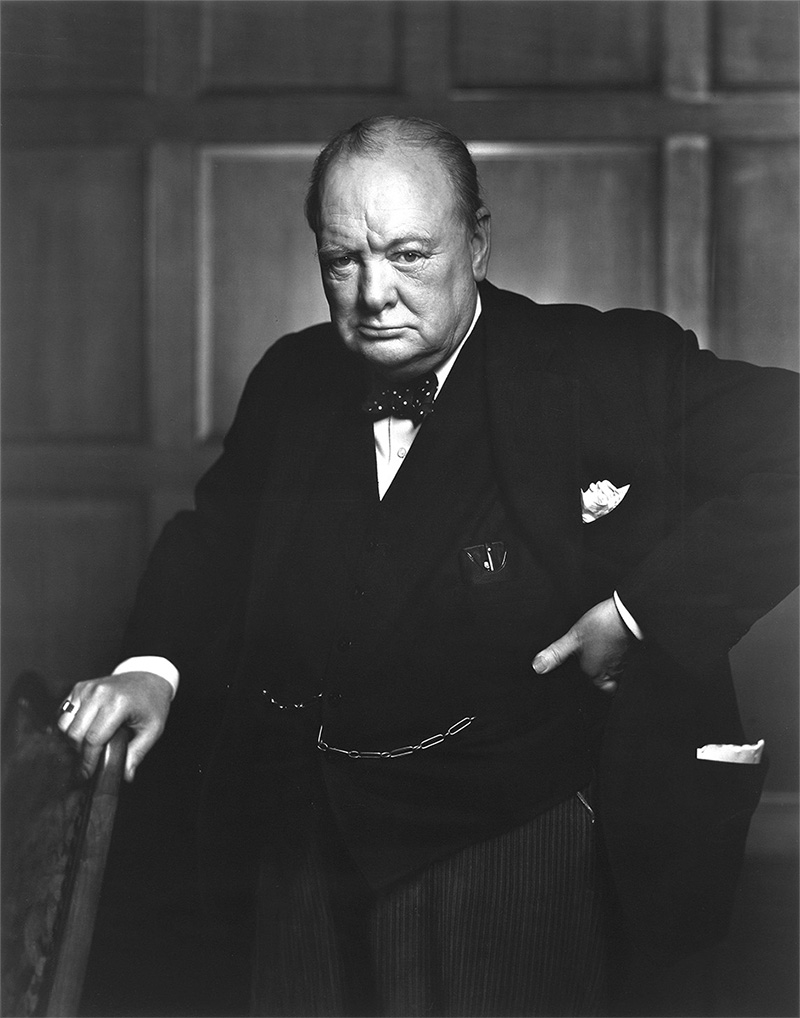 Portrait of Winston Churchill, titled The Roaring Lion, 1941 - Yousuf Karsh. Library and Archives Canada, e010751643 © Yousuf Karsh
Yousuf Karsh
"If it's a likeness, alone, it's not a success. If, through my portraits, you can come to know the subjects more meaningfully, if it synthesizes your feelings toward someone whose work has imprinted itself on your mind—if you see a photograph and say, 'Yes, this is the person,' with a little new insight—that is a beautiful experience."
Yousuf Karsh is the most renowned portrait photographer of our time. He has perceptively photographed the statesmen, artists, and literary and scientific figures that have shaped our lives in the 20th century. Known for his ability to transform
"the human face into legend,"
many of the portraits that he created have become virtually the image of the great man or woman they portray, whether Winston Churchill, Ernest Hemingway, Albert Einstein, Georgia O'Keefe or Helen Keller.
More About Yousouf Karsh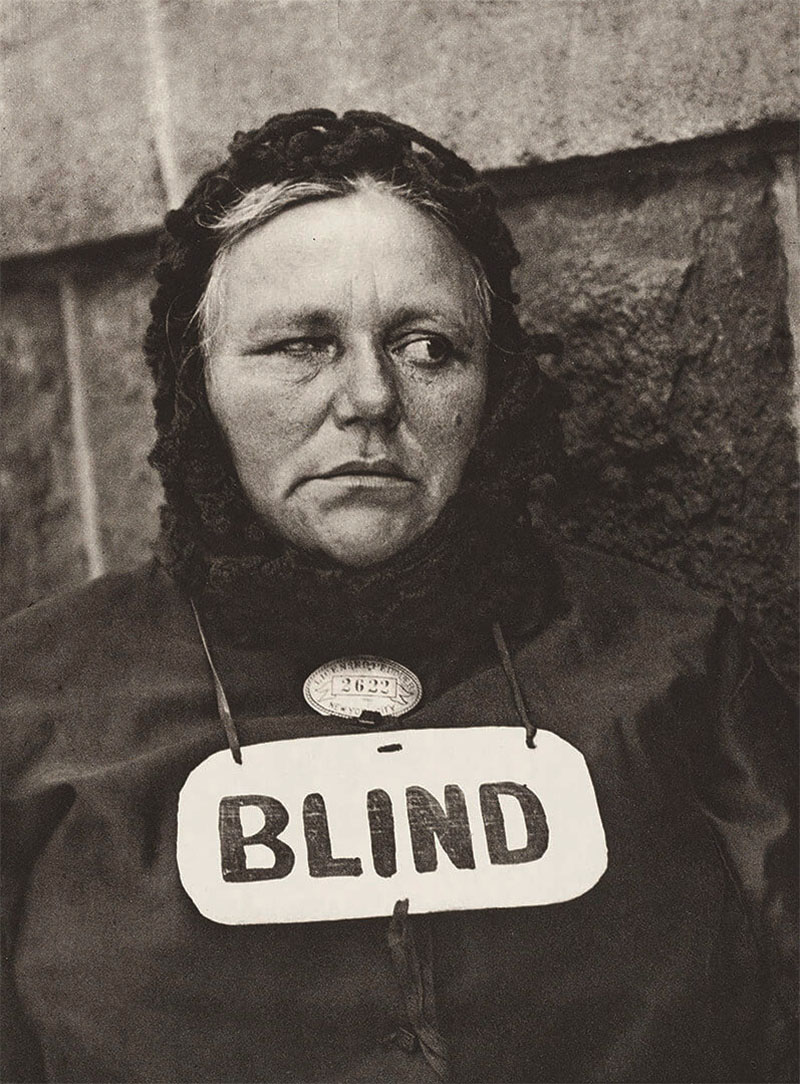 Blind Woman, New York, 1916 Courtesy Aperture Foundation, Inc., Paul Strand Archive / © Paul Strand
Paul Strand
"I don't care how you photograph—use the kitchen mop if you must, but if the product is not true to the laws of photography... you have produced something that is dead."
Paul Strand (1890 - 1976) was an American photographer and filmmaker who, along with fellow modernist photographers like Alfred Stieglitz and Edward Weston, helped establish photography as an art form in the 20th century. Although Strand is best known for his early abstractions, his return to still photography in this later period produced some of his most significant work in the form of six book 'portraits' of place.
More About Paul Strand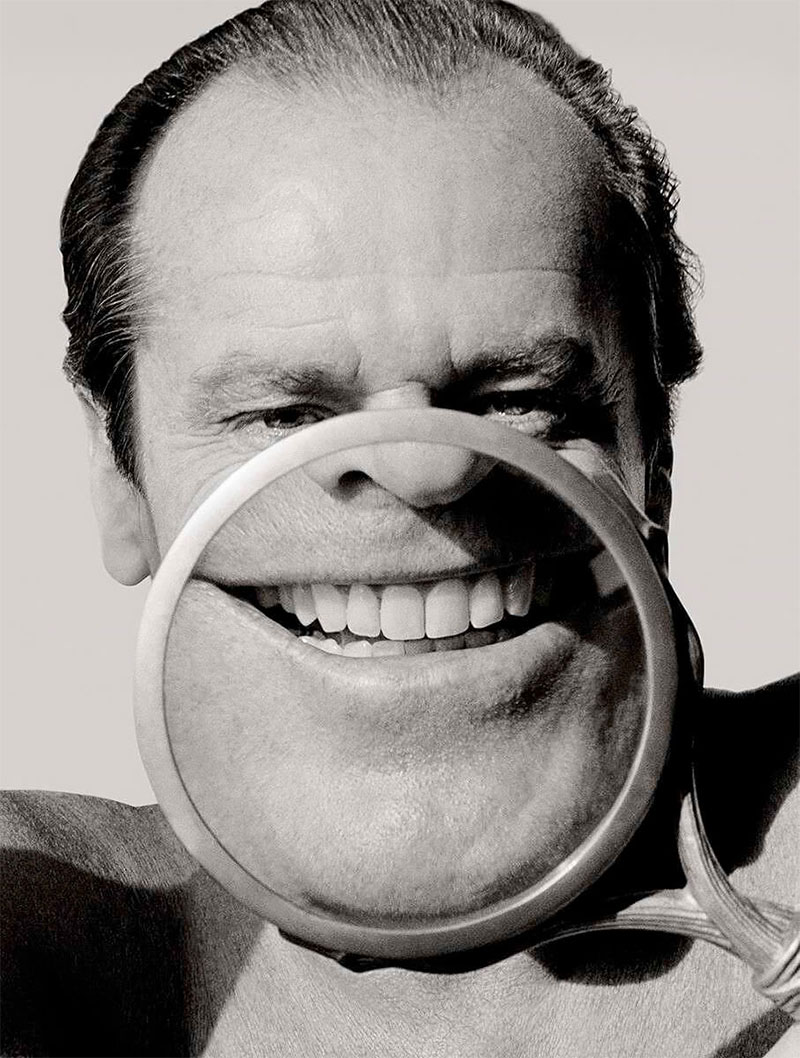 1986 Jack Nicholson los angeles MFA Collection portrait Courtesy Trunk Archive / © Herb Ritts
Herb Ritts
"Today a lot of things are so celebrity-oriented; it's only because it's a celebrity and the photograph is lost. To me, it's important to have an image that is a photograph first, not about necessarily who that person is."
Herb Ritts (1952 - 2002) began his photographic career in the late '70s and gained a reputation as a master of art and commercial photography. In addition to producing portraits and editorial fashion, Ritts also created successful advertising campaigns. In his life and work, Herb Ritts was drawn to clean lines and strong forms. This graphic simplicity allowed his images to be read and felt instantaneously. They often challenged conventional notions of gender or race. His fine art photography has been the subject of exhibitions worldwide, with works residing in many significant public and private collections.
More About Herb Ritts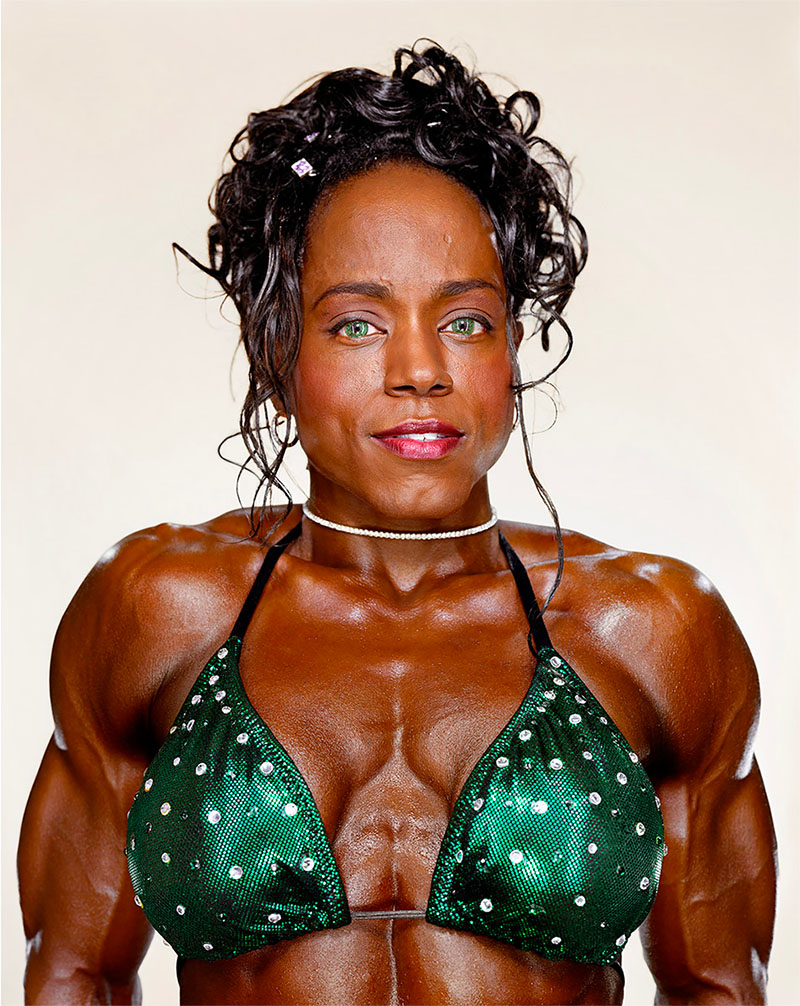 Female Body Builders 1 © Martin Schoeller
Martin Schoeller
"Get off your phones and computers—they don't take good pictures... Original ideas come from experiences and the people around you."
Martin Schoeller is one of the world's preeminent contemporary portrait photographers. He is most known for his extreme-close up portraits, a series in which familiar faces are treated with the same scrutiny as the unfamous. The stylistic consistency of this work creates a democratic platform for comparison between his subjects, challenging a viewer's existing notions of celebrity, value and honesty. Schoeller's close-up portraits emphasize, in equal measure, facial features, of his subjects - world leaders and indigenous groups, movie stars and the homeless, athletes and artists - leveling them in an inherently democratic fashion.
More About Martin Schoeller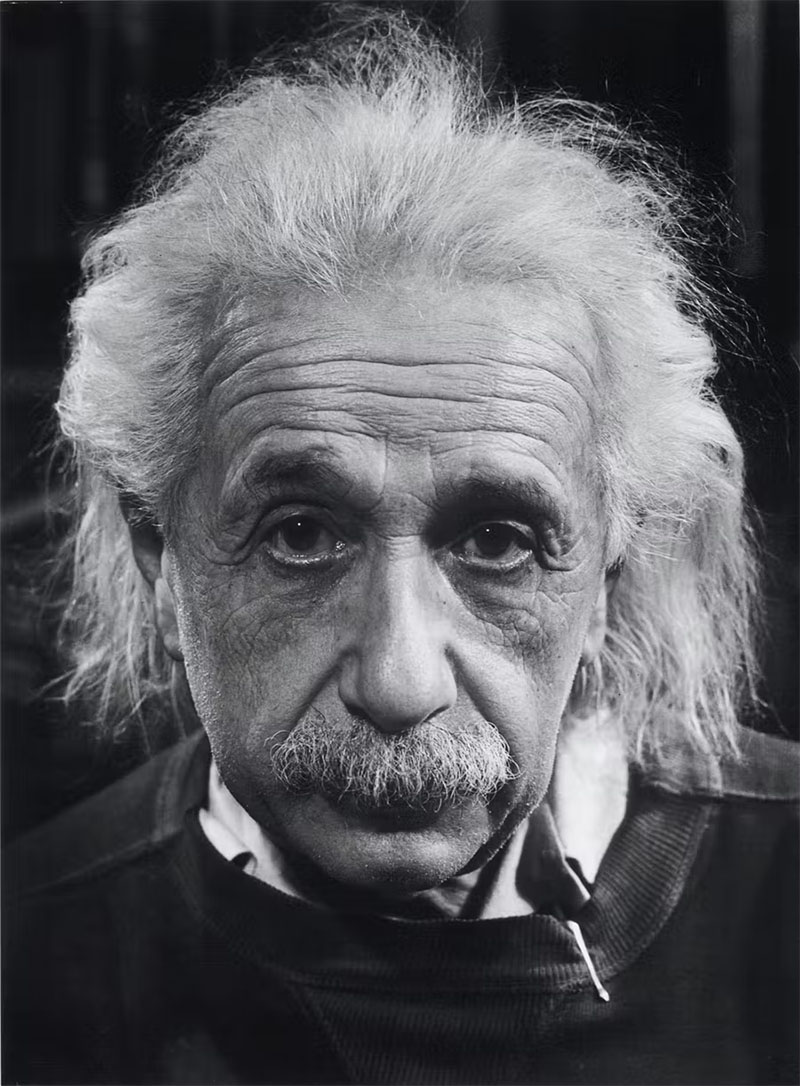 Albert Einstein Courtesy Magnum Photos / © Philippe Halsman
Philippe Halsman
"Every face I see seems to hide and sometimes, fleetingly, to reveal the mystery of another human being… Capturing this revelation became the goal and passion of my life."
Philippe Halsman was born in Riga, Latvia and began his photographic career in Paris. In 1934 he opened a portrait studio in Montparnasse, where he photographed many well-known artists and writers — including André Gide, Marc Chagall, Le Corbusier, and André Malraux, using an innovative twin-lens reflex camera that he designed himself. Over the course of his career, Halsman enjoyed comparing his work to that of a good psychologist who regards his subjects with special insight. With his courtly manners and European accent, Halsman also fit the popular stereotype at a time when Americans regarded psychology with fascinated skepticism. In fact, Halsman was proud of his ability to reveal the character of his sitters. As he explained,
"It can't be done by pushing the person into position or arranging his head at a certain angle. It must be accomplished by provoking the victim, amusing him with jokes, lulling him with silence, or asking impertinent questions which his best friend would be afraid to voice."
More About Philippe Halsman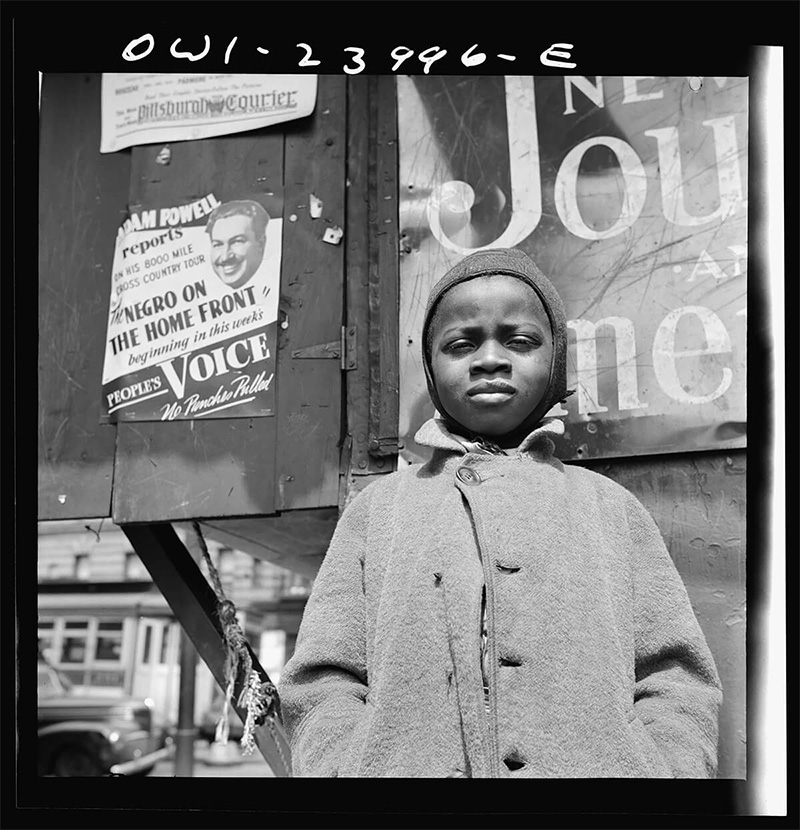 New York, New York. A Harlem newsboy May 1943 © Gordon Parks
Gordon Parks
"I picked up a camera because it was my choice of weapon against what I hated most about the universe: racism, intolerance, poverty. I could have just as easily picked up a knife or gun, like many of my childhood friends did…"
Gordon Parks, one of the greatest photographers of the twentieth century, was a humanitarian with a deep commitment to social justice. He left behind an exceptional body of work that documents American life and culture from the early 1940s into the 2000s, with a focus on race relations, poverty, civil rights, and urban life. His extraordinary pictures allowed him to break the color line in professional photography while he created remarkably expressive images that consistently explored the social and economic impact of poverty, racism, and other forms of discrimination.
More About Gordon Parks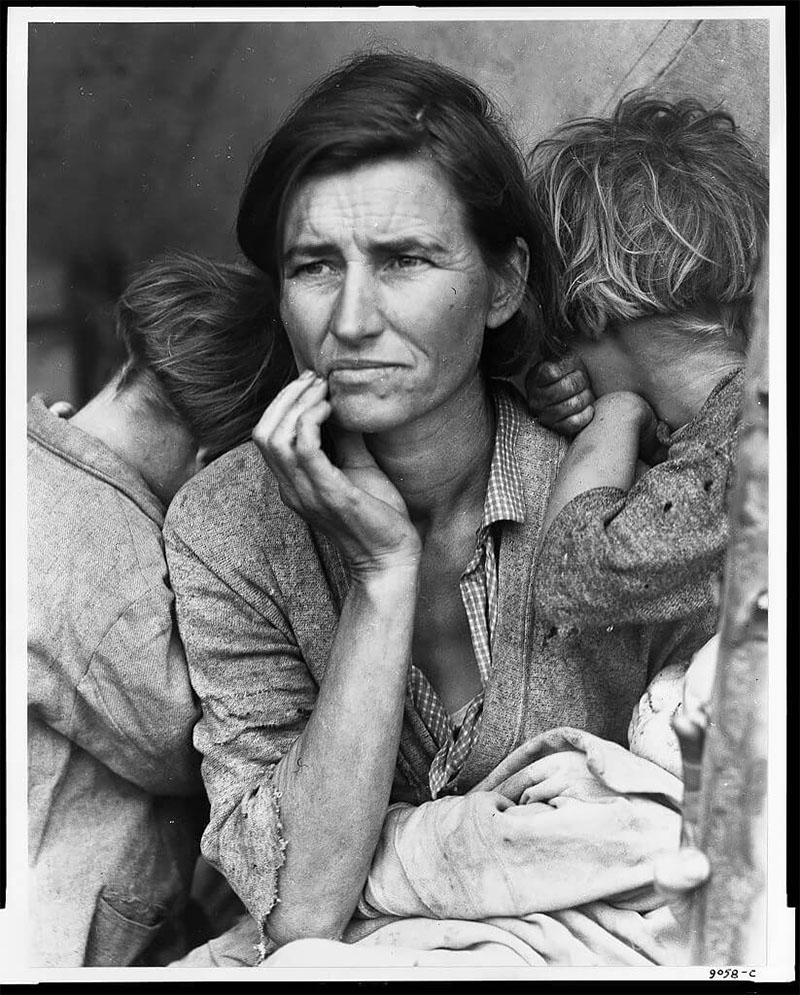 Migrant Mother, Nipomo, California, 1936, Farm Security Administration, Office of War Information Photograph Collection, Library of Congress © Dorothea Lange
Dorothea Lange
"The camera is an instrument that teaches people how to see without a camera."
Dorothea Lange (1895 - 1965) was an American documentary photographer and photojournalist, best known for her Depression-era work for the Farm Security Administration (FSA). Lange had little interest in classifying her photographs as art: she made them to effect social change. Although she had led a successful career as a portrait photographer in San Francisco throughout the 1920s, by 1933, at the height of the Great Depression, she began to photograph life outside her studio. Lange's photographs influenced the development of documentary photography and humanized the consequences of the Great Depression.
More About Dorothea Lange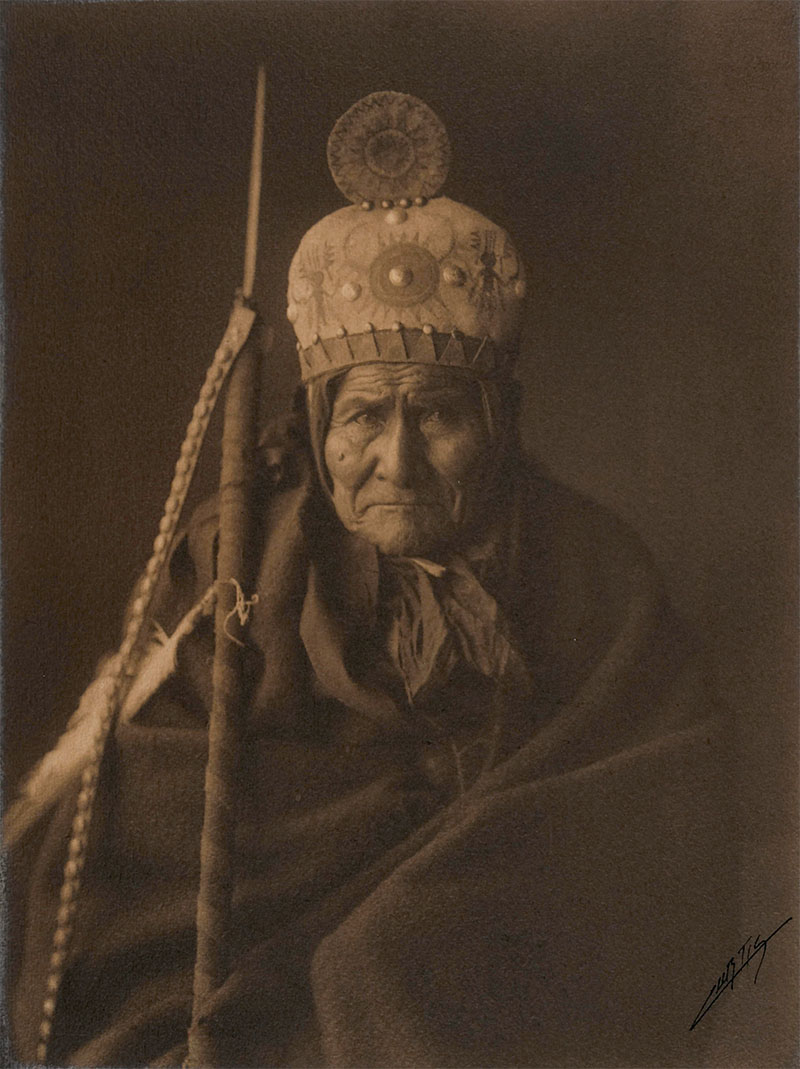 Portrait of Geronimo holding a lance and wearing a leader's cap. © Edward Sheriff Curtis
Edward S. Curtis
"For every negative that is a disappointment, there is one that is a joy."
Born in 1868 near Whitewater, Wisconsin, Edward Sheriff Curtis became one of America's finest photographers and ethnologists. By age 17, he was an apprentice at a studio in St. Paul, Minnesota, and his life seemed to be taking a familiar course for a young man with a marketable trade, until the Curtis family packed up and moved west, eventually settling in Seattle. There, Curtis married 18-year-old Clara Phillips, purchased his own camera and a share in a local photography studio. The young family lived above the thriving Curtis Studio, which attracted society ladies who wanted their portraits taken by the handsome, athletic young man who made them look both glamorous and sophisticated. And it was in Seattle in 1895 where Curtis did his first portrait of a Native American. These portraits represent ideals and imagery designed to create a timeless vision of Native American culture at a time when modern amenities and American expansion had already irrevocably altered the Indian way of life.
More About Edward S. Curtis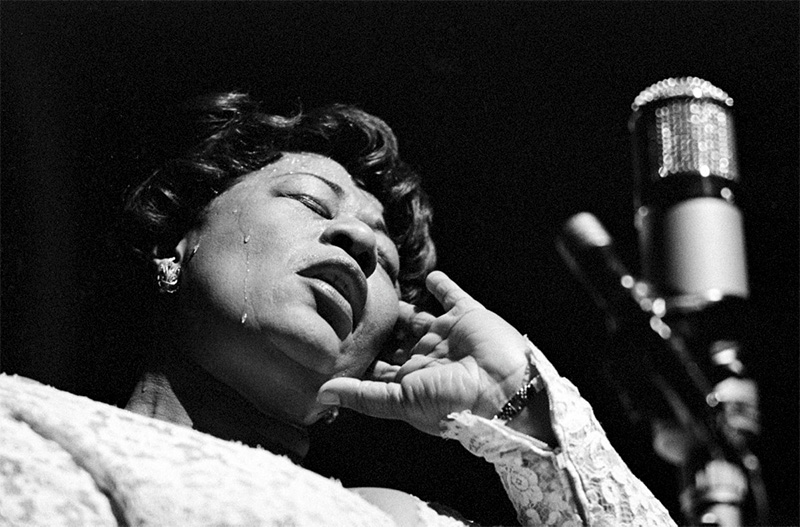 Ella Fitzgerald, Paris, Olympia Theatre, 1960 © Herman Leonard
Herman Leonard
"Tell the truth, but in terms to beauty."
Herman Leonard took intimate, decisive photographs of nearly every now-legendary jazz singer and musician, amassing a visual record of the genre's heyday in New York and Paris from the 1940s to the '60s. Throughout his long life, he traveled and lived around the world, capturing images with his distinctive style. Whether he was photographing Miles Davis, Frank Sinatra, Louis Armstrong or a street musician in his home in New Orleans, Herman's smile, warmth and engaging personality continued to open doors for him and his camera.
More About Herman Leonard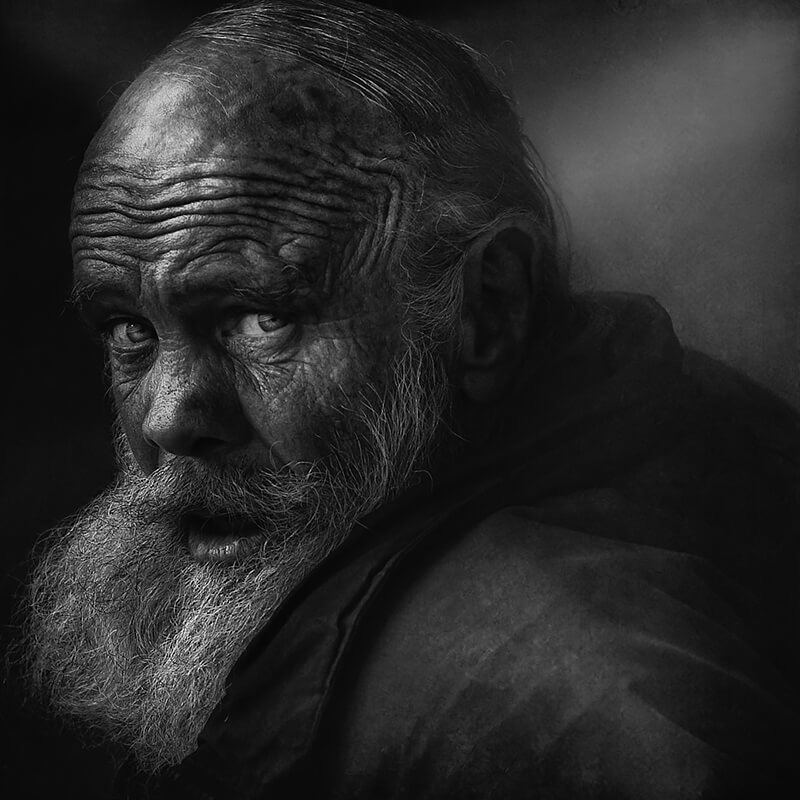 Lee Jeffries
"Situations arose, and I made an effort to learn to get to know each of the subjects before asking their permission to do their portrait."
Lee Jeffries lives in Manchester in the United Kingdom. Close to the professional football circle, this artist starts to photograph sporting events. A chance meeting with a young homeless girl in the streets of London changes his artistic approach forever. Since that day Lee has been on a mission to raise awareness of – and funds for – the homeless. His work features street people from the UK, Europe, and the US whom he gets to know by living rough with them, the relationship between them enabling him to capture a searing intimacy and authenticity in his portraits.
More About Lee Jeffries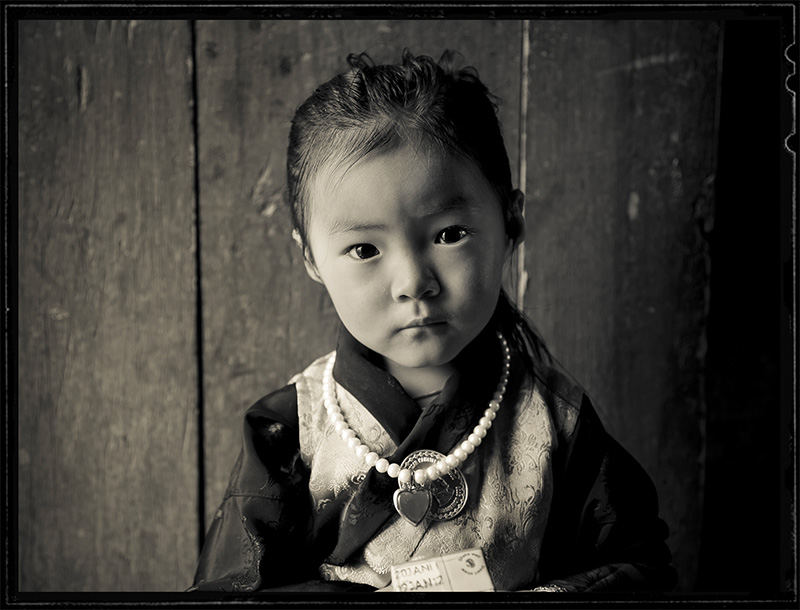 Lisa Kristine
"I want a person to feel at ease with me, so that they remain who they are and are unchanged by a new, foreign element such as a stranger (myself) or a camera. In order for me to photograph a person in this unaffected environment of 'self,' there must be a firm trust between us. Without this, one might still create a beautiful image, but not a stirring one."
Acclaimed humanitarian photographer Lisa Kristine specializes in images of remote indigenous peoples. Best known for her evocative and saturated use of color, her fine art prints are among the most sought after and collected in the world. Lisa has documented in over 100 countries on six continents, using a 19th century 4×5" field view camera for the majority of her work.
More About Lisa Kristine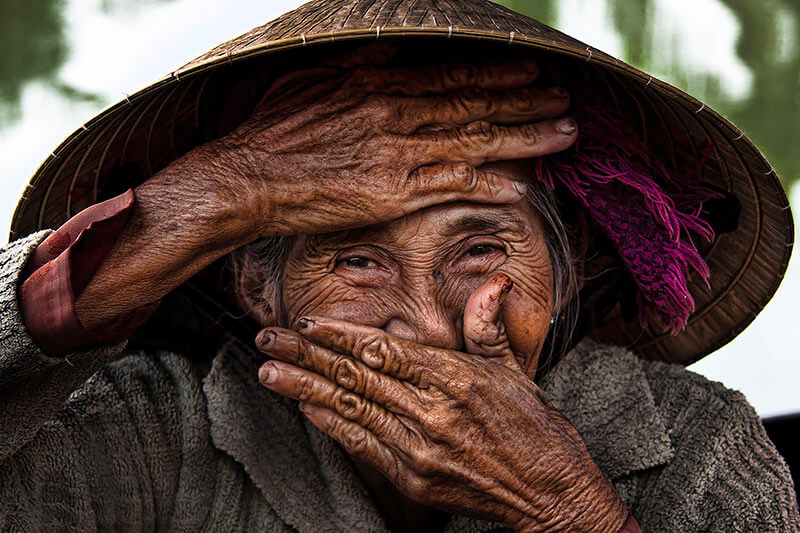 Réhahn
"I'm inspired by humanity in all its forms. Photography is an excuse to get closer to people and to hear their stories. That's how I got started as a photographer, simply meeting people and taking the time to talk to them."
Referred to as someone who captures the souls of his models, Réhahn is more than just a man behind a camera. Behind each click is a story. Whether the photograph shows a child with startling blue eyes, a woman pulling a needle through indigo fabric or a man walking alone down a brightly painted street, these are more than just images to Réhahn. They are the culmination of an experience. The stories of his subjects as well as his passion to learn more about their culture, diversity and changing traditions are what drives Réhahn's work.
More About Réhahn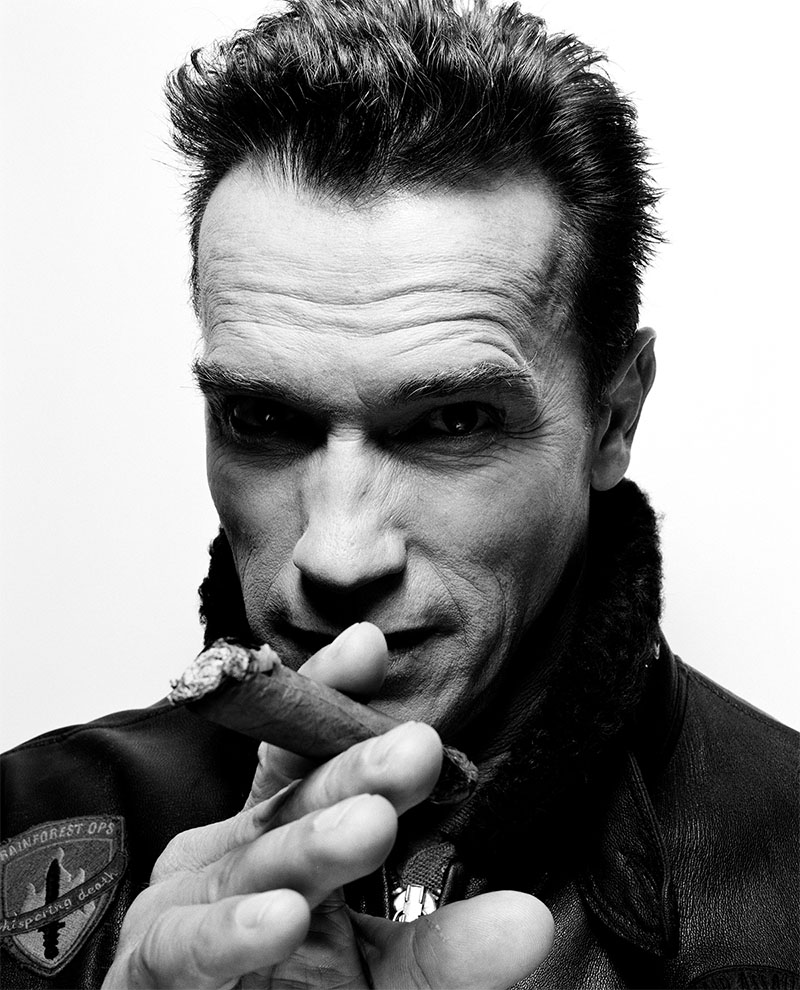 Arnold Schwarzenegger, 2001 © John Rankin
John Rankin
"I think if you don't love people and aren't fascinated by them, you'll never succeed as a portrait photographer, because your pictures will look cold."
Synonymous with compelling portraiture, Rankin's lens captures, creates and unveils icons. Rankin has launched and published widely influential magazines like Dazed & Confused, Rank and AnOther Magazine. For seven weeks in 2009 with his Rankin Live project he photographed people straight off the street, completing one shoot every 15 minutes, with the portraits printed and hung within 30 minutes. He photographed over 1,000 people for the project, with each subject getting a print of their portrait to take away.
More About John Rankin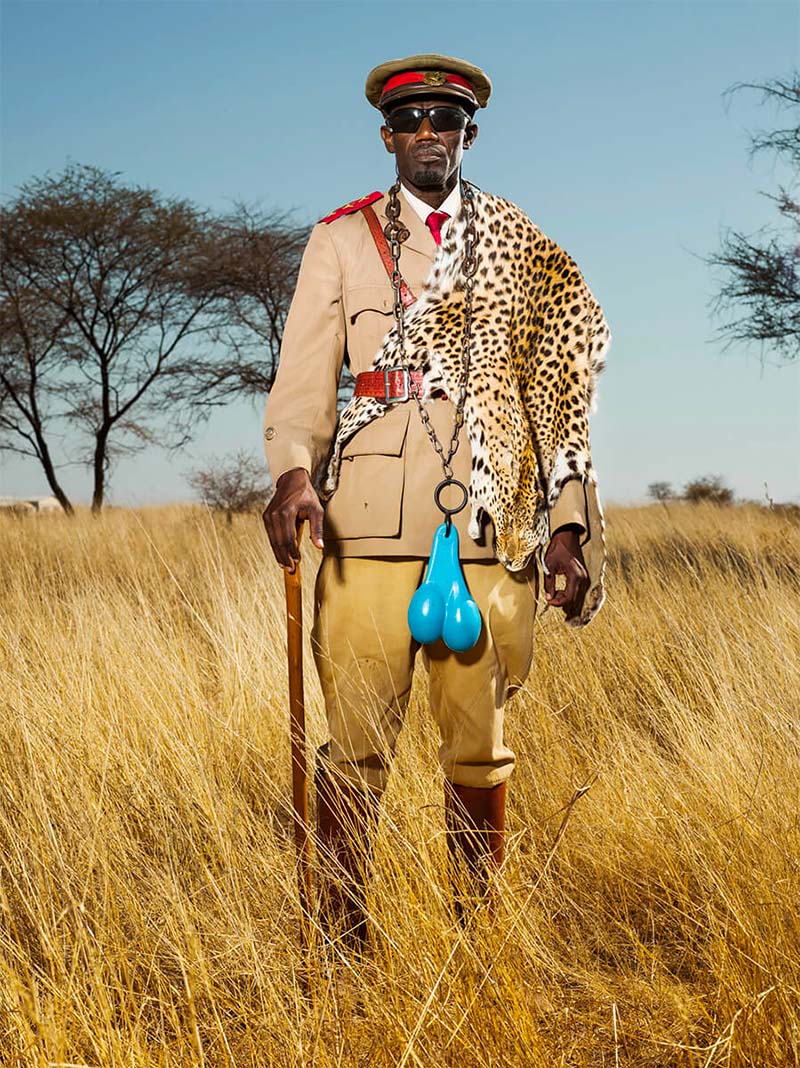 Stéphan Gladieu
"An iconic image is distinguished by a frontality, a readability that is unambiguous... and yet the icon is only a relationship of resemblance with reality. It maintains the mystery of the border between the real and the unreal. This is probably why the iconic image fascinates so much."
Stéphan Gladieu main focus is on his personal and artistic work through series of portraits in which DNA is colour and the play of contrast between subject and background in natural settings. Stéphan Gladieu plays on the iconic character of the frontal image and on the frontier between the real and the unreal. His portraiture has included covering the Saudi Princes, Princesses in Nepal, actors & directors behind the scenes at Cannes Film Festival, politicians, intellectuals, but also everyday people the world over.
More About Stéphan Gladieu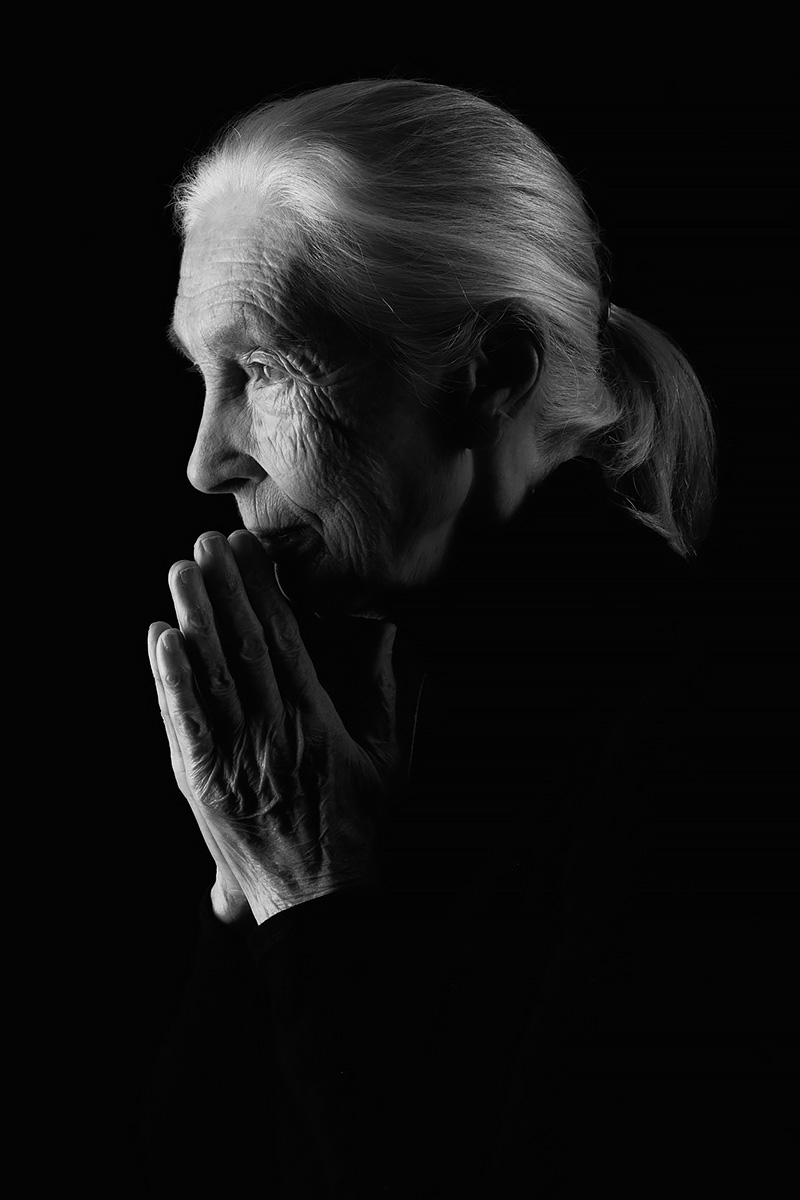 Jane Goodall 2019 © Manfred Baumann
Manfred Baumann
"Heart and mind – the true lens of the camera."
Manfred Baumann was born in Vienna in 1968. The Leica photographer has since presented his works worldwide in the form of exhibitions, books, and calendars. His photographs are displayed in museums as well as in international galleries. Over the past years, Baumann has taken his place among the most influential photographers of our time.
More About Manfred Baumann