American Photographer | Born: 1868 - Died: 1952
Born in 1868 near Whitewater, Wisconsin, Edward Sheriff Curtis became one of America's finest photographers and ethnologists. When the Curtis family moved to Port Orchard, Washington in 1887, Edward's gift for photography led him to an investigation of the Indians living on the Seattle waterfront. His portrait of Chief Seattle's daughter, Princess Angeline, won Curtis the highest award in a photographic contest. Having become well-known for his work-with the Indians, Curtis participated in the 1899 Harriman expedition to Alaska as one of two official photographers. He then accompanied George Bird Grinell, editor of Forest and Stream, on a trip to northern Montana. There they witnessed the deeply sacred Sundance of the Piegan and Blackfoot tribes. Travelling on horseback, with their pack horses trailing behind, they emerged from the mountains to view the valley floor massed with over a thousand teepees - an awesome sight to Curtis and one that transformed his life. Everything fell into place at that moment: it was clear to him that he was to record, with pen and camera, the life of the North American Indian. Edward S. Curtis devoted the next 30 years photographing and documenting over eighty,tribes west of the Mississippi, from the Mexican border to northern Alaska. His project won support from such prominent and powerful figures as President Theodore Roosevelt and J. Pierpont Morgan. From 1911-1914 Curtis also produced and directed a silent film based on the mythology of the Rawakiutl Indians of the Pacific Northwest. Upon its completion in 1930, the work, entitled The North American Indian, consisted of 20 volumes, each containing 75 hand--pressed photogravures and 300 pages of text. Each volume was accompanied by a corresponding portfolio containing at least 36 photogravures.
Source www.edwardscurtis.com
Galleries:
Websites: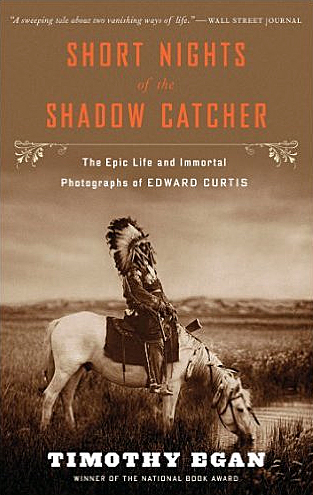 Author: Timothy Egan
Publisher: Mariner Books
Year: 2013 - Pages: 384
"A vivid exploration of one man's lifelong obsession with an idea . . . Egan's spirited biography might just bring [Curtis] the recognition that eluded him in life." — Washington Post

Edward Curtis was charismatic, handsome, a passionate mountaineer, and a famous portrait photographer, the Annie Leibovitz of his time. He moved in rarefied circles, a friend to presidents, vaudeville stars, leading thinkers. But when he was thirty-two years old, in 1900, he gave it all up to pursue his Great Idea: to capture on film the continent's original inhabitants before the old ways disappeared.

Curtis spent the next three decades documenting the stories and rituals of more than eighty North American tribes. It took tremendous perseverance — ten years alone to persuade the Hopi to allow him to observe their Snake Dance ceremony. And the undertaking changed him profoundly, from detached observer to outraged advocate. Curtis would amass more than 40,000 photographs and 10,000 audio recordings, and he is credited with making the first narrative documentary film. In the process, the charming rogue with the grade school education created the most definitive archive of the American Indian.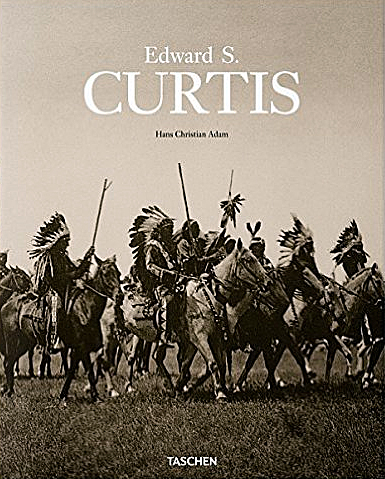 Author: Hans Christian Adam
Publisher: Taschen America, LLC
Year: 2012 - Pages: 192
For over thirty years, photographer Edward Sheriff Curtis (1868-1952) traveled the length and breadth of North America, seeking to record in words and images the traditional life of its vanishing indigenous inhabitants. Like a man possessed, he strove to realize his life's work, which culminated in the publication of his encyclopedia The North American Indian. In the end, this monumental work comprised twenty textual volumes and twenty portfolios with over 2000 illustrations. No other photographer has created a larger oeuvre on this theme, and it is Curtis, more than any other, who has crucially molded our conception of Native Americans. This book shows the photographer's most impressive pictures and vividly details his journey through life, which led him not only into the prairies but also into the film studios of Hollywood.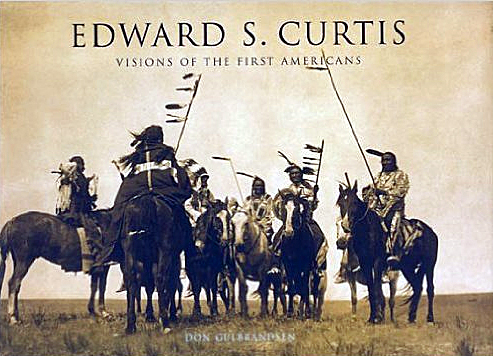 Author: Don Gulbrandsen
Publisher: Chartwell Books
Year: 2010 - Pages: 256
Edward S. Curtis: Visions of the First Americans is a tribute to the photographer, his work, but above all to the Native Americans he photographed. Chapters on many different Native American tribes make this collection unique. Edward Curtis's recognizable style, saturated with sepia, is immediately recognizable. He captures not only the striking faces of his subjects, but also a glimpse into the lifestyle of each Native American tribe he photographed. Women grind corn, and communities gather outside their traditional living areas. Atop horses, Native Americans ride on the prarie. Papooses are bundled in woven carrying packs, and men are dressed in full feathered regalia. These images paint a picture, known to us now only as a historical memory. Many tribes are featured in this volume, from the familiar Apache and Navaho to lesser-known tribes. This book will draw in readers who are interested in world cultures, along with photography buffs and historians. This hardcover volume is a wonderful addition to any library.