Country: United States | Born: 1957
Ed Kashi is a photojournalist, filmmaker and educator dedicated to documenting the social and political issues that define our times. A sensitive eye and an intimate relationship to his subjects are signatures of his work. As a member of the prestigious photo agency VII, Kashi has been recognized for his complex imagery and its compelling rendering of the human condition.

"I take on issues that stir my passions about the state of humanity and our world, and I deeply believe in the power of still images to change people's minds. I'm driven by this fact; that the work of photojournalists and documentary photographers can have a positive impact on the world. The access people give to their lives is precious as well as imperative for this important work to get done. Their openness brings with it a tremendous sense of responsibility to tell the truth but to also honor their stories."

Kashi's images have been published and exhibited worldwide. Another of Kashi's innovative approaches to photography and filmmaking produced the Iraqi Kurdistan Flipbook with MediaStorm, which premiered on MSNBC.com in December 2006. Using stills in a moving image format, this creative and thought-provoking form of visual storytelling has been shown in many film festivals and as part of a series of exhibitions on the Iraq War at The George Eastman House. Also, an eight-year personal project completed in 2003, Aging in America: The Years Ahead, created a traveling exhibition, an award-winning documentary film, a website and a book which was named one of the best photo books of 2003 by American Photo.

Along with numerous awards, including Second Prize Contemporary Issues Singles in the 2011 World Press Photo Contest, UNICEF's Photo of the Year 2010, a Prix Pictet 2010 Commission and honors from Pictures of the Year International, Communication Arts and American Photography, Kashi's images have been published and exhibited worldwide, and his editorial assignments and personal projects have generated six books. In 2008, Curse of the Black Gold: 50 Years of Oil in the Niger Delta was published, and June 2009, saw the publication of Kashi's latest book THREE, based on a series of triptychs culled from more than 20 years of image making.

In 2002, Kashi and his wife, writer / filmmaker Julie Winokur, founded Talking Eyes Media. The non-profit company has produced numerous short films and multimedia pieces that explore significant social issues. The first project resulted in a book and traveling exhibition on uninsured Americans called, Denied: The Crisis of America's Uninsured.

"Ed Kashi is intelligent, brave and compassionate. He always understands the nuances of his subjects. He fearlessly goes where few would venture. And he sympathetically captures the soul of each situation. Ed is one of the best of a new breed of photojournalistic artists."

David Griffin, Visuals Editor, The Washington Post
Agency:
Websites: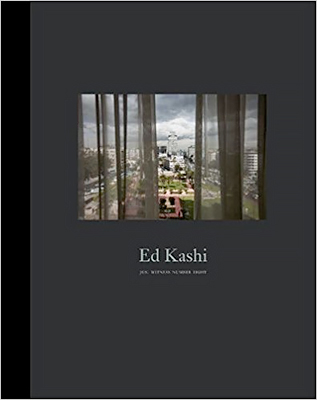 Author: Ed Kashi
Publisher: Nazraeli Press
Year: 2012 - Pages: 88
Ed Kashi is an award-winning photojournalist, filmmaker and educator dedicated to documenting the social and political issues that define our times. A sensitive eye and an intimate relationship to his subjects are signatures of his work. As a member of the prestigious photo agency VII, Kashi has been recognized for his complex imagery and its compelling rendering of the human condition. For his contribution to the JGS series 'Witness', Kashi has delivered a powerful and deeply moving view into his world and career. 'As a photojournalist who travels extensively around the world, home for me has always been a shifting term, with shifting people and shifting objects vying for my attention. Upon meeting Julie Winokur in 1992, that dynamic was forever altered. When we married in 1994, a pattern of recording journals addressed to Julie was already firmly established. In keeping with the changing times, what began as paper journals was replaced with daily emails by 2000. Encompassing nearly 20 years, this book is a selection of these journal entries from various locations around the world written for my wife. (...) The very act of creating this book touches upon my desire to reach out to others and to report on issues throughout the world. I am constantly looking for ways to expand the conversation of my work and the medium of photojournalism; to ultimately broaden the ways in which we tell stories and share our personal feelings. In a sense, this book is a different way to look at the world using both internal and external impressions, words and images. The depth of my feelings, touched so deeply and so often by the realities I witness, are the testimony I want this collection to reveal.' Ed Kashi.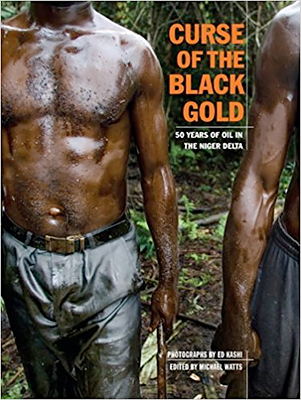 Author: Ed Kashi
Publisher: powerHouse Books
Year: 2010 - Pages: 224
Curse of the BlackGold: 50 Years of Oil in the Niger Delta takes a graphic look at the profound cost of oil exploitation in West Africa. Featuring images by world-renowned photojournalist Ed Kashi and text by prominent Nigerian journalists, human rights activists, and University of California at Berkeley professor Michael Watts, this book traces the 50-year history of Nigeria's oil interests and the resulting environmental degradation and community conflicts that have plagued the region. Now one of the major suppliers of U.S. oil, Nigeria is the sixth largest producer of oil in the world. Set against a backdrop of what has been called the scramble for African oil, Curse of the Black Gold is the first book to document the consequences of a half-century of oil exploration and production in one of the world's foremost centers of biodiversity. This book exposes the reality of oil's impact and the absence of sustainable development in its wake, providing a compelling pictorial history of one of the world's great deltaic areas. Accompanied by powerful writing by some of the most prominent public intellectuals and critics in contemporary Nigeria, Kashi's photographs capture local leaders, armed militants, oil workers, and nameless villagers, all of whose fates are inextricably linked. His exclusive coverage bears witness to the ongoing struggles of local communities, illustrating the paradox of poverty in the midst of plenty. The publication of Curse of the Black Gold occurs at a moment of worldwide concern over dependency on petroleum, dubbed by New York Times journalist Thomas Friedman as "the resource curse." Much has been written about the drama of the search for oil—Daniel Yergin's The Prize and Ryszard Kapuscinski's Shah of Shahs are two of the most widely lauded—but there has been no serious examination of the relations between oil, environment, and community in a particular oil-producing region. Curse of the Black Gold is a landmark work of historic significance.