Welcome to All-About-Photo.com a website entirely dedicated to photography.
Whether a photographer or just a photo enthusiast, you can find all the information you are looking for. Exhibitions, galleries, contests, schools, books, photo labs, equipment, photographers... everything is on All About Photo! Created by photography lovers for photography aficionados, All About Photo tries to reference everything you could be looking for!
Featured Article: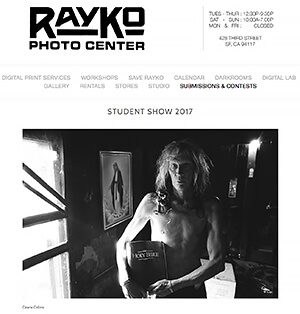 On the walls right now at RayKo Photo Center are works by 25 different artists, all of whom have taken classes during the last 26 years that RayKo has been in business. Since 1991, RayKo Photo Center in San Francisco has provided traditional darkroom rentals and educational resources for photographers. In 2002, construction began in an industrial building at 428 Third Street, and the third incarnation of RayKo was opened in the fall of 2004. Housed in a spacious 12,000 square foot building, (…)
Selected Photographers:



Featured Photography Book: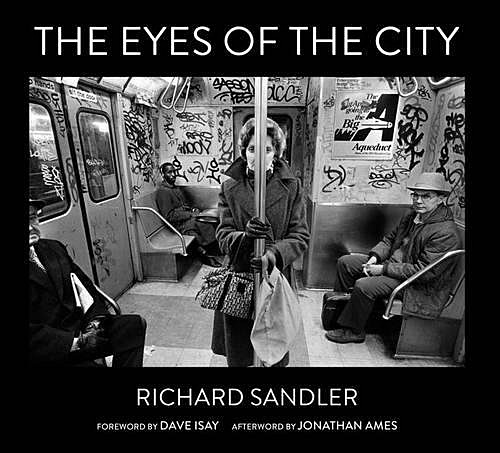 Timing, skill, and talent all play an important role in creating a great photograph, but the most primary element, the photographer's eye, is perhaps the most crucial. In The Eyes of the City, Richard Sandler showcases decades' worth of work, proving his eye for street life rivals any of his generation. From 1977 to just weeks before September 11, 2001, Richard regularly walked through the (…)
Best Of All About Photo:
Selected Exhibition:
Start Date: 2017-01-14
| End Date: 2017-03-05
Featuring work by thirty seven independent photojournalists, this exhibit captures ordinary New Yorkers as they rallied, rioted, marched, and demonstrated. These stunning images document historic moments of violent confrontation such as the Tompkins Square Park and Crown Heights Riots and as well as organized protests involving non-violent civil disobedience and creative street theater. Collectively, these photographs, which have never before been exhibited together, chronicle New York's history from 1980-2000. During these two decades of swift economic and demographic change, residents grappled with social issues including race relations, police brutality, housing and gentrification, AIDS (…)
Photo Focus:
Jennifer B Thoreson (Hudson) is a fresh, young visual fine art photographer creating staged imagery that is both artistically stylized and meticulously crafted. Drawing inspirations from themes of faith, restitution and re-purpose, and the intricacy of personal relationships, Jennifer is a dynamic and emotional illustrator of the human heart. With an innate ability to plumb the antique, the work is soulful; seeking the use of the forgotten or discarded, eerie and quiet. Raised in a spiritual and conservative home in rural Texas, Jennifer grew up imaginative, curious, and experimental, and has used her upbringing in her intensely personal artwork to bring insight and awareness using heartfelt, acutely mapped personal experiences. Jennifer is currently working in Albuquerque. New Mexico. (…)
Selected Photo Contests:
Dates: Close on March 16, 2017
Category: All
Entry Fee: £19 GBP
Prize: Exhibition
Belfast Photo Festival is offering artist's/photographers the opportunity to exhibit their work in the main Festival gallery alongside some of the biggest names in the field of photography, with a number also having the opportunity to be featured in the arts magazine Abridged. The winners will be eligible for a number of awards, including a cash prize of £1,000.
The theme has been left open to remove any restrictions; submissions must be photographic or lens-based but can include incorporations of other art forms with the photographic medium (i.e. performance, painting, sculpture, music, literature etc).
Individuals and collectives are welcome to apply; individuals should select and enter between two and six photographs from a particular series or body of work AND/OR submit their Photo-book for exhibition by uploading a single PDF (no image limit).
(Note: You can submit both a photo-book and photographs of the same project, but a fee will need to be paid for both. If submitting only a Photo-book and not photographs, it will be your photo-book that will be selected for presentation and not photographic prints for exhibition)
Collectives are also welcome to apply; as a collective, you can submit up to 10 photographs (a £19 submission fee will apply for every 10 images submitted)
All submitting photographers will benefit from: Submission review by Photo Industry Professionals Opportunities for Immediate Exposure
Dates: Close on March 20, 2017
Category: All
Entry Fee: $30
Prize: Cash Prize
The 16th edition of KOLGA TBILISI PHOTO AWARD, the biggest and the most prestigious photo contest in Georgia, is ready for you. The main goal of the AWARD is to link international photography to Georgia and to local photography. Announcement of the Photo Award worldwide in Europe as well as in the USA intends to foster its international position. For the last several years the best photos of the contest were presented in Germany, Cologne, at Lichtblick Gallery and were shown projected in Arles and shown at Plovdiv Photomeetings. Within the framework of KOLGA TBILISI PHOTO 2017, the city will host KOLGA AWARD the best photo selection exhibition on May 5-12, 2017 as well as several international and local exhibitions, series of workshops, lectures and portfolio reviews delivered by European and American photographers, curators and art critics. This year mobile and tablet photo lovers can again join KOLGA AWARD celebrating the art of photography.

This year's categories include:
1. Documentary Series
2. Reportage
3. Conceptual Photo Project
4. Best Shot
5. HUAWEI Mobile Photo

The winners in the first four categories will get 1500-1500 USD each. As for the Mobile Photo category (with sub-nominations: one shot and photo series) the winners will get a special prize: HUAWEI P10, Co-Engineered With Leica. Kolga Newcomer Photo Award will be given to a young photographer under the age of 25, whose photo series will be chosen among best series in the following categories: Reportage, Documentary Series, Conceptual Photo Project. This award should be established and given to the best photo series of young participants of the photo contest. The winner of this category will receive 500 Euros.
Dates: Close on April 1, 2017
Category: All
Entry Fee: 30 Euros
Prize: Exhibition
This year's theme is New Citizens, through which artists should interpret the idea of the New Citizen that goes beyond the conventional understanding of its "original definition" limited to the state and the city. All of those interested in participating in Organ Vida Festival can apply through the application form until 1st April 2017. The selected artists will present their works of art at the 9th International Photography Festival Organ Vida that will be held at the Museum of Contemporary Art in Zagreb, Croatia from the 8th until 24th September 2017.