WORD FROM THE PRESIDENT
This summer, we will be especially happy to welcome you to Arles for the Rencontres de la photographie. More than ever, we need to get together and celebrate culture. The 51st edition did not take place in 2020, a year without festivals. In 2021, we will offer you the 52nd, a balance between key shows that could not be held last year and exciting new proposals. This is a transitional year between two directors: we welcomed Christoph Wiesner as the new head of the festival in September 2020.
It is important for us to be present in Arles' increasingly rich cultural ecosystem. Much to our delight, culture is growing by leaps and bounds in Arles. The opening of Luma, planned for this summer, which we welcome, is eagerly anticipated well beyond Arles.
The festival's local and regional influence no longer needs demonstrating. The Grand Arles Express, in particular, is increasingly successful from year to year. In 2021, the Rencontres d'Arles will once again take place within a network of friendly institutions. Photography is once again highlighted and honored in the South of France.
Even further afield, international cooperation remains on the agenda with the seventh Jimei x Arles International Photography Festival in November and a new collaboration with India's Serendipity Arts Foundation that has led to the creation of a major grant for photography, video and new media. The grant will enable a young Indian artist to develop his project and present it at the Rencontres d'Arles in 2022.
Like every year, the Rencontres d'Arles is sharing the adventure with jobless people. It thus plays a major social role in the Arles area.
I can assure you that the Rencontres team is doing everything possible to welcome you to Arles this summer in the best possible conditions.
Hubert Védrine - President of the Rencontres d'Arles
SUMMER OF FIREFLIES
Should we invent a new rite of passage for this very peculiar time? Retouch this blank year in technicolor? The urgency of the present calls for commitment above all—a commitment on the part of the Rencontres d'Arles to the photographers, artists, curators, partners and institutions with which the festival has forged such strong ties for so many years. Far from imagining a tabula rasa tempting us to break away from the suspended time induced by the pandemic, it becomes about reflecting on how to update a heritage: that of last year's festival, developed by Sam Stourdzé around the theme of resistance, and the photography that in his words, "stands up, opposes, denounces...re-enchants." I wanted the program to be built around these premises, taking them further, with variations and echoes, new additions and derivations that allow us to grasp this force as well, the urgent need for the Rencontres d'Arles to gauge the pulse of the world. If the skies are not yet clear, if the light is still dim this summer, we must still make visible the multiplying bursts of light produced by the invited photographers and artists.
If Pier Paolo Pasolini understood how the tension produced by the fierce spotlights of power threaten the flashes of light from opposing powers, Georges Didi-Huberman offers hope in Survival of the Fireflies (2009). According to him, we must recognize a resistance in the smallest firefly, a light for all thought." Photography continues to emit light signals, opening up spaces for new methods of resistance. Arles in midsummer will be like a constellation of fireflies, made up of a thousand lights illuminating the diversity of regards, polyphony of stories, and symbolizing the survival of hope and consciousness-raising by means of the image.
The sites chosen for the festival this year offer as varied a scenery as an atmosphere, in keeping with the program's diversity. They take place at heritage, historical sites downtown, at Atelier de la Mécanique in Parc des Ateliers, at Monoprix and Croisière, and out to several city gardens.
In the Église Frères Prêcheurs at the center of Arles, Emergences takes up residence this year with the Louis Roederer Discovery Award in a new format. Each year now, a new curator will express their vision of trends in young contemporary art. The year 2021 was entrusted to Sonia Voss, who uses a new design concept that puts the projects into dialogue with one other.
A walk through the modernist building housing Monoprix leads to a universe where identity and fluidity come together. SMITH's Desiderationis a multi-sensory exploration at the crossroads of different practices, in which photography, narration, fiction and form become one; it's a voyage to a poetic cosmos, asking each one of us the essential question of our existence beyond gender and beyond bounds. Also, as the pandemic leads us to question the limits of humanity, Rethink Everything introduces us to a Latin American scene with a feminist practice probing the body as well as society in all its aspects. The question of representation is also addressed with the exhibition The New Black Vanguard, which celebrates the black body in all its diversity, striding the disciplines of art, fashion and culture.
These multiple viewpoints on the world find an echo in Pieter Hugo's introspective Being Present. A focus on the portrait brings us to many places on earth, but asks us to take the perspective of the other. And turning toward the other, to distant horizons, is also what the Atlas section offers. Here again, we're invited to travel, and to look at a map covering geography, history, sociology and psychology. So, we'll find perspectives from South Africa, but also from Sudan and Chile, to move us across the globe. The Rencontres is also about revisiting the history of the medium of photography and its players. Thus, the opening of Charlotte Perriand's archives express how photography and photomontage played a decisive role in her creative process, both in her aesthetic development and political involvement in the 1930s. Then we must mention Sabine Weiss, who turns 97 this year. Her work will be shown at the chapelle des Jésuites of the Museon Arlaten, a brand-new venue for the Rencontres.
These are just the first flashes offered by the festival this summer. Along with the Rencontres' executive director, Aurélie de Lanlay, and the entire team, we invite you to discover the rest of the program opening July 4th in Arles.
Christoph Wiesner - Director of the Rencontres d'Arles
PROGRAM
Untitled, 1985 © Rotimi Fani-Kayode
IDENTITIES/FLUIDITIES
MASCULINITIES
LIBERATION THROUGH PHOTOGRAPHY
Bas Jan Ader (1945-1975), Laurie Anderson (1947), Kenneth Anger (1927), Knut Åsdam (1968),
Richard Avedon
(1923-2004),
Aneta Bartos
, Richard Billingham (1970), Cassils (1975), Sam Contis (1982), John Coplans (1920-2003), Rineke Dijkstra (1959), George Dureau (1930-2014), Thomas Dworzak (1972), Hans Eijkelboom (1949), Fouad Elkoury (1952), Rotimi Fani-Kayode (1955-1989), Hal Fischer (1950), Samuel Fosso (1962), Anna Fox (1961), Masahisa Fukase (1934-2012), Sunil Gupta (1953), Peter Hujar (1934-1987), Liz Johnson Artur (1964), Isaac Julien (1960), Kiluanji Kia Henda (1979),
Karen Knorr
(1954), Deana Lawson (1979), Hilary Lloyd (1964), Robert Mapplethorpe (1946-1989), Peter Marlow (1952-2016), Ana Mendieta (1948-1985), Annette Messager (1943), Duane Michals (1932), Tracey Moffatt (1960), Andrew Moisey (1979), Richard Mosse (1980), Adi Nes (1966), Catherine Opie (1961), Elle Pérez (1989),
Herb Ritts
(1952-2002), Kalen Na'il Roach (1992), Collier Schorr (1963), Paul Mpagi Sepuya (1982), Clare Strand (1973), Mikhael Subotzky (1981), Larry Sultan (1946-2009), Hank Willis Thomas (1976), Wolfgang Tillmans (1968), Piotr Uklański (1968), Karlheinz Weinberger (1921-2006), Marianne Wex (1937-2020), David Wojnarowicz (1954-1992), Akram Zaatari (1966)
Through the medium of film and photography, this major exhibition considers how masculinity has been coded, performed, and socially constructed from the 1960s to the present day. Examining depictions of masculinity from behind the lens, the exhibition brings together the work of over 50 international artists, photographers and filmmakers including Laurie Anderson, Sunil Gupta, Rotimi Fani-Kayode, Isaac Julien and Catherine Opie. In the wake of #MeToo, the image of masculinity has come into sharper focus, with ideas of toxic and fragile masculinity permeating today's society. This exhibition charts the often complex and sometimes contradictory representations of masculinities, and how they have developed and evolved over time. Touching on themes including power, patriarchy, queer identity, racial politics, female perceptions of men, hypermasculine stereotypes, tenderness and the family, the exhibition examines the critical role photography and film have played in the way masculinities are imagined and understood in contemporary culture.
CLARISSE HAHN
PRINCES OF THE STREETS
A working-class neighborhood in Paris, its market, trafficking, and kebab, bodies intersecting, sometimes presenting. Money flows at the rate of looks. Cigarette vendors reign beneath the metro overpass at Barbès. They are champions of observation; nothing escapes their notice. The series Princes of the Streets is part of Hahn's work-in-progress Boyzone, a project analyzing moments in which men's bodies choreograph their relationship to public and private space. Bodies and looks: Hahn's film and photography on communities and rituals goes beyond the subject's consenting to be viewed, showing how social beings make use of the gaze we turn towards them in order to express themselves: let yourself be seen without being had. By including archival photos, Hahn creates a desynchronization that allows invisible genealogies to come forward. These young men are descendants of French heroes recruited during the colonial period. Barbès, the Cour des Miracles, takes in both elderly and outsider, but the wounds of the marginalized are difficult to heal—f lesh scars just like memory
SÉBASTIEN LIFSHITZ
SENSITIVE BOYS
Projection coproduced by INA and the Rencontres d'Arles Until the end of the 1960s, French television was entirely devoid of any representation, or even mention, of homosexuality. It was not until the early 1970s that a broadcast on homosexuality was aired for the first time and the word was finally pronounced. Of course, invisibility is not the whole story. Despite television censorship, homosexuality slipped through. Though these rare moments were codified and full of innuendo, expressed through the words of a famous figure (writer, painter, actor) or via popular musicians or burlesque sketches, and often homophobic, they nevertheless revealed a certain perspective on homosexuality. While, some topics, like antiquity or reports on the Army, could clearly depict homoeroticism. Gathered together here, Sensitive Boys puts these records into conversation to tell the story of resistance from a not-so-distant time when homosexuality had no place.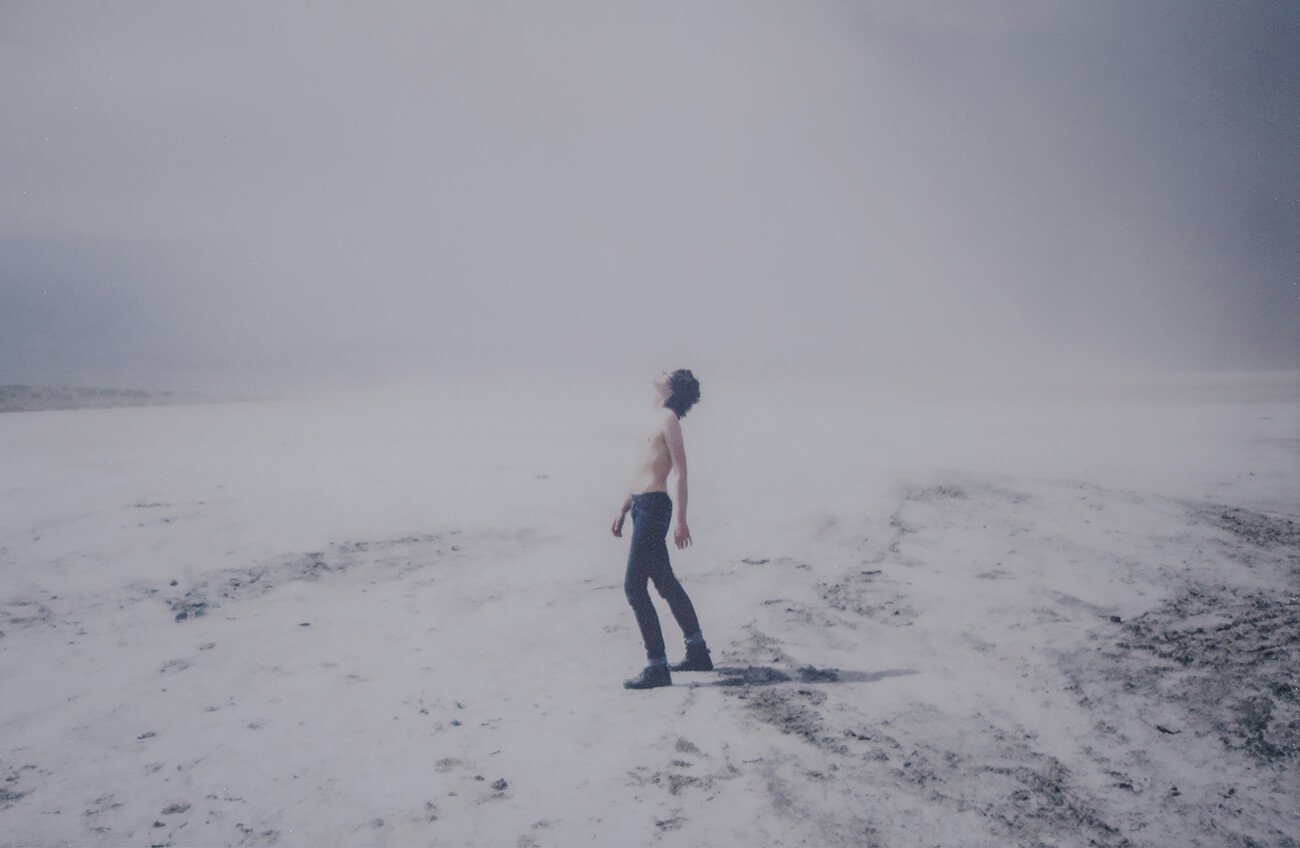 © SMITH, Untitled, from the Desideration series, 2000-2021. Courtesy of Galerie Les Filles du Calvaire.
DESIDERATION (ANAMANDA SÎN)
FROM DISASTER TO DESIRE:TOWARDS ANOTHER SPACE MYTHOLOGY
Exploring the porous nature of artistic and scientific practice, philosophy and speculative narratives, Desideration offers another space mythology, imagining an interstellar human race searching for a new alliance with its native cosmos. Playing on its troubled etymology, oscillating between a regret for the lost stars (de-sideris) and a desire for their return, desideration is both a diagnosis of and a remedy for contemporary disaster, for late capitalism and the chilling anthropocene. Our civilization seems to have lost some fundamental part of its daily relationship to the starry sky. This simple fact, which shines a light on the material and spiritual destruction of our societies, requires a new configuration of the imagination, a dream zone where new mythologies peopled by hybrid figures come together to make a new pact with the cosmos. Thus, in the terrestrial figure of Anamanda Sîn, we find a new sensibility, one in which meteorites link past and future, earth and sky, art and science, non-human and human, melancholy and desire.
RETHINK EVERYTHING
THE POWER OF ART IN TIMES OF ISOLATION
María José Arjona (1973), Ananké Asseff (1971), Colectivo Nosotras Proponemos (2017), Nicola Costantino (1964), Milagros De La Torre (1965), Vivian Galban (1969), María Teresa Hincapié (1956-2008), Adriana Lestido (1955), Florencia Levy (1979), Marcos López (1958), Liliana Maresca (1951-1994), Joiri Minaya (1990), Marta Minujín (1943), Aline Motta (1974), Rodrigo Orrantia (1975), Jackie Parisier (1968), Cristina Piffer (1953), Santiago Porter (1971), Dalila Puzzovio (1942), José Alejandro Restrepo (1959), Silvia Rivas (1957), Celeste Rojas Mugica (1987), Graciela Sacco (1956 - 2017), Juan Travnik (1950)
Here and now, we are traversing an unrepresentable pandemic time. Strange times, testing the very concept of humanity. We can rethink everything. Feminism is a rhizomatic theory and practice that also addresses questions of the post-human and production of the common. A theory of affection and the body, of the public affair, the transformation of social relationships, and of the home as an observatory for the analysis of a new economic policy of life. A feminism that merges with the profound questioning of the contemporary consequences of global capitalism and that emerges to observe notions of community, the breakdown of anthropocentric models and human exceptionalism. We want to rethink, with an attentive eye, latent meanings in artworks made in other contexts. Each object, each photograph, each film in this exhibition generates a magnetic field that creates friction with everything that approaches it. Each one provides material from which to rethink possible forms of the world.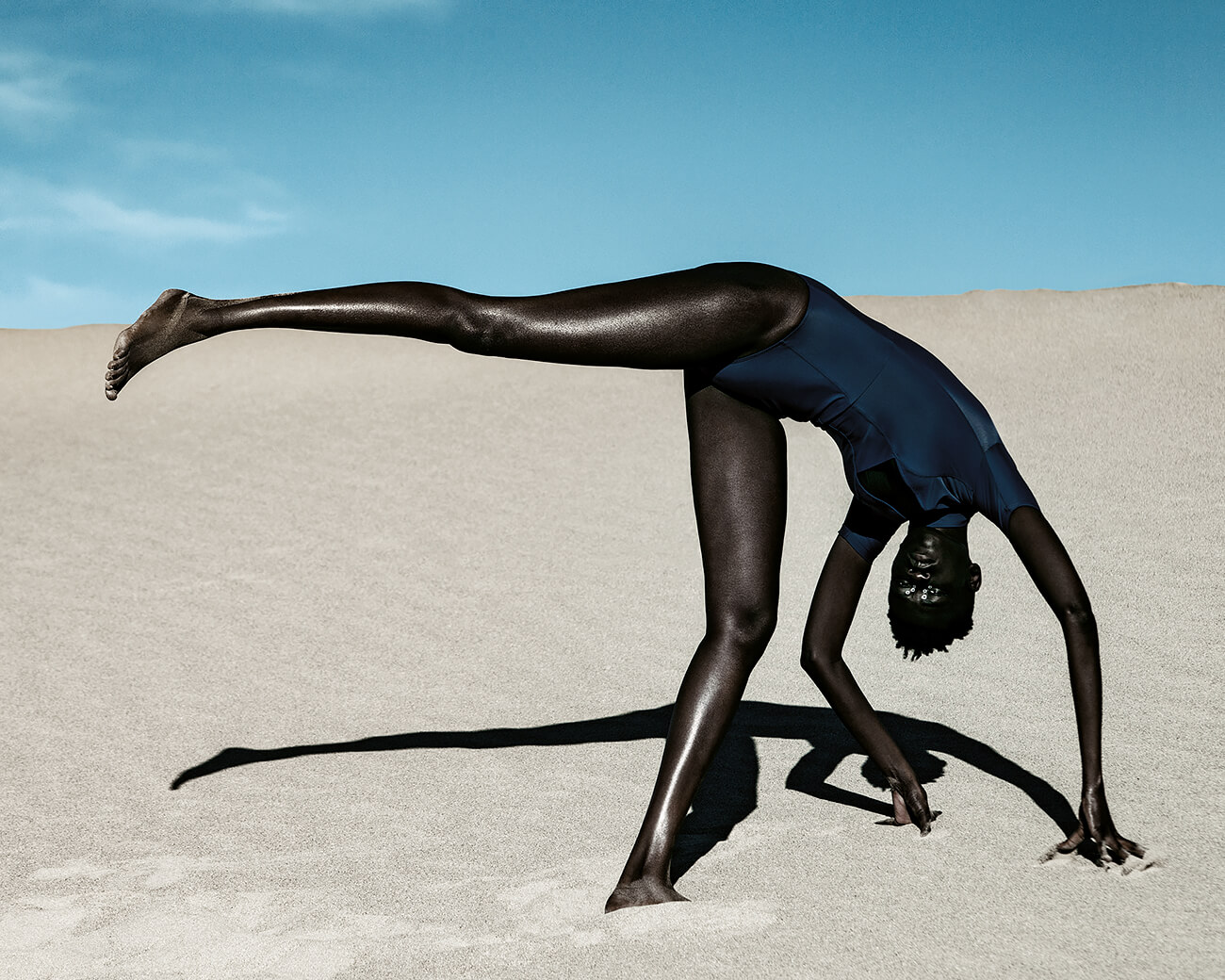 Nyadhour, Elevated, Death Valley, California, 2019 © Dana Scruggs
THE NEW BLACK VANGUARD
PHOTOGRAPHY BETWEEN ART AND FASHION
Campbell Addy (1993), Arielle Bobb-Willis (1994), Micaiah Carter (1995), Awol Erizku (1988), Nadine Ijewere (1992), Liz Johnson Artur (1964), Quil Lemons (1997), Namsa Leuba (1982), Renell Medrano (1992), Tyler Mitchell (1995), Jamal Nxedlana (1985), Daniel Obasi (1994), Ruth Ossai (1991), Adrienne Raquel (1990), Dana Scruggs, Stephen Tayo (1994)
The New Black Vanguard presents artists whose vibrant portraits and conceptual images fuse the genres of art and fashion photography in ways that break down long-established boundaries. Their work has been widely consumed in traditional lifestyle magazines, ad campaigns, and museums, as well as on their individual social-media channels, reinfusing the contemporary visual vocabulary around beauty and the body with new vitality and substance. The images open up conversations around the representation of the Black body and Black lives as subject matter; collectively, they celebrate Black creativity and the cross-pollination between art, fashion, and culture in constructing an image. Seeking to challenge the idea that Blackness is homogenous, the works serve as a form of visual activism. It's a perspective often seen from this loose movement of emerging talents, who are creating photography in vastly different contexts—New York and Johannesburg, Lagos and London. The results—often made in collaboration with Black stylists and fashion designers—present new perspectives on the medium of photography and the notions of race and beauty, gender and power.
Additional works by AB+DM (Ahmad Barber and Donté Maurice), Djeneba Aduayom, Lawrence Agyei, Rasharn Agyemang, Araba Ankuma, Bafic, Daveed Baptiste, Malick Bodian, Kennedi Carter, Jorian Charlton, Christian Cody, Faith Couch, Delphine Diallo, Rhea Dillon, Philip-Daniel Ducasse, Christina Ebenezer, Yagazie Emezi, Cary Fagan, Justin French, Alexandre Gaudin, Erica Génécé, Kenny Germé, Denzel Golatt, Yannis Davy Guibinga, Travis Gumbs, Tyrell Hampton, Seye Isikalu, Adama Jalloh, Manny Jefferson, Kreshonna Keane, Ekua King, Joshua Kissi, Casper Kofi, Olivia Lifungula, Myles Loftin, Mahaneela, Ronan Mckenzie, Tyra Mitchell, Fabien Montique, Sierra Nallo, Manuel Obadia-Wills, Travys Owen, Amber Pinkerton, Marc Posso, Caio Rosa, Silvia Rosi, Lucie Rox, Makeda Sandford, Cécile Smetana Baudier, Justin Solomon, Texas Isaiah, David Uzochukwu, Juan Veloz, Isaac West, and Joshua Woods.
EMERGENCES
LOUIS ROEDERER DISCOVERY AWARD 2021
Since its creation, the Rencontres d'Arles has promoted photography and all its stakeholders, from photographers to artists, curators and publishers. With this in mind, the Rencontres d'Arles associates the Louis Roederer Discovery Award with all exhibition spaces: galleries, art centers, non-profits, independent venues and institutions are often the first to support emerging artists. The 11 shortlisted projects will be on display at the next Rencontres d'Arles. During opening week, a jury will bestow the Louis Roederer Discovery Award, which comes with an acquisition worth €15,000, upon an artist and the project's supporting organization. The public will vote for the Public Award, which carries with it an acquisition worth €5,000.
The Louis Roederer Discovery Award aims to be more inclusive by opening its selection process up to all exhibition venues in addition to galleries. This year, 11 shortlisted projects will be featured in a single show curated by Sonia Voss. She and scenographer Amanda Antunes will innovatively and ecologically showcase the emerging scene at one of the festival's signature sites, the Église des Frères-Prêcheurs
THE 11 PROJECTS EXHIBITED
FARAH AL QASIMI
: IMITATION OF LIFE
KETUTA ALEXI-MESKHISHVILI
: GEORGIAN ORNAMENT
MARIANA HAHN
: EROS AND THANATOS MADE A CHILD
JONAS KAMM
: THE INHABITANTS
TARRAH KRAJNAK
: MASTER RITUALS II: WESTON'S NUDES
MASSAO MASCARO
: SUB SOLE
ILANIT ILLOUZ
: WADI QELT, IN THE STONY LIGHT
ZORA J MURFF
: AT NO POINT IN BETWEEN
AYKAN SAFOĞLU
: DOG STAR DESCENDING
ANDRZEJ STEINBACH
: THE APPARATUS
MARIE TOMANOVA
: IT WAS ONCE MY UNIVERSE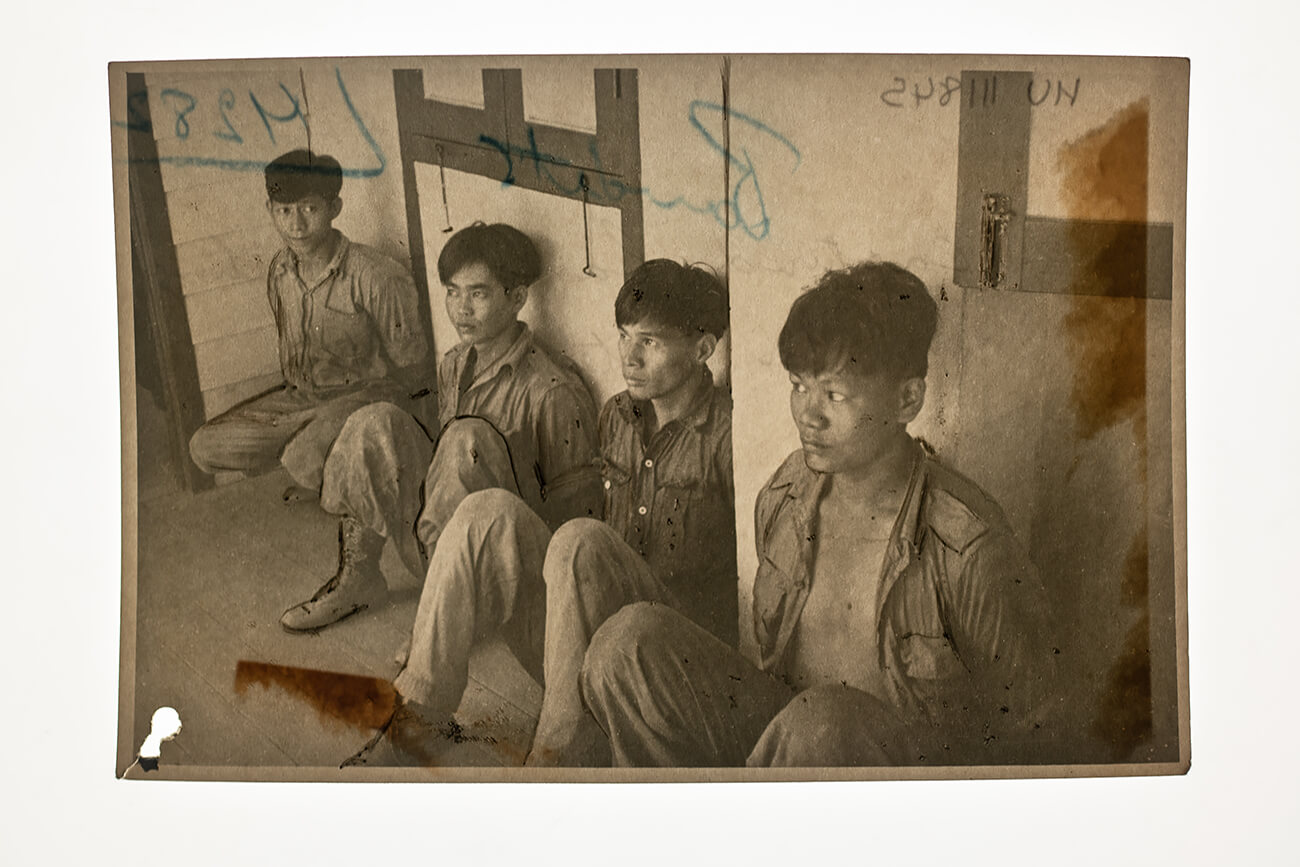 © Sim Chi Yin, From Interventions, photographic installation, 2018. Courtesy of the artist
WINNER OF THE JIMEI X ARLES DISCOVERY AWARD
SIM CHI YIN
: ONE DAY WE'LL UNDERSTAND
WINNER OF THE BMW RESIDENCY
ALMUDENA ROMERO
: THE PIGMENT CHANGE
LEBOGANG TLHAKO
: SIBADALA SIBANCANE
ÉCOLE NATIONALE SUPÉRIEURE DE LA PHOTOGRAPHIE
ANYSSIA BIDOUT, EMMA RIVIERA & CÉDRINE SCHEIDIG
ATLAS
THAWRA ! ثورة REVOLUTION !
SUDAN, THE HISTORY OF AN UPRISING
After thirty years of military dictatorship, theocracy, and years of civil war, on April 11, 2019, the people of Sudan brought down Omar al-Bashir, the man who imposed an unchallenged reign upon them, starting with his coup d'État in 1989. Sudan's popular uprising began in December 2018. For five months, risking arrest and torture by the regime's police, the Sudanese people took to the streets by the thousands. Driven by the will to document resistance and repression, a new generation of photographers emerged. These artists, between the ages of 19 and 30, broadcast their photos through social networks. They are both actors and observers of this historical moment. The show exhibits the work of eight photographers from this rising scene and that of filmmaker Hind Meddeb who documented the steps of this fragile transitional period alongside a youth prepared to challenge military and religious forces.
Ahmed Ano (1993), Suha Barakat (1986), Saad Eltinay (1995), Eythar Gubara (1988), Metche Jaafar (1998), Hind Meddeb (1978), Duha Mohammed (1993), Ula Osman (1998), Muhammad Salah (1993).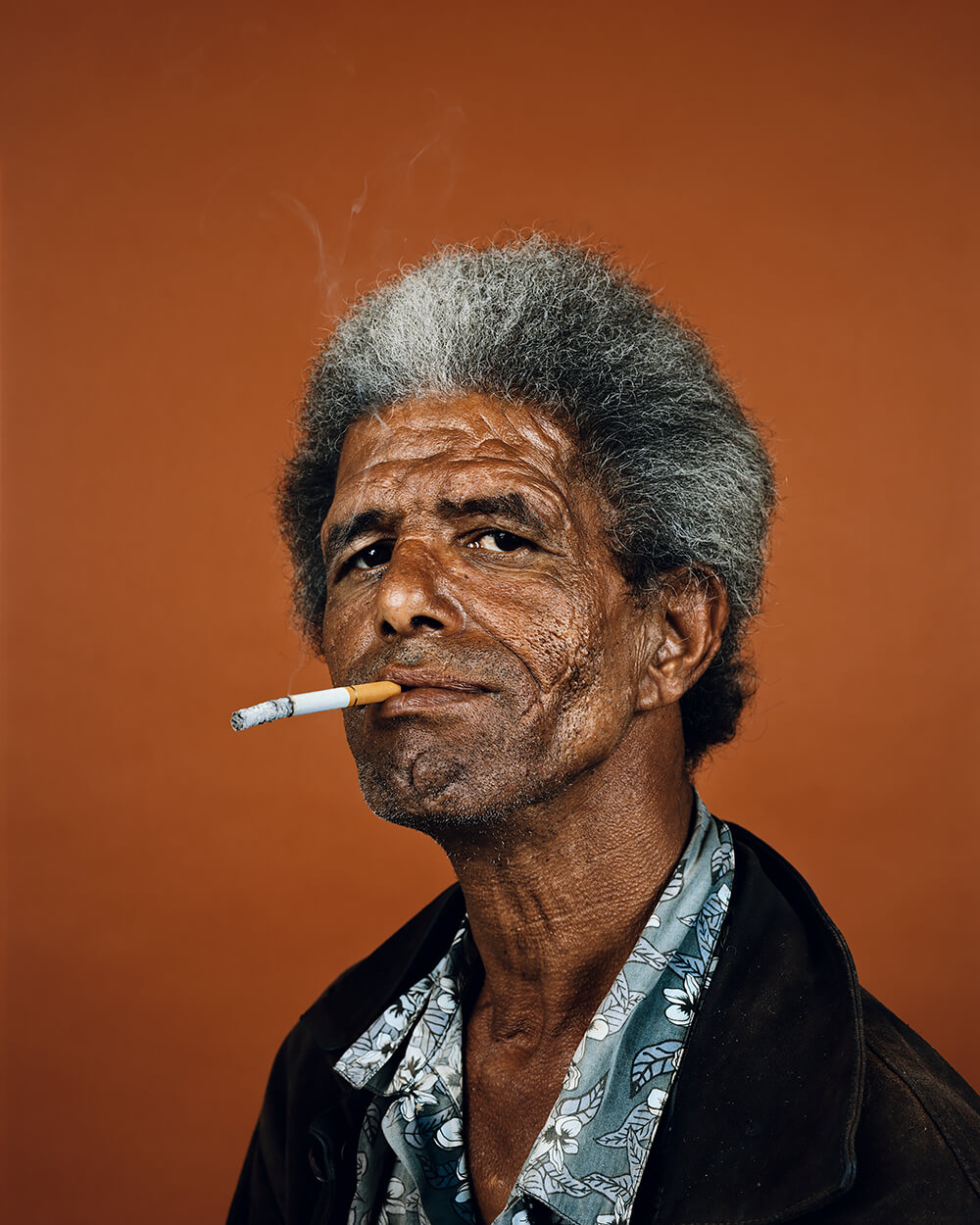 © Pieter Hugo, Shaun Oliver, Cape Town, 2011, from the Kin series. Courtesy of the artist.
PIETER HUGO
BEING PRESENT
Being Present brings together more than 100 head and shoulders portraits realized by
Pieter Hugo
since the early 2000s, offering an expansive overview of the artist's engagement with this particular tradition of portraiture. The selected photographs dabble with the lexicons of forensics, surveillance and typologies while keeping a strong humanism at their core. In Hugo's words: "My work is about the notion of being an outsider: I feel I inhabit this space myself and I embrace this awareness as a way to engage with the people I photograph. I almost always work by announcing myself at the outset; I look, and I am equally looked at. When making a portrait there is a brief moment in which cynicism disappears. There is beauty in being held in the gaze of another." There is an intimacy that emerges from being openly present, and what features prominently in these images is a moment of stillness and connection separate from everything that happened before or after.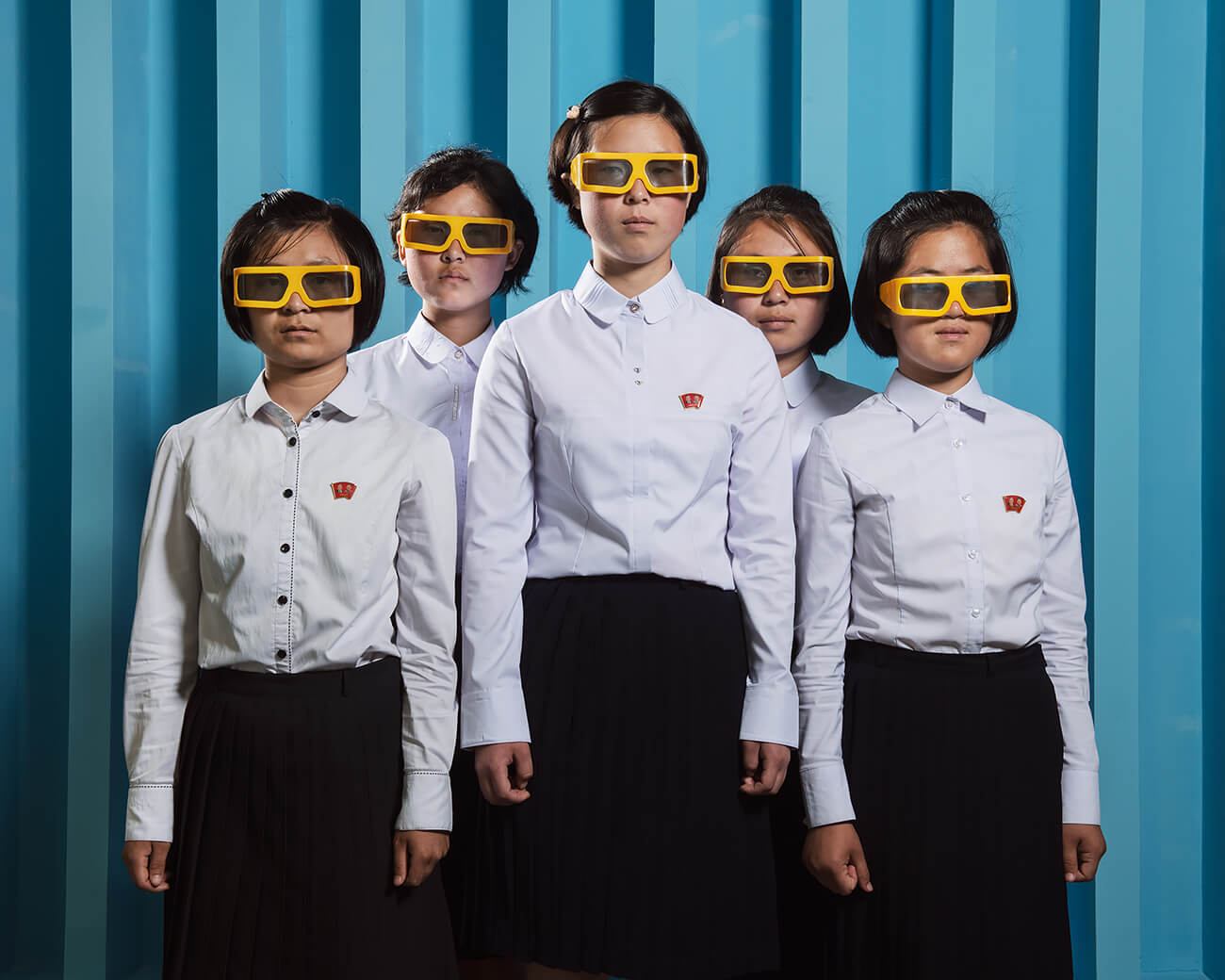 North Koreans Portraits, North Korea, Pyongyang, June 2018. Kim Yun Gyong, Han Sol Gyong, Kim Won Gyong, Kang Sun Hwa and Kong Su Hyang at the SCI Tech Complex 3D movie theater. Courtesy of School Gallery / Olivier Castaing
STÉPHAN GLADIEU
DEMOCRATIC PEOPLE'S REPUBLIC OF KOREA, PORTRAITS
North Korea has always been an enigma to me. Why has it never wobbled while other authoritarian regimes collapsed in the upheavals brought about by the fall of the Berlin Wall, modernity and social media? It has outlasted the communist bloc that guaranteed its political and economic stability; withstood international embargos aiming to strangle it; overcame successive economic, climate or food crises; and never experienced a massive uprising despite constant surveillance and repression. North Korean officials were baffled by my proposal to do individual portraits. My revolutionary approach ran against the grain of their collectivist culture. Why did they agree? A desire for openness, no doubt, but also, I think, because the idea of frontal poses, and rigorous framing, was familiar and understandable to them. Deliberately flirting with the conventions of the propaganda image, this device made me static, predictable and controllable.
Stéphan Gladieu
ANTON KUSTERS
BLUE SKIES
Blue Skies sets out to explore the visualisation of trauma and how its fading memory can be recorded. Kusters travelled 177,828 km to every corner of the former Third Reich over a period of six years to capture the blue sky above every known location of the 1,078 official Nazi Germany SS Concentration camps. Most of these sites remain unmarked to this day. To locate every site and make sure that the sky above would be blue, he relied on a combination of GPS and live satellite infrared cloud cover footage, manually blind-stamping the coordinates and estimated number of victims into every image made. The images gathered by the artist will eventually fade into emptiness. Their numbers will always remain. Attempting to exhaustively witness often fails to lead to understanding. In dialogue with the audio and visual piece by Ruben Samama, the work opens up a space for reflection between the fractures of evidential specificity and the abstracted trace of the blue skies above.
CHOW AND LIN
THE POVERTY LINE
he Poverty Line uses the universal lens of food to examine the daily choices we would face living at the poverty line. Over the last ten years, artists travelled 200,000 kilometers to create case studies of 36 countries and territories spanning six continents. Each photograph beckons scrutiny while inviting the observer to try to make sense of the whole. Individual portraits of food items bathed in dramatic light imbue a few bananas, scattered rice grains or a leg of chicken with existential meaning. The Poverty Line is a growing conversation that investigates our understanding of poverty and inequality. Covering various cultures and economic systems, it confronts the viewer with objective, non-emotional observations of our own circumstances framed against the fragile balance of social structures, growth and divide in an entangled globalized world.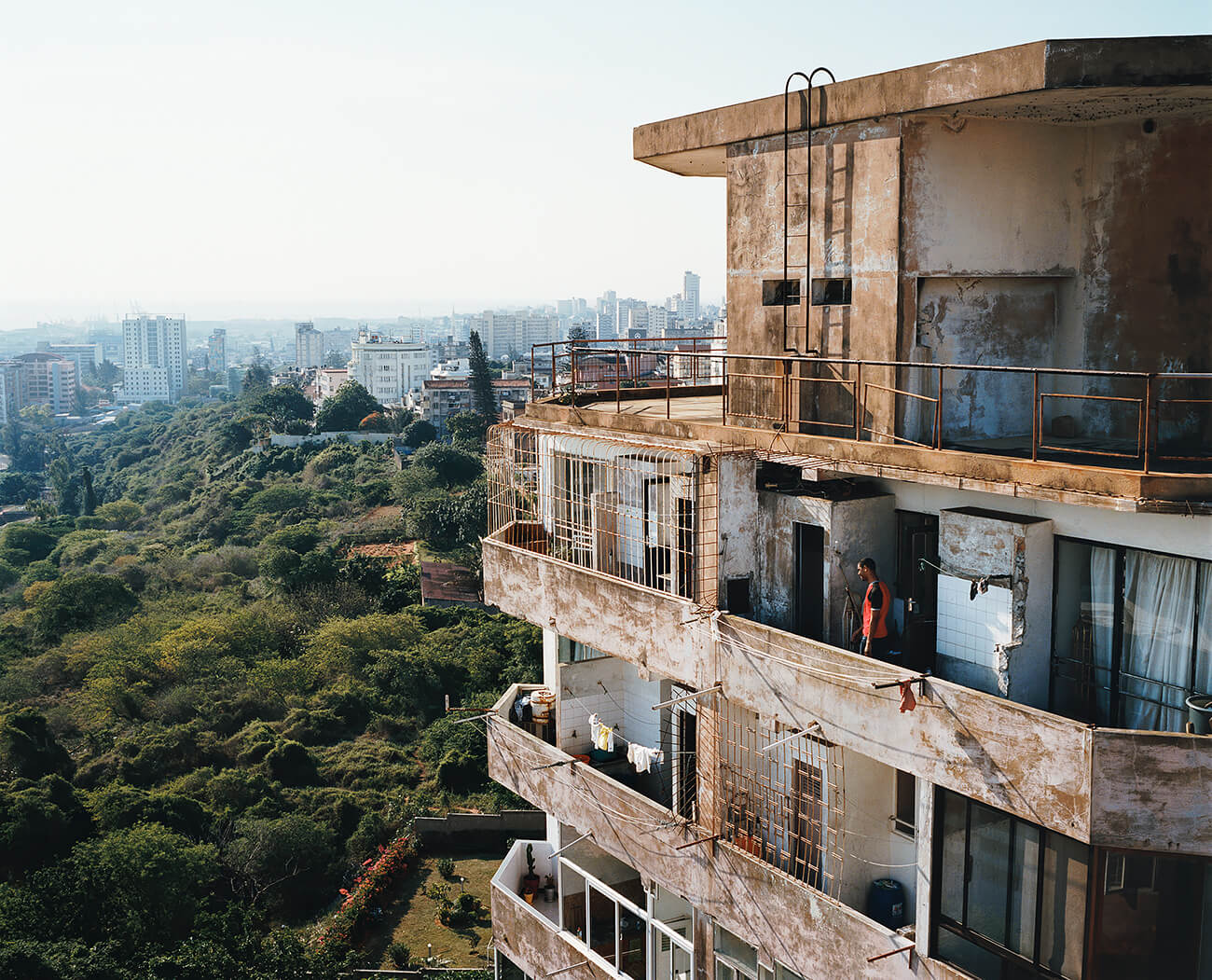 © Guillaume Bonn, Apartment building with a view of downtown Maputo
AFRICA STATE OF MIND
HYBRID CITIES
Hybrid Cities considers photography centered on the African metropolis as a site of rapid social transformation. Of the largest cities in Africa, three—Lagos, Cairo and Kinshasa—can be classed as "megacities", conurbations with a population of over 10 million. That number is set to double by 2030. Amid such rapid urbanization, characterized by ceaseless flows of people, goods and capital, a state of permanent change reigns. The works in Hybrid Cities document the African city engaged at a point of unprecedented acceleration, revealing both the tensions and possibilities of that condition. The apparent chaos of crowded streets resolves itself into unexpected forms of pattern and color. Against a backdrop of uncertain infrastructure and sometimes poor social provision, men and women organize their lives and labor on their own terms, establishing affinities that flourish and thrive even under duress.
Emmanuelle Andrianjafy (1983), Girma Berta (1990), Guillaume Bonn (1970), Andrew Esebio (1978), Hicham Gardaf (1989)
ENRIQUE RAMÍREZ
MIGRANT GARDENS
In 2020, the École Nationale Supérieure de la Photographie (ENSP) hosted Enrique Ramírez as resident artist. Ramírez' installations blur the lines between video, photography, text, music, and objects. In his work, the sea is the ultimate site of instability: it is a domain of memory in perpetual motion, a space onto which narratives are projected, and within which the fate of Chile and grand historical accounts of travel, conquest and migratory flows intersect. This exhibition presents a selection of works, supplemented by a new eponymous work co-produced with seven students from the school, in a poetic rewriting of the epistolary exchange between the students and around a hundred residents of Arles during France's second lockdown. Based on these written words and the images they evoke, the work is a visual and narrative reconstruction, both poetic and political, of the imaginative spaces where memory, desire and experience dwell.
REREADING
CHARLOTTE PERRIAND
HOW DO WE WANT TO LIVE? POLITICS OF PHOTOMONTAGE
Charlotte Perriand devoted her life to improving the living conditions of as many people as possible, creating an art of inhabiting in connection with nature. She used photography not only as a tool for observing reality, but also to promote her conception of a new world. Echoing our current concerns, in the 1930s she used sweeping photomontages to denounce unhealthy urban conditions and present her vision of how life can be made better. Her striking photographic frescoes, including The Great Misery of Paris (1936) and the Agriculture Ministry's waiting room and pavilion at the Exposition Internationale des Arts et Techniques dans la Vie Moderne [International Exposition of Art and Technology in Modern Life] (both 1937), created with Fernand Léger, attest to her modernity. The exhibition offers insights into her idea of the world through her working methods and incredible collection of photographs—period prints, negatives, magazine clippings and personal photographs—on display for the first time, set against recreations of her monumental photomontages.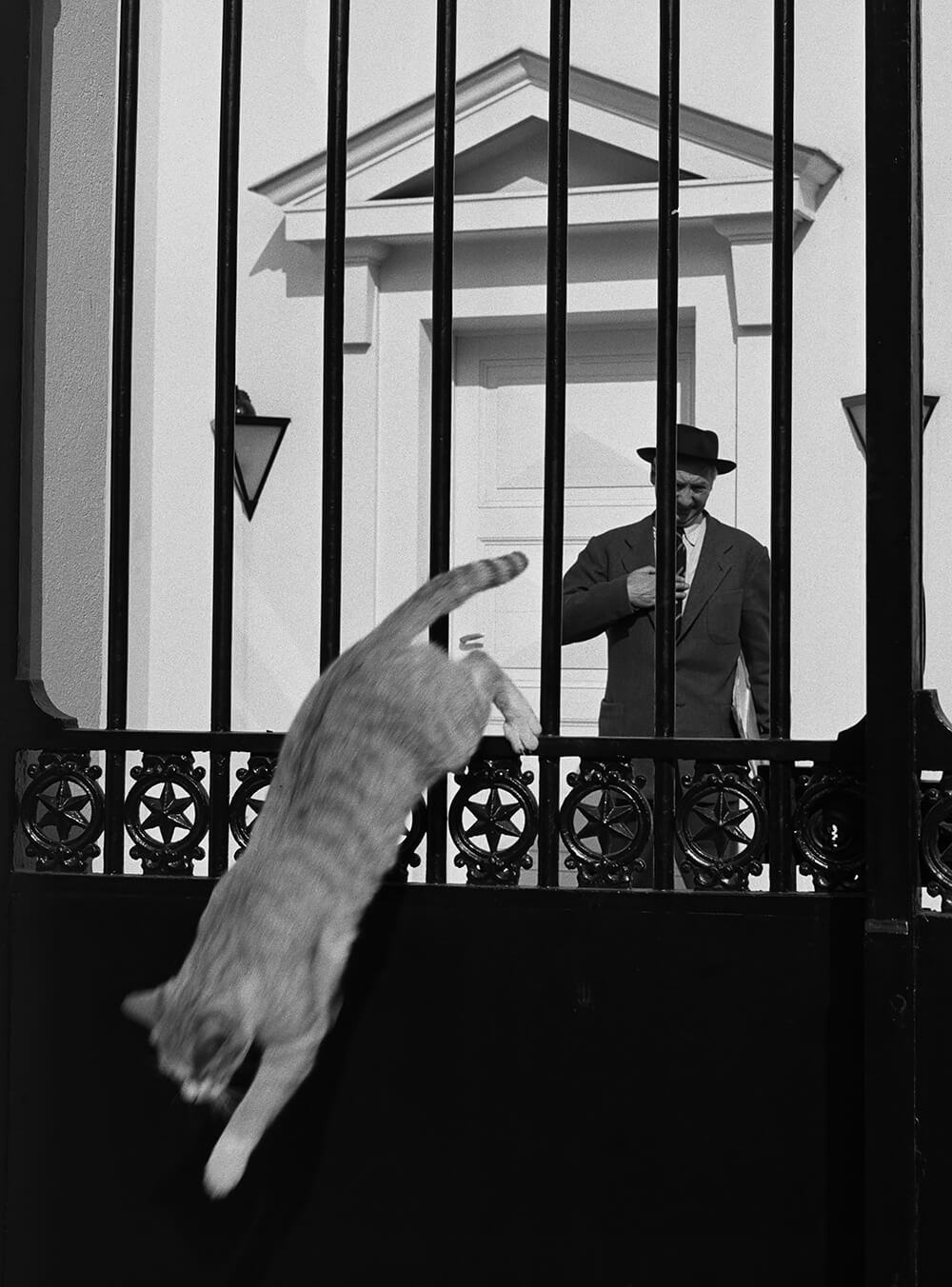 Félix Labisse, painter and decorator, Neuilly-sur-Seine, 1952 © Sabine Weiss
SABINE WEISS
A PHOTOGRAPHER'S LIFE
For several years,
Sabine Weiss
has been recognized and honored as the last representative of the French humanist school. Yet few people are aware of the richness and diversity of her work, preserved intact in the house-studio where she has lived since 1949, and whose treasures she is only beginning to reveal. Describing herself as a photographer-artisan and a witness rather than an artist, the 96-year-old has built a true photographic monument in a free and independent spirit. This unprecedented retrospective in the Museon Arlaten's recently restored chapel highlights the main features of her oeuvre, constantly in sympathy with human beings, as well as various facets of the photographer's profession, from reportage to illustration, fashion, advertising, portraits and personal work. Sabine Weiss has approached every area of photography as a challenge, a pretext for encounters and travels, a way of life and a means of self-expression. the exhibition reflects this life-long passion with a new selection of images, films and personal documents.
JAZZ POWER!
JAZZ MAGAZINE: TWENTY YEARS IN THE AVANT-GARDE (1954-1974)
At the time of racial segregation in the United States, which lasted until 1964, and the difficult decolonization process undertaken by France, French periodicals seldom put African-Americans on their covers. But in December 1954, Jazz Magazine set a new tone. From the outset, the young team at the monthly magazine founded by Nicole and Eddie Barclay advocated musical borrowing and cultural exchange. It bore ardent witness to the US civil rights movement as well as discrimination against African-Americans on both sides of the Atlantic. The magazine quickly became a laboratory of experimentation, taking opinionated stands under its editors, Frank Ténot and Daniel Filipacchi—fiery, ambitious friends fascinated by jazz and Afro-American counterculture. Surrounded by enthusiasts, they played an active part in building legends in France. For two decades, they legitimized jazz as a form of culture, consecrating the music and revealing its eminently political dimension.
Clara Bastid & Marie Robert
ORIENT-EXPRESS & Cie
BETWEEN HISTORY AND MYTHOLOGY
Many tales, fabricated or based on facts, have been told about the Orient-Express, a technological achievement that became a cultural icon. Some have become legends, drowning historical reality in imaginative stories. It all started with the International Sleeping-Car Company, which ran the Orient-Express, the world's first international luxury train, between Paris and Constantinople, later Istanbul, from 1883 to 1977. Its creation was a veritable diplomatic and economic feat at a time when empires and states used railways as an instrument of political power. The photographs in the Orient-Express & Co exhibition come from the archives of the former International Sleeping-Car Company. Pictures, plans, maps, technical drawings and advertising brochures saved by former employees during the company's various reorganizations put the Orient-Express into its historical context. Most are anonymous, others the work of famous studios such as Paul Nadar, Albert Chevojon and Sebah & Joailler.
TRIBUTE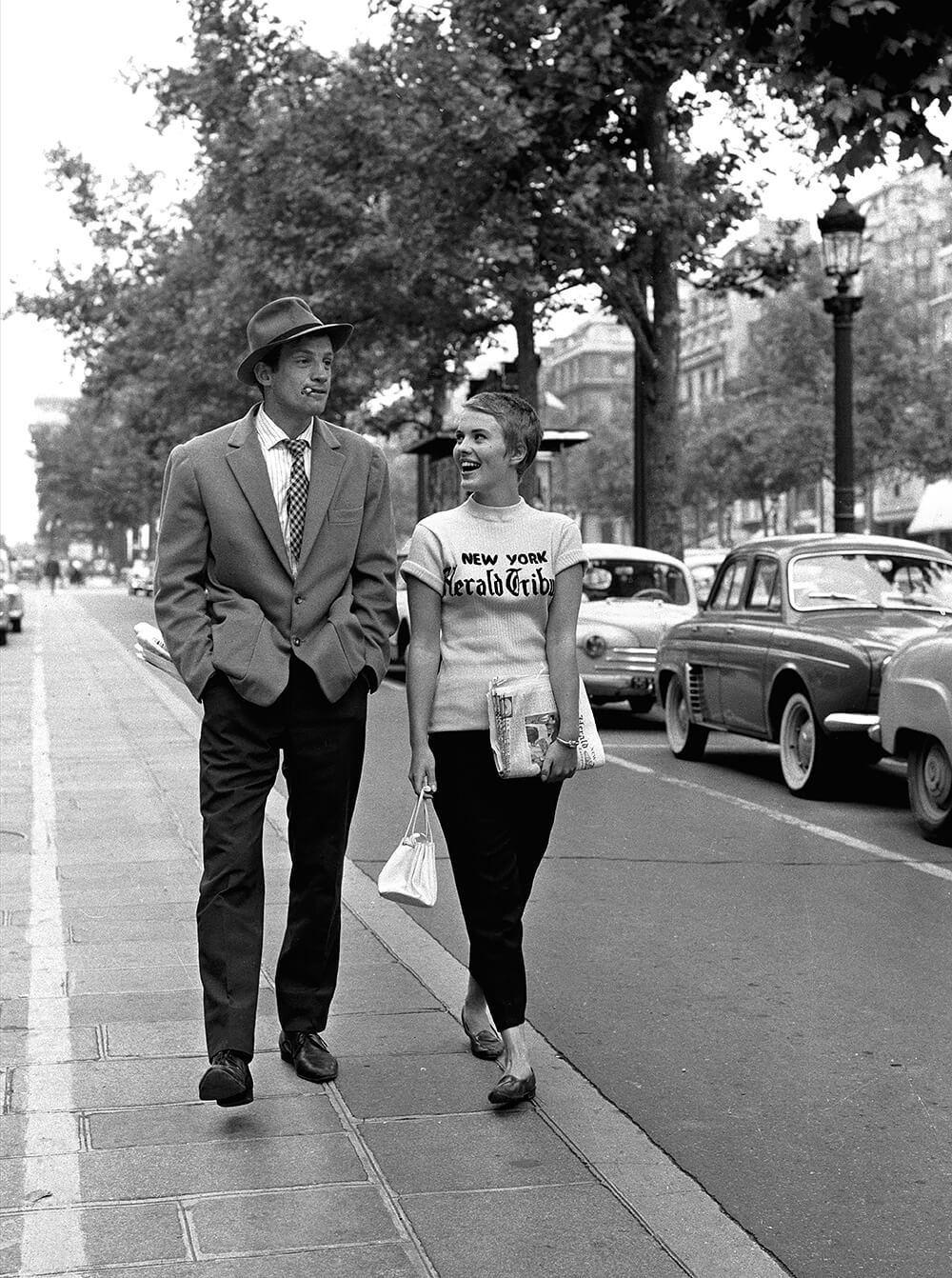 Adieu Philippine, Jacques Rozier, 1960. © Raymond Cauchetier
For those who don't know it, a dolly is wheeled cart carrying the camera and the camera operator and pushed along a kind of small railway track. This device allows the actors to be filmed smoothly as they move about. But the equipment is heavy, cumbersome and very expensive to rent. New Wave directors had to find cheaper ways to achieve the same results. Roger Mathelin, the head cameraman on Adieu Philippine, discovered that the suspension of the Citroën 2CV was ideal to replace the traditional dolly, as long as it was heavily weighted down and the tires were deflated. That's why he had the whole technical crew get into the car on a bumpy road in the small Corsican town of Calvi. When you don't have lots of money, you need ideas.
RAYMOND CAUCHETIER
Born 1920 in Paris, France. Died in 2021 in Paris.
NEW WAVE
Of Raymond Cauchetier's work, most familiar are his photographs of French New Wave icons: Jean Seberg and Jean-Paul Belmondo wandering down the Champs-Élysées in Breathless, Jeanne Moreau's ascending smile (later the film's poster) and the race across the Passerelle de Valmy in Jules and Jim, and portraits of Anouk Aimée dressed as Lola...More than just set photographer for Godard, Truffaut, Demy, Rozier and Chabrol, Cauchetier embodied New Wave insolence by re-thinking the frame of set photography. He walked into the frame, had scenes replayed, and documented all that preceded or surrounded a take. We're on set with him alongside Godard, pushing a cart bearing a hunched-up cameraman for a tricky tracking shot. We're with the tech crew on Adieu Philippine, piled into the Citroën 2CV With legendary shots and new discoveries, this show is a journey through the images of cinema taken by Cauchetier, who passed away this year, taken on the sets of New Wave films