American Photographer | Born: 1933
Bruce Davidson began taking photographs at the age of ten in Oak Park, Illinois. While attending Rochester Institute of Technology and Yale University, he continued to further his knowledge and develop his passion. He was later drafted into the army and stationed near Paris. There he met Henri Cartier-Bresson, one of the founders of the renowned cooperative photography agency, Magnum Photos.

When he left military service in 1957, Davidson worked as a freelance photographer for LIFE magazine and in 1958 became a full member of Magnum. From 1958 to 1961 he created such seminal bodies of work as "The Dwarf," Brooklyn Gang," and "Freedom Rides." He received a Guggenheim fellowship in 1962 and created a profound documentation of the civil rights movement in America. In 1963, the Museum of Modern Art in New York presented his early work in a solo show.

In 1967, he received the first grant for photography from the National Endowment for the Arts, having spent two years witnessing the dire social conditions on one block in East Harlem. This work was published by Harvard University Press in 1970 under the title East 100th Street and was later republished and expanded by St. Ann's Press. The work became an exhibition that same year at the Museum of Modern Art in New York. In 1980, he captured the vitality of the New York Metro's underworld that was later published in a book, Subway, and exhibited at the International Center for Photography in 1982. From 1991-95 he photographed the landscape and layers of life in Central Park. In 2006, he completed a series of photographs titled "The Nature of Paris," many of which have been shown and acquired by the American Academy of Arts and Letters.

Davidson received an Open Society Institute Individual Fellowship in 1998 to return to East 100th Street His awards include the Lucie Award for Outstanding Achievement in Documentary Photography in 2004 and a Gold Medal Lifetime Achievement Award from the National Arts Club in 2007. Classic bodies of work from his 50-year career have been extensively published in monographs and are included in many major public and private fine art collections around the world. He continues to photograph and produce new bodies of work.
Source Magnum Photos
Agency:
Galleries:
Website: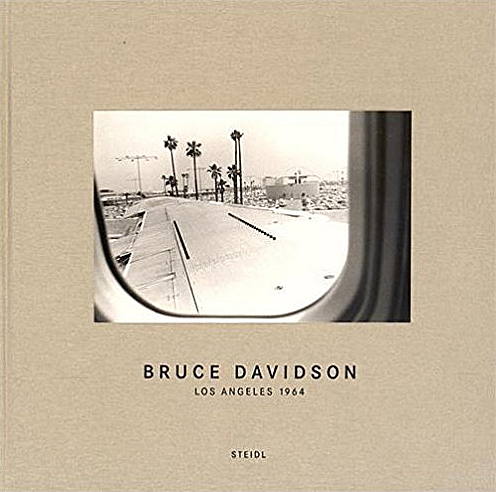 Author: Bruce Davidson
Publisher: Steidl
Year: 2014 - Pages: 56
Bruce Davidson describes the genesis of this project thus: "Esquire's editors sent me to Los Angeles, and when I landed at LA International Airport I noticed giant palm trees growing in the parking lot. I ordered a hamburger through a microphone speaker in a drive-in called Tiny Naylor's. The freeways were blank and brilliant, chromium-plated bumpers reflected the Pacific Ocean, but the air quality was said to be bad. People looking like mannequins seemed at peace on the Sunset Strip while others were euphoric as they watered the desert. I stood there ready with my Leica, aware of my shadow on the pavement. I walked up to strangers, framed, focused and in a split second of alienations and cynicism, pressed the shutter button. Suddenly I had an awakening that led me to another level of visual understanding. But in the end, for some unknown reasons, the editors rejected the pictures, and I had to return home with a big box of prints, put them in a drawer, and forgot all about the trip."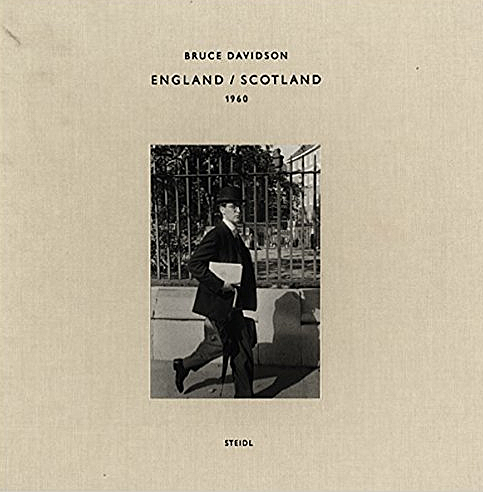 Author: Bruce Davidson
Publisher: Steidl
Year: 2014 - Pages: 144
In 1960, after an intense year photographing a notorious Brooklyn street gang "The Jokers", Bruce Davidson decided to remove himself from the tension and depression of that work. He received an assignment to photograph Marilyn Monroe during the making of John Houston's The Misfits in the Nevada desert, and then travelled to London on commission for Queen magazine. Published by Jocelyn Stevens, Queen was devoted to British lifestyle and Davidson was charged, with no specific agenda, to spend a couple of months touring England and Scotland to create a visual portrait of the two countries. England / Scotland 1960 offers a poetic insight into the heart of English and Scottish cultures. Reflecting a post-warera in which the revolutions of the 1960s had not quite yet entered the mainstream, Davidson's photographs reveal societies driven by difference - the extremes of city and country life, of the landed gentry and the common people. Published for the first time in its entirety in 2005, this new edition has a larger ideal format chosen by Davidson initially for his Black & White (2012), and now the standard size for his future publications with Steidl.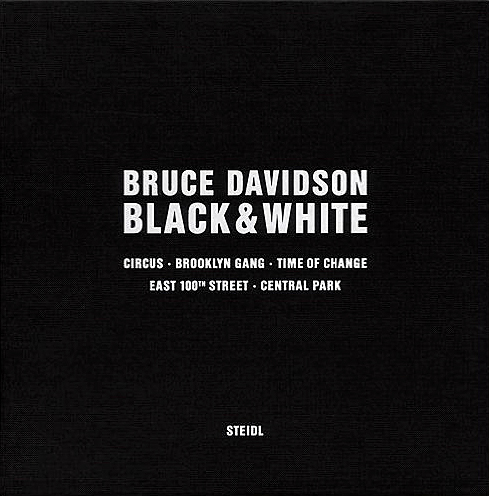 Author: Bruce Davidson
Publisher: Steidl
Year: 2012 - Pages: 704
Black & White is the definitive collection of Bruce Davidson's black and white photography, spanning a period of 40 years. This collectable five-volume set comprises re-prints of classic books of Davidson's poignant and purposeful imagery, some of them newly edited and expanded. The seminal bodies of work are Circus (1958), an intimate portrait of a dwarf clown; Brooklyn Gang (1959), depicting a group of troubled youths; Time of Change (1961-1965), a civil rights documentation in America; East 100th Street (1966-1968), showing life on one block in Spanish Harlem; and Central Park (1992-1995), exploring layers of life in New York's famous urban oasis. Black & White is a tribute to Davidson's unique photographic achievement, and a powerful document of social change.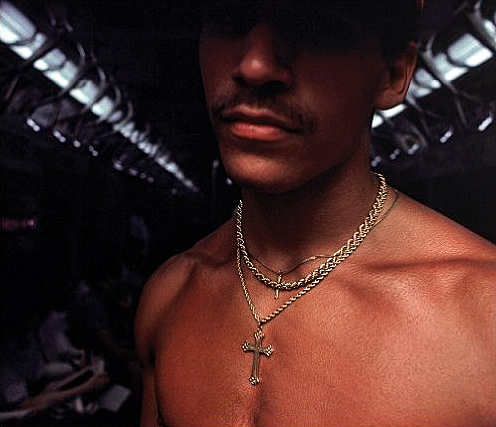 Author: Bruce Davidson
Publisher: Aperture
Year: 2011 - Pages: 144
Bruce Davidson's groundbreaking Subway, first published by Aperture in 1986, has garnered critical acclaim both as a documentation of a unique moment in the cultural fabric of New York City and for its phenomenal use of extremes of color and shadow set against flash-lit skin. In Davidson's own words, "the people in the subway, their flesh juxtaposed against the graffiti, the penetrating effect of the strobe light itself, and even the hollow darkness of the tunnels, inspired an aesthetic that goes unnoticed by passengers who are trapped underground, hiding behind masks and closed off from each other." In this third edition of what is now a classic of photographic literature, a sequence of 118 (including 25 previously unpublished) images transport the viewer through a landscape at times menacing, and at other times lyrical and soulful. The images present the full gamut of New Yorkers, from weary straphangers and languorous ladies in summer dresses to stalking predators and homeless persons. Davidson's accompanying text tells the story behind the images, clarifying his method and dramatizing his obsession with the subway, its rhythms and its particular madness.