From February 26, 2020 to April 18, 2020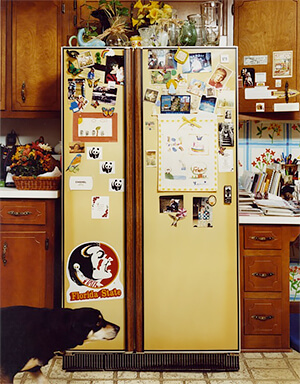 976 Madison Avenue
New York, NY 10075
Gagosian is pleased to present Old Fruit, an exhibition of photographs by Roe Ethridge spanning the past twenty years. This is his first solo exhibition with the gallery in New York, following exhibitions in Beverly Hills, Hong Kong, and San Francisco.

Since the turn of the century, Ethridge has exercised a significant influence over young artists in particular, yet opportunities to see groupings of his early work have been rare. Old Fruit, which focuses primarily on his output from the early 2000s, offers a valuable chance to revisit many highly regarded and widely reproduced images that embody new ways of understanding the medium of photography in the context of emergent technological and social currents.

Expanding on the visual and critical syntaxes of photographers from Paul Outerbridge to Andreas Gursky, Ethridge strategically crisscrosses the zones of artistic, commercial, and vernacular imagery, encouraging the staged and the spontaneous to occupy the same space. Using outtakes from his own commercial and editorial shoots alongside other images, he subverts the residual authority of the portrait, landscape, and still life genres to match his own consciously ambiguous ends. While applying high production values and acknowledging the conventions of picture making, he introduces subtle conceptual twists and formal glitches that destabilize our ingrained faith in the function and authority of these elements. Courting a certain aesthetic discomfort, his interest is in producing images that are, as he puts it, "'right' in their wrongness."