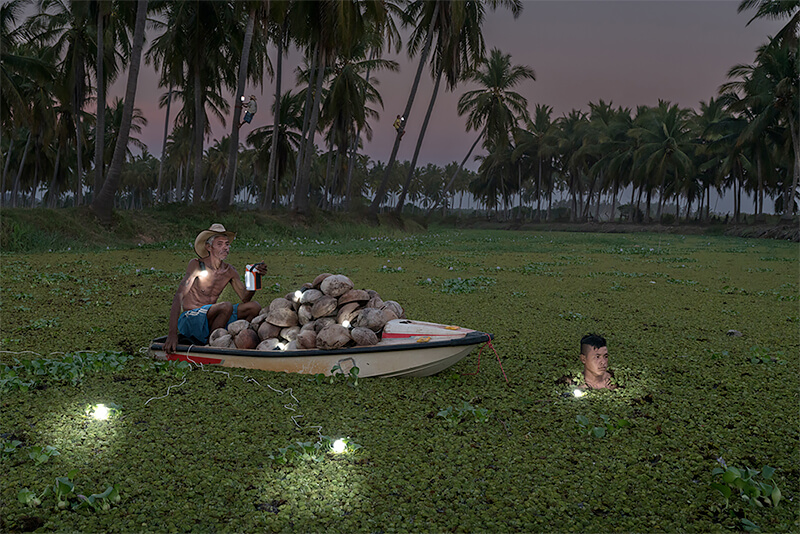 67 Shore Road
Winchester, MA 01890
Jon Henry Awardee, Finalists Michael Darough, Rubén Salgado Escudero and Priya Kambli
The Arnold Newman Prize for New Directions in Photographic Portraiture is a $20,000 prize awarded annually by Maine Media Workshops + College to a photographer whose work demonstrates a compelling new vision in photographic portraiture. In addition to the winner, the jury selects three finalists each year who are invited to participate in an exhibit at the Griffin Museum of Photography.

Jon Henry is the recipient of 2020 Arnold Newman Prize, one of the nation's largest in the world of photographic portraiture. Provoking timely themes of family, socio-political issues, grief, trauma, and healing within the African American community, Henry's work will be on View at The Griffin Museum from October 1 through 23, 2020

Henry's award-winning work entitled Stranger Fruit was created in response to the senseless murders of black men across the nation by police violence. According to his artist statement, "Even with smart phones and dash cams recording the actions, more lives get cut short due to unnecessary and excessive violence."

About the Winner: Jon Henry is a visual artist who works with photography and text. He is from Queens, NY and currently living in Brooklyn. His work has been published both nationally and internationally and exhibited in numerous galleries including Aperture Foundation, Smack Mellon, and BRIC among others. Known for the cultural activism in his work, his projects include studies of athletes from different sports and their representations. He was recently named one of LensCulture's Emerging Artists for 2019, an En Foco Fellow for 2020 and he has also won the Film Photo Prize for Continuing Film Project sponsored by Kodak.

In this series, Henry photographs mothers with their sons in their environment, reenacting what it must feel like to endure this pain. "The mothers in the photographs have not lost their sons, but understand the reality that this could happen to their family," Henry explains. "The mother is also photographed in isolation, reflecting on the absence. When the trials are over, the protesters have gone home and the news cameras gone, it is the mother left. Left to mourn, to survive." The title of the project is a reference to the song "Strange Fruit." Instead of black bodies hanging from the Poplar Tree, "these fruits of our families, our communities, are being killed in the street."

About the Award: The Prize is funded by the Arnold and Augusta Newman Foundation and administered by Maine Media Workshops + College. The influential and revered photographer and educator, Arnold Newman, enjoyed a decades' long association with Maine Media, where he taught numerous photographic workshops over the years. The Arnold and Augusta Newman Foundation has continued his legacy at the College, supporting scholarships, media production, a distinguished lecture series, and the prestigious Arnold Newman Prize in Photographic Portraiture, a cash prize of $20,000 accompanied by an exhibition awarded annually to a photographer whose work demonstrates a compelling new vision in photography."

About the Selection Process: Selected by a jury of world-renowned photographers Makeda Best (Richard L. Menschel Curator of Photography at Harvard University), Aline Smithson (Los Angeles based visual artist, educator, and editor), and Dan Winters (award-winning portrait photographer, illustrator, filmmaker, and writer), each juror brought to the selection process a unique perspective guided by distinguished insight, analysis, and integrity.

The winner and finalists for the 2020 Arnold Newman Prize in Photographic Portraiture are invited to participate in a museum exhibition. The finalists this year include The Talk by Michael Darough, Solar Portraits by Rubén Salgado Escudero, and Buttons for Eyes by Priya Kambli.