French Photographer | Born: 1970
Laurent Baheux is a French photographer born in 1970 in Poitiers.

After covering unrestrained international sport news, Laurent Baheux turned towards nature and wilderness.

Its been fifteen years since the photographer works on making collections of images of nature in a dense and contrasting style. Laurent Baheux tries to develop a different way of photographing nature and its faune by attempting to create portraits that depict the personality and humanity of each animal, as an individual.

He adopts an animal portrayer approach where aesthetics and sensibility prevail over the documentary vision. Tight or misaligned layouts, blur or grain, raw and deep blacks, he explores all the ways possible, having as only requirement the magnification of his subject instead of just representing it.

The photographer actively advocates for organizations of environmental protection such as WWF, the Foundation Good Planet, the Institute Jane Goodall or the Association Cheetah for Ever. In 2013, he became goodwill ambassador for the United Nations program for the environment on the anti-poaching campaign Wild and Precious.

His photographs are exhibited in galleries and are part of books, publications and exhibitions in France and abroad.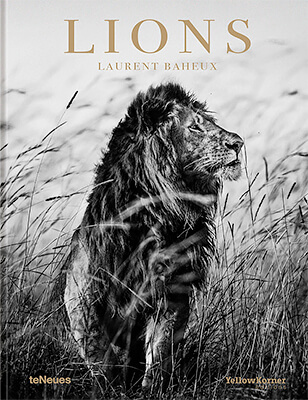 Author: Laurent Baheux
Publisher: teNeues
Year: 2019 - Pages: 192
The French photographer Laurent Baheux dedicates his new book to the "King of the Animals"--the lion. Breathtaking black-and-white images create a powerful portrait of one of the most majestic and endangered species in the world.
Think of lions and one might think of the powerful member of the "Big Five," with a roar that echoes across the planes, and a merciless pursuit of its prey. One might think of the pack animal, surprisingly playful and affectionate within its pride. Or one might think of the endangered lion--long the target of hunters and trophy collectors.
In this new photo book, Laurent Baheux journeys across Africa to capture the lion in all its intricate facets. The result is a sensitive and intimate photo portrait that shows the big cat in all its nuance: at once powerful, fragile, and tender. Baheux's stunning black-and-white lion photographs show this feline animal with the precision and texture of a studio portrait--its many different movements, postures, behaviors, and expressions captured with startling intimacy.
Playing among the pride, out hunting its prey, or eyeing us directly from the page, Baheux's lion photography is as much a tribute to the lion's character, power, and feeling as it is a haunting reminder that this most impressive of animals is also among the most endangered wildlife on earth.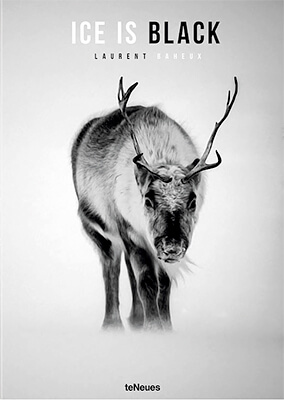 Author: Laurent Baheux
Publisher: teNeues
Year: 2017 - Pages: 192
From majestic glaciers to vast frozen plains as far as the eye can see, ice is just as important to the world's ecosystems as water, air, and trees. And yet its presence and vital role on Earth is increasingly threatened by the effects of global warming and population growth--the inspiration behind French photographer Laurent Baheux's latest endeavor, Ice is Black. Through breathtaking blackand-white images, Baheux captures the world's most beautiful icy landscapes and the fascinating animals that inhabit them. We get close to creatures and landscapes that seem to be taken out of time. Taken in such far-flung lands as Norway, Iceland, and Canada, Baheux's images present polar bears and their cubs, foxes frolicking in snow, and seals navigating icy waters. While the photographs convey evocative beauty, they also act as a call to action to protect these magnificent icy lands and the creatures that rely on them.