As a photographer, you should be using Instagram to watch emerging trends in your niche and find creative ideas for your future projects. You should follow talented photographers from all over the world to get inspired and motivated.
The only problem is that there are too many photographers on Instagram, and it's not that easy to choose a few accounts to follow. Here is a list of top influencers in four niches: street photography, wildlife photography, portrait photography, and travel photography. We highly suggest you check them out.
Street photography
Alan Schaller
@alan_schaller
Alan Schaller is a London-based photographer who knows how to capture the spirit of the urban environment and build enchanting narratives. He is a Leica Ambassador. Also, he is a founder of popular photography account
@StreetPhotographyInternational
that has more than 1.3M followers.
Alan Schaller is an influencer in the world of black and white
street photography
. His works force viewers to think about their own individual place in the world. If you are starting your career as a street photographer, you should follow Alan Schaller to get inspiration daily.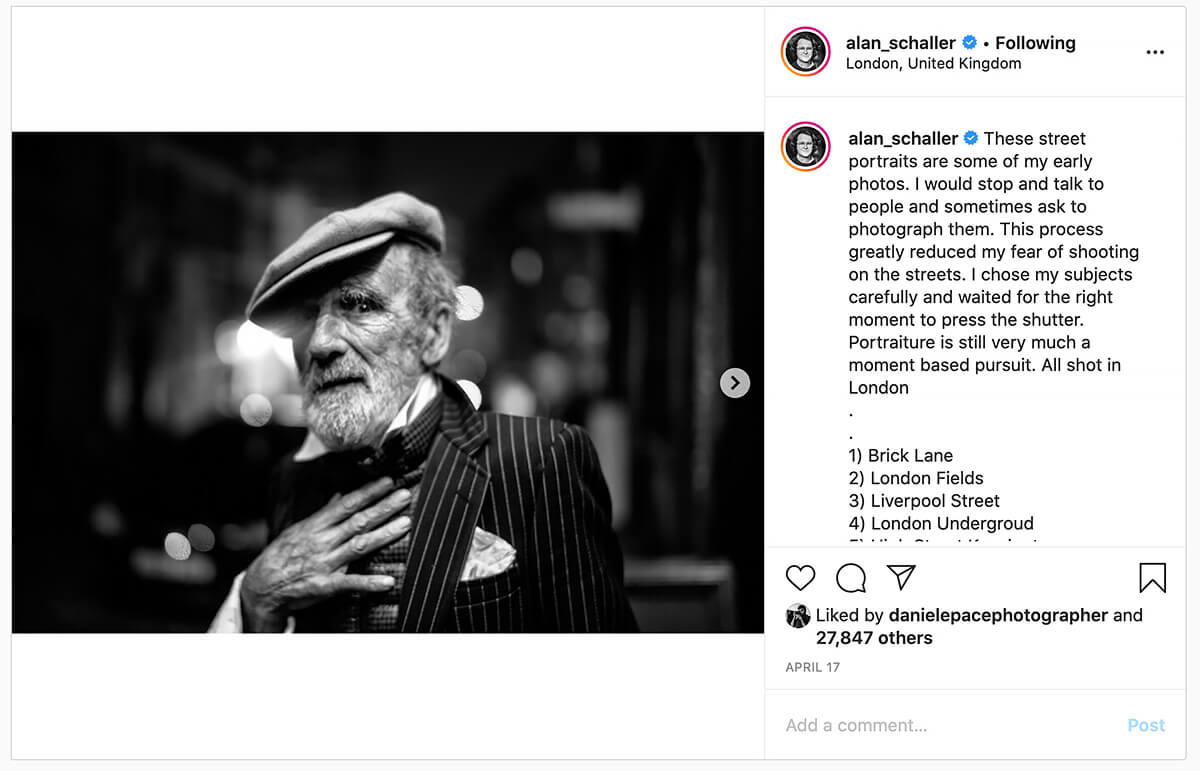 Paola Franqui
@monaris_
Paola Franqui, also known as Monaris, is a New York-based photographer who is famous for her ability to notice the moments and emotions that most people would just walk by.
Remarkably, Paola doesn't have a typical photographer's backstory. She started her career from
iPhone photography
. During the first three years, she didn't own a professional camera, but she managed to take great street photos and grew her following on Instagram.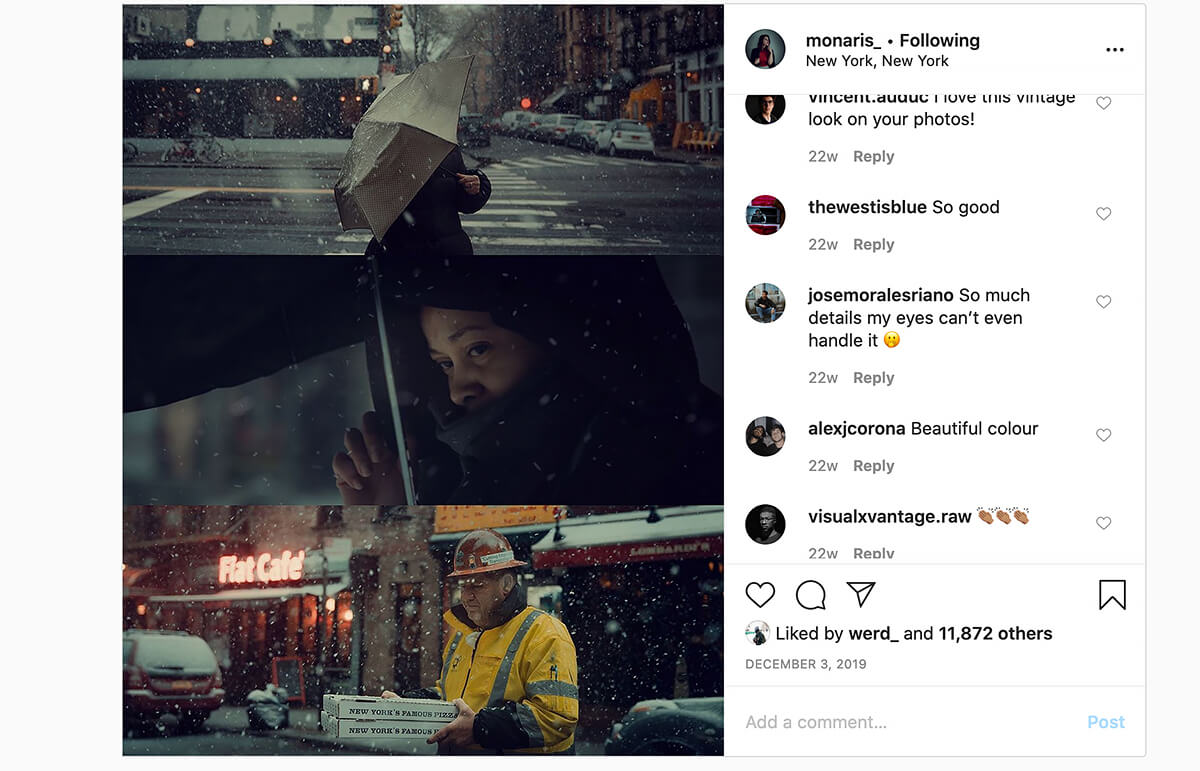 Wildlife Photography
Varun Aditya
@varun.aditya
Varun Aditya is a world-famous wildlife photographer and an environmentalist from India. He was awarded as NatGeo Nature Photographer of the year 2016 (1st prize). Currently, he has more than 718k followers on Instagram and works as Sony Alpha Ambassador.
Varun Aditya learned the basics of photography with the help of Google and YouTube videos. Now he is a successful wildlife photographer – a key person of influence in his niche.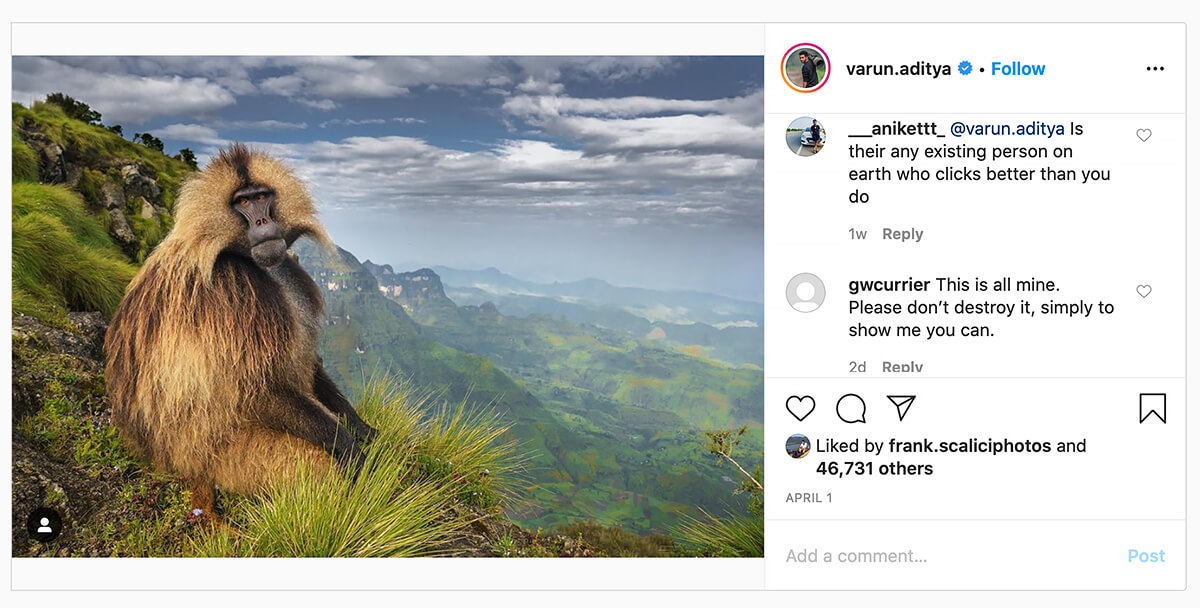 David Yarrow
@davidyarrow
David Yarrow is a master of black and white wildlife photography. Each of his works expresses the character of the animal and the dynamics of the wild world. The photographs he takes captivate the viewer and communicate a story about the behaviors the living creature might have.
David Yarrow knows how to engage his audience on Instagram. He writes interesting-to-read captions for each of his posts.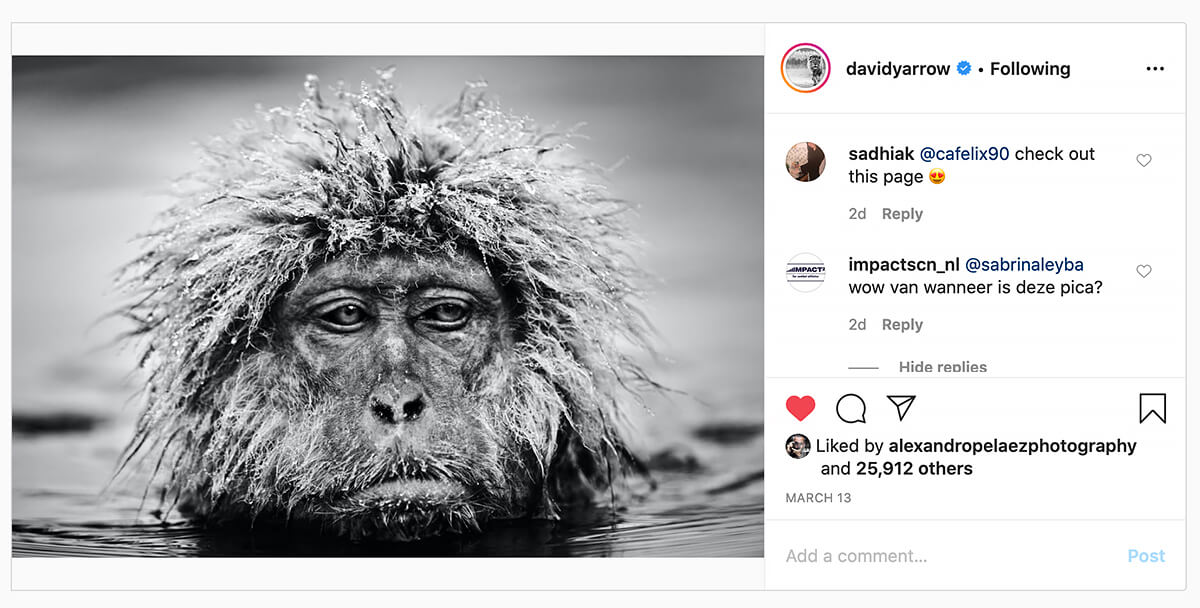 David Lloyd
@davidlloyd
Davis Lloyd is another wildlife photographer who is worth following on Instagram. He spends up to four months a year shooting in Africa and India and capturing images of wild cats and other fascinating animals.
In 2011, David's black and white image A Flick of the Tail was put on the cover of the Wildlife Photographer of the Year: Portfolio 21 – that was the only time a black and white photograph appeared on the cover. Today, David Lloyd has more than 384K followers on Instagram.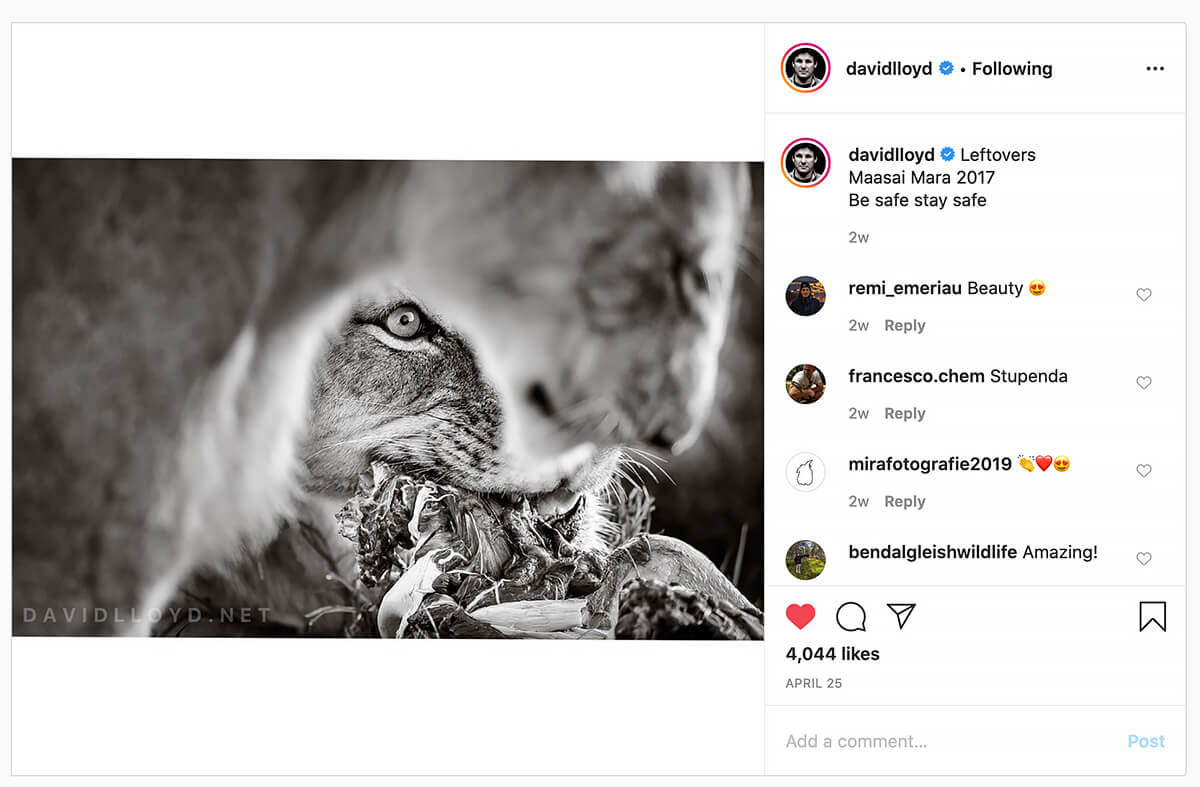 Portrait photography
Alessio Albi
@alessioalbi
Alessio Albi is an Italian photographer who creates spectacular, dramatic portraits of women. He masterfully chooses beautiful natural environments and creates compelling compositions. Alessio's works look simple yet mysterious.
Alessio Albi is a real trendsetter. During the quarantine, he was one of the first photographers who started taking photos of models remotely with a webcam, says Kristin Savage, a content creator for Studyker.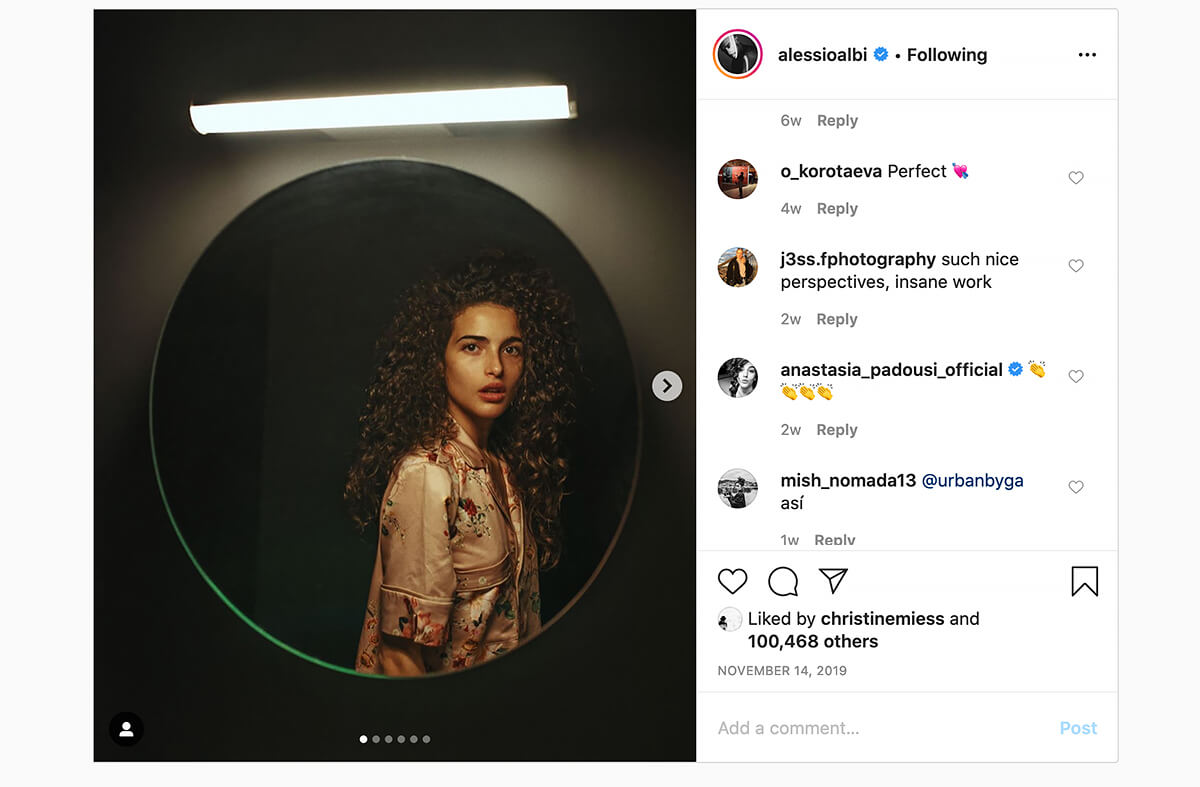 Marta Bevacqua
@martabevacqua
Marta Bevacqua is another famous Italian photographer and storyteller. She knows how to create a breathtaking portrait of a woman and represents beauty in all the different forms and shapes.
Aesthetics of Marta Bevacqua's works can be described as surreal, dreamy, and romantic. If you have ever seen her photographs before, you will recognize her new artworks with ease.
Nirav Patel
@niravphotography
Nirav Patel is a talented California-based photographer who features people "in moments of reflection". He uses the light to simplify the complex environment and create a one-of-a-kind composition.
Nirav Patel has two accounts on Instagram. The second one, @niravpatelweddings, is dedicated to wedding photography. If you shoot weddings, don't hesitate to check it out.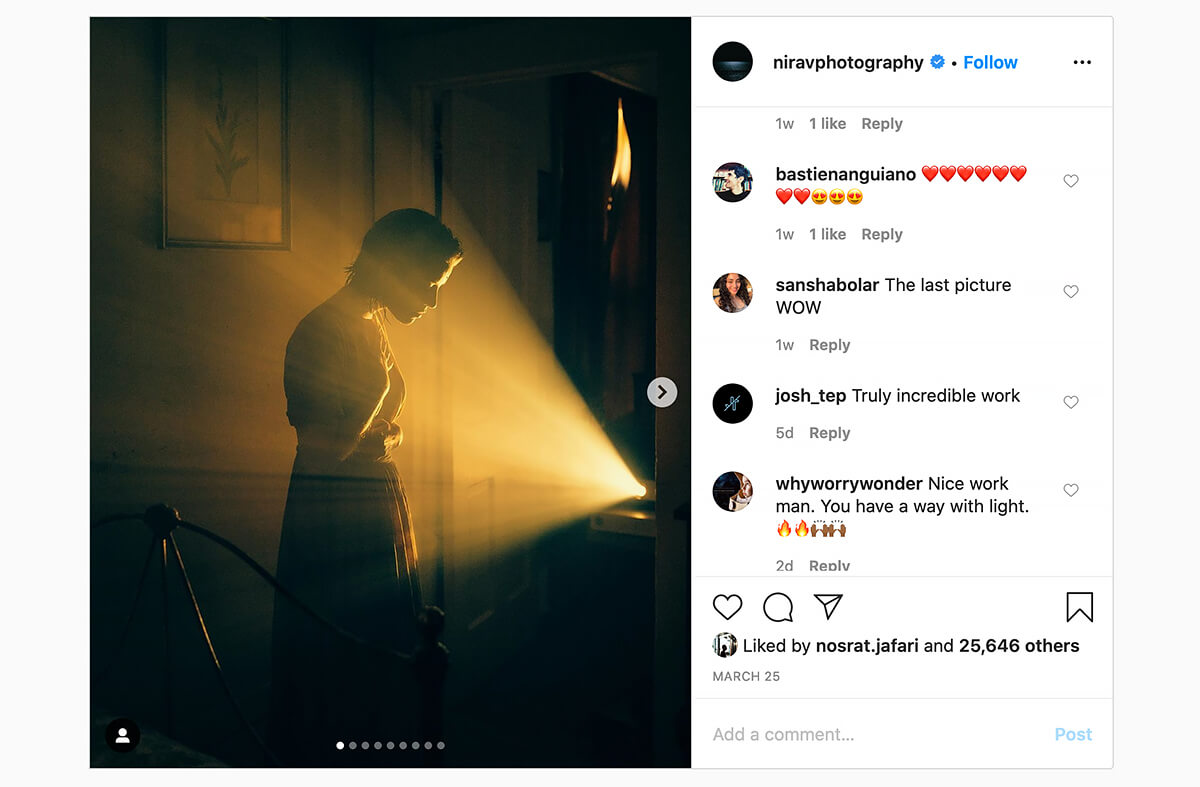 Travel photography
Jord Hammond
@jordhammond
Jord Hammond is a young, perspective travel photographer and storyteller from the UK. He visits different countries on different continents and documents the people and places he meets in an enigmatic manner.
The way he uses color and light brings a fresh new perspective to the world of travel photography and inspires people to voyage more.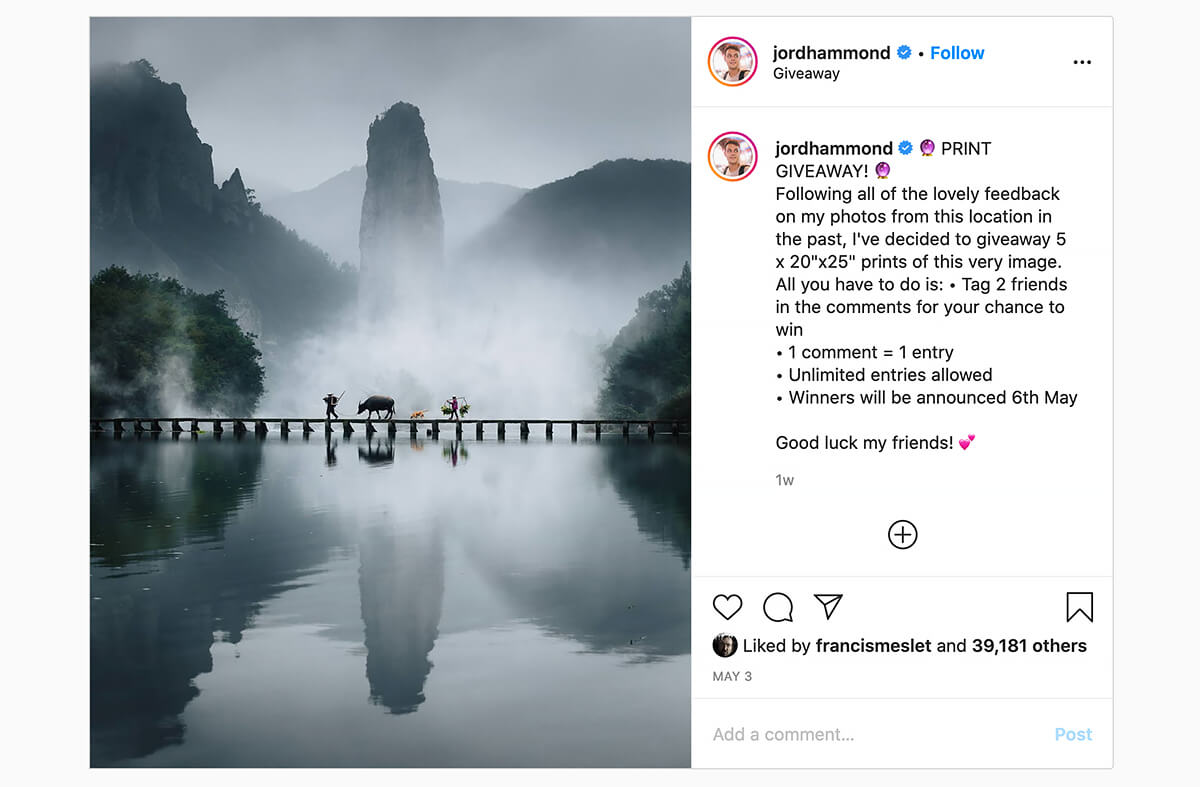 Sam Horine
@samhorine
Sam Hornie's works have been published by Travel and Leisure, The New Yorker, The New York Times, Art in America, and many other famous magazines, so it's highly likely you have seen his photographs before. He also has exhibited in group exhibitions at the Brooklyn Museum, The Queens Museum of Art, and New York's New Museum.
Now Sam Horine has more than 575K followers on Instagram and runs his own business. His clients are world-famous brands such as Delta Airlines, American Express, Nike Running, Lexus, and Hilton. If you follow Sam on Instagram, you will definitely learn something new about travel and commercial photography.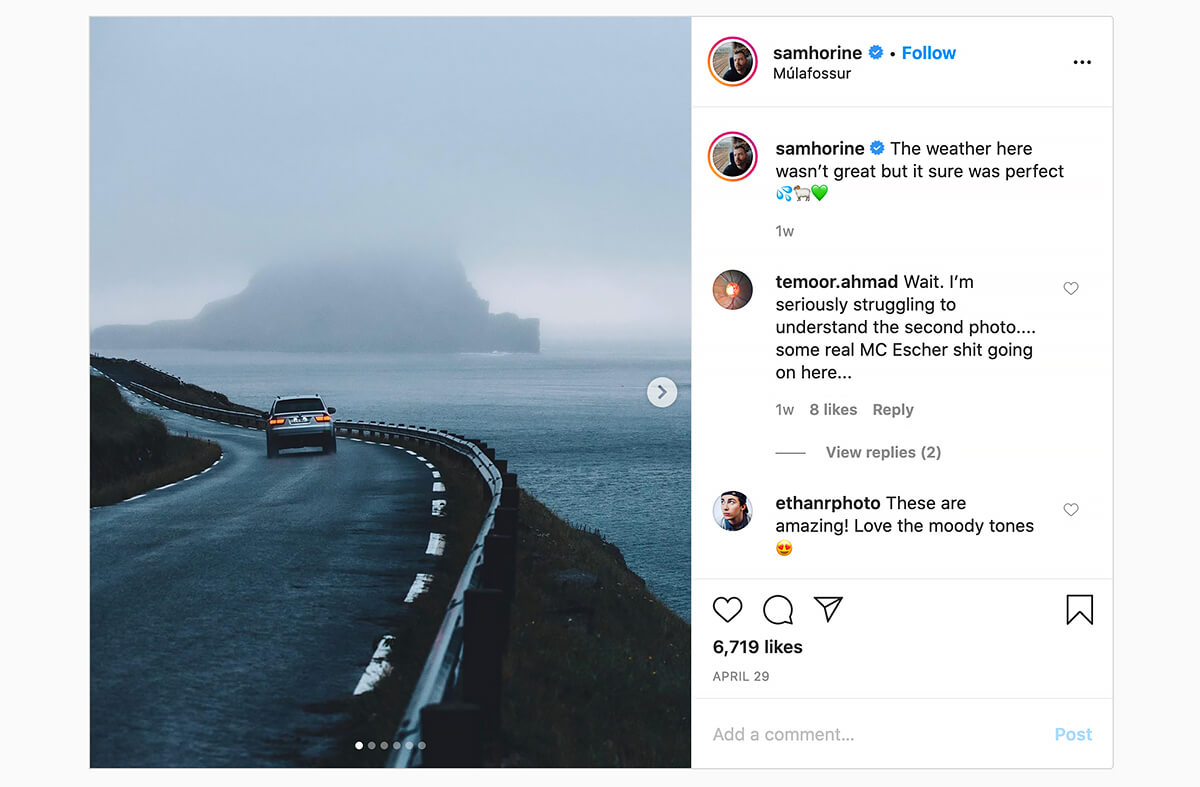 Murad Osmann
@muradosmann
Murad Osmann is a travel photographer best known for his ongoing Follow Me To series. Since 2012, he is photographing his then-girlfriend (now wife) Nataly, who "leads him holding his hand" to the most beautiful places in the world.
Murad Osmann was named a Top 3 Travel Influencer by Forbes, and currently has more than 4.2 million followers on Instagram.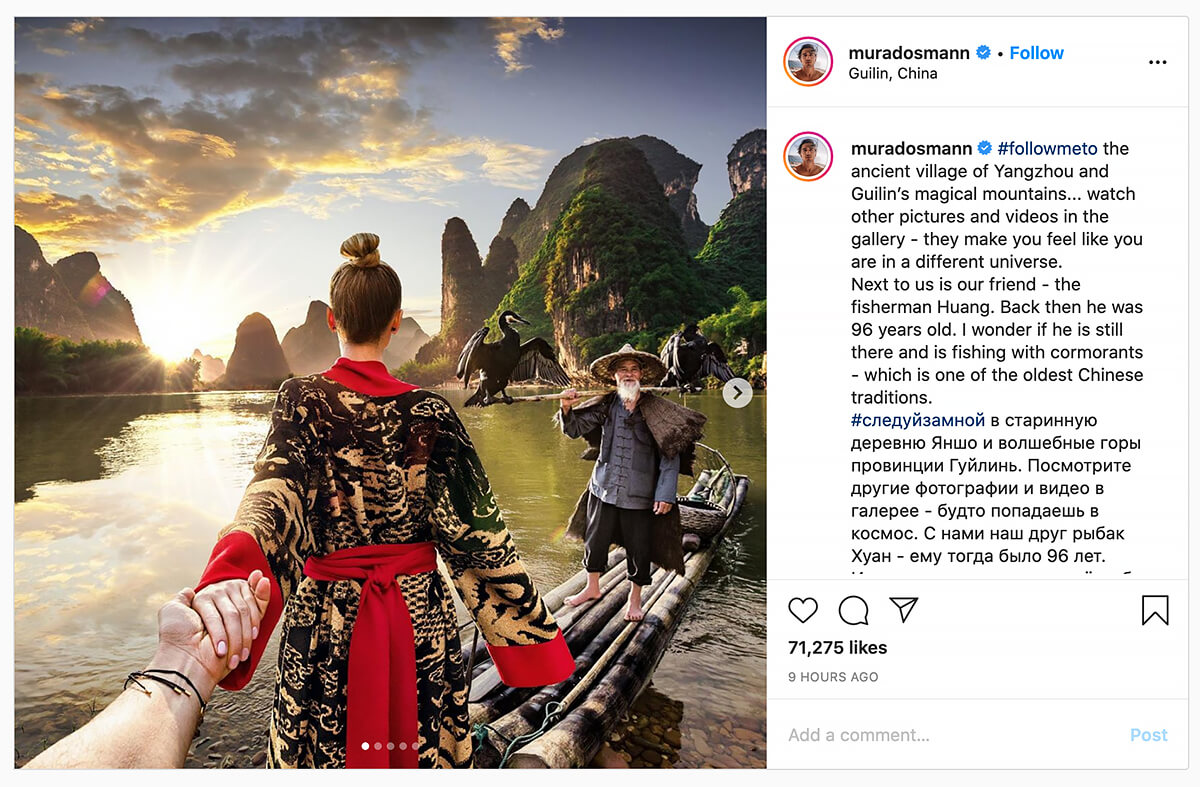 Final thoughts:
By following talented photographers on Instagram, you will expand your vision of photography. You will come up with new ideas, will want to try new techniques, and will advance your career. So choose the right influencers to follow, and craft your own way to success.
About the Author:
Marques Coleman is a marketer by trade but he has a lot of different interests. He works as a writer for
EssayAssistant
and does freelance editing work for companies like
TopEssayWriting
. Besides, Marques is fond of photography and social media.