American Photographer | Born: 1939
William Eggleston assumes a neutral gaze and creates his art from commonplace subjects: a farmer's muddy Ford truck, a red ceiling in a friend's house, the contents of his own refrigerator. In his work, Eggleston photographs "democratically"--literally photographing the world around him. His large-format prints monumentalize everyday subjects, everything is equally important; every detail deserves attention.

A native Southerner raised on a cotton plantation in the Mississippi Delta, Eggleston has created a singular portrait of his native South since the late 1960s. After discovering photography in the early 1960s, he abandoned a traditional education and instead learned from photographically illustrated books by Walker Evans, Henri Cartier-Bresson, and Robert Frank. Although he began his career making black-and-white images, he soon abandoned them to experiment with color technology to record experiences in more sensual and accurate terms at a time when color photography was largely confined to commercial advertising. In 1976 with the support of John Szarkowski, the influential photography historian, critic, and curator, Eggleston mounted "Color Photographs" a now famous exhibition of his work at the Museum of Modern Art, New York. William Eggleston's Guide , in which Szarkowski called Eggleston's photographs "perfect," accompanied this groundbreaking one-person show that established his reputation as a pioneer of color photography. His subjects were mundane, everyday, often trivial, so that the real subject was seen to be color itself. These images helped establish Eggleston as one of the first non-commercial photographers working in color and inspired a new generation of photographers, as well as filmmakers.

Eggleston has published his work extensively. He continues to live and work in Memphis, and travels considerably for photographic projects.
Source Getty Museum
Galleries:
Website: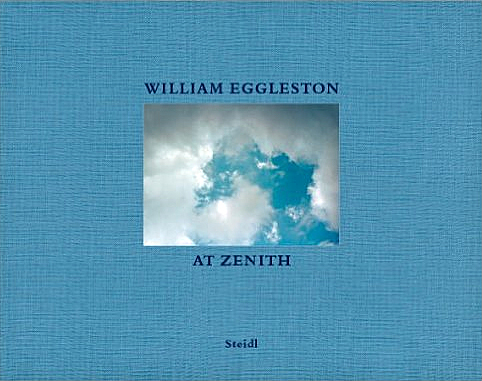 Author: William Eggleston
Publisher: Steidl
Year: 2014 - Pages: 88
In April 1979, a book of fifteen colour photographs by William Eggleston was published in a limited edition of twenty. The photographs were taken from the second chapter of an unpublished larger work entitled Wedgewood Blue. Amidst his publications Chromes (2011), Los Alamos Revisited (2012), and the upcoming Democratic Forest (2014) and Election Eve (2016), all documenting his lifetime work, At Zenith constitutes a calm and experimental intermezzo from Eggleston's familiar loudness and intensity of colours. The photographer pointed his camera at the sky to focus on the clouds rolling by.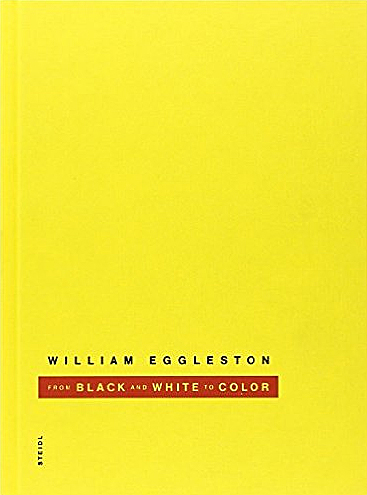 Author: William Eggleston
Publisher: Steidl
Year: 2014 - Pages: 192
At the end of the 1950s William Eggleston began to photograph around his home in Memphis using black-and-white 35mm film. Fascinated by the photography of Henri Cartier-Bresson, Eggleston declared at the time: "I couldn't imagine doing anything more than making a perfect fake Cartier-Bresson." Eventually Eggleston developed his own style which later shaped his seminal work in color-an original vision of the American everyday with its icons of banality: supermarkets, diners, service stations, automobiles and ghostly figures lost in space. From Black and White to Color includes some exceptional as-yet-unpublished photographs, and displays the evolution, ruptures and above all the radicalness of Eggleston's work when he began photographing in color at the end of the 1960s. Here we discover similar obsessions and recurrent themes as present in his early black-and-white work including ceilings, food, and scenes of waiting, as well as Eggleston's unconventional croppings-all definitive traits of the photographer who famously proclaimed, "I am at war with the obvious."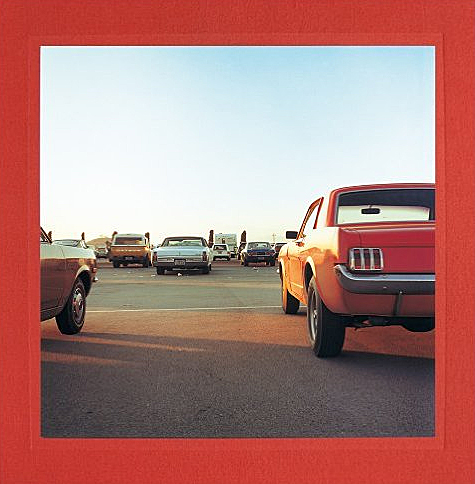 Author: William Eggleston
Publisher: Twin Palms Publishers
Year: 2008 - Pages: 101
Born and raised in Mississippi and Tennessee, William Eggleston began taking pictures during the 1960s after seeing Henri Cartier-Bresson's The Decisive Moment. In 1966 he changed from black and white to color film, perhaps to make the medium more his own and less that of his esteemed predecessors. John Sarkowski, when he was curator of photography at the Museum of Modern Art, called Eggleston the "first color photographer," and certainly the world in which we consider a color photograph as art has changed because of Eggleston. From 1966 to 1971, Eggleston would occasionally use a two and one quarter inch format for photographs. These are collected and published here for the first time, adding more classic Eggleston images to photography's color canon.
Author: William Eggleston, John Szarkowski
Publisher: The Museum of Modern Art
Year: 2002 - Pages: 112
William Eggleston's Guide was the first one-man show of color photographs ever presented at The Museum of Modern Art, New York, and the Museum's first publication of color photography. The reception was divided and passionate. The book and show unabashedly forced the art world to deal with color photography, a medium scarcely taken seriously at the time, and with the vernacular content of a body of photographs that could have been but definitely weren't some average American's Instamatic pictures from the family album. These photographs heralded a new mastery of the use of color as an integral element of photographic composition. Bound in a textured cover inset with a photograph of a tricycle and stamped with yearbook-style gold lettering, the Guide contained 48 images edited down from 375 shot between 1969 and 1971 and displayed a deceptively casual, actually super-refined look at the surrounding world. Here are people, landscapes, and odd little moments in and around Eggleston's hometown of Memphis--an anonymous woman in a loudly patterned dress and cat's eye glasses sitting, left leg slightly raised, on an equally loud outdoor sofa; a coal-fired barbecue shooting up flames, framed by a shiny silver tricycle, the curves of a gleaming black car fender, and someone's torso; a tiny, gray-haired lady in a faded, flowered housecoat, standing expectant, and dwarfed in the huge dark doorway of a mint-green room whose only visible furniture is a shaded lamp on an end table. For this edition of William Eggleston's Guide, The Museum of Modern Art has made new color separations from the original 35 mm slides, producing a facsimile edition in which the color will be freshly responsive to the photographer's intentions.