From July 14, 2020 to July 24, 2021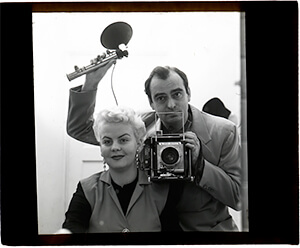 751 Chartres Street
New Orleans, LA 70116
As a freespirited and daring young man in the early 1930s, Theodore Fonville Winans drove the backroads and navigated the bayous of south Louisiana in a secondhand boat he christened the Pintail. During his travels, Winans documented many fascinating aspects of Louisiana culture. including the Acadian fishing community of Grand Isle, the Crowley rice festival, an annual fox hunt in Feliciana Parish, the interior of the Avery Island salt mine, prisoners at Angola State Penitentiary, and Governor Huey P. Long, who was also known to visit remote areas of the state. Winans remarked about this time in his life, "I didn't take the pictures deliberately. I just took them for fun. None was on assignment. I wasn't a freelancer. I just took my camera and got pictures when I saw something interesting." A gifted, amiable, and inquisitive photographer, Winans had an intuitive eye for composition and an innate ability to connect with his subjects, revealing both their personality and a sense of place.

Upon getting married in 1936, Winans and his bride, Helen Collins, settled in Baton Rouge and raised three children. Initially, he worked as a state photographer specializing in portraits of elected officials during the tenure of Governor Earl K. Long. In 1940, he opened his own studio on Laurel Street and became a wedding and portrait photographer. Winans became known for the friendly thoroughness of his approach. He would follow the bride throughout the day, capturing her preparations and emotions as well as the ceremony itself. Winans' studio remained open as generations of Baton Rouge brides selected Winans to document their special day.

Winans achieved an engaging blend of intimacy and revelation not just in his wedding photographs, but in most of his work. And although color photography became more available and popular during the course of his career, he stuck with the familiarity of black and white. An alert and sensitive chronicler of his times, Fonville Winans created a magnificent monochromatic record of a colorful and complex culture.