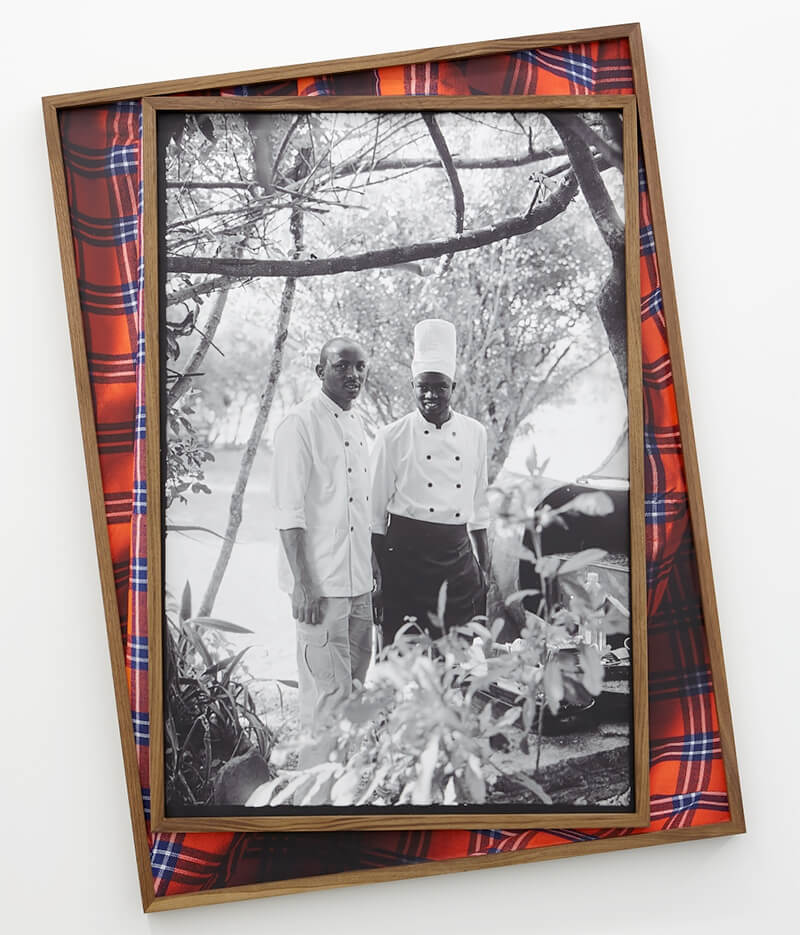 525 West 22nd Avenue
New York, NY 10011
Yancey Richardson Gallery is pleased to present Naïveté, an exhibition of new photographs, collage and fabric sculptures by Los Angeles-based artist David Alekhuogie. Informed by his 2019 trip to Nigeria, the birthplace of his father, Alekhuogie's recent work incorporates African sculpture and textiles to question the route through which African Americans become cognizant of their cultural heritage, authorship, and the hierarchy of art versus craft. A selection of works from the artist's 2018 series To Live and Die in LA will be featured in the project gallery. This is the artist's first exhibition with the gallery.

In the photographic series "A Reprise", Alekhuogie proposes a rewriting of Perfect Documents, the exhibition catalogue of documentary photographs of African sculptures by Walker Evans. Alekhuogie has recast Evans's two-dimensional images as physical sculpture, photographed them against traditional African textiles, and then overlaid this image onto the original catalogue. The resulting photographs oscillate between object and print, two and three dimensions, and nod to Cubism's relationship to African sculpture. The images by Evans are the result of a commission from MoMA to document their 1935 exhibition African Negro Art, a forerunner in presenting African objects as artworks rather than anthropological artifacts. With many of the objects unable to travel, Evans's formal, modernist photographs subsequently toured as an exhibition throughout the United States in their stead. Through his own transmutation of these images, Alekhuogie brings what he calls "the hand-me-down nature of Pan Africanism" to the foreground, and questions through whose eyes, and whose agency, African Americans form their cultural narrative.

Alongside these works, Alekhuogie explores the relationship between photography and African textiles as forms of craft and storytelling. In Seamstress and Pure Life, two multi-panel collages, black and white street-style photographs float on the floral ground of a typical African wax print fabric. Like photographs, African wax prints are a visual medium, conveying stories to the viewer about both the maker and the wearer. Portrait for George,a series of fabric wall sculptures, intertwines photography and textiles. By combining landscape photographs of George's Kenyan homeland and a Shuka cloth design typical of the area, Alekhuogie pays tribute to his friend by creating a commemorative portrait fabric. Draped and pinned within birch plywood boxes, the "portraits" conflate sculpture, photography, and performance to conjure the essence of his subject.

In the 2018 series To Live and Die in LA, Alekhuogie furthers his exploration of the body as landscape by placing cropped images of male torsos at Los Angeles locations charged with personal and political significance. The images are drawn from Alekhuogie's 2017 photographic series Pull_UP, which used the fashion trope of sagging and the horizon line of the waist to examine coded representations of black masculinity. Using geographic coordinates as titles to specify place, Alekhuogie notes "Politics of identity are bound up in landscape." The tightly framed figures are camouflaged by light, shadow and sharp-edged vegetation creating an ambiguous tension between vulnerability and aggression. Printed on canvas and pinned in shallow plywood boxes, the photographs are ultimately portraits of Alekhuogie's hometown of Los Angeles with its tangled history of dreams and violence.

Born in 1986, David Alekhuogie received his MFA from Yale University and post-bac BFA from the School of the Art Institute of Chicago. His work was included in Companion Pieces, the 2020 iteration of MoMA's biannual New Photography exhibition, and is currently on view in Men of Change: Power. Triumph. Truth. at the California African American Art Museum in Los Angeles. In 2019, he was the recipient of the Rema Hort Mann Foundation Emerging Artist Grant. Alekhuogie has had solo exhibitions at Los Angeles Municipal Art Gallery, CA (2019); Commonwealth and Council, Los Angeles, CA (2019); Skibum MacArthur, Los Angeles, CA (2017); and at the Chicago Artist Coalition (2016). Alekhuogie has participated in group shows at Museum of Modern Art, New York (2020); The High Museum of Art, Atlanta, GA (2017); Fraenkel Gallery, curated by Katy Grannan, San Francisco, CA (2015); and Regen Projects, Los Angeles, CA (2015). His work has been published in The New Yorker, The New York Times, Time Magazine, Timeout, Chicago, Vice, and The Los Angeles Times.