Stunning! Not only the winning photos, but the standard overall was as always impressive.
A panel of 10 expert jurors including:
Keith Cullen
(Founder Setanta Books),
Denis Dailleux
(Photographer, Agency VU'),
Stefano De Luigi
(Photographer, VII Agency),
Monica Denevan
(Photographer, Winner All About Photo Awards 2020),
Claudine Doury
(Photographer, Agency VU'),
Ann Jastrab
(Executive Director, Center for Photographic Art),
Sandrine Hermand-Grisel
(Photographer, Founder All About Photo),
Stephan Vanfleteren
(Photographer, Writer & Art-director of Hannibal Books),
Hiroshi Watanabe
(Photographer) and
Alison Wright
(Photographer & Author) have selected the 40 winning photographs.
They had the the difficult tasks of choosing the winners out of thousands of entries and we can't thank them enough for spending so much time looking at each entry with an expert eye.
The 6th annual competition attracted an extremely high caliber of photographers from around the world. The winners come from 23 different countries and 5 continents.
2020 was a peculiar year with the COVID-19 pandemic, of course, but also with the Australian and US West Coast Wildfires, the popular uprisings in Hong Kong, Columbia, Chile and Venezuela, The Black Live Matters protests, the explosion in Beirut... Yet the idealism of past years has not been completely tarnished and the images submitted show the rich diversity of our planet, with photographs ranging from a Porter in Kolkata to the human cost of COVID-19 in Indonesia. From underwater life in Japan to Irish Travelers. Or from a detention center in Latin-America to a fishing boat in Vietnam... Crossing borders, spanning cultures, and traversing the most remote corners of the world, the featured photographers all captured life in its most vivid forms.
The winner and Photographer of the Year 2021 is Tom Price (United Kingdom)
The winner and Photographer of the Year 2021 is Tom Price (UK) with his image "Porter" taken from a series of surreal portraits, featuring 'relocated' porters from Kolkata, as a reflection on the experience of migrant workers.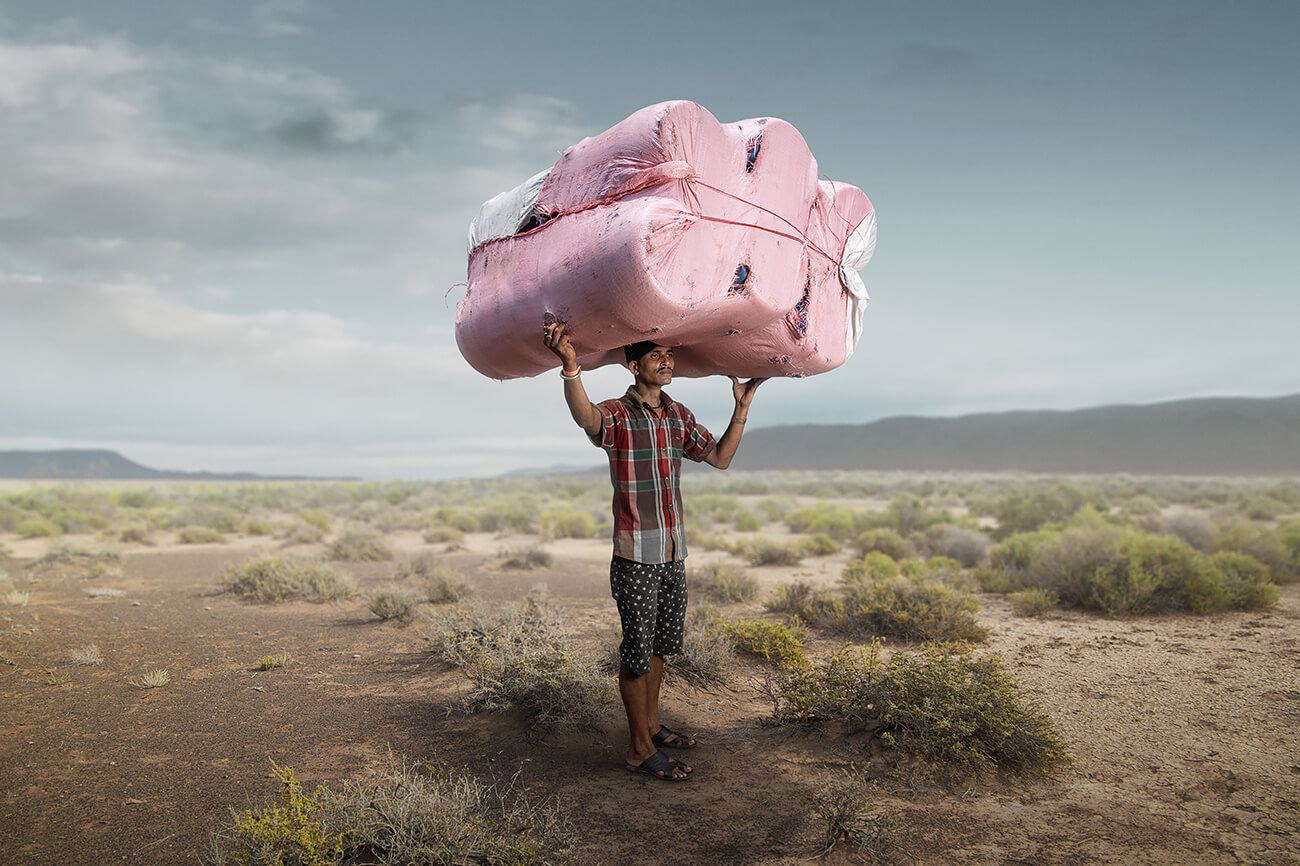 Porters
In 2016, I created a series of portraits featuring market porters in Asia's largest wholesale market - Barabazar in Kolkata. I was initially drawn to these subjects because of their herculean task of carrying implausibly-sized objects through the bustle of a mega market.
As I photographed these workers in isolation, separated from the throng of their industry, I discovered that many of the subjects had travelled far from their homes for this work, leaving families and familiarity behind in order to earn a living.
In 2020, I collaborated with Featherwax to relocate these portraits into a more surreal landscape. This series is an attempt at representing something of the experience of the migrant labourer; the sense of dislocation, the burden of their work and the courage it takes to make ends meet.
Tom Price's Website
Tom Price on Instagram
The Second Place Winner is Joshua Irwandi (Indonesia)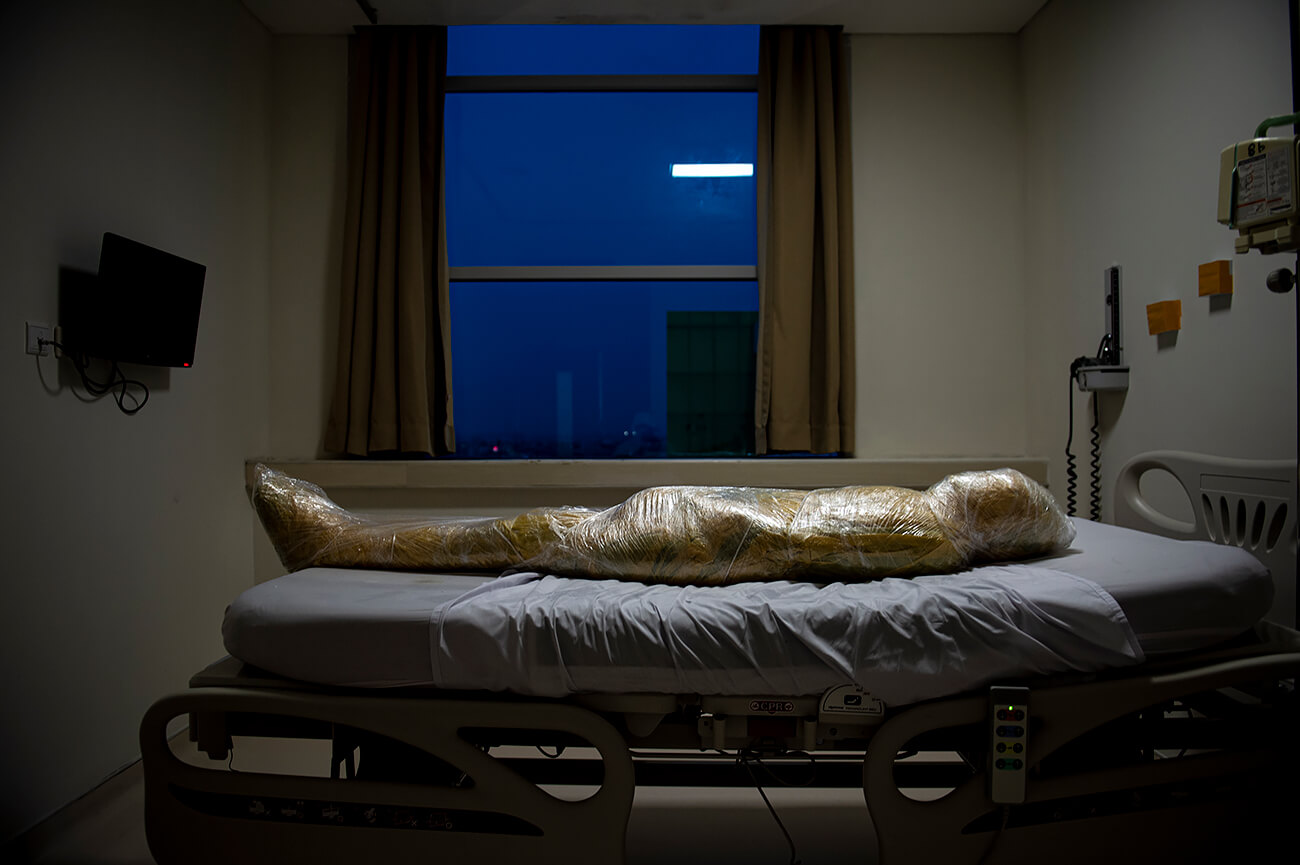 The Human Cost of COVID-19
The body of a suspected coronavirus victim, wrapped in yellow infectious waste plastic bags and wrappers, lies on the patient's deathbed awaiting a body bag in a hospital in Indonesia. The wrapping of the patient, which takes two nurses a full hour to complete, is intended to suppress the spread of coronavirus. As mandated by the Indonesian Ministry of Health, the wrapping of the body is a standard procedure for every suspected, comorbid, and positive confirmed COVID-19 death.
Joshua Irwandi's Website
Joshua Irwandi on Instagram
All About Joshua Irwandi
The Third Place Winner is Joseph-Philippe Bevillard (Ireland)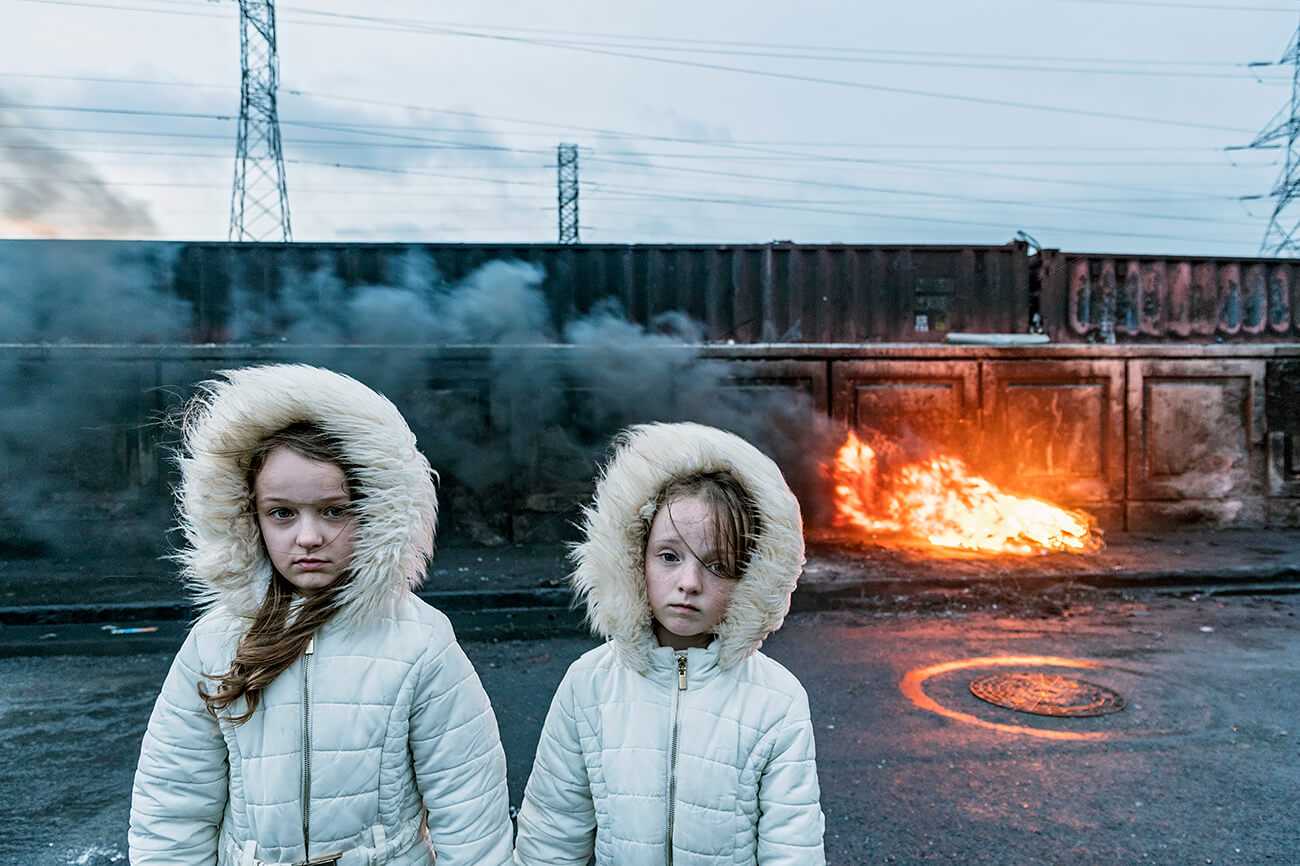 Kathleen and Bridget, Irish Travellers, Dublin, Ireland 2020 © Joseph-Philippe Bevillard
Irish Travellers (Mincéirs)
In 2009, I started photographing the Travellers also known as Pavee or Mincéirs who are an ethnic group at a horse fair in Ireland. I returned to the horse fair the following year to meet them again and to give them some photos I had taken. They gained my trust and invited me to photograph their families and other clans. I am intrigued by their nomadic lifestyle so I decided to visit their caravans, halting sites and roadside encampments. In March 2017, Irish Travellers group have been formally recognized as an ethnic group. Today, they are still facing racism, discrimination, hardship by society and high suicide rates. Travellers are very proud of their culture. I want to represent these people through my photographs. My goal is to continue to work with these families as well as other members that I encounter, and perhaps let the settled people have more understanding of their unique culture.
Joseph-Philippe Bevillard's Website
Joseph-Philippe Bevillard on Instagram
All About Joseph-Philippe Bevillard
The Fourth Place Winner is Javier Arcenillas (Spain)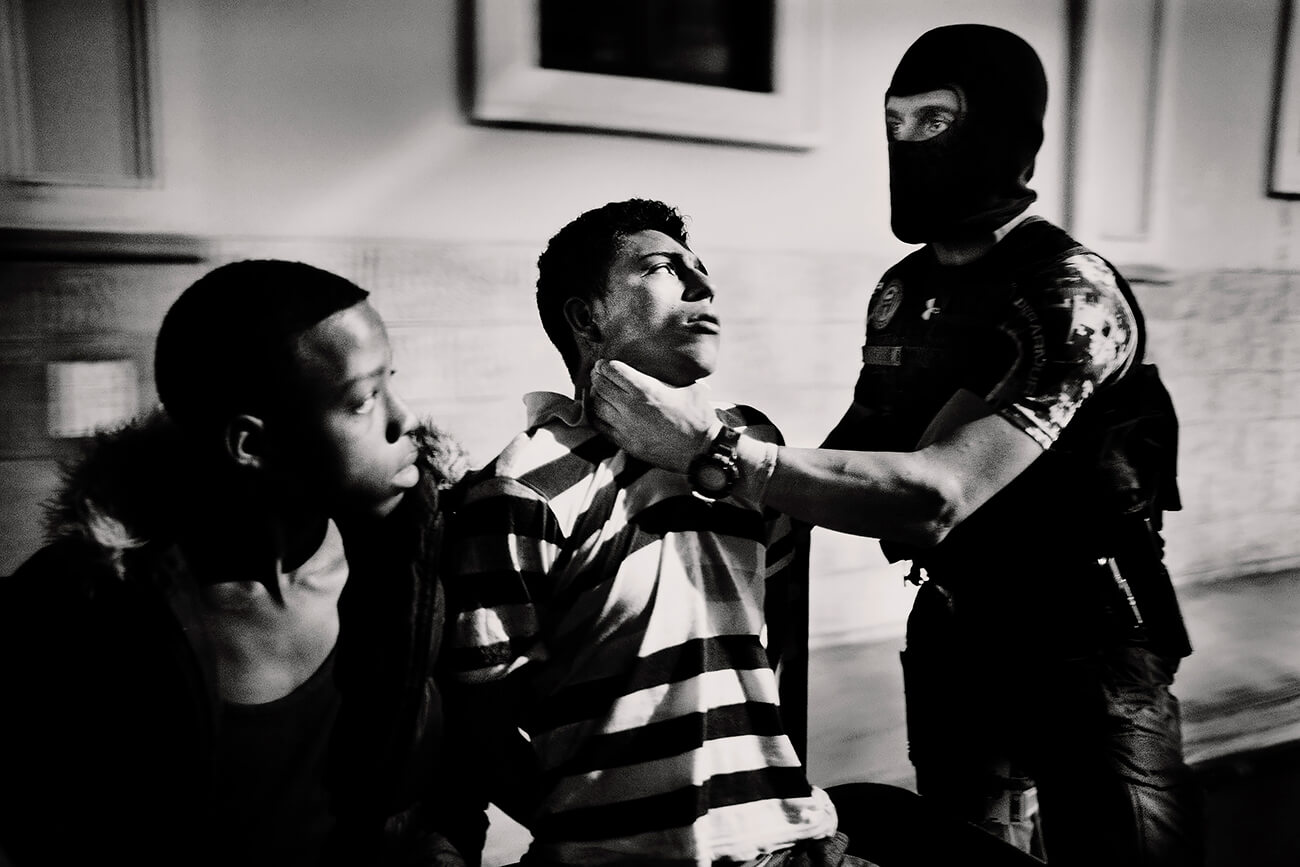 Latidoamerica
Juvenile detention Saul and Walter David Martinez Quilez in District 1 of Tegucigalpa for possession of marijuana. In the image detainees are beaten by police.
Javier Arcenillas's Website
Javier Arcenillas on Instagram
All About Javier Arcenillas
The Fifth Place Winner is Javier Vergara (Chile)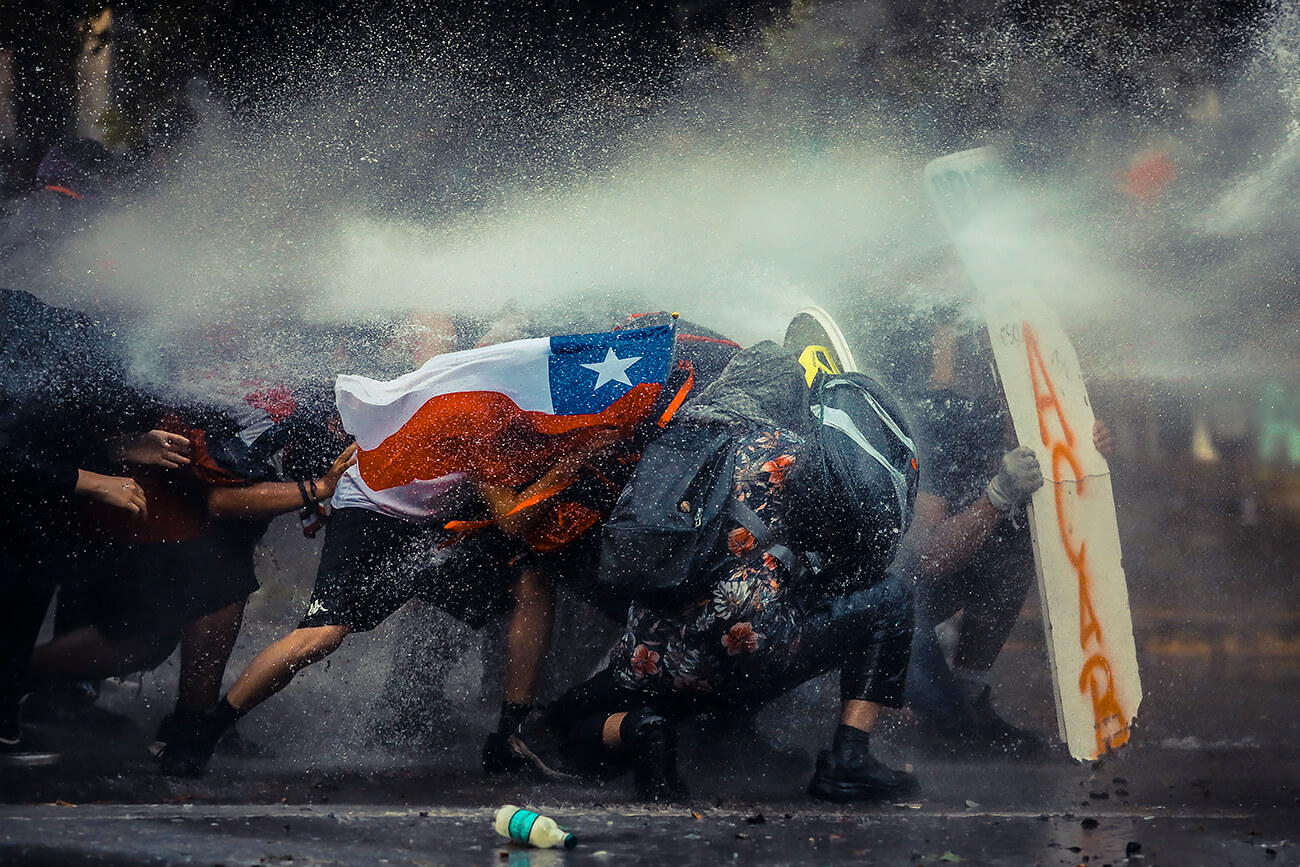 Chile Resists
Demonstrators protect themselves with a shield from water cannon used by the Special Police Forces during protests in Chile. November 11th, 2019, Santiago, Chile.
Javier Vergara's Website
Javier Vergaraon Instagram
Merit Gallery (Sample)
The other winning photographers are: Constanza Portnoy (Argentina), Peter Caton (UK),
Reiko Takahashi
(Japan),
Isabeau de Rouffignac
(France),
Karoline Schneider
(Germany),
Manuello Paganelli
(USA), Phuoc Hoai Nguyen (Vietnam),
Julia Fullerton-Batten
(UK),
Umberto Verdoliva
(Italy),
Younes Mohammad
(Iraq), Simon Moricz-Sabjan (Hungary),
Susan Borowitz
(USA), Natalia Kepesz (Germany), Hilary Hurt (Kenya),
Alain Schroeder
(Belgium), Fattah Zinouri (USA), Sujon Adhikary (Bangladesh),
Chin Leong Teo
(Japan),
Pedro Jarque
(Peru), Jordi Cohen (Spain),
Aurélien Morissard
(France),
Amanuel Sileshi
(Ethiopia), Hardijanto Budiman (Indonesia), Daniel Skwarna (Canada),
Lucas Barioulet
(France),
Donell Gumiran
(United Arab Emirates),
Pedro Luis Ajuriaguerra
(Spain), Robert Sturman (USA),
Paul Kessel
(USA),
Azim Khan Ronnie
(Bangladesh),
Andrea Torrei
(Italy), Ab Rashid (Bangladesh), Jakub Wawrzak (Poland) and Hugo Thomassen (The Netherlands)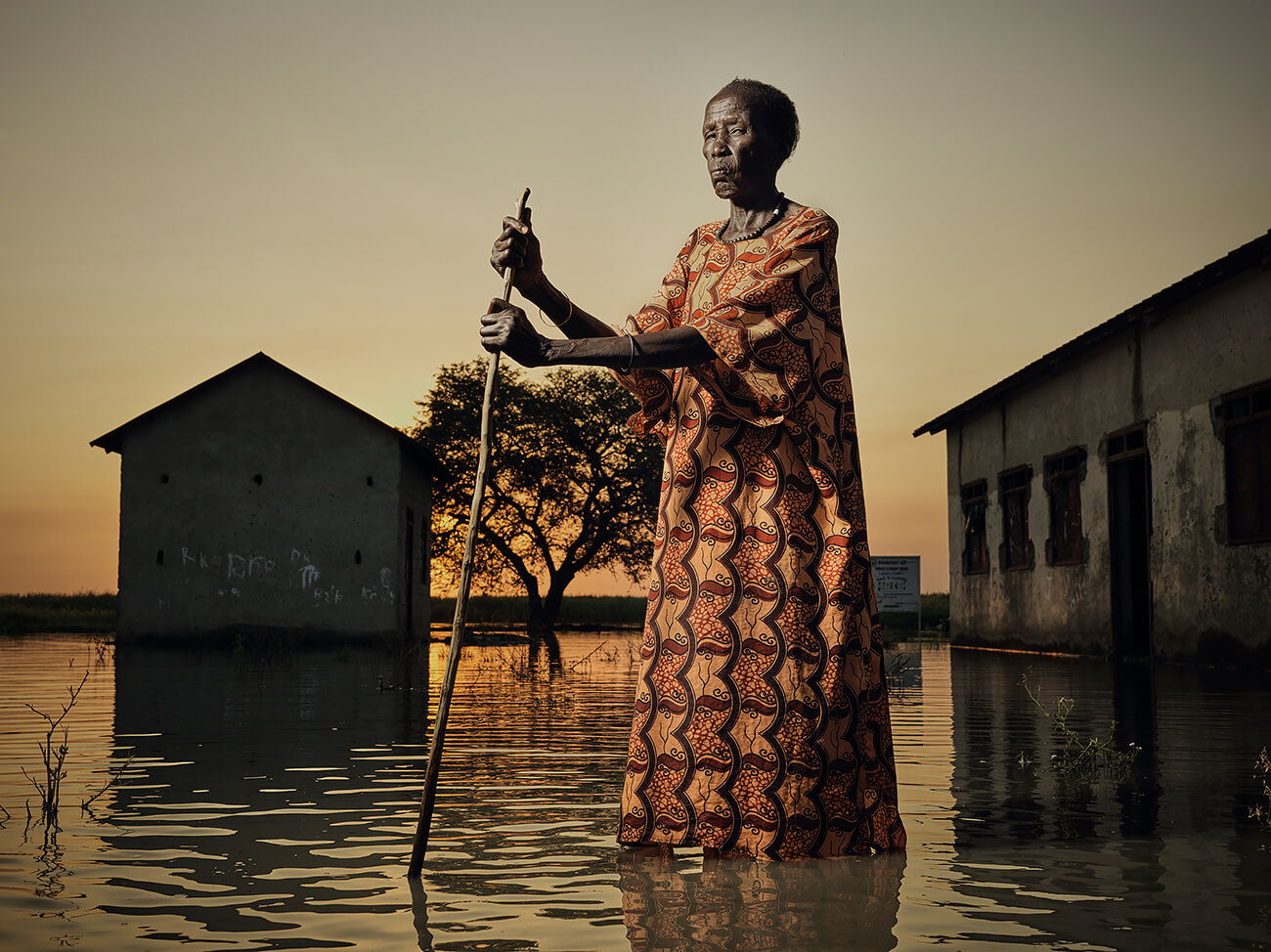 Portrait of Nyakeak, walking through the floods © Peter Caton
Peter Caton (United Kingdom), Portrait of Nyakeak, walking through the floods from the series 'Unyielding Floods'
Floods in South Sudan have triggered an alarm for acute food insecurity across the country, says an international report (IPC). Right now, an estimated 6.4 million people in South Sudan face acute food insecurity - more than half of the country's population. About 1.3 million children suffer from acute malnutrition, the deadliest form of hunger, exacerbated by the spread of malaria and unsafe drinking water connected to the floods. 1 million people have been affected by the floods since July; Jonglei State is at the heart of the devastation. The isolated area of Old Fangak, north of Jonglei, is cut-off by the flood water and depending on assistance delivered on a sinking airstrip. It will starve by the start of 2021. This project documents the devastation on three levels: natural disaster, food insecurity, loss of dignified living. Misery abounds. Mothers face the deep waters to bring their children to health and safety. Broken families try to stay together but hunger forces the men to stay out in the flooded grassland fishing for survival. The last shred of hope kept by the community is shown by their dogged repair of the few dikes protecting their homes. This new year all farm animals will have died from drinking dirty water and the last leftover sorghum would have already been eaten in December. Starvation is looming. Pibor county, south of the White Nile, has already been declared to be likely in famine in 2021. Without much humanitarian assistance, Fangak county will follow suit.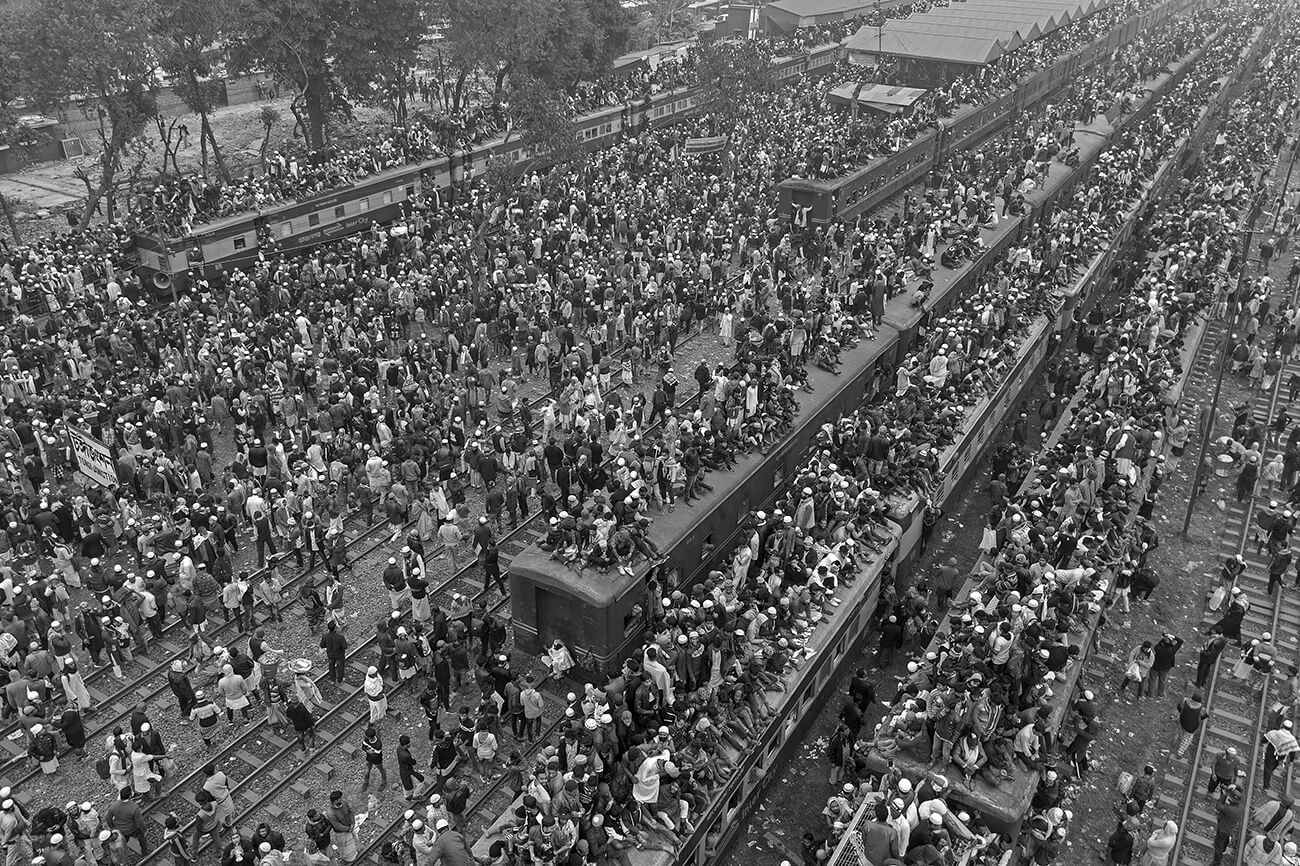 Thousands of travelers © Azim Khan Ronnie
Azim Khan Ronnie (Bangladesh) Thousands of travelers
Thousands of commuters and travelers try to find a spot on the train, with many resorting to standing on the roof and holding onto the front. With no seats and not many trains, people are forced to resort to grabbing hold of the outside and standing on the roof so they can get home. I was able to capture the dangerous overcrowding as people tried to board trains at Tongi, Bangladesh. Between 8,000-10,000 people were trying to find any possible space to board the trains.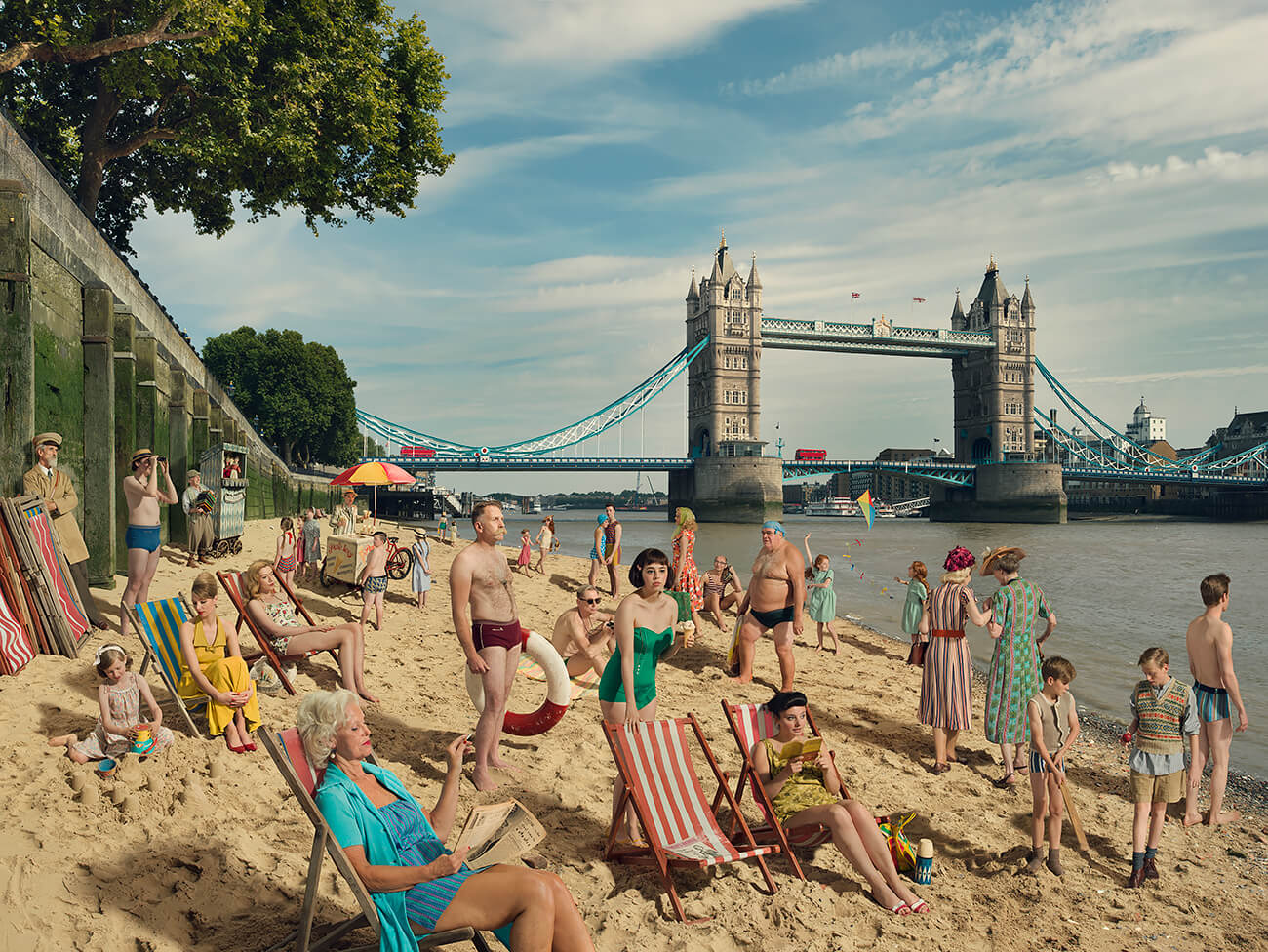 Bathers at Tower Bridge © Julia Fullerton-Batten
Julia Fullerton-Batten (United Kingdom), Bathers at Tower Bridge from the series 'Old Father Thames'
As a teenager I moved from Germany to live in Oxford on the banks of the River Thames. I grew up along the stretch of the river called Isis and since then the Thames has fascinated me. I now live in West London, still just a short walk from the river. Its constantly changing face, moving with the tide and the seasons and the activities that surround the river are an inspiration. But it is the history of the Thames and its stories that draw me in. These stories, countless whimsical, idiosyncratic and tragic happenings, all make up a history of one of the most important rivers in the world.
I am not alone in my admiration of the river. A constant inspiration to so many, there are more paintings of the Thames than I had ever imagined could be possible. Monet painted the river repeatedly. Turner captured the working river revealing the early nineteenth century fumes and smoke plumes from the city's factories and river traffic. In the 1860s and 70s Whistler was drawn to paint the bustling and rapidly changing urban neighbourhoods close to the river. When one views all these works, it is not difficult to understand why they sought inspiration along its shores.
In my project Old Father Thames, I set forth investigating cultural and historical narratives that have occurred along the river and have translated several of these stories into photographs and a short film. These wonderful stories of life and living, of challenge and heartache and of hope and death all exist along the shores of the Thames.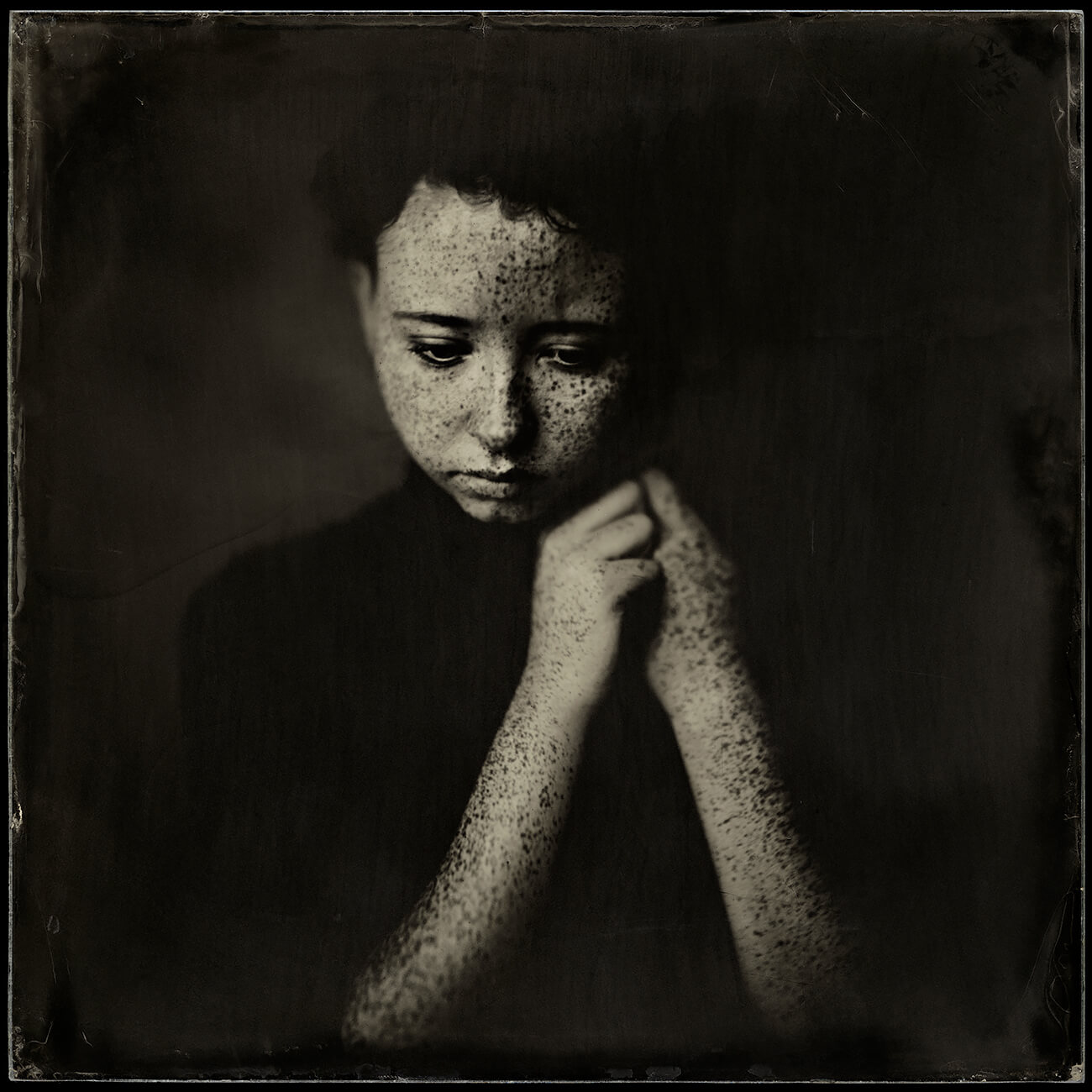 Weaving Hair © Karoline Schneider
Karoline Schneider (Germany), Weaving Hair from the series 'Pears in the Afternoon'
The Picture is part of the portrait series PEARS IN THE AFTERNOON, created between 2010 and 2018 using wet plate photography. My artistic focus is on the portrait in the broadest sense: I'm always looking for the special quality of my subject, whether person, prop or situation. For me, it is never about the portrait of an individual, it's about the portrait of the human being per se.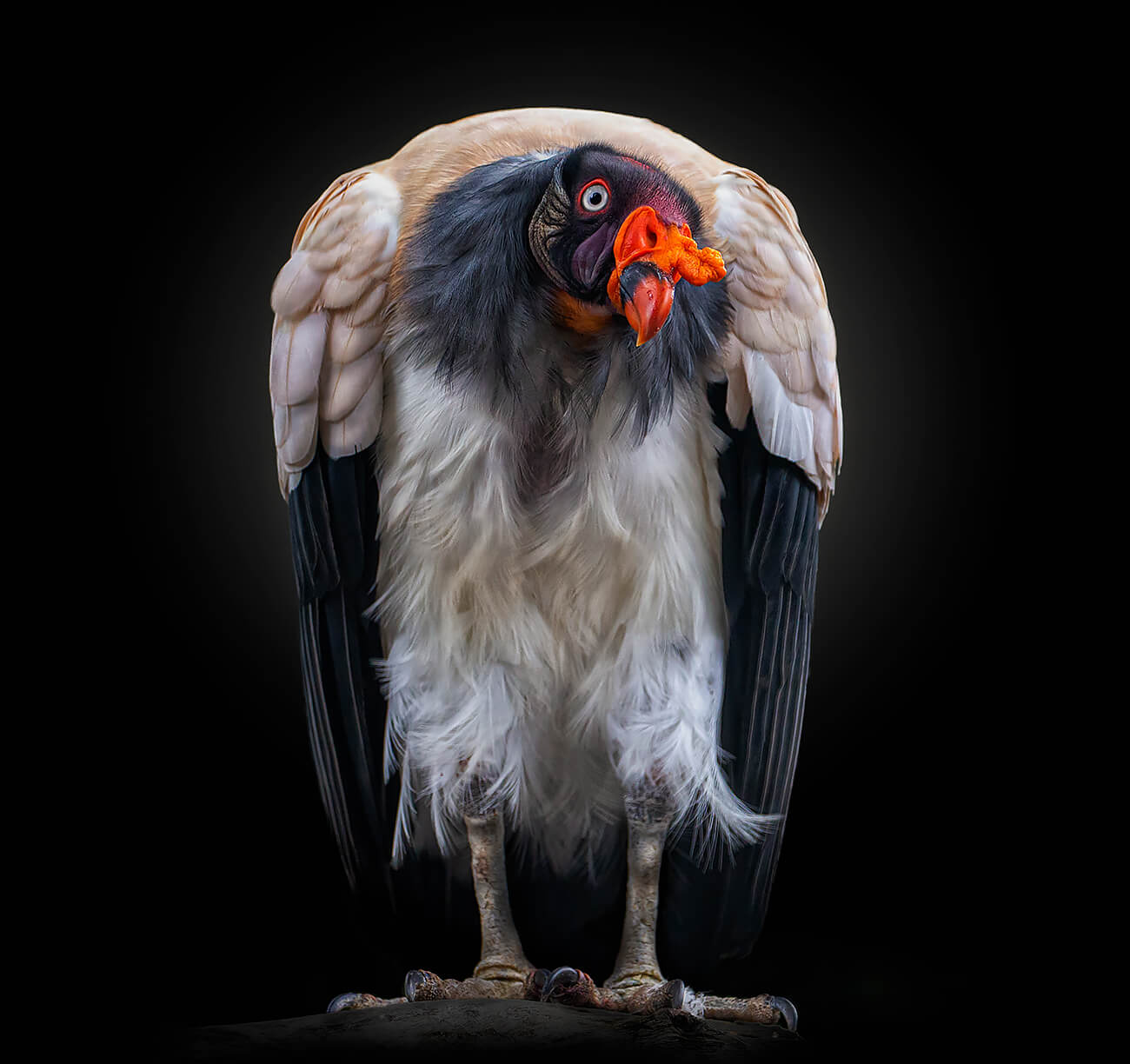 King vulture © Pedro Jarque
Pedro Jarque (Peru), Vulture from the series 'Fragile'
The kingdom of the king vulture extends from the south of Mexico to the south of Argentina. Abundant in the Amazon jungle of Peru where it is known as 'Cóndor de la selva' (jungle condor), it is a bird of prey of intense colors and fulfills an essential task of cleaning the environment, although one of its main threats is deforestation or the ingestion of poison through carrion.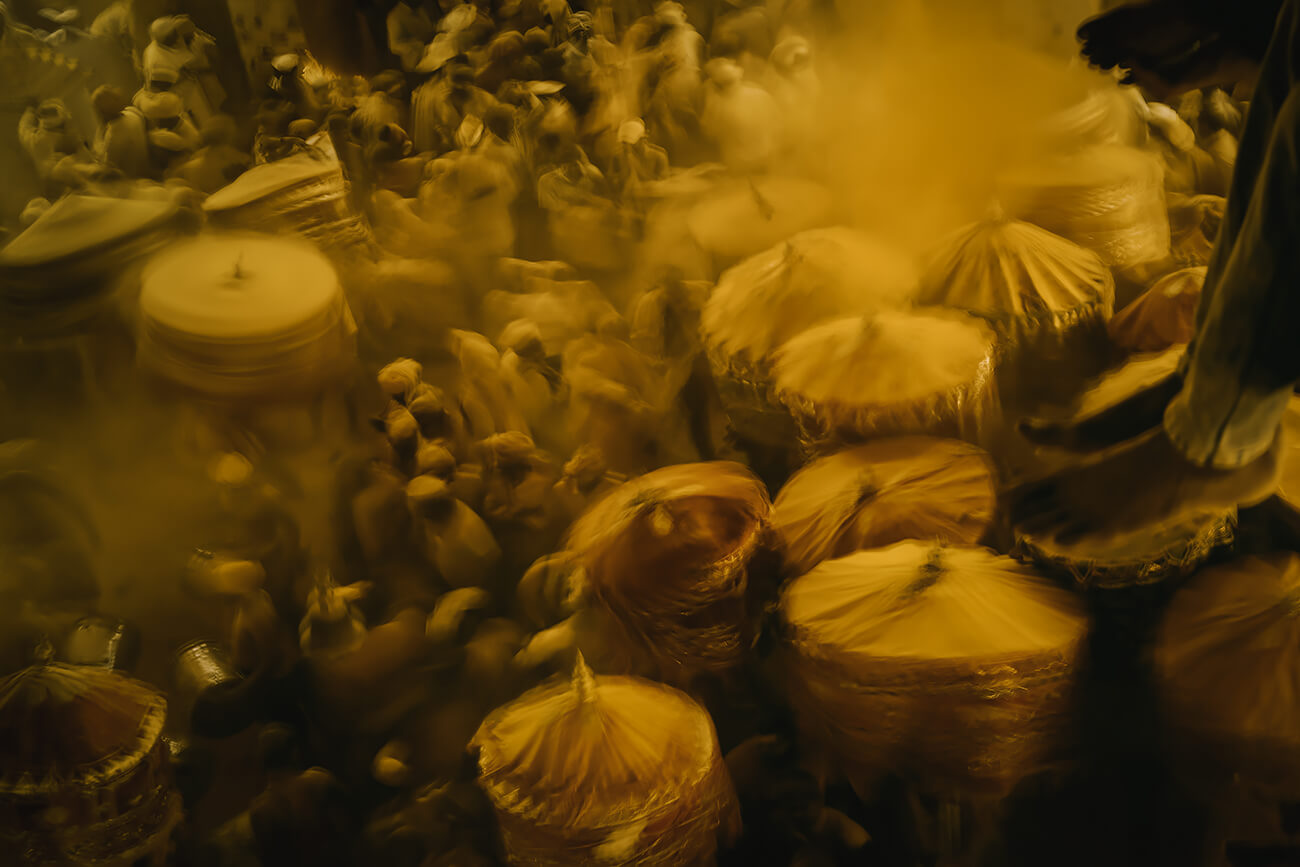 Haldi Festival © Donell Gumiran
Donell Gumiran (United Arab Emirates), Haldi Festival
The festival is celebrated to offer prayers to the community deity of the shepherds, Shri Vittal Birdev, an incarnation of Lord Shiva. They consider that the festival and rituals would bring good fortune. Haldi Festival is celebrated at Pattan Kodoli village in Kolhapur district of Maharashtra attended by thousands of devotees coming from Andhra Pradesh, Karnataka, and Maharashtra, India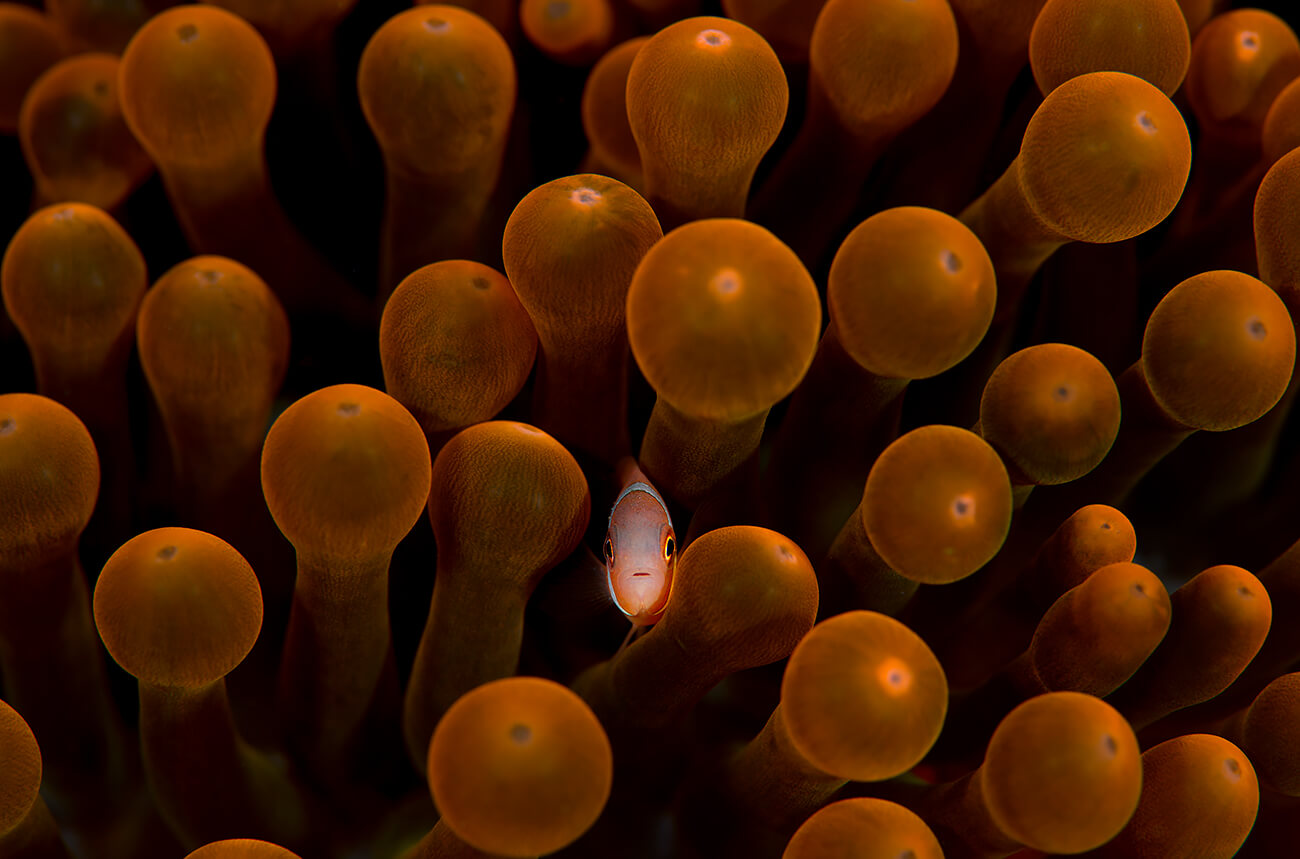 Look at Me © Reiko Takahashi
Reiko Takahashi (Japan), Look at Me
When I visited Ishigaki Island in summer, the sea water temperature was around 30 degrees Celsius and the anemone was weak and the color was faded. This photo was taken in winter.The sea water temperature fell, the debilitating sea anemone recovered and returned to its original color. A small anemone fish came out from the gap. And said 'Look at me!'.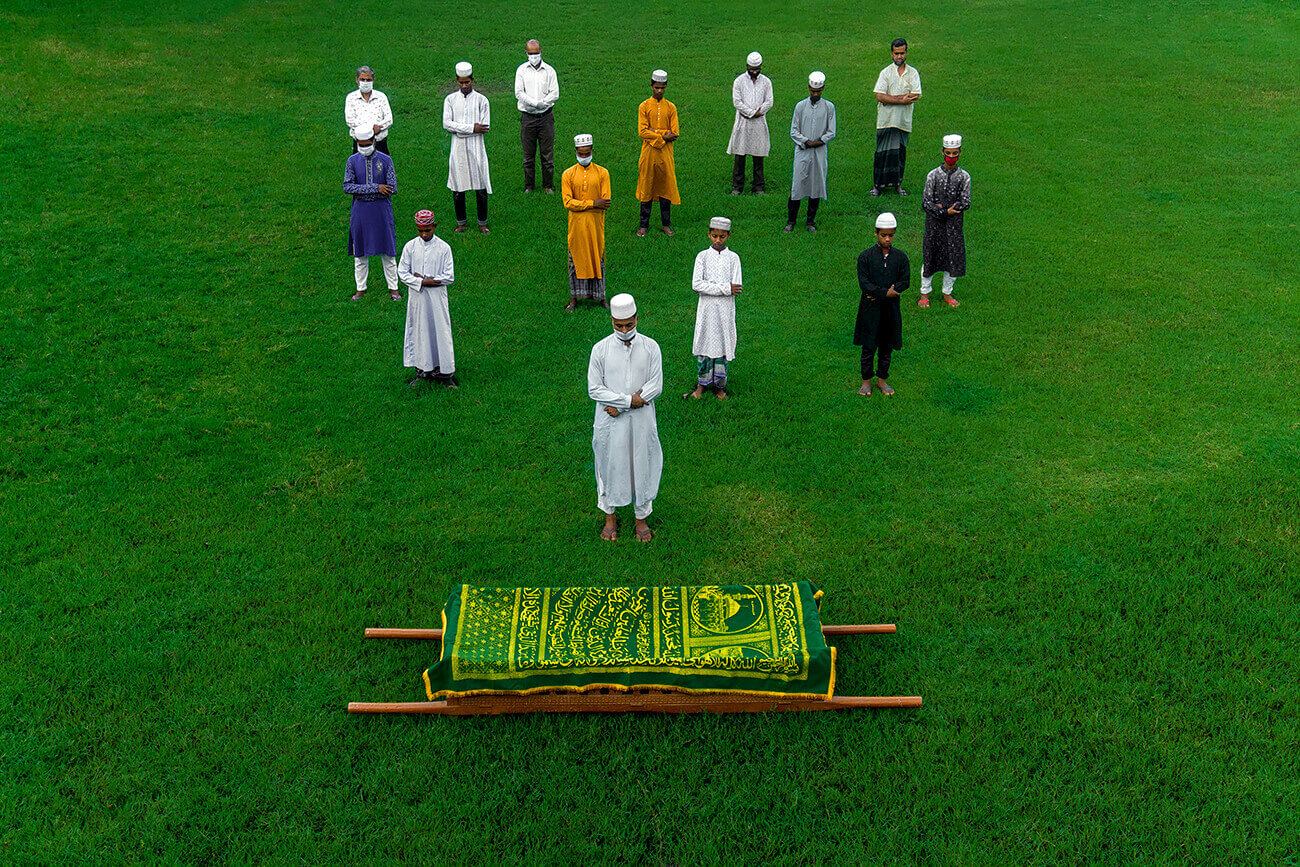 An Islamic funeral © Sujon Adhikary
Sujon Adhikary (Bangladesh), An Islamic funeral
An Islamic funeral is considered a community event. Muslims believe a funeral to be a very spiritual occasion. Everyone in attendance participates in group prayers, in which mourners pray that Allah will have mercy on not only the deceased but also on all deceased Muslims. The service lasts 30 to 60 minutes. Islamic funerals serve not only to comfort the grieving, but also to pray to Allah, the Islamic word for God, to have mercy on the deceased.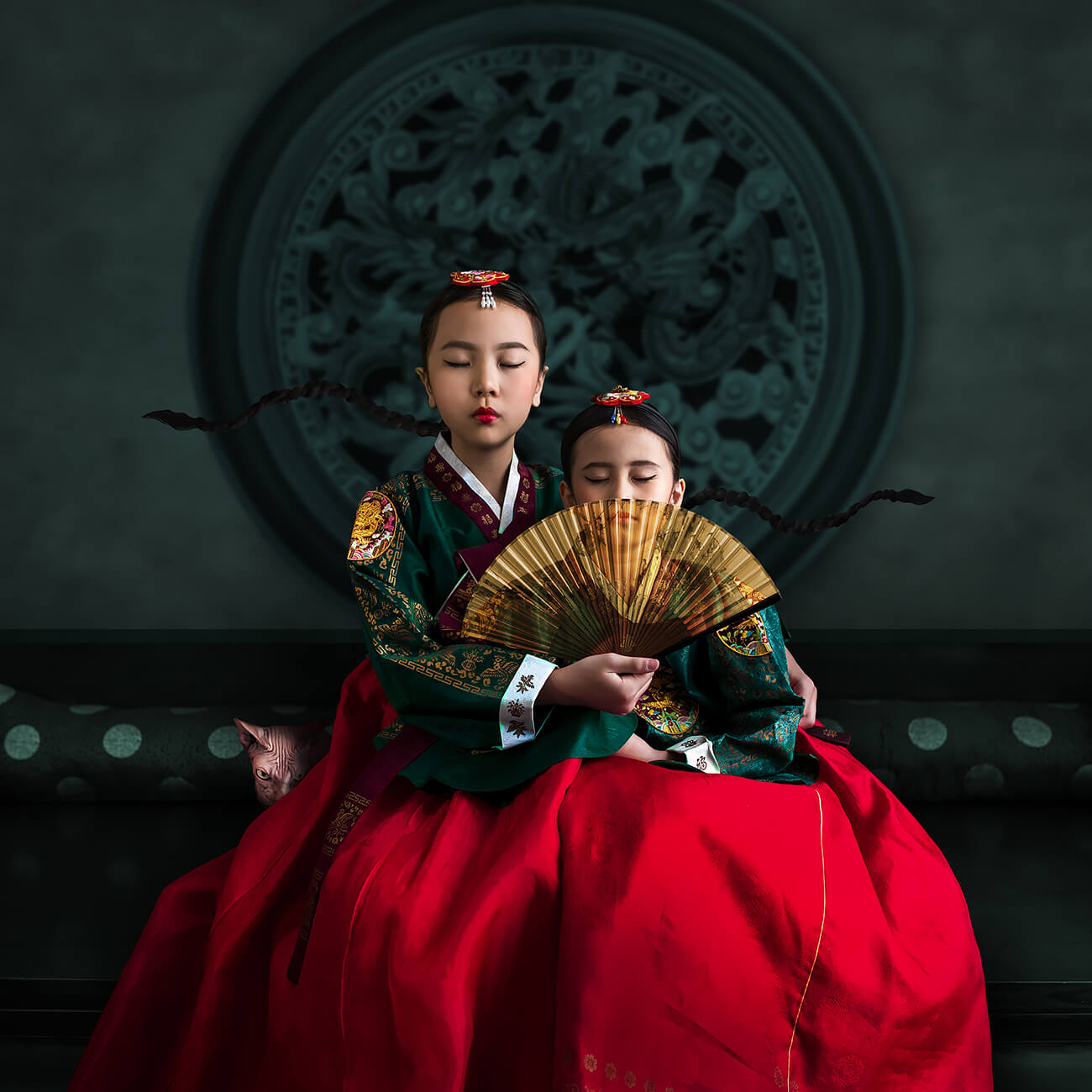 Poems For Sisters © Hardijanto Budiman
Hardijanto Budiman (Indonesia), Poems For Sisters
Inspired by historical movie about princesses on Choseon Era (North Korea)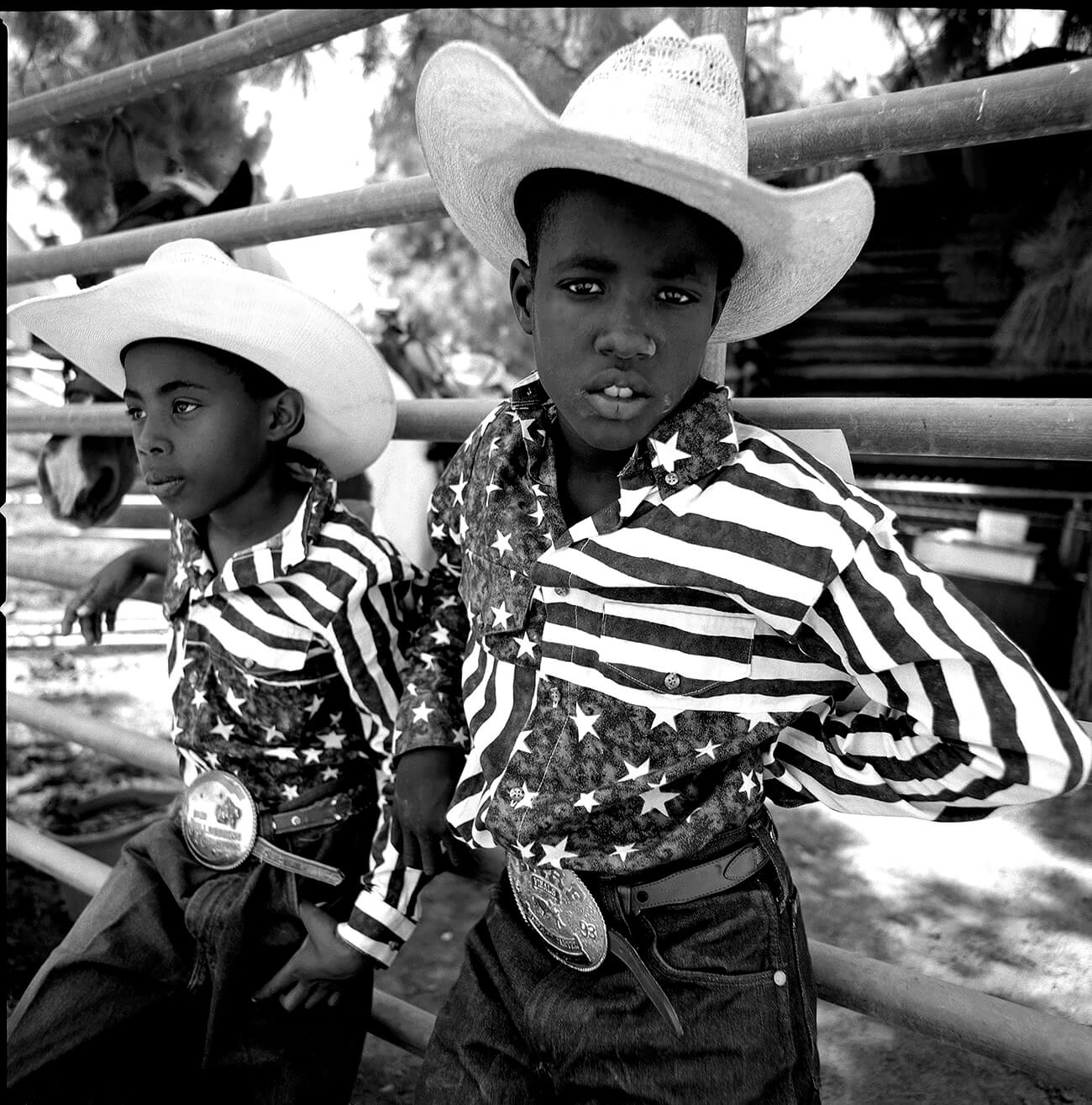 Starts and Stripes © Manuello Paganelli
Manuello Paganelli (United States), Black Cowboy Series
It had been an uneventful day until I walked by the corral and was captivated by two small young brothers. They wore matching shirts resembling the American flag and were relaxing between a rodeo event. At that moment, with the stars and stripes in their eyes, with a glint of hope and young dreams, I saw painted on their dusty faces the hardship, pain, and sacrifices endured by generations before them, which is quite relevant today. I pulled out my Hasselblad and started to photograph them. I said goodbye and on my way out, with serious eyes and an intention beyond his years, one of the boys called out to me: "Mister, please share our love for horses with other boys... show them what our granddaddy taught us" 1996, Los Angeles, CA.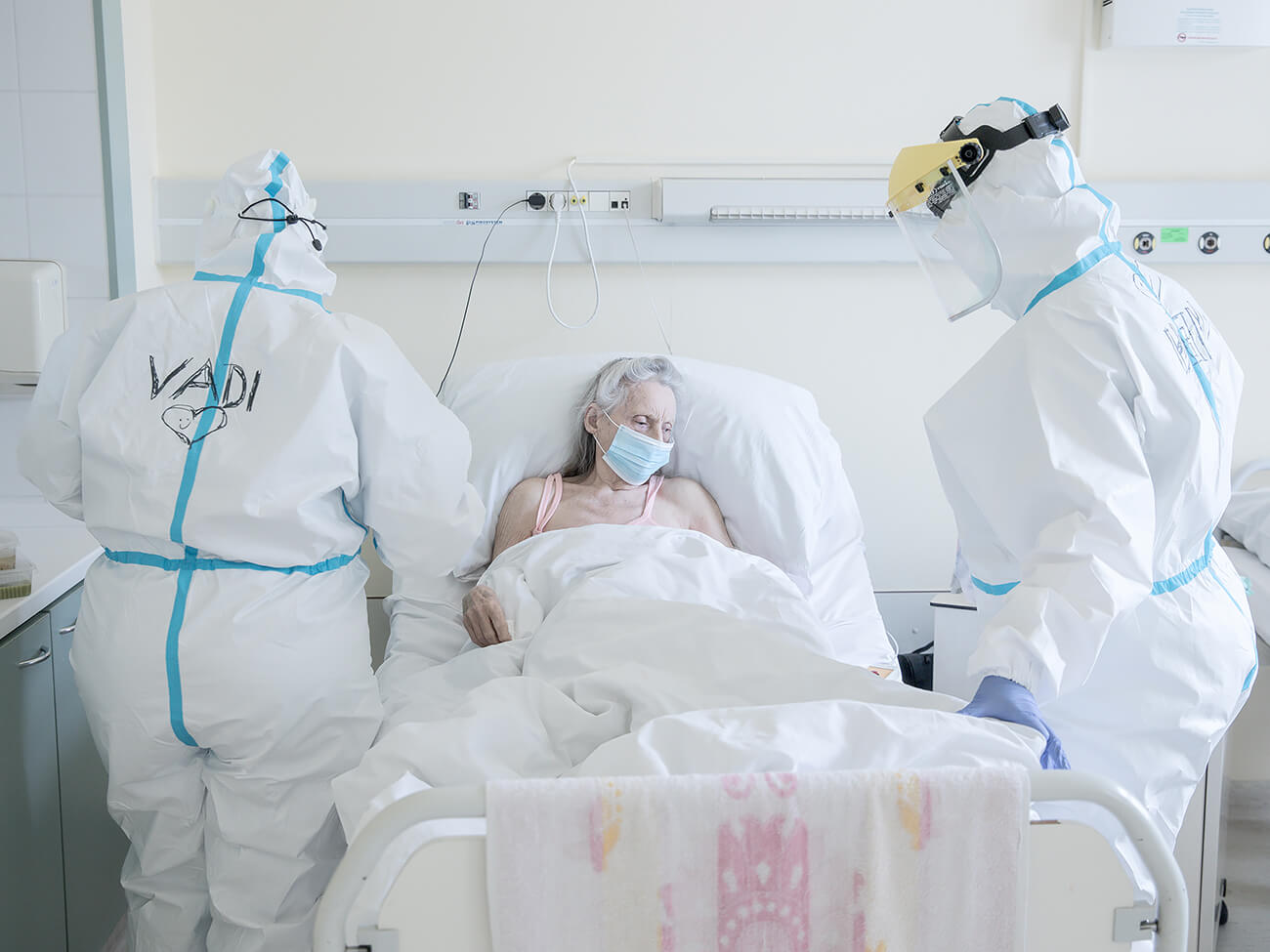 Uzsoki Hospital © Simon Moricz-Sabjan
Simon Moricz-Sabjan (Hungary), Uzsoki Hospital
Medical workers wearing personal protective equipment take care of a Covid-19-positive patient at the Uzsoki Street Hospital, Budapest, Hungary, on May 16th, 2020. In Hungary, the mark of 20,000 total deaths related to Covid 19 was exceeded on March, out of a population of approximately 10 million. The death rate compared to the number of the population is thus one of the highest in the world.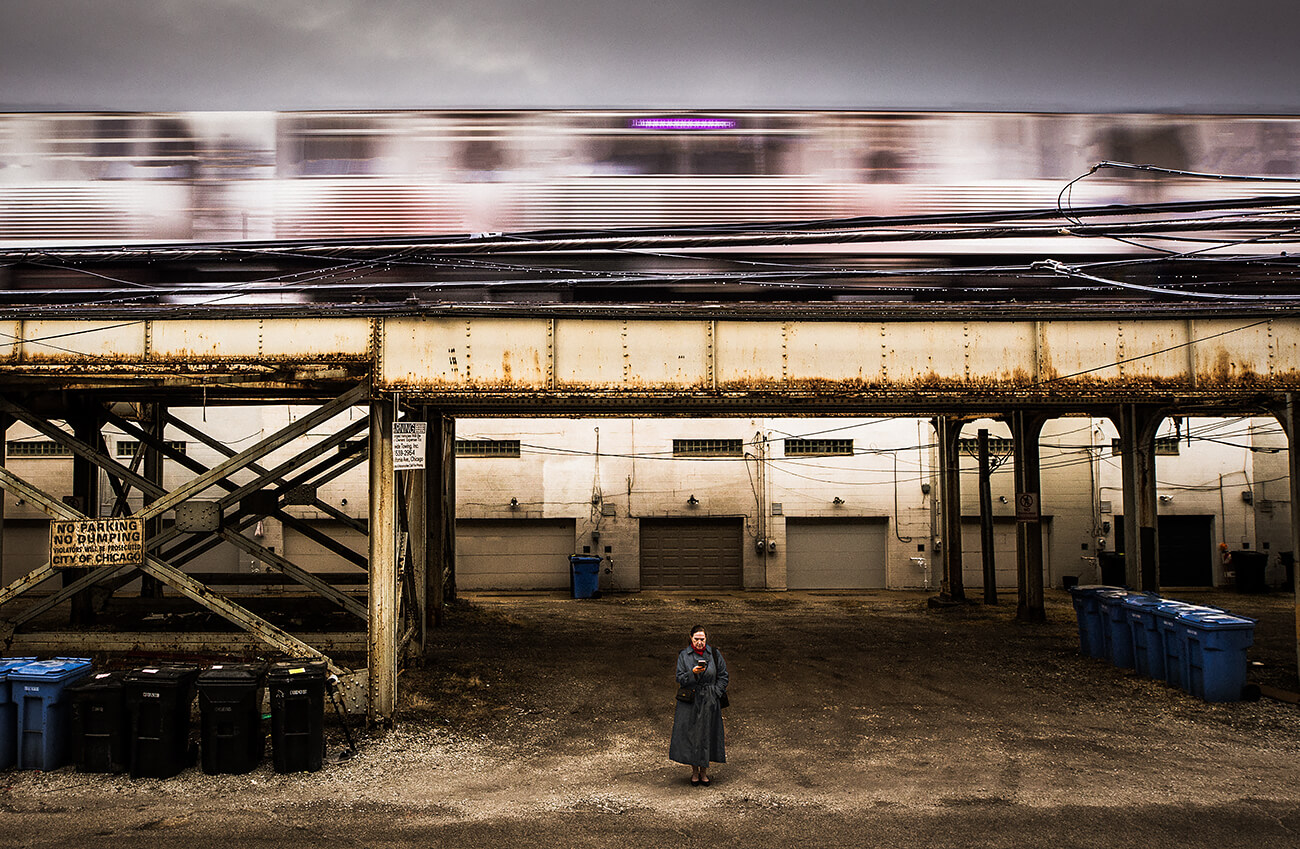 Straphanger © Susan Borowitz
Susan Borowitz (USA), Locked-In
Locked-In explores the sense of feeling stuck in life and the failure to control our lives. Using imagery suggesting the inability to move on, the series depicts the condition of those, especially women, who feel impotent in the face of a dominant societal power, especially the disappearance of relevancy with encroaching age.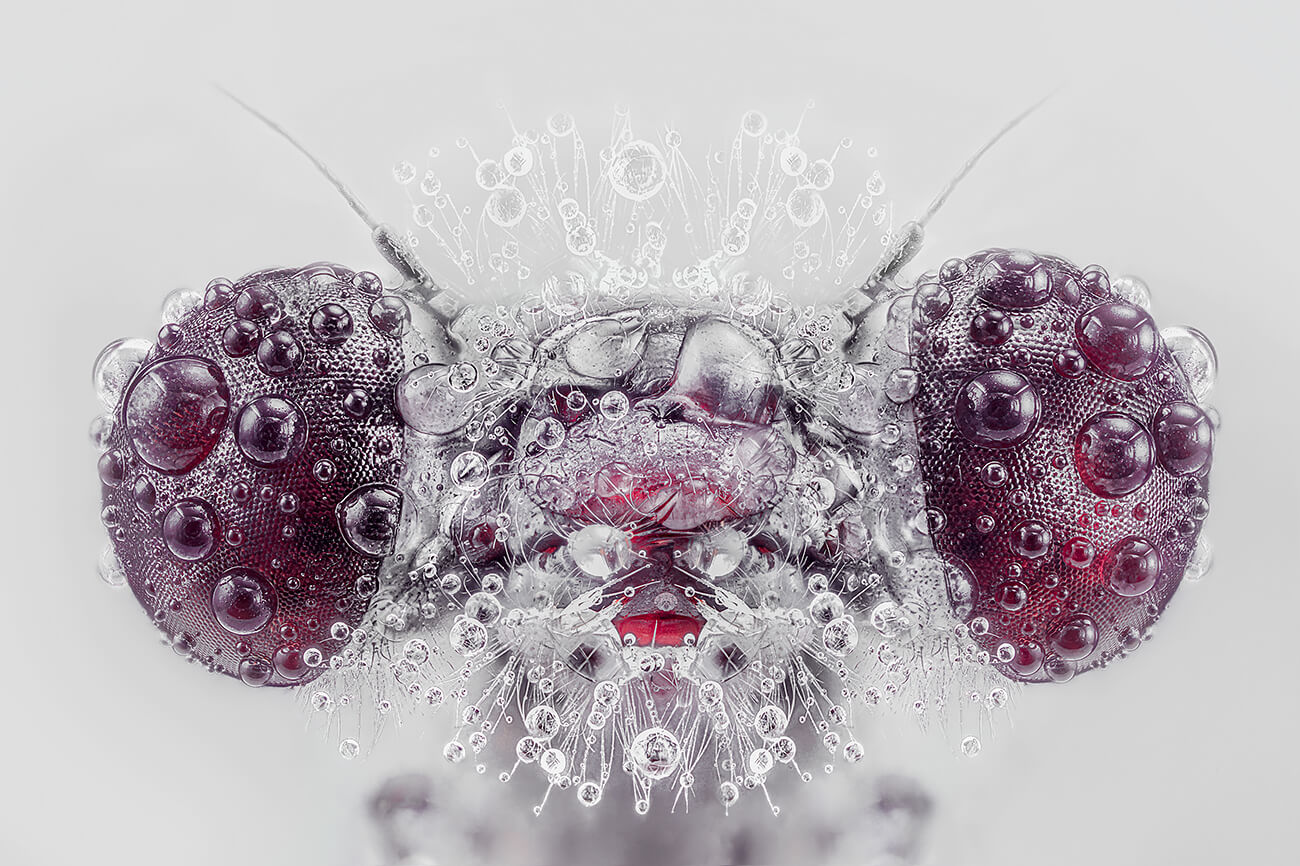 Monster © Pedro Luis Ajuriaguerra
Pedro Luis Ajuriaguerra (Spain), Monster
This close-up portrait of a Violet Dropwing (Trithemis annulata) Damselfly was taken in a gloomy location, covered by fog most of the day. It is an area of riverside vegetation with high-density water-rich oxygen. The Damselfly was somewhat dormant and I was able to take about 40 shots with a portable battery-powered electronic rail. Damselflies are found mainly near shallow freshwater and their nymphs are aquatic - Damselfly eggs are laid in water and that is where the nymphs develop. Damselflies are considered beneficial bugs because they eat other & more harmful, bugs.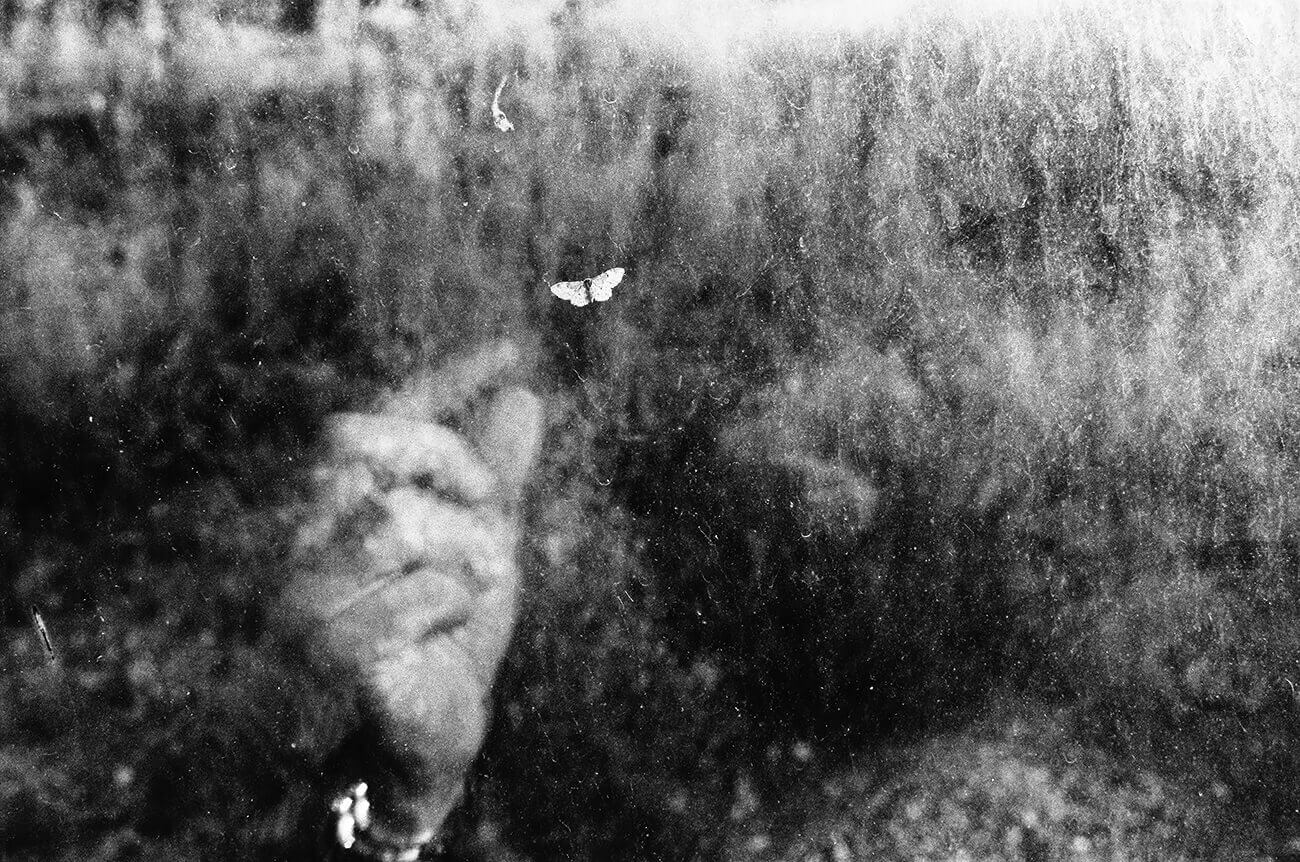 Umberto Verdoliva (Italy), Desire & the Way of Beauty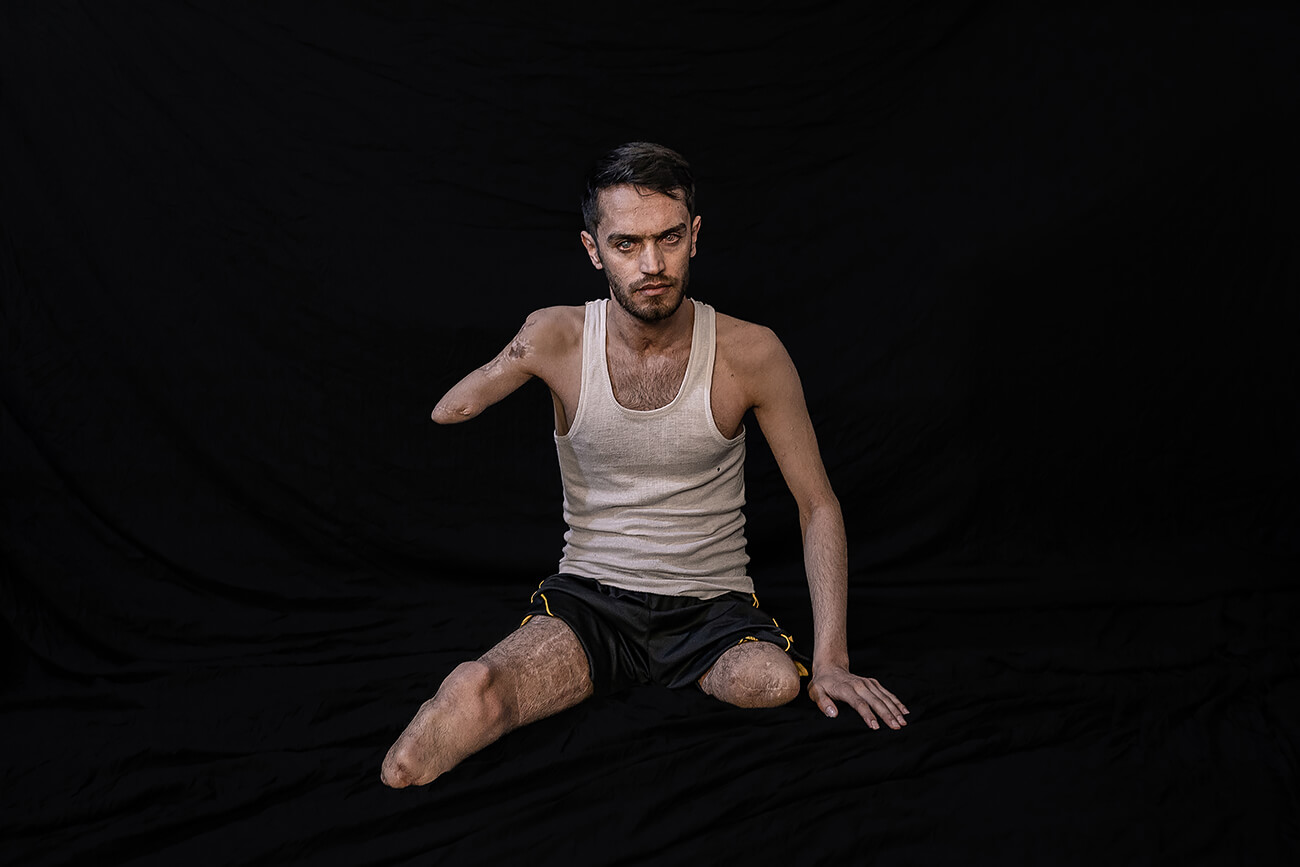 Younes Mohammad (Iraq), Open Wounds
This photo is part of a project documenting the sacrifices of Kurdish Peshmerga in the fight to put down ISIS.
Speaking with several hundred Peshmerga, taking intimate portraits of the wounded fighters, their families, and documenting both the stories in the battle and their ongoing struggles to navigate post-conflict life. Fighters who took up arms, not because they were required to do so, but because it was right and it was what had to be done. All most of the men showed severe physical injury. Arms, legs, and eyes lost. Bodies so riddled with bullet and shrapnel wounds that simple movement created wincing pain. These men also showed the signs of the heavy burdens of the mental traumas, of PTSD, and of memories that would not leave them. They would do this for their children, their families, their people, and for the wider world.
Tragically, their suffering does not end after having returned home. The men face new challenges, such as getting prosthetic limbs, ongoing care, providing for their families despite their debilitating injuries, and more.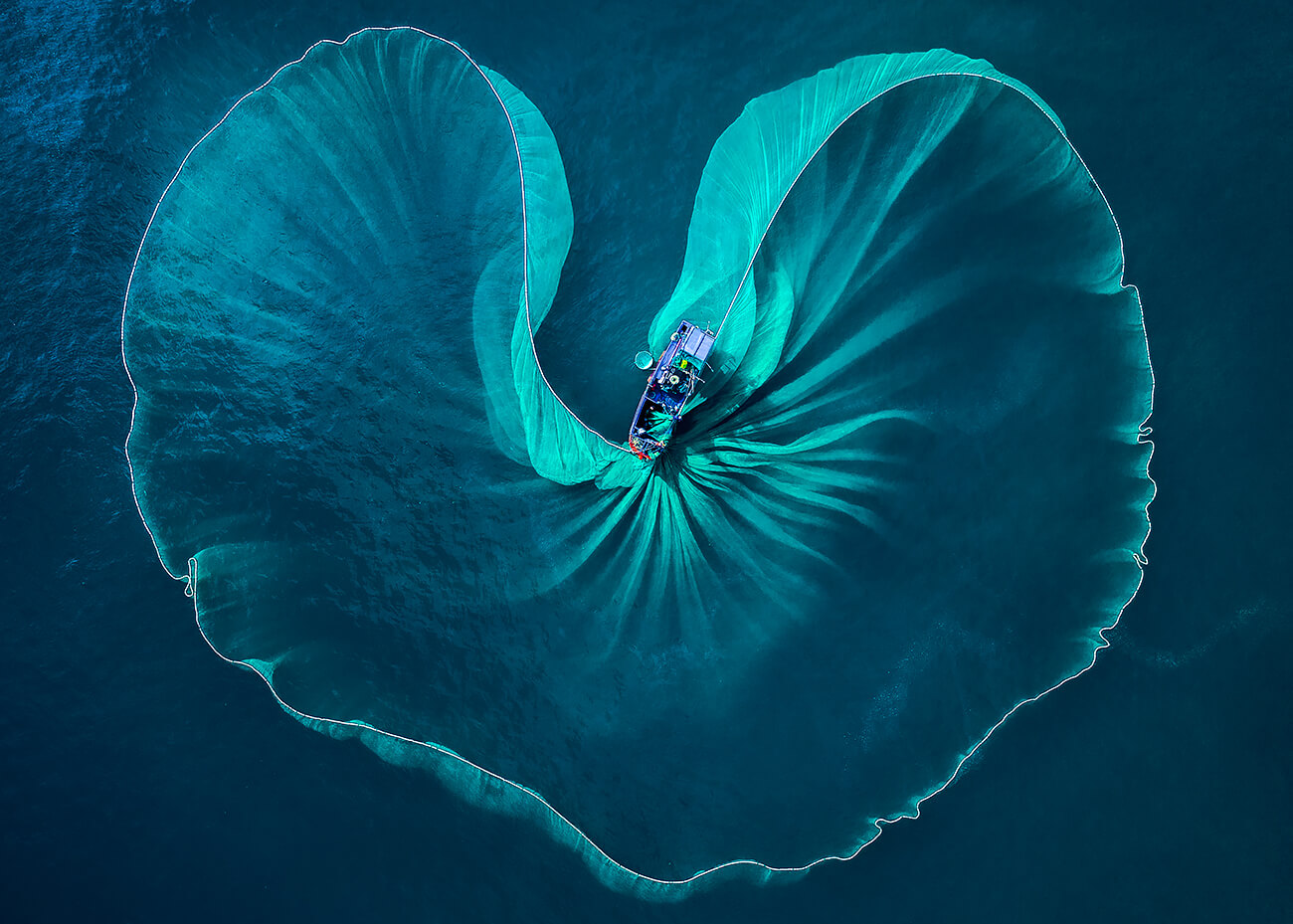 Heart of the sea © Phuoc Hoai Nguyen
Phuoc Hoai Nguyen (Vietnam), Heart of the sea
The fishermen in Phu Yen are catching fish every morning.The fishermen are strongly lifting the net out the water. From above , the net look like a heart of the sea. To fishermen who live here, catching full of fish is not only their happiness but also the mental present that the nature gave them.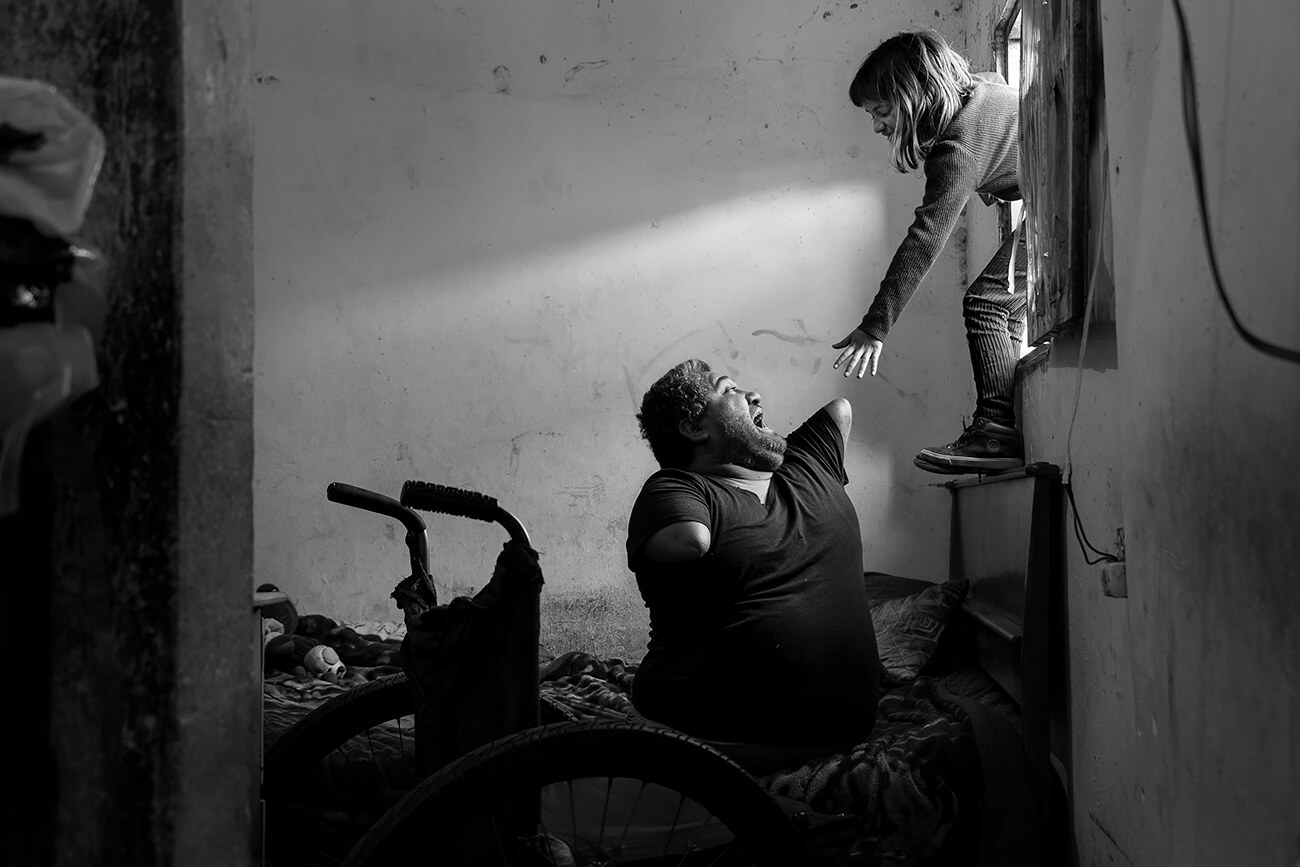 Life Force: What Love Can Save © Constanza Portnoy
Constanza Portnoy (Argentina), Life Force: What Love Can Save
Jorge (40) plays with his little daughter Ángeles (8). In the small house that they rent in the Buenos Aires suburbs of Argentina. They are always inventing body games that involve cooperative activities and mutual assistance. For that reason they both have a great connection and the girl from a very young age developed a deep sense and respect for differences. When Jorge was asked, What is it like to live in times of pandemic? Answered:
"I was born without legs and without arms. I know very well what despair is, I have been living my own pandemic and isolation ever since. This is nothing new to me. What always saved me was the strength to stay true to myself. I wanted to become a father and received all kinds of criticism for that wish. When my daughter was born I felt that I had triumphed over the prejudice of the "normals". My dream is that disability laws are enforced. I don't want to be congratulated for being brave. I want respect, cooperation and more love between everyone.
.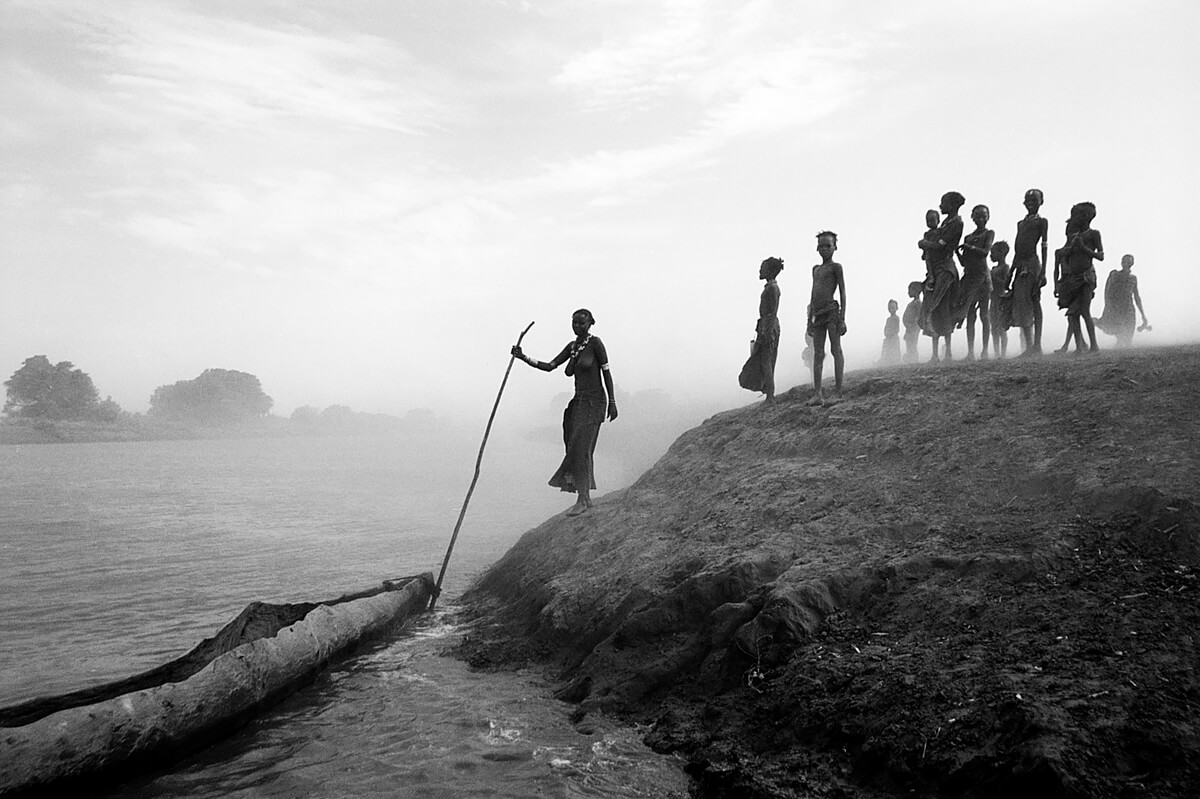 Dust Storm on the Omo River, Ethiopia © Hilary Hurt
Hilary Hurt (Kenya), Dust Storm on the Omo River, Ethiopia
I was travelling by boat along the Omo River when suddenly a dust storm came out of nowhere. We stopped to take shelter from storm and in the next moment this beautiful Dassanech lady came to the waters edge to secure her dug out canoe- followed by a wonderful group of curious kids. I just love the somewhat errie silhouettes set against the soft light caused by all the dust in the air.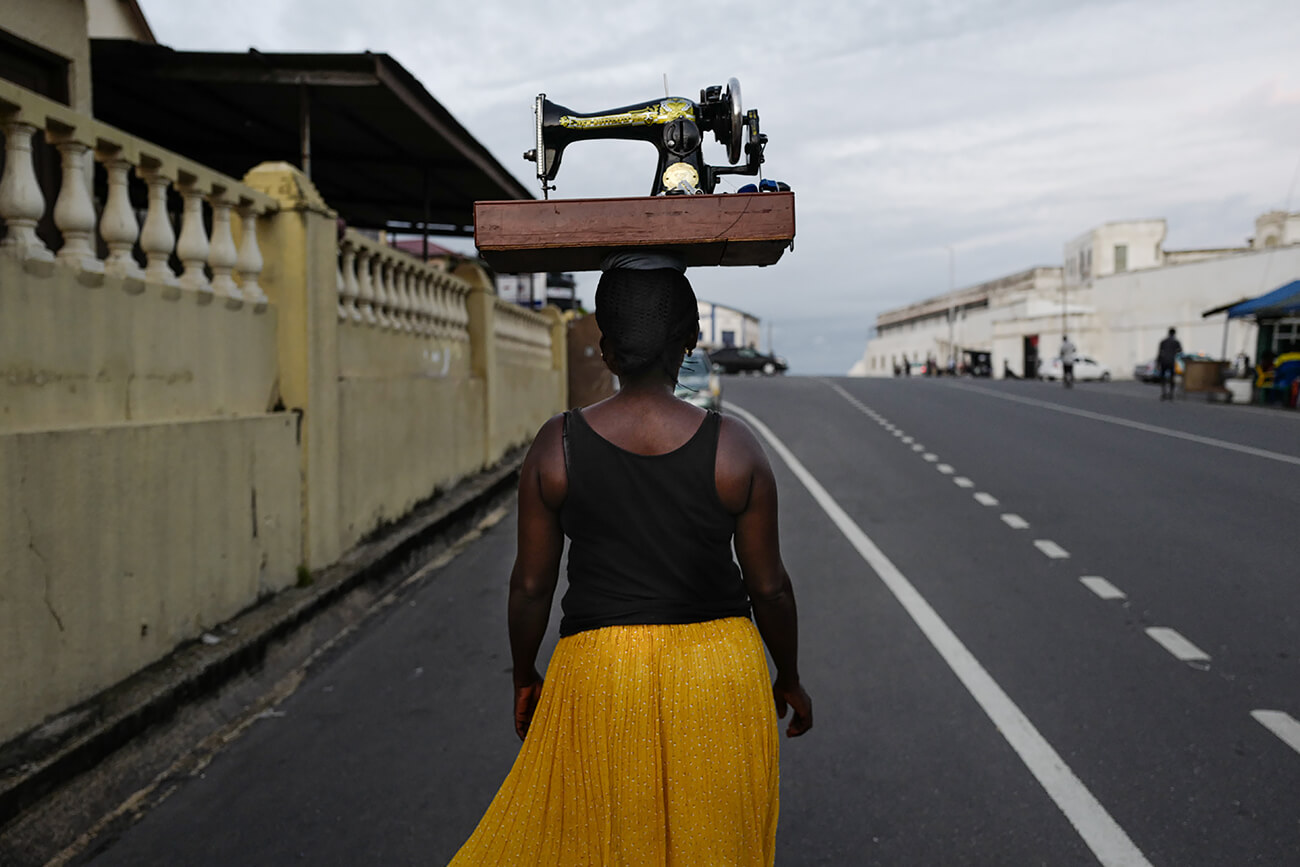 Carrying her future. Cape Coast, Ghana © Andrea Torrei
Andrea Torrei (Italy), Carrying her future. Cape Coast, Ghana
Series about women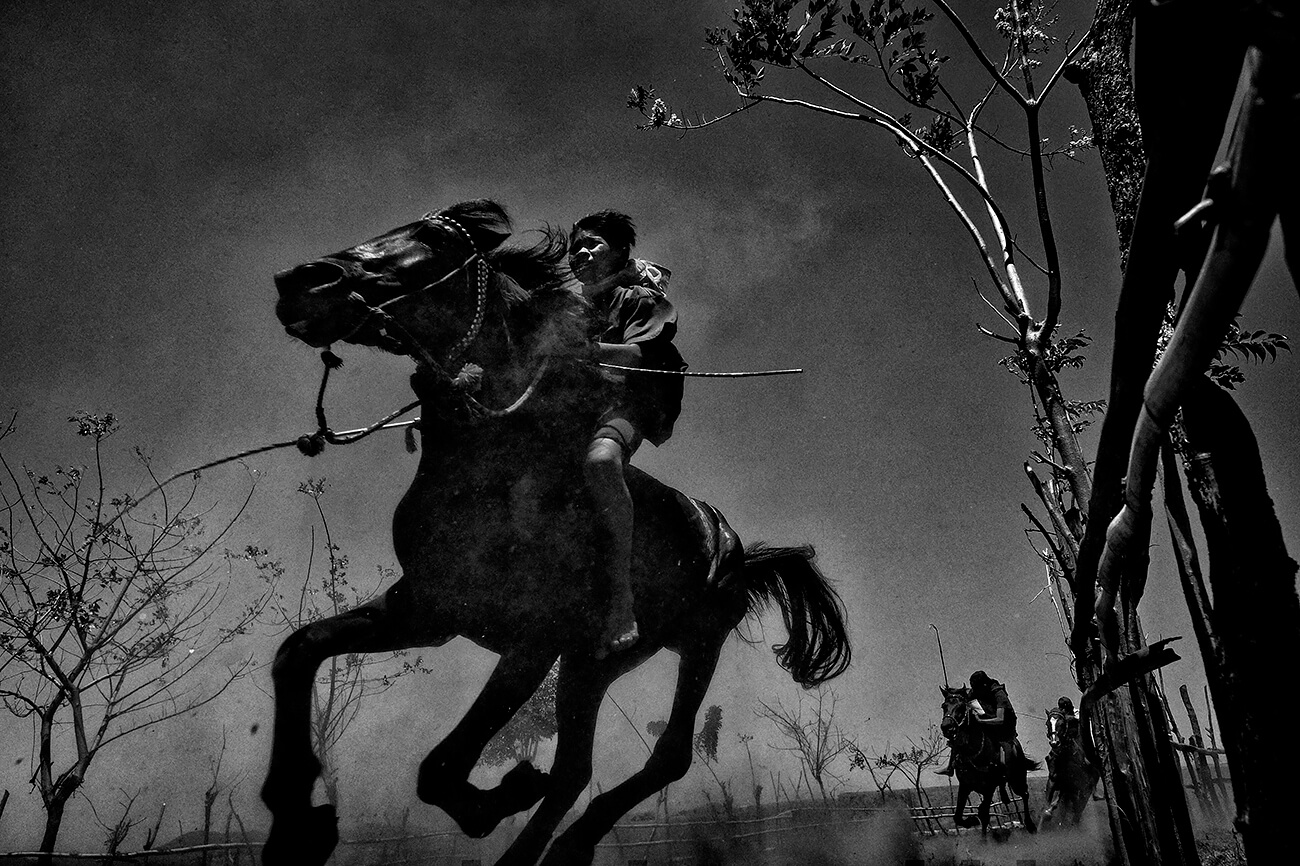 Kids Jokeys © Alain Schroeder
Alain Schroeder (Belgium), Kids Jokeys, Indonesia, Sumbawa Island.
Once a game between neighbors to celebrate a good harvest, horse racing was transformed into a spectator sport by the Dutch in the 20th century to entertain officials and nobility. The unique features of Sumbawa racing are the notoriously small horses and fearless child jockeys, aged 5-10, who mount bareback, barefoot and with little protective gear racing at speeds of up to 80 kms per hour. Their only protection is the 'Sandro', a spiritual healer who protects young jockeys by performing elaborate rituals and guiding them in training. Rules have evolved, horses are now classified by age and height, yet kid jockeys continue to risk their lives for 3,50 to 7 euros per mount often racing 5 to 6 times a day for a week, pushed by parents and relatives given the potential earnings that far outweigh the poor returns on crops often plagued by drought.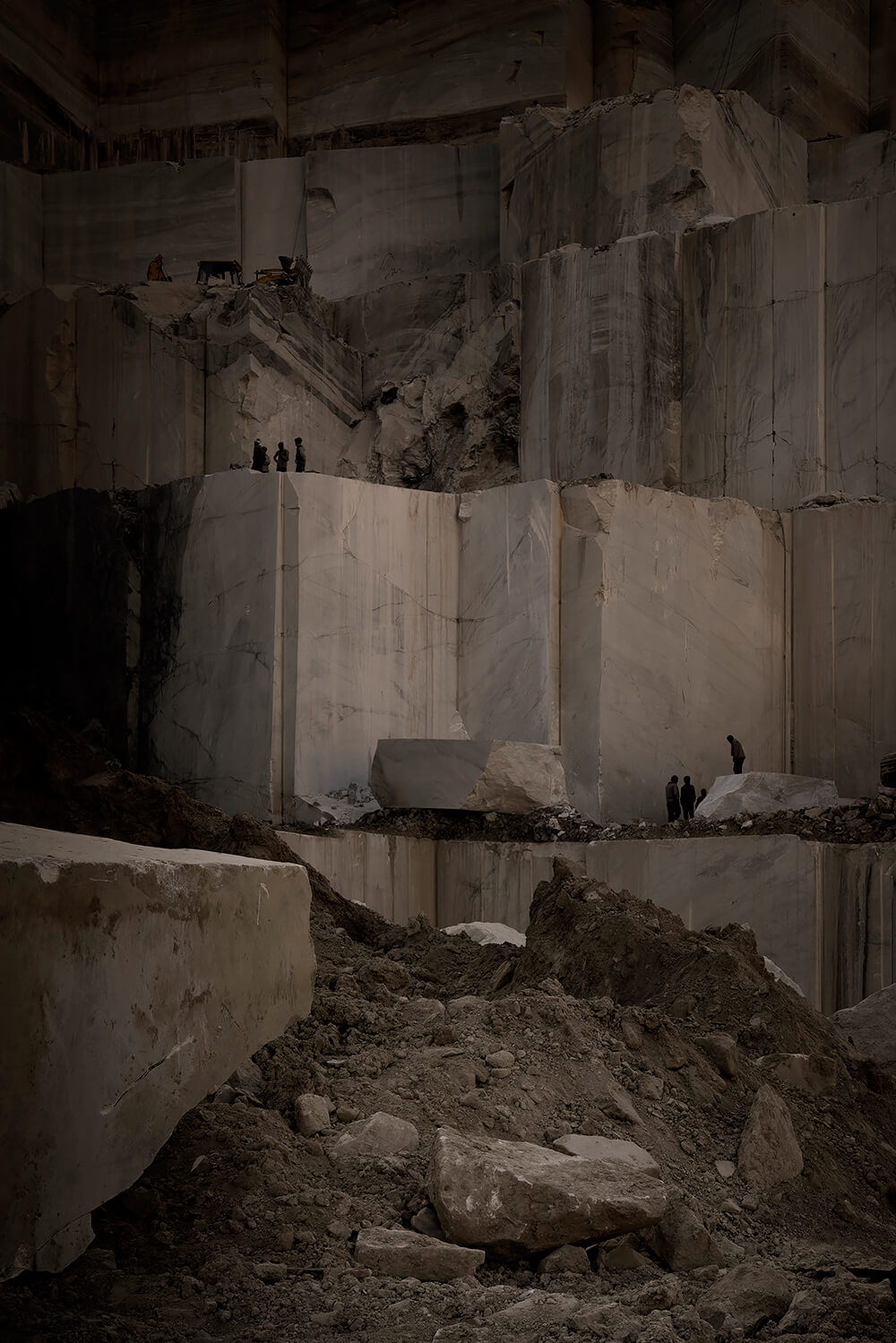 Marble quarry in Rajasthan © Isabeau de Rouffignac
Isabeau de Rouffignac (France), Marble at any price
India is one of the largest exporters of marble. In Rajasthan, open-air quarries stretch as far as the eye can see, creating gigantic staircases in the arid landscape where men and machines work. In recent years, the demand for marble has only increased, making working conditions more and more difficult and dangerous.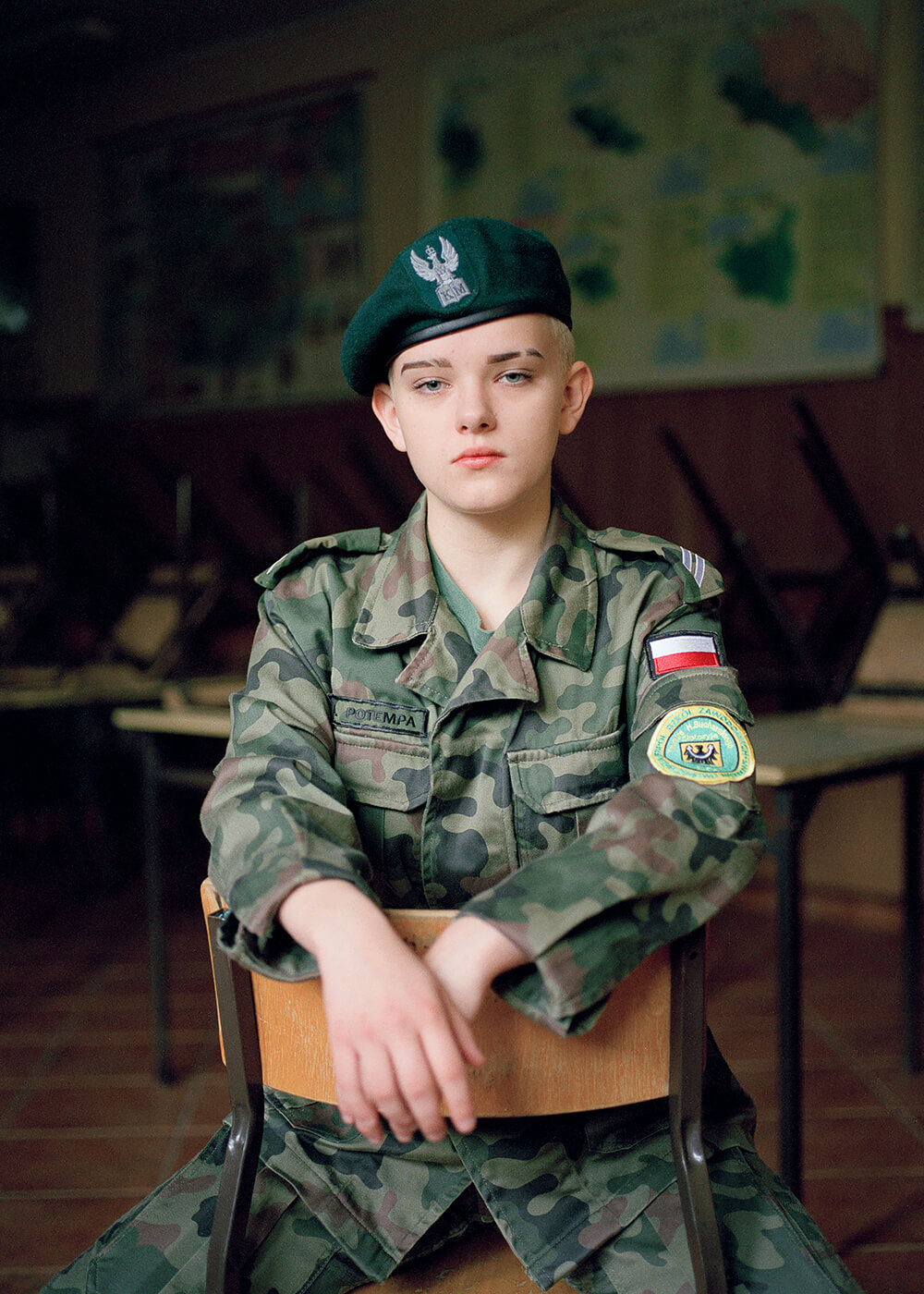 Schoolgirl © Natalia Kepesz
Natalia Kepesz (Germany), Niewybuch
This is a schoolgirl of the military high school in Poland, from the series 'Niewybuch' 'Niewybuch' gives an insight into the world of military camps, schools and clubs for children, a phenomenon that has experienced a massive influx in Poland in recent years. In addition to being taught military basics, children and young people are playfully indoctrinated in obedience and patriotism, which is a major part of elementary school education.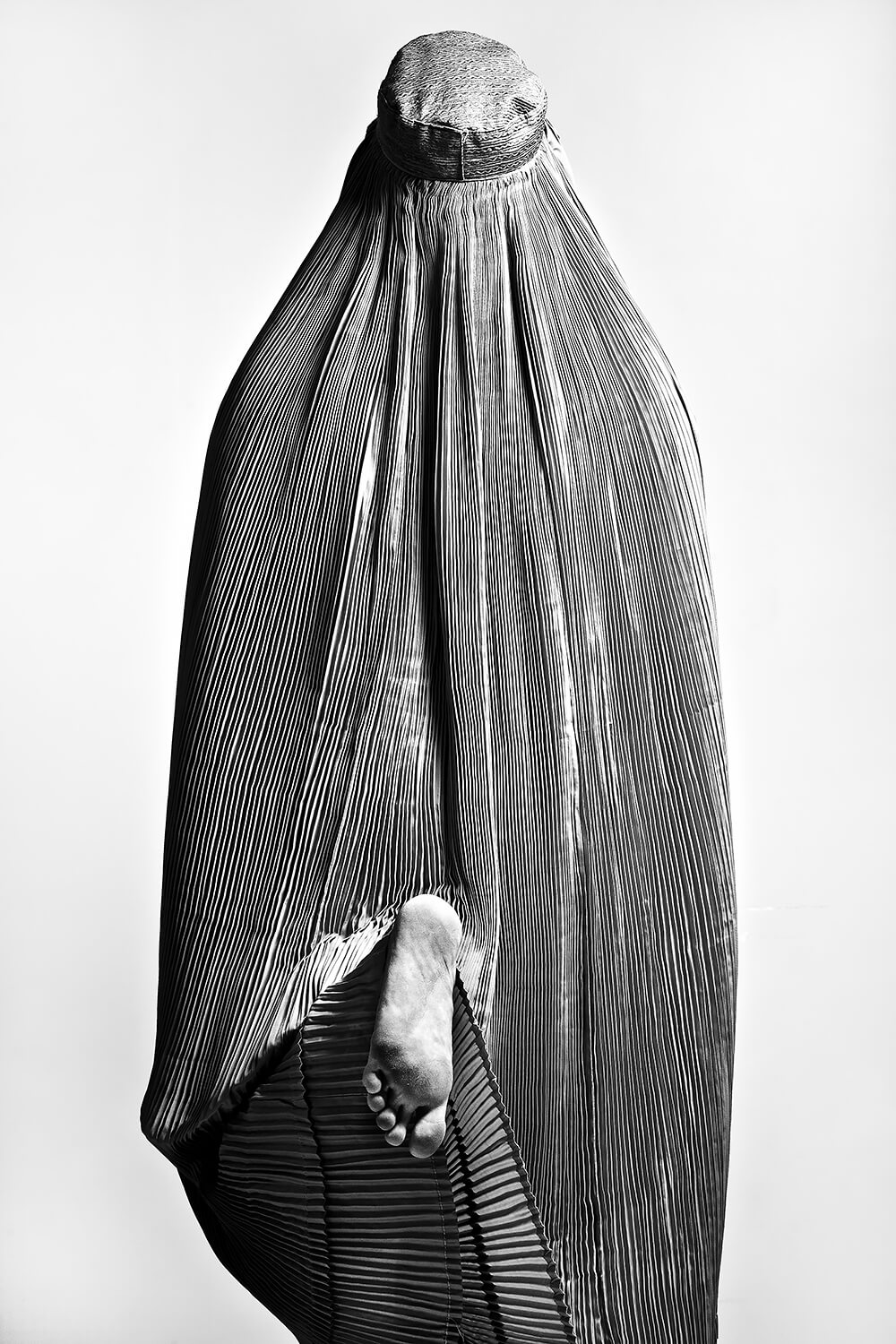 Fattah Zinouri (USA), Taboo
I took this photo inside my home studio in Iran while I was working on a movie project about Afghan immigrants living in Iran. It was the first time that I witnessed in person someone wearing a burka. What struck me immediately upon seeing this woman was that I couldn't see any part of her body except the soles of her feet as she walked. Since I captioned this photo as 'Taboo', the message I am expressing is one of rebellion. For the Afghan immigrant, the act of displaying her foot like this would be very much against what is culturally accepted among her people. I became intrigued with the juxtaposition of an all-dark cover with a lone foot sticking out. Her feet being the only part of the body that can be leveraged in protest or exhibition.
The top 5 winners will be awarded $10,000.
All winners will be featured on
All About Photo Winners Gallery
and showcased in the printed issue of
AAP Magazine
"Special Edition All About Photo Awards 2021". In addition, a selection of entrants of particular merit will be invited to display their portfolio on All About Photo.
Check out the
Winner's Gallery
to see all the powerful images by the runners-up in this year's Mind's Eye competition. There were so many high scoring images in the All About Photo Awards, that we couldn't include them all, but they all deserved to be discovered. Congratulations to all the winners! We are looking forward to next year's contest!
Thank you to our partners:
Hannibal Books
Setanta Book
Photo L.A
Center for Photographic Art