In the beautifully nostalgic, contemplative, and visually captivating new work by Richard Tuschman, the real world fuses with digitally created realms, resulting in seamless images portraying the magical and fluid times of youth. A self-taught model maker and photographer, Tuschman painstakingly crafted miniature sets of his childhood home, photographed them, and then digitally inserted real models into the images to recreate the most significant memories from his early years in emotionally compelling scenes with open-ended narratives.
My Childhood Reassembled opens Thursday, February 18. It uses photo-eye's revolutionary new VisualServer X website builder (visualserver.com) and is the third in photo-eye's series of online exhibitions.
About the Artwork
"I grew up in the American suburban Midwest of the early 1960s. This project reflects my experience in that time and place as a young child trying to make sense out of his world and his family relationships. For this visual memoir, I photographically recreated selected vignettes from my childhood. Based on memory and family snapshots, I constructed a replica of portions of the interior and exterior of my childhood home. I then directed and photographed an ensemble of actor-models who resembled my family members.
The title, My Childhood Reassembled, in addition to describing the act of physically reconstructing the environment, also refers to the science that has shown that memories are not static, but are recreated and reassembled each time they are conjured in the human brain.
Childhood is as emotionally complex a period as any other stage of life, though as children we lack the ability to put such a wide range of feelings into any coherent perspective. Life then can be at times especially magical, at times mysterious, and at times bewilderingly sad. My hope and my aim has been to create a picture that expresses both the joy and pathos of childhood, as reflected in the fluctuating and ever-changing mirror of my memory." - Richard Tuschman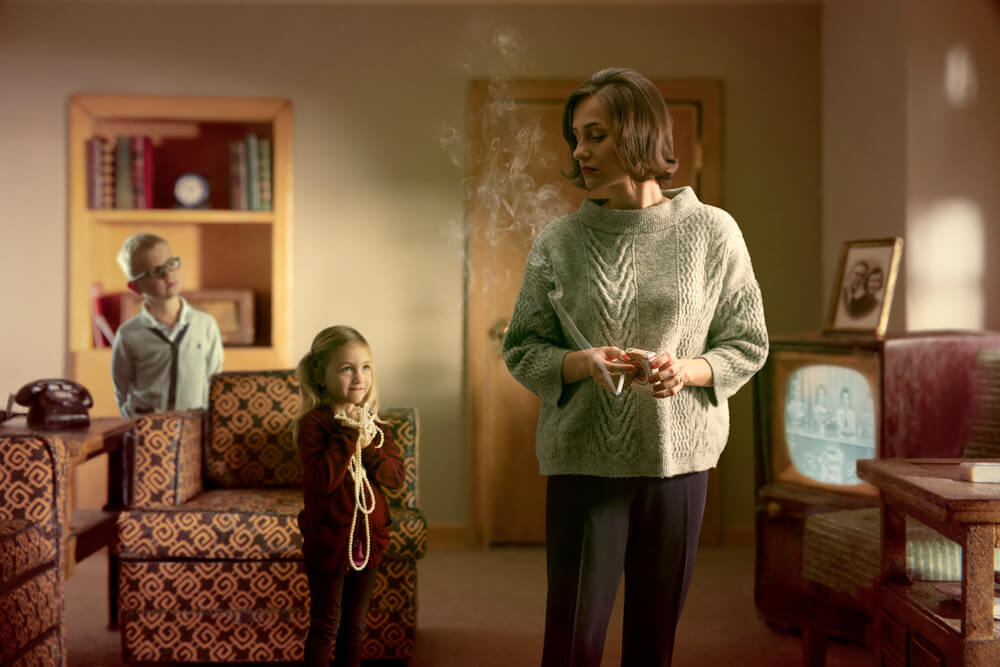 Queen for a Day © Richard Tuschman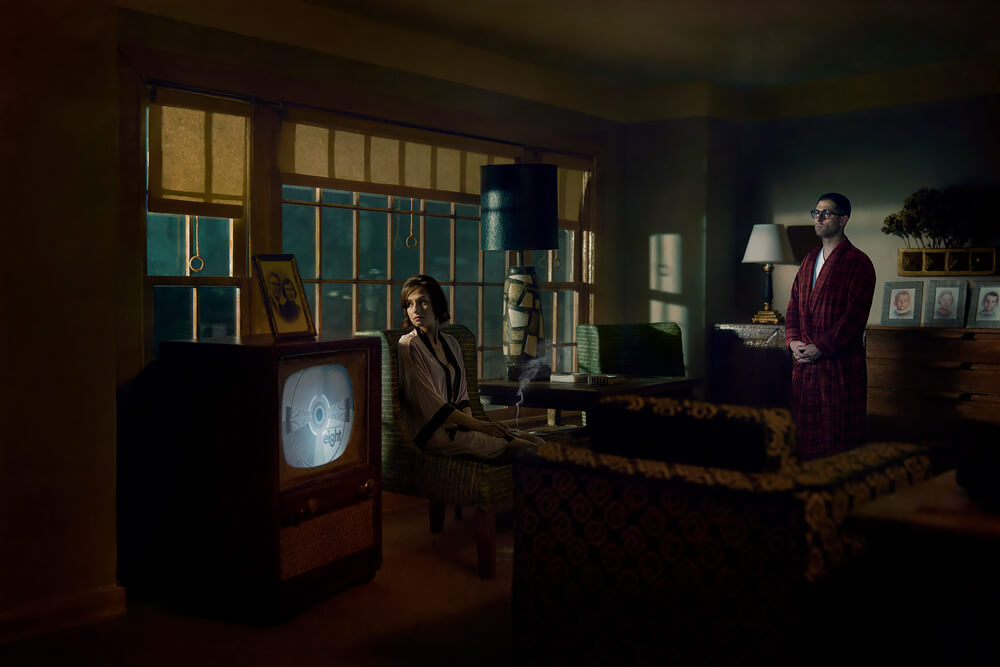 Late Night Test Pattern © Richard Tuschman
About the artists
Richard Tuschman began experimenting with digital imaging in the early 1990's, developing a style that synthesized his interests in photography, painting and assemblage.
He has been exhibited widely, both in the US and internationally. Accolades and awards include Prix de la Photographie Paris (Gold Medal, People's Choice), Critical Mass Top 50, International Kontinent Awards (1st Place, Fine Art Projects) and Center Project Launch Juror's Award (chosen by Roger Watson, Fox Talbot Museum) among others. His photographs have been published on numerous online magazines/journals including Slate, LensCulture, LensScratch and Huffington Post. In 2016 he was named a New York Foundation for the Arts Fellow in Photography. He lives and works in New York.
Richard Tuschman's Website
Richard Tuschman on Instagram
All about Richard Tuschman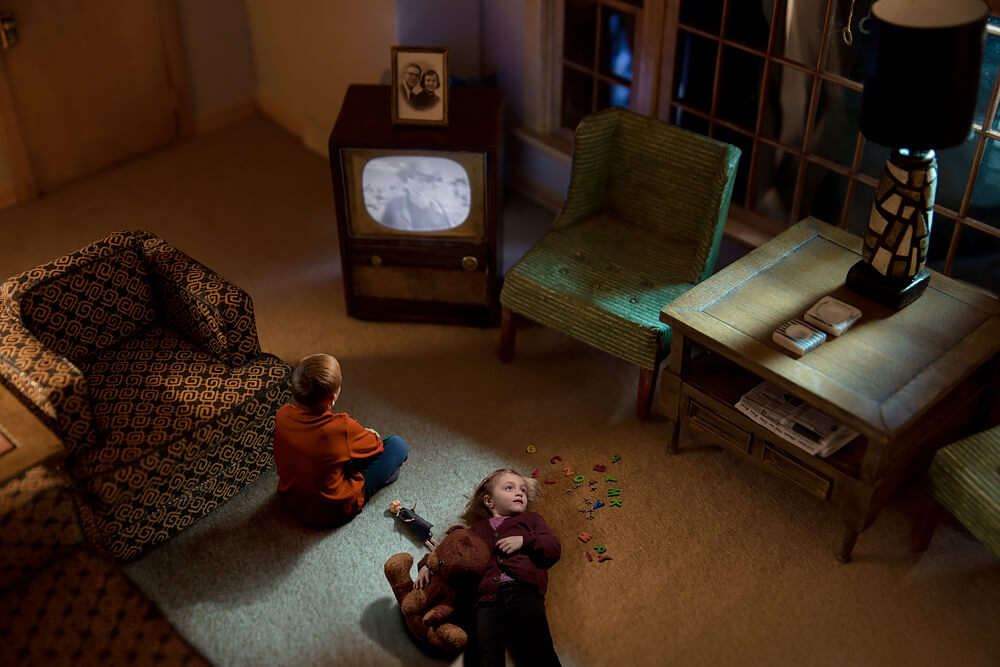 Pondering Life © Richard Tuschman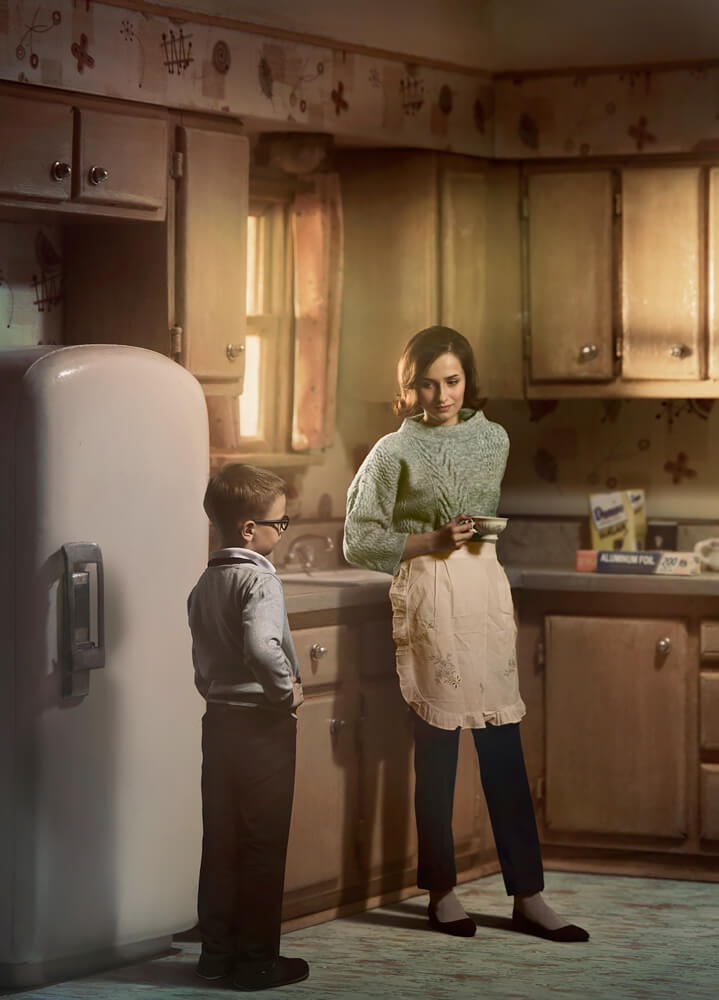 Morning Coffee © Richard Tuschman