I first met
Cig Harvey
when I had rolled back into Rockport, Maine, in 2000 after years abroad. She had the private darkroom next to mine at the
Maine Photographic Workshops
and while I was churning out what I considered to be somewhat tortured self-portraits, Cig was printing out even more beautiful self-portraits that spoke of something in an indirect way, subtle and dark, a moment, really a life, expressed in something as simple as the way a stocking clad foot met the floor. I have that image in my mind's eye sixteen years later and marvel at the beginning of the journey that would shape her as an image-maker. Cig, a talented and passionate photographer with numerous stories to tell, not just of her path, but those she encountered upon it. I had an inkling then, in the late nights in the darkroom in Coastal Maine, that this girl was going to be great. And I was right. Now on her second monograph, Cig is more of a supernova than a shooting star. For those that didn't get to see her struggle through a Maine winter or conversely, joyously swim in the brisk ocean off of Beauchamp Point in the too short summers, you get to see her now as a Phoenix.
I am lucky that our paths get to cross often enough that I don't lose the thread of her life or the progress of her image making. After her first book, You Look at Me Like an Emergency, which is completely sold out, Cig never put down her camera and went on to produce another monograph. This one, Gardening at Night, is also charting the same course.
Photo-eye Gallery
is will be featuring a solo exhibition of these color images and animations opening on Friday, April 15th and continuing through June 4th, 2016. An artist reception will take place on Friday, April 15th from 5 - 7 PM, so if you are anywhere near Santa Fe, New Mexico, it is worth a detour to meet the artist and see her magnificent prints.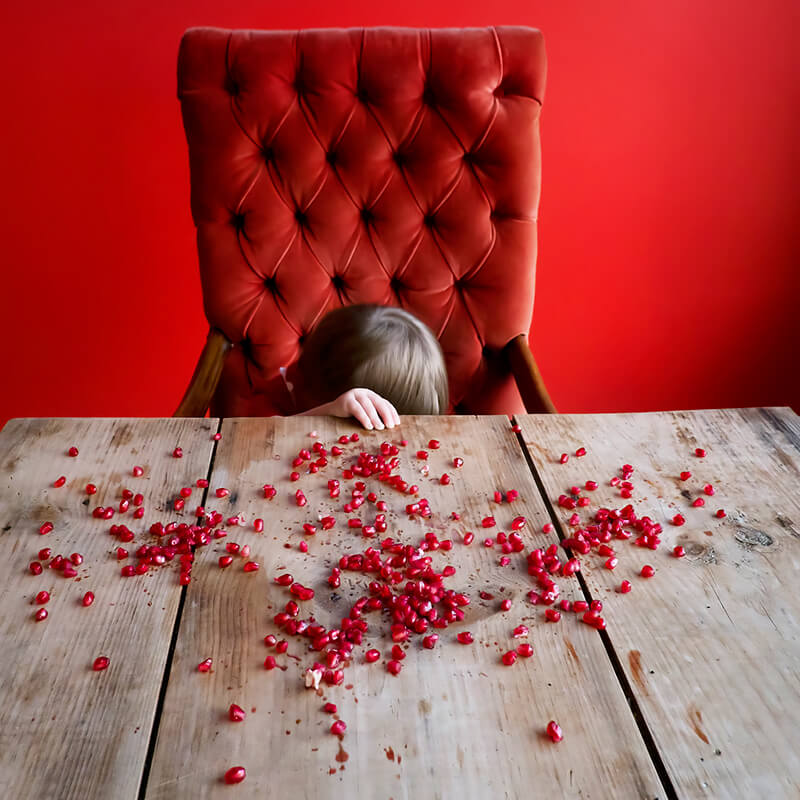 © Cig Harvey - Pomegranate Seeds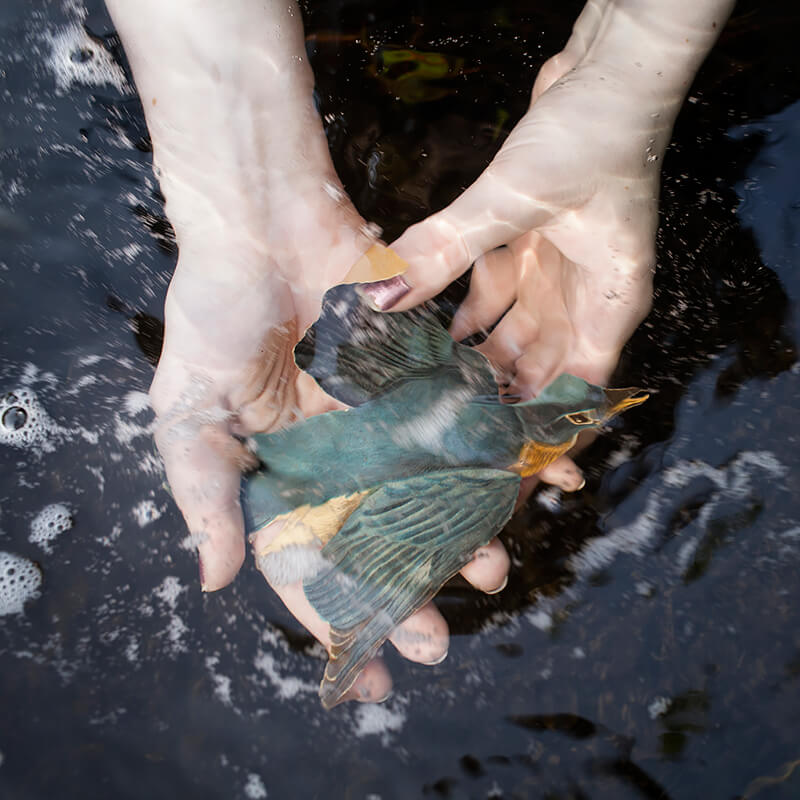 © Cig Harvey - Blue Bird Leaving
While Gardening at Night is an exploration of home, family, nature, and time, its predecessor, You Look at Me Like an Emergency captured journeys in finding and defining home. Her current book denotes settling into one's landscape and creating life where you are. And as a Brit trying to lay down roots in rural Maine, this is a journey best documented as it unfolds.
As the publisher states, The narrative throughout has a delicious element of magical realism and the viewer is left with the feeling of waking within a dream. Simultaneously, there is familiarity in what is evoked, something primal and instinctual that points to each person's connection to nature. Seasons figure prominently as metaphors for the cycle of life, and interplays between shadow and light underscore the work. Each photograph and written vignette offers a tactile experience of things that ordinarily seem intangible - the secret life of birds, of barren winter trees, of the lake in spring time, or the girl in the window whose house you pass every day.
The seventy-five jewel-toned images are arresting and weighted, but punctuated, as always by Cig's characteristic whimsical style. The result is an intensely personal collection that captures an experience of the world that is at once otherworldly and yet instantly familiar.
Gardening at Night celebrates the growth and discovery of building a life once you've arrived. Far from literal and linear, Cig crafts a series of metaphorical vignettes rooted in her personal experience. Sumptuous color and the play of soft light elevate the familiar to the extraordinary, leaving the viewer with the weight and wonder of a waking dream. Gardening at Night is an emotional yet ultimately joyous expression of the human condition. Among the large-format color prints, photo-eye Gallery is also excited to exhibit unique animated images by the artist. As a friend and a follower, I'm excited to see this latest chapter of Cig's journey revealed in her pictures and can only look forward with anticipation to what could possibly come next.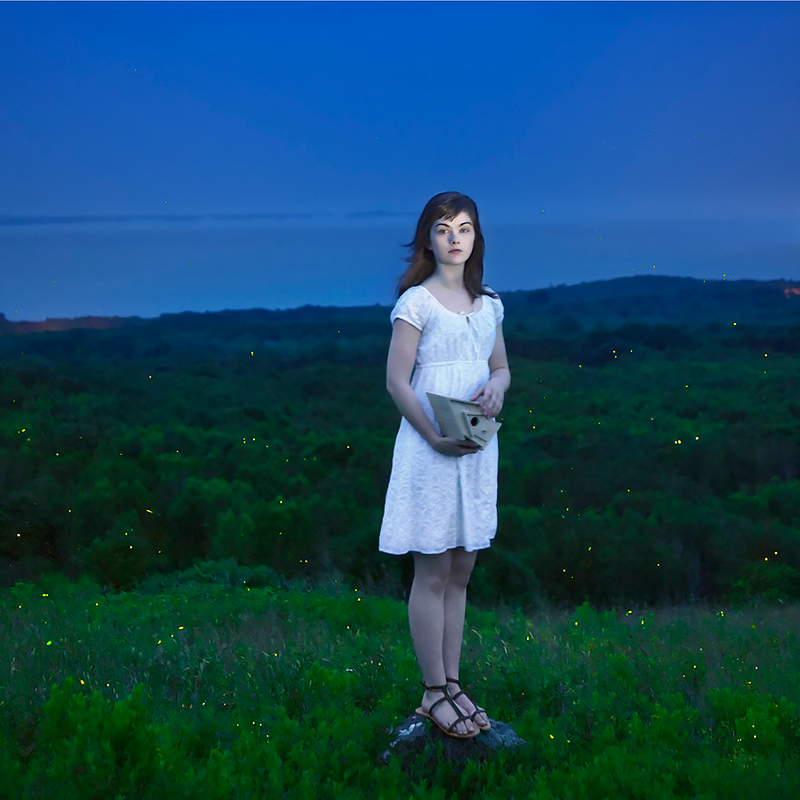 © Cig Harvey - Devin and the Fireflies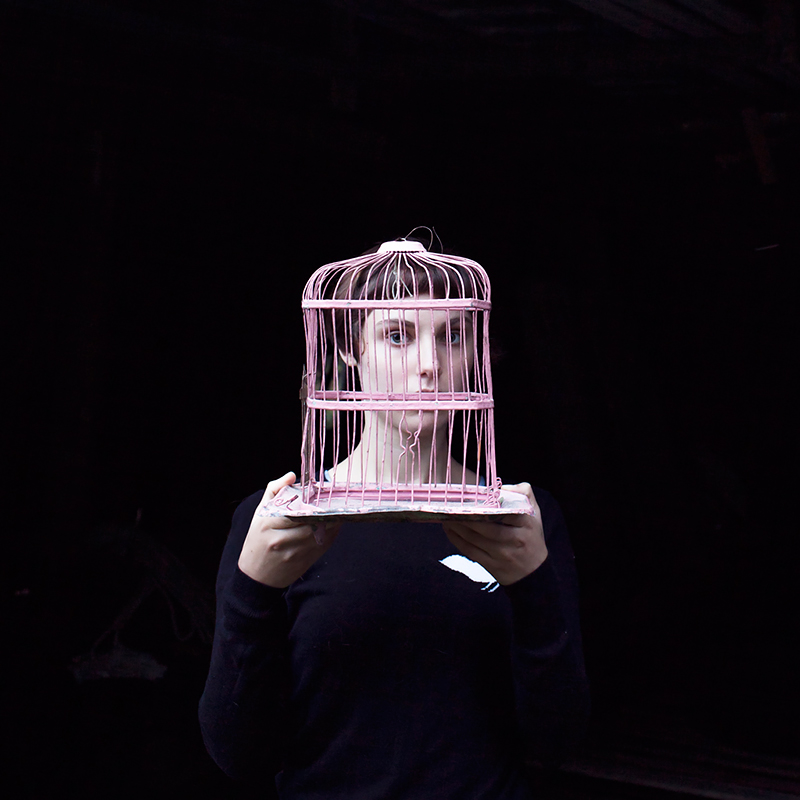 © Cig Harvey - Sadie and the Birdcage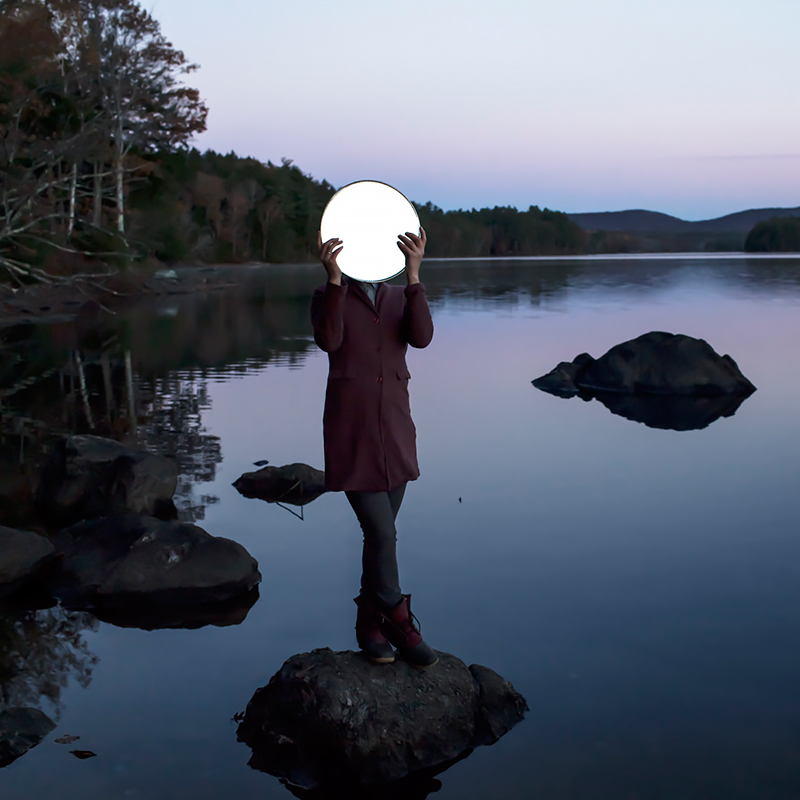 © Cig Harvey - Sadie and the Moon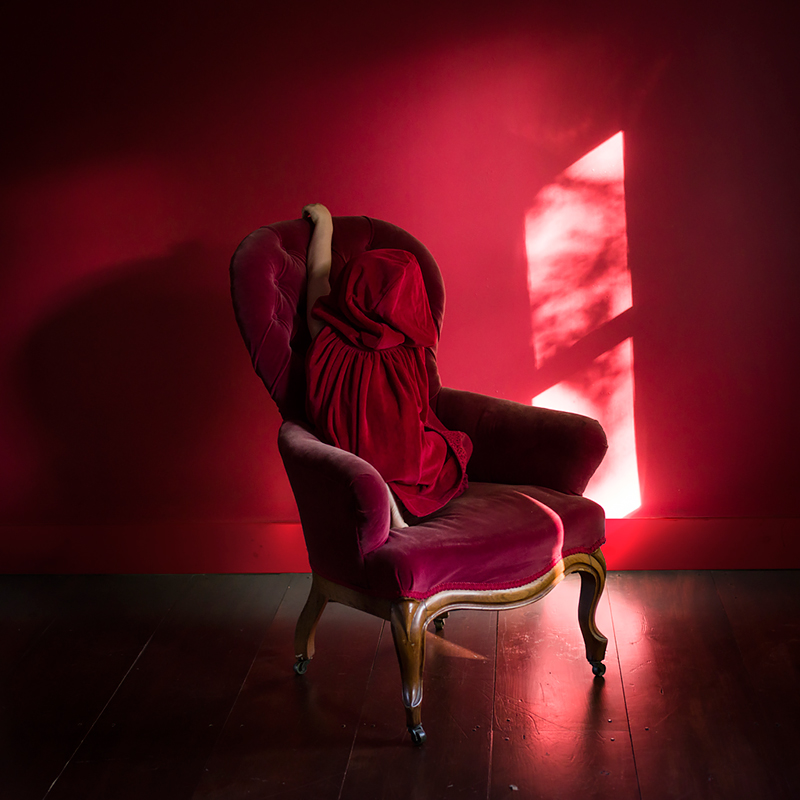 © Cig Harvey - Sadie and the Cape
Cig Harvey's photographs have been exhibited widely and are in the permanent collections of major museums, including the Museum of Fine Arts, Houston, and the International Museum of Photography, George Eastman House, Rochester, NY. She was a finalist in Prix Virginia, an international photography prize for women, and had her first solo museum show at The Stenersen Museum, Oslo, Norway, in the spring of 2012 in conjunction with the release of her monograph You Look At Me Like An Emergency.
Cig Harvey's second monograph, Gardening at Night received critical acclaim with features and reviews in Vogue, The Telegraph, the International Wall Street Journal and the International New York Times. Cig teaches workshops and regularly speaks on her work and process at institutions around the world. She is known for her high energy, creative teaching style and brings a profound sense of optimism to all that she does.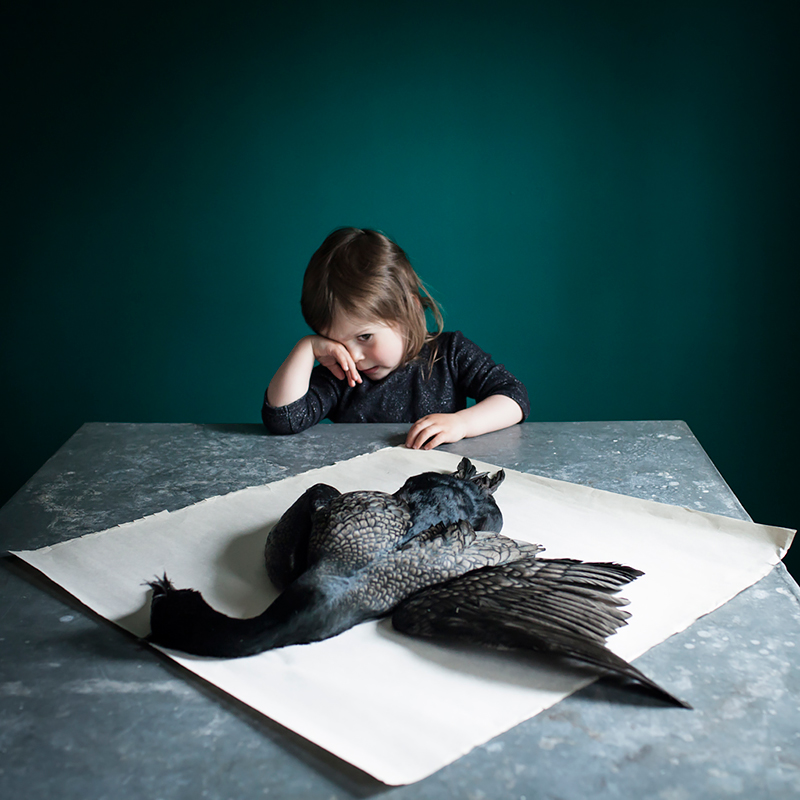 © Cig Harvey - Scout and the Found Bird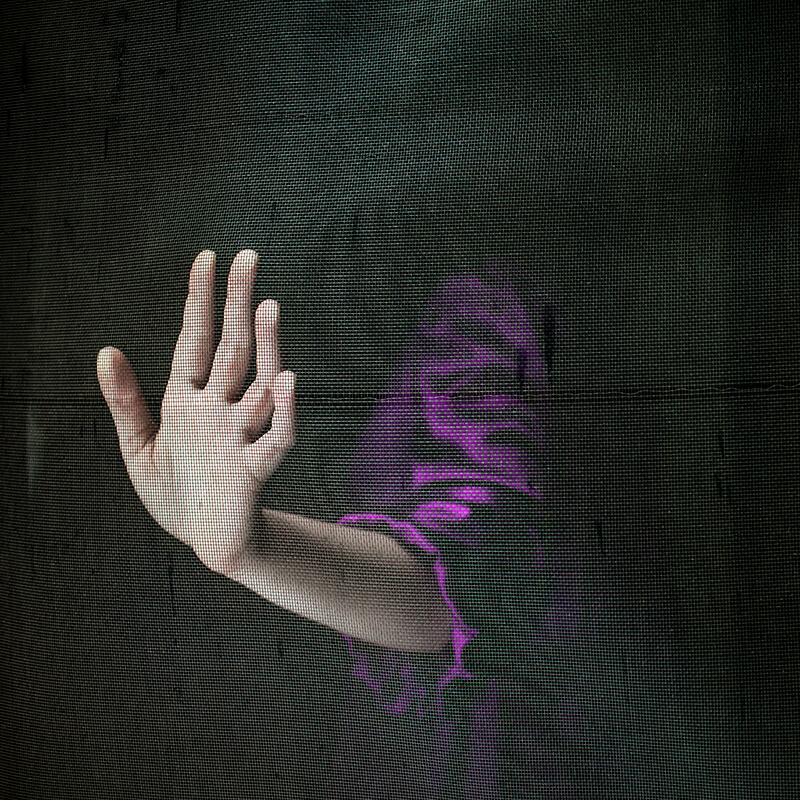 © Cig Harvey - Screen Door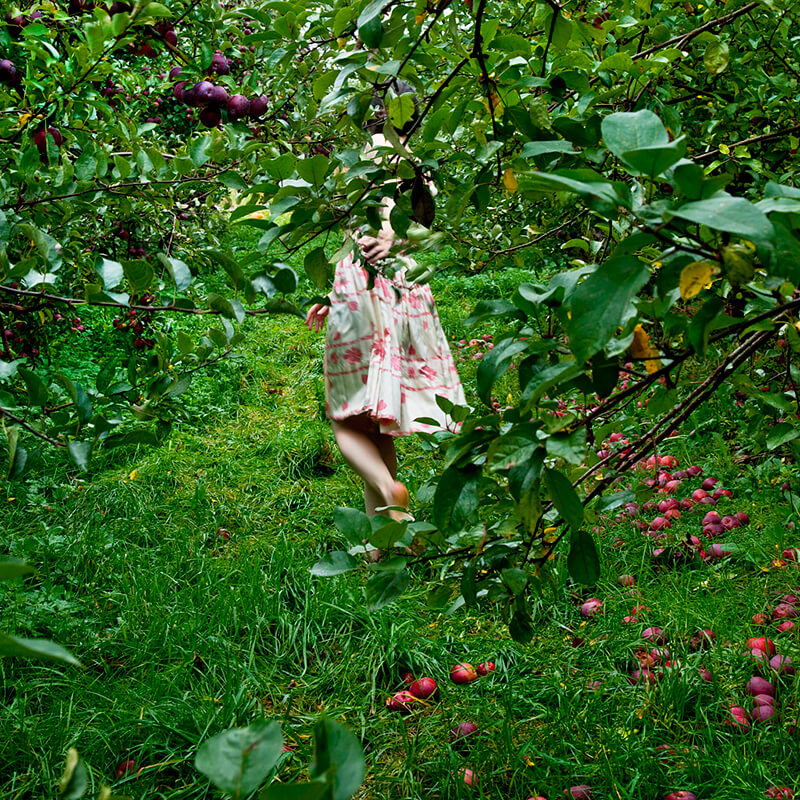 © Cig Harvey - The Orchard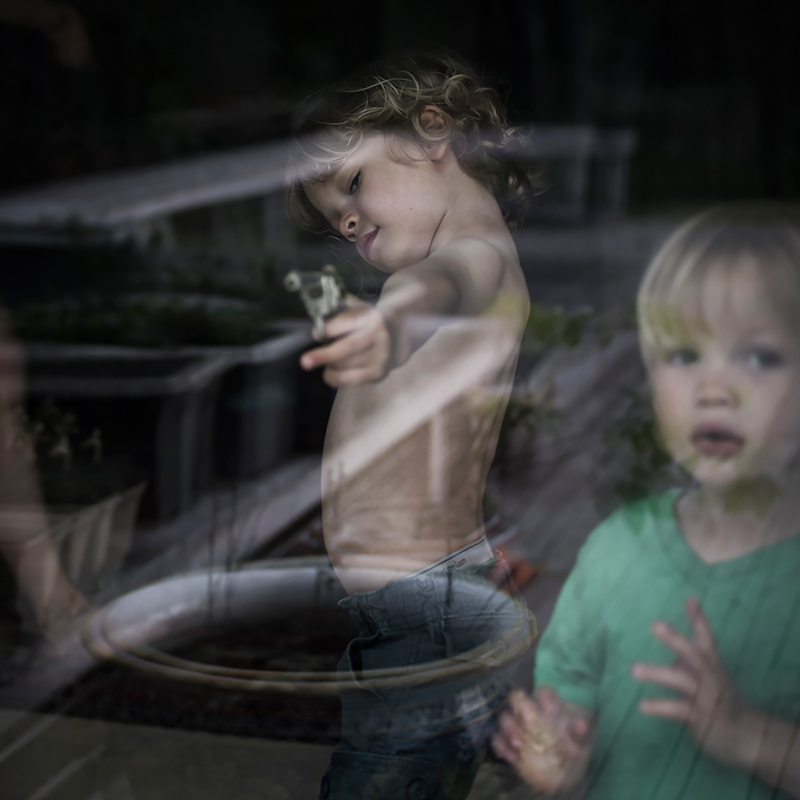 © Cig Harvey - Two Brothers