The 12th edition of the Carmignac Photojournalism Award is dedicated to Venezuela and its hardships at the individual, social and ecological levels. It is chaired by Quentin Bajac, director of the Jeu de Paume. The Award was awarded to
Fabiola Ferrero
.
In her report, Fabiola Ferrero explores the disappearance of the Venezuelan middle class. A prosperous democracy in the 1960s-1970s, Venezuela is now struggling to extricate itself from a deep political and economic crisis that has widened the inequality gap and des- troyed the middle class. Mixing archival images, videos and photographs, Fabiola Ferrero chronicles this vanished economic success and contrasts it with the Venezuela of today.
''My family, friends and later myself left Venezuela, leaving only traces of a long gone promise. I went back to dig into the past to photograph the remains of a lost glory built on oil. This project is a search for a country that existed before collapse.''
- Fabiola Ferrero
The 12th edition of the Carmignac Award will be simultaneously exhibited at the Réfectoire des Cordeliers, and on the quais of Solférino, in partnership with the City of Paris, from October 27th to November 22nd, 2022. A monograph, co-published by Fondation Carmignac and Reliefs Éditions will be released at the same time.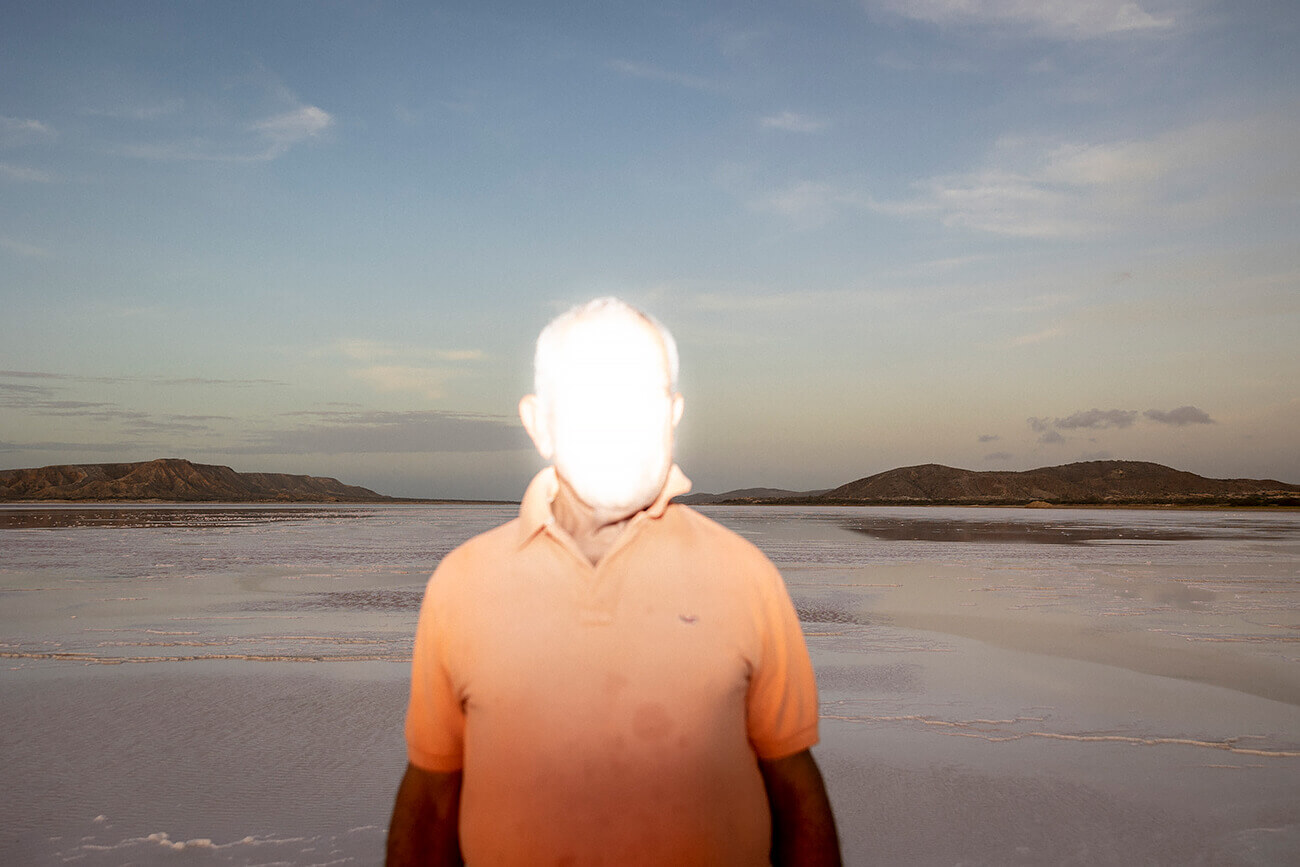 Leobaldo Vásquez (65) in Araya, Sucre. © Fabiola Ferrero for Fondation Carmignac
He is a former worker of the Araya salt complex and writes poetry about the golden years of the company: seeing it turned into ruins, my heart is torn, and with the passage of time, they have turned it into scrap, reads one of the poems
Fabiola Ferrero
Fabiola Ferrero is a journalist and photographer born in Caracas in 1991 and currently based in Colombia. Her personal work is the result of how her childhood memories contrast with nowadays Venezuela, her home country. Using her background in writing and investigative journalism, which she studied in Caracas (UCAB), she develops long term visual projects about South America, and especially Venezuela's crisis. Her educational background in photography includes the Joop Swart Masterclass 2019 and the Eddie Adams Workshop. She was a jury member for the World Press Photo 2022 contest South American region and Magnum Foundation Fellow for the Social Justice Program in 2018. Interested in bringing opportunities to other newcomer photographers in the region, Fabiola founded Semillero Migrante, a photography mentorship program around migration. Among her recognitions are the Inge Morath Award, 6Mois Photojournalism Award and the Getty Images Editorial Grant. She was also a finalist for the Alexia Grant, Eugene Smith Memorial Fund and the Leica Oskar Barnack Newcomer Award. As well as developing independent investigations in South America, her work has been featured in TIME, The New York Times, National Geographic, MMagazine, Le Monde, and others. She is the 12th Carmignac Photojournalism Award laureate.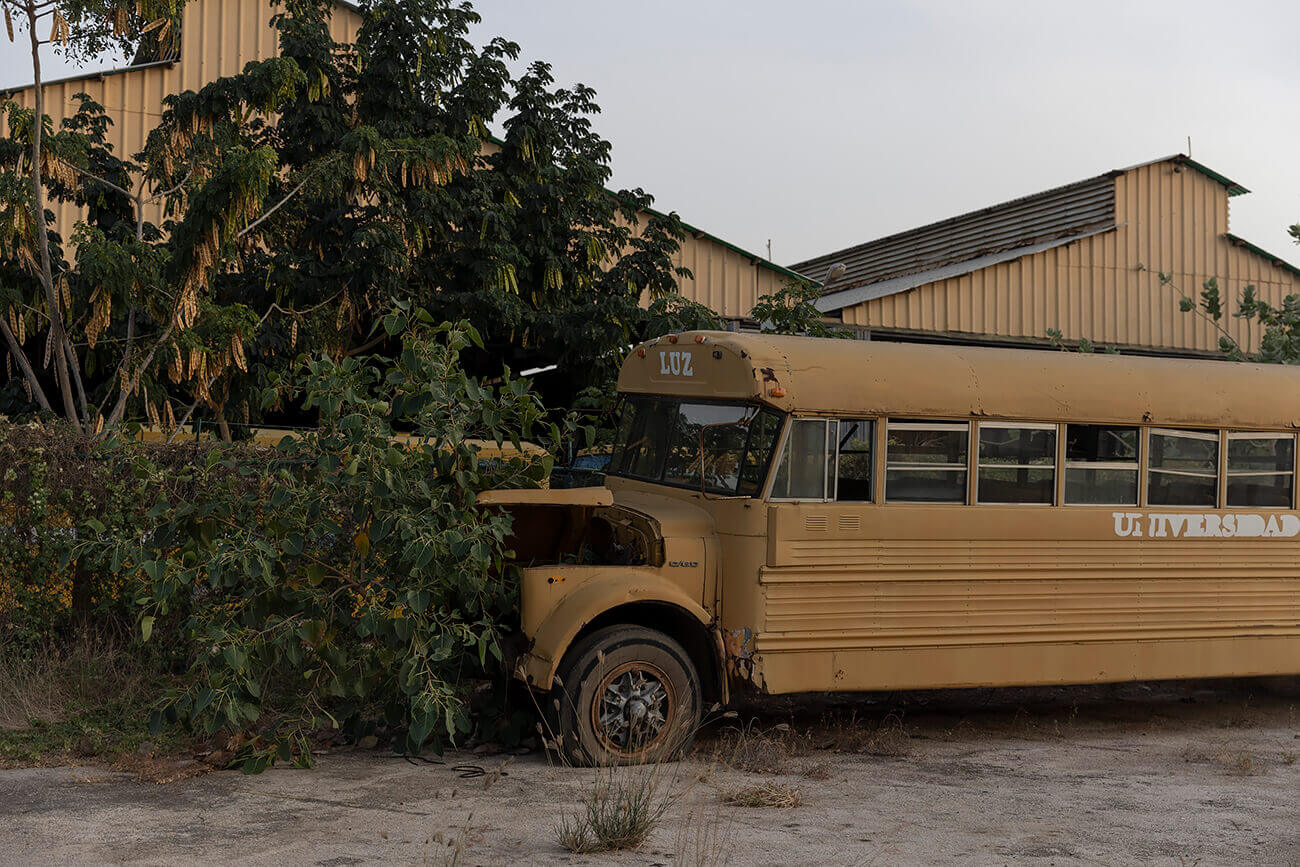 Abandoned bus of LUZ (Universidad del Zulia) on February 16, 2022. © Fabiola Ferrero for Fondation Carmignac
Theme: Venezuela
This Latin American region was once an El Dorado bordered by the Caribbean Sea, which operated under a rich and prosperous democracy in the 1960s-1970s. It still holds the world's largest oil reserves-ahead of Saudi Arabia-and vast mined resources (including gold, iron, steel, and coltan). Twenty years after the Bolivarian revolutionled by Hugo Chavez and his radical socialist reforms-the country is struggling to extricate itself from a deep economic crisis, marked by the plummeting price of oil, endemic corruption and hyperinflation (3000% in 2020). In under seven years, its GDP has fallen by 80% and importation has been slashed tenfold. In the face of this unrelenting recession, an informal shadow economy is growing. While the results of the latest elections have gone unrecognized by the international community, the power struggle between the ruling Chavista regime under Nicolás Maduro and opposition leader Juan Guaidó is dividing Venezuelan society. These institutional blockages, as well as accusations of electoral fraud or political imprisonment, generate frequent demonstrations and clashes. These tensions, combined with problems of instability, only worsen the living conditions of Venezuelans, over 75% of whom live in extreme poverty and suffer from severe shortages of running water, food and medicine. To date, 5.4 million Venezuelans-one in six inhabitants-live in exile in Colombia, Peru or Ecuador: the most significant migratory crisis in the world behind Syria.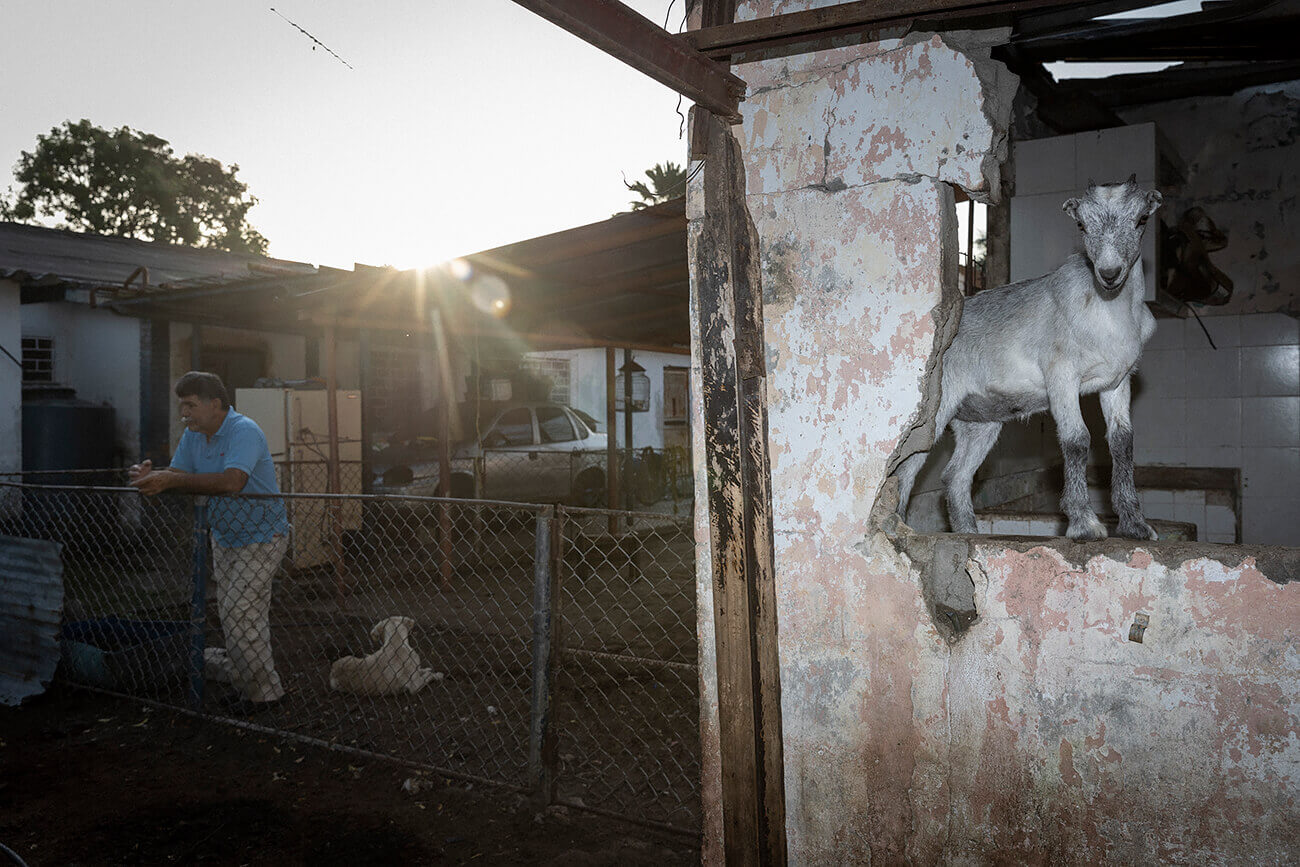 Jeonaldo Rodríguez in his house in Campo Alegría, an oil camp located in Zulia State, Venezuela, on Feberuary 2022. © Fabiola Ferrero for Fondation Carmignac
He worked for 22 years in the oil industry until he was let go in 2003 after the national oil strike. His name appeared in the press as part of famous lists made by late president Hugo Chávez to release everyone involved in the strike. He now lives off of raising cows and trading their milk for other food products. The house he lives in is still legally property of PDVSA, the State oil company.
Fondation Carmignac
The Fondation Carmignac was founded in 2000 by Edouard Carmignac, a French entrepreneur, CEO and Chairman of asset management company Carmignac. Today, it is structured around three main pillars which developed one after the other. The Carmignac Collection, which has over 300 works of contemporary art, the Carmignac Photojournalism Award and the Villa Carmignac in Porquerolles which offers temporary exhibitions and a rich cultural programme in a 2000-square-meter art space set in a 15-hectare estate at the heart of a protected site.
The Carmignac Photojournalism Award
In 2009, while media and photojournalism faced an unprecedented crisis, Edouard Carmignac created the Carmignac Photojournalism Award to support photographers in the field. Every year, it funds the production of an investigative photo reportage on human rights violations and geo-strategic issues in the world. The Fondation Carmignac provides the laureate with financial and human resources to carry out their project and produces both a monograph and a traveling exhibition, aiming to shed light on the crises and challenges which the contemporary world is facing. Previous editions of the Carmignac Photojournalism Award have focused on: Gaza (Kai Wiedenhöfer); Pachtunistan (Massimo Berruti); Zimbabwe (Robin Hammond); Chechnya (Davide Monteleone); Iran (Newsha Tavakolian); Guyana (Christophe Gin); Libya (Narciso Contreras); Nepal (Lizzie Sadin); the Arctic (Kadir van Lohuizen and Yuri Kozyrev); the Amazon (Tommaso Protti) and the Democratic Republic of Congo (
Finbarr O'Reilly
and the collective of photographers for the project ''Congo in Conversation'').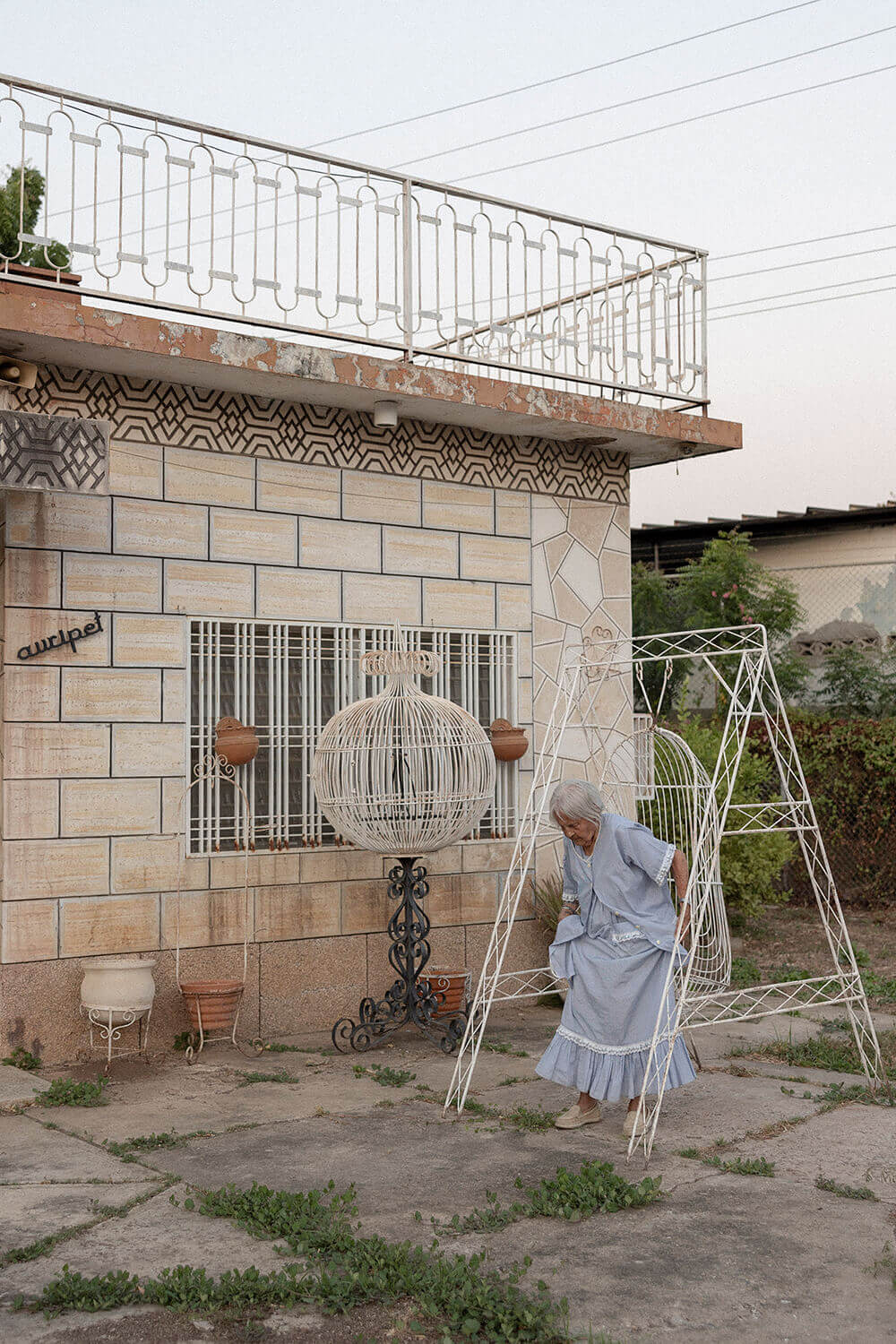 Auristela Salazar, 87, sits on a bank outside her home in the oil town of Cabimas, Zulia State. © Fabiola Ferrero for Fondation Carmignac
She dedicated her life to being an athlete of the oil companies' teams, as her whole family also worked on it. Today, she keeps many photo albums and remembers her father's days as an oil worker and lives by herself in his home. As many, she suffers from constant power outages and problems with basic services. Auristela keeps the kitchen always on, so she can know when the gas is back and can cook.