All About Photo is delighted to announce this year's winners of All About Photo Awards 2022, recognizing the best single images from photographers around the world.
Visionary photographers from around the world, both professional and amateur, shared their unique perspectives and competed for international recognition as the next "Photographer of the Year," $10,000 in cash prizes and publication in the printed magazine 'Special Edition All About Photo Awards 2022'
A panel of 7 expert jurors, including
Ian Berry
(Photographer, Magnum Photos),
Paula Tognarelli
(Executive Director and Curator Griffin Museum of Photography),
Ann Jastrab
(Executive Director, Center for Photographic Art, Carmel, CA,
Manfred Baumann
(Leica Photographer),
Tom Price
(Photographer, Winner All About Photo Awards 2021),
Giuseppe Oliverio
(Founder and Director PHmuseum) , and
Sandrine Hermand-Grisel
(Photographer, Founder & Editor of All About Photo) have evaluated thousands of entries from all over the world.
Now in its 7th year, All About Photo Awards - The Mind's Eye has become a reference for discovering new talents and celebrating outstanding photographers. The jurors selected 41 winners who come from 21 different countries and across 4 continents.
The final selection reflects images documenting events and highlighting current issues; however, unlike 2021, this year's submissions overall seem less emotional and more focused on aesthetics. Both winning images by Marcus Yam and Konstantinos Tsakalidis are of conflict and unrest, but many of the other scenes seem almost idyllic, though often times when you look closer, there was something else happening in the frame that was anything but perfect.
The winner and Photographer of the Year 2022 is Marcus Yam (United States)
The winner and Photographer of the Year 2022 is Marcus Yam (USA) with his image "Afghanistan's air force is a rare U.S.-backed success story. It may soon fail."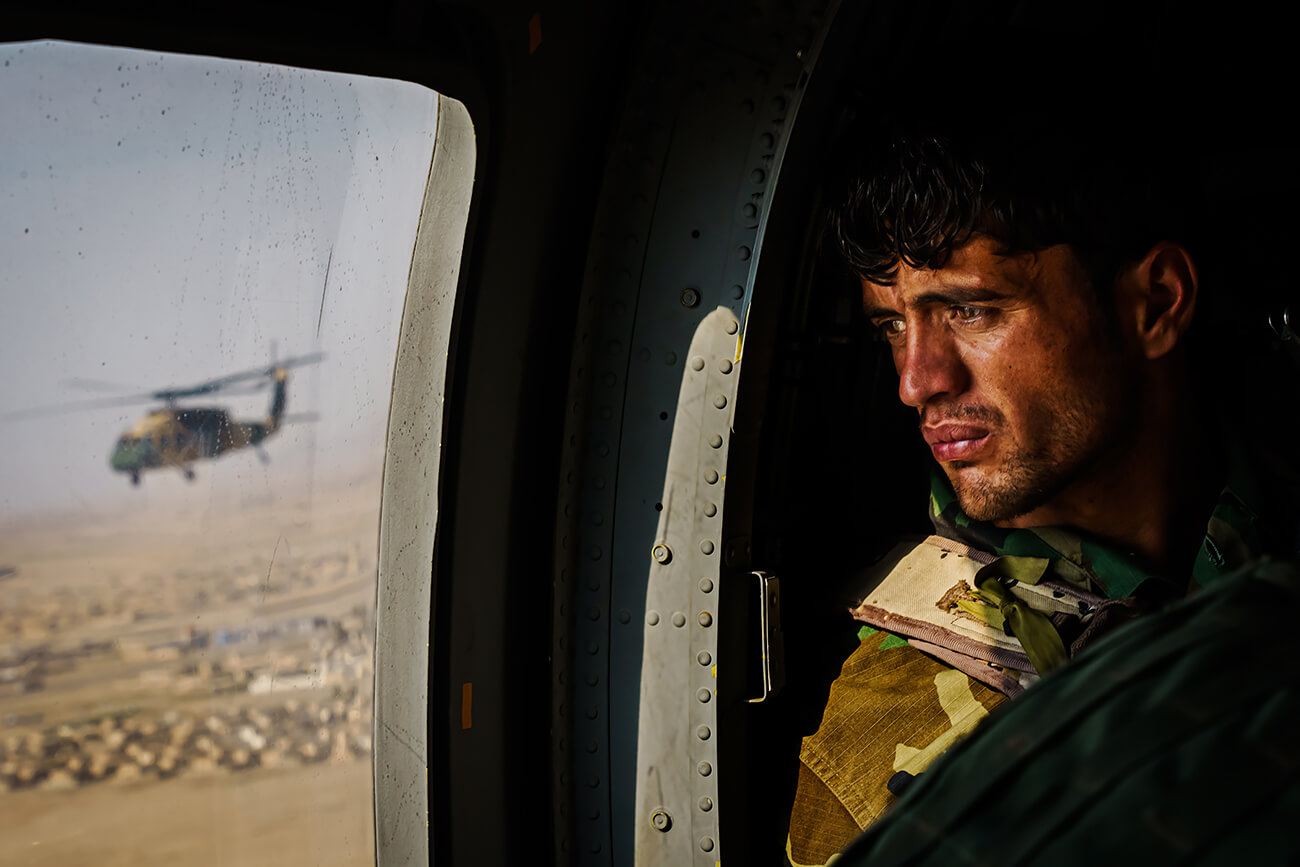 Afghanistan's air force is a rare U.S.-backed success story. It may soon fail © Marcus Yam
A soldier surveys the terrain out of the window of a UH-60 Black Hawk during a resupply flight toward an outpost in the Shah Wali Kot district north of Kandahar, Afghanistan, on May 6, 2021. The Afghan Air Force, which the U.S. and its partners have nurtured to the tune of $8.5 billion since 2010, is now the government's safeguard in its fight against the enemy. Since May 1, the original deadline for the U.S. withdrawal, the Taliban have overpowered government troops, wrestling away control of territories and further denying Afghan security forces the use of roads. As a result, all logistical support to thousands of outposts and checkpoints - including re-supplies of ammunition and food, medical evacuations or personnel rotation - must be done by air.
Marcus Yam's Website
Marcus Yam on Instagram
The second-place winner is Debdatta Chakraborty (India)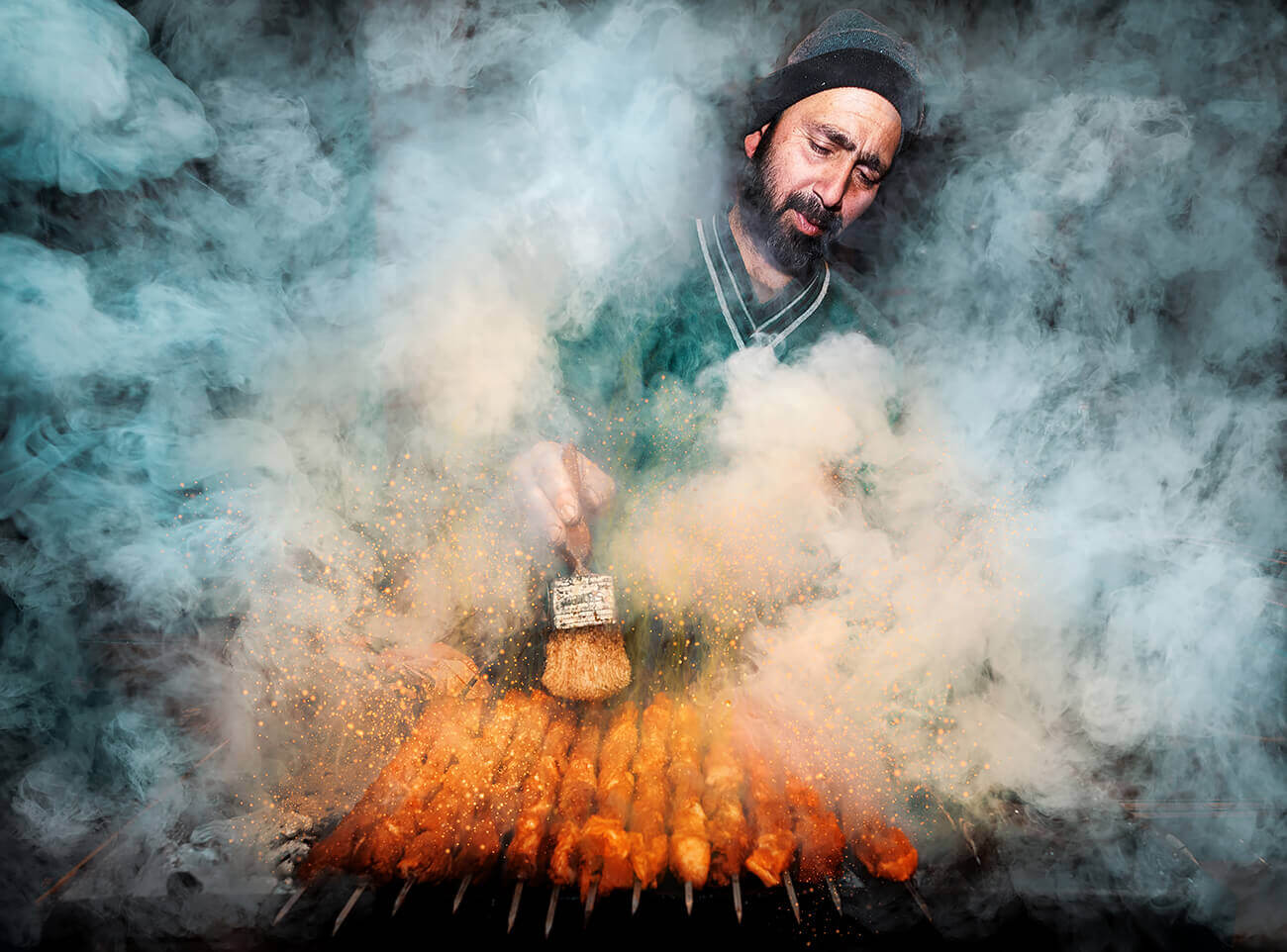 Kebabiyana © Debdatta Chakraborty
This photo of was taken at Sri Nagar, Jammu & Kashmir, India on 14.02.2021
Debdatta Chakraborty on Instagram
All about Debdatta Chakraborty
The third-place winner is Konstantinos Tsakalidis (Greece)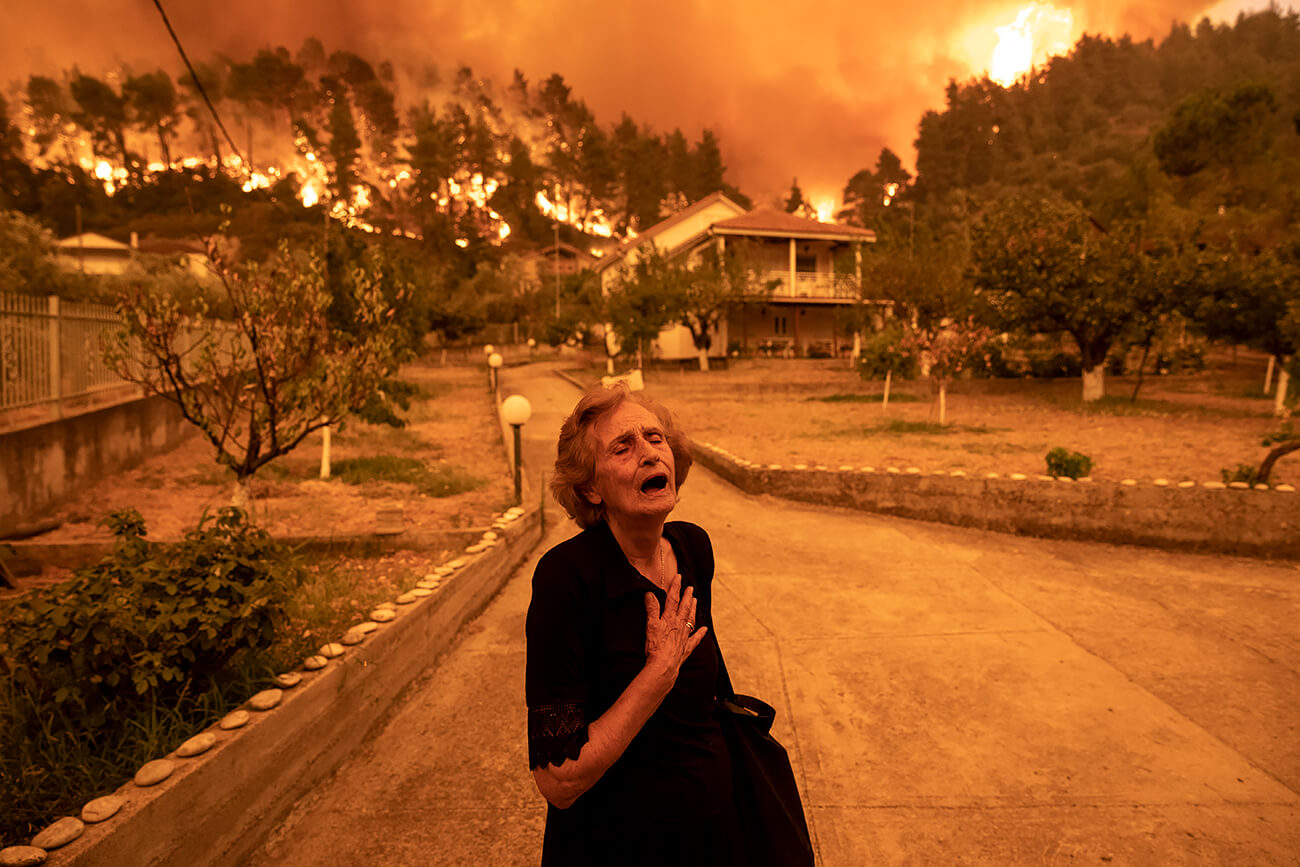 Woman from Evia © Konstantinos Tsakalidis
I was in the village of Gouves in northern Evia, along with other colleagues, where the fire was heading on the morning of Sunday, August 8. When the fire started to threaten the village, I thought that taking pictures from a distance would not tell the whole story. So, I left the observation point, inside the village, where we could see (along with other media colleagues) how the fire was spreading panoramically and headed to the houses, in order to capture the reactions and preparations of the residents, who had not evacuated the village (as requested by the authorities) so they could protect their village. I thought that if the fire really approached the houses, these would be the images that would most vividly describe the disaster and the consequences of the climate crisis we live in.
I had intended to leave the place where I was to move my car to a safer place as the fire moved down the hill in the direction of the houses and that was when I saw from a distance a woman dressed in black moving awkwardly outside a house. I approached to see what was happening because it was one of the first houses in front of the forest. I heard her shouting towards the house, looking for her husband. Then she called me into the yard of the house and told me emotionally about all the hard work they had put into their home (which was now in danger of being lost to the fire) and the lack of government intervention to put out the fire, as she was telling me this, the flames swallowed up the pine forest behind the house. That's the moment I took the picture. That moment was very intense and moving.
After that, I talked to her neighbors so they would take care of her because she seemed to be losing consciousness and informed them that her husband was still in the back of the house, on the side where the fire was coming.
Konstantinos Tsakalidis's Website
Konstantinos Tsakalidis on Instagram
All about Konstantinos Tsakalidis
The fourth-place winner Landry Major (United States)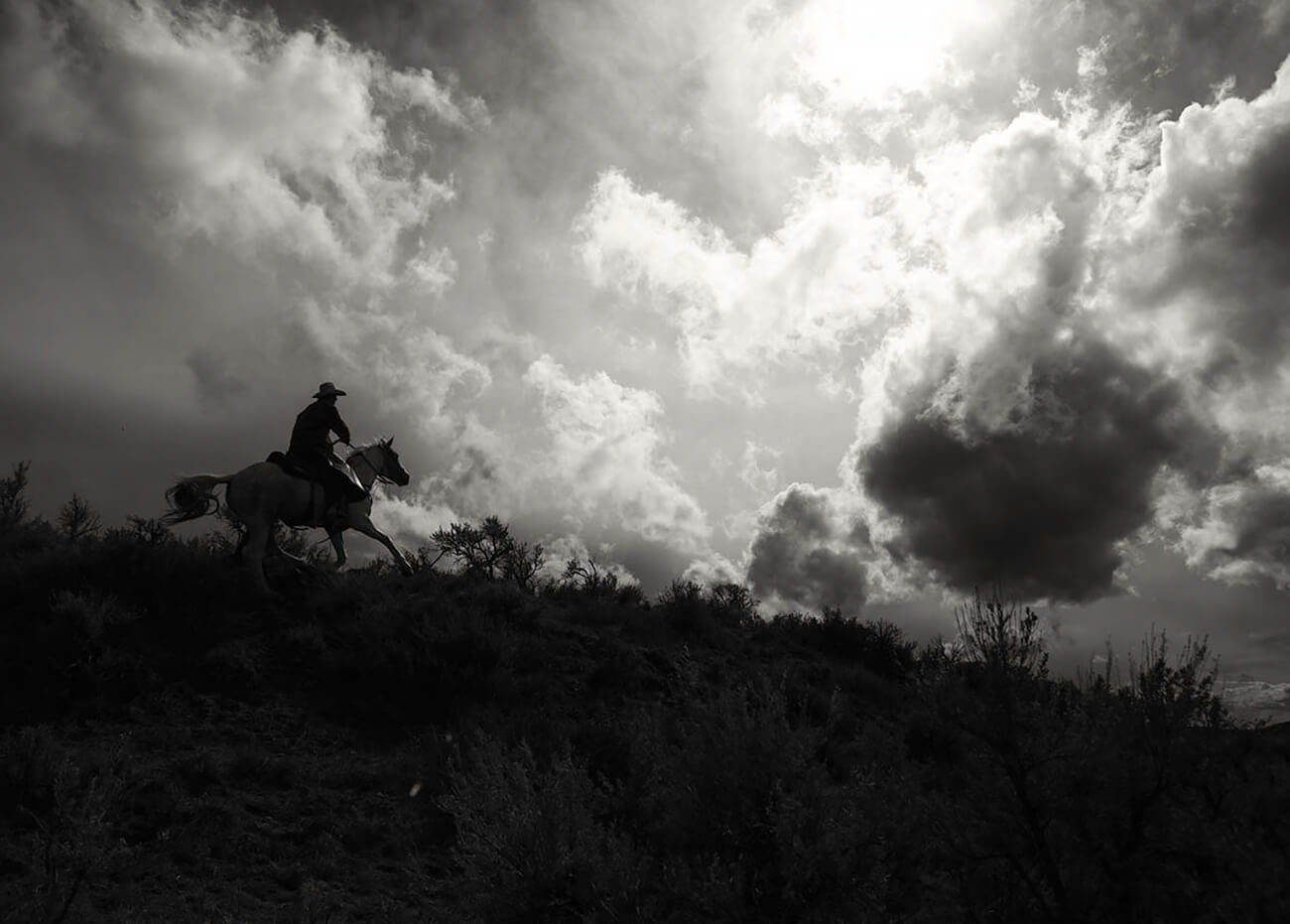 Racing The Storm from the series 'Keepers of the West' © Landry Major
This image was created in northern Colorado as part of my series Keepers of the West showing the remaining family run ranches in the American west. Over the past four years I have witnessed the strength, determination, and commitment of these families to continue this way of life and pass it on to their children.
Landry Major's Website
Landry Major on Instagram
All about Landry Major
The fifth-place winner is Rebecca Moseman (United States).
Alesha from the series 'The Irish Travelers, A Forgotten People ' © Rebecca Moseman
Alesha, a pre-teen Irish Traveler arrives back from school at Labre Park, her family's halting site outside of Dublin, Ireland. Labre Park is the oldest traveler halting site in Ireland. Alesha has lived in this halting site her entire life alongside around 20 other Traveler families.
Rebecca Moseman 's Website
Rebecca Moseman on Instagram
All about Rebecca Moseman
MERIT Gallery
Antonio Denti (Italy)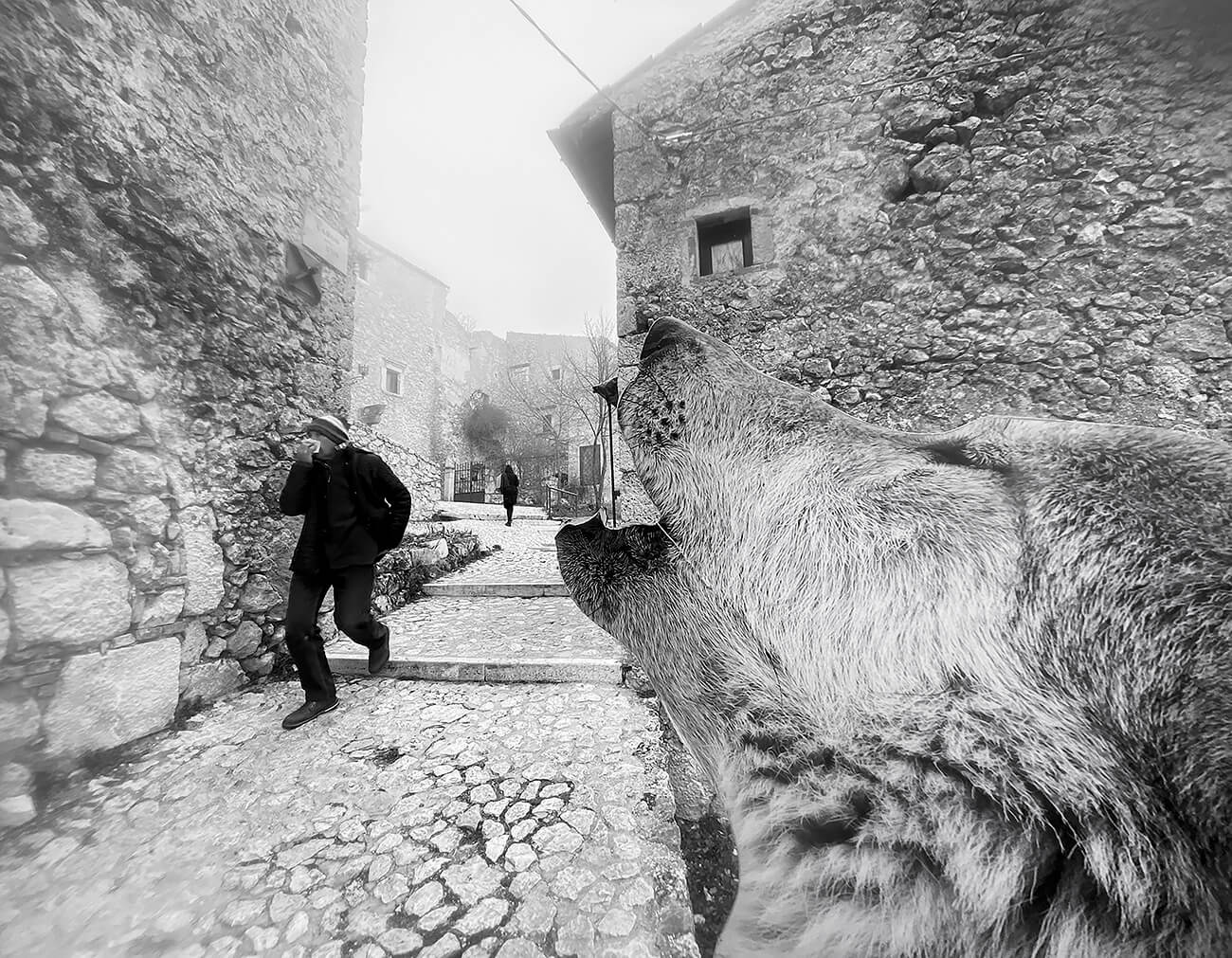 A Silent Howl. Rocca Calascio, Italy (2022) © Antonio Denti
Of a village that is a metaphor of the turmoil and adventure of all human stories. Of repeated earthquakes that through the centuries forced the villagers to abandon their homes temporarily to then come back to rebuild all over again. Of humans that finally found how how life in the valley is easier that at almost 1500 above sea level and never came back to the village (1957). Of a twist in mind and fate by which the wolves that inhabit the mystical mountains around it passed from being fiercely hunted down to be protected (1970s). On an Hollywood blockbuster telling the love story between a wolf-man and an hawk-woman that suddenly made the amazing rock known to the world and gave it another chance. A new generation of humans that climb up to the rock - not anymore to watch out for bandits, not anymore to control the immense herds when wool was the white gold of the time - but to contemplate the infinity, to feel the turmoil and adventure of human history from on top of the WolfLands, in Deep Italy.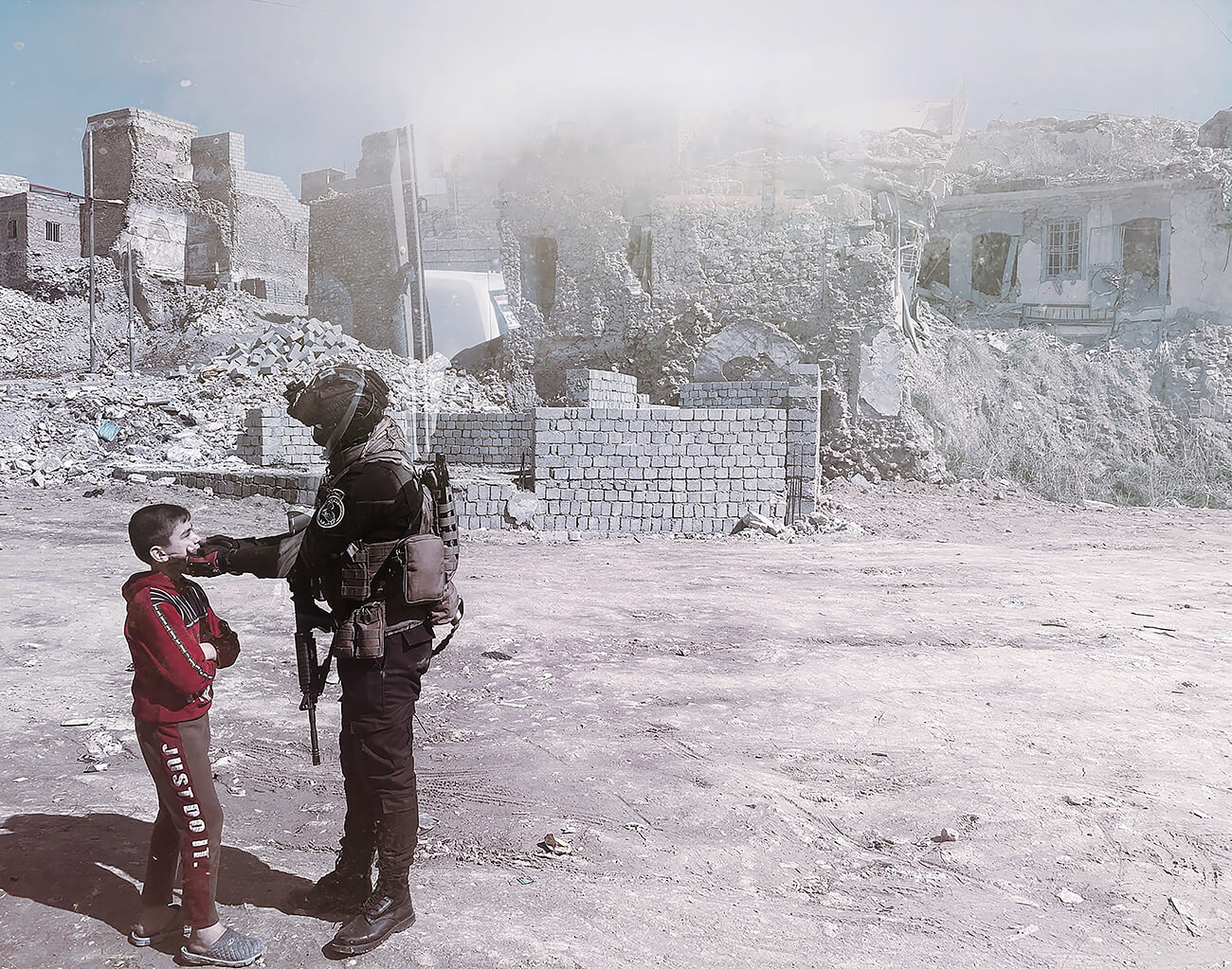 The Kid of Mosul, Mosul, Iraq © Antonio Denti
The soldier moved towards the kid suddenly and unexpectedly. His hand reached for the kid's face. For a brief moment. I could not see the soldier's face - as not one inch of his skin was left uncovered by his full armour - but I felt he meant it with some kind of melancholic affection: like older people sometimes do to the young, with a mixture of worry about their future and desire to encourage them. In that instant, against the silence of the gutted city, I felt I could almost hear the noise of the herculean effort of growing up'
Antonio Denti on Instagram
Joseph-Philippe Bevillard (Ireland)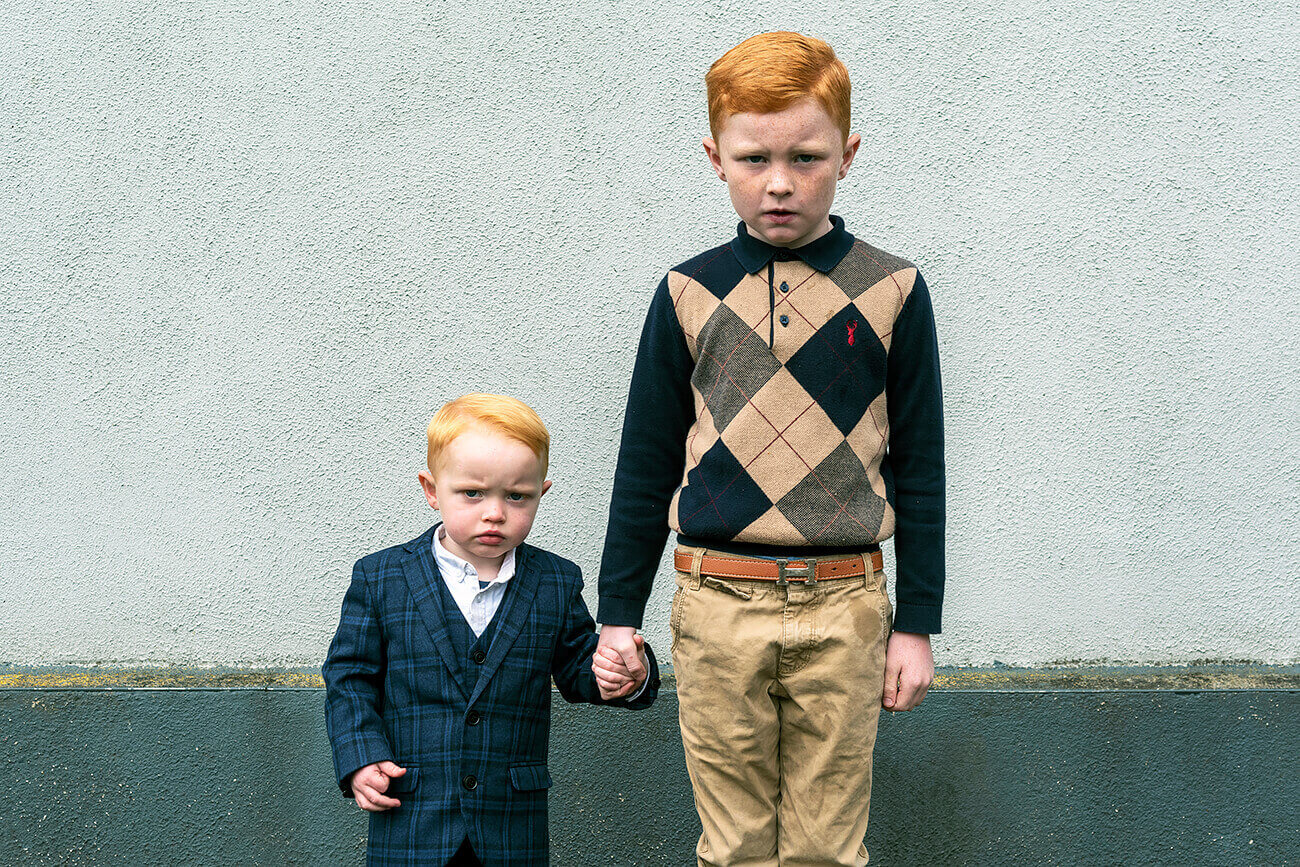 Connors Brothers, Irish Travellers, Wexford, Ireland 2021 from the series 'Irish Travellers (a.k.a. Mincéirs) ' © Joseph-Philippe Bevillard
'Two Irish Traveller brothers were photographed after their cousin's first holy communion in Wexford. As part of their custom, men and boys take pride displaying their best outfit.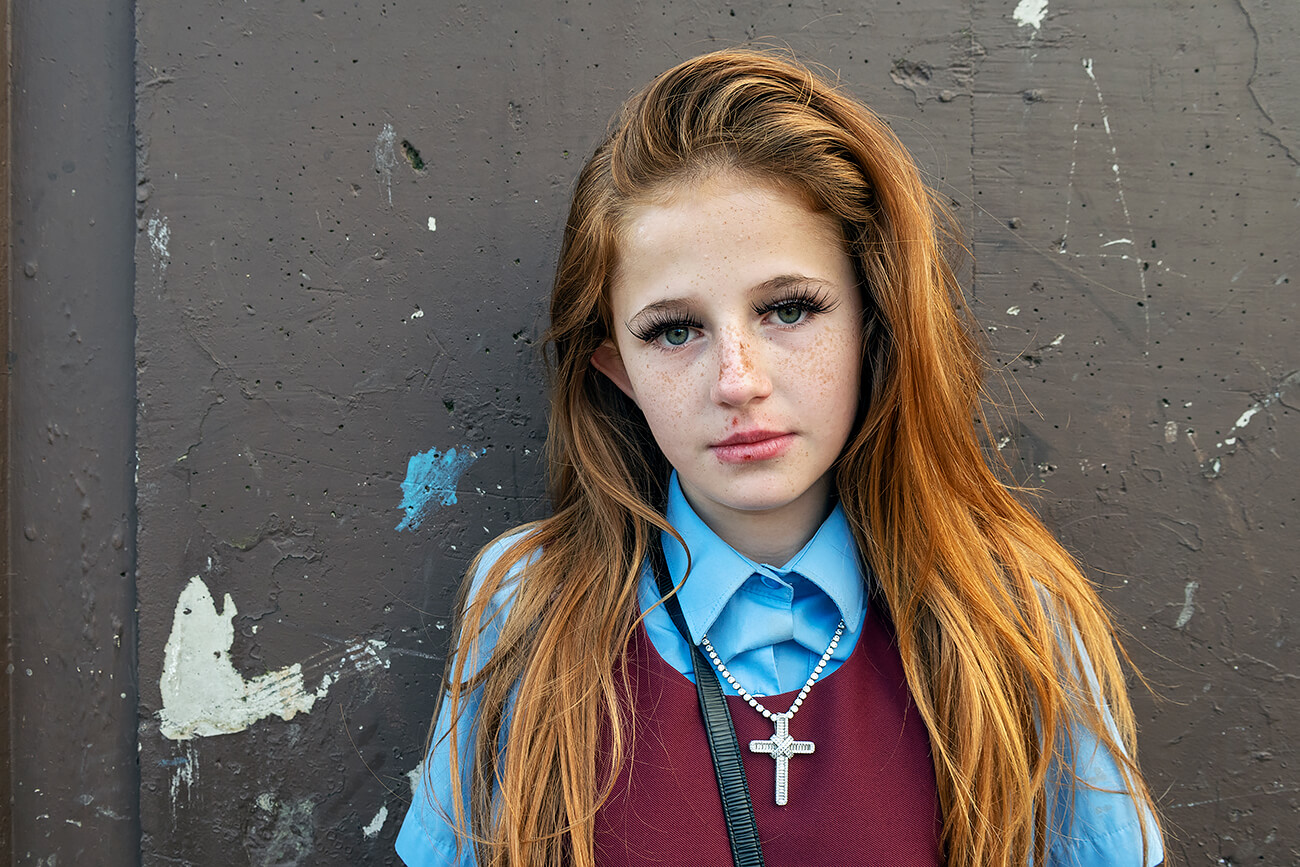 Homeless, Irish Traveller, Dublin 2021 from the series 'Irish Travellers (a.k.a. Mincéirs) ' © Joseph-Philippe Bevillard
'This girl and her family became homeless after a dispute between the council and the Traveller group causing a 5 year delay to build a state funded home on their halting site. Currently, there are over 600 homeless Travellers in Dublin alone.
All about Joseph-Philippe Bevillard
Eric Seidner (China)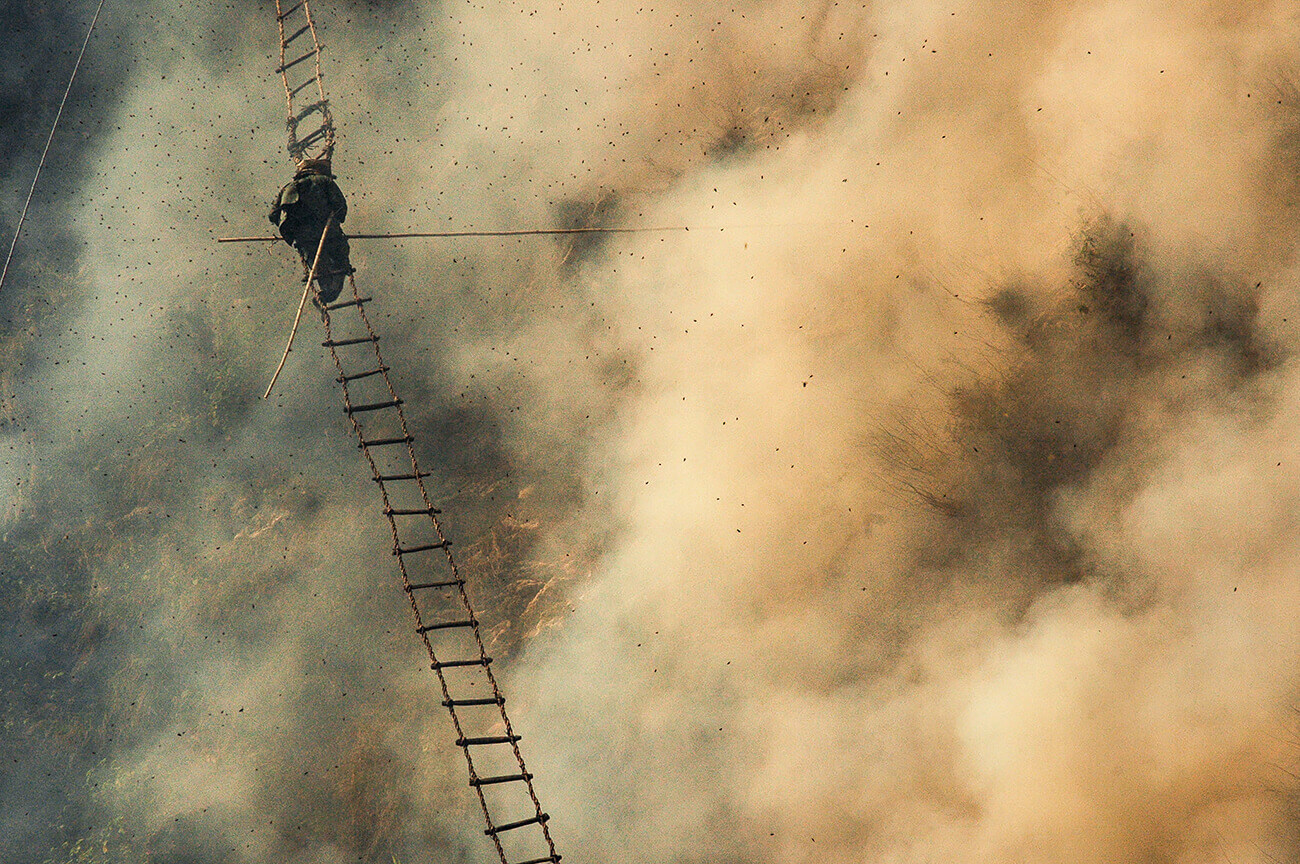 Jousting With The Dragon Swarm from the series 'The Honey Hunters' © Eric Seidner
In the jungles of Nepal live tribes of honey hunters. The honey they seek is produced by the world's largest honey bee. It is a perilous task. Nests, nearly as large as the men that hunt them, are shingled with thousands of irascible bees high on sheer cliff walls. Honey hunters descend twisting rope ladders into a plume of smoke which sends bees into a black blizzard. Armed only with tool-tipped poles, they joust against the swarm in an attempt to sever the honey bearing portion of the nests.
Luca Rotondo (Italy)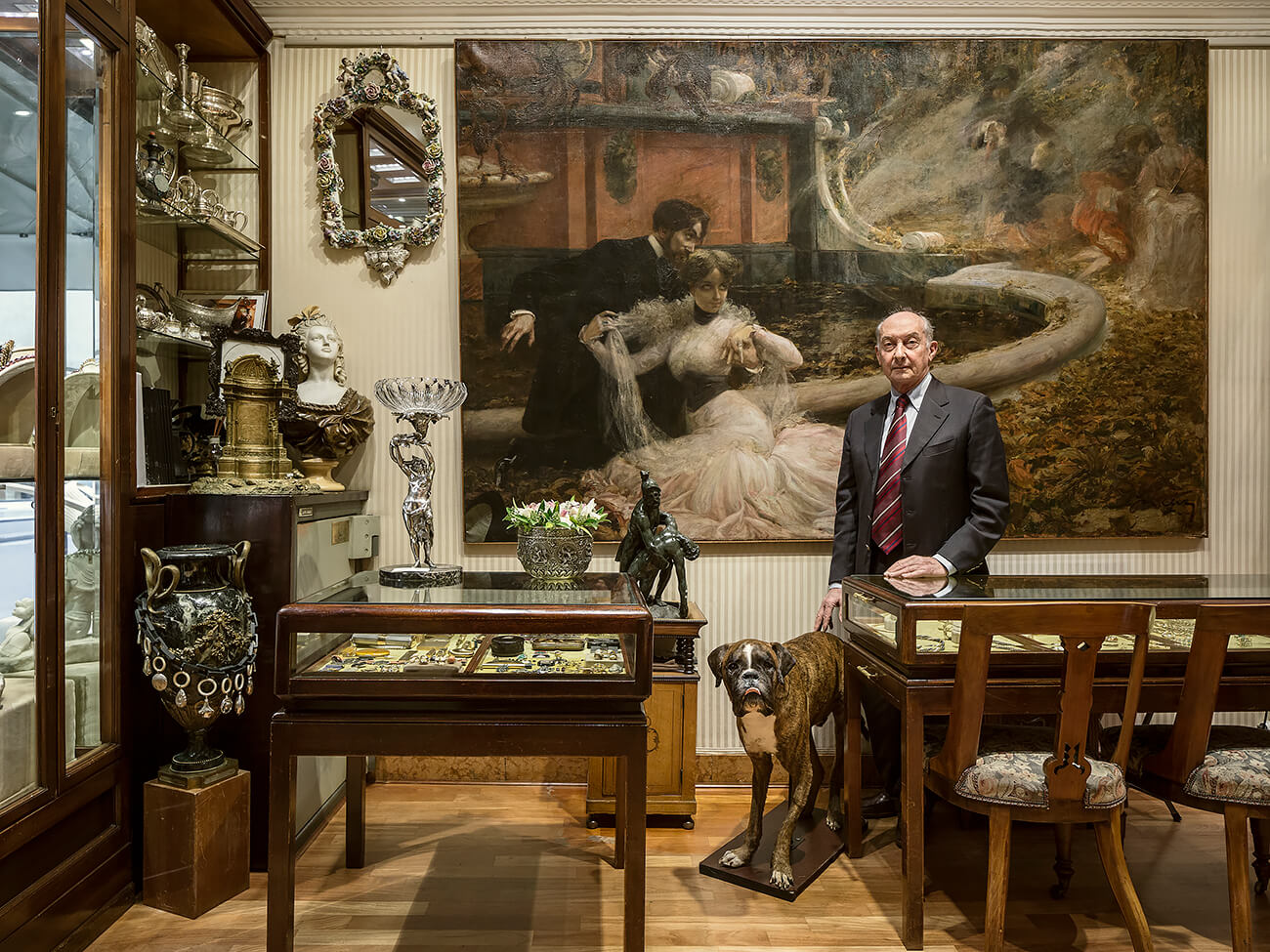 Carlo and Achilles lived together for eight years, from 2009 to 2017 from the series 'Lares' © Luca Rotondo
"Achille was the dog of the shop. Carlo was used to come to work with him by bicycle. He was always there in the office", says Gabriella, Carlo's assistant for thirty years.
Achille dies in a winter evening, just before Christmas. Carlo asks the gardener to dig a hole in the garden of his house but it's too late to finish the job. During the night Carlo decides to embalm Achille. "I'm not an emotional person", he says, "but i had a special relationship with Achille. It wasn't a classic human-animal relation, there was something more. I decided to keep him in the office because it's the place where I can enjoy him the most. For me, work comes first". To customers who occasionally ask him why the dog does not move, he replies: "he's embalmed. it has been well done".
Carlo wanted him with his gaze turned upwards: "there was a strong communication between us. He was used to look for answers in my eyes". "Animals have now become the substitute for arid family affections, but not for me".
Paolo Nigris (Switzerland)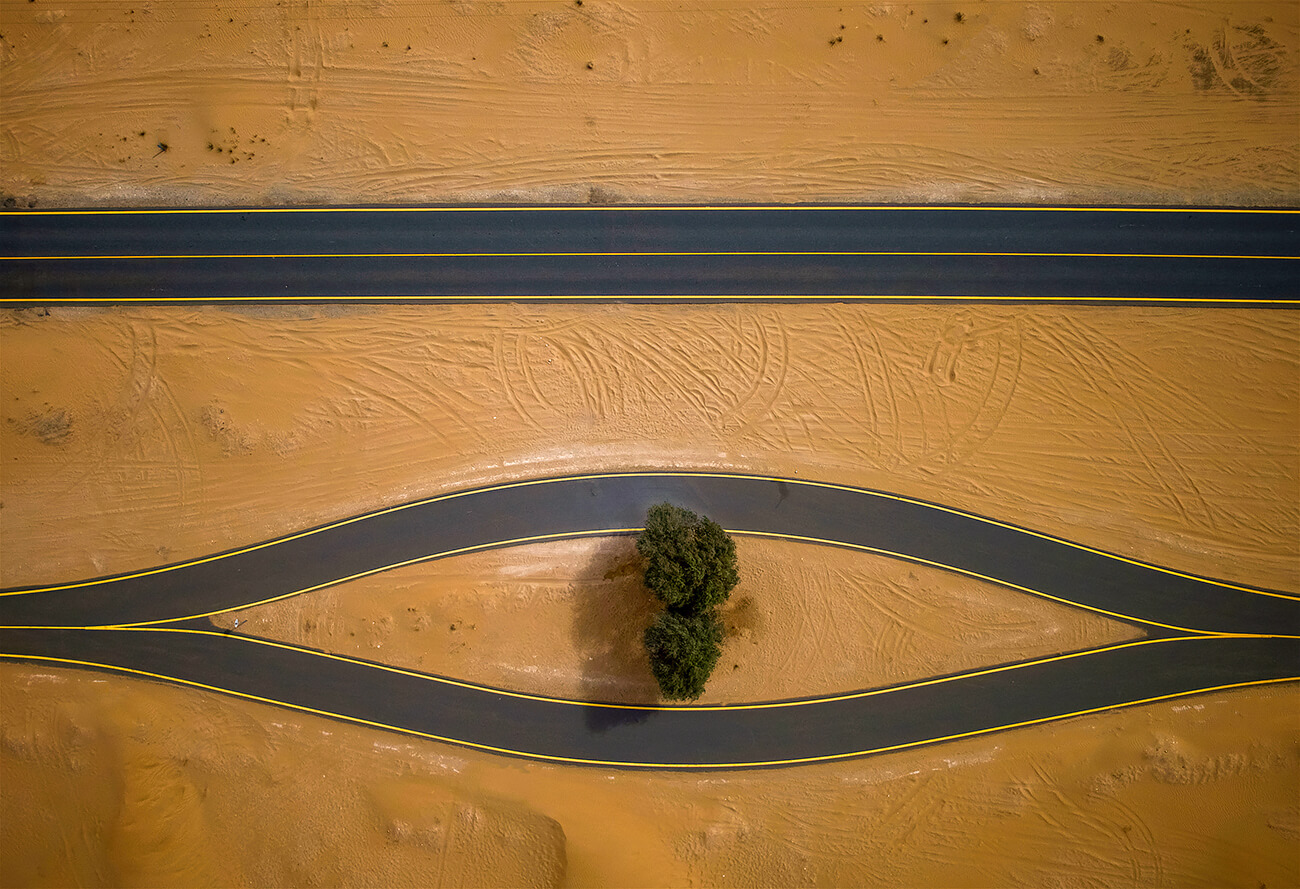 Desert's Eye © Paolo Nigris
Shot with a drone at Al Qudra desert in Dubai. The road that circles the tree is a cycle track.
George Tatakis (Greece)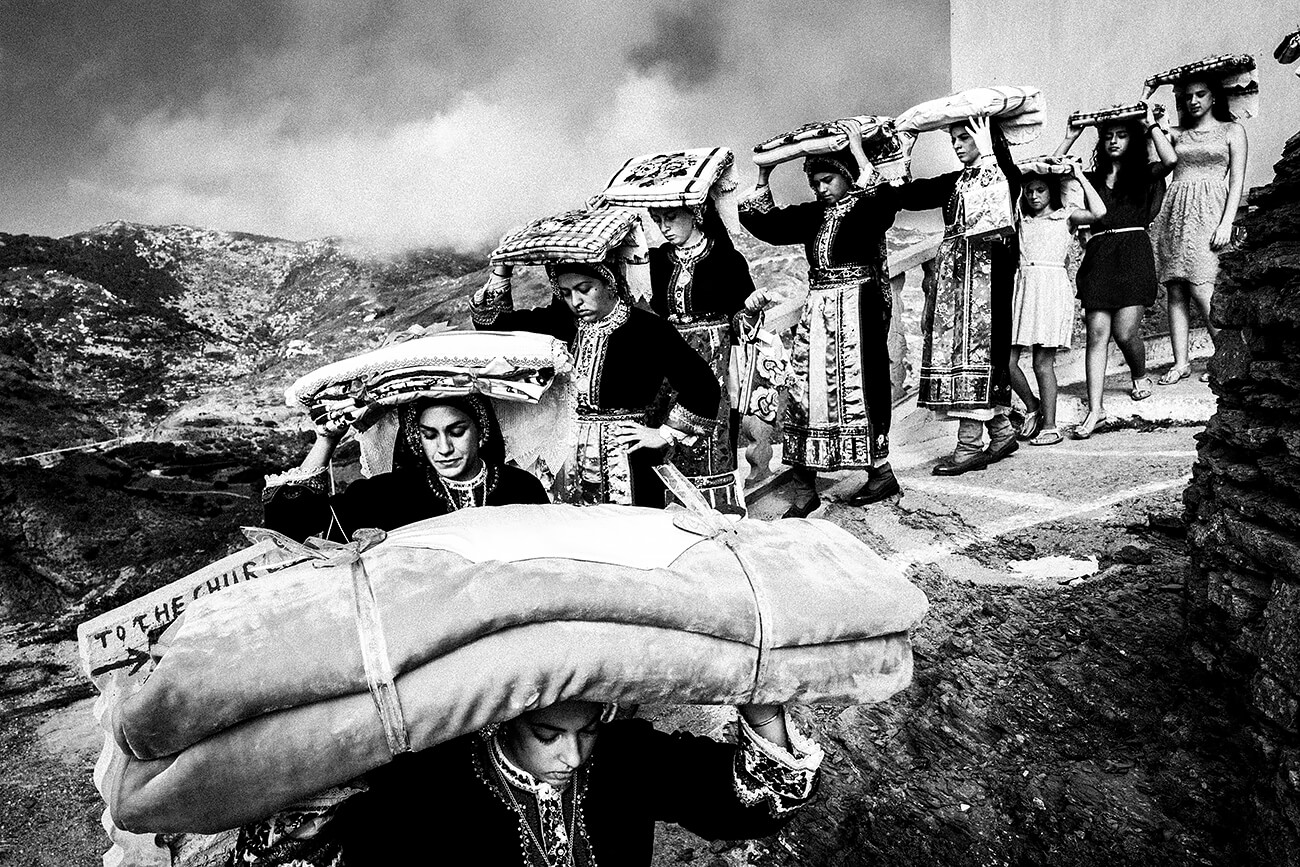 Dowry transportation. Olympos, Karpathos island, Dodecanese, Greece from the series 'Caryatis' © George Tatakis
This has been shot in the transition period of the photographer between ETHOS and CARYATIS. Although it focuses on female traditional costumes, this image is not staged by the photographer, but it's an actual snapshot of a real scene.
A survey of Greek costumes in the 21st century This work is the evolution of ETHOS and the photographer himself and focuses on female traditional costumes all over Greece. The images are no longer snapshots of non-posed subjects, but the photographer now takes control of the whole scene and direction.
Tariq Zaidi (United Kingdom)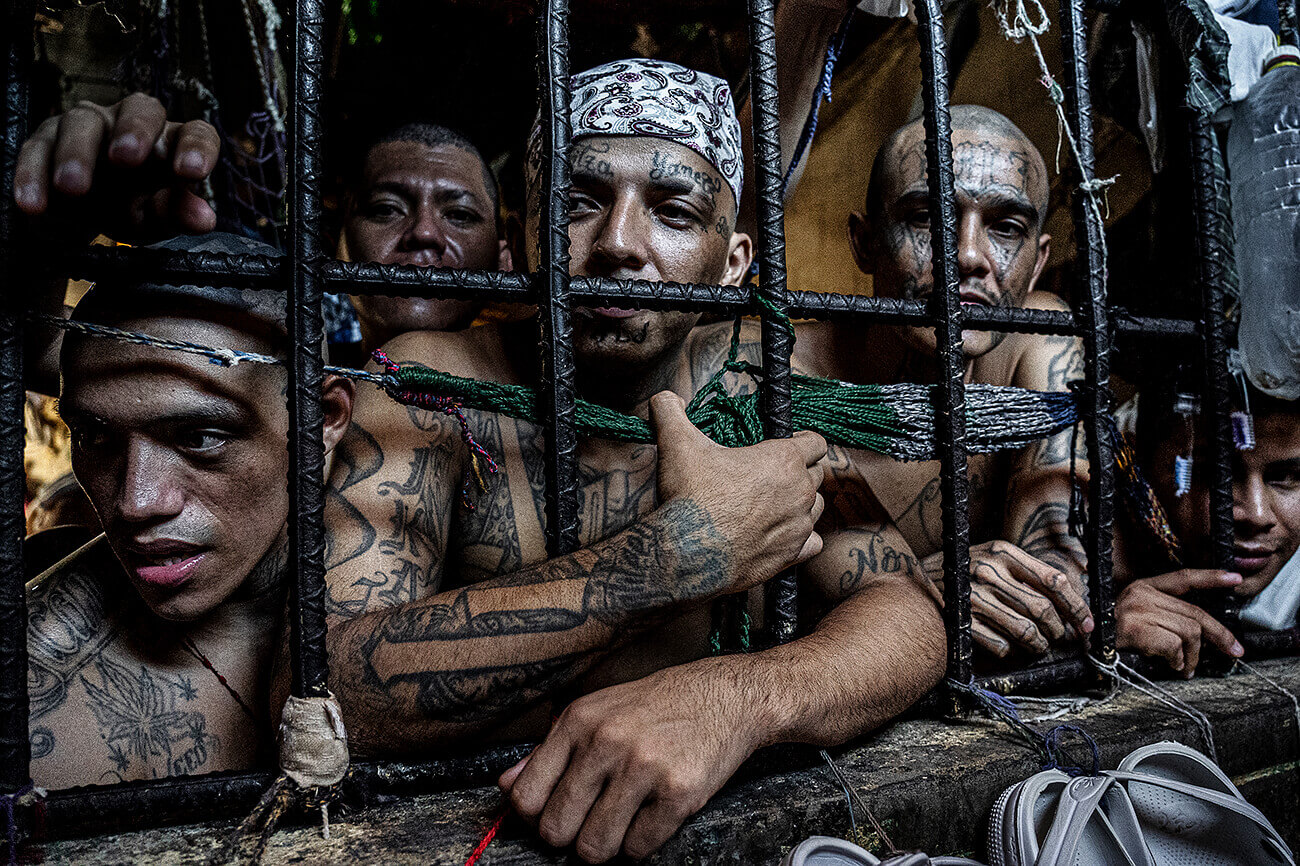 Inmates look out of a cell from the series 'Sin Salida (No Way Out)' © Tariq Zaidi
Inmates look out of a cell in the Penal Center of Quezaltepeque. El Salvador. November 2018.
The government introduced a series of 'extraordinary measures' in 2016 designed to curb gang violence, such as suspending visits, cutting off telecommunications and ending recess time for prisoners. In such an over-crowded prison there are many human rights concerns, not least of all the living conditions being a breeding ground for contagious diseases.
Marcus Yam (United States)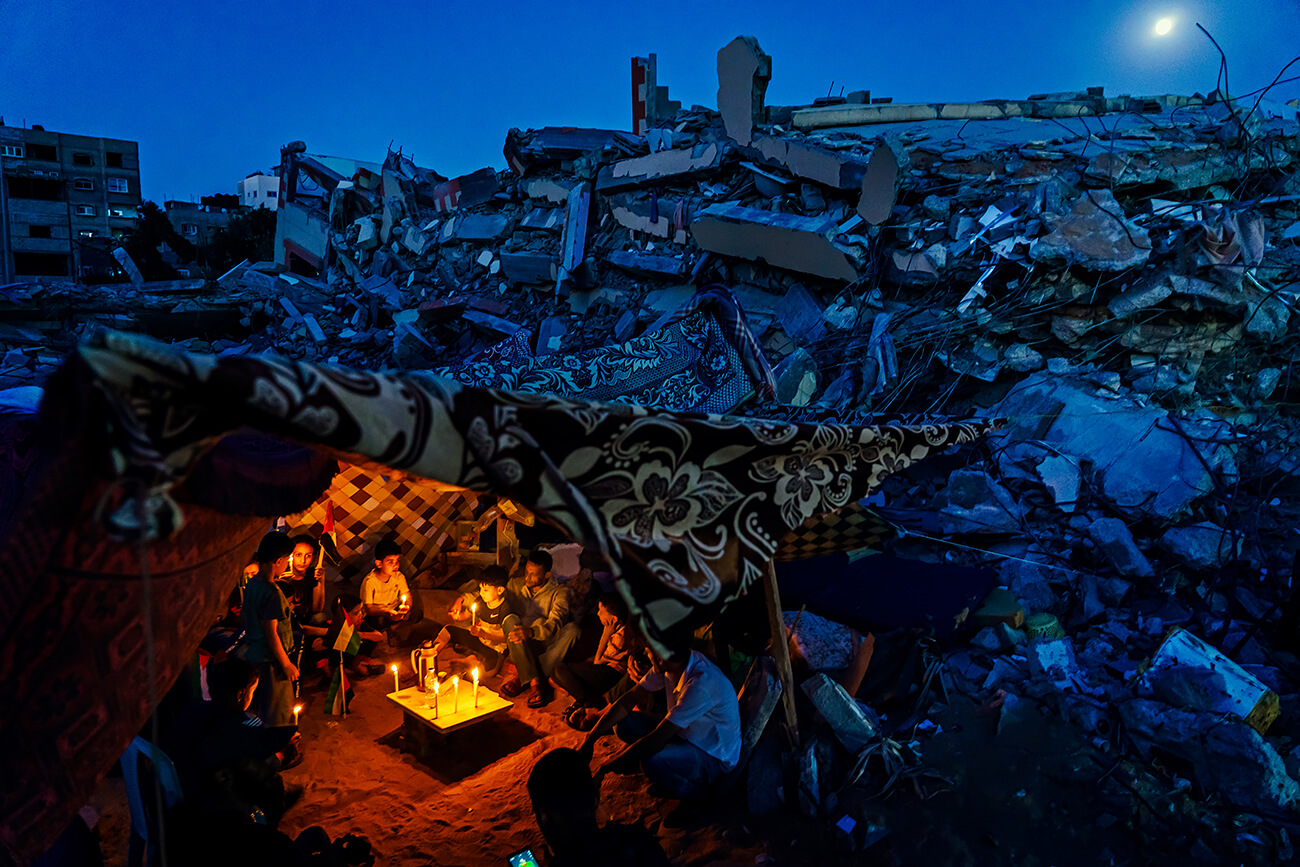 Aftermath of Gaza-Israel 11-day war © Marcus Yam
The image was made on the evening of May 25, 2021, in Gaza City, four days after a cease-fire was declared in the 11-day battle between Palestinian militant factions and Israeli forces. It depicts a vigil held by Palestinians to mourn the dead and condemn the killing of civilians in the impoverished, overcrowded coastal enclave. Israeli airstrikes and artillery fire killed at least 230 people inside Gaza, including 65 children. Missiles fired into Israel by Hamas and other militant factions killed at least 12 people on the Israeli side, including two children, and forced residents of major cities like Tel Aviv to seek safety in air-raid shelters.
Gaza is a small place, and it was full of news photographers. Dozens of photojournalists descended on the scene of the vigil, with most of them taking their pictures at sunset. Yam perched on a nearby mound of rubble, waiting patiently for a quieter and more authentic moment. It came just as a full moon was rising. The resulting image, with its striking interplay of light and darkness, its dramatically contrasting color tones and beautifully balanced composition, presented an intimate, warmly lit tableau set against a vast field of destruction.
Pedro Luis Ajuriaguerra (Spain)
The Last of the Mohicans © Pedro Luis Ajuriaguerra
Pachliopta polyphontes is a species of butterfly from the family Papilionidae that is found in Sulawesi and on the Moluccas. In the photograph, the compound eyes are striking, each one formed by a large number of simple eyes that allow the butterfly to obtain a mosaic image and the kind of orange crest that reminds us of the crest of a Mohican, hence the similarity with Michael Mann's movie "The Last of the Mohicans". The drops of water give it an even more unique appearance.
Konstantinos Tsakalidis (Greece)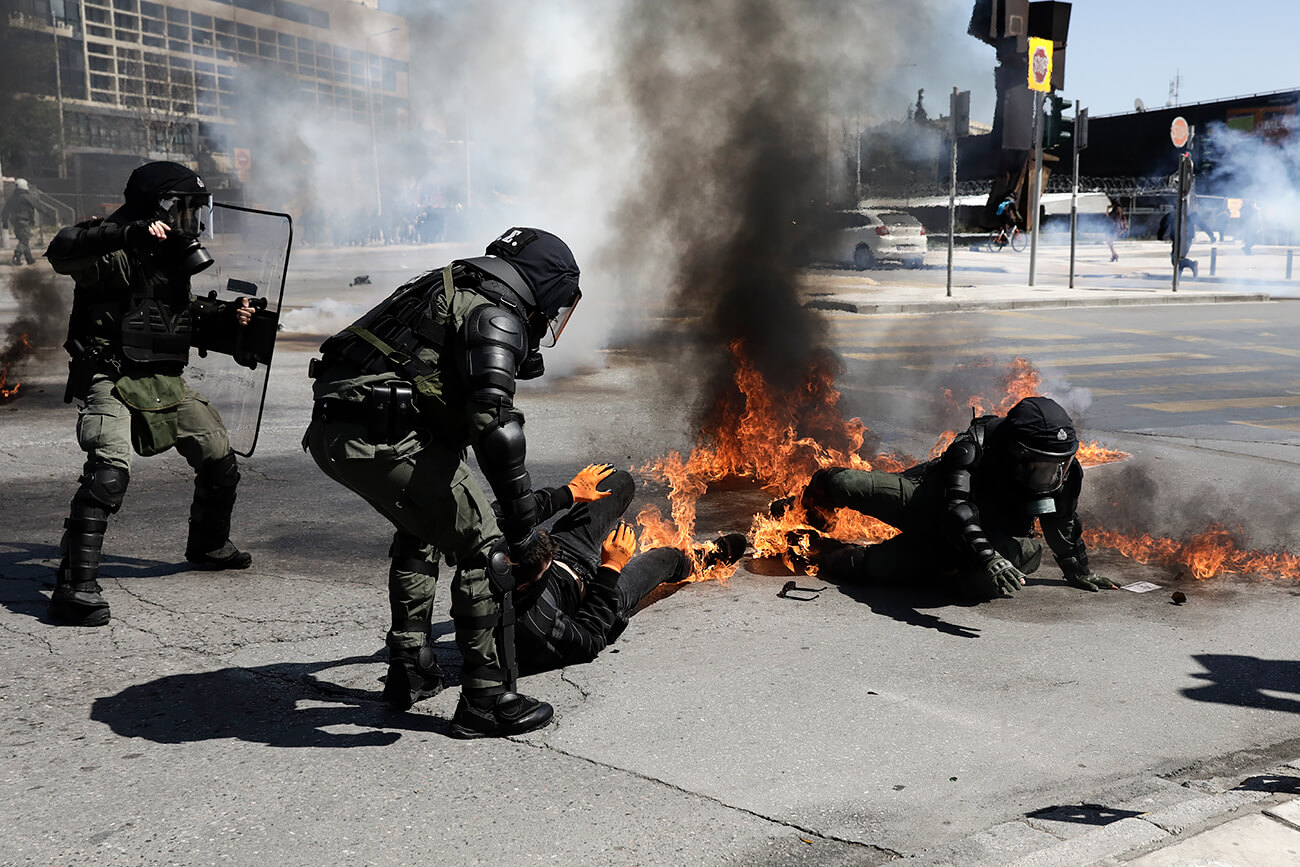 Protester arrest in flames© Konstantinos Tsakalidis
A riot police officer and a protester catch fire as a petrol bomb explodes in front of them during an arrest. University students protest against the government-promoted plan to create dedicated university police forces to patrol campuses in Thessaloniki, Greece on April 15, 2021.
Alain Schroeder (Belgium)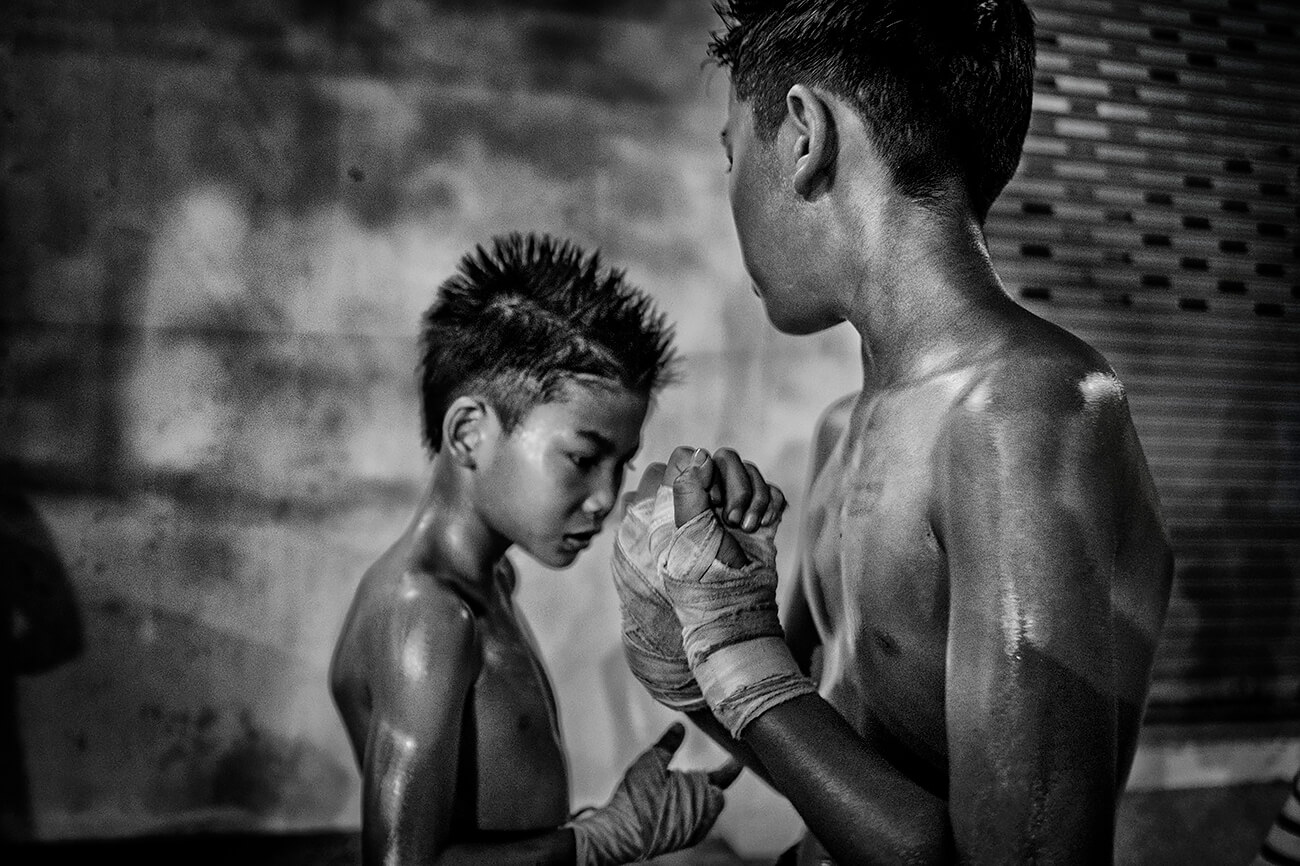 Muay Thai Kids © Alain Schroeder
In Isaan, to keep children out of trouble, and with the prospect of earning money to support the family, kids are enrolled in Muay Thai training camps (the traditional martial art that is the country's national sport) as early as 5, and can be competing by 6-7 years old. Every story is similar, the kids dream of one day fighting on TV, building a house for their parents and defending the pride of their community, while gym owners, trainers and families rely heavily on their earnings.
Betting is fierce and the pressure on the children is palpable. Few will become champions, but for poor kids, Muay Thai is a way to meet the cultural expectation of helping their families and a chance at a better life.
Daria Troitskaia (Italy)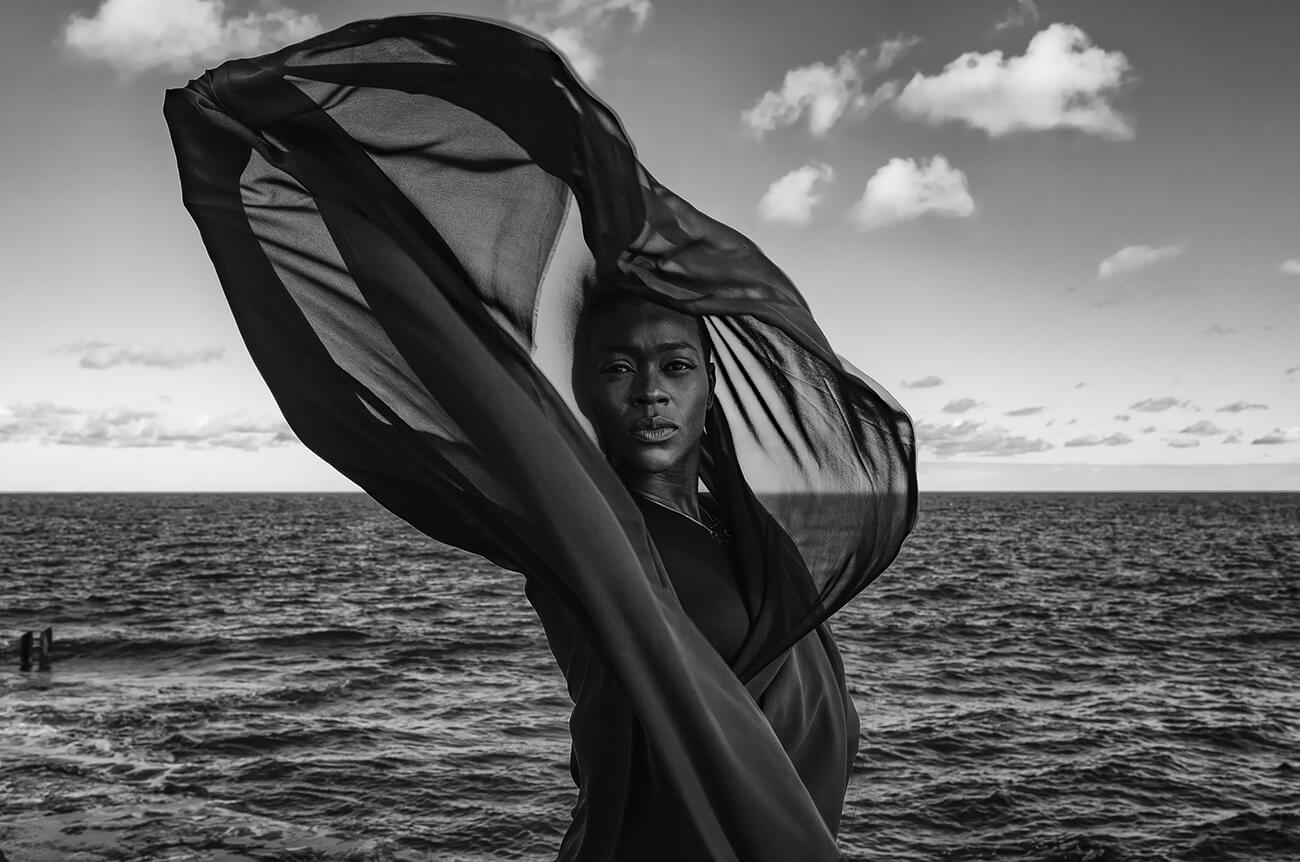 Air from the series 'The Elements' © Daria Troitskaia
This is one part of the series, representing Air. The full series is called The Elements and currently I'm working on it. I chose to show Air through the power of wind, by using black fabric that was floating around the model.
Pedro Jarque Krebs (Peru)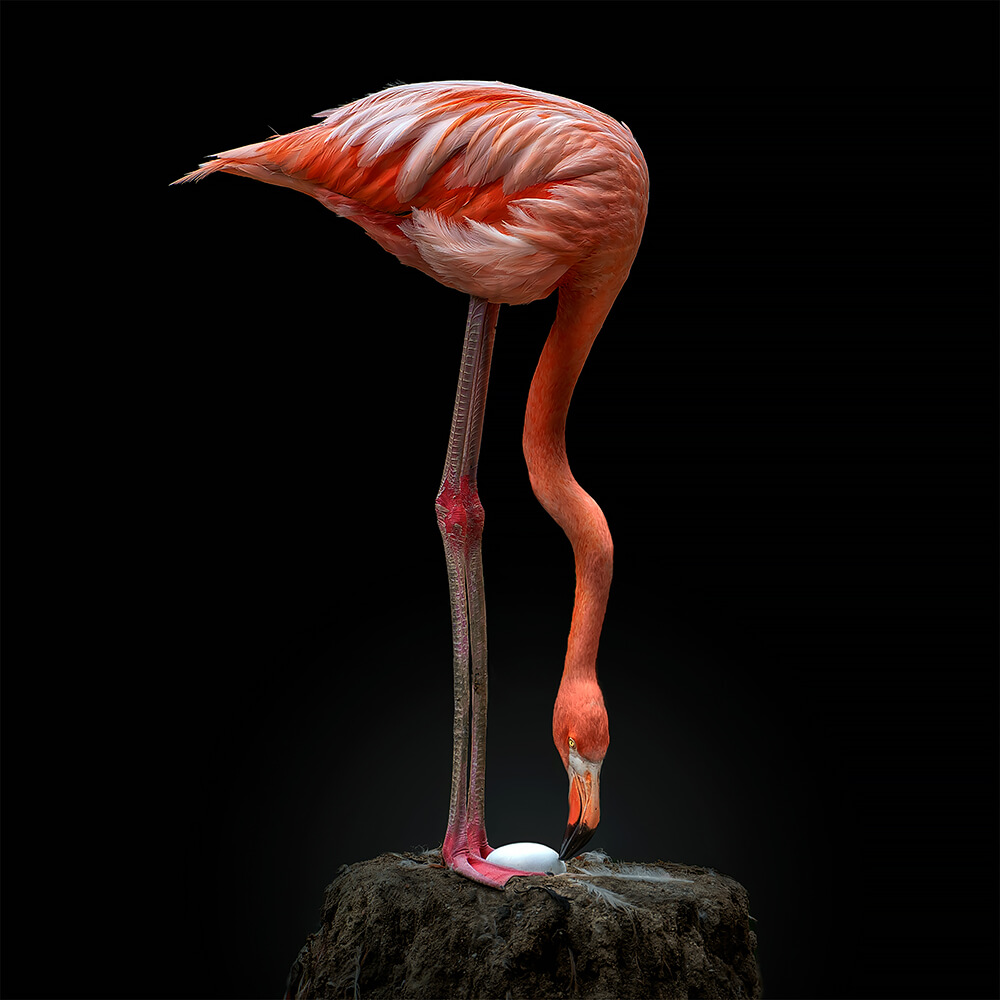 Nesting © Pedro Jarque Krebs
American Flamingo nesting its egg
Hardijanto Budiman (Indonesia)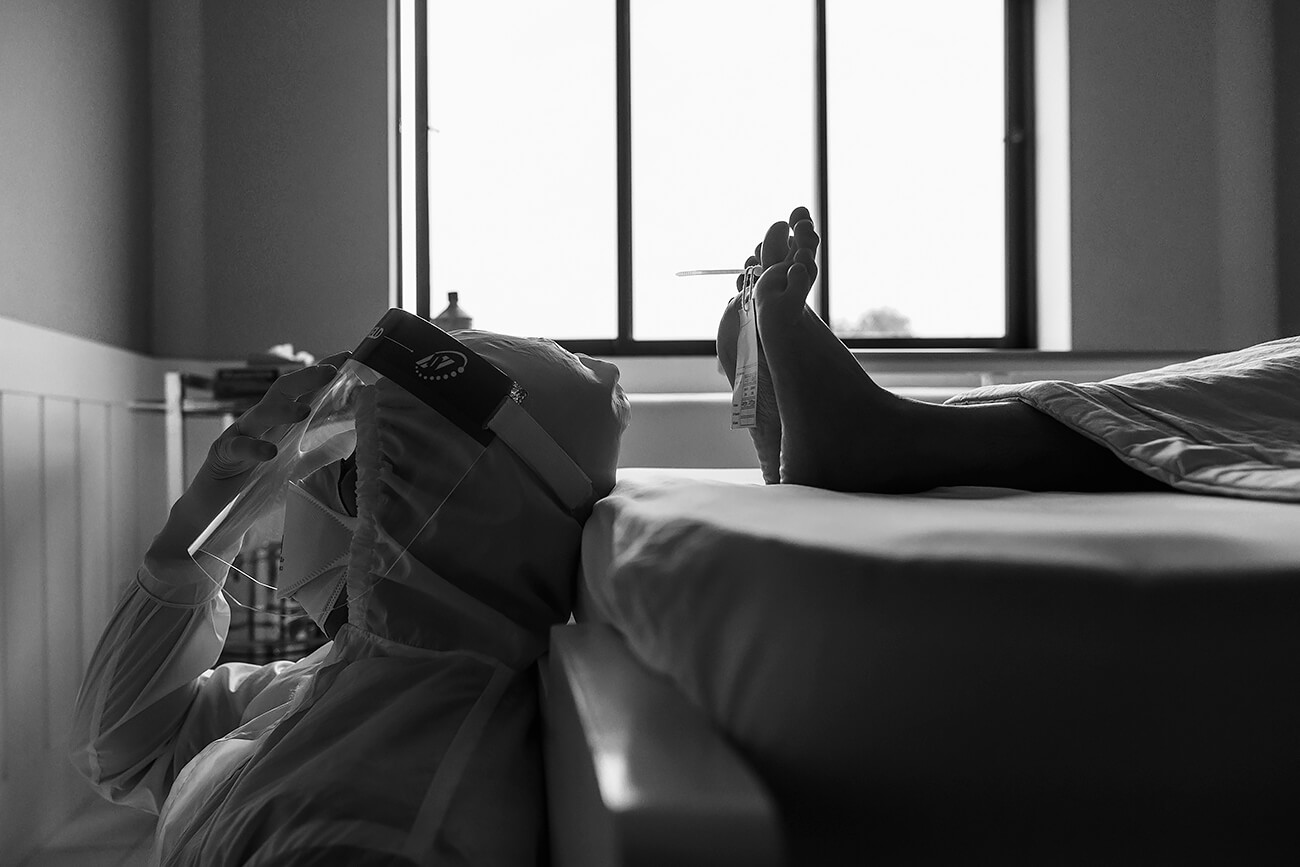 Devastated © Hardijanto Budiman
Life is filled with uncertainty, especially on Pandemic times like this. While many things remain outside our control, difficult circumstances and facing the unknown. My friend is an Ob Gyn Doctor who practicing in a Mother and Child Care Clinics. During The Peak of Corona Outbreak in Indonesia, he must works extra hard 14 to 16 hours almost everyday! Once he told me that sometimes he feel very devastated especially when he must faces sad situation where the line between Life and Death is very Thin.
Andi Abdul Halil (Indonesia)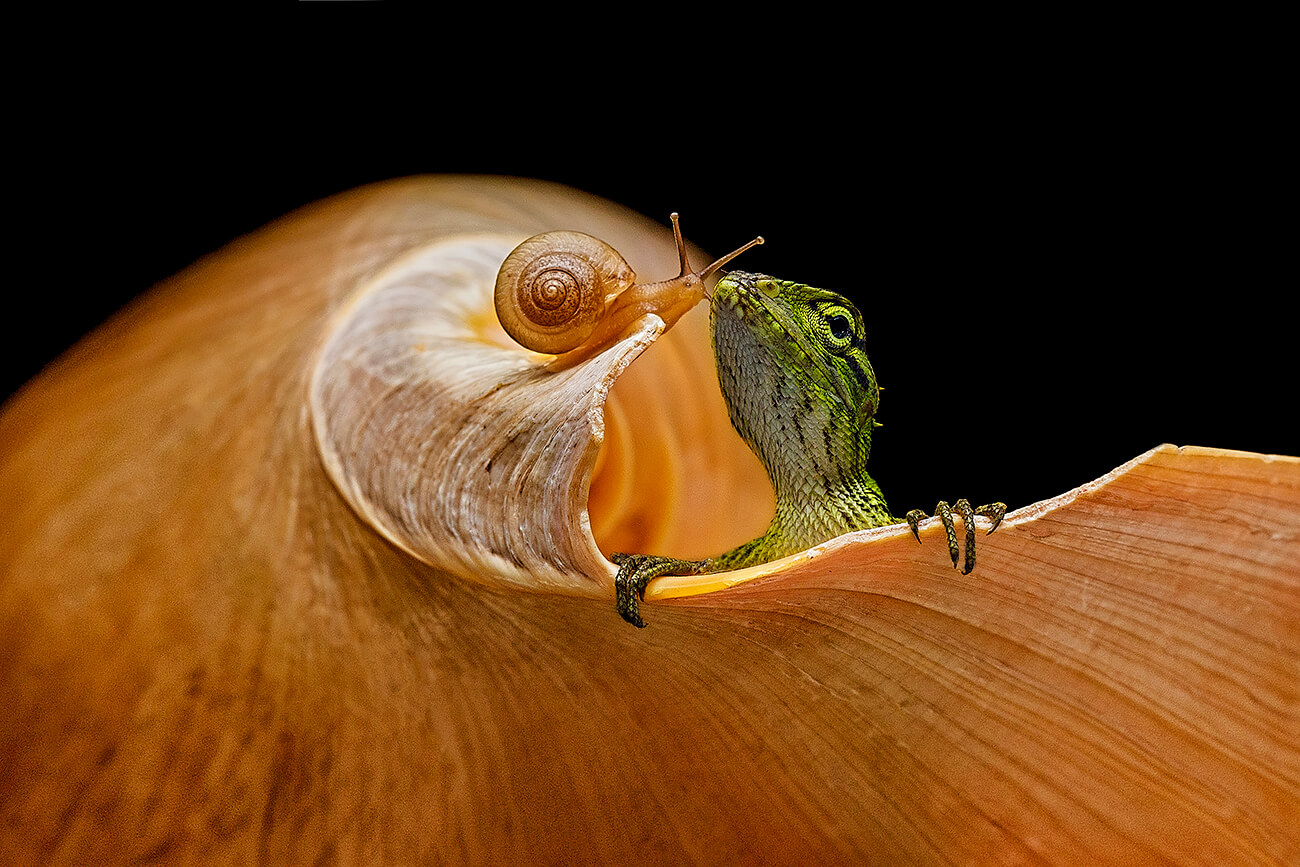 The Best Friend © Andi Abdul Halil
Friendship between snail and lizards, Harmony life in nature.
Anindita Roy (Bangladesh)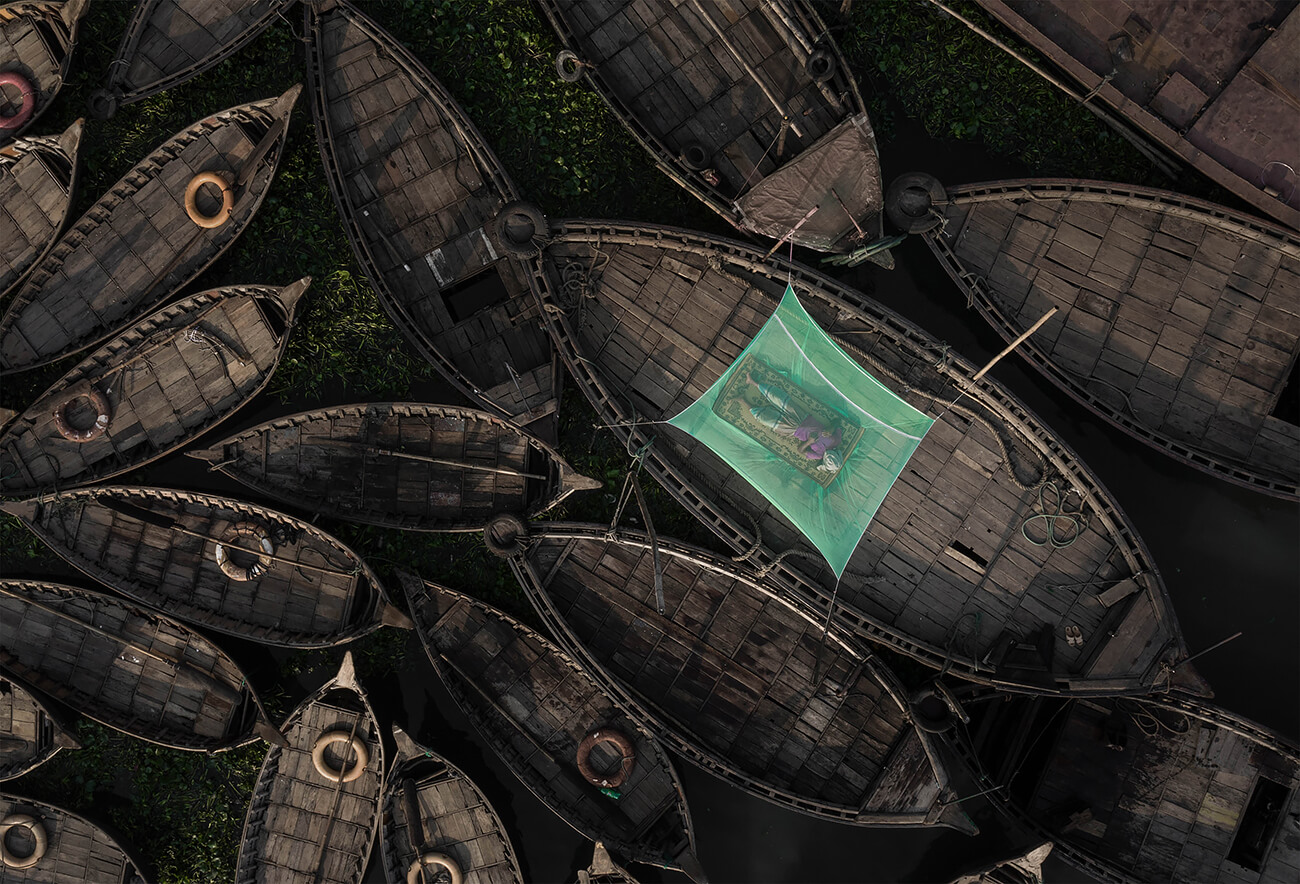 Sleeping on boat © Anindita Roy
Dhaka, the capital city of Bangladesh is located on the bank of the famous river Buriganga. In terms of passenger traffic Sadarghat river port of Dhaka is the busiest port in Bangladesh. The port has services to most of the districts of Bangladesh. People from both sides of the Buriganga River cross the river using small boats. The boat men of the boats used for transportation usually sleep at night on the boat. Here in the photograph a boat man is sleeping in the morning on one of the harbored boats.
Annette LeMay Burke (United States)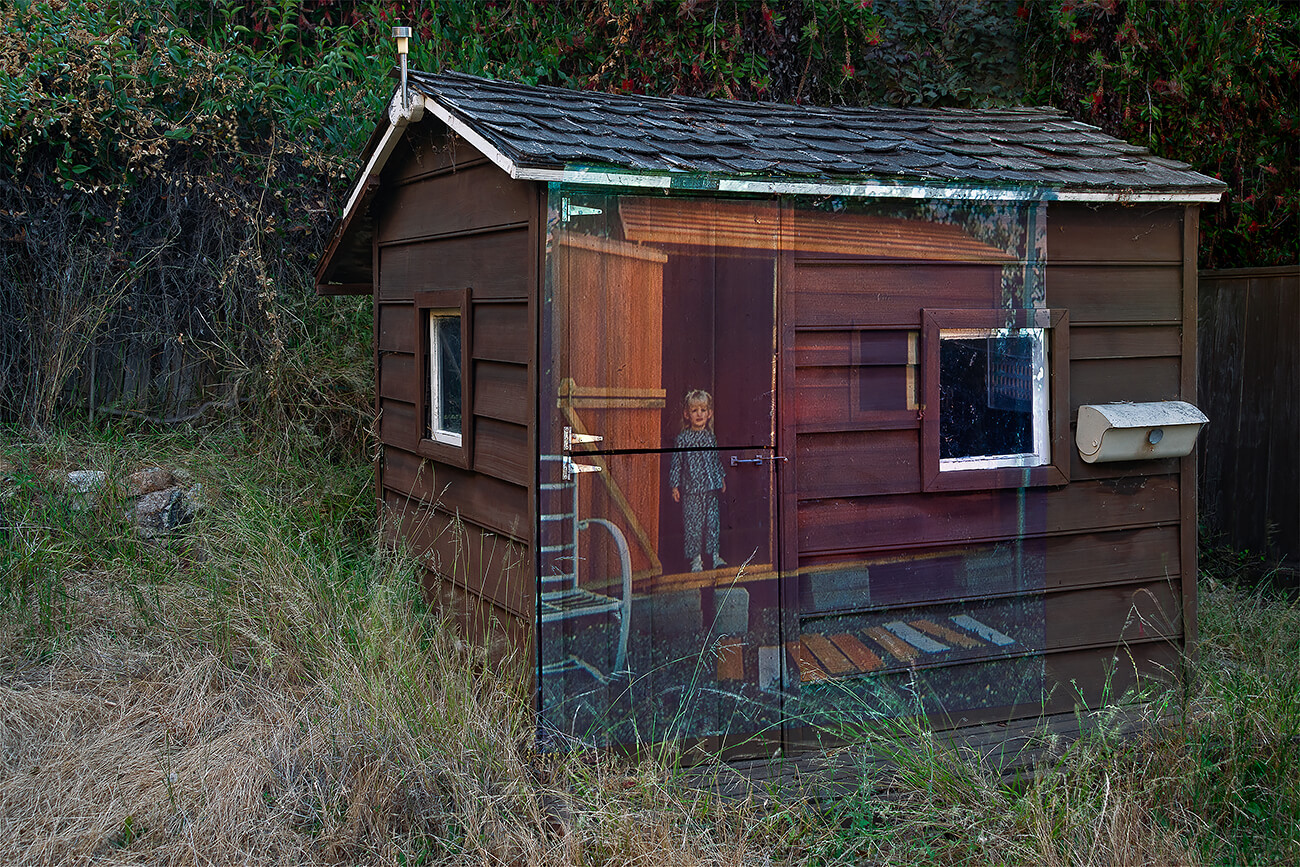 My Playhouse from the series 'Memory Building' © Annette LeMay Burke
In response to my parents' deaths, I created the series Memory Building. I projected my parents' family photographs onto the surfaces of my childhood home, in the same locations that they were originally made, and rephotographed the scene. By fusing photos from the past onto the present-day walls, I unearthed six decades of engrained memories and captured my family's vanishing presence that once permeated our mid-century suburban home—the container for so much of my personal history. Constructing the projected tableaus made the memories more substantive for me, provided solace for my grieving and created a new family pictorial legacy for future generations. With so many formative experiences rooted and intertwined within this building, saying goodbye to it was also saying goodbye to my parents.
Alessandro Malaguti (Italy)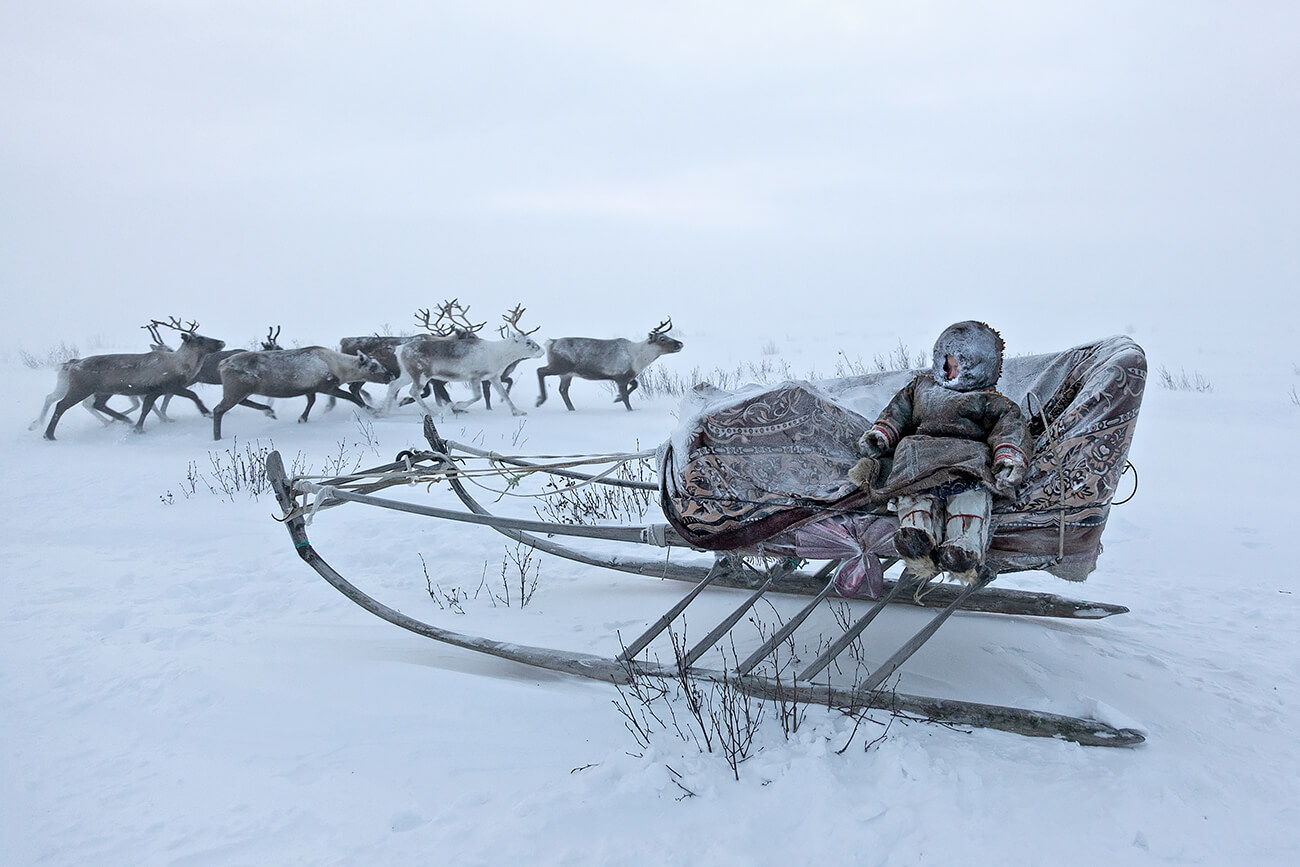 Migration © Alessandro Malaguti
Yamal Peninsula, Siberia. In a wasteland covered by ice, where temperatures can drop below -40 degrees, lives a nomadic people that breeds reindeer, Nenets. They move during migrations looking for mosses and lichens which reindeer feed on. Nenets move on sledges pulled by reindeer following ancient arctic routes, in this transhumance travel about 1200 kilometers each year, making it one of the longest in the world. Young people, over the years fewer and fewer decide to stay.
Susan Weiss (United States)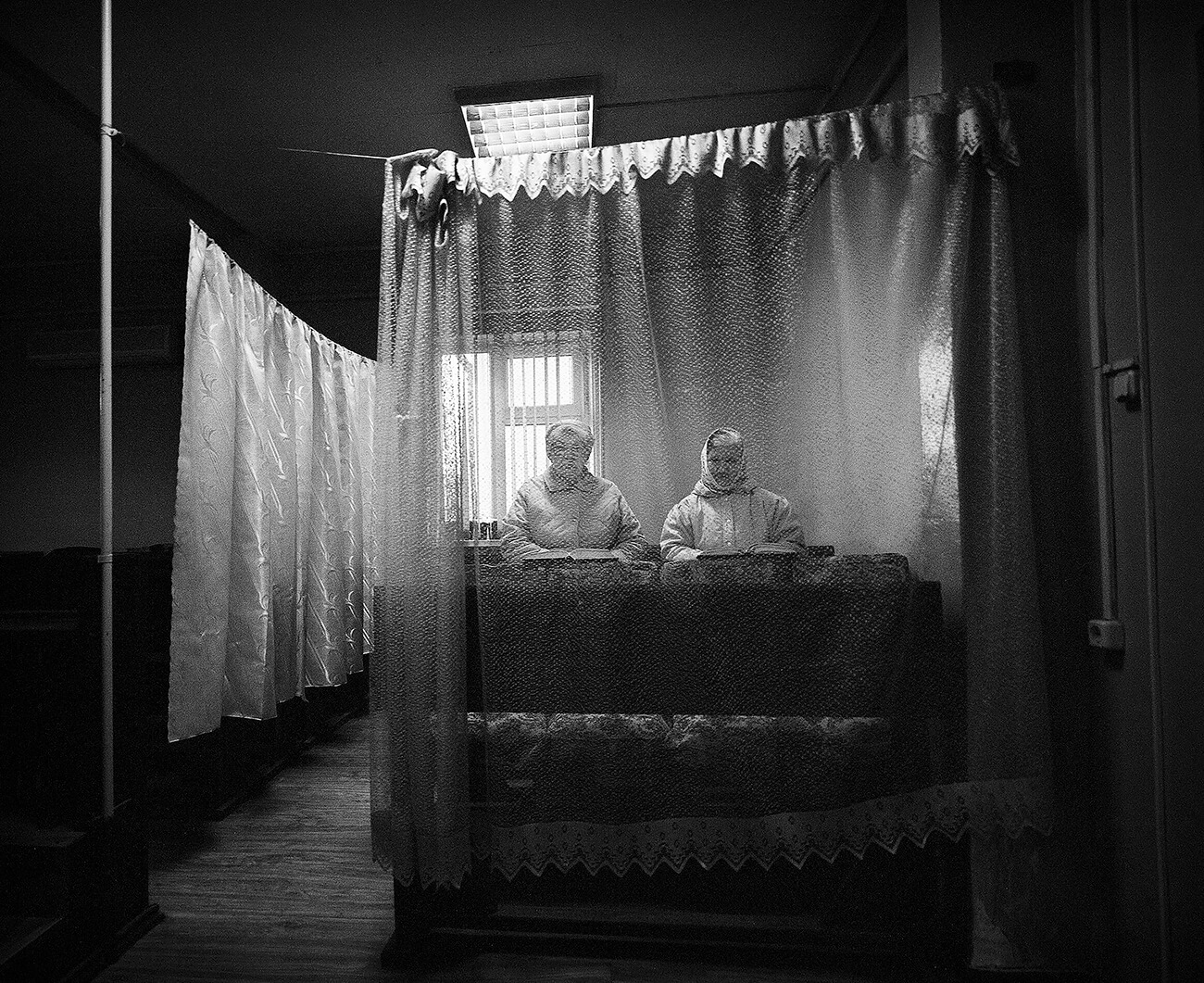 Women in synagogue., Balti, Moldova from the series 'Humanity in the Modern World/ I SEE YOU' © Susan Weiss
This photograph was taken in Moldova while traveling and photographing with a group of dentists who were doing humanitarian dental work with children in the area. This is part of my on-going series Humanity in the Modern World, documenting volunteers doing global work to help others. While on this trip I visited an old synagogue which is orthodox, and the women are separated from the men.
Kin Wing Edas Wong (Hong Kong),
Man In A Hurry from the series 'Hong Kong Street Photography' © Kin Wing Edas Wong
Arthur Bauer (Germany)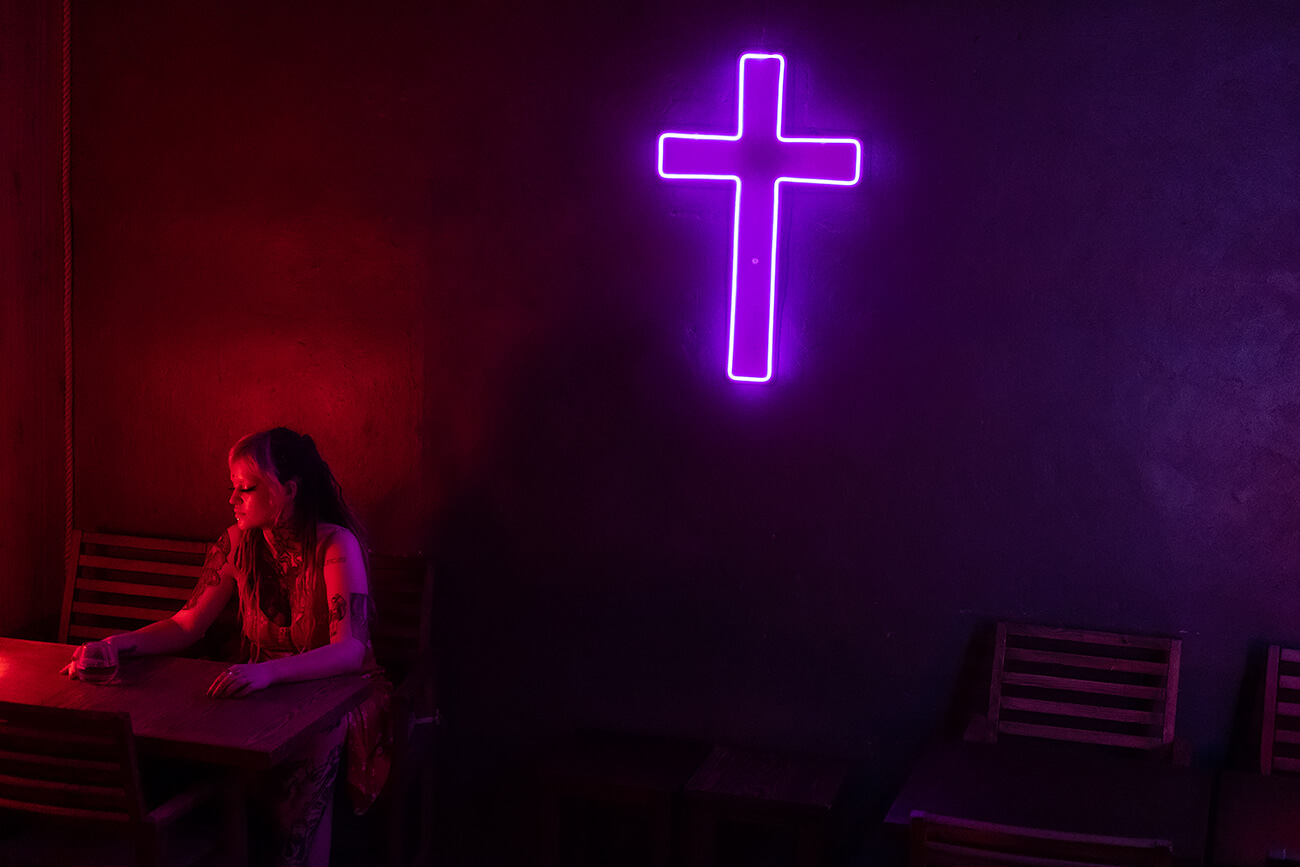 Bartender At Dead Rabbits from the series 'BAIKAL BLUES (Irkutsk, Russia 20210 © Arthur Bauer
Mauro De Bettio (Italy)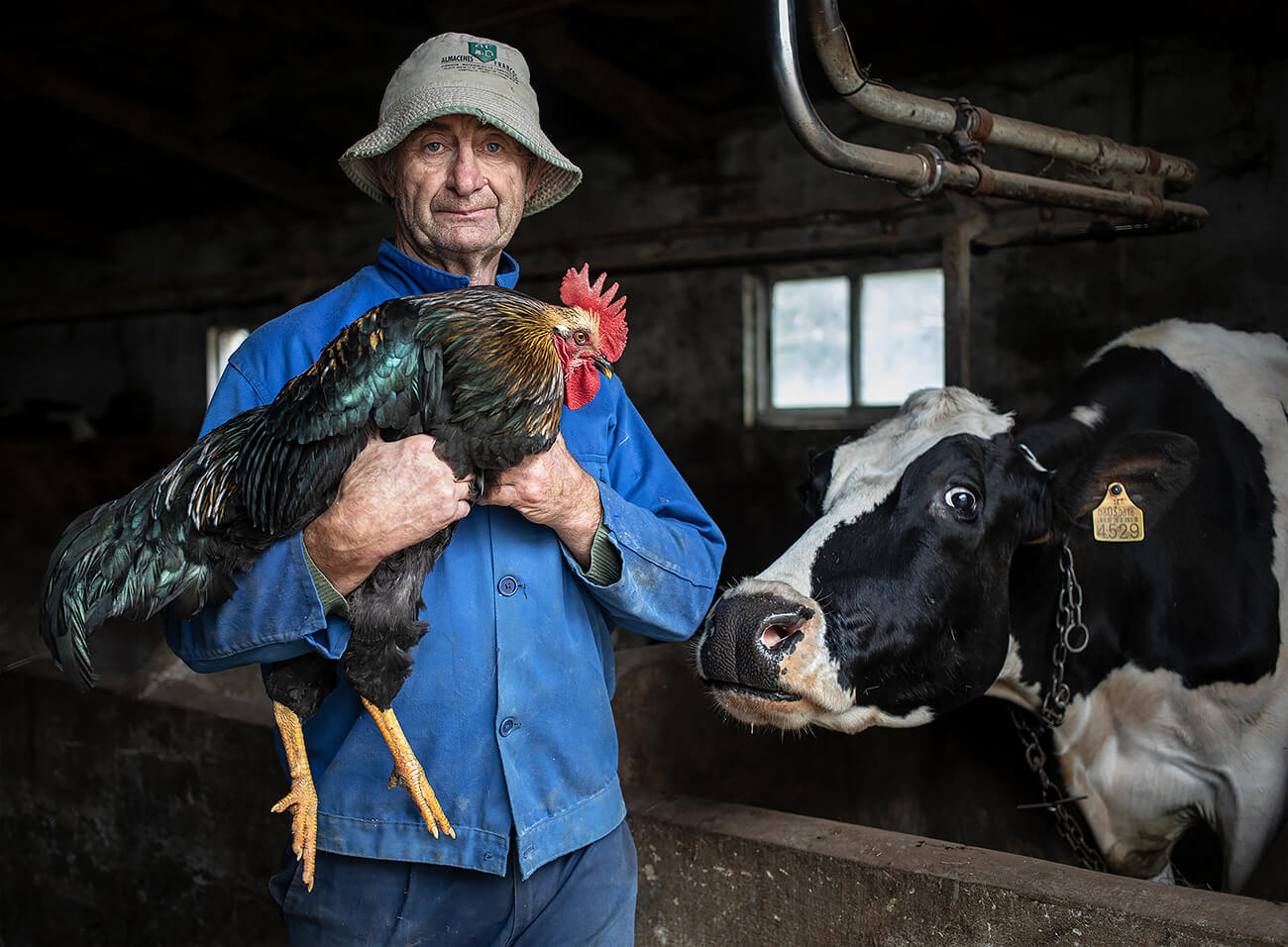 Señor Jovino © Mauro De Bettio
I met Señor Jovino on the Camino de Santiago, in Villaluz, a small village in Asturias, North of Spain. He walked by my side talking non-stop, explaining how beautiful his land is. He invited me to his house and then to the stable, proudly showing me his cattles and his giant roosters, which he cleaned and brushed for the photo.
Dovlet Annayev (Germany)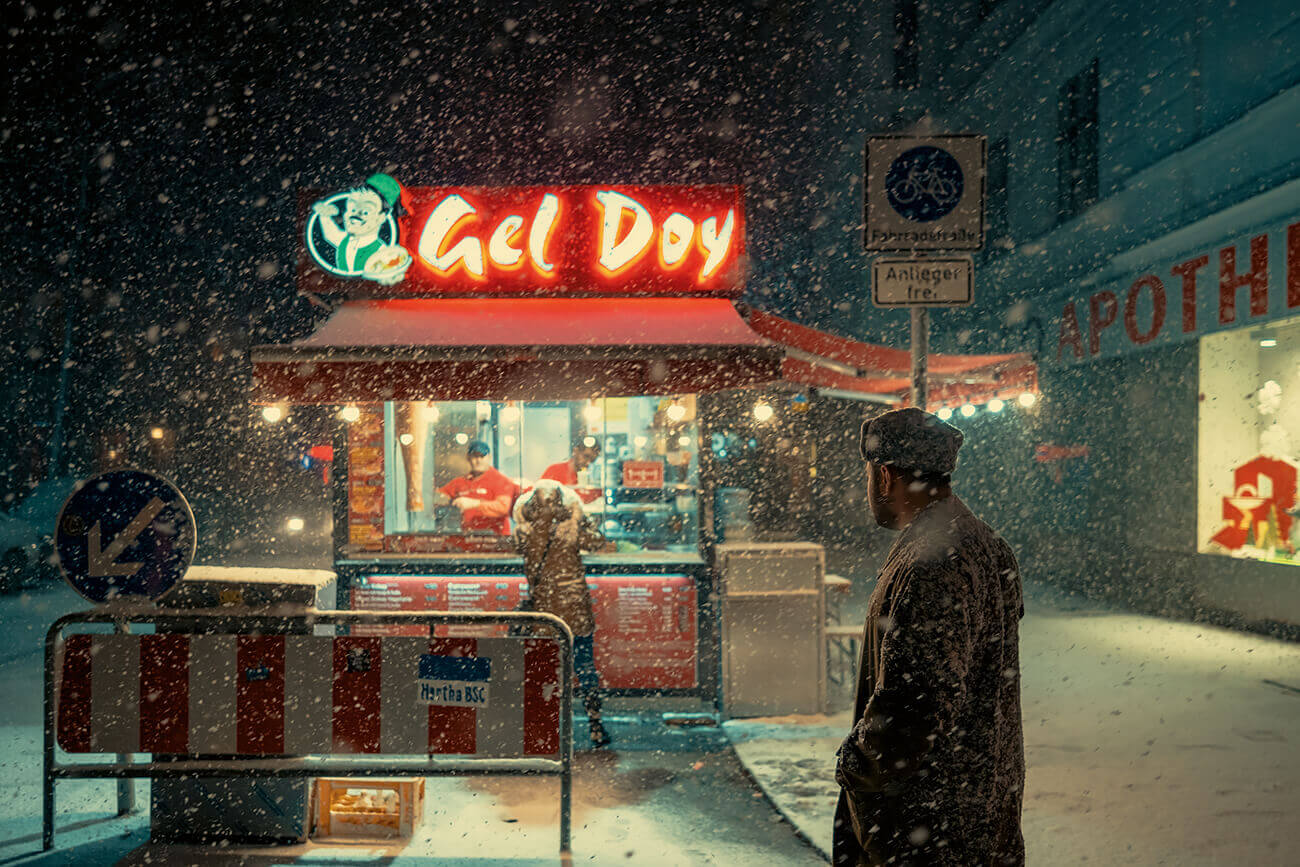 Assaf Sharon (Israel)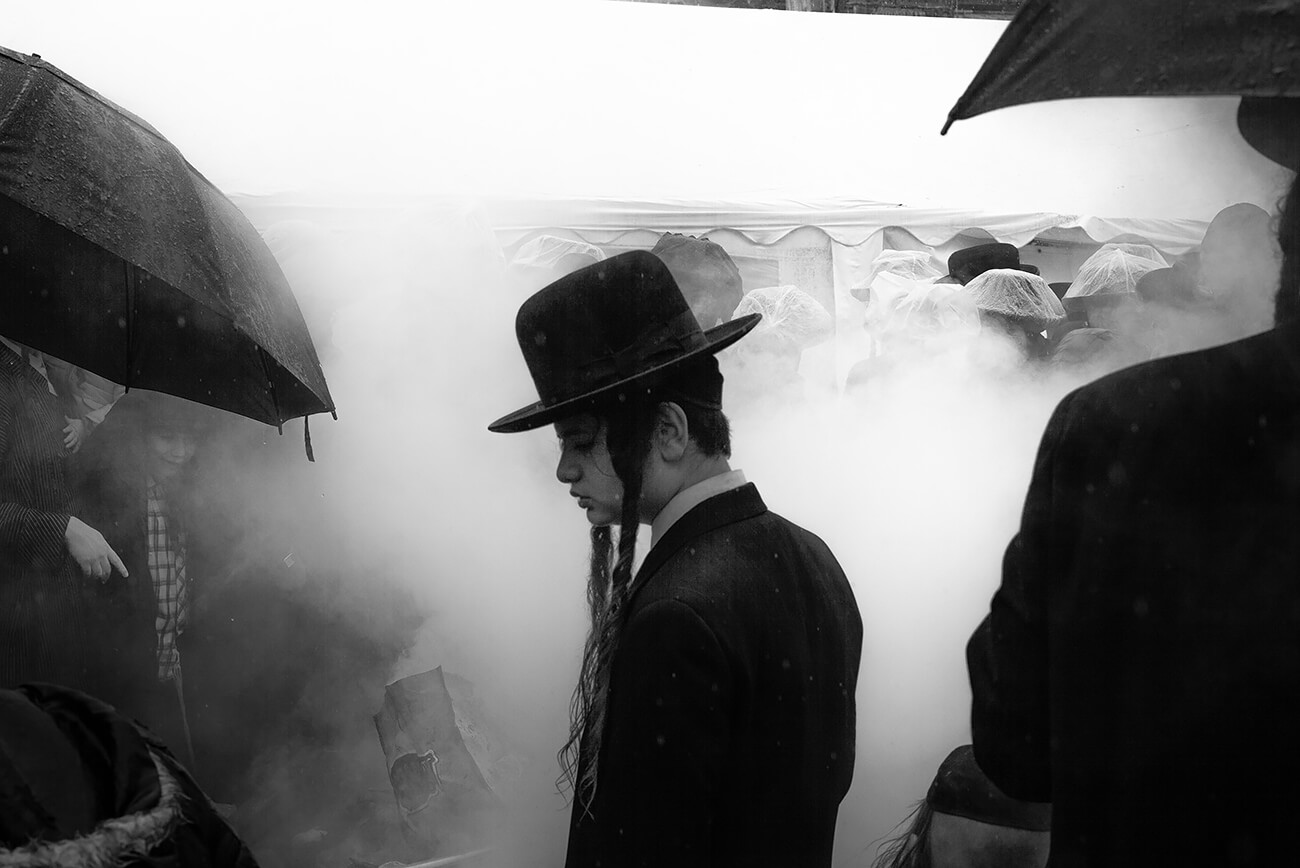 Payos from the series 'Ha'Edah' © Assaf Sharon
Kelly-Ann Bobb (Trinidad and Tobago)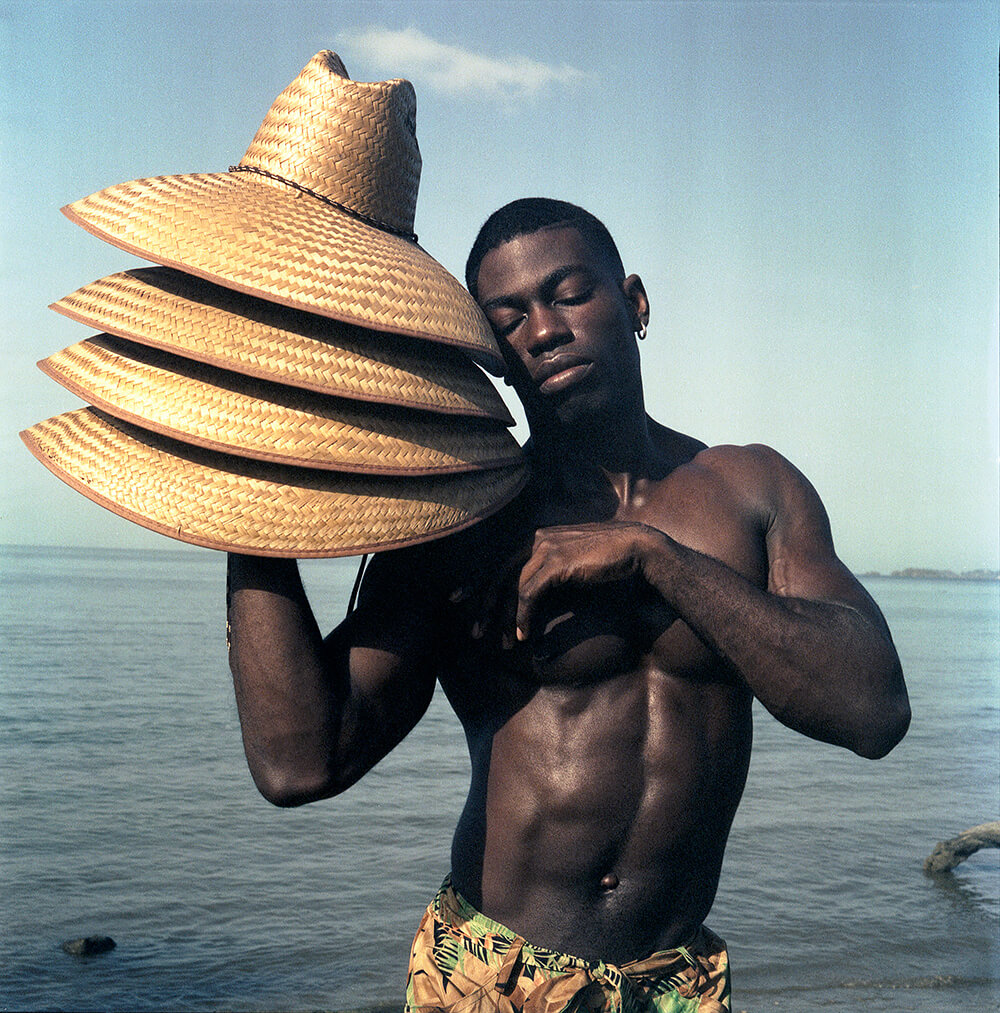 Jabari from the series 'Sacred Bodies: Black bodies and the divine' © Kelly-Ann Bobb
My work seeks to reclaim divine bodily autonomy and agency for African diasporic peoples through the sacred perspective lens of Black bodies. Spirituality, sex, and race are the foci of my photographic portraits where I explore and centre concepts of femininity, masculinity, movement, belongingness, and space.
Bruno Araluce Courballee-Thevenin (Spain)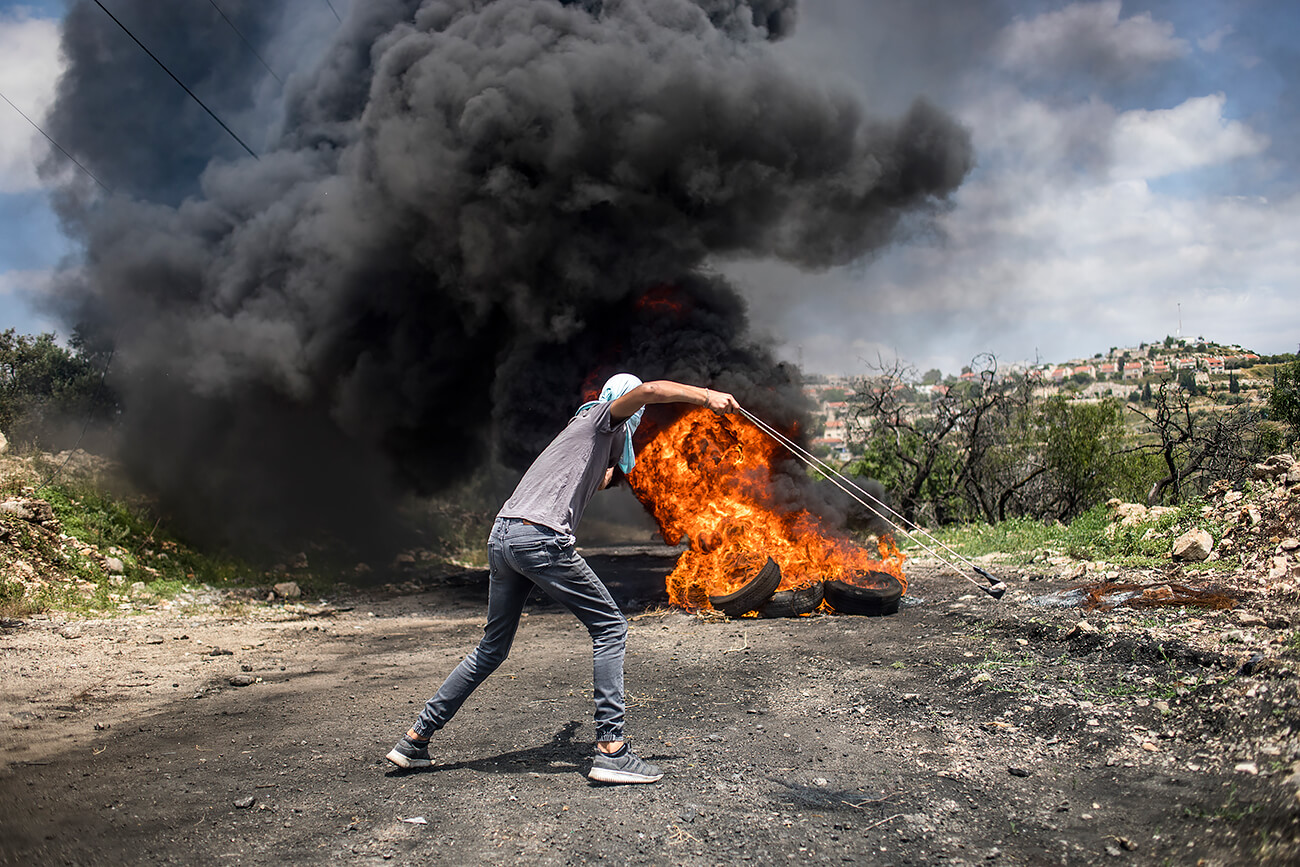 Absent Innocence © Bruno Araluce Courballee-Thevenin
Palestinian is seen using a slingshot against Israeli soldiers during the clashes Palestinians clashed with the Israeli army during a demonstration in the village of Kafr Qaddum.
Diana Cheren Nygren (United States)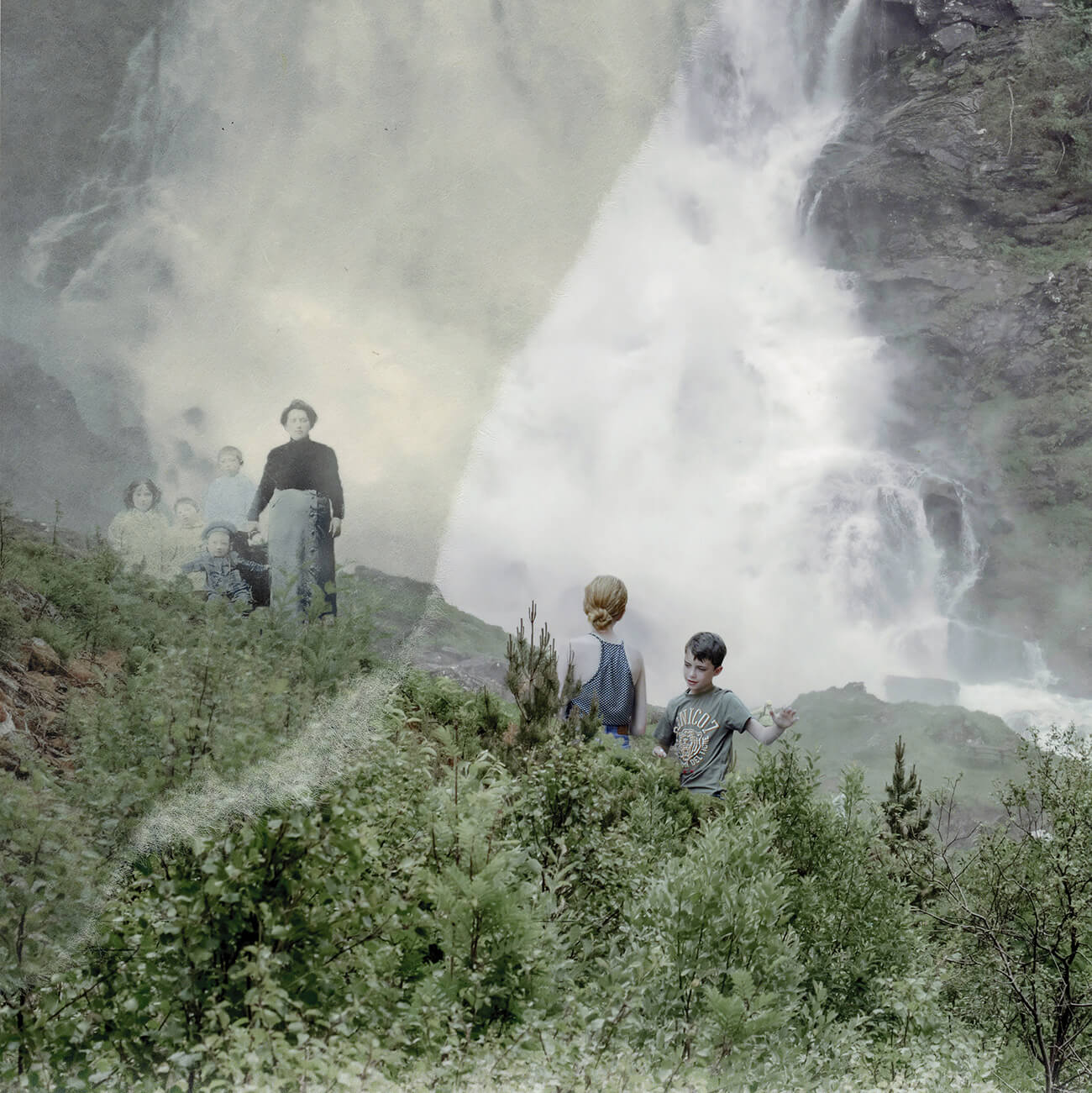 Before the Waterfall from the series "Persistence of Family" © Diana Cheren Nygren
This series interrogates the role of family relationships and history in shaping our sense of ourselves and our place in the world. I have composited photographs of my ancestors and my children. My paternal grandmother's family arrived in the United States from a small village outside of Odessa at the beginning of the 20th century. The work portrays the layered process of becoming as a complex interweaving of time, place, and identity.
Eric Kunsman (United States)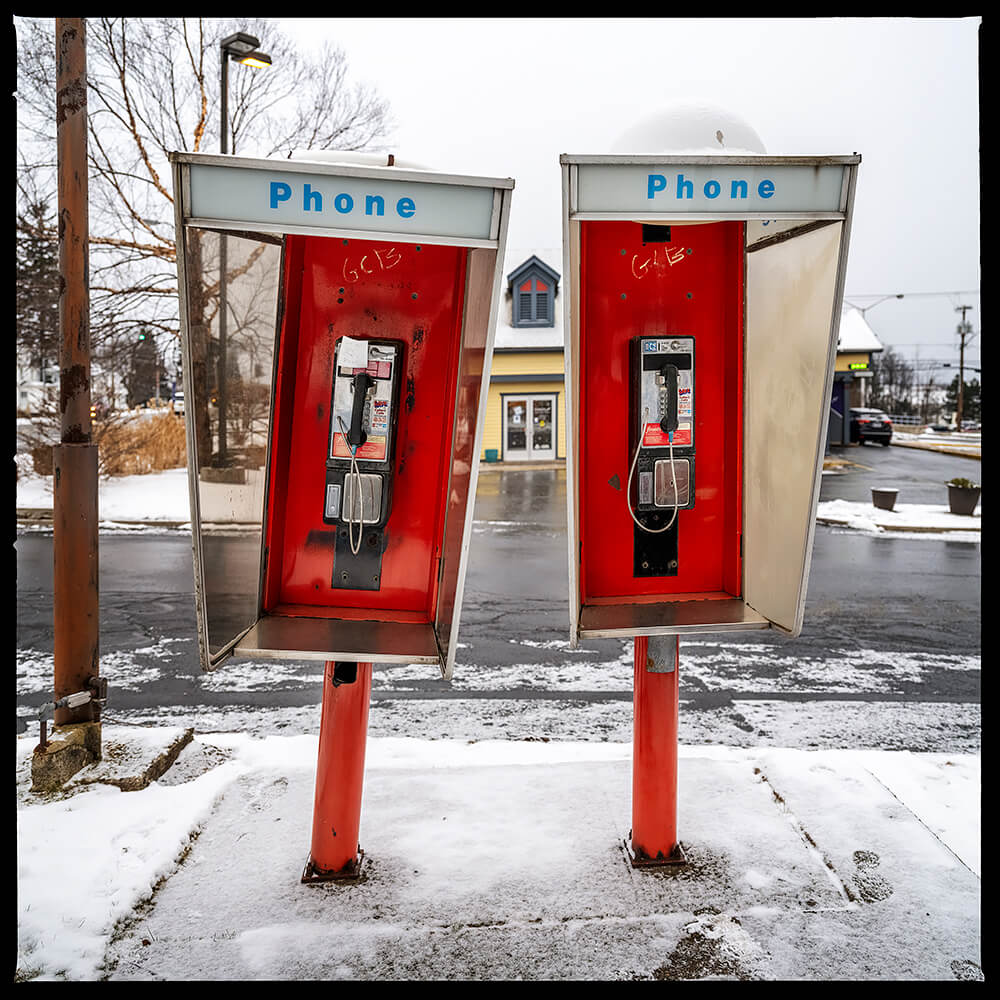 585.671.9976 & 585.671.9880- 185 West Main Street, Webster, NY 14580 from the series 'Life-Lines Throughout the United States' © Eric Kunsman
Mark Duffy (Canada)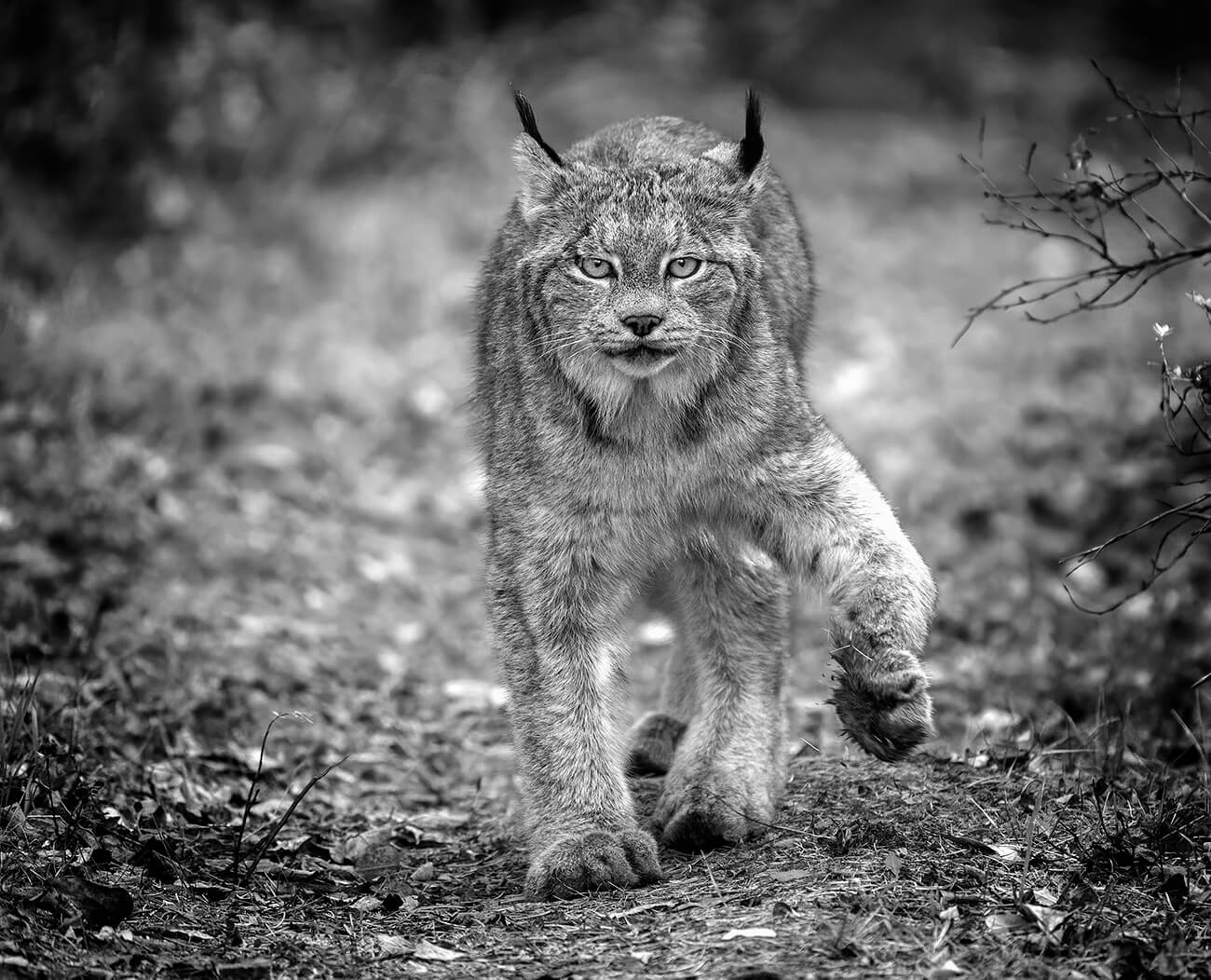 Wild Lynx on the prowl © Mark Duffy
Wild Lynx in Riding Mountain National Park Manitoba Canada.
Paolo Quadrini (Italy)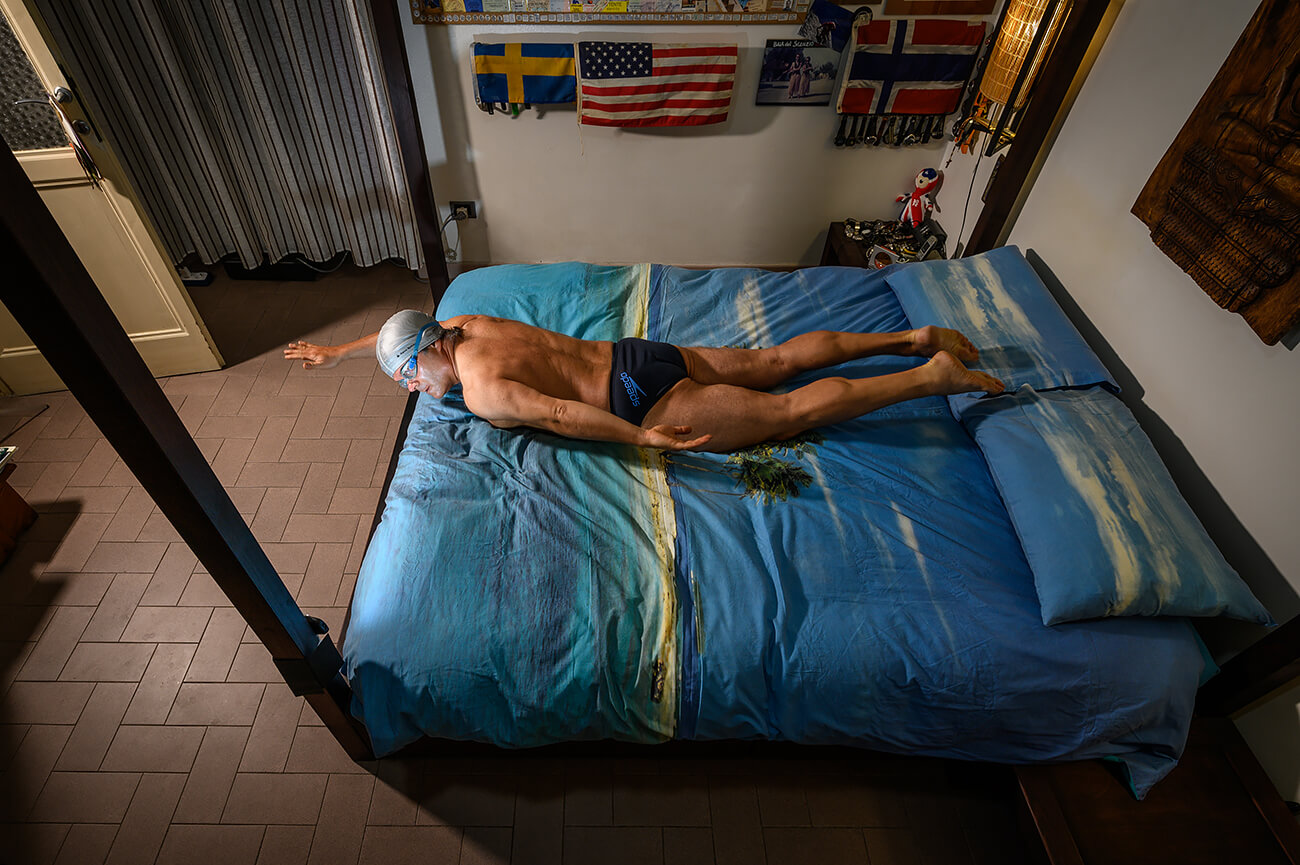 Swimming from the series 'Coronavirus Therapy' © Paolo Quadrini
On March 11th, 2020 the Italian government prohibited all movements of people within the national territory. I spent 82 days at home on lockdown. I live alone and every day was uncertain. After savoring weeks of solitude and contemplation, I felt vulnerable and inconsistent, looking for a new prospective. I was not sure what next day would hold and what news to brace for next, but my home, the finite space where I was confined, was withholding all what I was. I chose to navigate this uncharted territory exploring the deepest, truthful side of me, the one that just wants to exist. Here is my personal wacky approach to defeat fear and loneliness, a tribute to my strength, my desires, my rebellion. This is my dissonant, visceral attempt to become my own refuge.
A surreal silent cry.
Javier Arcenillas (Spain)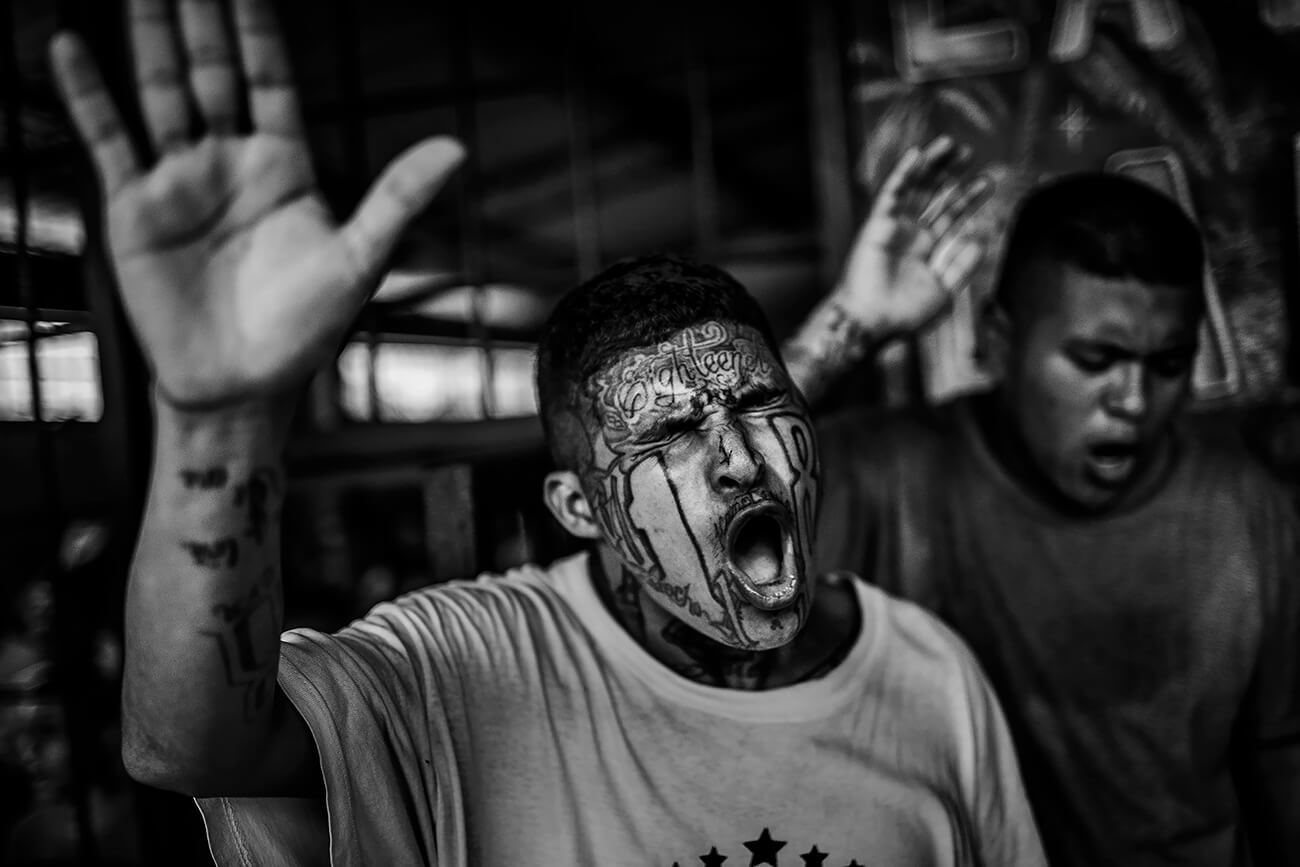 Gangborder © Javier Arcenillas
Gang members from the San Francisco Gotera prison welcomed into the Yo Cambio program of the Government of San Salvador to keep the most violent gang members occupied and without conflict.
Philip Coburn (United Kingdom)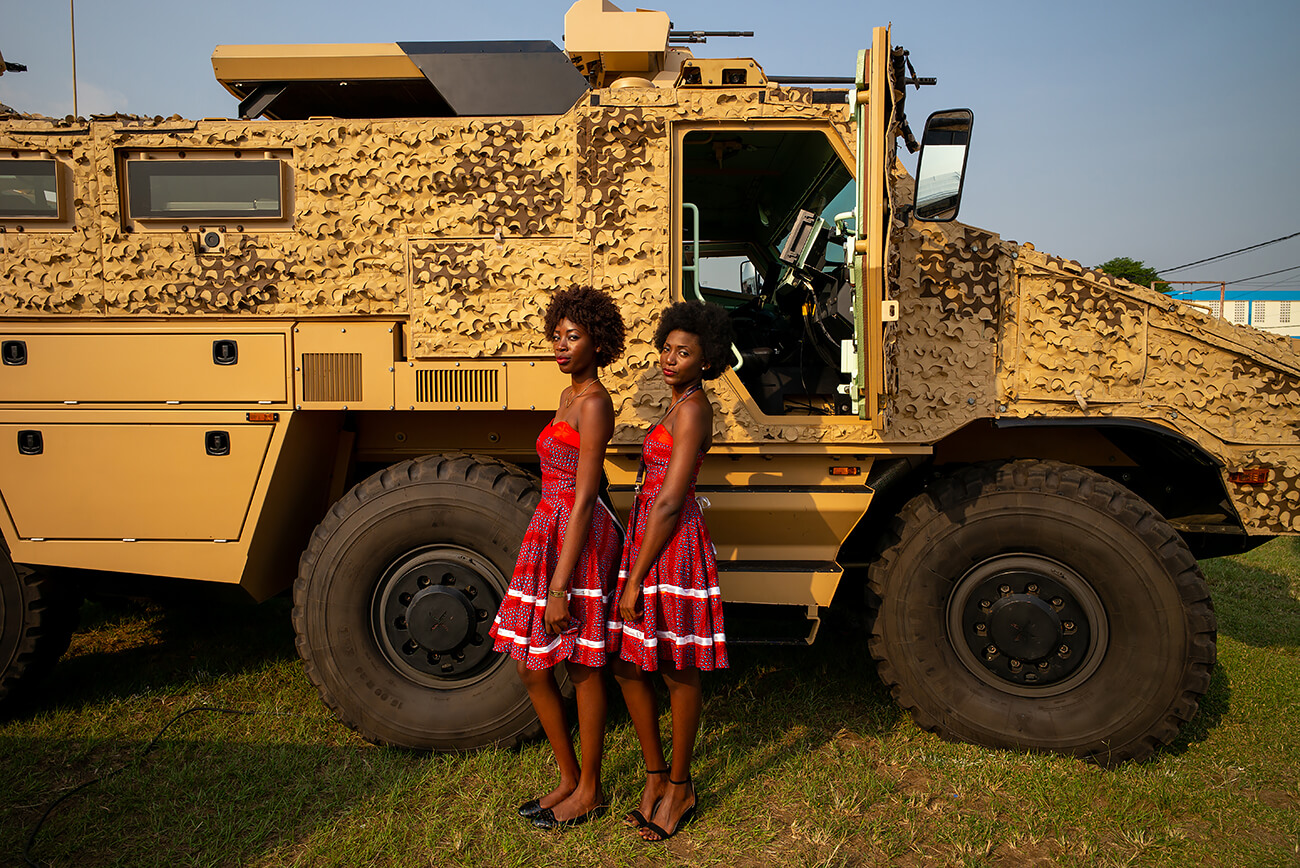 Arms Fair Armoured Car Models © Philip Coburn
I was on assignment for my newspaper in the Ivory Coast. I along with my written journalist colleague had to attend a security event called Shield Africa so that we could meet a government minister so that we could get accreditation to go out with the local specialist Police units on raids on internet fraudsters and extortionists. I spent a lot of time wandering around fairly dull military equipment stalls and exhibitions and then came across an armoured personnel carrier. I was taking a few pictures of it and then two models came into my frame and sashayed and swayed in unison as if they were promoting a speedster sports car at a motor show. I knew that it was an interesting image as I was capturing it and made for an interesting photograph during a fairly humdrum event.
David Baghdasaryan (France)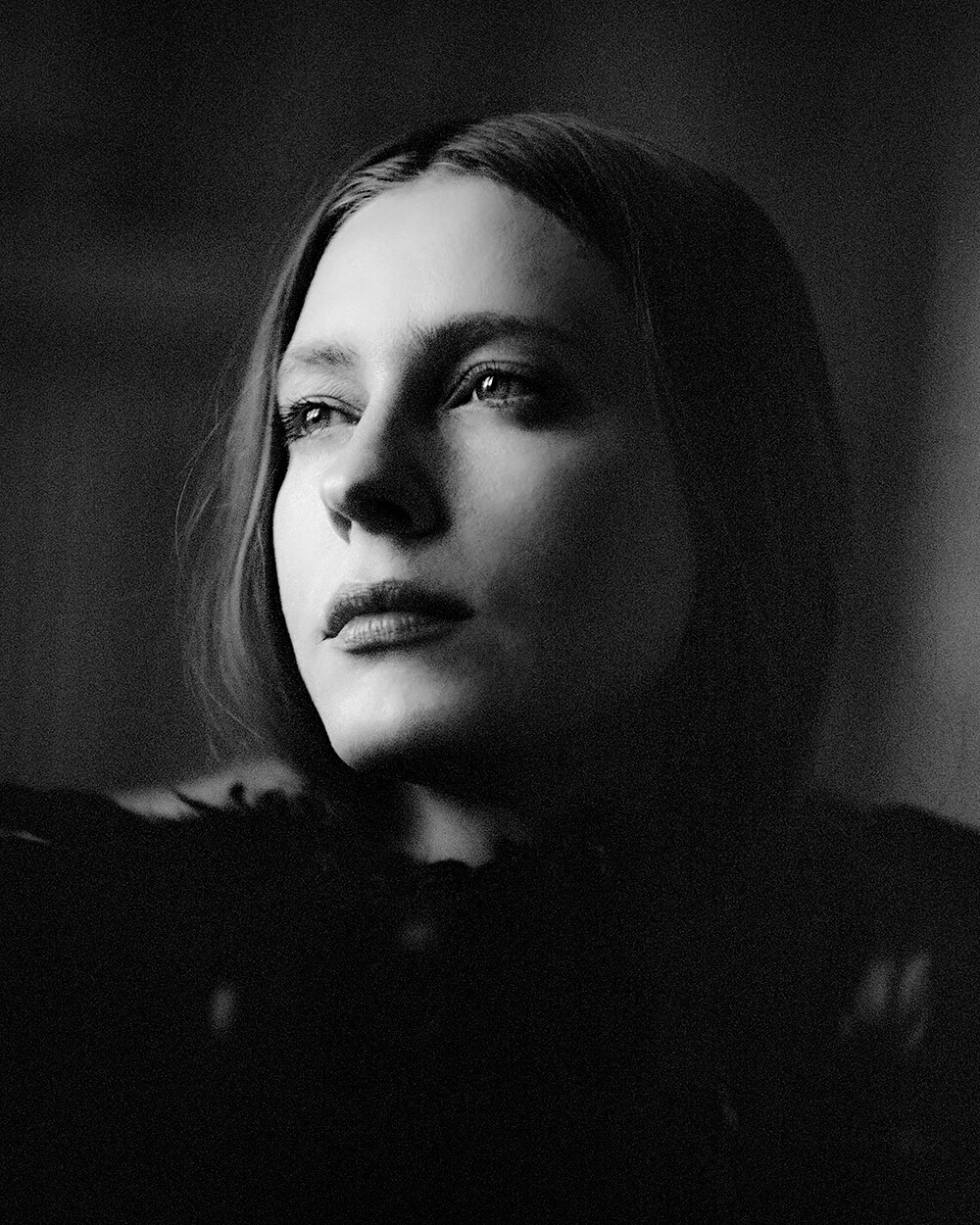 Looking Over © David Baghdasaryan
Suspend time, contemplate your life for a moment, unfinished projects or regrets. Is the present the victim of our choices of yesterday? Does the future start now?
Trung Pham Huy (Vietnam)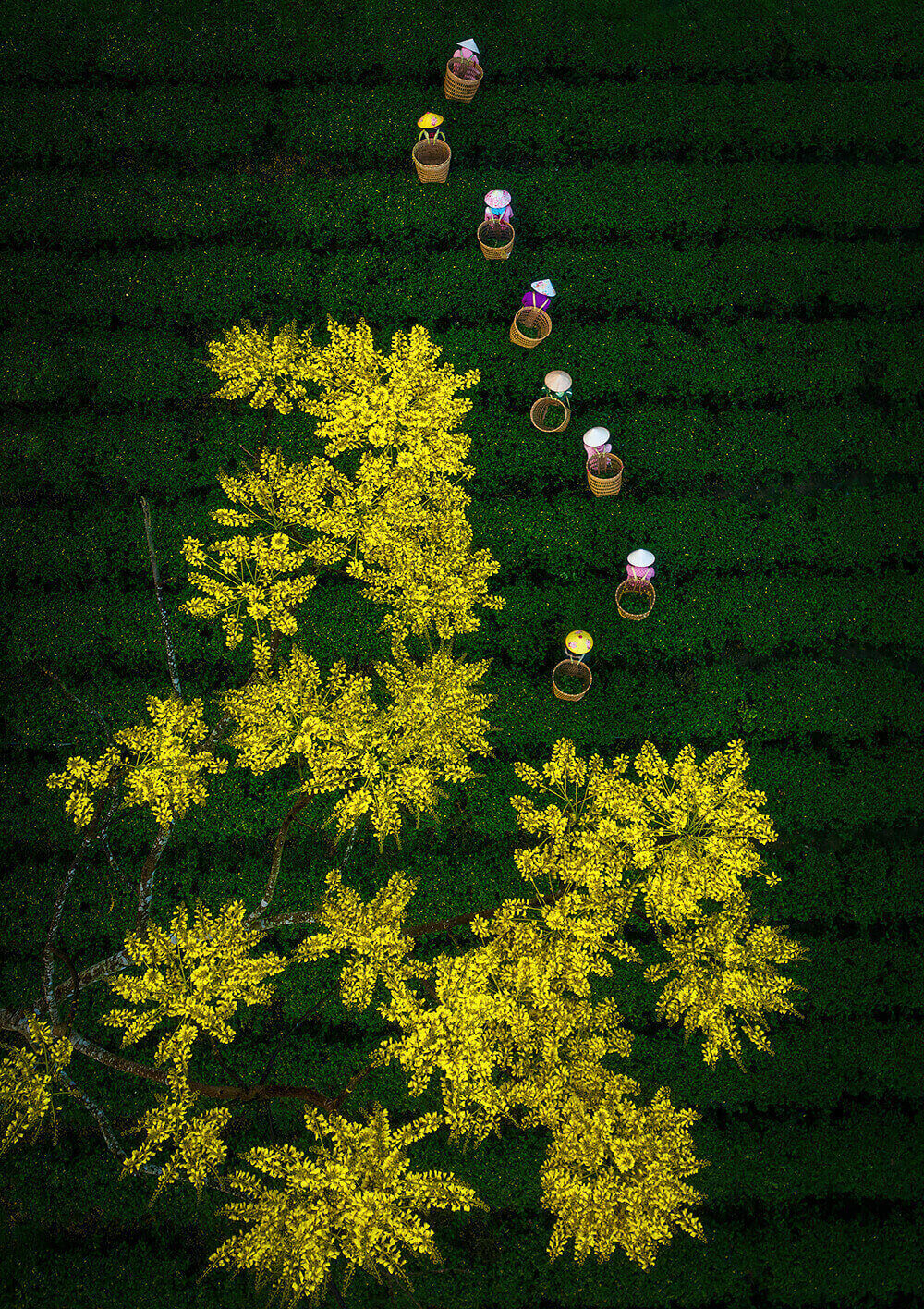 Tea Harvest © Trung Pham Huy
A group of farmers are picking up tea leaves, under the season of blooming phoenix flowers, in suburb of Bao Loc, the city in central highland of Vietnam.
Roland Blum (Liechtenstein)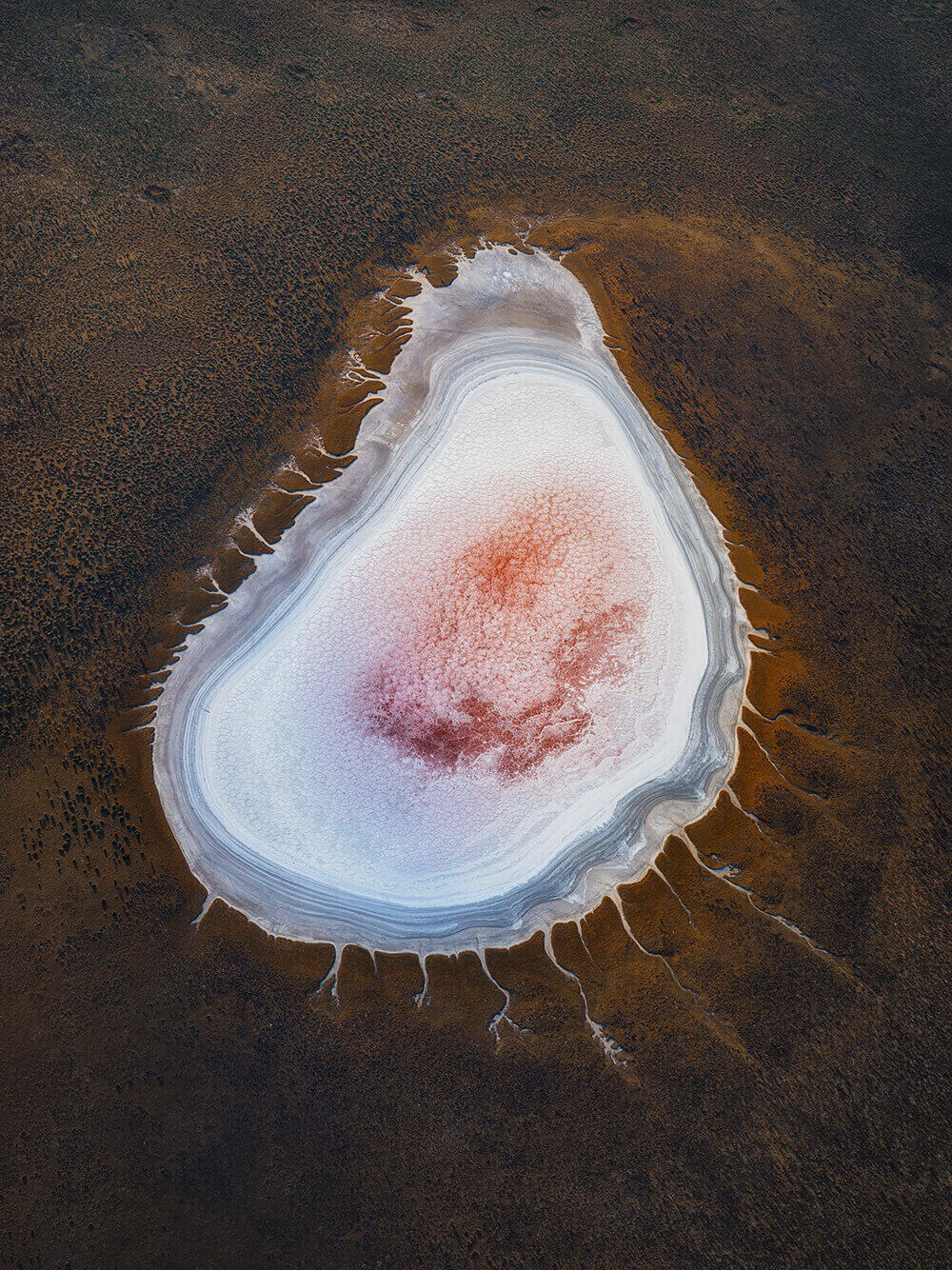 Songline No. 1 from the series 'Songlines' © Roland Blum
Songlines is a new chapter of my ongoing work Poetry of Silence.Songlines is dedicated to the Etosha Pan in the north of Namibia.Only a few rain drops in combination with the unique light are enough to transform this abstract landscape into a sea of different colors.To be able to orientate oneself in this abstract landscape from the air one has to create a mind map, linking key locations and sites in the form of traces and patterns.The result are silent Songlines in form of visual poems - a tribute of this incredible and unique landscape.
Aline Smithson (United States)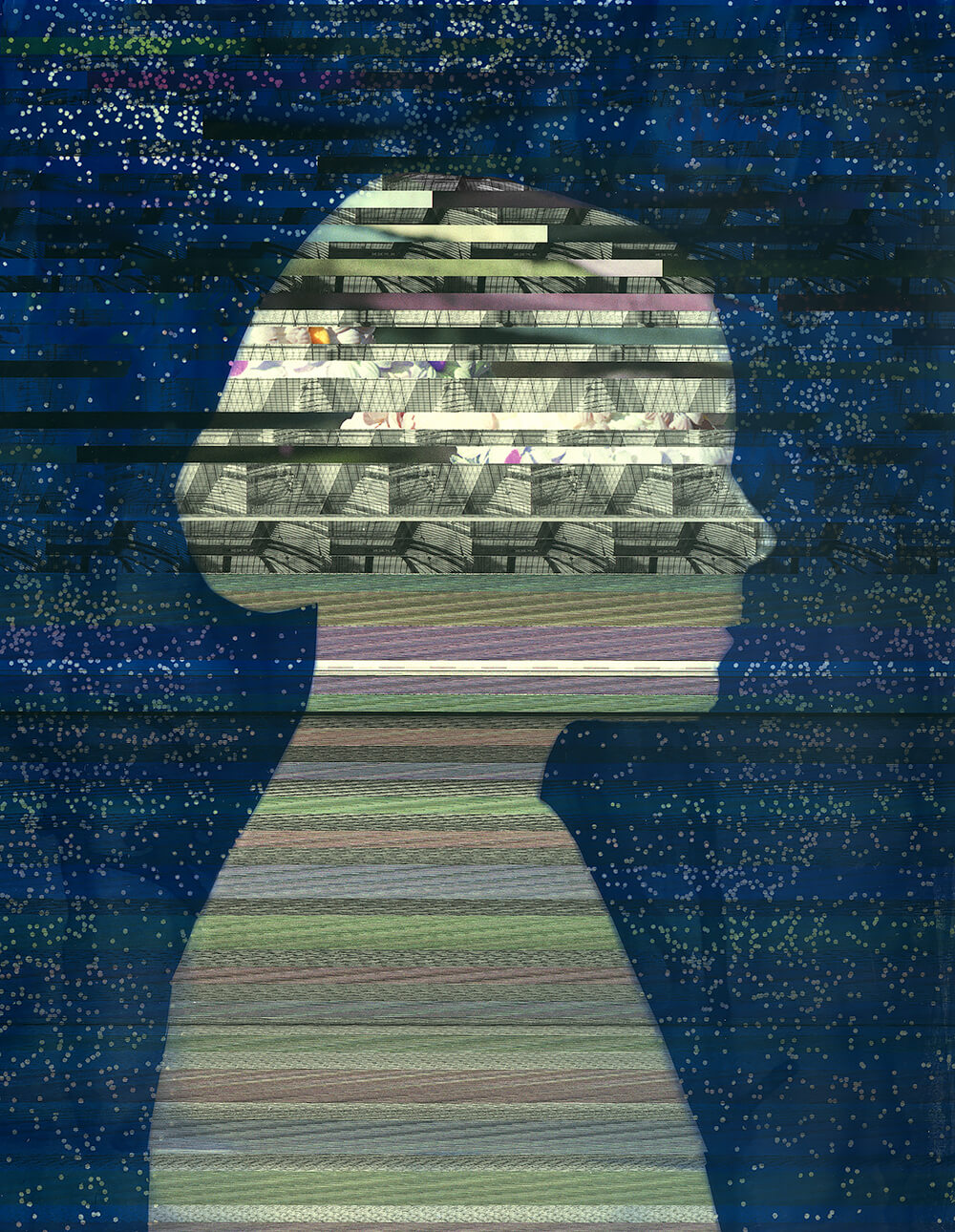 Fugue State Revisited #24 from the series 'Fugue State Revisited' © Aline Smithson
Fugue State Revisited, is an on-going exploration of the future legacies of photography, with a focus on the life span of digital files. After the loss of a hard drive that held 20 years of analog scans, I received only half the files back in recovery. The rest of the files were corrupted, each totally unique in how the machine damages and reinterprets the pixels. This alarming result made me begin to consider ever-shifting digital platforms and file formats, and I realized that much of the data we produce today could eventually fall into a black hole of inaccessibility. The Getty Research Institute states, "While you are still able to view family photographs printed over 100 years ago, a CD with digital files on it from only 10 years ago might be unreadable because of rapid changes to software and the devices we use to access digital content."
As an analog photographer, rather than let the machine have the last word, I have cyanotyped over my damaged digital scans. I use silhouettes of portraits from my archives as a way to conceal and reveal the corruption. By using historical processes to create a physical object, I guarantee that this image will not be lost in the current clash between the digital file and the materiality of a photographic print.
Fugue State Revisited calls attention to the fact that today's digital files may not retain their original state, or even exist, in the next century. As we are reliant on technology to keep our images intact for future generations, it begs the question, who will maintain our hard drives after we are gone? Will we be able to conserve photographs that speak to family histories? These are important considerations for our visual futures, as we may be leaving behind photographs that will be reimagined by machines.
Fenqiang Frank Liu (United States)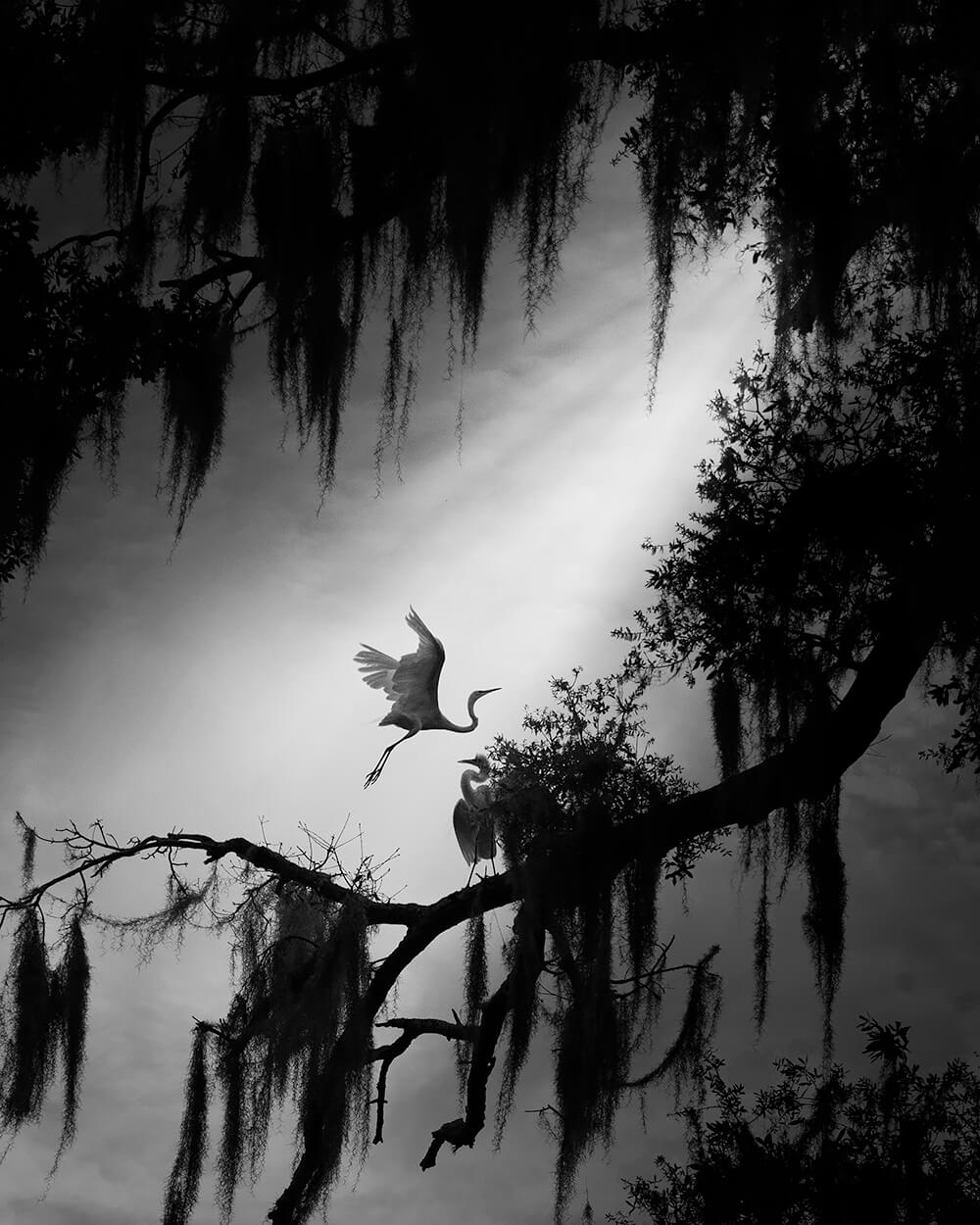 Secret Garden © Fenqiang Frank Liu
In Winter Park, Florida, the oak tree in this photo with its beautiful hanging moss was cut down later due to its unhealthy condition. One day in the Spring of 2020, I was so lucky to have captured the great egret and the oak tree before it was removed! The oak branches and hanging moss framed the egret while I waited for it to take off. Finally, my patience was rewarded, and I was able to capture an exquisite moment.
Deb Leal (United States)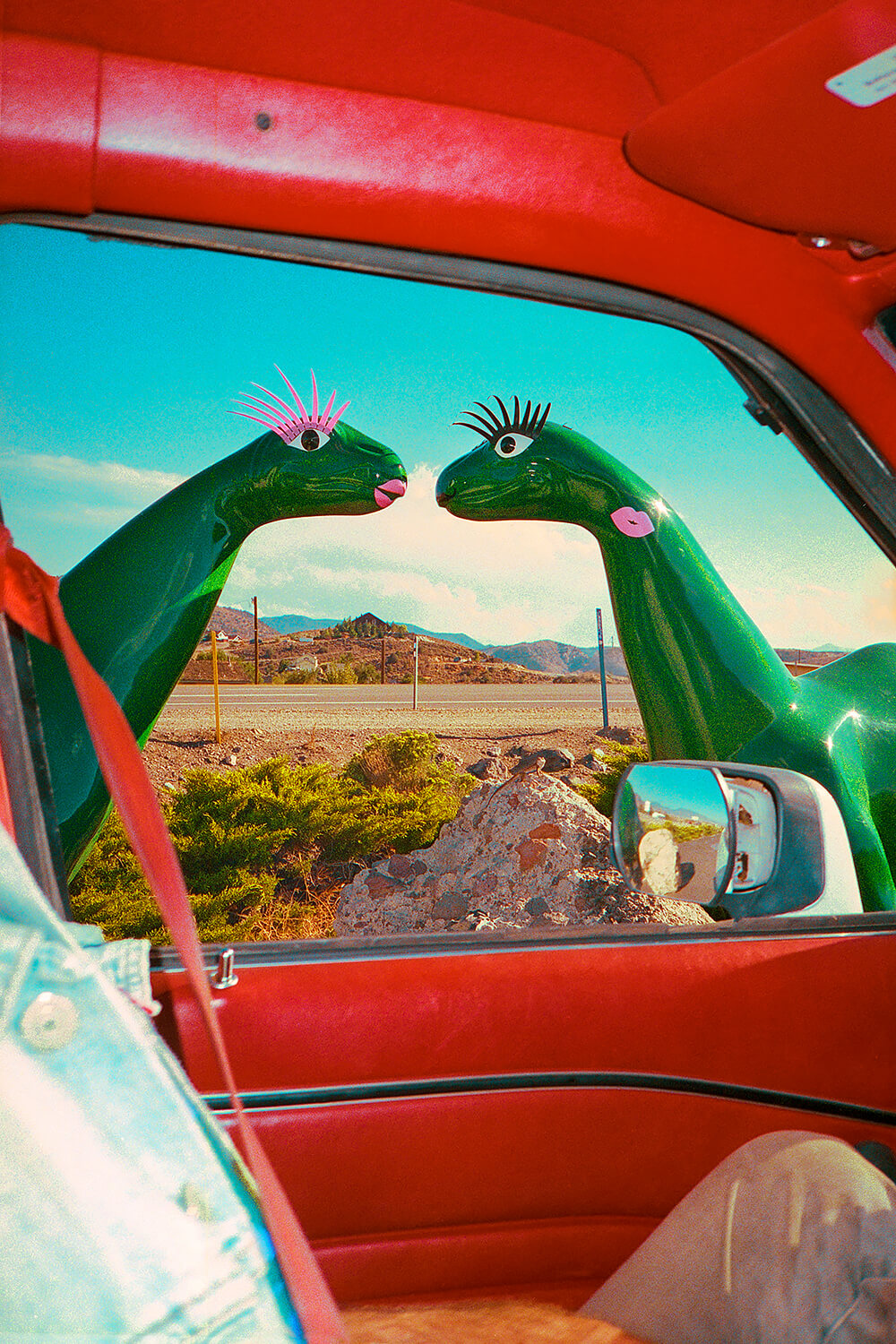 A Sinclair Story (Lizard on Rock) © Deb Leal
Limbo: Apolline Renditions & Dionysian Mementos, voyages between consciousness with aspects of the metaphysical, philosophical, and cultural in tow. A childhood fascination with time began while my parents took turns driving for 28 hours from Milwaukee to Corpus Christi every summer. Sitting in stillness while gazing from the backseat window, I followed bobbing telephone lines to a state of hypnosis that opened a subconscious world of wonder. An adoration of color came from witnessing the rich atmospheric tones of amber at dusk, lavender at dawn, and a prismatic wash of oil slicks in the asphalt. The combination of these experiences from age four to eighteen felt deeply spiritual, leading me to consider the syncretic nature of religious belief present in my Chicano upbringing. As I continue to pluck moments influenced by a lucid dreamscape, portraiture, both candid and constructed, observes human connection while set design or landscape speaks to a sense of memory and devotional expression. Stylistic references of baroque art history and cult cinema inform a dynamic and playfully bold voice as a modern Renaissance emerges.