We're delighted to reveal the names of the 25 talented photographers who won AAP Magazine #18: B&W
These amazing photographers come from 13 different countries, their work reflects their personal aesthetic and unique approach to black and white photography. It was wonderful to discover so many great works and compelling pictures. Clearly black and white photography continues to hold a prominent place in our hearts and imaginations!
Black and white images can be like remarkable poetry. Timeless, the black and white tonal scale has nuances that highlight its subjects and enhances the light for a sublime rendering. Its classical and often nostalgic feel contains true beauty, allowing for a stark clarity or reality of the subject to be seen and identified. As the Canadian photojournalist Ted Grant said, "When you photograph people in color, you photograph their clothes. But when you photograph people in black and white, you photograph their souls!"
The diversity of work ranges from the visual narrative to the simple contemplative beauty of quiet landscapes and to portraits that tell a story deep within the eyes of their subject. The selected portfolios all have different approaches to the unifying theme of black and white photography. Using film or digital photography, deep blacks or light grays, each photographer showcases a unique point of view.
The Winner of AAP Magazine 18 B&W is Donald Graham (United States)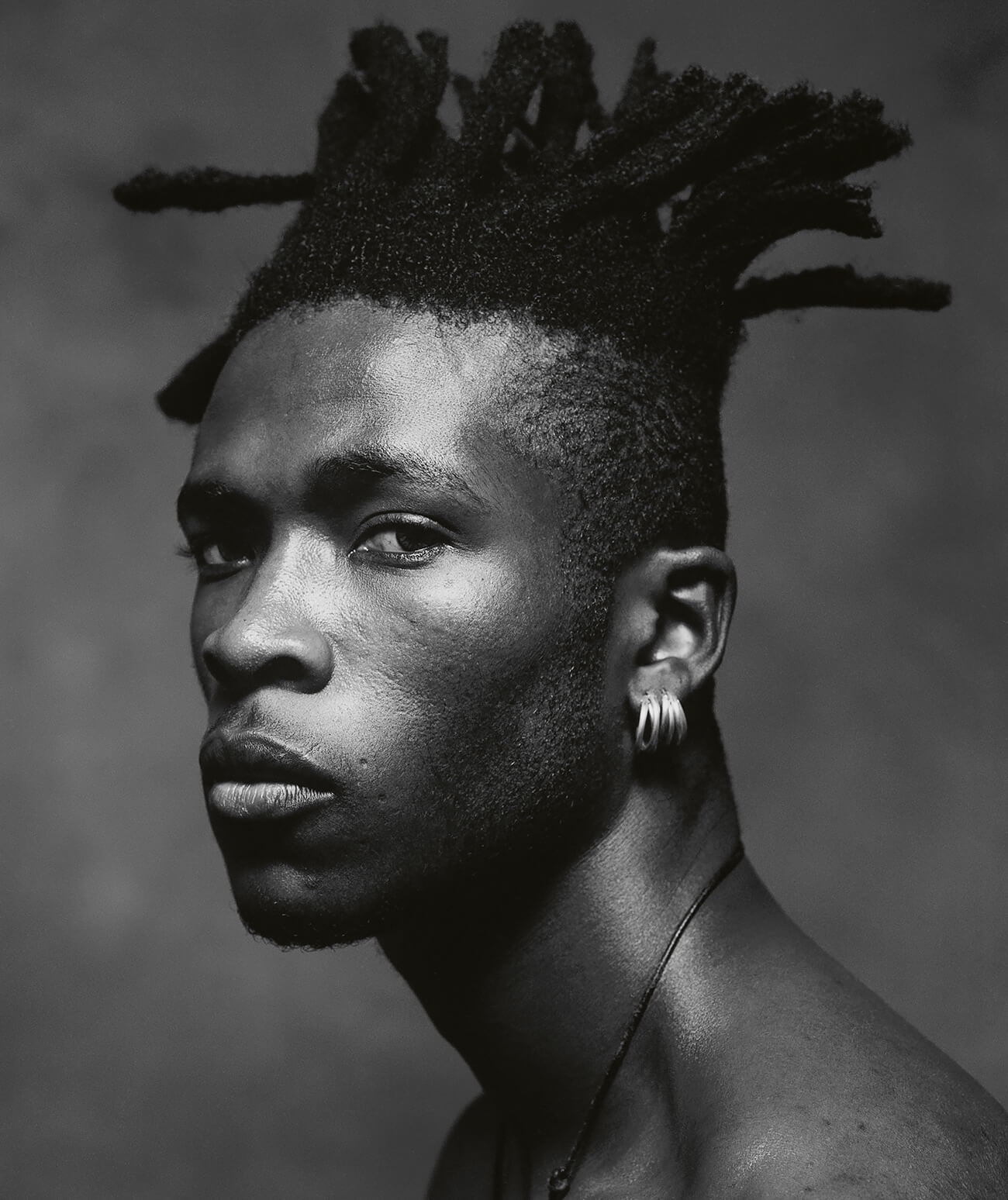 Foxy, Los Angeles, California © Donald Graham
'Foxy, Los Angeles, California' is featured in Donald Graham's new book. 'One Of A Kind' is the first major publication of Donald Graham's haunting and powerful black and white images of artists, holy men, political figures. celebrities, and unknown people whose lives are one of a kind.
Donald Graham's Website
Donald Graham's Website
Donald Graham on Instagram
All about Donald Graham
One of A Kind by Donald Graham
The Second Place Winner is Angelika Kollin (United States)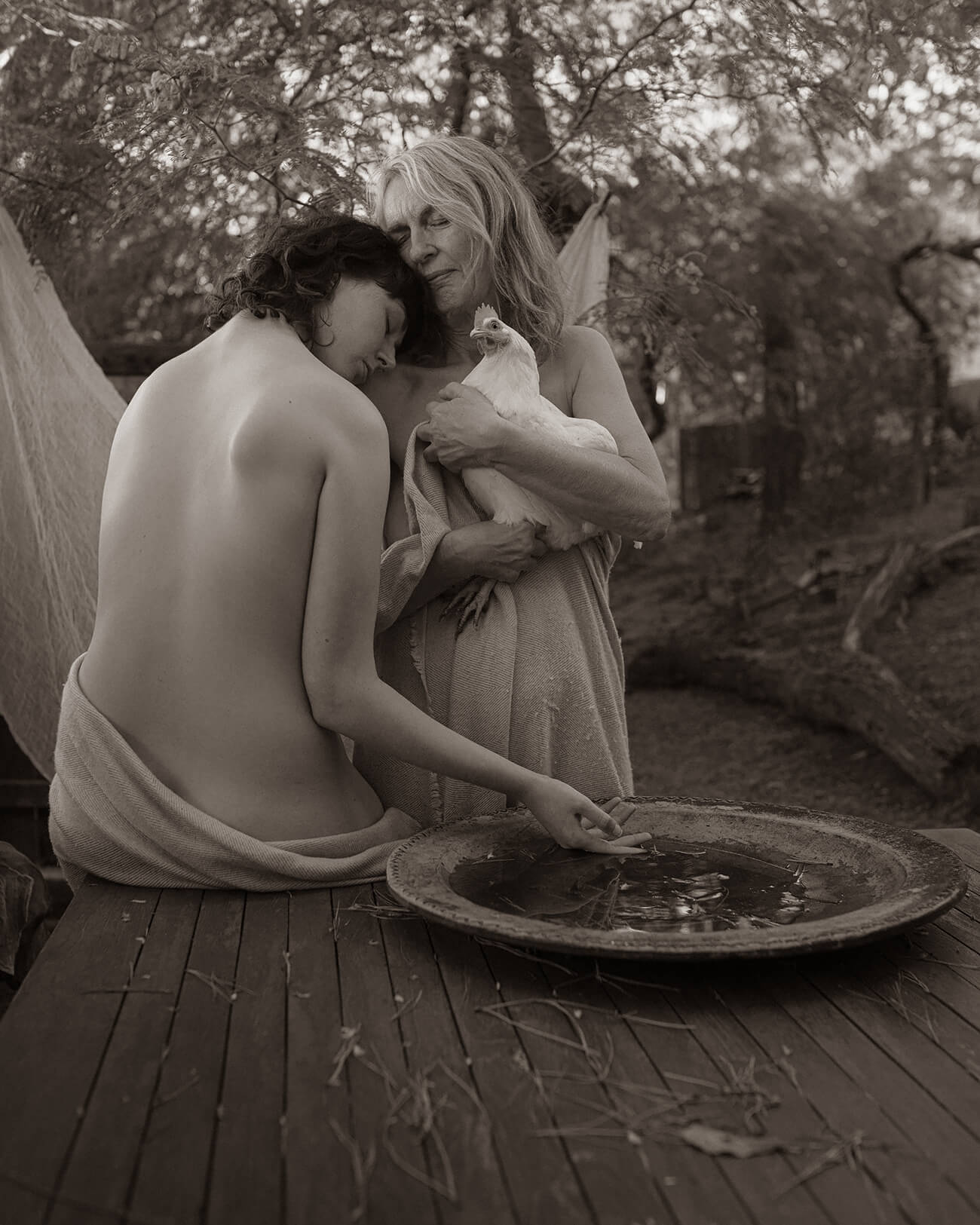 God gives and God takes © Angelika Kollin
The series You are my Mother is a meditation on emotional intimacy between a mother and child and its effect on our adult life. Its a silent poem, a slow gaze past a veil of busy modern life into landscapes of human emotions and our inherent capacity to love and give tenderness. Its a visit to a place where we are not separated by age, religion, race, or our political view.
Angelika Kollin's Website
Angelika Kollin on Instagram
All about Angelika Kollin
The Third Place Winner is Andrea Borgarello (Italy)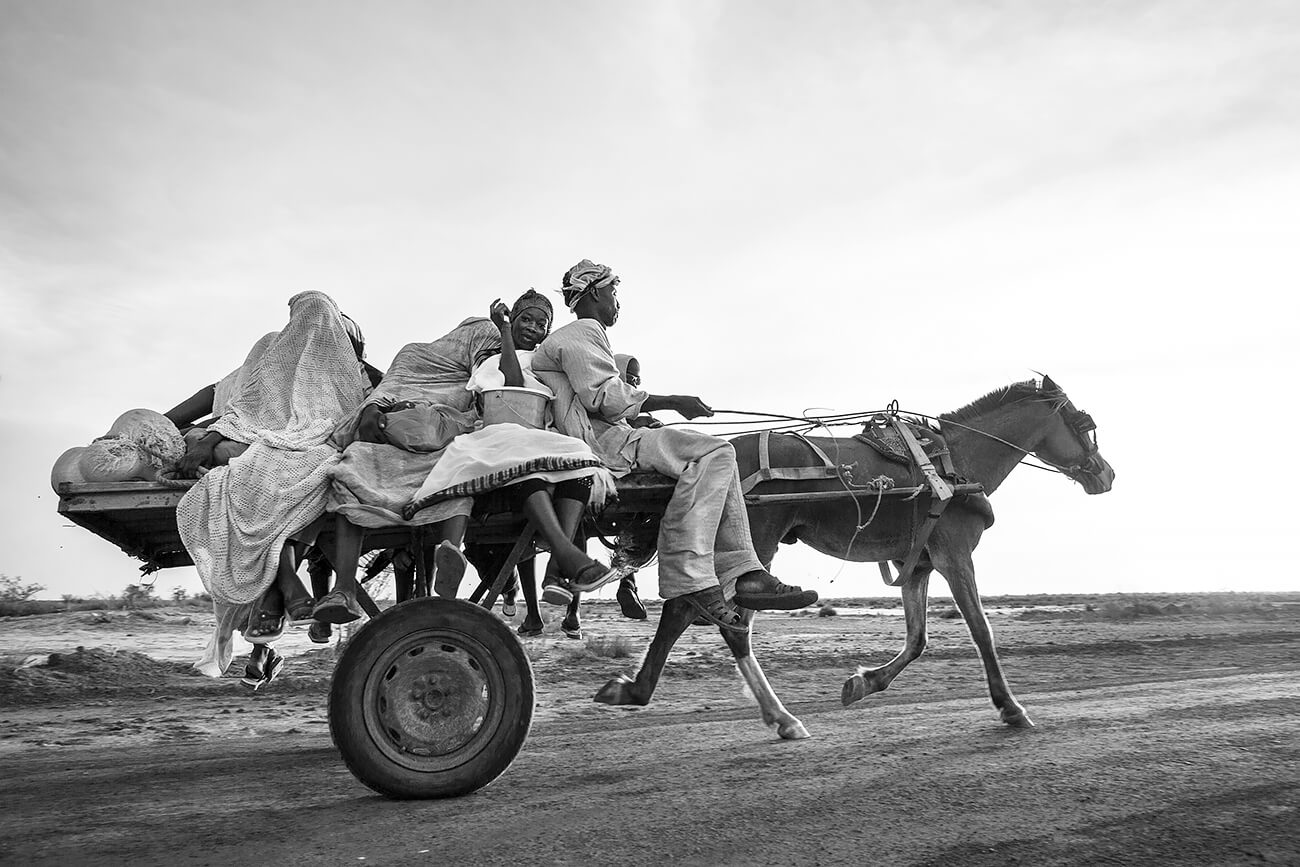 "Making Plans for 'l'Aventure'" or "the Backway" © Andrea Borgarello
Notes on Migration
is a long-term project that aims to shed further light on the migration process from West Africa to Europe. From 2017 to 2020, I collected and recorded hundreds of migration testimonies during public debates as well as during individual talks. Hence, I associated these voices to faces, daily activities and personal life-stories in the local community. This work represents an attempt of visual anthropology to describe a migrant as a person who feeds his/her long term expectations with the "elsewhere", which eventually becomes an integral part of the "here". Every migrant, before being a migrant, is a human being who, at a certain point, decides to bet on his/her own life. This is why, I depicted the story of a "migrant" by combining multiple testimonies on the "journey", with a visual expression of the daily life in West Africa: the visual and the text become two superimposed layers of the same storytelling.
So far, this material has been part of a more comprehensive project that includes a multimedia documentary and a book (in progress).
The testimony associated to the following picture which has been shot in Senegal is one of the rule of the migrant's journey:
They never say «you leave tomorrow», you will never know that. For the clandestine departure, from the beginning until the end, it is on the same day.
(Hady, remigrant from Guinea-Conakry).
Andrea Borgarello's Website
Andrea Borgarello on Instagram
Merit Gallery
Erberto Zani (Switzerland)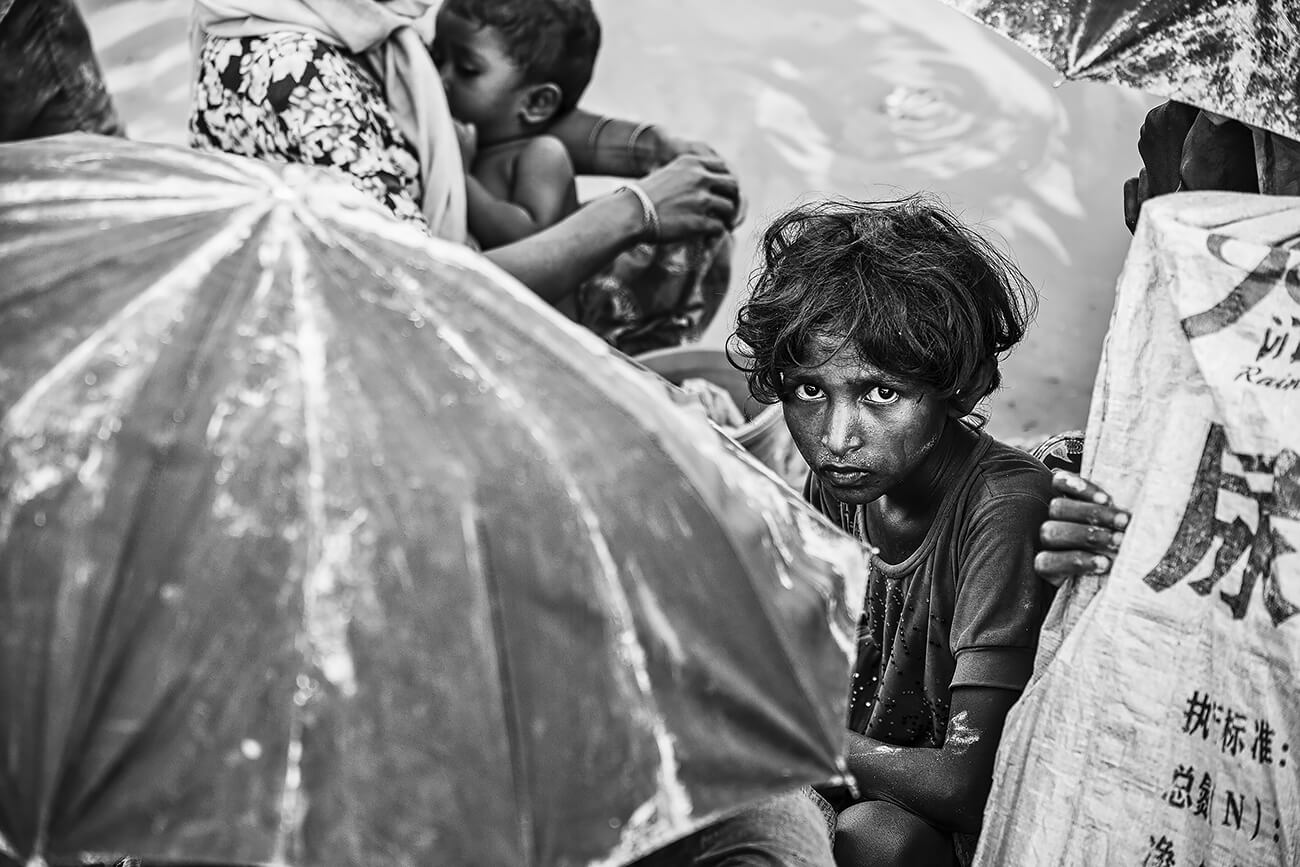 Portrait of an orphan © Erberto Zani
Portrait of an orphan just arrived in Bangladesh crossing the border with Myanmar. The Rohingya refugees walked in difficult conditions for almost two weeks, from their region of Rakhine to the Bangladeshi area of Cox's Bazar, crossing jungles with risk of explosive traps and assault by Myanmar soldiers.
Exodus
shows the arrive in Bangladesh of thousands Rohingya refugees.
Rohingya's story is another genocide of our time, with few concrete international actions to stop the violence. They are a Muslim minority living in north Rakhine region, a small state of Myanmar, were denied citizenship by a law enacted by its military government, so reducing their status to that of a stateless group. They were denied the right to own land or property and exposed them also to forced labour and routine violence, as rape and killings. Soldiers wants the complete control of entire country's land for new forms of economies, mining, timber, geothermal energy, with new international partnership. For survive, from 2017 until now, more than 1.800.000 Rohingya crossed the border with Bangladesh. This is not an event from the past. It's happening.
All about Erberto Zani
Klaus Lenzen (Germany)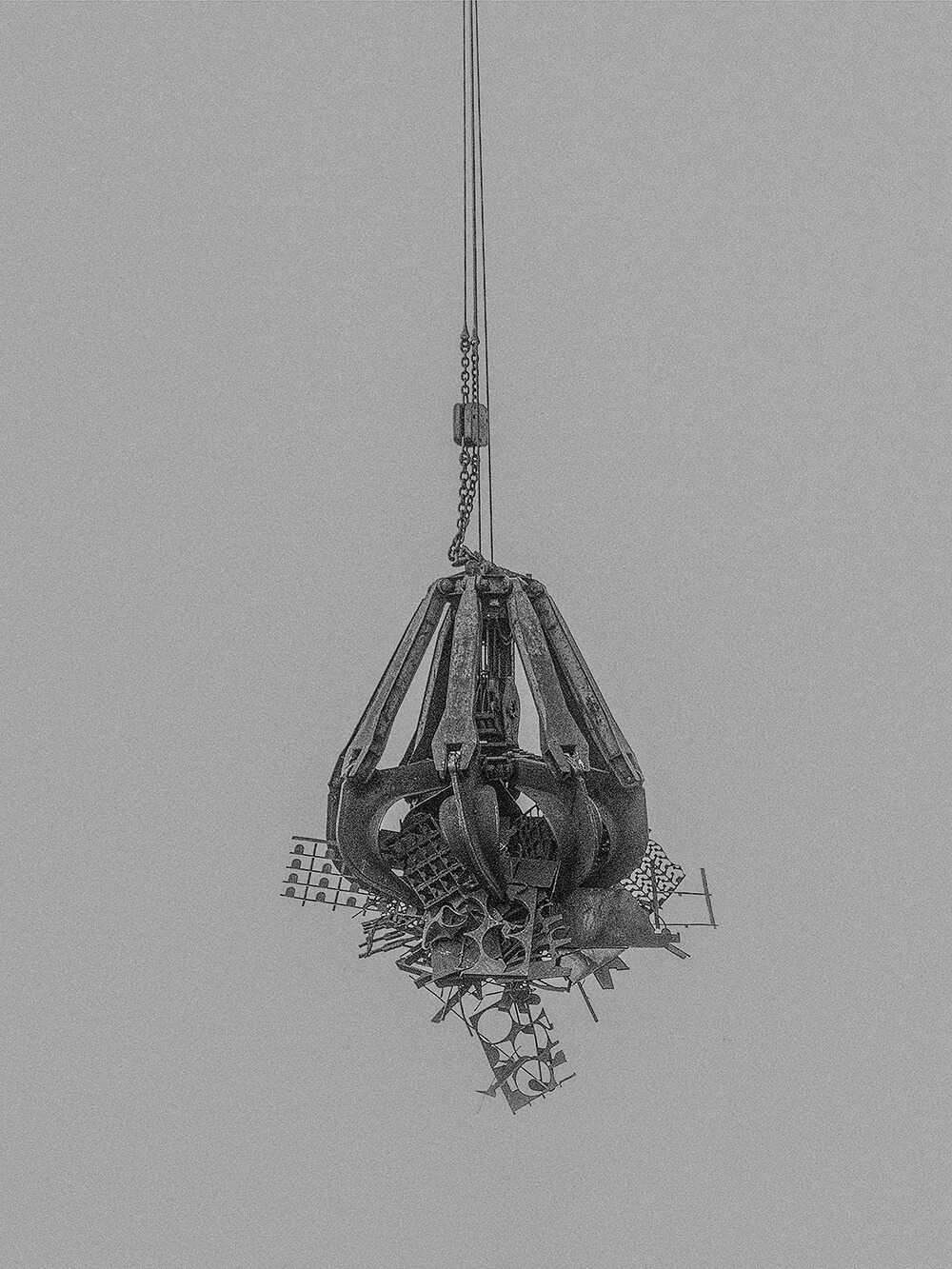 Construction Art I © Klaus Lenzen
In everyday life you can discover works of art. In my series construction art I 've tried to show everyday scenes of a construction site in an artistic, minimalist way.
All about Klaus Lenzen
Ingetje Tadros (New Zealand)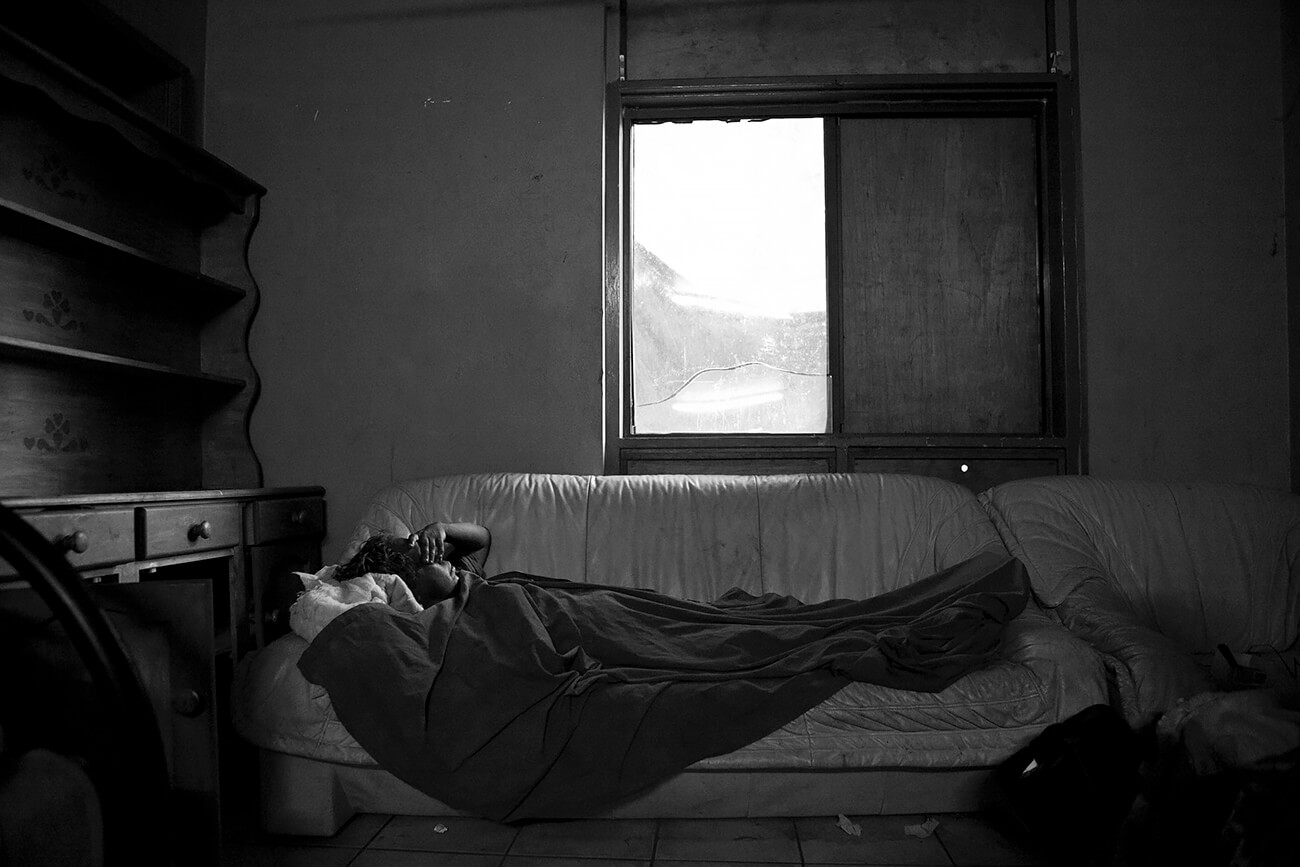 Wondering what the day will bring © Ingetje Tadros
Amanda Lewis lays on the couch in the Mallingbarr (Kennedy Hill) community wondering what the day will bring. Only seven dwellings remain in the community and more are slated for demolition.
This Is My Country
looks at people standing on the precipice of life: disenfranchised, neglected and now threatened with displacement. It is a permanent record intended to bring attention to the plight of Aboriginal communities under threat. It will serve as a call to Australian society to support their First People and end the displacement of their communities.
About 12,000 Indigenous residents living in small communities in the Western Australian desert, exists in the shadows of plans by the State Government to close down approximately 100-150 of the State's 270 smaller Aboriginal communities. Aboriginal Elders and Leaders oppose the closing down of the communities, believing the impact will be devastating because these communities are based 'on Country' so their closing would mean losing a connection to the land in which ancient stories are etched.
All about Ingetje Tadros
Emmanuel Monzon (United States)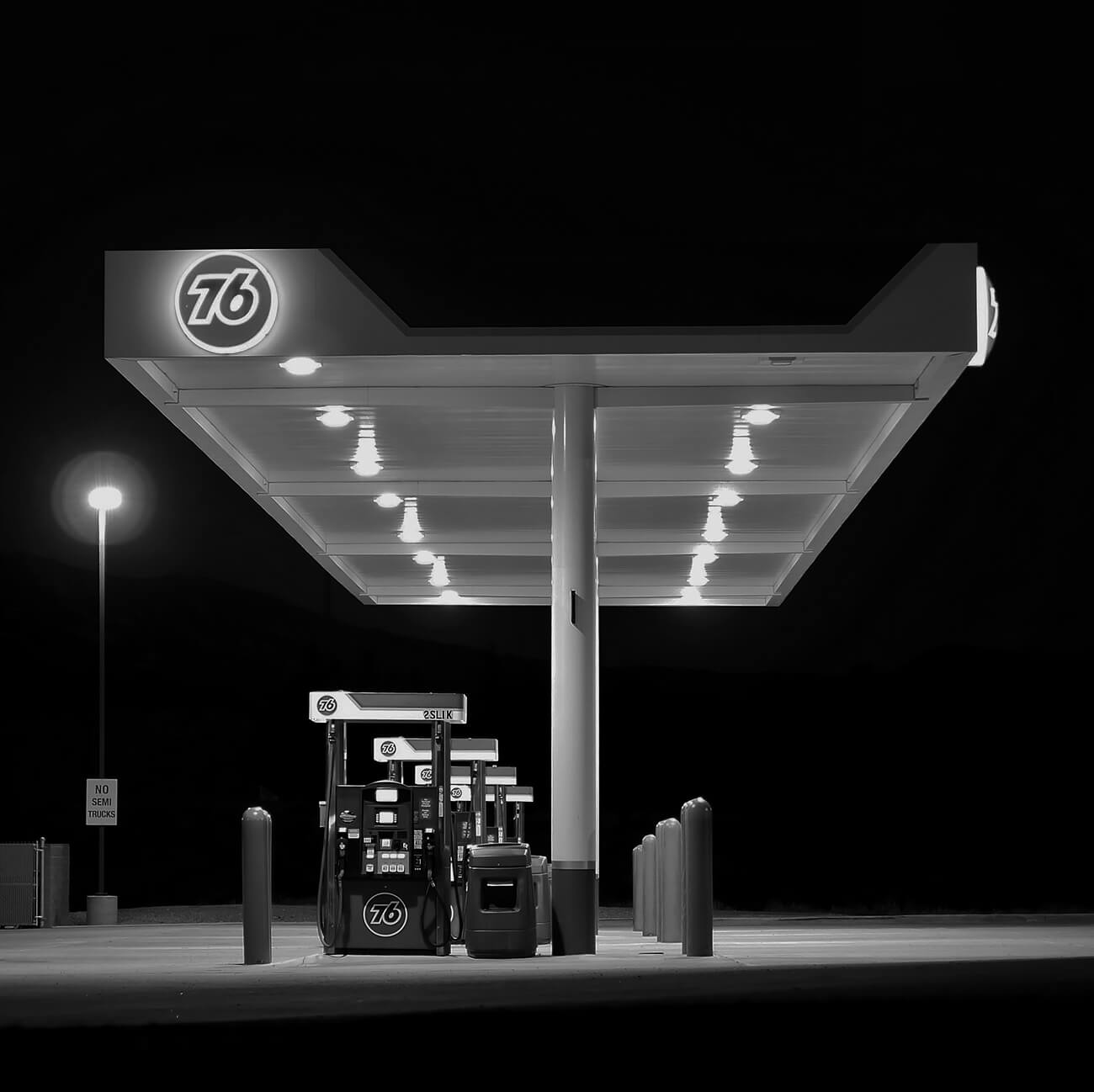 URBAN SPRAWL EMPTINESS, Night © Emmanuel Monzon
Through my urban sprawl series, I want to photograph the in-between state found in the American landscape. So I capture places of transition, borders, passages from one world to another: am I leaving a city or entering a new environment? If I could sum up the common theme of my photos, it would be about emptiness, about silence. My pictures try to extract from the mundane urban landscape a form of estheticism.
When I am working on a black & white series, what is important for me is that the color black must be truly black and that the color white must be truly white. To be more precise, the black and white play important roles in photography, and I use them to create the atmosphere that I desire. I mostly do black and white photos during the night, because I think the black and white contrast more during the night. Generally, it is in these conditions that a unique atmosphere can be created.
All about Emmanuel Monzon
Exclusive Interview with Emmanuel Monzon
Urban Sprawl, Emptiness
Tuan Nguyen Tan (Vietnam)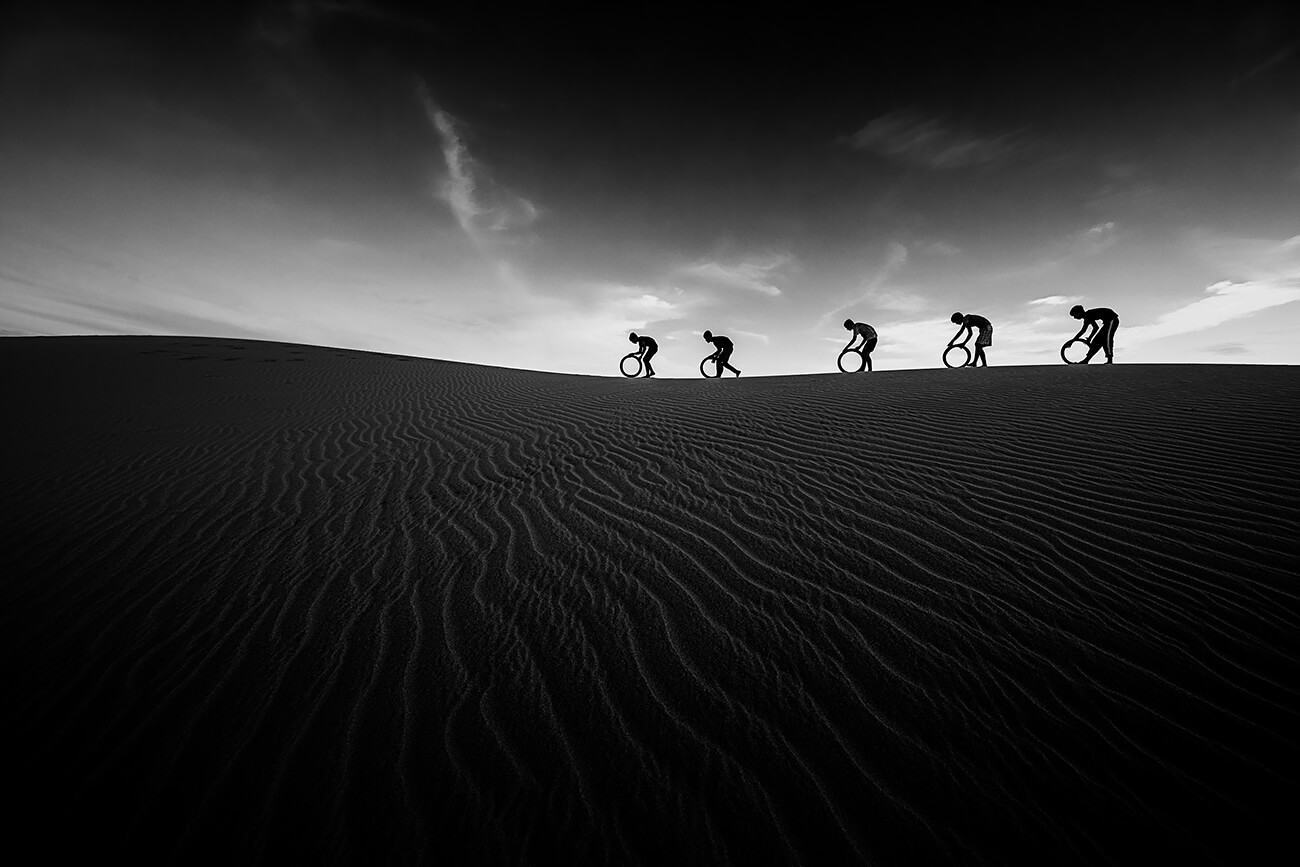 Children in Nam Cuong © Tuan Nguyen Tan
Children in Nam Cuong play with old tires on the sand dunes. This is a big sand dune in central Vietnam and very hot. The children here use old tires to make toys on the sand dunes after returning from school every afternoon.
All about Tuan Nguyen Tan
Dirk Roseport (Belgium)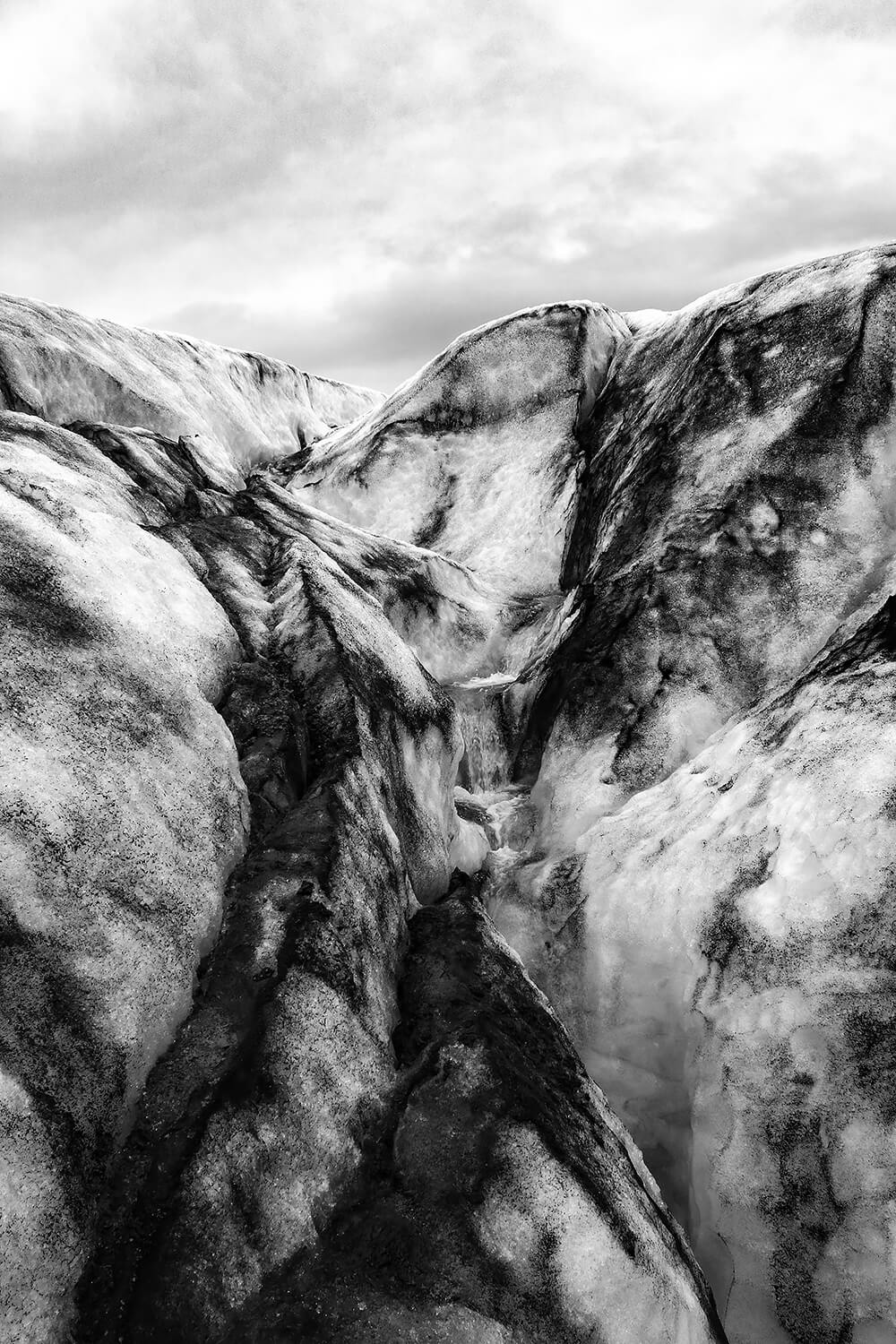 Closer To The Gods © Dirk Roseport
In his project - Closer To The Gods - Dirk Roseport once again explores places where we as humans feel insignificant, confronted with the splendor, power and grandeur of nature. This time he photographs the inhospitable plateaus and glaciers of Iceland, the mountain landscapes of the Pyrenees and the high-altitude desserts of Ladakh.
In Closer To The Gods these are portrayed hard and directly in powerful, high-contrast black and white photography. Nature does not invite here, she imposes. Compelling, ominous, sometimes almost menacing. It is a nature that impresses and often looks as if it could insidiously swallow and crush us at any moment.
Dirk Roseport sees the Closer To The Gods project as the antipode of his Transcendental Tranquility project for which he photographs the immensity of oceans. They are images distilled to their essence. In the layered photography of Transcendental Tranquility, however, nature does not impose, it invites one to drown in it and regain a tranquility that we so often lack today.
All about Dirk Roseport
Joseph-Philippe Bevillard (Ireland)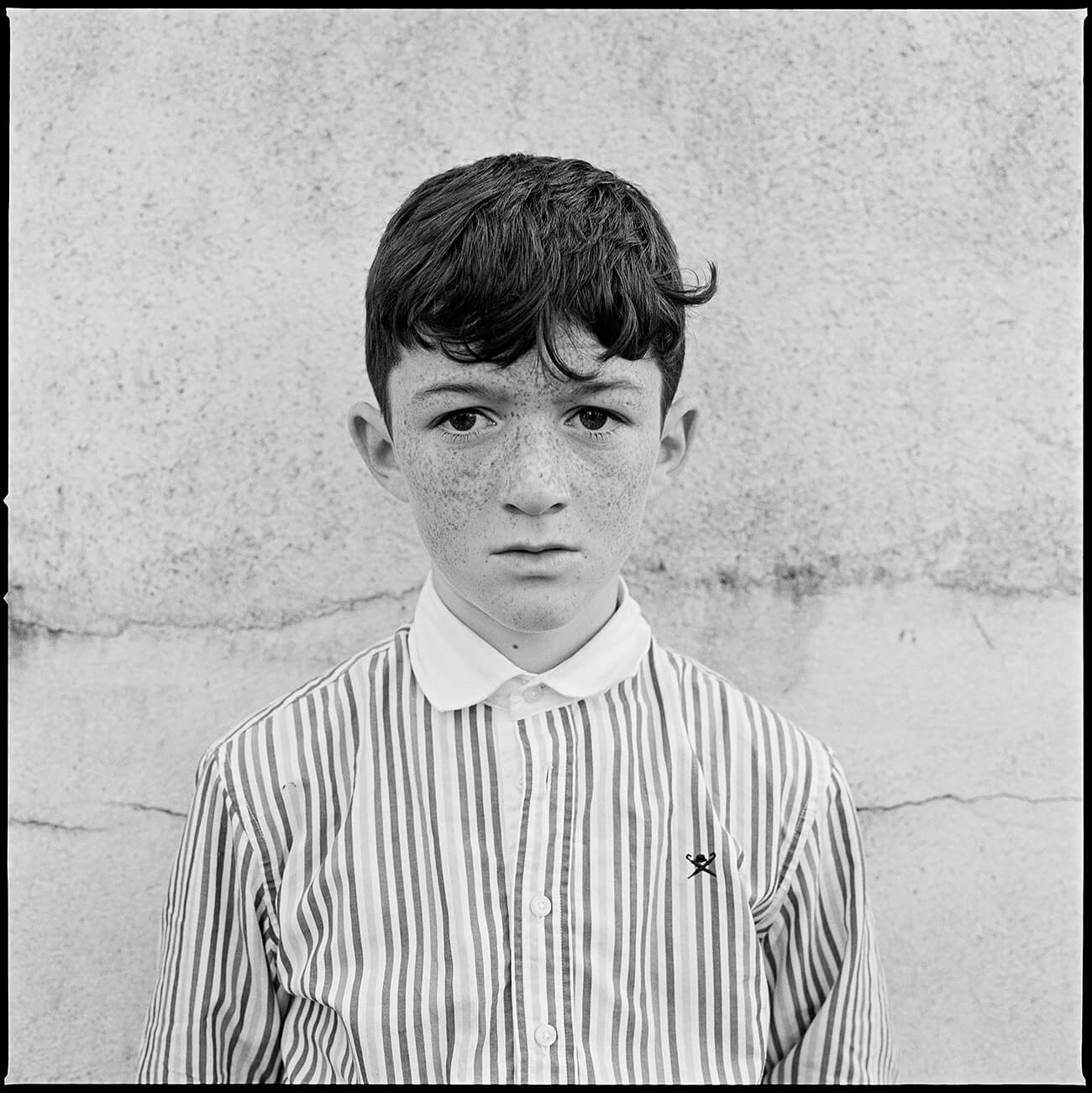 Boy with Striped Shirt, Galway, Ireland 2017 © Joseph-Philippe Bevillard
Irish Travellers
When I moved from Boston to Ireland in the year 2000, I remember taking a taxi from Shannon airport, I wasn't five minutes on route to my destination and I spotted a row of caravans and white vans on the roadside with scantily clothed children running around large black and white ponies, clothes billowing in the wind suspended on a makeshift clothes line, more than likely hand washed as there was no apparent running water where they camped along the main road, mothers and daughters doing their morning chores, young adolescence males burning rubbish on the bonfire, so much activities, chaos and their lifestyle have embedded in my mind ever since. I was intrigued, to my utmost curiosity, I began to study the travellers and try to build up some form of trust, once I gained this, I decided to document them in 2010. As a fine-art black and white documentary photographer who studied the medium at the Art Institute of Boston in 1990, two decades of skills behind me gave me the confidence to photograph the Irish Travellers. Freckled-faced children, young women with long hair and bright make-up with large jewellery, scantily dressed, proudly displaying cleavage, men proudly portraying scars and tattoos, sometimes smeared with grease and dirt, bonfire, litter of rubbish and metal scraps, horses, caravans, horse trailers and vans became important elements in my photographs. Most importantly, their weather-beaten and sometime scarred faces provide hard evidence in their portraits and yet each person shows their hardship, history and uncertainty about their future in their eyes. Using a medium format camera that takes square images as I have done since 1990, I am able to make large prints with definitive details as I feel it's important to document every detail with as much precision as possible. Also, as with all my portraits in different themes in the past, I avoid cropping my images so I include the original film's rebate in order to show honest imagery and to frame the composition. It allows the viewers to see what I see exactly through the viewfinder of my camera when I press the shutter. To date, the Irish Travellers has become the most interesting and largest theme I have ever produced in my 3 decades as a photographic artist. In my works with the Travelling Community, I have been following several clans; my goal is to continue to document these families as well as other members that I encounter on my journey.
All about Joseph-Philippe Bevillard
Peter Eleveld (Netherlands)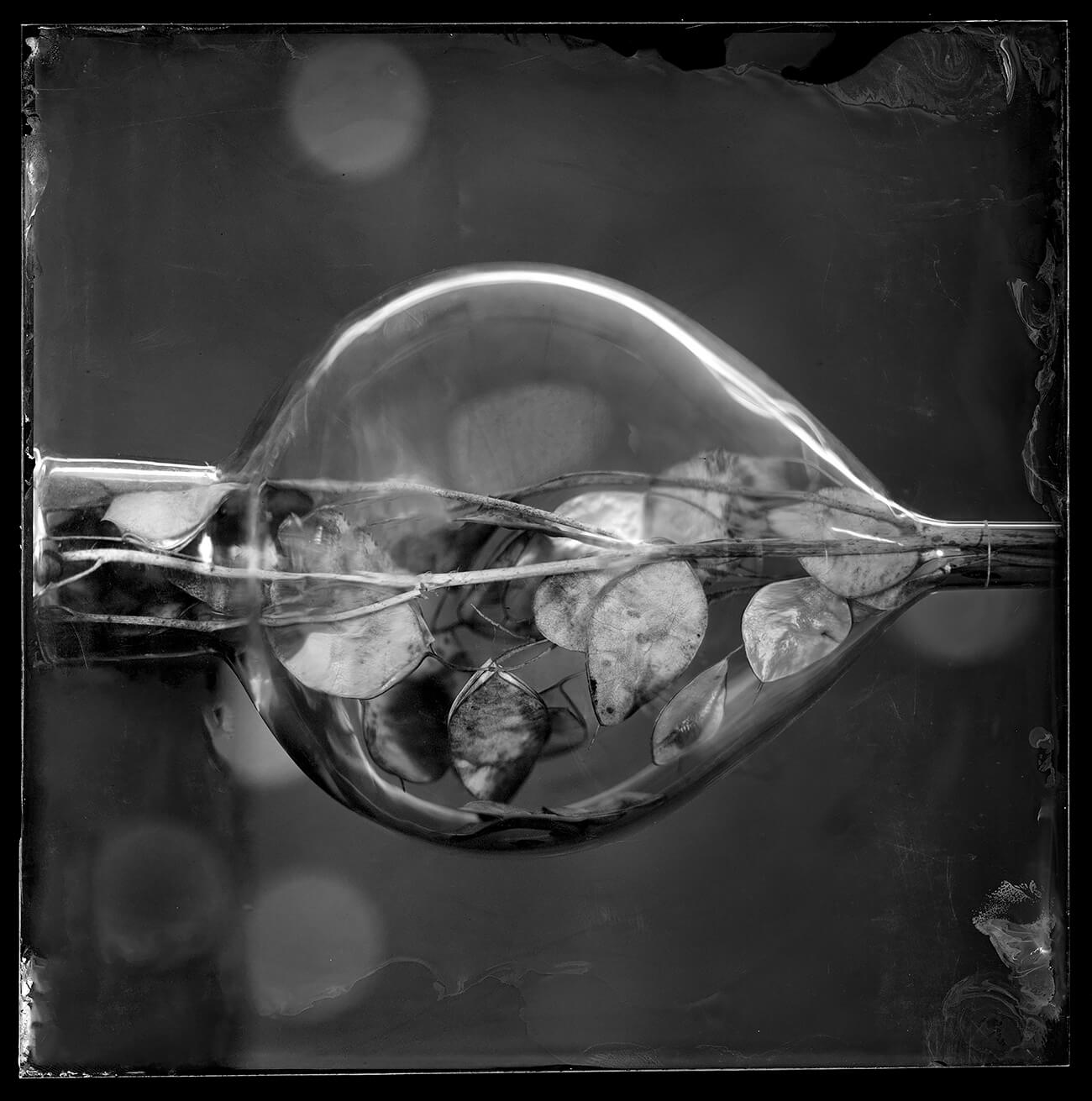 Still Live with Glass © Peter Eleveld
The artworks are just objects out of daily live, such as glassware, fruit and nature.
I notice them and create an image in my head. This happens during the day or I create when I am sleeping. In the morning I grap my iPad and sketch them out.
Then I will try to re-create them in a studio set-up.
With the Wet Plate process I turn those ordinary items into extra ordinary images. Now I have the freedom to shoot for myself! And if it happens that people like my images, that great. But if not, that's also fine.
I like them and that's what is important to me.
Emmanuelle Becker (France)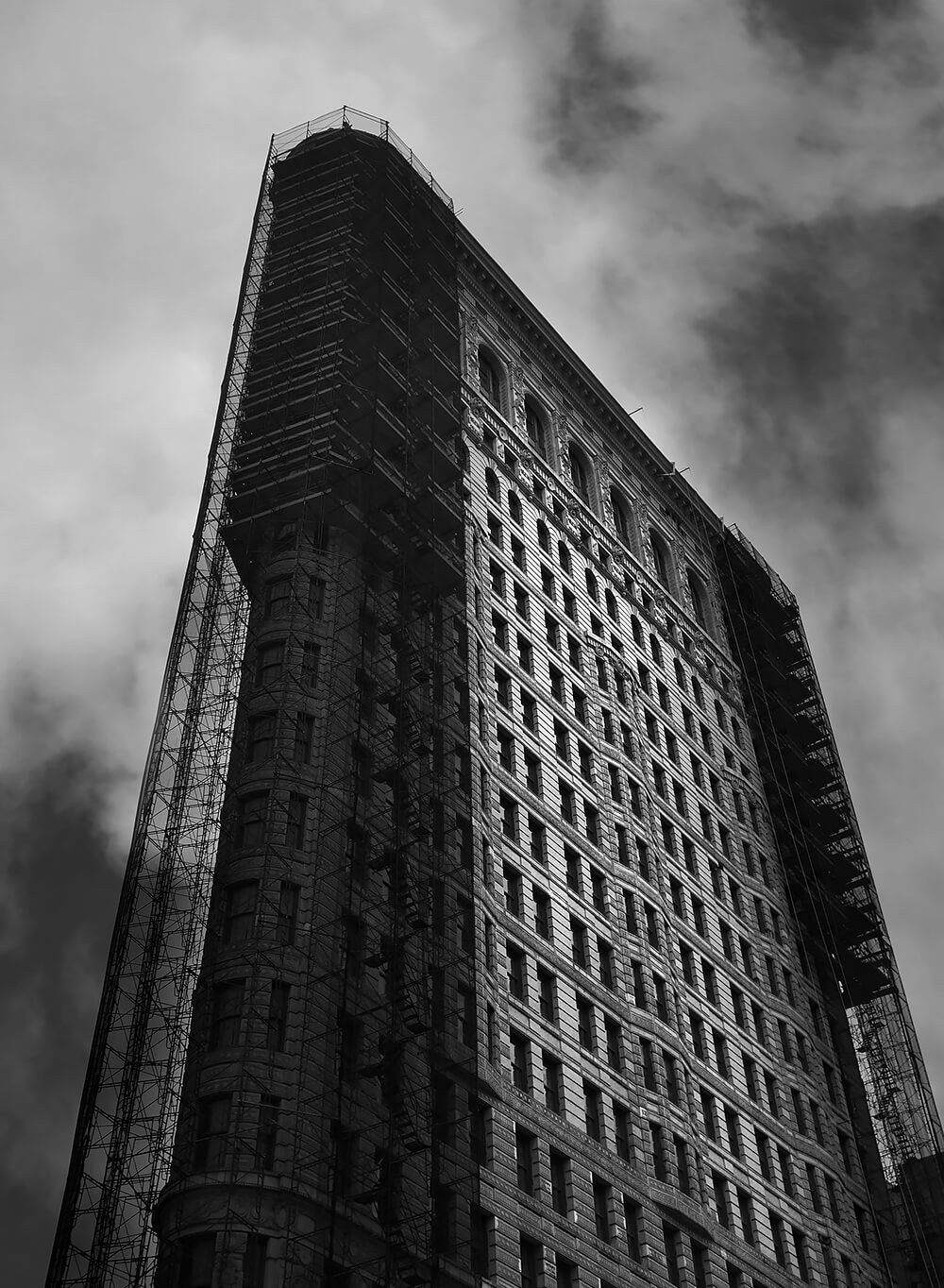 Flat Iron Under Renovation © Emmanuelle Becker
Gothic Visions
is a portfolio of black and white photographs that depict surreal and unsettling urban landscapes. The absence of human beings in these highly cinematic images contributes to the sense of exclusion and isolation that envelops the viewer. Expressionistic lighting, strange perspectives and tense compositions contribute to create a psychological unease, as enigmatic stories seem to unfold behind the windows of empty buildings.
Architectural details appear in sharp relief against the threatening environmental conditions: stormy skies, ominous shadows and clouds and sultry vapor add to the prevailing sense of suspense in these moody images.
David Dhaen (Belgium)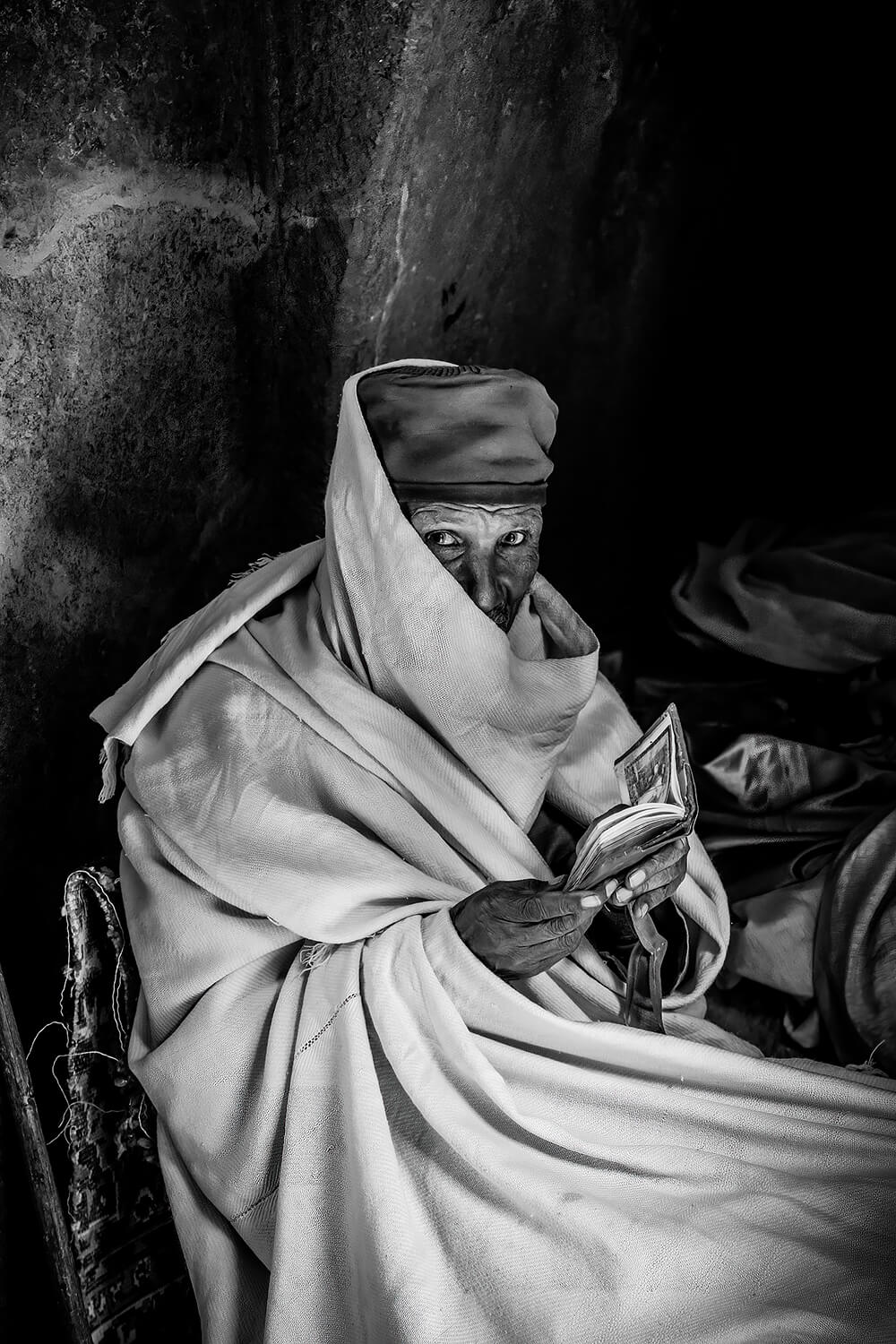 The gatekeeper © David Dhaen
This image is taken when i was strolling through the famous rock-cut church of Lalibela, in the Amhara region of Ethiopia. I saw this kind man as an impressive appearance that completely matched the scenery. A smile appeared to his face when i showed him this image on my camera.
Tatiana Ilina (United States)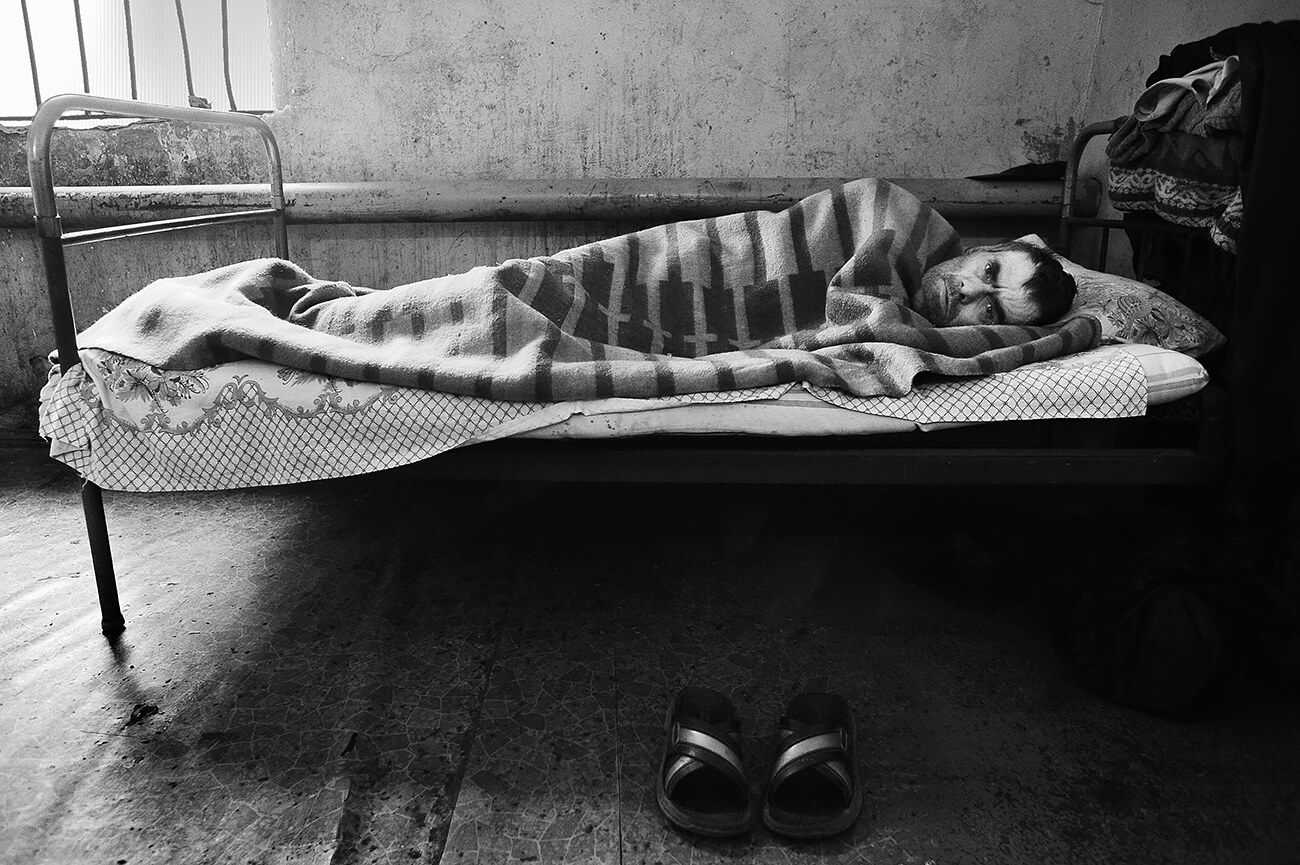 Psychiatric asylum in Abkhazia © Tatiana Ilina
Psychiatric Asylum
It was a small building, half-destroyed in some places, fenced in by a rotten, wet fence that is more a psychological barrier to prevent escape than a physical barrier. One of the patients was allowed to go out because he was a famous boxer and respected by everyone. I came closer. He was smoking thoughtfully and was silent for a while. Then he said:
If God is not believed in, they cannot be mentally ill because they don't believe in God. And if they believe in God - they are mentally ill.
All about Tatiana Ilina
Michael Ruggiero (United States)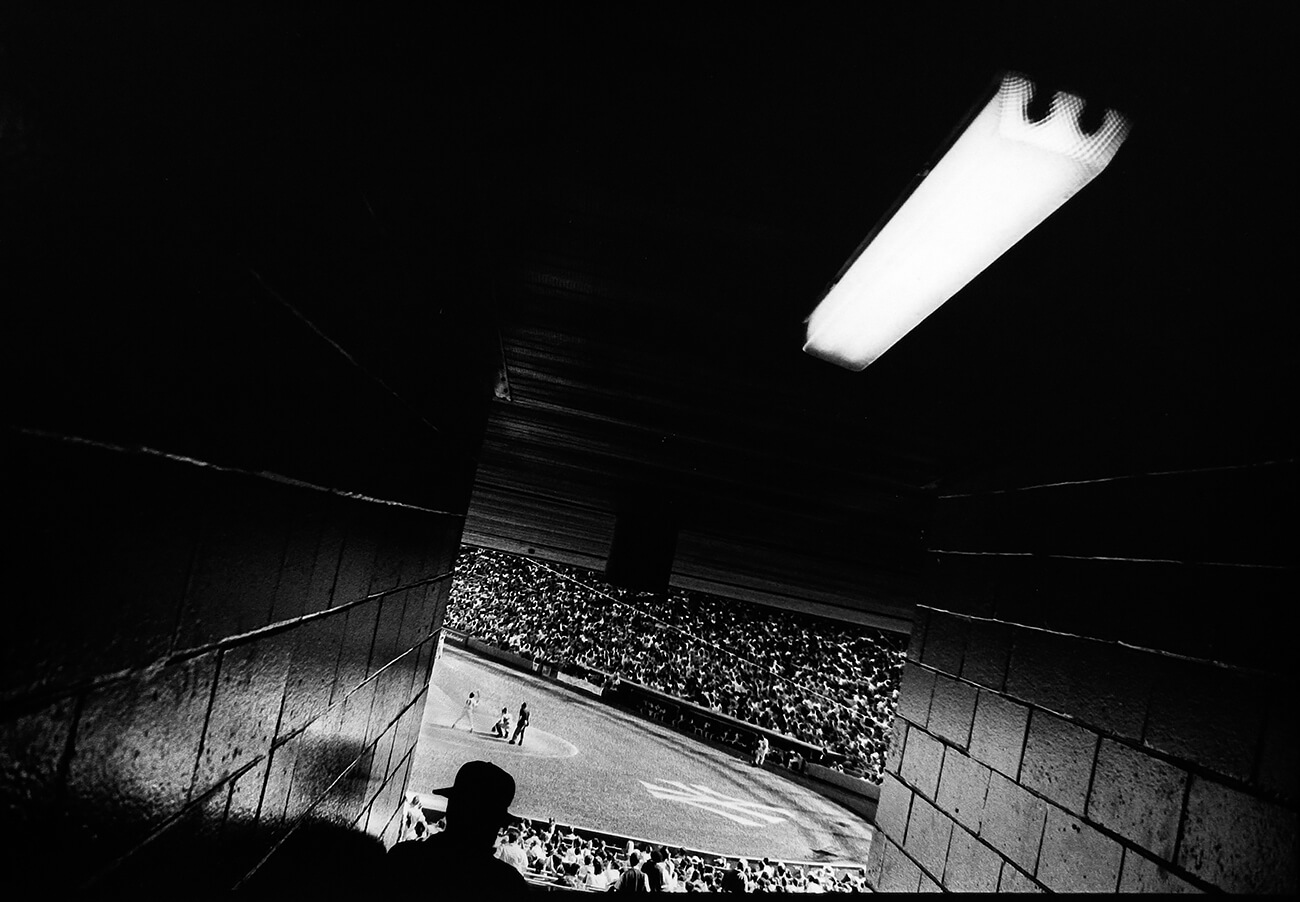 Yankee Stadium - 2005 ©Michael Ruggiero
This image was taken at old Yankee Stadium's in its final days. Everyone and everything has significance in itself and in relationship to its surroundings. I am always looking for that feeling of harmony between a scene's geometry and its emotional contents.
Anonymous Citizens
is a life-long project of people and places at the most basic level.
Jacque Rupp (United States)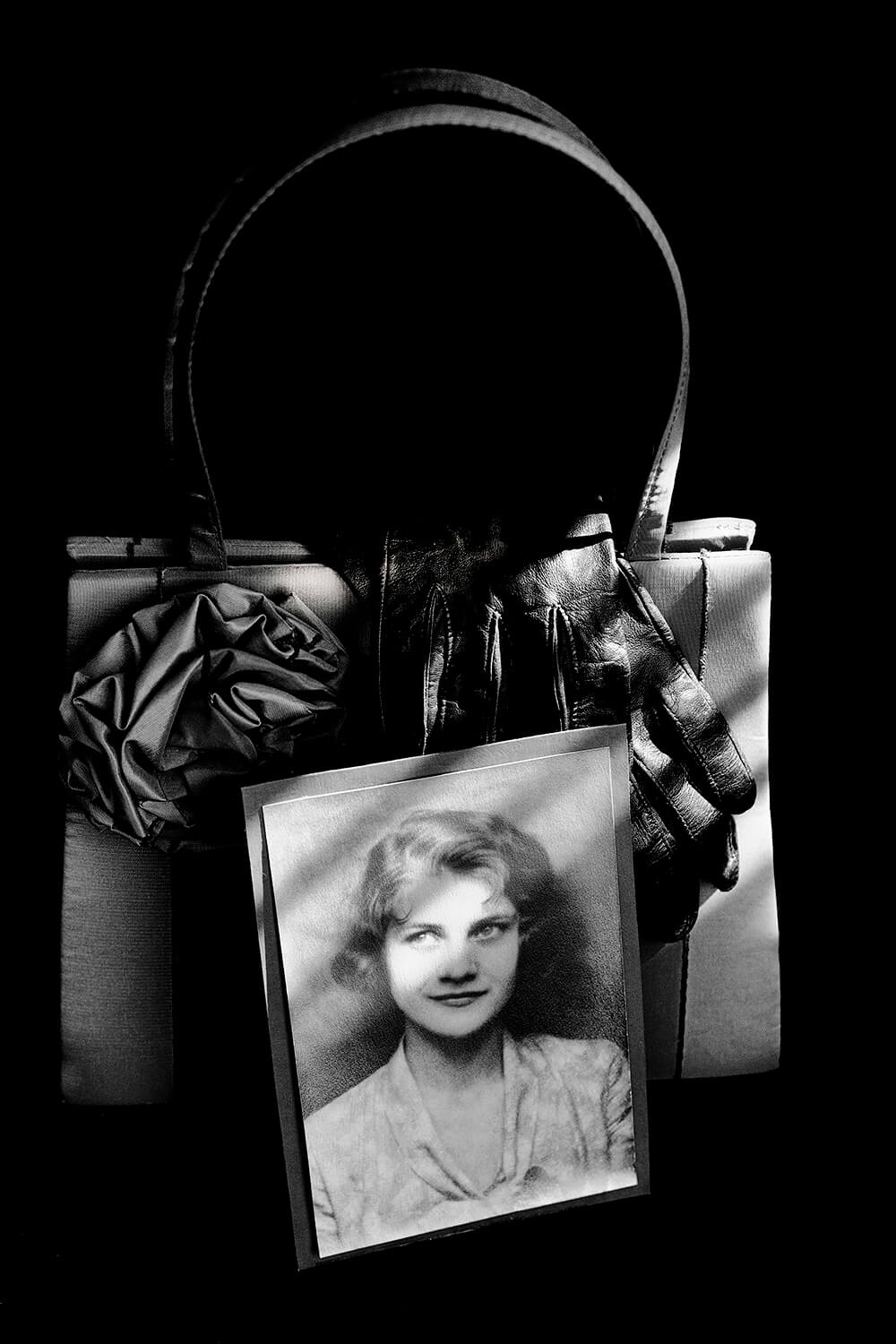 Agnes drove her 3 young children across the country at the beginning of the war. No interstates, no maps, just sheer determination.
Outliers
is a project that explores the roots of my feminine strength and feelings of disconnection using mid-century archival photographs.
In 2020, I began looking through my photographic archive and I was struck by images of women whose strength came forward. They were adventurous and courageous and lived their lives quite differently than others. Realizing these figures were my foundation, I began to collect more photographs of others like them, other outliers. I chose to give these images a new life by combining them with objects and clothing, bringing each of my subjects' stories forward for future generations.
Through this work, I was also reminded that with this lifestyle also came a sense of loneliness and anxiety, and often feelings of isolation and disconnection. Building a sense of connection to women like me has helped me understand myself better and expanded my notion of family.
All about Jacque Rupp
Jefferson Lankford (United States)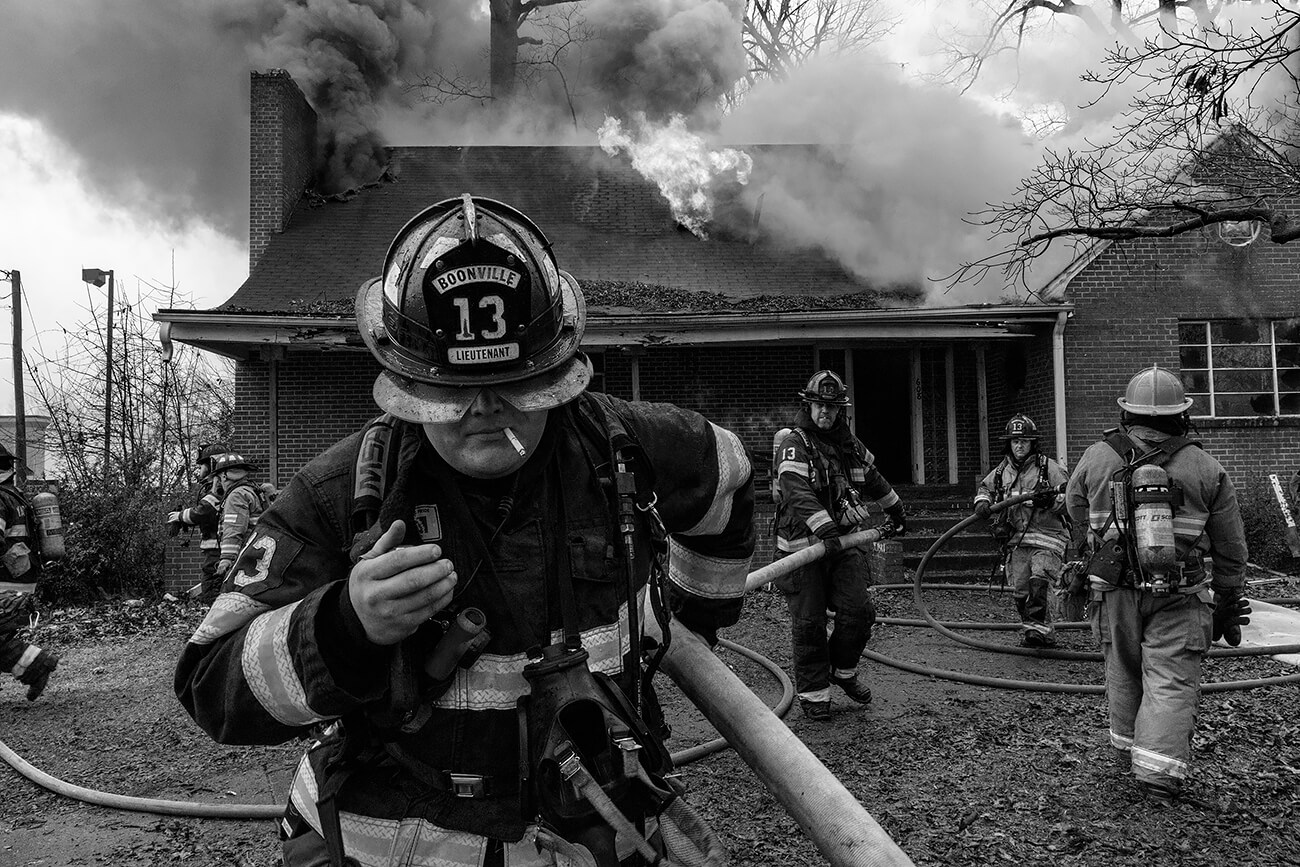 Firefighters work to extinguish a house fire in rural North Carolina. USA, 2019 © Jefferson Lankford
To Be, Rather Than to Seem
The American South has an essence that sparingly reveals itself, thus requiring unprecedented determination and patience to photograph all its splendor. Nevertheless, and despite its elusiveness, this essence I am chasing - permeates; it lingers in the air of North Carolina, and when discovered, puts on a magnificent display. Over the past three years, I have traveled throughout many impoverished towns and across countless acres of farmland to document and share an original story of existence - life and death as it occurs in rural North Carolina. These four selected photographs represent a glimpse of my long-term ongoing project, To Be, Rather Than to Seem - _which provides a window for others to witness these fleeting moments for themselves and to embrace the beautiful raw essence of my homeland.
All about Jefferson Lankford
To Be, Rather Than to Seem
Eric Elmore (United States)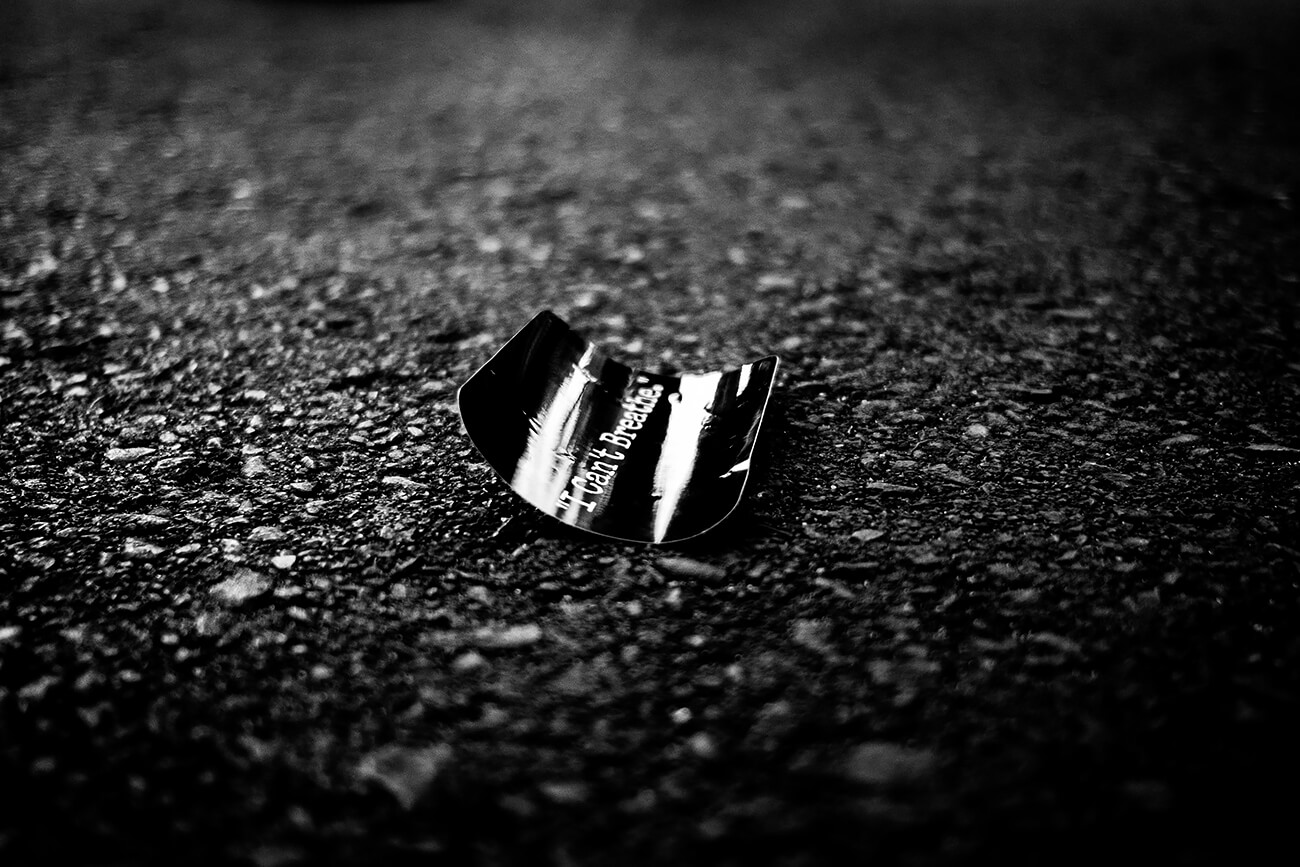 I Can't Breathe © Eric Elmore
'I CAN'T BREATH'E became an anthem at the numerous BLACK LIVES MATTER protests in Phoenix, AZ during the Summer of 2021.
Pierre Delaunay (France)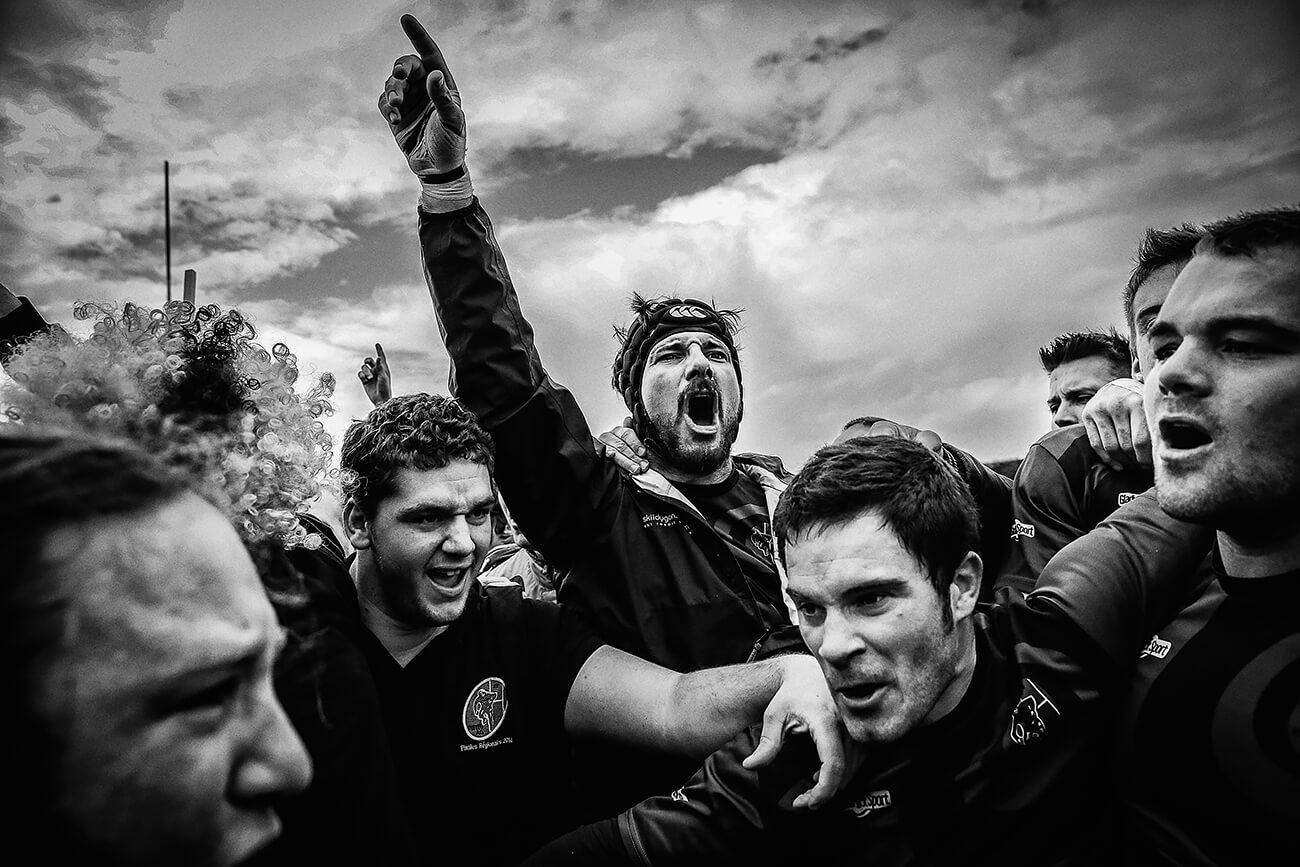 Victory © Pierre Delaunay
Alexej Sachov (Ukraine)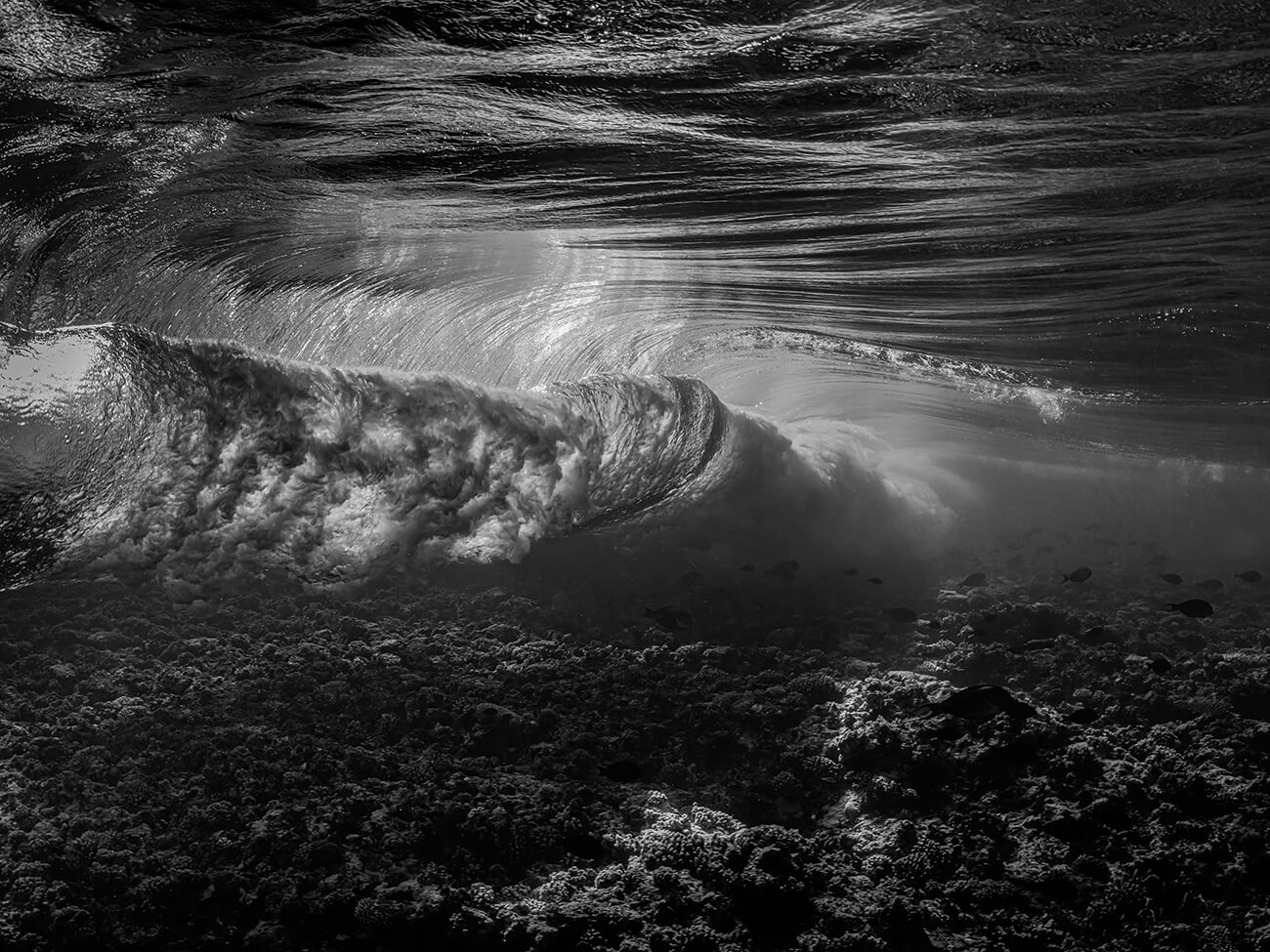 The storm is coming © Alexej Sachov
Mood Changes of the Sea
Most of the wave photographs are taken above water from a shore. This series was taken on scuba dives, requiring a lot of safety precautions. The photos depict the similarity between the world above and underwater. When humans would start to see those similarities and love both worlds deeply and equally, there would be still a chance of preventing more environmental pollution and harm inflicted to animals and nature.
Terése Conway (United States)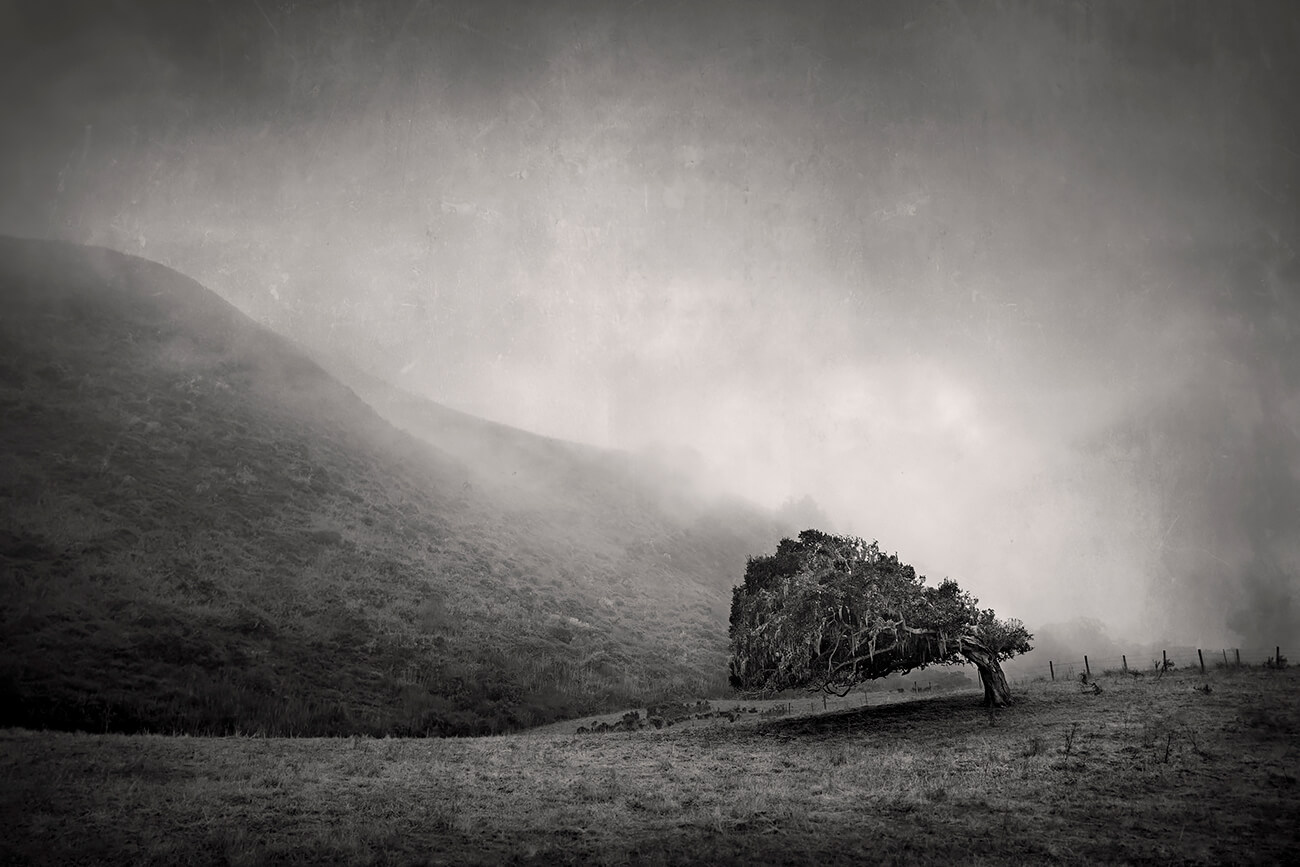 The Valley © Terese Conway
Exposed
Driven to capture the mist, I followed it round the bend one morning, through the pass, and into the valley. I was inspired by the ethereal atmosphere and sense of timelessness. By adding texture and dimension reminiscent of the collodion wet plate process, I aimed to create a sense of exposure.
All about Terése Conway
Ivan Ferrer (Israel)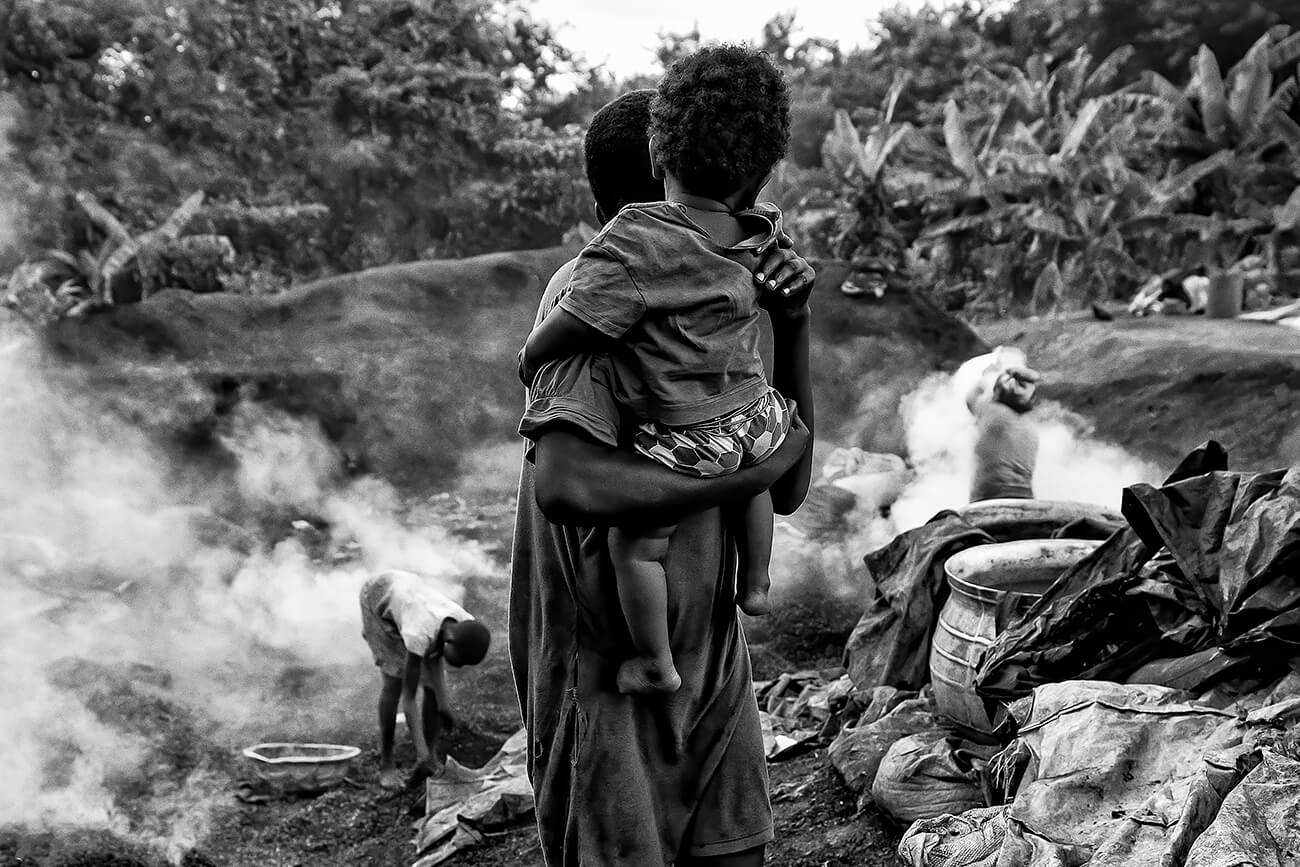 Working Mother and Children © Ivan Ferrer
The Traditional Palm Oil Manufacturers of Koforidua
Whilst in Ghana I came across a location in Koforidua where they manufacture palm oil by applying an age-old traditional method. The fruit is separated from the stalk and then boiled in large drums. It is then pounded in a mortar which leaves a mixture of pulp and kernels. The kernels are then separated from the pulp, water is added and the fibres are shaken over in the sludge until an oily foam floats to the top which is boiled in order to obtain a refined final product. The smoke is overwhelming. The fires are created by burning old car tyres which poses a real health hazard to the workers, both adults and children, who work day after day in the pungent smoke without protective masks.
Jon Wollenhaupt (United States)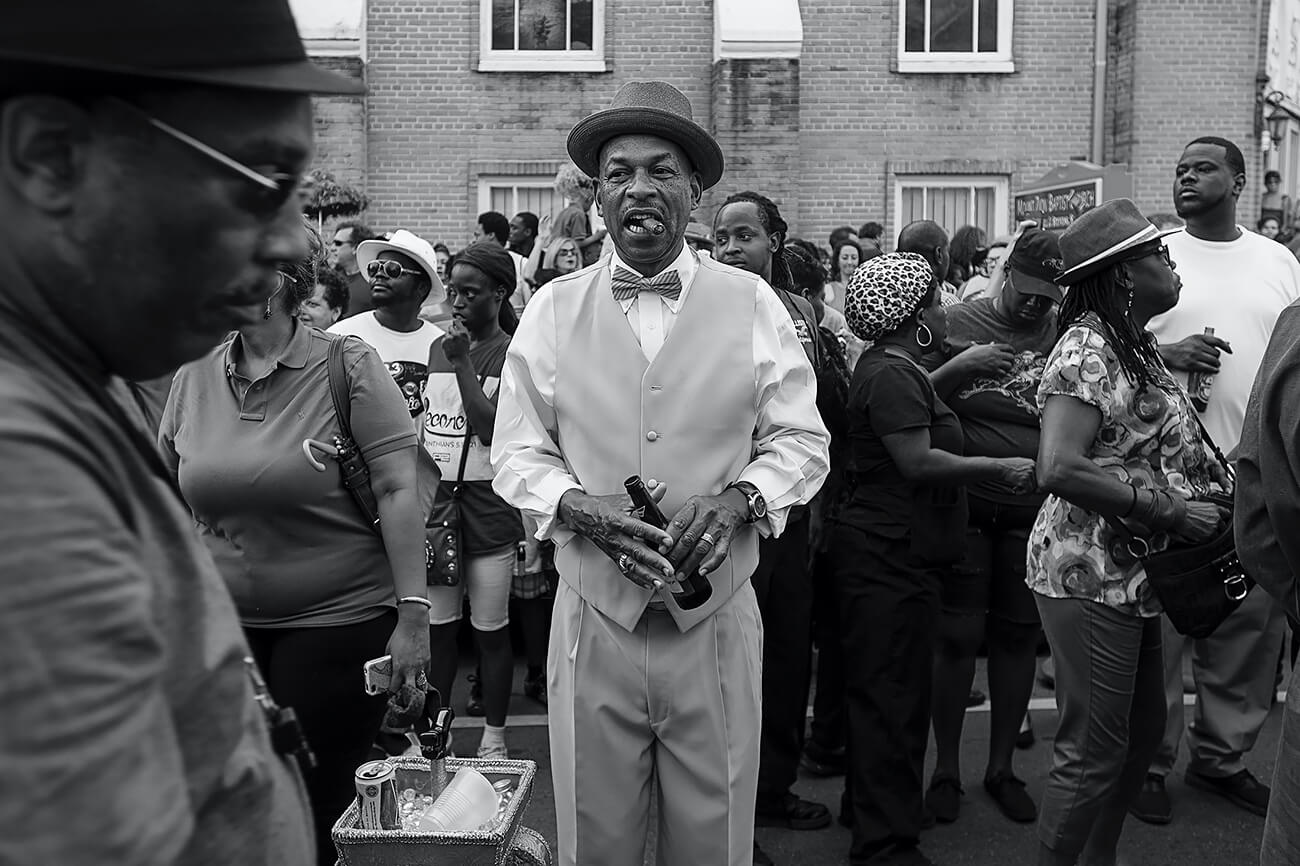 Man with Cigar © Jon Wollenhaupt
Mourning in the Treme
This series documents a second line parade, which is an element of a jazz funeral procession that is composed of two parts: The main or "first line" that includes the parade leader, the brass band and the krewe or club with which the band is affiliated, and members of the funeral party. The "second line" is made up of spectators-friends of the deceased, neighbors, and even tourist-who follow the main line dancing, partying, and reveling in the moving spectacle. A second line often give the appearance of a being block party on the move.
The second line I documented took place in the historic Faubourg Tremé-one of oldest African American neighborhoods in the U.S. and home to Congo Square, an area where enslaved blacks were allowed to congregate on Sundays to play music and sell goods. The Tremé is the birthplace of jazz and is considered the most culturally influential neighborhood in New Orleans. Famous residents of the include Buddy Bolden, Louis Armstrong, Sidney Bechet, Troy "Trombone Shorty" Andrews, and anti-segregation activist Homer Adolph Plessy.
Ari Jaaksi (Findland)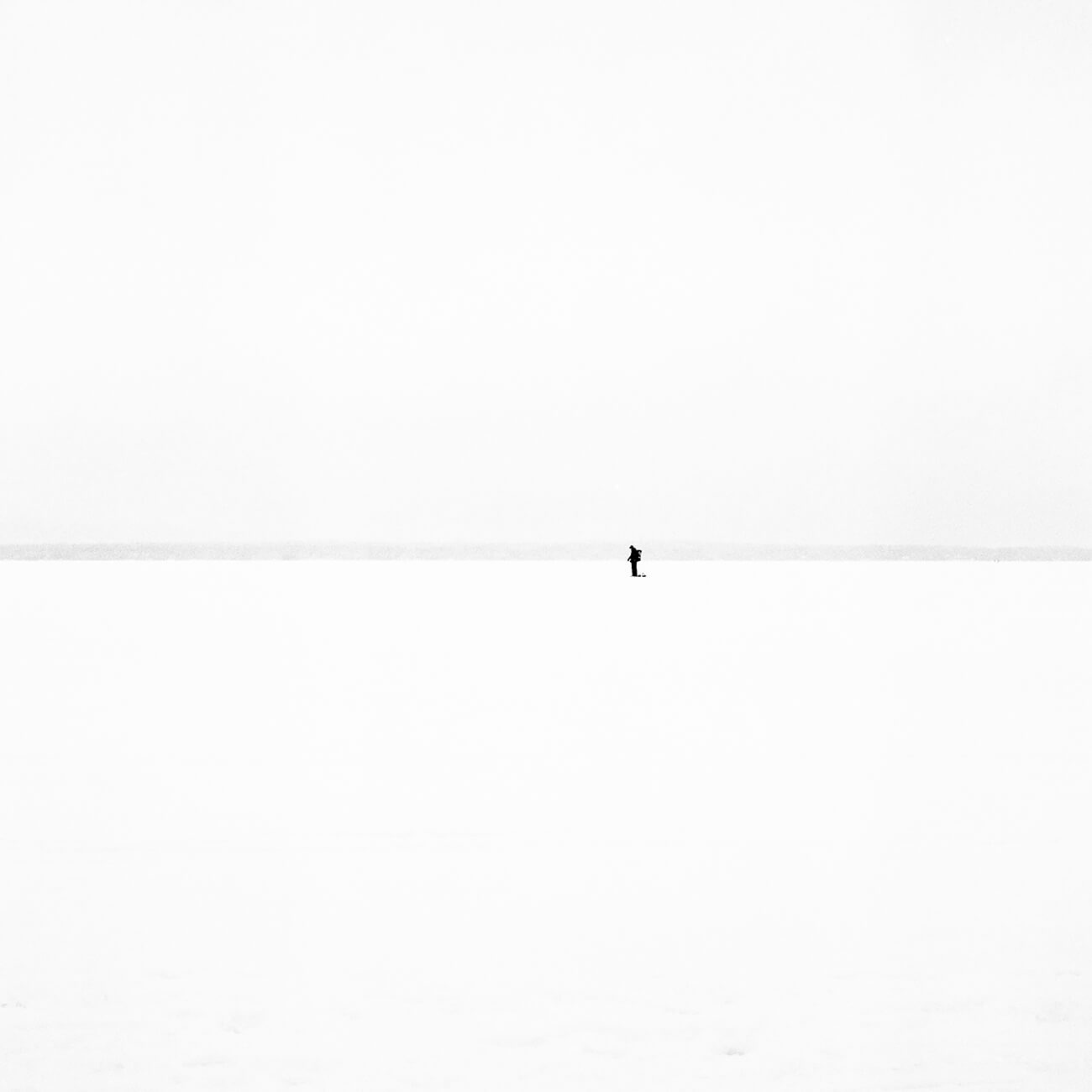 Frozen lake
. Minus 20 degrees Celcius. Nothing moves. No sound. Ice fishing is a form of meditation where catching fish is not the main purpose. January 2021, in Tampere, Finland.
Stephen Hoffman (United States)
Melinda © Stephen Hoffman
This is Melinda. I have been photographing her for the last several years. She has had several problems that she is now working through. Melinda is part of my overall project of photographing the people that live in the Coney Island community. The project is called Coney Island beyond the boardwalk.
All about Stephen Hoffman
The winning portfolios will be published in AAP Magazine #18. Coming soon!