"My portraits are about honest moments that display qualities of the human character including wisdom and sensitivity, peace and vulnerability, both joy and tragedy. I seek to make portraits that are driven by one's inner dialog. I'm not interested in poses or performances for the benefit of the camera. I'm interested in what a person is like when they are their most authentic."
- Donald Graham
One of a Kind
(Hatje Cantz, 2021) is the first comprehensive monograph by internationally renowned photographer Donald Graham bringing together over 100 of his stunning portraits spanning a wide cultural and social spectrum. Made in India, Tibet, Jamaica, Mali, Europe and throughout the United States, there is a unique story in every face, punctuated by combinations of strength and vulnerability. Graham writes: "These portraits come from a desire to honor the beauty of uniqueness, character, and imperfection while remaining sensitive to the pain of the human experience. Every life is one of a kind, never to be repeated. These are tough stories told with grace."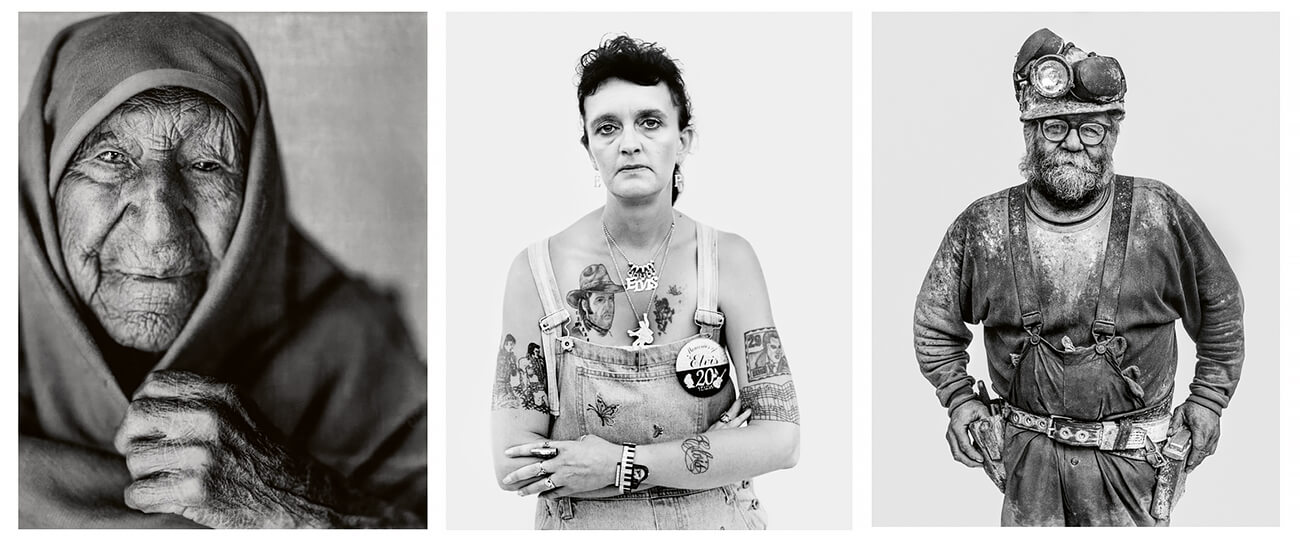 Doroteo at 100 Years Old, Taos, New Mexico / Woman with Elvis Tattoos, Memphis, Tennessee / Molybdenum Miner, Questa, New Mexico / All photographs © Donald Graham
Reproduced in a four-color process, the printed photographs seem almost tangible, fully revealing Graham's outstanding oeuvre. To mark the occasion of the release of
One of a Kind
, the Michael McCormick and Sons Gallery in Taos, New Mexico, where Graham lives for part of the year, will host a book signing for him on Saturday, June 12 from 5-8pm.
One of a Kind
began more than 30 years ago when Graham decided to make a portrait of his mother. She had Multiple Sclerosis, compounded by a severe stroke. Her body was ravaged, and she could barely speak, yet she lived with a gracefulness, an inner peace, and a smile that inspired her son. He took a photograph of her that "revealed who I knew her to be and honored the complexity of her situation. Her portrait began this series of photographs. It became the standard by which I judged all subsequent photographs I made."
In his essay, noted curator, writer, and educator Colin Westerbeck writes eloquently on Graham's portrait of his mother, as well as other subjects, including the largest single community from which subjects for
One of a Kind
were drawn: Taos, New Mexico. "In part the attraction of Taos was its history as a haven for artists like Georgia O'Keeffe and Paul Strand in the pre-war era...More importantly for Graham, the attraction was that, as he puts it, 'Taos has three separate cultures; you have an Anglo-American culture, a Spanish-American culture, and a Native American culture...I wanted to photograph all three cultures.' Most important was that the culture of Taos also provided Graham with a very special chance for his photographs to be made in the service of a charitable cause...'Non-Violence Works.' Along with counseling, guidance, mentoring and gang resistance for youth at risk, the organization offers domestic violence rehabilitation...Over ten years, Graham photographed more than 500 local people, from gardeners to senators."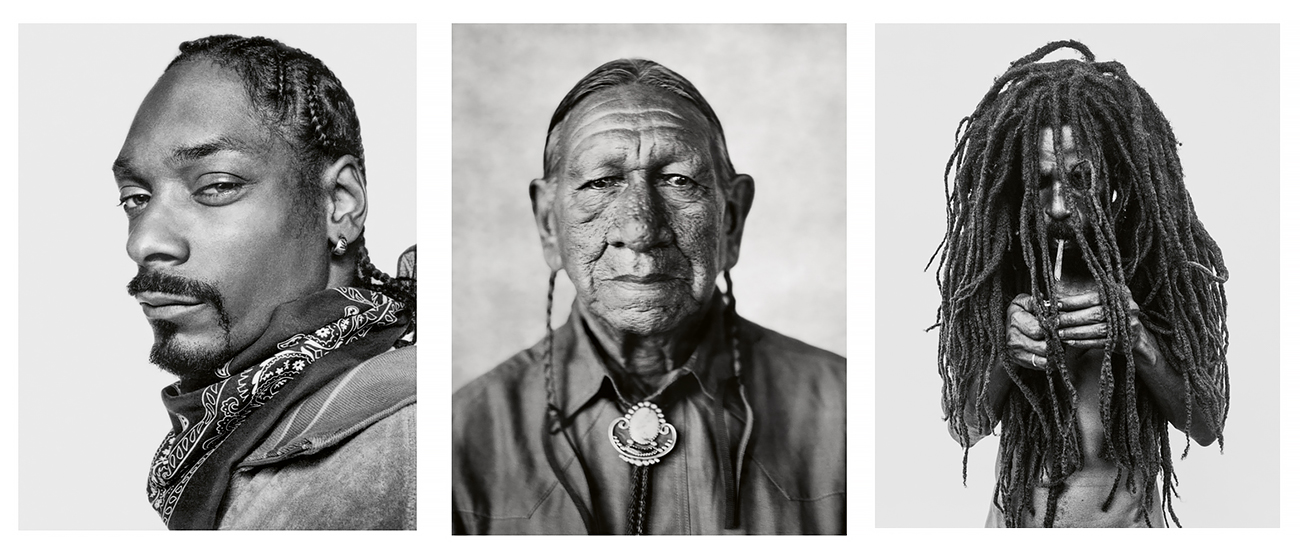 Snoop Dogg, Los Angeles, California / Bobby Lujan, Taos, New Mexico / Rastafarian Smoking A Joint, Jamaica / All photographs © Donald Graham
In the book's foreword, Casey Woods, a former writer and columnist at
The Miami Herald
, describes a shoot she attended with Graham out of which came one of his most famous portraits: Boy with Bible, Little Rock, Arkansas. "After the church service we stood out front in the late summer blaze of Arkansas sun. I watched the little boy step up on the white background, clutching his Bible. 'Do you want me to smile?', he said, staring wide-eyed at the camera lens. 'Just be yourself", Don said. The boy's face flooded with relief and he stood a little taller, gazing at Don evenly. I held my breath as I watched them together, knowing it would be one of the best pictures of the shoot."
While the focus of the book is on regular people that Graham met during his extensive travels,
One of a Kind
also presents a selection of noted citizens, among them: performers Aidan Quinn, Snoop Dogg and Lenny Kravitz, photographer Gordon Parks, writer James Elroy and, from the George W. Bush presidency, Secretary of Defense Donald Rumsfeld and Vice-President Dan Quayle.
In an era of divisiveness, One of A Kind is a story in photographs of the great diversity that we find in this world, told in a way that recognizes the common struggles and triumphs that we each experience.
The book is edited by the renowned Los Angeles gallerist and curator
David Fahey.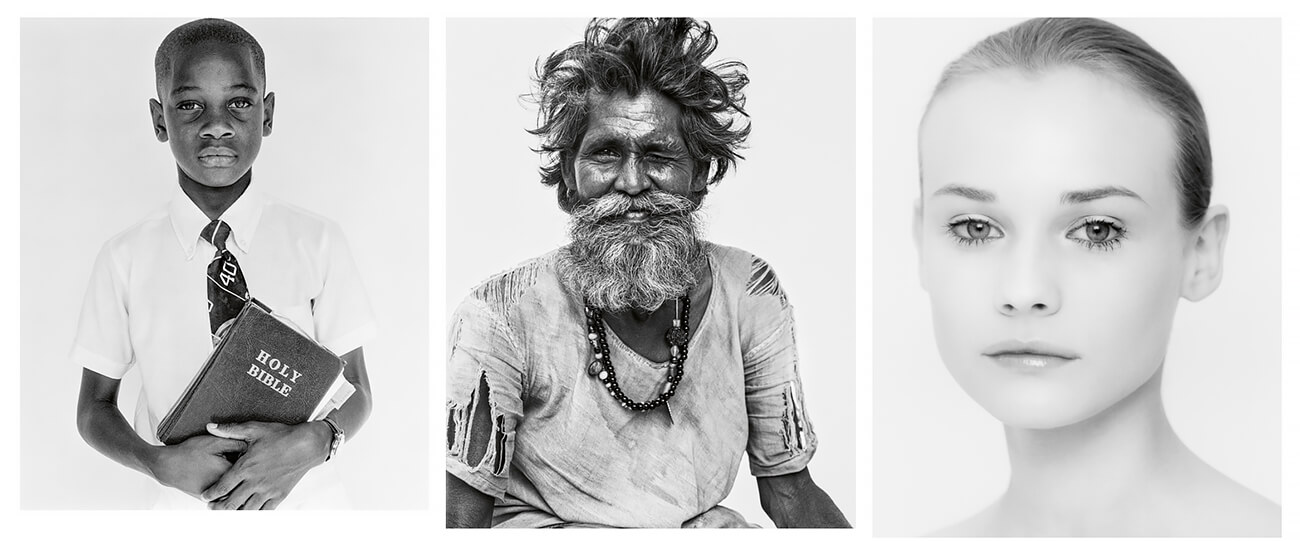 Boy with Bible, Little Rock, Arkansas / Winking Indian, Delhi, India / Diane Kruger, Paris, France / All photographs © Donald Graham
About the Photographer:
Donald Graham
is an internationally recognized portrait, fashion, and fine art photographer. His work is in the Metropolitan Museum of Art in New York and the International Center of Photography. His photographs have appeared in over 400 publications, he has done advertising campaigns for numerous Fortune 500 companies and Graham's photographs have been exhibited in New York, Los Angeles, Paris, and Munich. Graham began his career in Paris as a fashion photographer. He then shifted his work to New York and Los Angeles where he broadened his photography to include portraiture for the movie, music, magazine, and advertising industries and began devoting significant time to fine-art. During his career, Graham has expanded his unique point of view with extensive travels through Europe, India, Tibet, Africa, and southeast Asia. He has received awards from Nikon, Hassleblad, Communication Arts, the American Society of Magazine Photographers, among others.
oneofakind.donaldgraham.com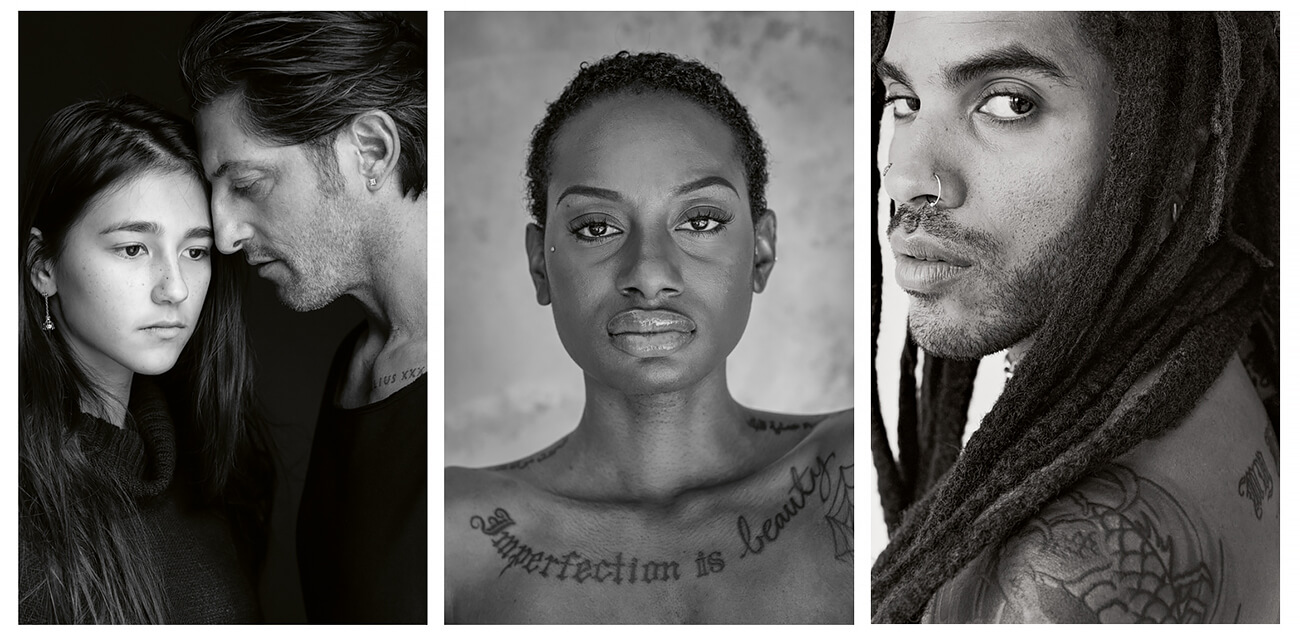 Tony Ward and Daughter, Los Angeles, California / Janicia, Los Angeles, California / Lenny Kravitz, New York City, New York / All photographs © Donald Graham