American Photographer | Born: 1913 - Died: 1954
On 3 December 1938 Picture Post introduced 'The Greatest War Photographer in the World: Robert Capa' with a spread of 26 photographs taken during the Spanish Civil War. But the 'greatest war photographer' hated war. Born Andre Friedmann to Jewish parents in Budapest in 1913, he studied political science at the Deutsche Hochschule für Politik in Berlin. Driven out of the country by the threat of a Nazi regime, he settled in Paris in 1933. He was represented by Alliance Photo and met the journalist and photographer Gerda Taro. Together, they invented the 'famous' American photographer Robert Capa and began to sell his prints under that name. He met Pablo Picasso and Ernest Hemingway, and formed friendships with fellow photographers David 'Chim' Seymour and Henri Cartier-Bresson. From 1936 onwards, Capa's coverage of the Spanish Civil War appeared regularly. His picture of a Loyalist soldier who had just been fatally wounded earned him his international reputation and became a powerful symbol of war. After his companion, Gerda Taro, was killed in Spain, Capa travelled to China in 1938 and emigrated to New York a year later. As a correspondent in Europe, he photographed the Second World War, covering the landing of American troops on Omaha beach on D-Day, the liberation of Paris and the Battle of the Bulge. In 1947 Capa founded Magnum Photos with Henri Cartier-Bresson, David Seymour, George Rodger and William Vandivert. On 25 May 1954 he was photographing for Life in Thai-Binh, Indochina, when he stepped on a landmine and was killed. The French army awarded him the Croix de Guerre with Palm post-humously. The Robert Capa Gold Medal Award was established in 1955 to reward exceptional professional merit.
Source Magnum Photos
Agency: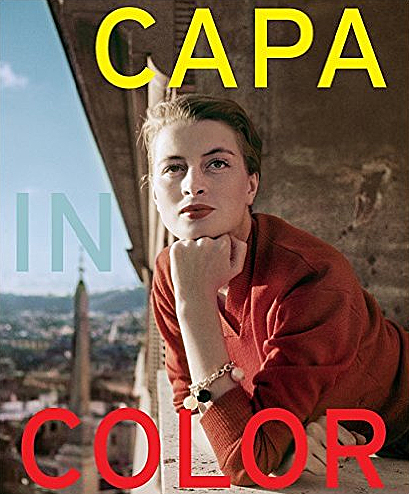 Author: Cynthia Young
Publisher: Prestel USA
Year: 2014 - Pages: 208
Famed photojournalist and founder of Magnum Photos, Robert Capa was primarily known for his black-and-white images. But after World War II he turned increasingly to colour, fulfilling assignments for a variety of popular magazines such as Life and Holiday. This volume reproduces Capa's colour images in a wide variety of forms including prints, magazine spreads, book jackets, and other ephemera, revealing the photographer at a point in his career when his role as director of Magnum required that he keep up with current technology - both as a business decision and a way of capturing new assignments. This book also features a contextualising essay by International Center of Photography curator Cynthia Young, travel writings by Capa and assignment collaborators John Steinbeck and Irwin Shaw, and brief essays providing background on various pieces of reportage.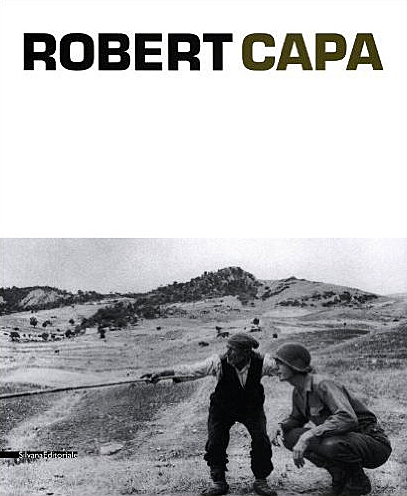 Author: Robert Capa
Publisher: Silvana Editoriale
Year: 2012 - Pages: 144
Even in his lifetime, Robert Capa was described as the greatest war photographer in the world. It was an ironic achievement for a man who loathed war, but to this day, no one better embodies the photographer as cultural soldier and no one's work better encapsulates the violence and brutality of the twentieth century than Capa. This volume presents a rich selection of his work as a war photographer, starting from the images that established his fame: his documentation of the horrors of the Spanish Civil War from 1936-1939 and the Chinese resistance to the Japanese invasion in 1938. It continues on to World War II--including Capa's stunning photographs of the D-Day landing in Normandy, where on June 6, 1944, he swam to shore alongside the second assault wave of American troops--and on to the first Arab-Israel conflict in 1948, before concluding with the First Indochina War, in which Capa joined a French regiment and eventually lost his life. Today, the wars of the twentieth century may have transformed from wounds into scars, but Capa's images remain as devastating as ever, describing the trauma of war through a civilian's eyes, and reminding us that despite years of loss and destruction, humanity manages to persist.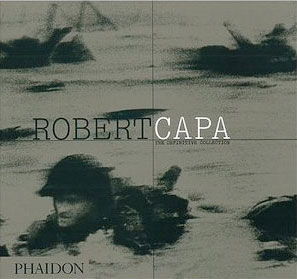 Author: Richard Whelan
Publisher: Phaidon Press, Incorporated
Year: 2004 - Pages: 572
This book represents the most definitive selection of Robert Capa's work ever published, a collection of 937 photographs selected by Capa's brother, Cornell Capa (himself a noted Life photographer), and his biographer, Richard Whelan, who meticulously re-examined all of Robert Capa's contact sheets to compile this master set of images.