American Photographer | Born: 1928
William Klein (born in New York, New York, USA, on April 19, 1928) is a photographer and filmmaker noted to for his ironic approach to both media and his extensive use of unusual photographic techniques in the context of photojournalism and fashion photography. He was ranked 25th on Professional Photographer's Top 100 Most influential photographers.

Trained as a painter, Klein studied under Fernand Léger and found early success with exhibitions of his work. However, he soon moved on to photography and achieved widespread fame as a fashion photographer for Vogue and for his photo essays on various cities. Despite having no training as a photographer, Klein won the Prix Nadar in 1957 for New York, a book of photographs taken during a brief return to his hometown in 1954. Klein's work was considered revolutionary for its "ambivalent and ironic approach to the world of fashion", its "uncompromising rejection of the then prevailing rules of photography" and for his extensive use of wide-angle and telephoto lenses, natural lighting and motion blur. Klein tends to be cited in photography books along with Robert Frank as among the fathers of street photography, one of those mixed compliments that classifies a man who is hard to classify. The world of fashion would become the subject for Klein's first feature film, Who Are You, Polly Maggoo?, which, like his other two fiction features, Mr. Freedom and The Model Couple, is a satire. Klein has directed numerous short and feature-length documentaries and has produced over 250 television commercials. Though American by birth, Klein has lived and worked in France since his late teens. His work has sometimes been openly critical of American society and foreign policy; the film critic Jonathan Rosenbaum once wrote that Klein's 1968 satire Mr. Freedom was "conceivably the most anti-American movie ever made."

Klein was born into an impoverished Jewish family. Klein graduated from high school early and enrolled at the City College of New York at the age of 14 to study sociology. Klein joined the US Army and was stationed in Germany and later France, where he would permanently settle after being discharged. In 1948, Klein enrolled at the Sorbonne, and later studied with Fernand Léger. At the time, Klein was interested in abstract painting and sculpture. In 1952, Klein had two successful solo exhibitions in Milan and began a collaboration with the architect Angelo Mangiarotti.[7] Klein also experimented with kinetic art, and it was at an exhibition of his kinetic sculptures that he met Alexander Liberman, the art director for Vogue. In 1966, Klein directed his first feature film, Who Are You, Polly Maggoo? He has since directed many others, including the cinéma vérité documentary Grands soirs et petits matins, the 1964 documentary Cassius the Great, re-edited with new footage as Muhammed Ali, The Greatest in 1969, and the satires Mr. Freedom and Le Couple Témoin. A long time tennis fan, in 1982 he directed The French, a documentary on the French Open tennis championship at Roland-Garros. He was awarded The Royal Photographic Society's Centenary Medal and Honorary Fellowship (HonFRPS) in recognition of a sustained, significant contribution to the art of photography in 1999.

In 2012, Klein received the Outstanding Contribution to Photography Award at the annual Sony World Photography Awards in recognition of his work in the field of photography.
Source Wikipedia
Agency:
Gallery: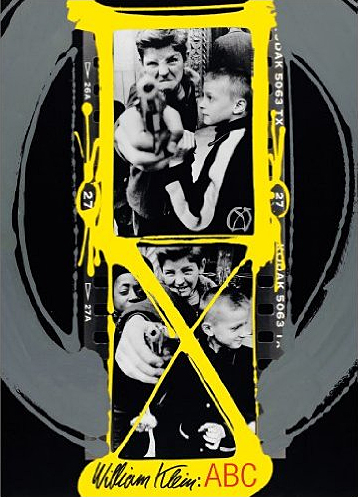 Author: William Klein
Publisher: Harry N. Abrams
Year: 2013 - Pages: 192
Born in New York in 1929, William Klein is one of the leading photographers of the postwar era, as well as an influential filmmaker, painter, and graphic artist. This astonishing book, selected and designed by Klein himself, offers a visual survey of his long and varied career. It includes his poetic street photography of New York, Moscow, Rome, Tokyo, and Paris; his exciting fashion photography; stills and posters from his bitingly satirical films; and his graphically powerful painted contact sheets. Klein, whose achievement puts him on a level with Robert Frank, Richard Avedon, and Irving Penn, lives in Paris and is revered in Europe. This is the first comprehensive book on his work published in the United States in 20 years.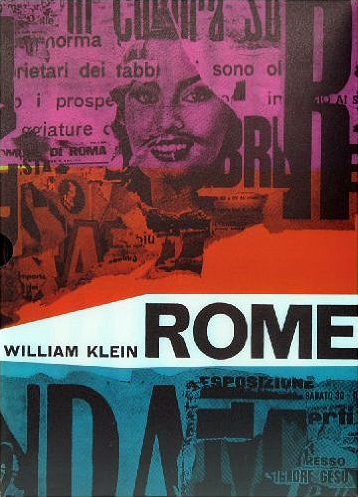 Author: Alberto Moravia, Pier Paolo Pasolini, Ennio Flaiano, William Klein
Publisher: Aperture
Year: 2009 - Pages: 224
In 1956, a 28-year old William Klein arrived in Rome, fresh from the debut of his now classic monograph Life Is Good & Good for You in New York, to assist Federico Fellini on his film Nights of Cabiria. Filming was delayed, and so Klein instead strolled about the city in the company of Fellini, Pier Paolo Pasolini, Alberto Moravia and other avant-garde Italian writers and artists who served as his guides. It was on these walks that Rome, a pioneering and brilliant visual diary of the city, was born. First published in 1959, Klein's Rome features the quirky extended captions that distinguished his New York book, interspersed with observations about the city by Stendhal, Michelet, Mark Twain, Henry James and others. Today it is one of the most celebrated photography books of the twentieth century. To celebrate the fiftieth anniversary of Rome's publication, Aperture (in close collaboration with Contrasto) has produced a revised edition, which includes previously unseen fashion pictures made in Rome and an updated text by the photographer. Redesigned to encompass two volumes in a special PVC slipcase, this new edition offers audiences another chance to celebrate one of the great photobooks. As Fellini said, "Rome is a movie, and Klein did it." After graduating from university, William Klein (born in New York, 1928) settled in Paris and became a painter. He returned to New York in 1954, and made a photographic logbook which was published two years later, and which won him world-wide acclaim: Life Is Good & Good for You in New York (Prix Nadar, 1956). Later, he produced books dedicated to Tokyo, Moscow and Paris. Painter, photographer, moviemaker and graphic designer, Klein currently lives in Paris.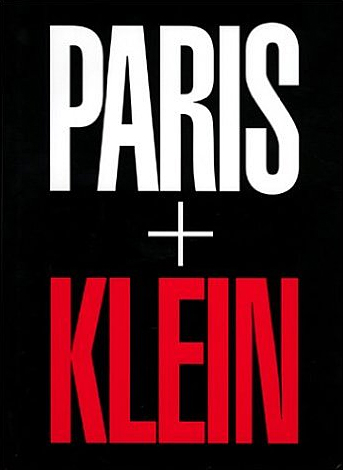 Author: Lane Anthony, William Klein
Publisher: D.A.P./Distributed Art Publishers, Inc.
Year: 2003 - Pages: 346
William Klein always dreamed of living in Paris, like Henry Miller, Gertrude Stein, and other like-minded artists and writers. In 1948, stationed by the United States Army in Paris, he stayed--and fled his family and America to become a painter. He quickly found another family and recognition for his talent. Today, one is tempted, like critic Anthony Lane, to say that he is "the American in Paris." PARIS + KLEIn gathers together hundreds of photographs shot by Klein from the time he first picked up a camera in the 1960s until he put it down, momentarily, to put together this book. In his signature color and black-and-white compositions, jostled to the brim with more information than a single camera lens was ever expected to take in, we find: men in the street, celebrities, demonstrations, fashion, the police, politics, races, the m tro, soccer, death. . .The whole life of a capital seen through the lively, acidic, melancholic, humorous, irnoical, and moving eyes of William Klein.