Global climate change is evident and has noticeable effects on the environment. It affects all regions of the world. The polar ice caps are melting and the level of the oceans is rising. In some regions, extreme weather events and precipitation are becoming more frequent, while others are facing increasingly extreme heat waves and droughts. Many plants and animal species are endangered. Some terrestrial, freshwater and marine species have already moved to new territories. Plants and animals will be in serious danger of extinction if the average temperature of the planet continues to rise uncontrollably.
These effects are expected to intensify in the coming decades. Scientists agree that global temperatures will continue to rise for decades to come, largely due to greenhouse gases produced by human activities.
The Intergovernmental Panel on Climate Change (IPCC)
, which includes more than 1,300 scientists, forecasts a temperature rise of 2.5 to 10 degrees Fahrenheit over the next century.
According to the IPCC, the extent of climate change effects on individual regions will vary over time and with the ability of different societal and environmental systems to mitigate or adapt to change.
With these facts in mind,
All About Photo
has selected photographers who are documenting the consequences of climate change on our beautiful planet and its inhabitants. Thanks to their dedication and courage, we can observe the effects of climate change on all four corners of the world. We believe that their work is key to help climate skeptics open their eyes and minds.
Skepticism is a significant barrier to public engagement when we should all act as one. But if facts and words don't curve their little trust in what they are told, can an image make a difference?
We asked renowned and committed photographers the same simple question:
Do you think that photography can help raise awareness about Climate Change?
Here are their personal and heartfelt answers as well as their astounding images to convey their message.
Ed Kashi
The power of still photography has diminished during the digital age, but make no mistake that images, particularly of climate change, can bring the issue to life in a way that can capture people's imaginations, present vital and often unknown facts and statistics, and particularly for younger generations, make a very powerful impression. Photography can capture the unseen and with factual captions and words to accompany such images, can give people pause, change their minds, prompt them to get involved and engage with the issue. Any one of these impacts is vitally important and serves the larger cause of saving our planet while creating new jobs and improving our Mother Earth and our economies at the same time.
-
Ed Kashi, VII Photo Agency
Ed Kashi
is an acclaimed photojournalist who uses photography, filmmaking, and social media to explore geopolitical and social issues that define our times. He is also a dedicated educator and mentor to photographers around the world and lectures frequently on visual storytelling, human rights, and the world of media.
He has covered topics as diverse as the impact of oil in Nigeria, the protestant community in Northern Ireland, the lives of Jewish settlers in the West Bank, the impact of an aging society through his groundbreaking project, Aging in America, climate change, the plight of Syrian refugees, and the global epidemic of Chronic Kidney Disease among agricultural workers. A sensitive eye and an intimate relationship with his subjects are signatures of his work. A member of
VII Photo Agency
since 2010, Kashi has been recognized for his complex imagery and its compelling rendering of the human condition.
His early adoption of hybrid visual storytelling has produced a number of influential short films and in 2015 he was named Multimedia Photographer of the Year. Kashi's embrace of new approaches to visual storytelling has led to creative social media and printed projects for a range of clients including National Geographic, Open Society Foundations, The New Yorker, MSNBC, GEO Germany, Fortune, Human Rights Watch, International Medical Corps, MediaStorm, NBC.com, New York Times Magazine, Oxfam, Robert Wood Johnson Foundation and TIME magazine. From implementing a unique approach to photography and filmmaking in his 2006 Iraqi Kurdistan Flipbook, to real-time Instagram coverage of Hurricane Sandy for TIME Magazine in 2012, Kashi continues to create powerful imagery and engage with the world in new ways.
A leading voice in the photojournalism world, Kashi frequently lectures on a wide range of topics for arts institutions, universities, schools and professional organizations. His work has been published and exhibited worldwide, receiving numerous awards and honors. Through his editorial assignments and personal projects, Kashi has published nine books, including Curse of the Black Gold: 50 Years of Oil in the Niger Delta, THREE, and Photojournalisms.
In 2002, Kashi in partnership with his wife, writer + filmmaker Julie Winokur, founded
Talking Eyes Media
. The non-profit company has produced numerous award-winning short films, exhibits, books, and multimedia pieces that explore significant social issues. They are currently engaged in a 5-year storytelling project called Newest Americans with Rutgers University in Newark focused on immigration for which they recently received a two-year grant from the National Endowment for the Humanities. Kashi is also on the Board of Directors of the
Catchlight Foundation
.
Ed Kashi's Website
Ed Kashi on Instagram
All about Ed Kashi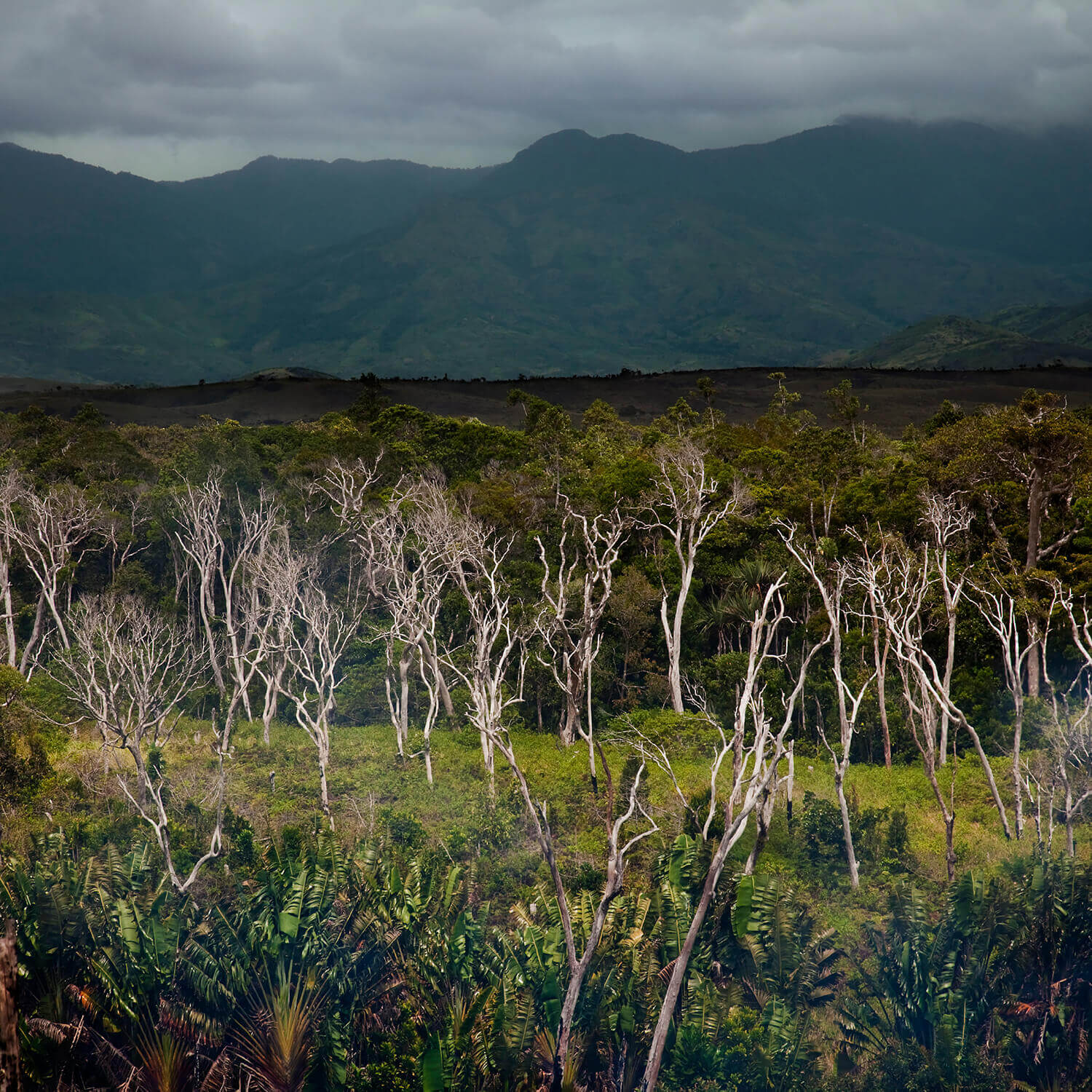 Tavy, or burning of the forest to clear for planting, is illegal but local farmers continue to do this despite the massive reductions of their forests. This tavy is in Manindry Havia. In the distance is one of the few remaining native forests of the region. As the people cut and burn more of their forests, they must go further and further out from their villages to collect wood for their buildings and fires. These images have been made for the 2010 Prix Pictet Commission, working in cooperation with the United Kingdom based NGO, Azafady, to show issues around land, forests and poverty in this region of Madagascar. The purpose of the images and stories collected here are to illustrate the lack of develoment and Azafady's efforts to promote sustainable development to improve the lives of the people and how the land is used.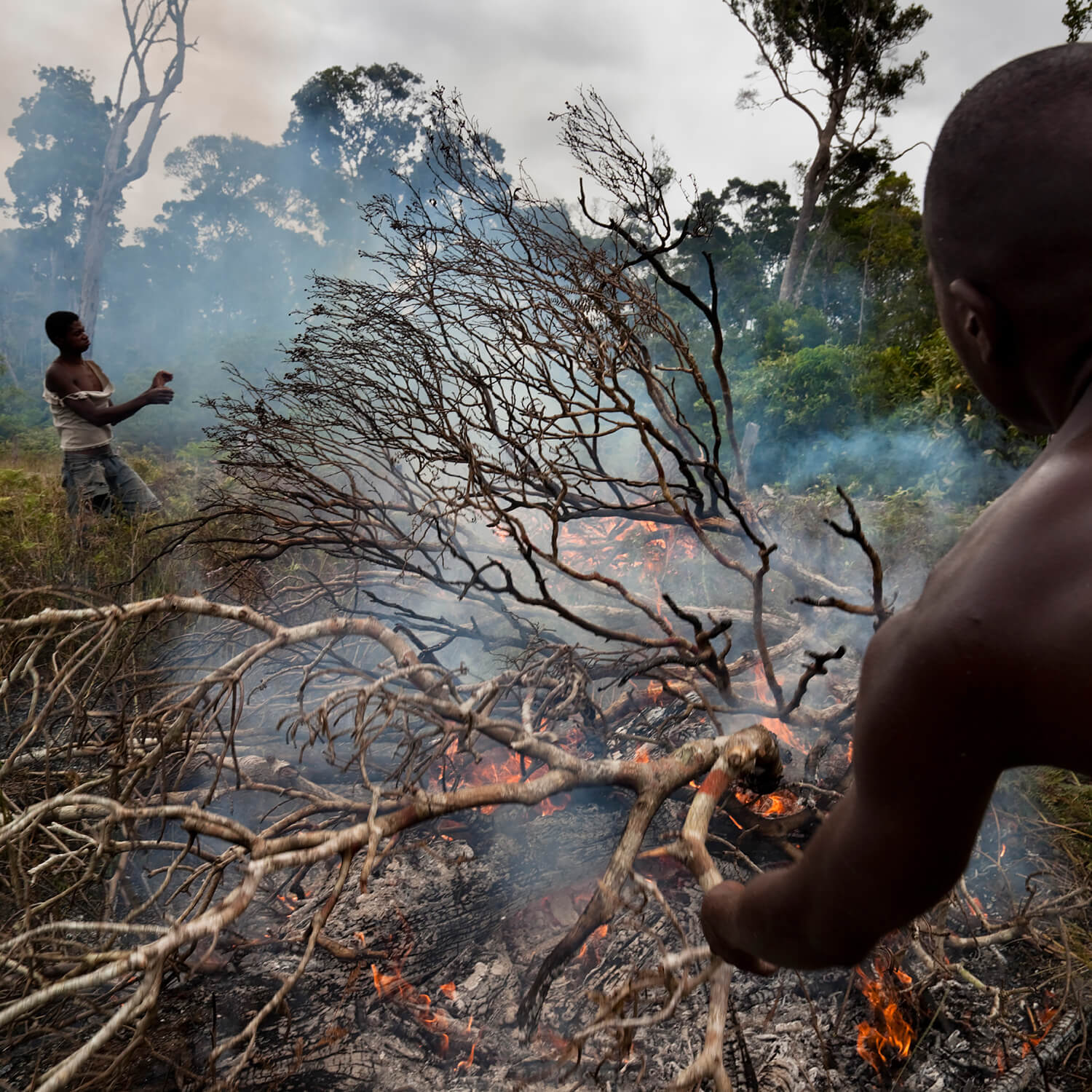 Tavy, or burning of the forest to clear for planting, is illegal but local farmers continue to do this despite the massive reductions of their forests. This tavy is in Analavinaky. These images have been made for the 2010 Prix Pictet Commission, working in cooperation with the United Kingdom-based NGO, Azafady, to show issues around land, forests, and poverty in this region of Madagascar. The purpose of the images and stories collected here is to illustrate the lack of development and Azafady's efforts to promote sustainable development to improve the lives of the people and how the land is used.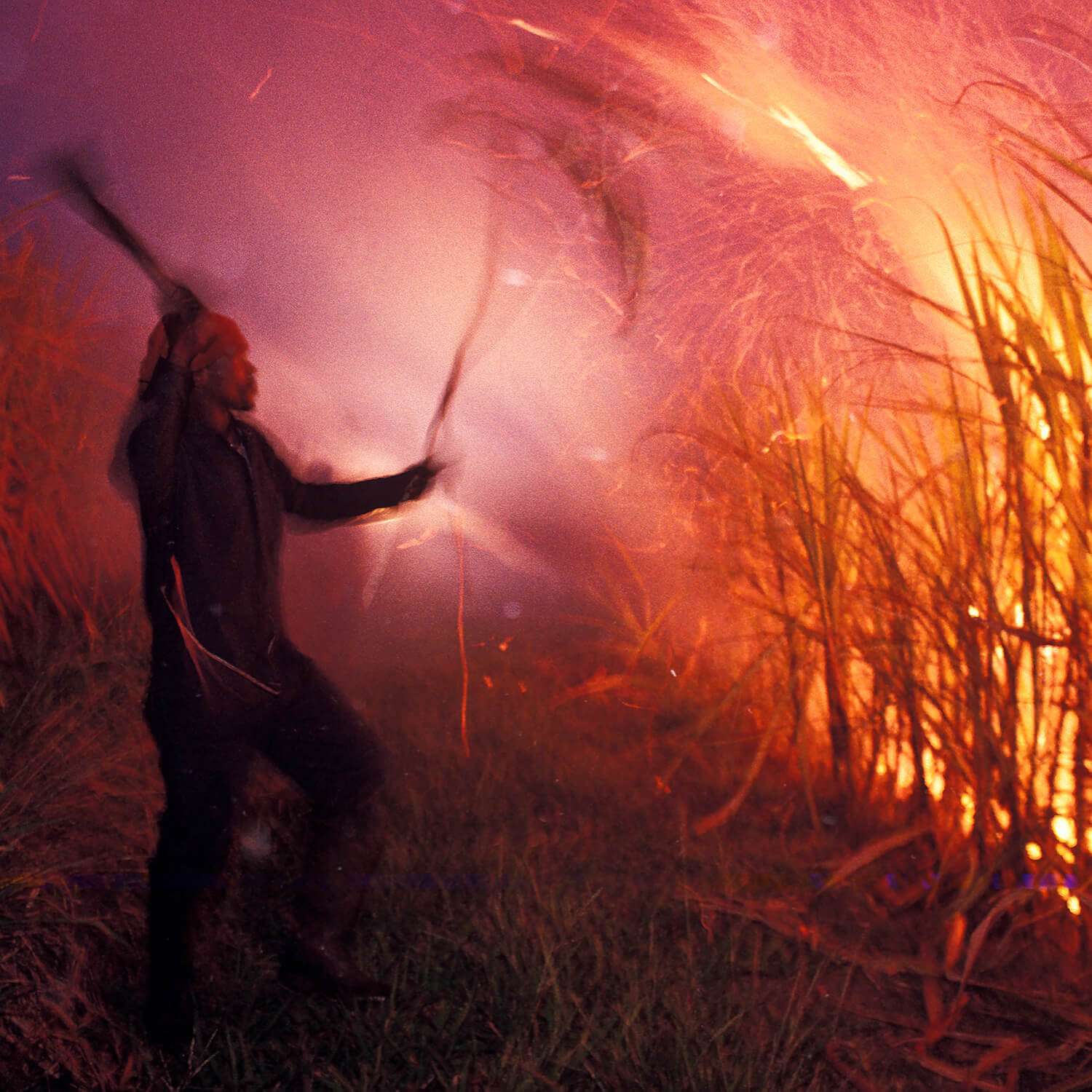 Tradition and change for the Zulu people of South Africa, in 1998. Sugar cane fields near Melmoth are cut down and burned off after the harvest. The Zulus are South Africa's most populous nation, with nearly 10 million of the country's 33 million blacks. They are also its most martial tribe: In the past twenty years, as many as 20,000 Zulus have died in factional fighting. Today, the tribe is trapped in apartheid's legacy of violence and poverty.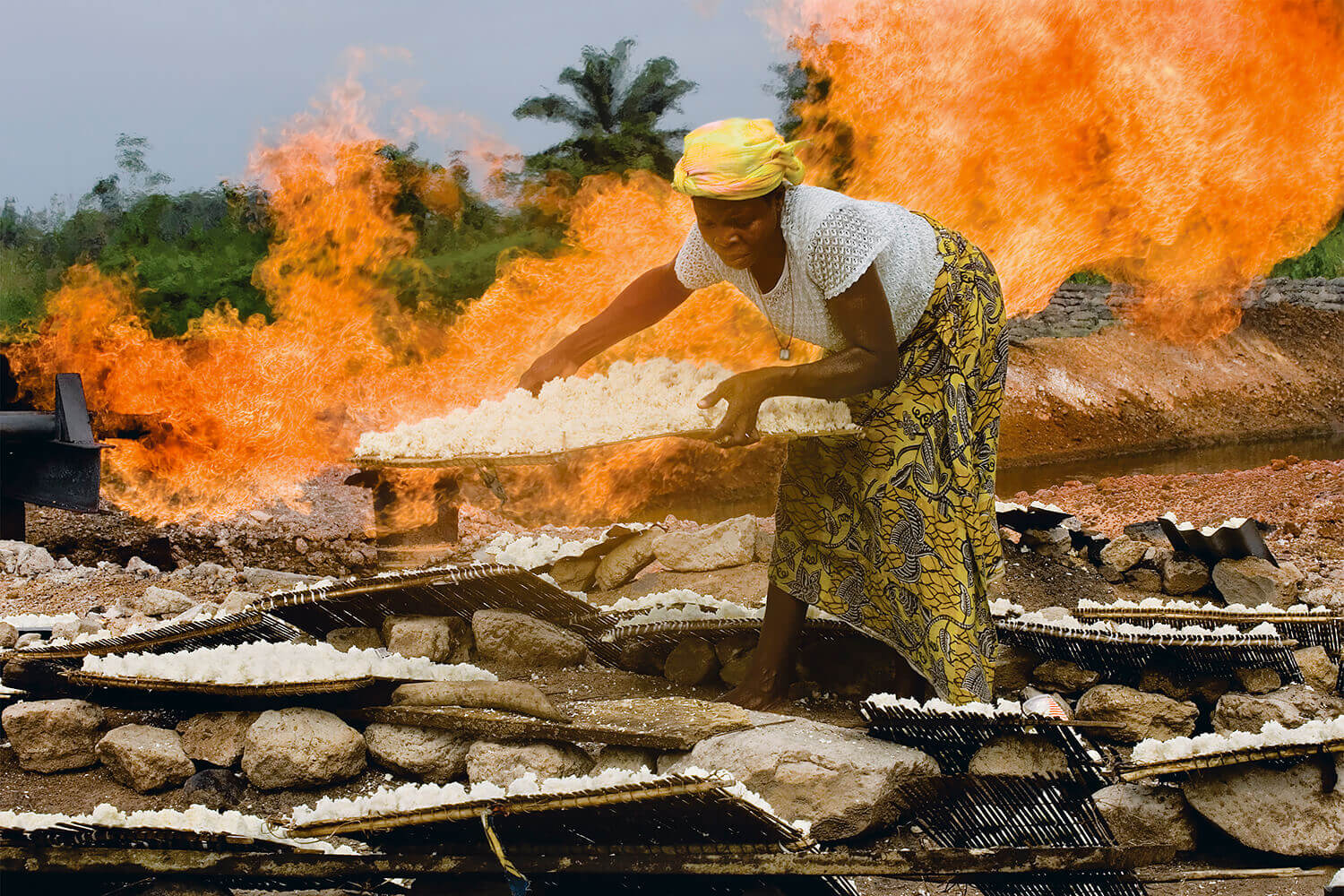 In the oil town of Afiesere, in Warri North district of the Niger Delta, local Urohobo people bake 'krokpo-garri', or tapioca in the heat of a gas flare. Since 1961, when Shell Petroleum Development Company first opened this flow station, residents of the local community have worked in this way. Life span is short for these people, as pollutants from the flare cause serious health problems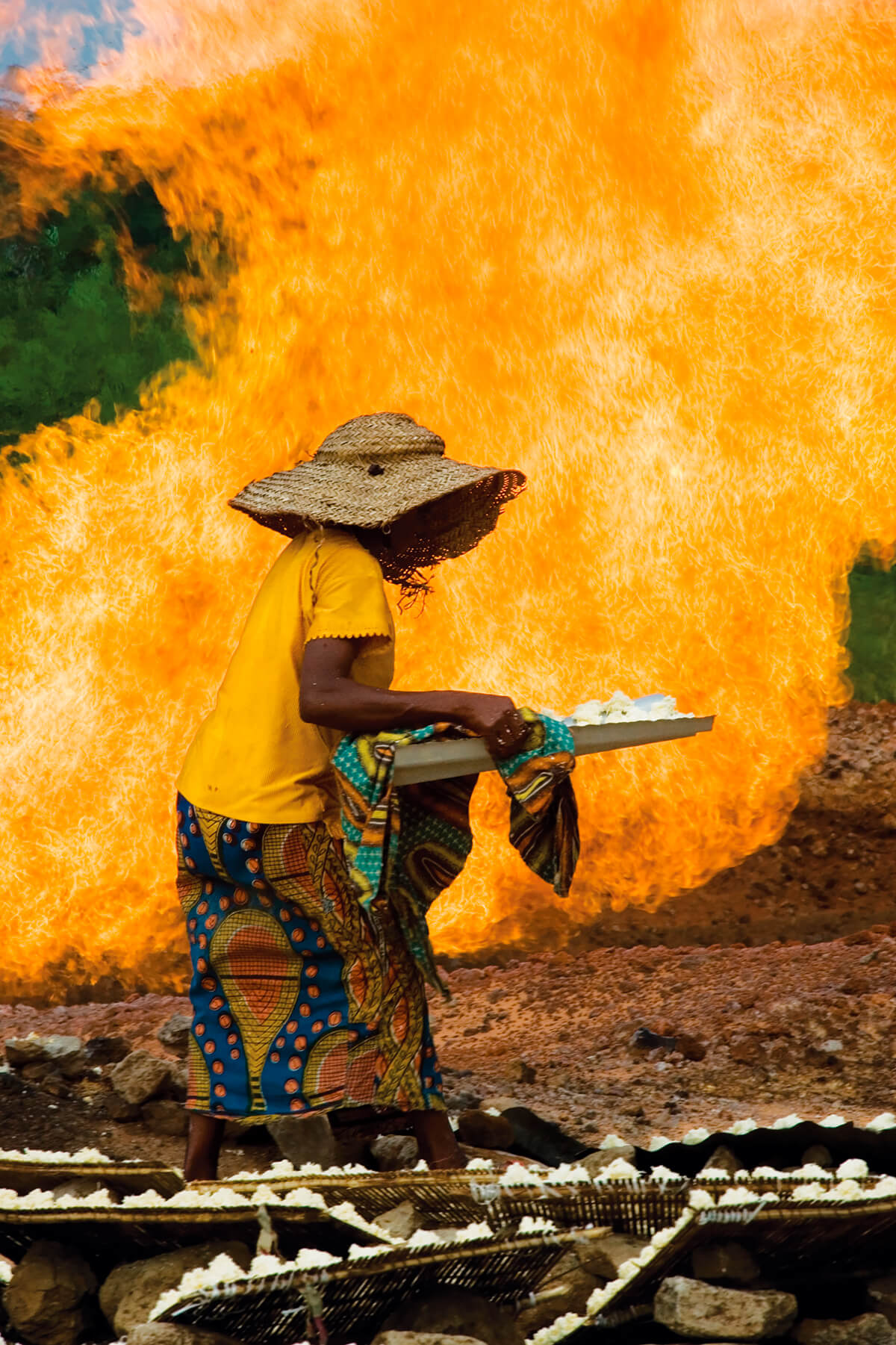 In the oil town of Afiesere, in Warri North district of the Niger Delta, local Urohobo people bake 'krokpo-garri', or tapioca in the heat of a gas flare. Since 1961, when Shell Petroleum Development Company first opened this flow station, residents of the local community have worked in this way. Life span is short for these people, as pollutants from the flare cause serious health problems.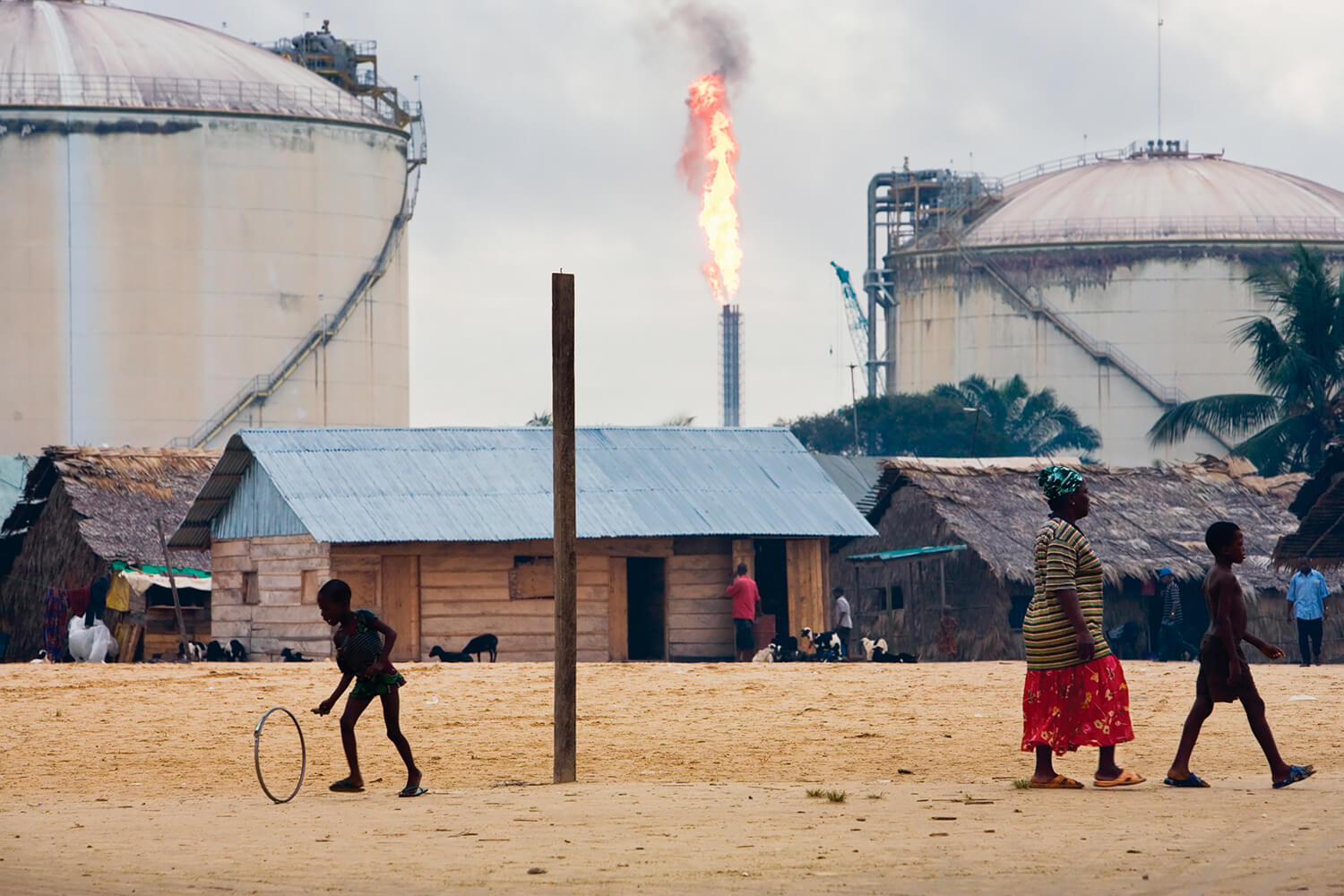 Daily life scenes in Finima, with the Mobil Exxon Gas plant close behind, which is a community of displaced people on Bonny Island. This scene is in the fishing village of Finima, which is a newly relocated community caused by the rapid growth of the Nigerian Liquified Natural Gas plant on Bonnie Island. None of the locals are given work within any of the gas and oil facilities on Bonnie Island, which has caused widespread resentment and frustration.
Sean Gallagher
Photography has the power to educate, inform and inspire action with regards to climate change. Through thoughtful and meaningful photography, images have the ability to take the viewer to the heart of the story and help them understand the intricacies of the causes, effects, and solutions to the climate crisis. Photographers have a key role to play in helping to communicate the issues surrounding climate change and inspiring action amongst viewers, in whatever form they choose to take.
-
Sean Gallagher, National Geographic Image Collection
My name is
Sean Gallagher
, a British photographer and filmmaker who has been in Asia for over a decade. I am based in Beijing, China.
From the Tibetan Plateau to the Indonesian archipelago, I specialize in covering the Asia-Pacific region, documenting its most important environmental, social and cultural issues for some of the world's leading news outlets.
I create photographic, video, and multimedia projects that highlight individual's stories from communities that are affected by issues such as climate change, biodiversity loss, pollution, desertification, and deforestation.
I am a 7-time recipient of the Pulitzer Center on Crisis Reporting travel grant, my images are represented by the National Geographic Image Collection and I am a Fellow of the UK Royal Geographical Society.
I graduated in Zoology from university in the United Kingdom and it is my background in science that has led to much of my work being focused on communicating environmental issues through visual storytelling.
Sean Gallagher's Website
Sean Gallagher on Instagram
All about Sean Gallagher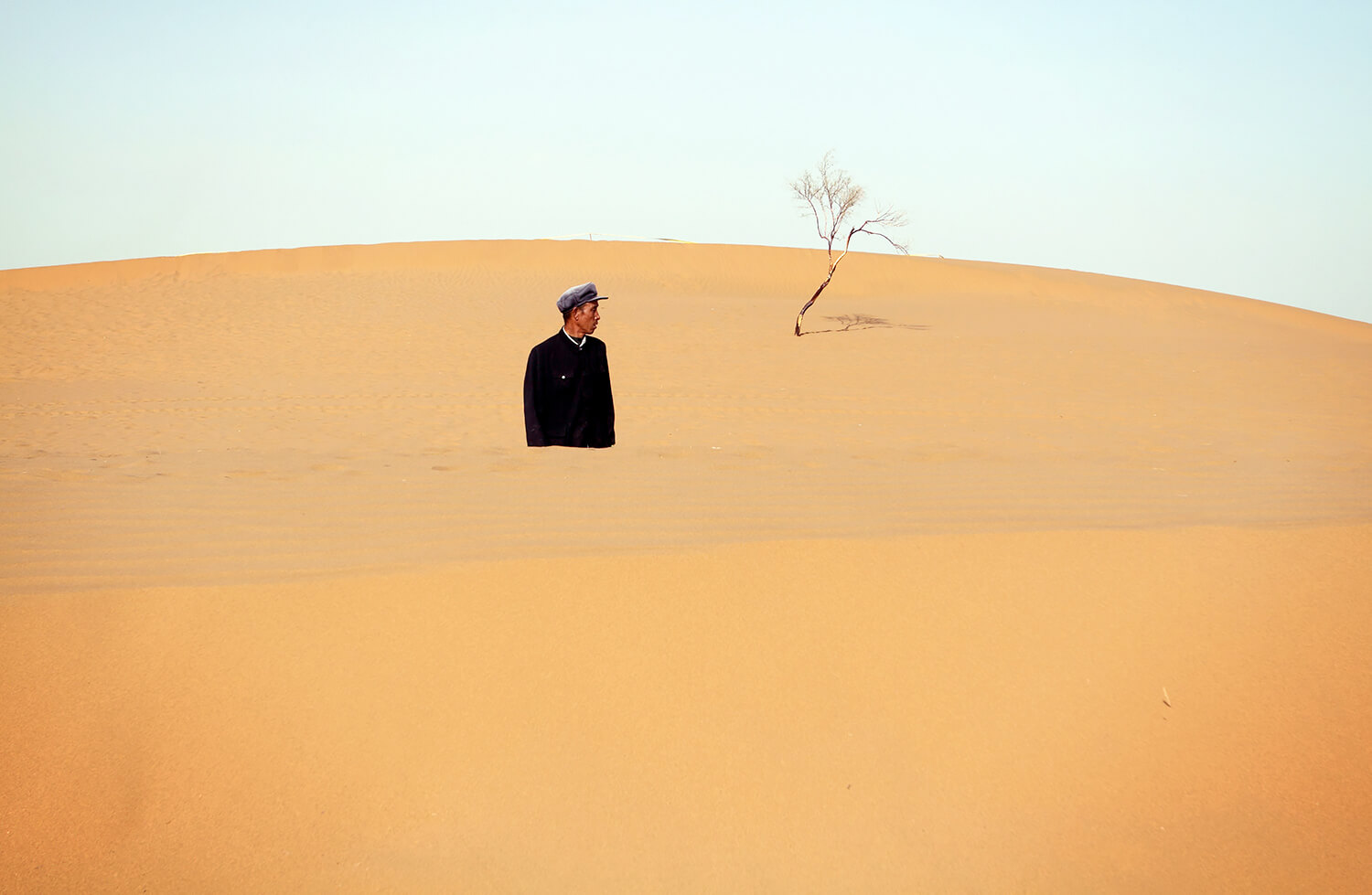 © Sean Gallagher, National Geographic Image Collection
Desertification in Asia: A man walks amongst the dunes of the Tennger desert, near the Shapotou desert resort in Ningxia Province.
John Novis
The role of photography in a climate emergency is essential to raising awareness. As far back as 1990's photographers were documenting evidence of sea level rise, creating comparison pictures of archive glacier images with current viewpoint showing disappearing trends and highlighting political events such as the Kyoto Protocol. At this time pictures, with exception of science journals, were only picked up by press agencies and distributed through to a sceptical media. Fast forward to today and social media sites and platforms are feeding a global audience with daily extreme weather events and climate impacts happening as they unfold, and importantly, showing a massive youth culture at odds with their future. The images are forcing a fierce debate between government, industry and environmental groups. There is, however, a danger of climate image fatigue if the same forest fires, melting artic, wild weather and even protest images keep ever circulating. It is the job of all concerned people against climate change to create new situations, events and creativity that allows photography to keep the emergency evermore firmly an emergency.
-
John Novis
John Novis
's photographic career started in London in the 1960's when he began working as an assistant to many renowned photographers from Vogue, Apple Corps (Beatles), top fashion, advertising and industrial photographic studios. In the 1980's he worked primarily as a commercial freelance photographer during which time he completed at 3 year university 'Creative Photography' course under the direction of Thomas Joshua Cooper and Paul Hill. John became increasingly interested in turning his photographic skills into reportage and in 1989 he joined Greenpeace where he began working as a photographer and image adviser. This enabled him to highlight critical environmental situations using his photographs and to use his expertise for more ethical communication. John was made Head of Photography at Greenpeace International, and directed photo operations for the key campaign visual projects, such as: Amazon - illegal logging; Yunnan - the Chinese rice company; the Climate Crisis – the Drying of the Yellow River; Vanishing Everest Glaciers; Climate and Poverty in the Province of Gansu, China; The Production of Palm Oil in Indonesia's Riau province and recently Forest Solution projects. In 2001 he took three months off to work on his personal project – a testimony to the largest known Hindu pilgrimage, Khumb Mela. He also collaborated on many successful publications, including the nuclear industry in Russia by the Dutch photographer Robert Knoth and in 2005, the famous book Exposure (Bhopal): Portrait Of A Corporate Crime by Raghu Rai of Magnum Photos: Prince's Rainforest Project with Daniel Beltra. In addition, John organised photo master-classes for Greenpeace China in Beijing, worked on the jury CHIPP (China International Photojournalism Competition) in 2007 and was a member of the Fotopub jury in Slovenia in 2008. In 2009 John was also on the jury of the Czech Competition Štíty Viléma Heckla and later in the year guest speaker for Wild Photos at the Royal Geographic society. In 2012 John ran a photo workshop and curated a renewable energy exhibition at the Angkor Photo Festival in Siem Reap, Cambodia. Presently he is working on photo projects to prevent Arctic oil exploration, forest solutions, sustainable agriculture and climate impact stories.
John Novis' Website
John Novis on Instagram
All about John Novis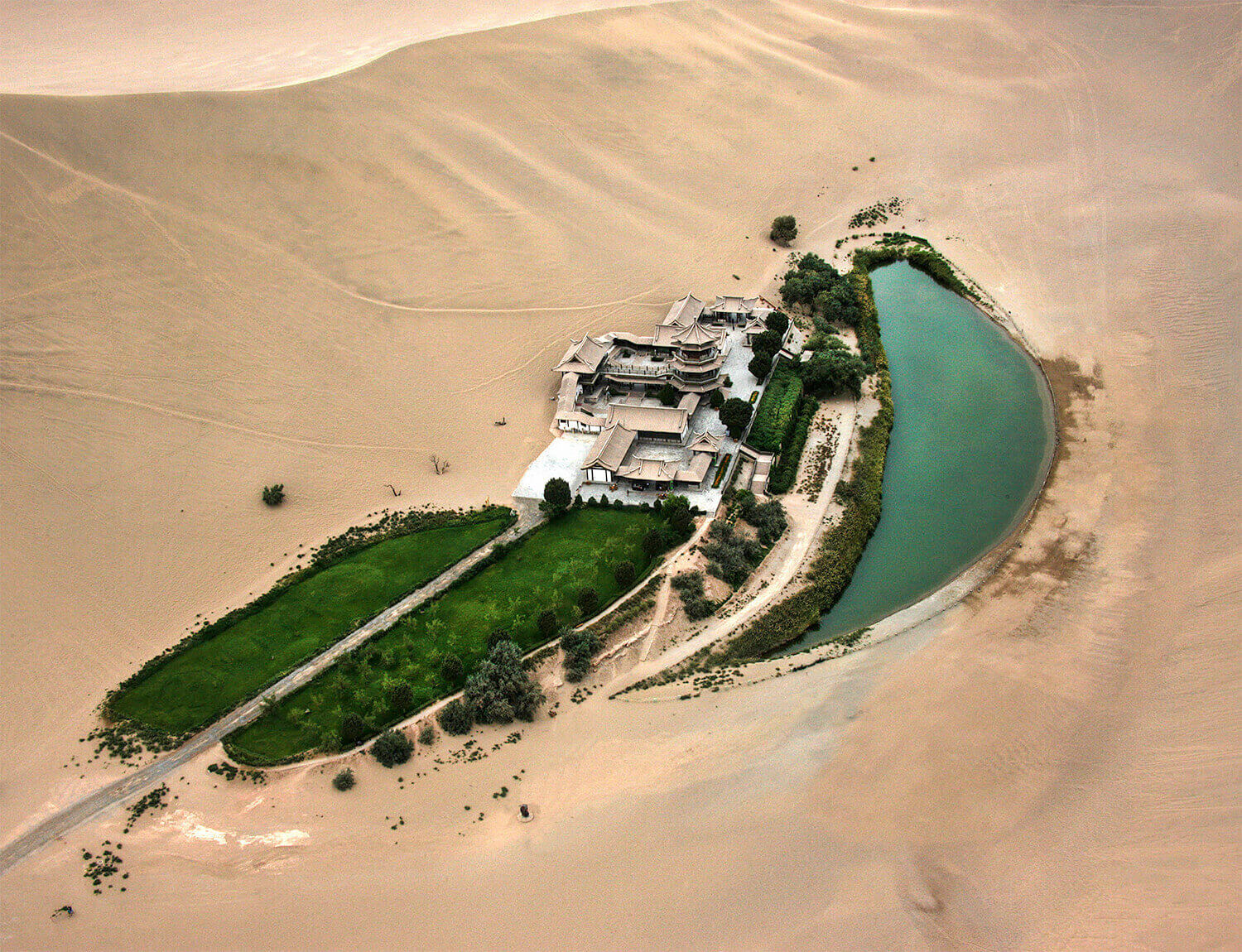 Crescent Moon Spring Along the Silk Road.(2009) About 6 kilometers south of Dunhuang City, Gansu, China and surrounded by the Echoing Sand Mountain, Crescent Moon Spring is an oasis in the desert. The formation of the lake resulted from a geological peculiarity and natural wonder. The topography of the sand dunes force the incoming desert winds to spiral before finally retreating in an easterly direction. Thus, the sands do not smother the spring. The natural harmony between the spring and the dunes has attracted visitors for many years and eventually becoming a World Heritage Site. However since the 19¬70's owing to climate change, tourism and industrialization the lake started to shrink dramatically in size and depth. Concerned scientists and environmentalists are looking at a change in glacial melt from the distant Qilian Mountains that feeds the Dang River as a likelihood for the disappearing lake.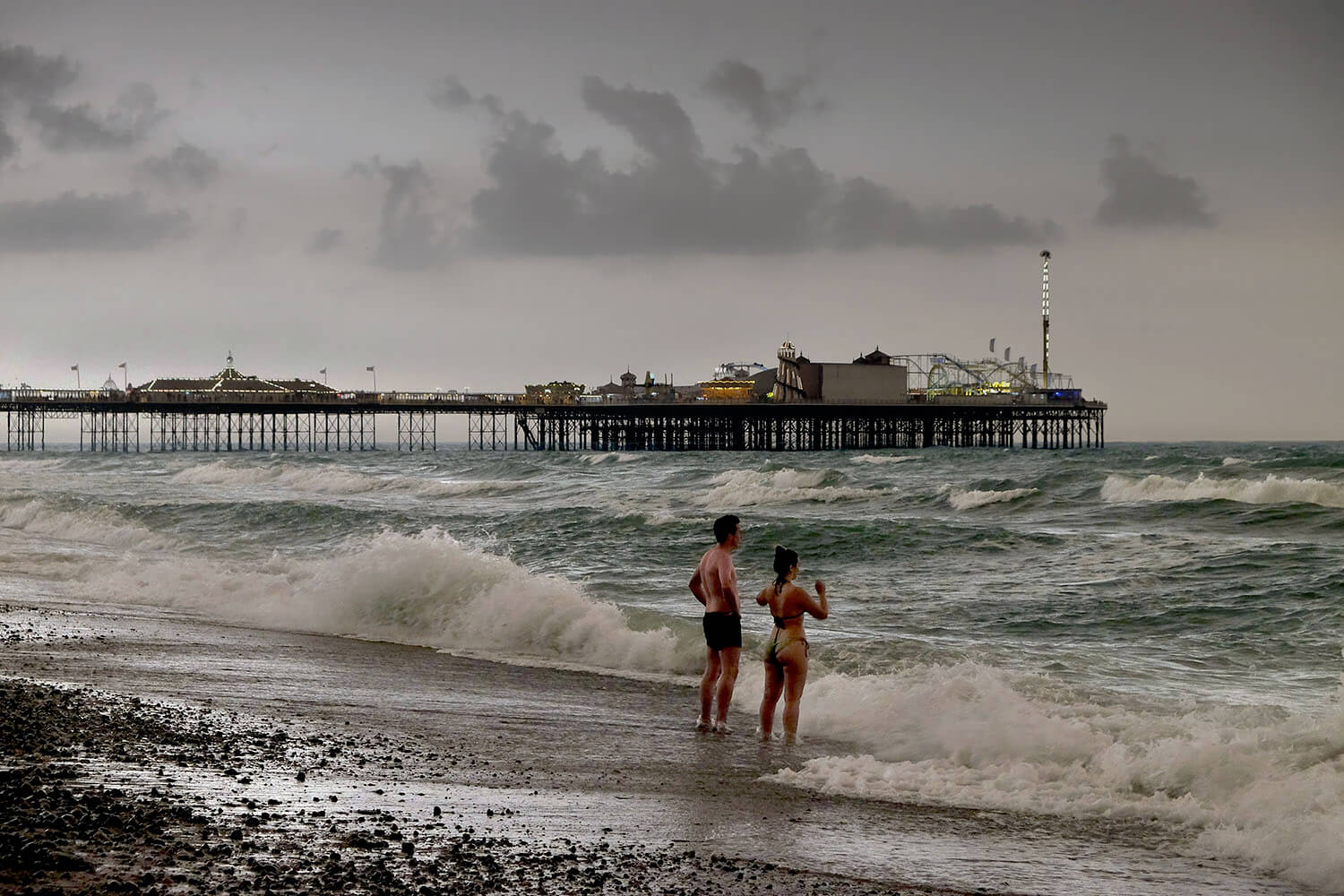 A young couple take a dip in the sea in an unseasonable warm October afternoon while the sky suddenly turns dark on Brighton Seafront, Sussex, UK . Extreme weather caused by climate change has forced hurricane Ophelia, originating in the Azores northwards, dragging tropical air from the Sahara with it. The met office claimed a mixture of forest fires in Iberia and Saharan dust, have sent debris into the air causing the dust to be dragged high in the atmosphere.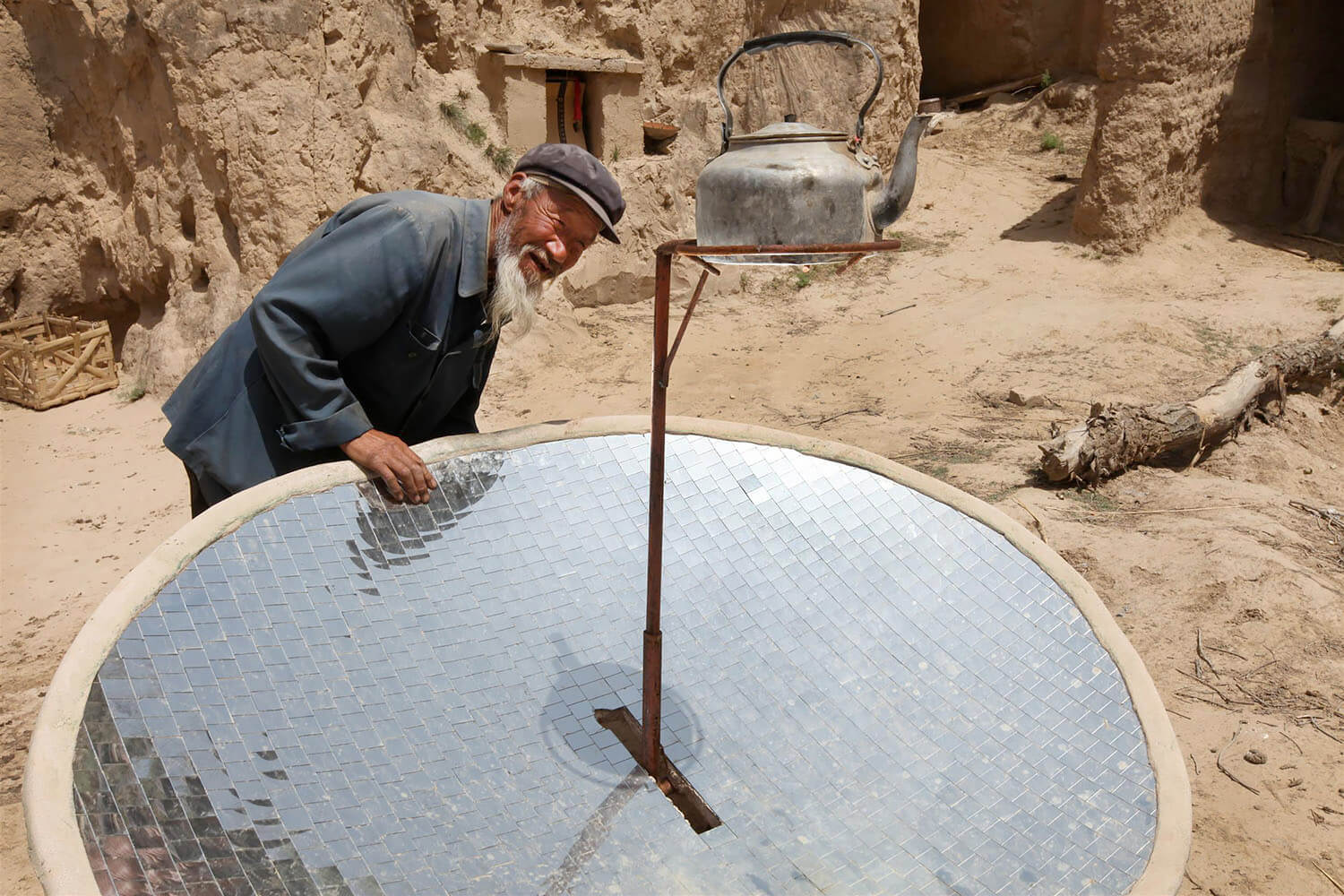 Drought Affected Village Along Silk Road (2009). Wang Wan Yi, age 76, adjusts the sunlight point on a solar device used to boil his kettle. He lives with his wife in one room carved out of the sandstone, a typical dwelling for local people in the region. Drought is one of the most harmful natural hazards in Northwest China. Climate change has a significant impact on China's environment and economy. The iconic Silk Road in China shows how climate change has affected the famous trade route. The Silk Road was the world's first superhighway, a series of desert and mountain crossings that enabled silk to make its way from the ancient Chinese capital of Xian. The Silk Road allowed links between China and the West to flourish, encouraging an exchange of art, ideas and culture as well as trade. Desertification and drought has taken its toll on the Silk Road. The once great civilizations dotted along the road have now been consumed by the desert and the region is home to some of China's poorest people. The Silk Road is considered a climate hot spot, like the poles, where climate change is accelerating faster than in other areas. These changes include glaciers retreating at an alarming rate along the route. However, there is a twist to the story. Many parts of the Silk Road have exceptionally powerful wind and solar resource locations. It is where China is now building massive wind farms and the renewable industry flourishes. Green factories are springing up everywhere along the route, most notably in Gansu and Xinjiang. The migrant workers who once traveled to Beijing for work have now returned home again to find new 'green' jobs.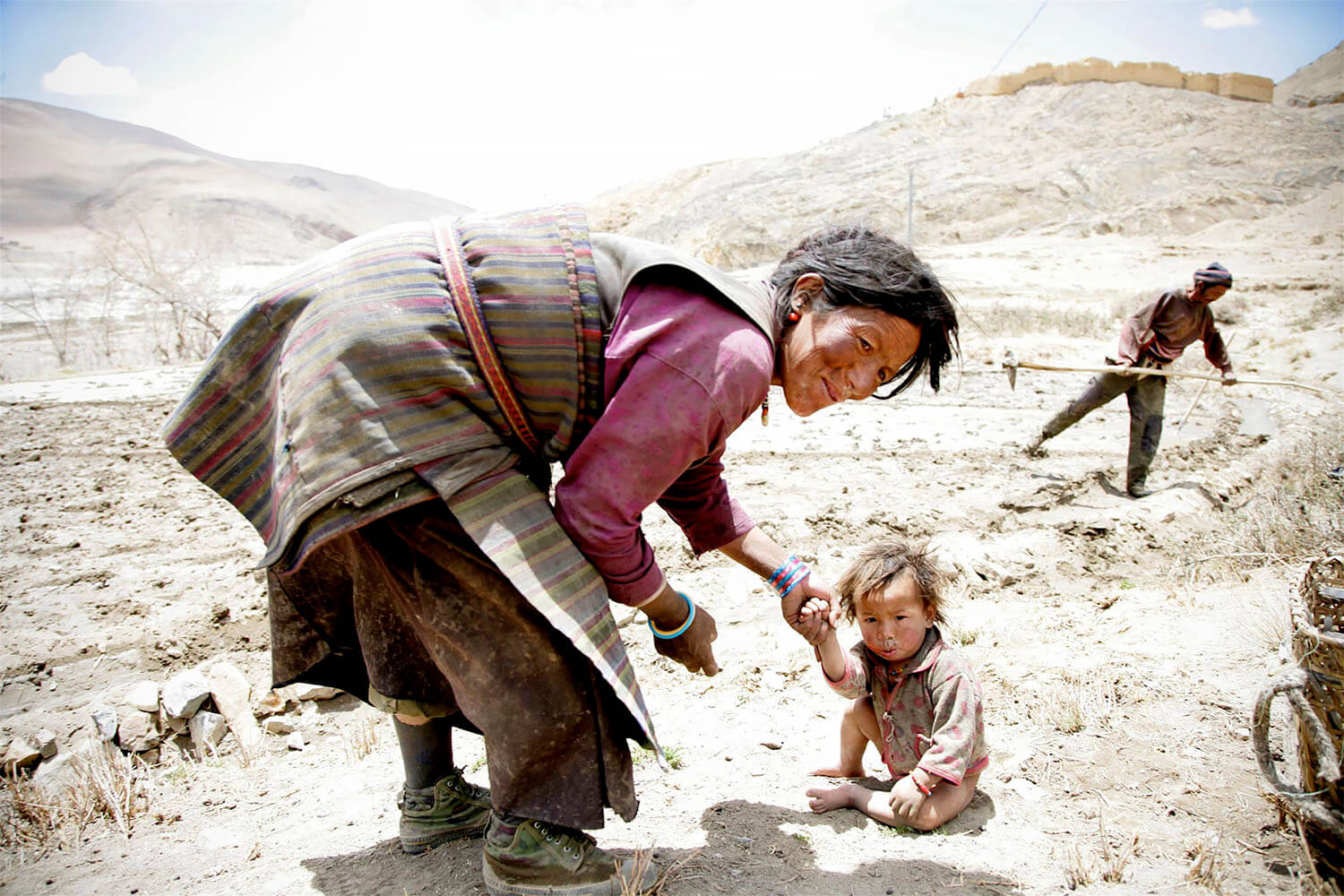 A local Tibetan woman cares for her child while her husband works hard to maintain the dry land, at the Pu Mai village, Himalayas, Tibet. Local farmers depend on the water source from the Rongbuk Glacier, Mount Everest (Qomolangma) but are already feeling the effects of drier conditions and water shortage in the region. The Rongbuk Glacier is one of the prime sources of water feeding into the major rivers of China and India and are receding faster than in any other part of the world as a result of climate change.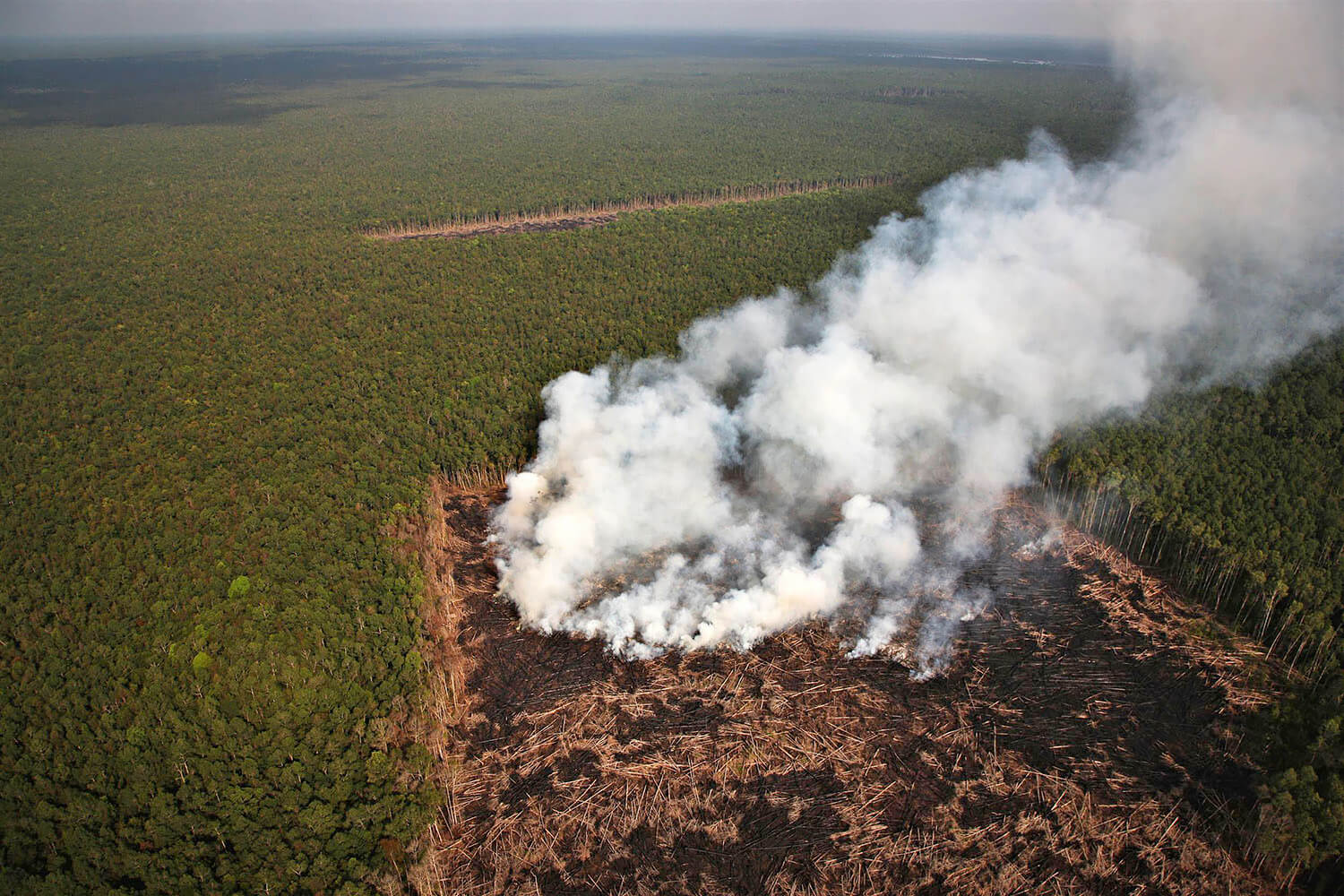 learing last remaining intact area of peat swamp forest by fire in Riau, Sumatra. (2008) The pristine forest area is under threat from multinational development to degrade and drain the land for palm oil and pulp and paper plantations. Peatland forest is critical for maintaining biodiversity and it's degradation releases vast stores of carbon thereby contributing to global climate change.
Lucas Foglia
I think photographs about climate change need to focus on possible solutions. After a generation of working to convince people that climate change is a problem, we need to start bridging awareness and action.
-
Lucas Foglia
Lucas Foglia
grew up on a small family farm in New York and currently lives in San Francisco. His work focuses on the intersection of human belief systems and the natural world. He recently published his third book of photographs, Human Nature, with Nazraeli Press. Foglia exhibits internationally, and his prints are in notable collections including International Center of Photography, San Francisco Museum of Modern Art, and Victoria and Albert Museum. He photographs for magazines including Bloomberg Businessweek, National Geographic Magazine, and The New York Times Sunday Magazine. Foglia also collaborates with non-profit organizations including Sierra Club, The Nature Conservancy, and Winrock International.
Lucas Foglia's Website
Lucas Foglia on Instagram
All about Lucas Foglia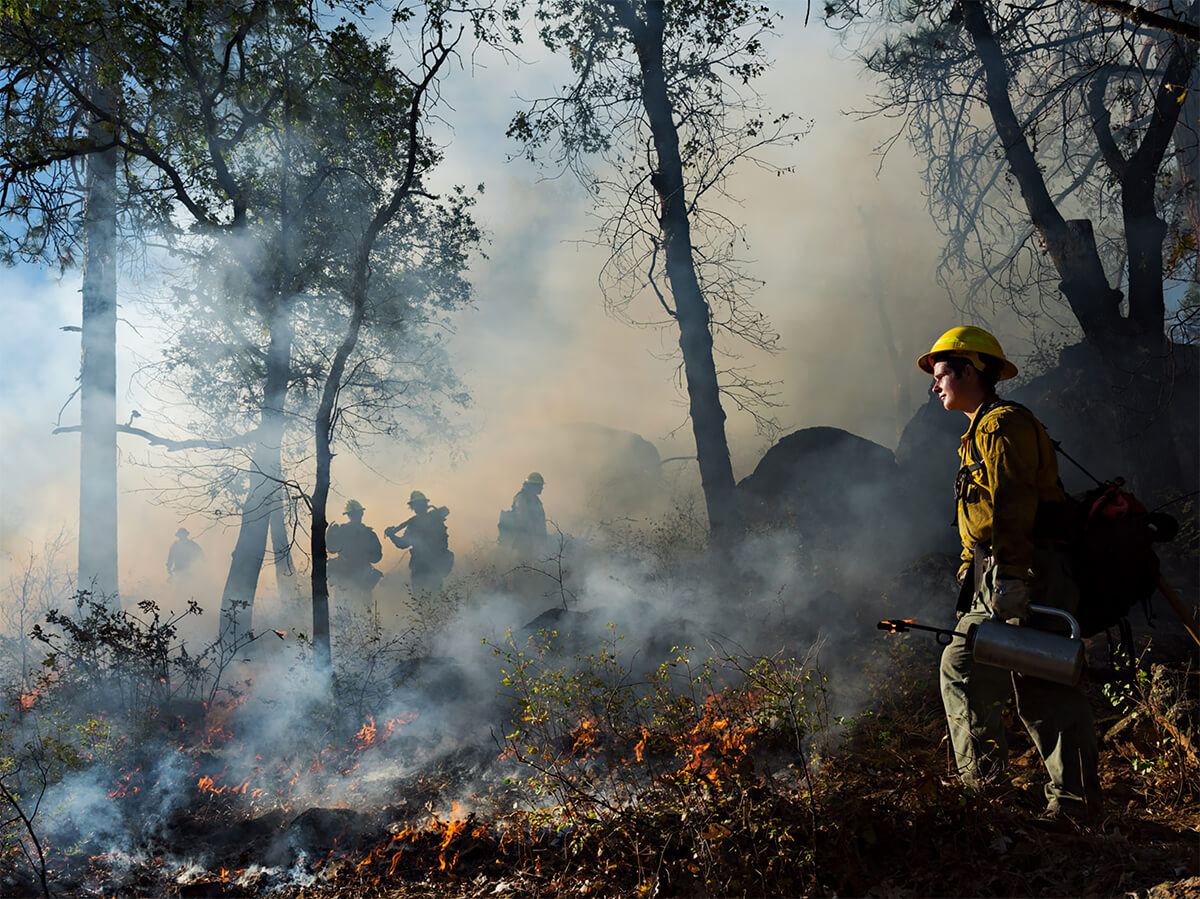 Jason Igniting a Controlled Burn, US Forest Service, California 2015. In the United States each year, more than 73,000 wildfires burn approximately 7 million acres of land. The number has been rising. To prevent wildfires, the US Forest Service performs controlled burns between fire seasons, when the land is wet enough that fires don't go out of control. The budget for controlled burns is 1 percent of the amount spent fighting wildfires.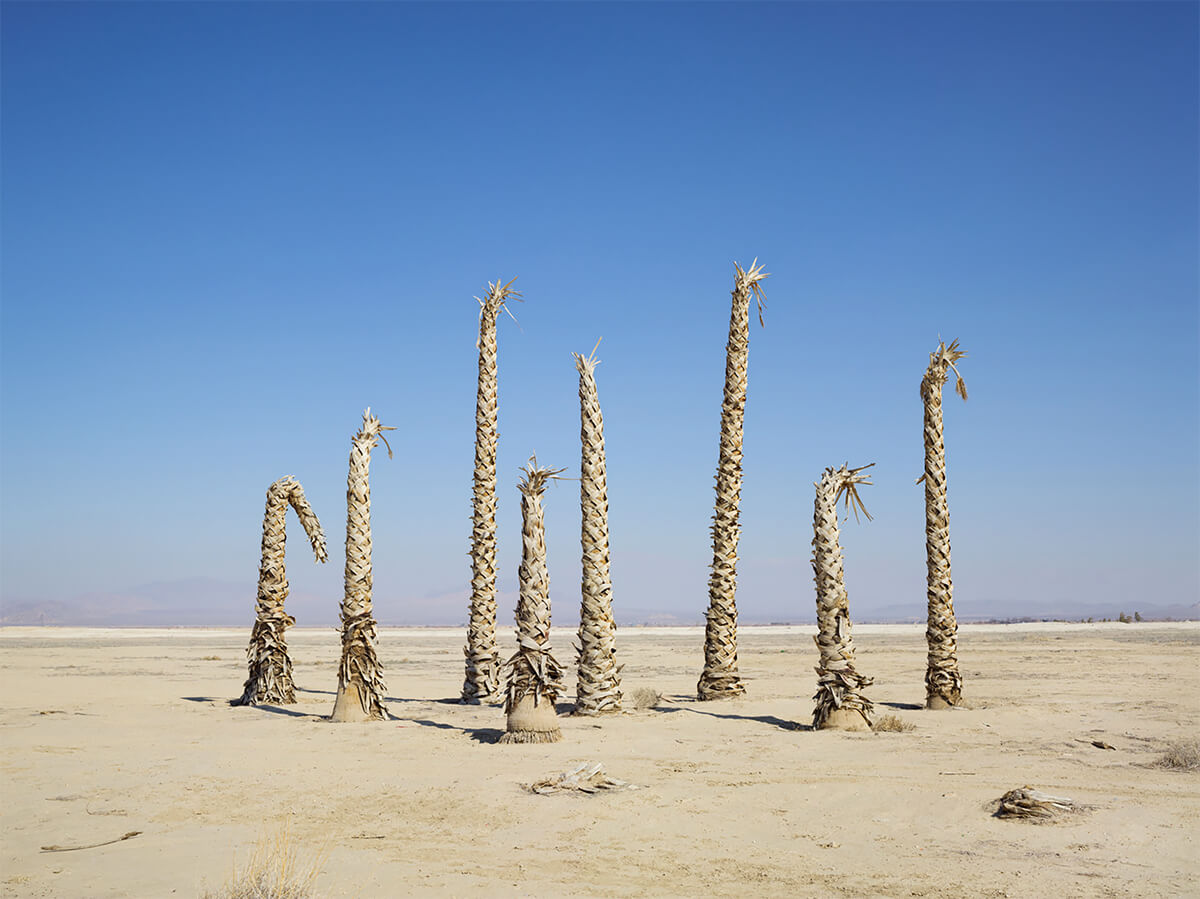 Palm Trees without Water, California 2014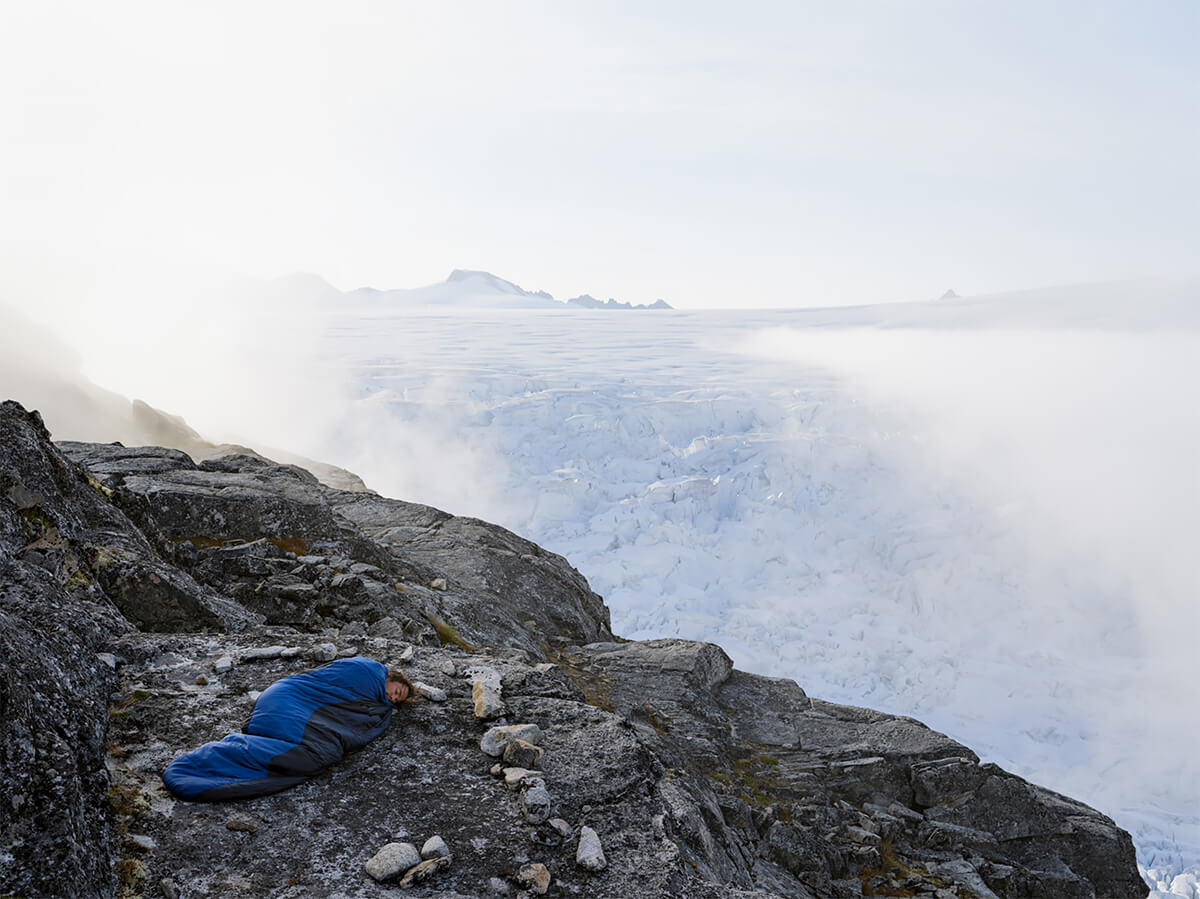 Evan Sleeping at Camp 18, Juneau Icefield Research Program, Alaska 2016. If climate-warming trends continue, the Juneau Icefield is expected to completely disappear by 2200.
Esme Swimming, Parkroyal on Pickering, Singapore 2014. The Parkroyal on Pickering contains over 15,000 square meters of greenery, amounting to twice its land area. In Singapore, 100 percent of the population is urban. The Singapore Green Plan promotes conservation of the nation's natural resources and the use of green technology to conserve the environment. 'Wild' nature is being reincorporated into the city.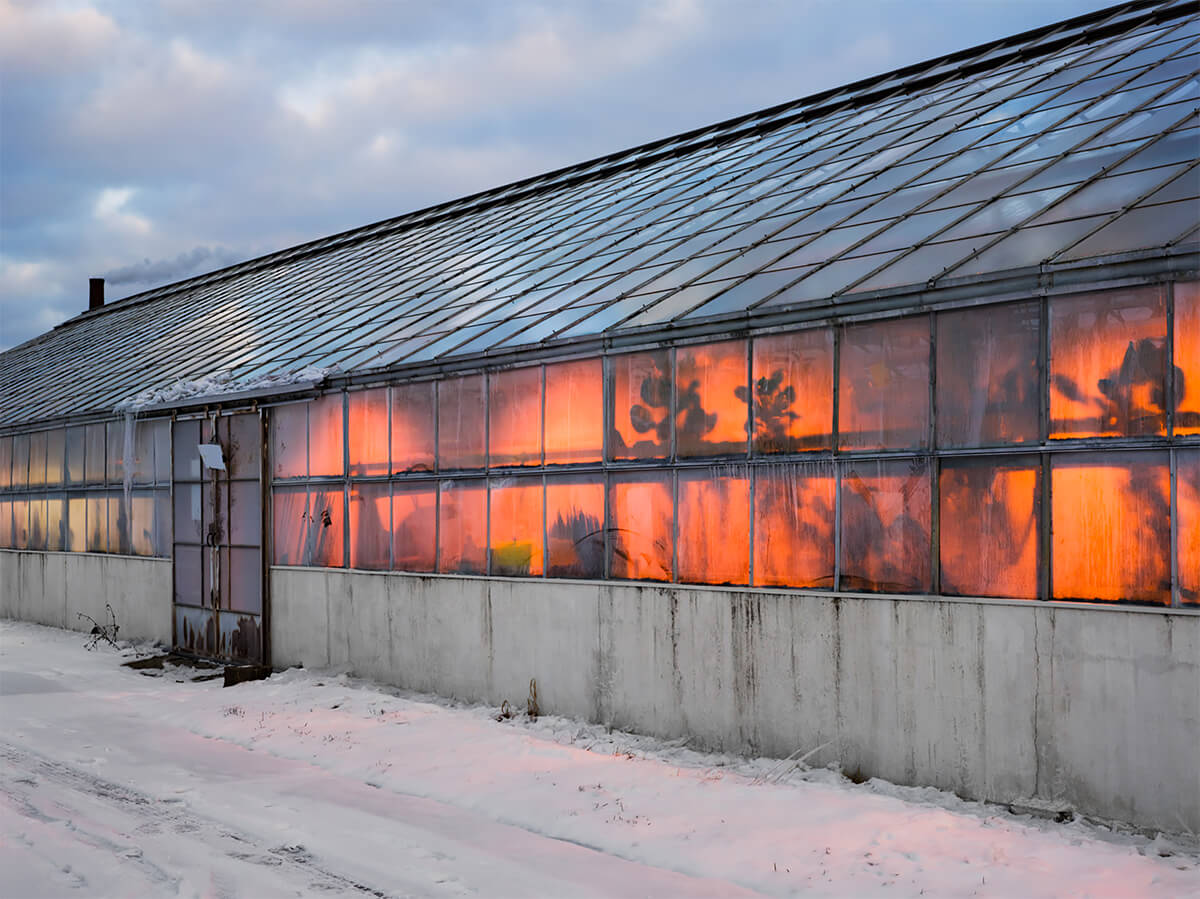 New Crop Varieties for Extreme Weather, Geneva Greenhouses, New York State Agricultural Experiment Station, New York 2013. New varieties of grapes, peppers, and raspberries are grown and tested under high-voltage lamps at the Agricultural Experiment Station in Geneva, New York. Scientists race to create climate-change-resilient agriculture. By crossbreeding domesticated crops with their wild ancestors, they propagate super-hardy strains that can withstand droughts, heat waves, and freezes. As erratic weather patterns intensify, farmers need crops that can cope with such stresses.
Ian van Coller
Certainly the answer for me is yes, otherwise it would be hard to keep doing what I do. Though I will admit, it is emotionally difficult for me all the time. I believe that while there is still hope, it is always worth working for change.

I identify as an aesthetic activist. Beauty is a strong persuader, and I find great personal solace in the beauty of the natural world. I approach much of my work with the specific intent to reengage ideas related to the (Romantic) Sublime, which has now become the Apocalyptic Sublime. As we face an impending environmental apocalypse, there is significant value in rediscovering Awe in nature, and helping others (re-)discover that too. If people don't care about the natural world, it is all over. Our increasingly technological and urbanized world further serves to separate us from nature. Artists can and should help people care about the nature that is left. Bringing people into a conversation about climate and environment from a place of engagement and accessibility, rather that fear, doom and (human-hating) hopelessness seems more productive.

A major issue with raising awareness with regard to climate change is with the science of it. Science for the lay person has become so esoteric and impenetrable. How many people read scientific papers related to the topic? I have read quite a few and most are hard for me to understand. And scientists are notoriously bad at bringing their research to a larger audience. Artists can help bridge that gap. My project Naturalists of the Long Now attempts to do that by making direct collaborations with paleoclimatologists. I basically travel to a site where a scientist does their research, and I make photographs of that place. The aesthetics of the place are an important part of the process in terms of what I choose to photograph. After making some large scale photographic prints, I send them to the scientist to annotate. My hope is that the experience for the viewer moves beyond just an experience of the landscape photographs or of scientific data, and creates a juncture between the human and nature that is complex and layered.

In my own work I am particularly fascinated with glacier ice as an archive of earth's atmosphere. Approximately 10% of glacier ice is air, that was trapped by falling snow, that then turned to firn, and then ice. I recently returned from the Allan Hills of Antarctica where I got to photograph a team of scientists retrieving the oldest ice ever found by humans, approximately 2.7 million years old. The air in that ice can tell us exactly what earth's atmosphere looked like at that point in earths past. The basic answer is that the CO2 levels are now higher than at any point in that 2.7 million year history. By collaborating with members of that team on artworks, maybe we can help make the information more accessible and powerful.

To go back to the original question, the more relevant question may be whether making art about climate change is raising awareness in the right people, or are we just preaching to the choir? In many ways art in general reaches the people who are open to it. Whatever the platform, it is hard for art to reach people of the opposing view. For example, most of my 1500 or so Facebook friends hold at least somewhat similar political views. I don't know that I have any friends that are Trump supporters. So there is a dramatic (ever widening) barrier from being able to reach that broader audience. However, I do think that attitudes in some of the naysayers are shifting. The evidence that we can see in front of us is so dramatic, it is almost impossible to deny. Unfortunately there are many whose minds you can never educate or change.
-
Ian van Coller
Ian van Coller
was born in 1970, in Johannesburg, South Africa, and grew up in the country during a time of great political turmoil. These formative years became integral to the subject matter van Coller has pursued throughout his artistic career. His work has addressed complex cultural issues of both the apartheid and post-apartheid eras, especially with regards to cultural identity in the face of globalization, and the economic realities of every day life.
Van Coller received a National Diploma in Photography from Technikon Natal in Durban, and in 1992 he moved to the United States to pursue his studies where he received a BFA from Arizona State University, and an MFA from The University of New Mexico. He currently lives in Bozeman, Montana with his wife, children, and three dogs, and is a Professor of Photography at Montana State University.
His work has been widely exhibited nationally and internationally and is held in many significant museum collections, including The Philadelphia Museum of Art, The Getty Research Institute, The Metropolitan Museum of Art, The Library of Congress, and The South African National Gallery. Van Coller's first monograph, Interior Relations, was published by Charles Lane Press (New York) in 2011. He is a 2018 Guggenheim Fellow and a member of the Piece of Cake collective.
Van Coller's most recent work focuses on environmental issues related to climate change and deep time. These projects have centered on the production of large scale artist books, as well as direct collaborations with paleo-climatologists.
Ian van Coller's Website
Ian van Coller on Instagram
All about Ian van Coller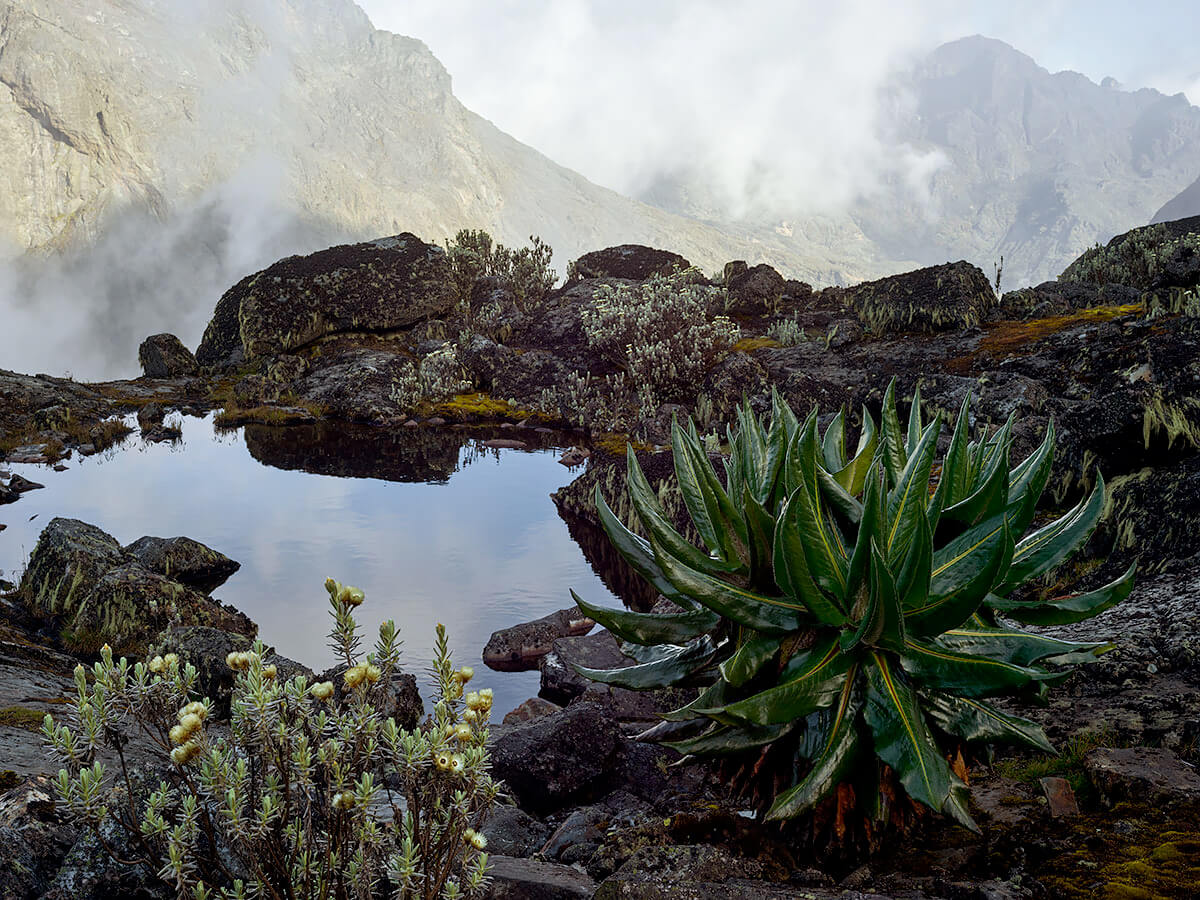 Rwenzori Mountains, Uganda, 2019
Rwenzori Mountains, Uganda, 2019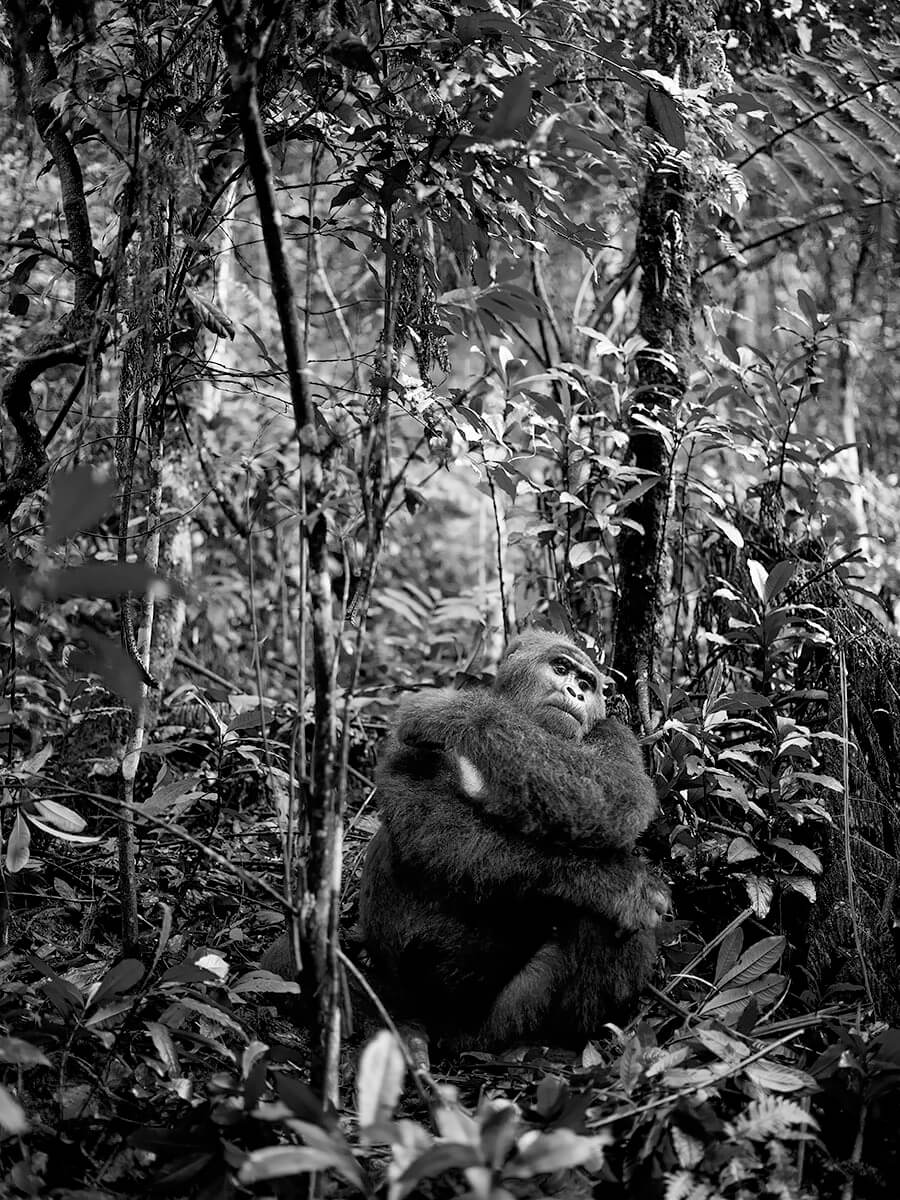 Mountain Gorilla, Bwindi Impenetrable Forest, Uganda, 2019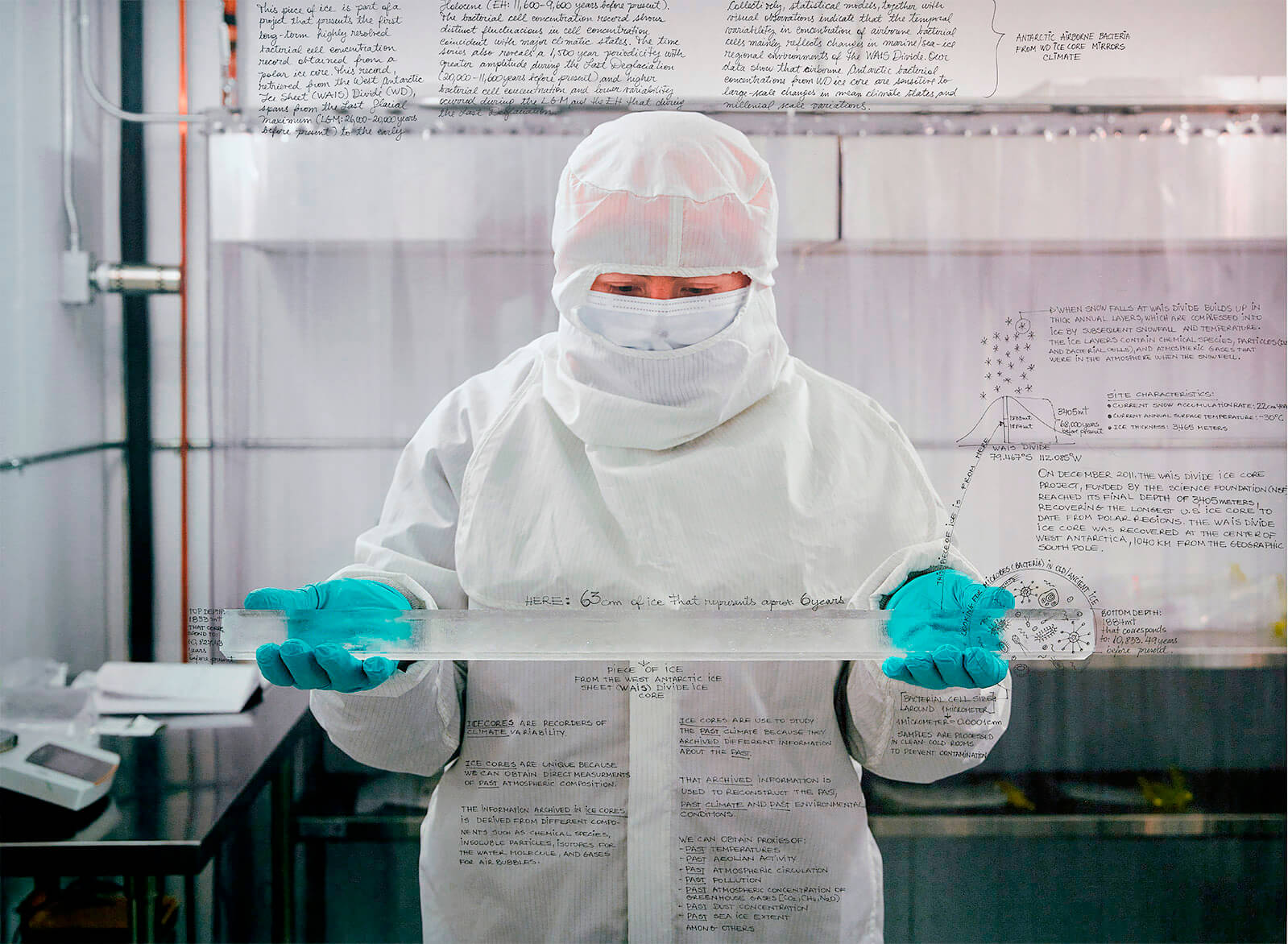 Dr. Avila holding cut Antartic Ice Core, One-of-a-kind collaboration with marine biologist Pamela Santibanez Avila
Gallatin River Caddisflies, 2017, One-of-a-kind collaboration with ecologist Jenny McCarty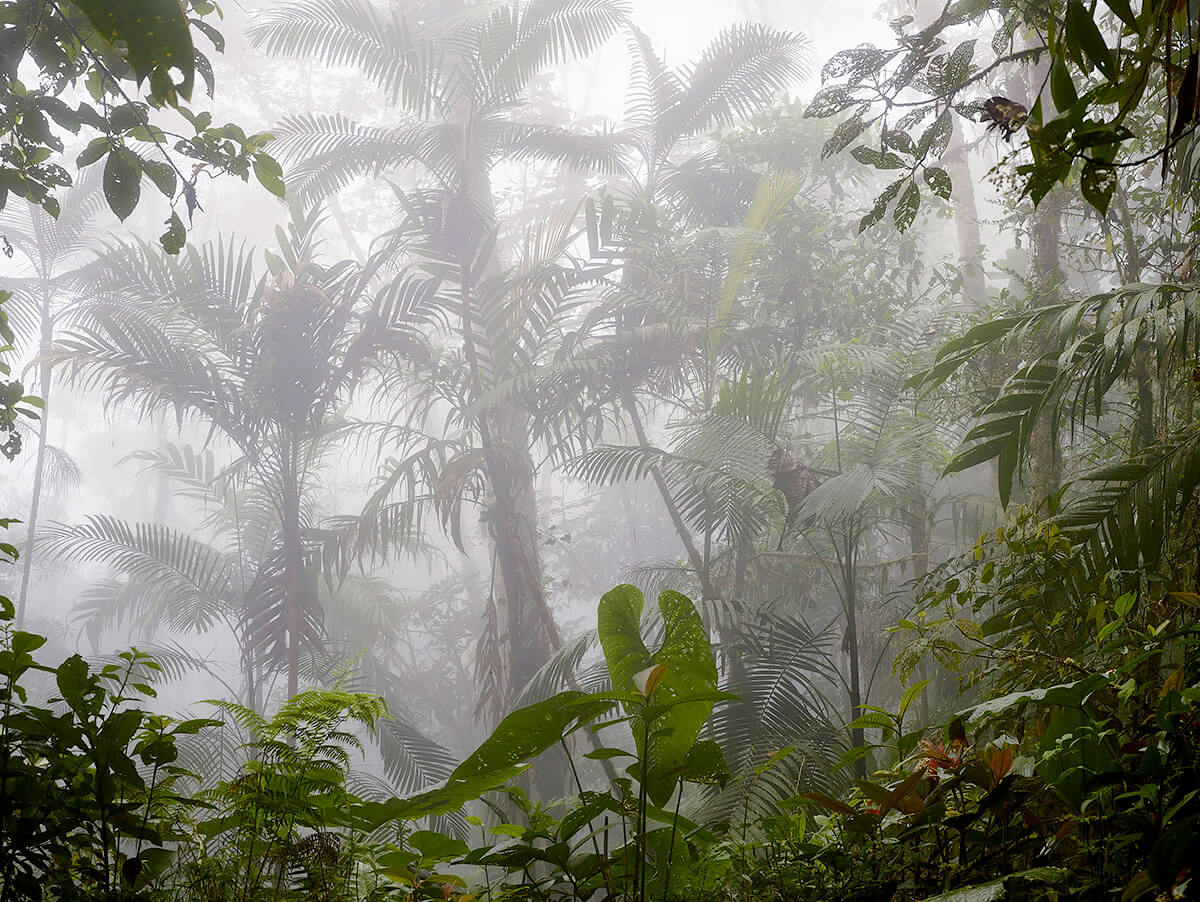 Cerro Montezuma Cloud Forest, Colombia, 2018
JB Russell
From Carleton Watkins' 19th century images of Yosemite Valley that inspired Abraham Lincoln to sign the Yosemite Grant, effectively creating the world's first national park, or Ansel Adams' pioneering use of photography to document the spectacular beauty of the American West and advocate for the protection and preservation of its unique landscapes, photography has a long history of raising awareness about environmental issues and has played a key role in the birth and development of environmental conservation and activism.

The world and photography have changed a lot since then, but the issue of the environment and our natural heritage has never been more critical. When I was young, I remember wondering what would happen when the population of the earth grew to the point where life would become unsustainable. Would science fiction become reality, would we colonize the moon or other planets, would humanity kill each other off in a Darwinian struggle for dwindling resources? Back then, and I'm not that old, the world and nature still seemed vast and the dooms day scenarios seemed centuries away. The geologic time scale is slow and incremental, but human time is exponential and breakneck. In a relative blink of an eye, Man's effect on the planet has been so profound that we have likely entered a new geological age, the Anthropocene, where human activity is the dominant influence on the earth's geology, climate, environment and ecosystems.

In this Brave New Climate Crisis World, where too many politicians and corporations use climate denial for shortsighted profits and self-interests, where overwhelming scientific evidence is ignored and documented information is callously deemed fake news, I believe that photography continues to play a crucial role in raising awareness about climate change. Photography is a universal language that transcends cultural, political, geographical and linguistic barriers. It remains a document of proof, a means of witnessing. The causes and consequences of climate change are infinitely complex and ultimately put into question humanity's very survival. Scientifically and psychologically, this is difficult for many people to grasp. Resignation and denial are natural reactions to the overwhelming sense of fear and hopelessness that the scale of the climate crisis can cause. For others, climate change can seem like a distant problem compared to the immediate priorities of daily life. Climate change however is a global, interconnected emergency that is affecting all of us in countless and intricate ways. When photographic work is infused with the purpose of exploring and understanding an issue or subject, it can be a powerful and persuasive tool for communicating and educating a broad and diverse public. To affect change however, photography about climate change must go beyond the catastrophic depictions of super storms, famines and melting glaciers so often presented in the media. For the public to engage with the reality of climate change, its urgency and be moved to take action, the photography must deconstruct the causes and effects of climate change on the planet, scale down the perspective to a human level, allow the public to empathize with the subjects and balance the nefarious consequences of climate change with positive examples of progress, scientific innovation and solution based stories. Much of my climate change work has focused on how global warming is affecting ecosystems and traditional livelihoods in West Africa, a region of the world that is severely affected by climate change but least responsible for its causes. The aim is to show how our way of life affects people's lives on the other side of the planet, how we are all connected and share the responsibility for mitigating and adapting to climate change.

The advent of the Internet, digital photography, smart phones and social media caused the collapse of the economic model that sustained the press and photojournalism for over a century and has made it difficult for photographers to find the means to produce projects about climate change and other issues, however there has never been so many ways to reach a global audience and to communicate about climate change. Although contemporary society is saturated with imagery, I'm convinced that strong, engaging photography coupled with journalistically verified information that contextualizes the subject can still pierce the plethora of visual pollution and make an impact. This can happen in a myriad of ways and photographers should collaborate creatively with like-minded colleagues and people with diverse skill sets and expertise to spread the word (and pictures) about climate change far and wide. For many years my own work focused primarily on the consequences of conflict, migration, human rights and development. When I became a core member of the Instagram collective #EverydayClimateChange, a group of committed photographers around the world documenting climate change and communicating through social media, exhibitions and out-reach, I began to work more on climate change projects and I discovered that climate change is a multiplying factor for the subjects I had been documenting throughout my career. I saw that climate change is related to all the critical issues affecting humanity. It changed how I viewed my work and the direction of my career. Only through awareness, understanding and insight can we make intelligent decisions about our personal choices, about our way of life and demand that our leaders do the same for the future and for the collective good. In the words of Ansel Adams, If you take photographs, make the photographs useful.
-
JB Russell/Panos Pictures
J.B. Russell
is a Paris-based documentary photographer, filmmaker and educator. After completing a Bachelor of Science degree in Geology and Geography and working for two years as a geologist, he decided to leave the U.S. to pursue a passion for photography and to satisfy a genetic predisposition for wanderlust. He has worked extensively throughout Europe, Africa, the Middle East, Asia and Latin America focusing on current events, the human consequences of conflict, human rights, environmental and development issues. His work appears regularly in major print and on-line publications worldwide, including: Time, Newsweek, The New York Times, French GEO, Paris Match, Le Monde, Stern, Der Spiegel, Corriere della Sera magazine, The Daily Telegraph, The Guardian, El Mondo magazine and many more. He collaborates frequently with international humanitarian organizations such as Doctors Without Borders, Save The Children, Mines Advisory Group, The Global Fund and others to produce images, video and written material on critical humanitarian issues for their communication needs. He teaches and speaks regularly about photography in numerous university programs, workshops and courses.
His work has received numerous accolades, including the Public Prize at the Bayeux War Correspondents Competition, 1st place in the News Picture Story category of the POYi competition, his images have been selected on multiple occasions for the annual American Photography anthology, he received the Saint Brieuc Photoreporter Grant and his work has been exhibited and frequently featured at Visa Pour L'Image in Perpignan, France, among many other festivals and venues. He is a member of the
Panos Pictures
photo agency.
JB Russell's Website
JB Russell on Instagram
All about JB Russell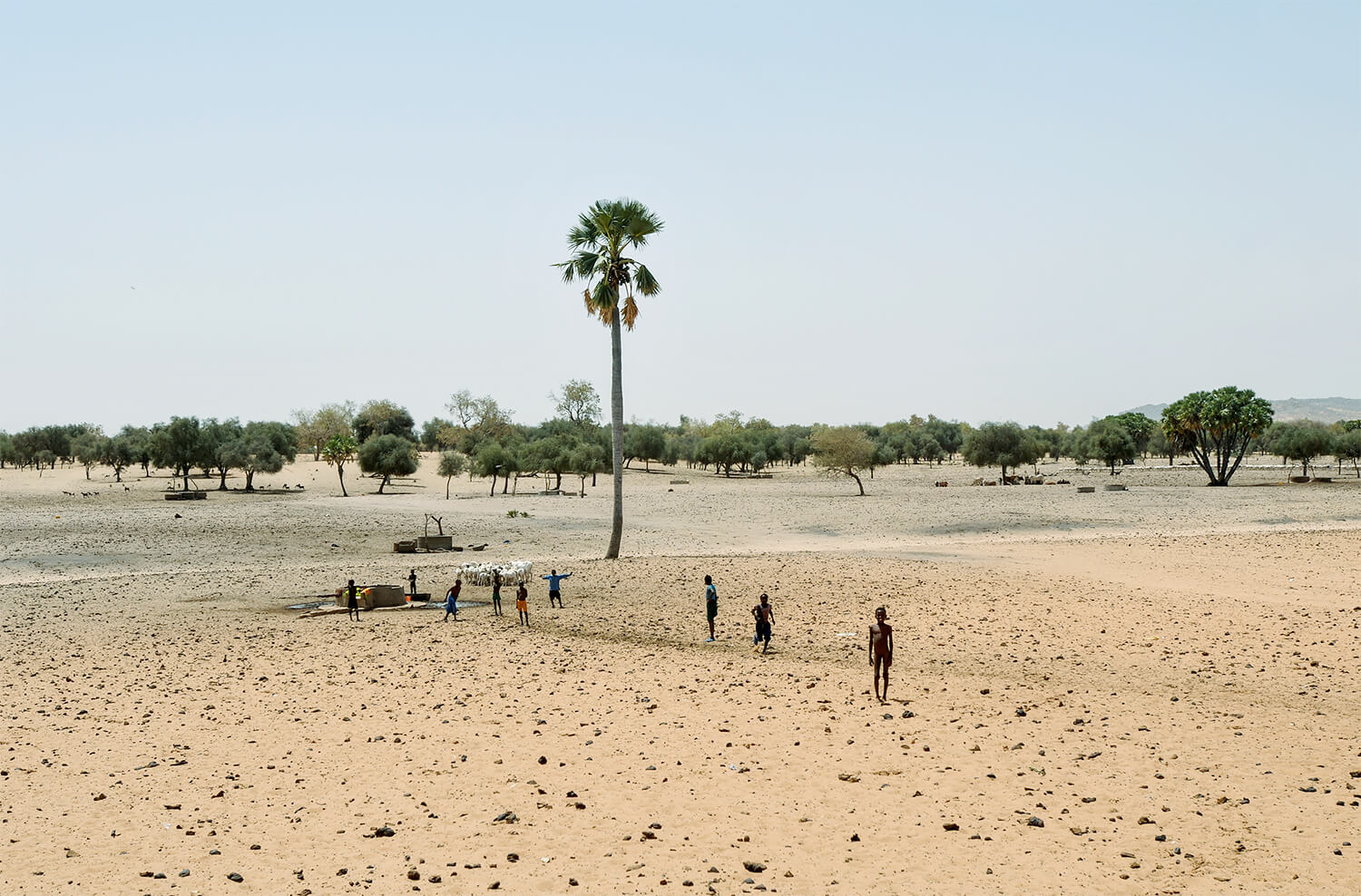 © JB Russell/Panos Pictures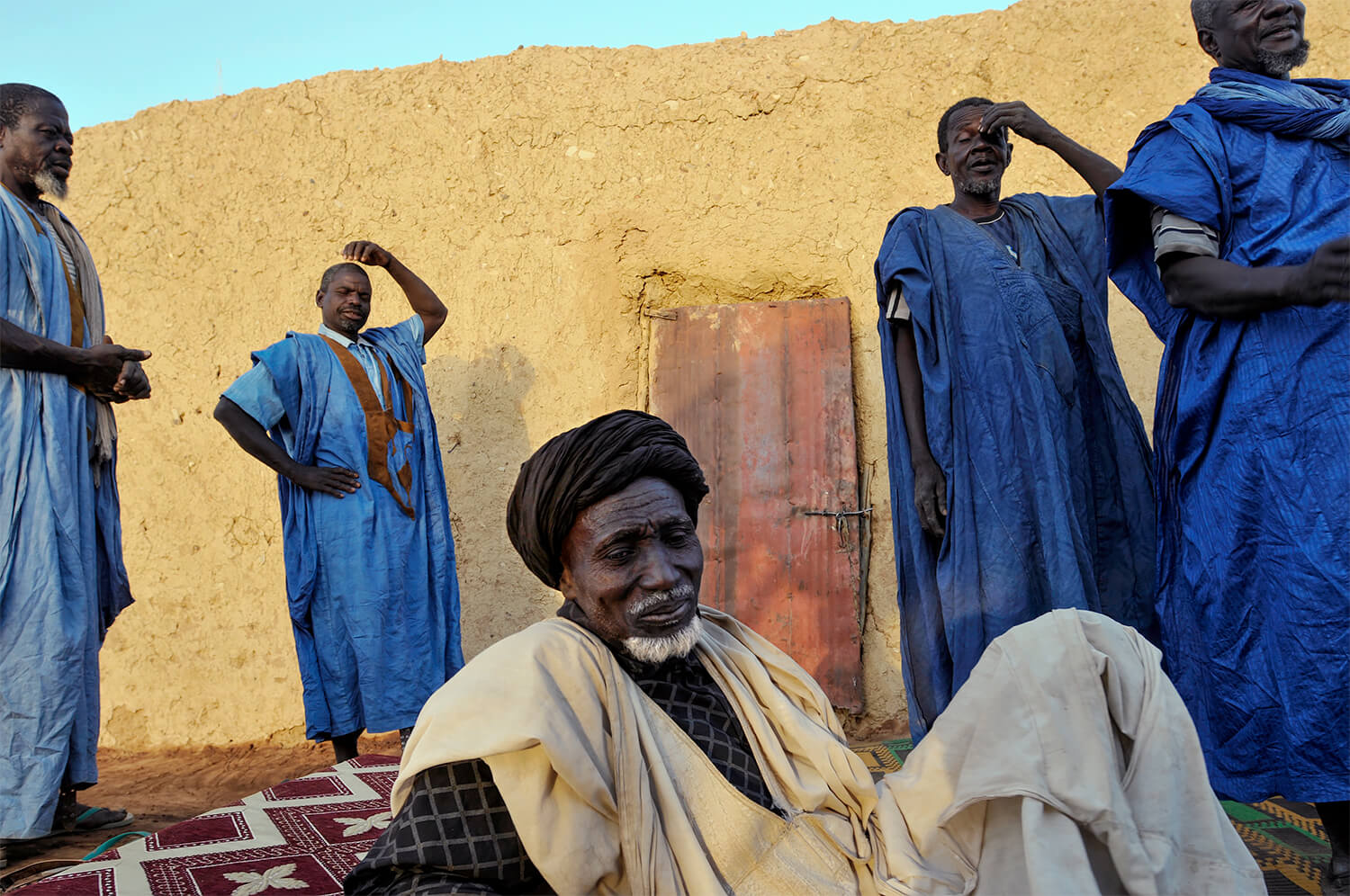 © JB Russell/ Panos Pictures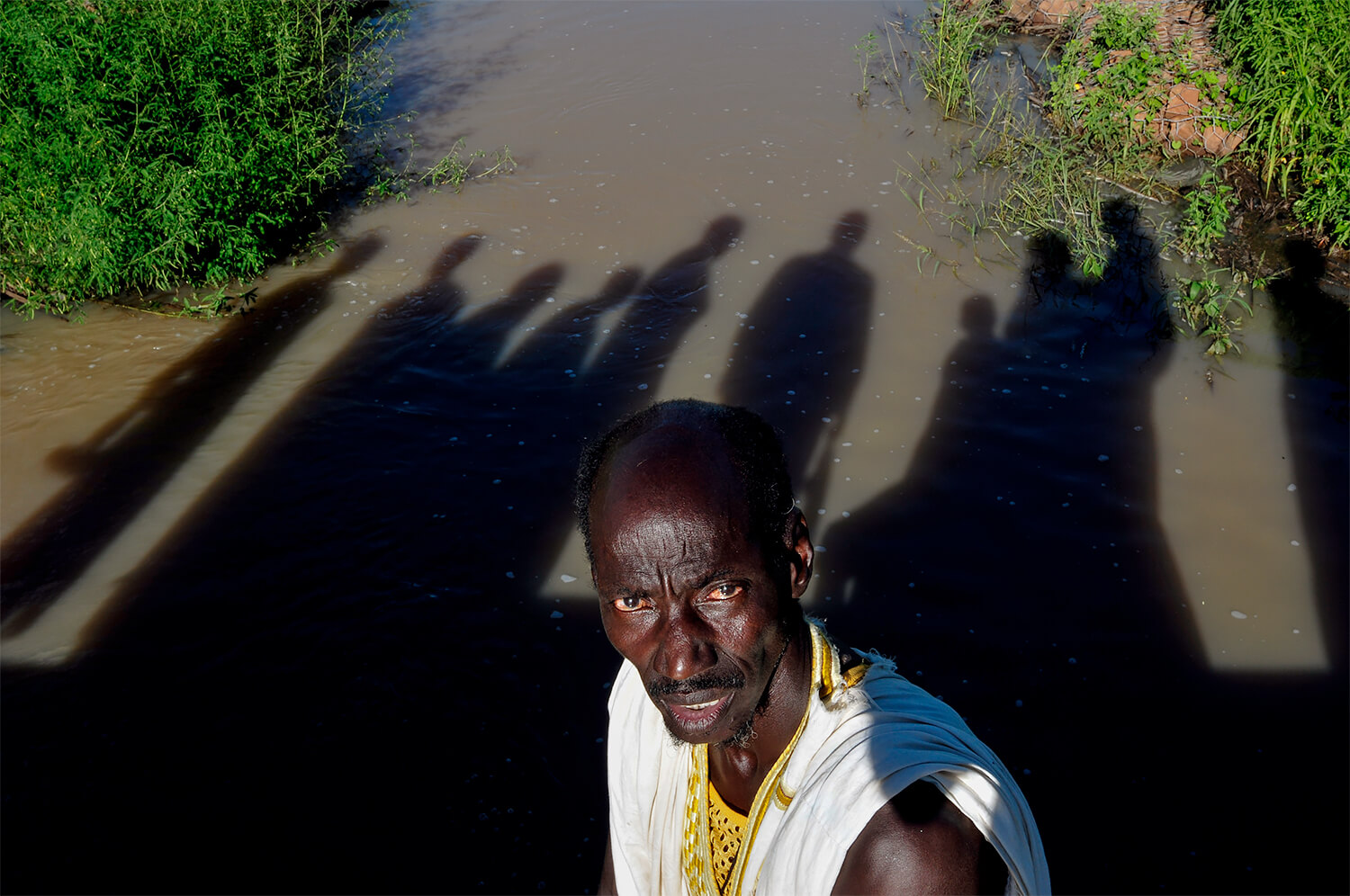 © JB Russell/ Panos Pictures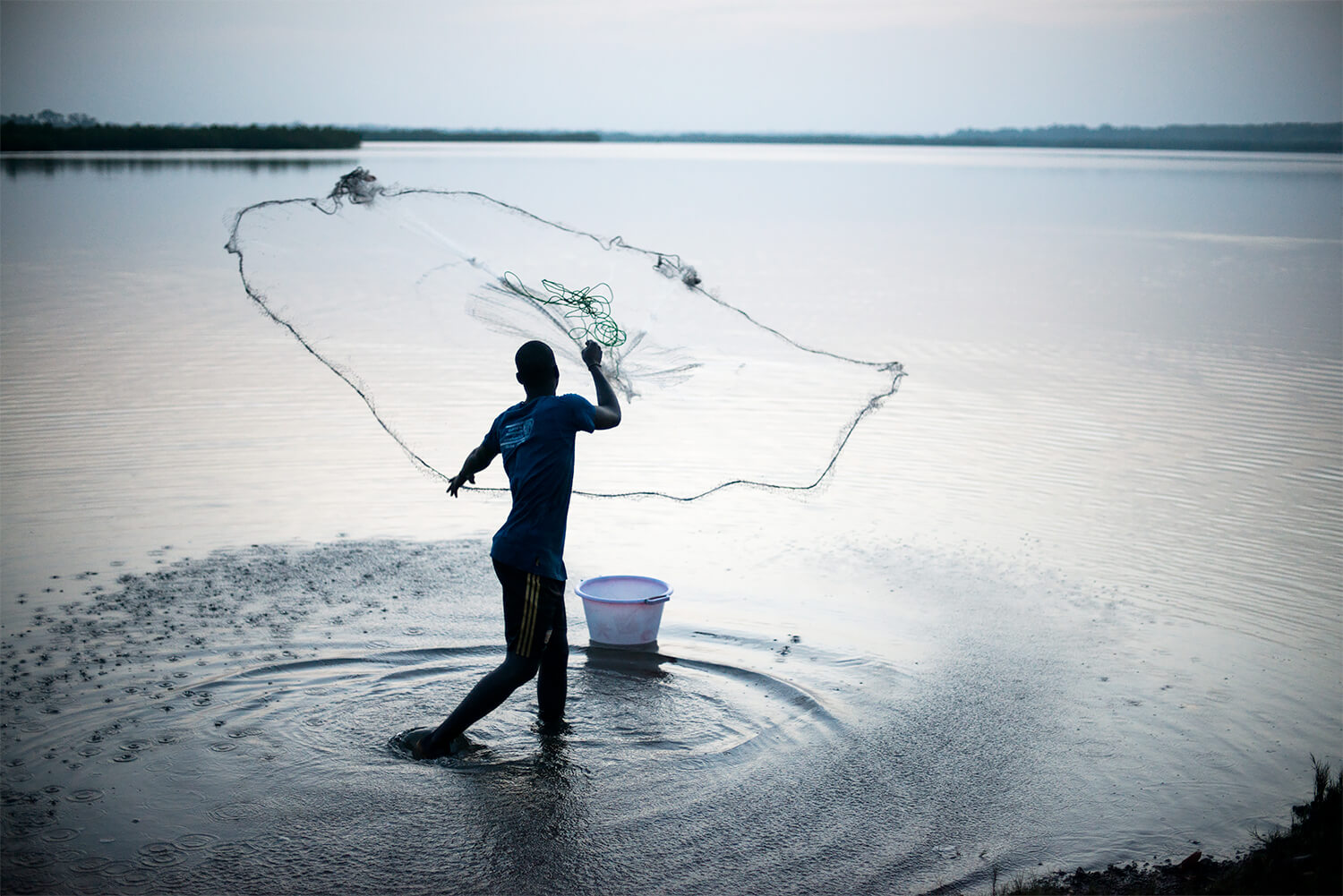 © JB Russell/ Panos Pictures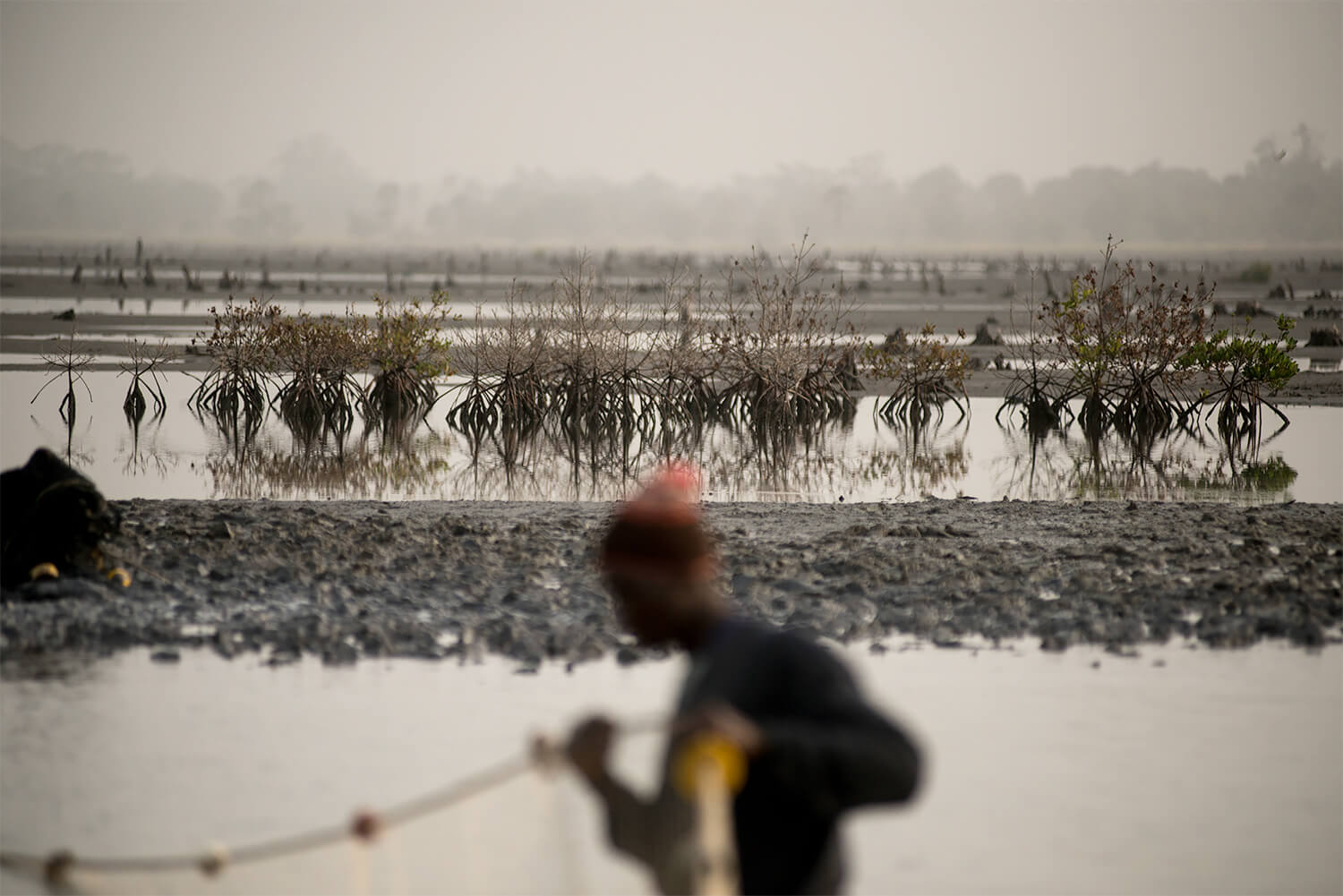 © JB Russell/ Panos Pictures
Stefano de Luigi
I wasn't and I am not waiting for people marching in the street after that my story on Drought in Kenya was widely published (2009), and in fact, didn't happen. I think each of us has to take part in the long term process of awakening about the risk of mass extinction and these pictures could help to rise, sometimes, the attention. We are consciously facing this threat, no doubts and not only us humans as species but for most of all kinds of life on earth.

As we are on top of the evolution pyramid, we should take responsibility for acting, with a high sense of humbleness, toward all kinds of lives we are threatening.

All of them are much more closely related to us despite our thinking. We should stop to have an anthropocentric attitude in reading the world, this would be a huge step forward facing the global warming issue.

I consider this series as part of my duty as engaged photographer, at the same level of importance of all my others daily task such as: not consume meat, take a bike, not have a car, try to reduce plastic consumption, try to use a train instead of plane etc etc. On a daily bases.
-
Stefano de Luigi
Born in Cologne in 1964, Italian photographer
Stefano De Luigi
currently lives in Paris and started his career working for the Grand Louvre Museum as a photographer from from 1989 to 1996. He has published 3 books: Pornoland (Thames & Hudson-2004), Blanco (Trolley, 2010), and iDyssey (Edition Bessard 2017).
His numerous awards include four World Press Photo awards (1998, 2007, 2010, 2011), the Eugene Smith fellowship grant (2008), the Getty Grant for editorial photography, the Days Japan International Photojournalism Award (2010), and the Syngenta Photography Award (2015).
Stefano works regularly with several international publications including The New Yorker, Geo, Paris Match, and Stern and has exhibited his work in New York, Paris, Geneva, Milan, Rome, London, Istanbul, and Athens.
Stefano De Luigi has been a member of the VII Agency since 2008.
Stefano de Luigi's Website
Stefano de Luigi on Instagram
All about Stefano de Luigi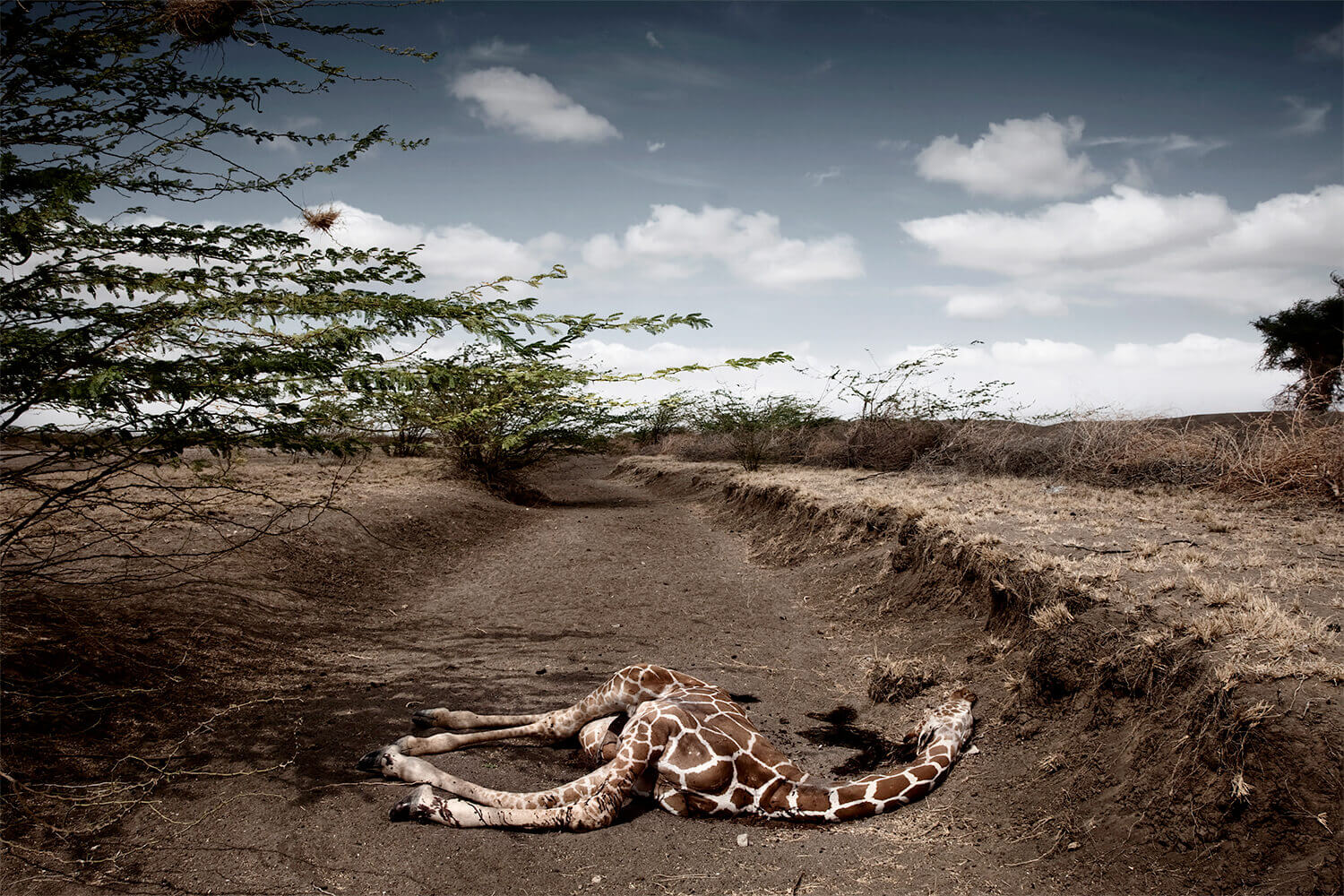 © Stefano de Luigi/VII Photo Agency
A giraffe killed by drought lies in a dry river bed in Wajir, Northeastern Kenya.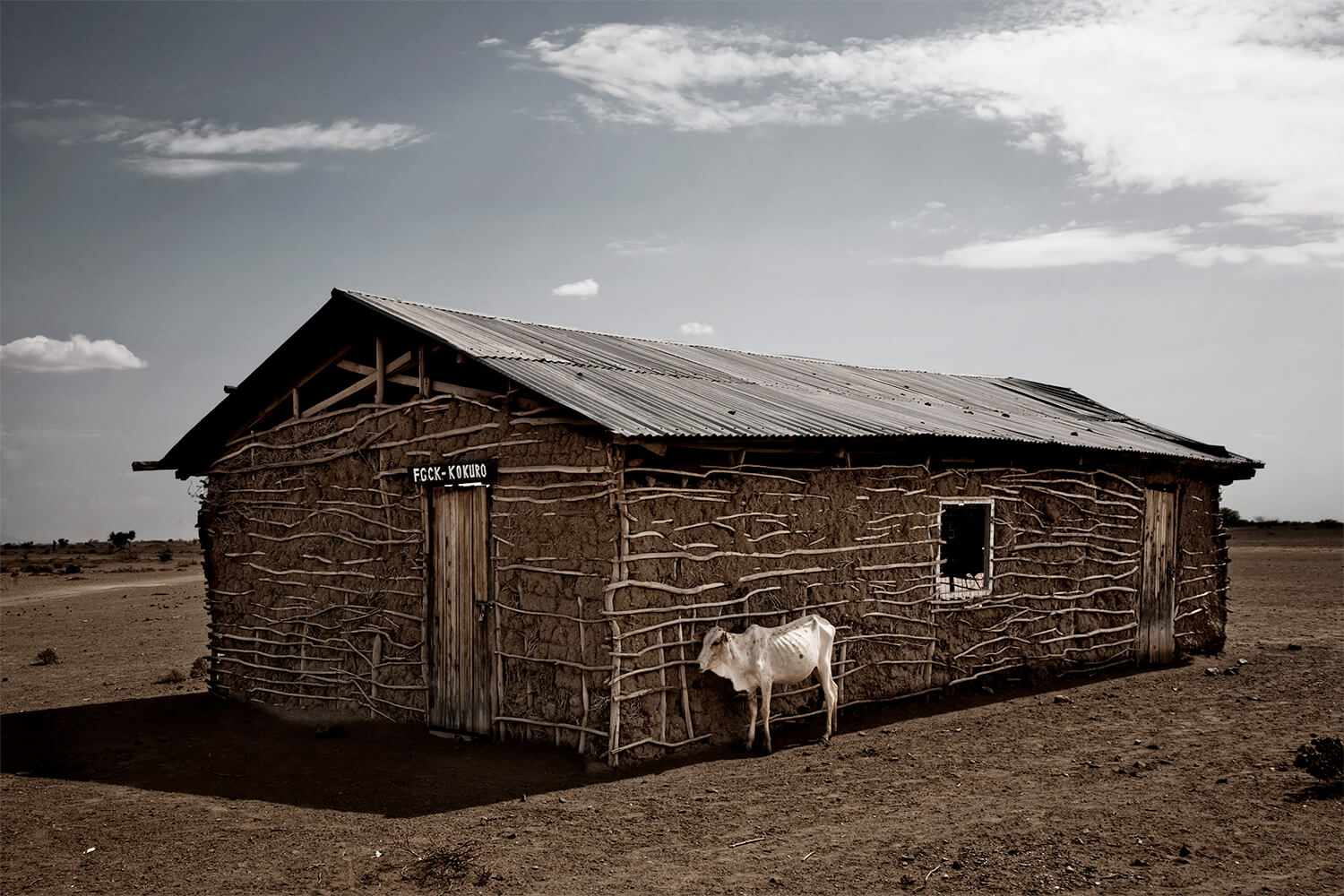 © Stefano de Luigi/VII Photo Agency
A cow hides in the shadow of a warehouse in the village of Kukuro, Rift Valley province, Kenya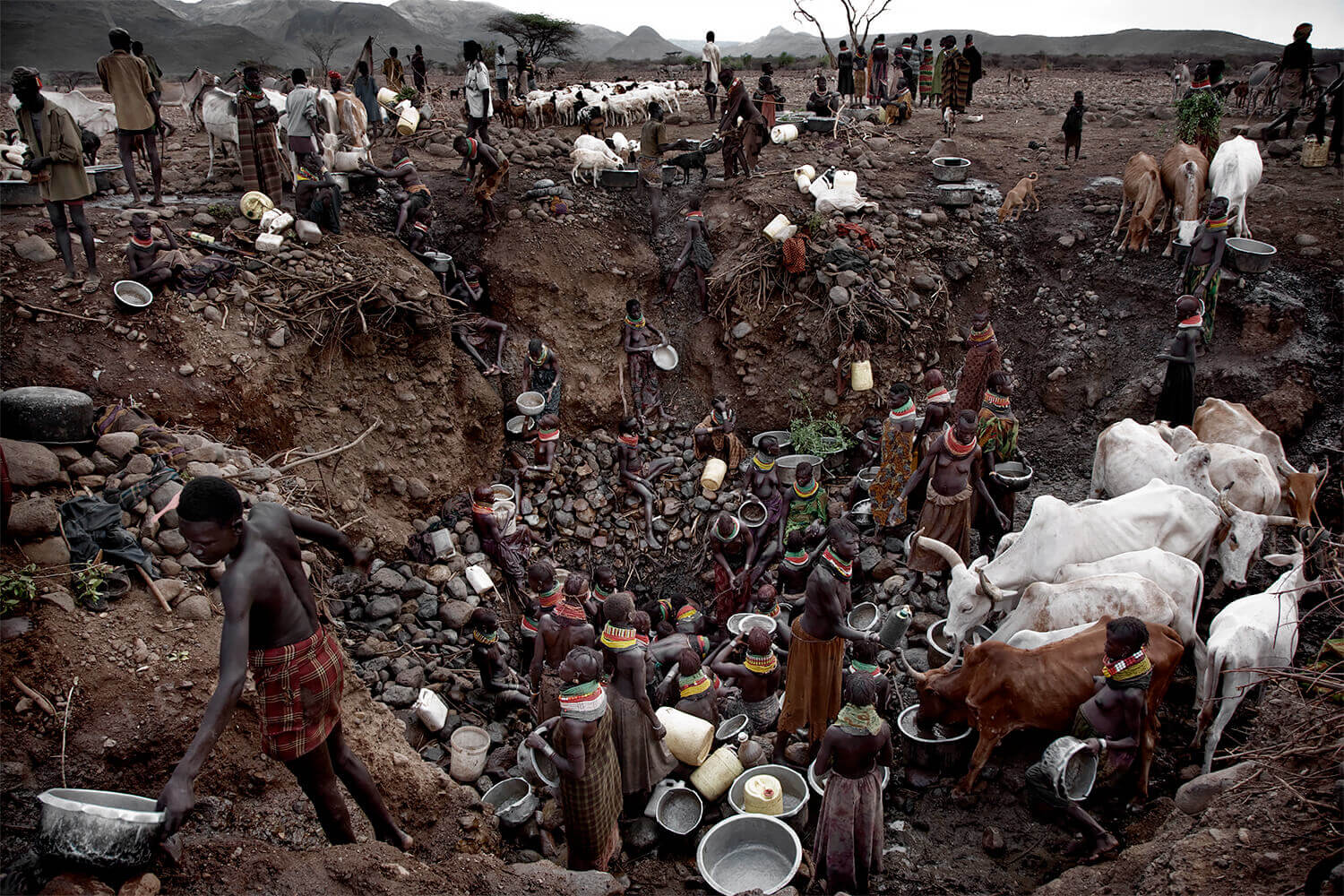 © Stefano de Luigi/VII Photo Agency
A Turkana tribe gets its water for both people and cattle from a twenty-meter deep, homemade borehole, in Kaitede, Rift Valley province, Kenya
Thank you very much to all the photographers who took part in this article. We are thankful for everything you do.