Country: Germany/Australia | Born: 1920 - Died: 2004
Helmut Newton, a German-Jewish/Australian fashion photographer, is best known for his fashion and female nude studies. Born Helmut Neustadter in Berlin, Germany on Oct. 31, 1920, Newton attended both German and American schools. Newton's proclivity for the unusual, particularly in sexual contexts, is attributed to his early years, when his older brother showed him the "red light" (prostitute) district of Berlin. This early exposure would later lead him to create photographic studies that altered the course of fashion photography. In 1936, Newton left a floundering school career to apprentice under German photographer Else Neulander Simon (known professionally as Yva). Under political pressure, Else, also a Jew, was forced to close her studio, and in 1938, Newton himself fled Germany for Singapore. Here he worked briefly as a photographer for the Singapore Strait Times until he made another move, this time to Melbourne, Australia. During World War II Newton served with the Australian army as a truck driver, then decided to follow his dream, opening his first photography studio in 1946. Two years later he married actress June Browne and gained his Australian citizenship. Newton's initial photography work was standard of the time, primarily comprising weddings, baby portraits and mail order catalogs. But in 1952 his big break came when he began working for fashion-iconic Australian Vogue magazine. In 1956 Newton partnered with Henry Talbot and gave his studio a new name: Helmut Newton and Henry Talbot. By the late 1950s, Newton's reputation as a photographer was growing. He left for London on assignment in 1959 and eventually landed in Paris in 1961. From this new locale, his work appeared nationally and internationally in such magazines as Elle, Marie Claire, Playboy and French Vogue. During this time Newton's photography style began to emerge as covertly sexual, even hinting occasionally at the fetishistic. Throughout the 1960s Newton's celebrity status brought him increasingly exotic assignments. Then, following a heart attack in 1971, Newton's work took on new purpose. He began to openly explore sexual themes, rocking the photography world and capturing interest around the globe. Newton's wife, June, is said to have encouraged him in this new career course as he began to depict women in increasingly aggressive and sometimes menacing roles. The 1978 horror classic "The Eyes of Laura Mars" was influenced directly by Newton's work. Newton was the recipient of a number of honors, including Germany's Kodak Award for Photographic Books, the Tokyo Art Director's Club prize and an American Institute of Graphic Arts award. He was also recognized by the French and German governments. Life magazine honored Newton with the Life Legend Award for Lifetime Achievement in Magazine Photography in 1999. In 2003, Newton donated a large photo collection to the Prussian Cultural Heritage Foundation in Berlin, the land of his birth. The collection remains there today. Newton continued to travel during his waning years, primarily alternating between Los Angeles and Monte Carlo. He died on Jan. 24, 2004, in an automobile accident. His ashes are buried in his home city of Berlin.
Gallery:
Website: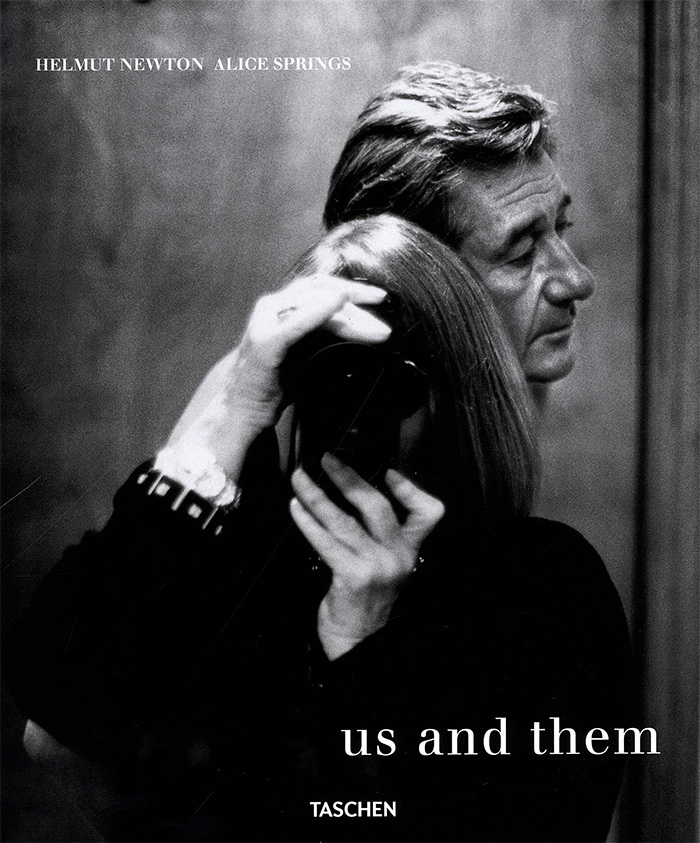 Author: Helmut Newton, June Browne
Publisher: Taschen
Year: 2016 - Pages: 200
Two cameras, one couple: Helmut Newton and Alice Springs turn the lens on their love and their life Us and Them is an ode to partnership and art. First published in 1999, it gathers photographs by Helmut Newton and his wife, the actress and photographer June Newton, who worked under the pseudonym Alice Springs. The collection is arranged into five sections, alternating the gaze between Newton and Spring's own tender internal world of "Us", and the glamorous encounters of their social and professional milieu -"Them". The "Us" sections of the book reveal the pair's portraits of each other and themselves, as startling in their moments of vulnerability as they are infectious in their episodes of joy. We see the pair pensive, weary, or roaring with laughter. Alice photographs Helmut on set with his models, in the shower, and in stilettos. Helmut captures Alice in the kitchen, in costume, and hanging up the washing in the nude. Along the way, we are alerted to the frailties and intimacies that make up a long-term partnership and that coexisted with the high-voltage glamour for which Newton is renowned. The particular power of the pictures is to locate as much magnetism and beauty in an aging, ailing partner (Helmut in the hospital, Alice adjusting her spectacles), as in the pristine physiques of a Newton fashion shoot. In the concluding "Them" section, Newton and Springs each turn their lens on the same, typically famous, subjects, including Catherine Deneuve, Charlotte Rampling, David Hockney, Dennis Hopper, Karl Lagerfeld, and Timothy Leary. While Newton casts these subjects with his unique brand of statuesque allure, Springs deploys a softer focus to find something more suggestive, delicate, or playful. As we move from, in Newton's words, "truth and simplicity" to "editorializing", through youth and age, love and sex, and the public and private spheres, Us and Them offers not only an elegant example of independent visions within a shared life, but also a tender and inspiring chronicle of love through passing time.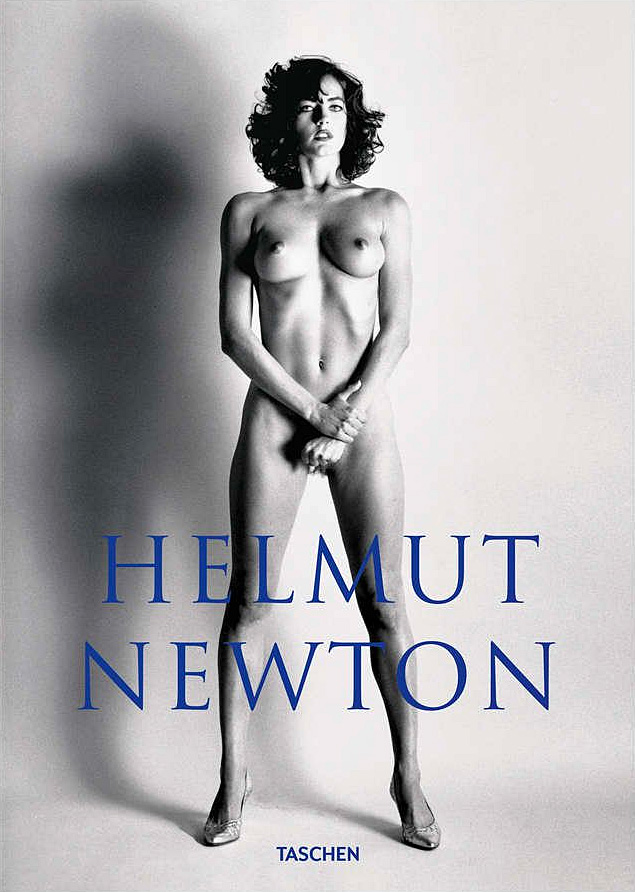 Author: Helmut Newton, June Newton
Publisher: Taschen America, LLC
Year: 2009 - Pages: 464
SUMO was a titanic book in every respect: a 480-page tribute to the 20th century's most influential, intriguing and controversial photographer, breaking records for weight and dimensions. Fifty people worked with Helmut and June Newton for three years to complete a book that weighed 30kg (66lbs). But size wasn't everything. Control and quality - printing, paper, binding - were all critical in making SUMO a worldwide publishing sensation, which is in many famous collections all around the world, including the Museum of Modern Art, New York.