Country: France | Born: 1978

Gabrielle Duplantier studied painting and art history at the university of Bordeaux in France. Photography was a hobby on the side. After her university studies, she decided to dedicate herself to photography and she went to Paris where she worked as an assistant for several photographers. In 2002, she felt the need to come back home. Inspired by the rich and enigmatic Basque country, she started a series of photographs where landscapes, animals or humans are revealed as impressionist visions, this body of work contains some of her best images. She pursues her work on portraits of women, one of her favorite subjects, and on Portugal where she travels regularly.

Gabrielleís photographic world seems voluntarily detached from all temporal or social reality. So her subjects or not really thematic, she is seeking beautiful images that exist outside of any context, on their own. She has already published 3 books, works with press, edition, she collabore with musicians, writers. Her work is also regularly exhibited. In 2012, Gabrielle Duplantier appears in MONO, edited by Gomma books, monography of the best contemporary black and white photographers along with artists such as Michael Ackerman, Trent Parke, Anders Petersen, or Roger Ballen...

FNAC's Collection and privates Collections.
Finalist Grand Concours Agfa 2003.
Coup de Cúur Bourse du Talent Portrait, Photographie.com 2005.
Finalist Parole photographique, Actuphoto 2008.
Published in Photos Nouvelles, Shots Magazine, Gente di fotografia, Le Festin, Pays basque magazine, Geokompakt, Philosophy magazine...



Website: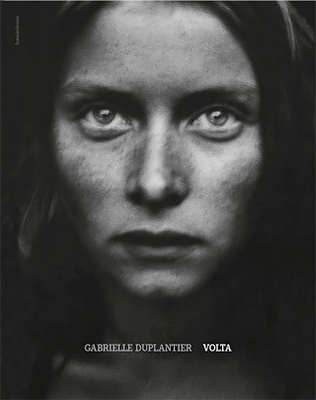 Author: Gabrielle Duplantier
Publisher: La Main Donne
Volta, in Portuguese, can mean all at once and among other things around, return, stroll, ride, but also change. The photographs by Gabrielle Duplantier seem to echo this word : roaming and erratic, crossed by intriguing figures, delicately anchored between reality and fiction. These wanderings always bring her back to homelands and loved ones, and her pictures, bathed both in twilight and sunlight, are so many enigmas that link people and places.