From September 05, 2020 to October 24, 2020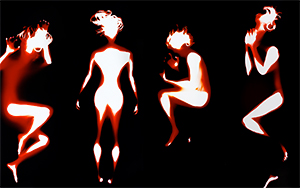 291 Church St
New York, NY 10013
Elongated Shadows is a multimedia exhibition examining the atomic bombings of Hiroshima and Nagasaki, from the viewpoint of both the Americans who were behind the research and detonation of the bombs, and the Japanese civilians who were victimized in the infamous attacks.

Two of the exhibition's artists, Kei Ito and Yukiyo Kawano, are third generation hibakusha, survivors of the atomic bombings. Through their work, they reflect upon their grandparents' experiences in an effort to better understand their own inherited trauma and the unknown impact of radiation across generations. The three additional artists have ties to the American side of the conflict. Suzanne Hodes has an intimate connection to the bombings as the wife one of the lead scientists who contributed to the creation of the bomb with the Manhattan Project. Andrew Paul Keiper and Ari Beser are both separated from the conflict by a generation. Keiper's grandfather was an engineer for the Manhattan Project and Beser's grandfather was the only person to fly on both the flights that dropped atomic bombs in Hiroshima and Nagasaki.

Planned for the 75th year anniversary of the bombings, the exhibition revisits one of the biggest catastrophes of human history in an effort to encourage a more measured response to current nuclear tensions. Elongated Shadows reveals the true impact of nuclear bombs. Gathering artists forever connected by tragedy, it prompts reflection on themes of forgiveness, identity, and heritage.

*Elongated Shadows is an apexart New York City Open Call Exhibition, originally set to open at 291 Church St., New York, NY, however due to Covid-19, it will now be presented online.