Do you want to grow your website and reach thousands? Whether you are trying to decide on the right images to include or communicating your needs with a web design firm, being mindful about your website can drive traffic and engagement. It can lead to higher rankings and a more user-friendly interface.
From personal photo passion projects to full-blown online photography businesses, follow these easy tips and tricks to increase traffic to your website!
Working with the web
As the world continues to move onto the digital expanse of the internet, keeping up a functioning and attention-grabbing website is crucial to navigating the modern landscape. Not only is obtaining the attention of the online audience important but holding their attention and keeping them coming back for more is even more critical.
On the internet, this attention is called traffic. Highly profitable and popular photography websites have a consistent amount of traffic and a lot of it. Most of these websites track their traffic patterns very closely and work hard to find ways to increase it.
Unfortunately, life moves so fast these days that it can be very hard to catch people's attention as they browse the internet, and sticking out among the billions of photography websites can seem like an impossible task.
The internet can be unpredictable and knowing what you have to do to attract more traffic to your website changes almost daily. Post high-quality and unique images and post them often. Make sure they are relevant to your style and draw browsers into wanting to see more of your work.
Luckily, there are a few surefire ways to understand, and increase the traffic to your website, and propel yourself to online success!
The good traffic
It's important to find ways to increase your website traffic for a number of reasons. There are more than a billion websites on the internet from all different walks of life, and standing out amongst the crowd can seem impossible. You want to get yourself in front of the eyes that will view your portfolio and be interested in your work.
Whether you're running a simple blog or a full-on photography business, you want your website to have the most traffic possible. The more people who click onto your site and view your content the better! When more people see your photos, the more likely you will reach your goals, whether it be booking new clients or selling your latest prints.
First things first, there is both good traffic and bad traffic. The website traffic you want to attract is from real people who spend more than a few seconds on your page and create conversation or leave feedback. Don't be hesitant to ask your happy clients to contribute their raving reviews on your page.
Attracting real people and keeping them engaged is key to increasing and maintaining attention to your site. Increasing the traffic to your website is crucial to building your online presence and maintaining everything from a personal passion project to a full-blown business!
Make it with marketing
With the seemingly endless number of websites on the internet, it's crucial that you develop and implement an
effective marketing strategy
so you can reach the masses with your content. There are a few good ways to do this, but make sure to add your own spin on the style to fit your website.
Along with the rise of the internet, social media has taken the world by storm, and it opens up a world of possibilities for showing off your site to the world! Just about everyone is on some form of social media, and between all the leading apps and sites there are limitless possibilities for seeking out more traffic.
Creating your own social media posts and reaching a new audience through those external sites can be highly effective, but you can also directly advertise using targeted ads through those media sites. Think about the time of year when you plan these ads. Your mini shoots can be a popular selling item during the holidays.
You can also target certain demographics with social media ads. Look for ways to draw in the audience most likely to use the type of photography you offer. Are you a newborn photographer? Target adults in their twenties and thirties most like to have kids.
You can even target users by interest. Do you sell landscape prints? Tune your ads towards nature lovers. Maybe you're a sports photographer. Look for options to target your ads to athletically inclined users.
In the long run, dropping some cash for a targeted ad on a large social media site will draw more attention to your website because the ads are designed to be shown to people who like and search sites like yours.
Even though you may receive a wave of new traffic to your site right after beginning marketing, make sure to continue to market your site and/or services to keep the momentum building.
Keep it consistent
An online audience loves nothing more than consistency. One of the main goals of attracting more good traffic to your website is gaining a consistent audience of people who continue to return to your site for more content.
A loyal audience is going to want to see a consistent amount and type of content and/or services on your site. Don't post the same old blogs and galleries every week, but spice it up in a fun and fresh way while still maintaining the overall niche and energy of your website.
Make sure your gallery pages are current with your latest and greatest work. And create unique blogs that tell a story about the photos. If you're a wedding photographer, details about the couple's big day can make the photos more special. Or, share facts about the animals you capture if you are into wildlife photography.
Stick with SEO
SEO is one of the most
important aspects of maintaining a successful website
with loads of consistent traffic. Using the most popular keywords and phrases and tracking the analytics is an easy way to tailor your content to attract more visitors.
Using SEO puts your content higher up on the search results, and anyone searching around for something similar is more likely to see your website if you ensure that you slip in those keywords!
Think about it from the lens (pun intended!) of the users that will be searching for your site. Use the phrases that they will use when looking for your services. Then, find natural and authentic ways to add them to your content.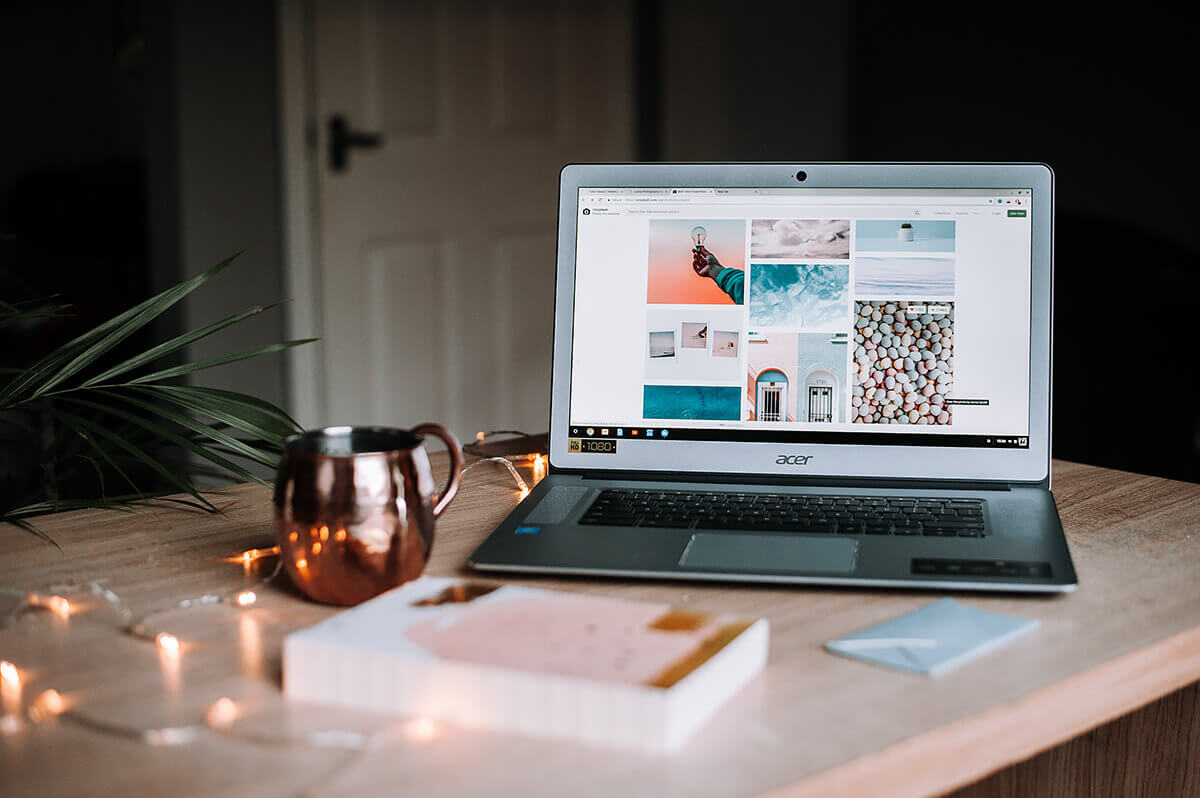 Please the crowd
It might sound obvious, but another crucial part of increasing traffic to your website is pleasing the crowd. Again, you want to convince everyone who visits your site to return for more! Give them a good reason to stick around for the long run!
An easy way to do this is to accept feedback from anyone who visits on everything from your content, products, and services. Take suggestions and implement people's ideas and constructive criticism into your website.
People who take the time to make a polite yet observant comment about your site often have a lot of insight into what could help you improve your content, and make it better for potential viewers! Ask clients or customers what they found easy about interacting with your site, and what wasn't as great of an experience.
Master the mechanics
Along with creating consistent and engaging content, it's pretty important that the website actually works when people visit. Nothing is more annoying to an online audience than a clunky, laggy website.
Before launching, preview the site to make sure all of the technical aspects work perfectly, and while the site is live, run a test every so often to make sure things stay smooth. The more high-resolution photos you add, the longer it might take to load. Keep an eye on your load time and make sure to make appropriate improvements.
Keeping up with the mechanics of running a website will show the internet you're serious about getting their attention, and keep people coming back for more!
Leave it to the pros
Hiring a professional web design firm can be the perfect way to cover all your bases and ensure that nothing gets lost in the chaos! When hiring a web design firm for your website, there are a few key ideas to think about to help choose the perfect fit for you and your site!
Start by making a detailed list of your goals for the site. You want to make it very clear to potential business partners what you would want them to do. Good website designers will tell you upfront if they can provide the services you are looking for, and giving them a detailed list will help them outline a plan for making it happen!
Don't settle for the first designer you find, browse the web looking for the best options available for you within your price range. Look at portfolios and find someone who has experience designing photography websites.
Finding a reliable and professional web designer or firm to handle all of your technical and design needs is one of the best and easiest ways to increase traffic to your website without having to struggle with it yourself!
Tying it all together
It still might seem like a ton of content to master, but all of the most popular and profitable
photography websites
use these simple tips to continue to grow and reach the masses every day!
Investing a little more time into your site to learn these tricks will pay off in the long run, and are quite easy to master once you get a feel for the internet. You'll create a stunning, intuitive site. And this will only draw in more users to check out your awesome work!
While the internet can seem like a vast expanse of endless websites, and it feels that getting lost in the wave of content is inevitable, with a little hard work and some useful tips from the experts, increasing traffic to your website is just a few clicks away!
About the Author
Gabe Nelson is a content specialist of over 7 years of experience, currently working with thecreativemomentum.com.
Thecreativemomentum.com
is a web design firm in Atlanta. Just out of high school he set off crab fishing on the Bering Sea in Alaska. From there he went back home to finish his college degree at the University of Montana. He has a passion and keen understanding when it comes to web design inside and out. He has written hundreds of content pieces in numerous niches. Currently, he lives in Missouri with his wife and kids.