Of all the firearms in the world owned by private citizens for non-military purposes, half are in the United States. Numerically they exceed the country's population: 393 million for 372 million people. This is no coincidence, nor a matter of market alone: but of tradition and Constitutional guarantee. It is the history of the Second Amendment, ratified in 1791 to reassure the inhabitants of the newly independent territories. Two hundred and fifty years later, it is still entrenched in all aspects of American life. This book frames its current status through what are seen as four fundamental American values: Family, Freedom, Passion, Style.
Gabriele Galimberti
has travelled throughout the USA, from New York City to Honolulu, to meet proud gun-owners and see their firearms collections. He has photographed people and guns in their homes and neighbourhoods, including locations where no one would expect to find such collections. These often unsettling portraits, along with the accompanying stories, provide an uncommon and unexpected insight into what today is really represented by the institution of the Second Amendment.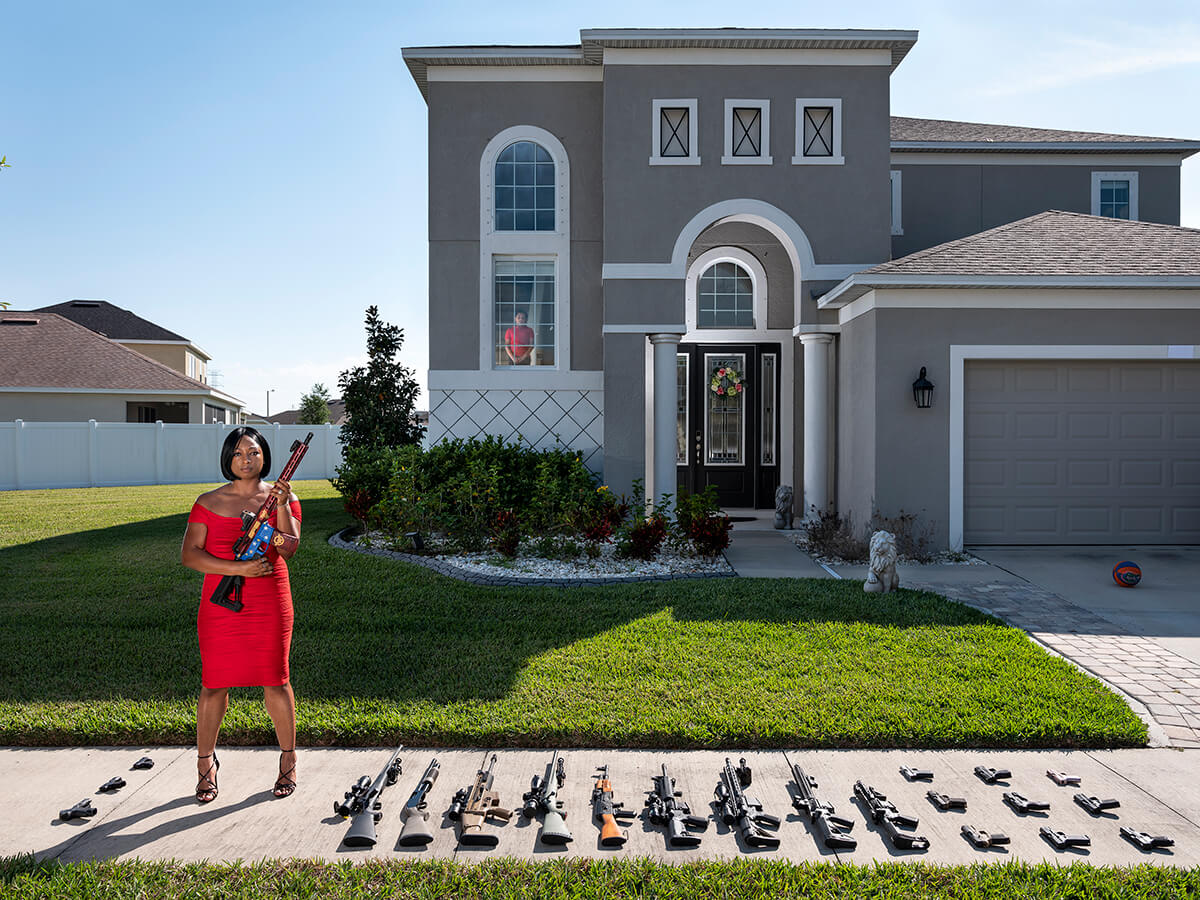 Avery Skipalis (33), outside of her house, posing together with all the firearms she owns, Tampa, Florida © Gabriele Galimberti
Gabriele Galimberti is an award-winning Italian photographer who works on long-term projects around the world, several of which have become books including
The Heavens
, published by Dewi Lewis in 2015. He has exhibited in shows worldwide and recently became a National Geographic photographer, working regularly for the magazine.
Gea Scancarello
is an Italian journalist and author whose work has appeared extensively in Italian and foreign media. She has published two previous books Mi fido di te (Chiarelettere, 2015) and Addicted (Hoepli, 2020).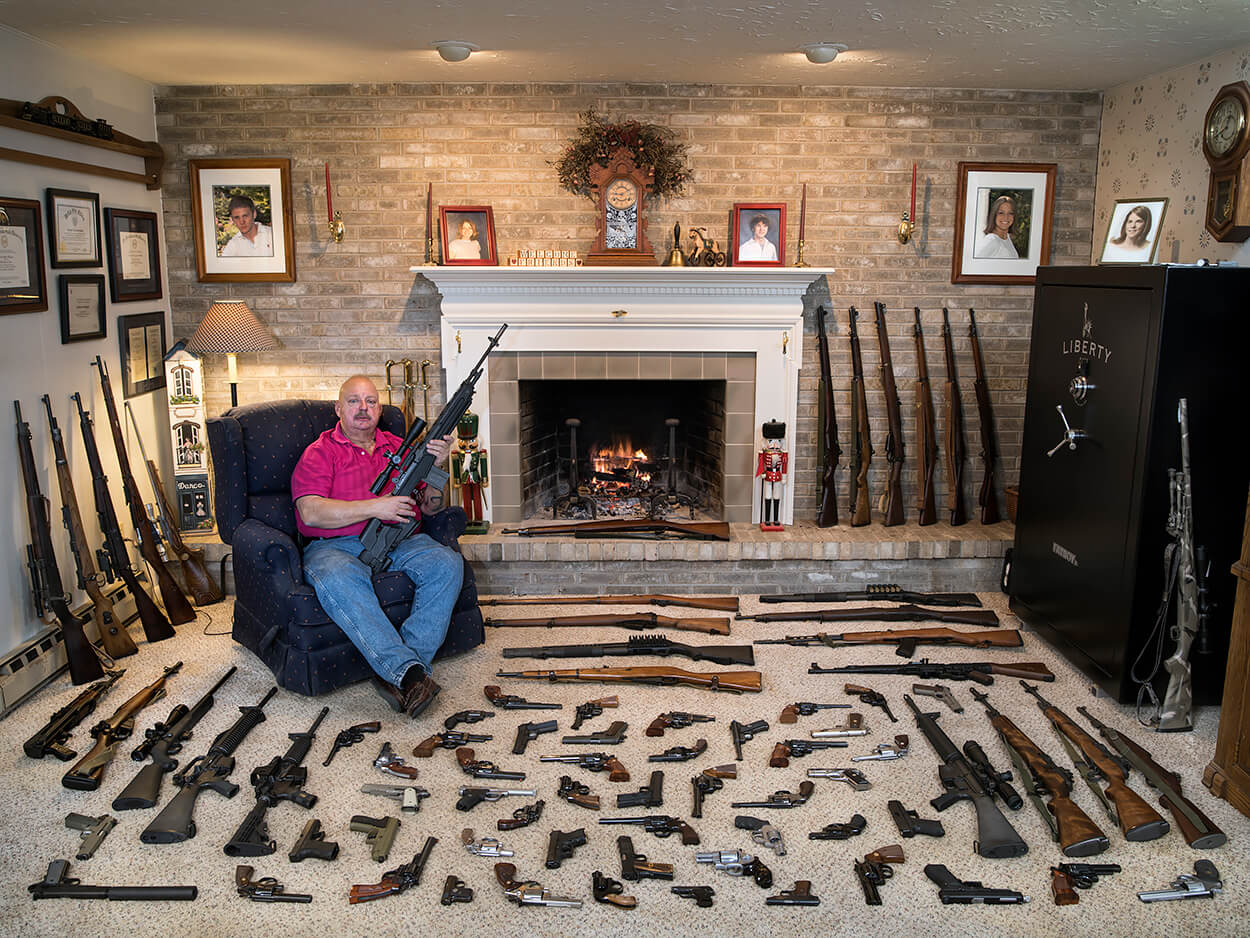 Stephen Wagner (66) - State College, Pennsylvania / THE AMERIGUNS - In the States there are more guns than people. 120.5 registered firearms for every 100 residents and the statistic doesn't count not-registers firearms. As an European, I started wondering if owning many weapons by a single person or family is a common habit in the US. I traveled across the US and created a series of 45 portrait of families or single individuals, including all races and beliefs, together with their fireams.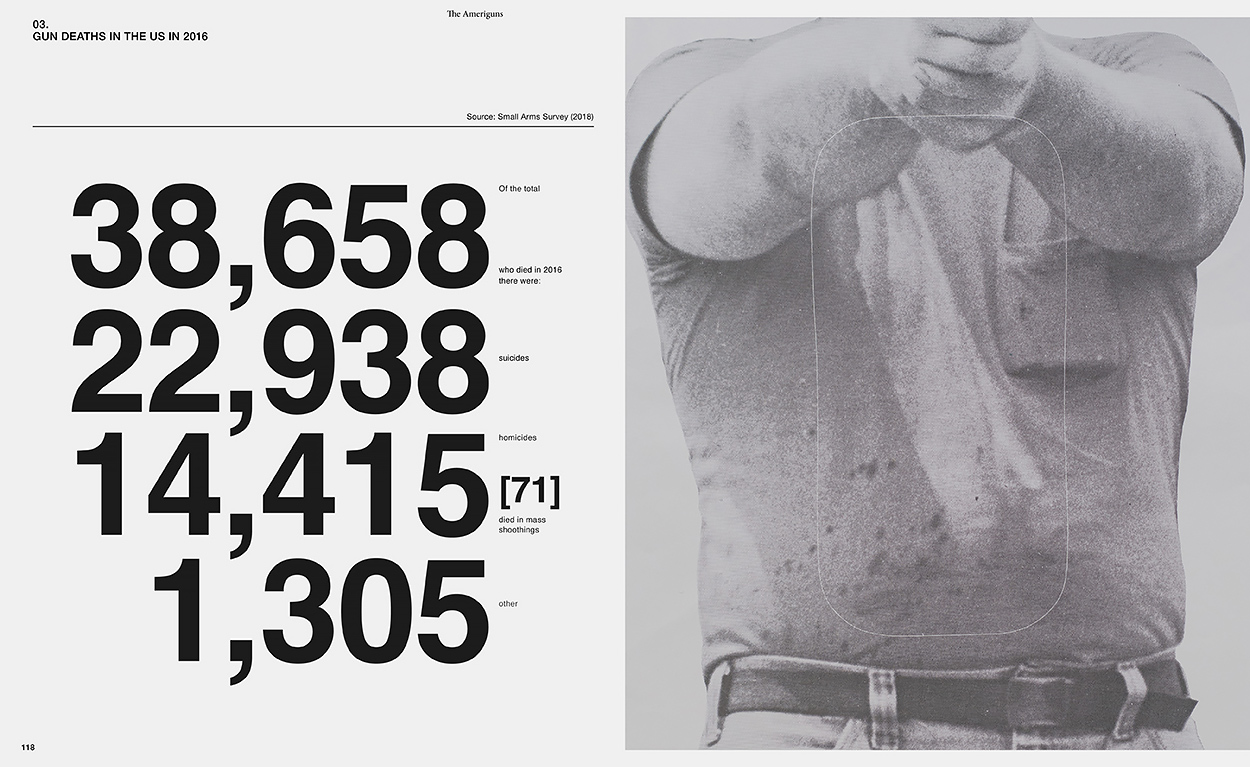 The Ameriguns © Gabriele Galimberti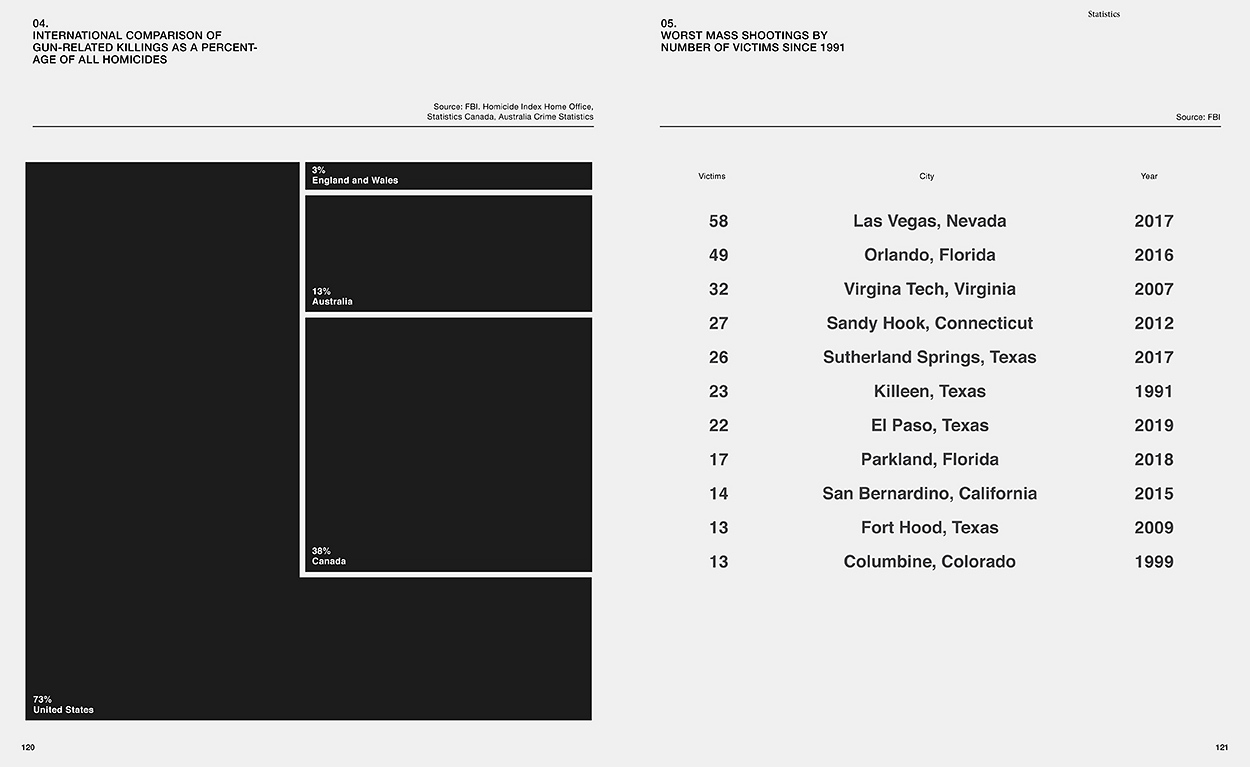 The Ameriguns © Gabriele Galimberti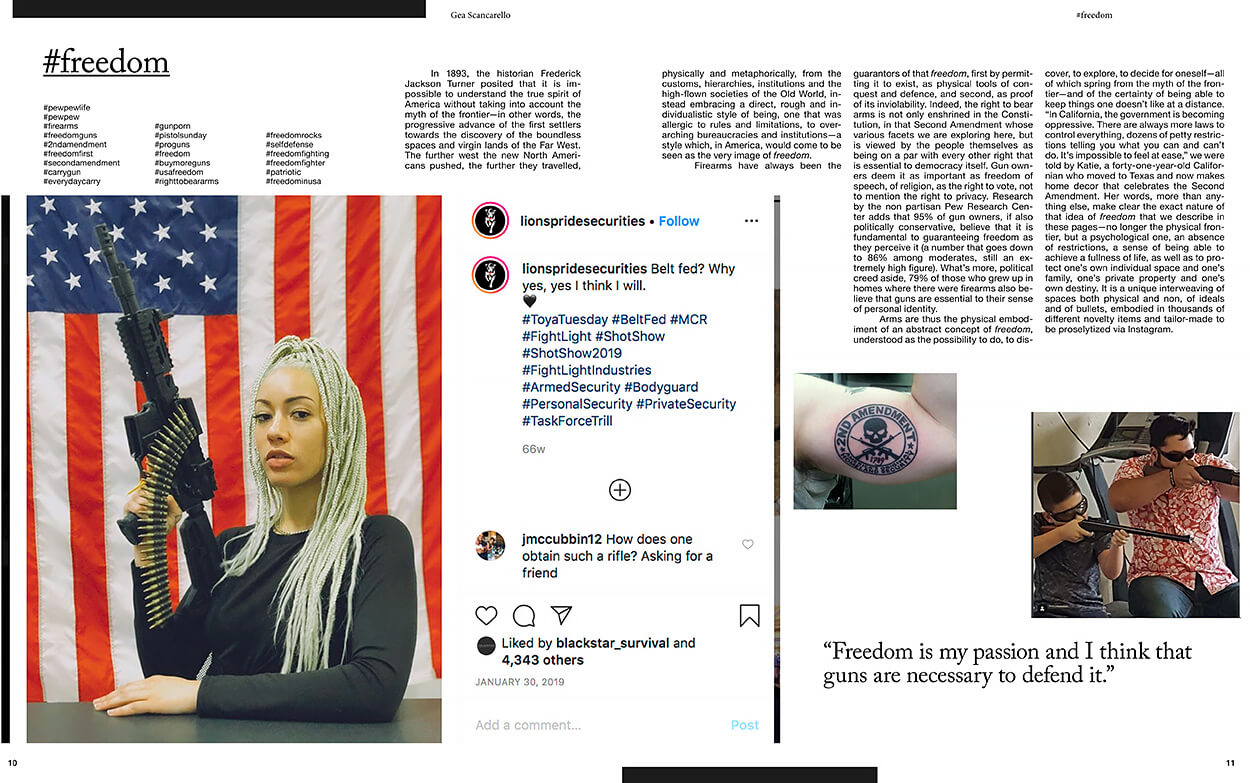 Instagram spreads from The Ameriguns © Gabriele Galimberti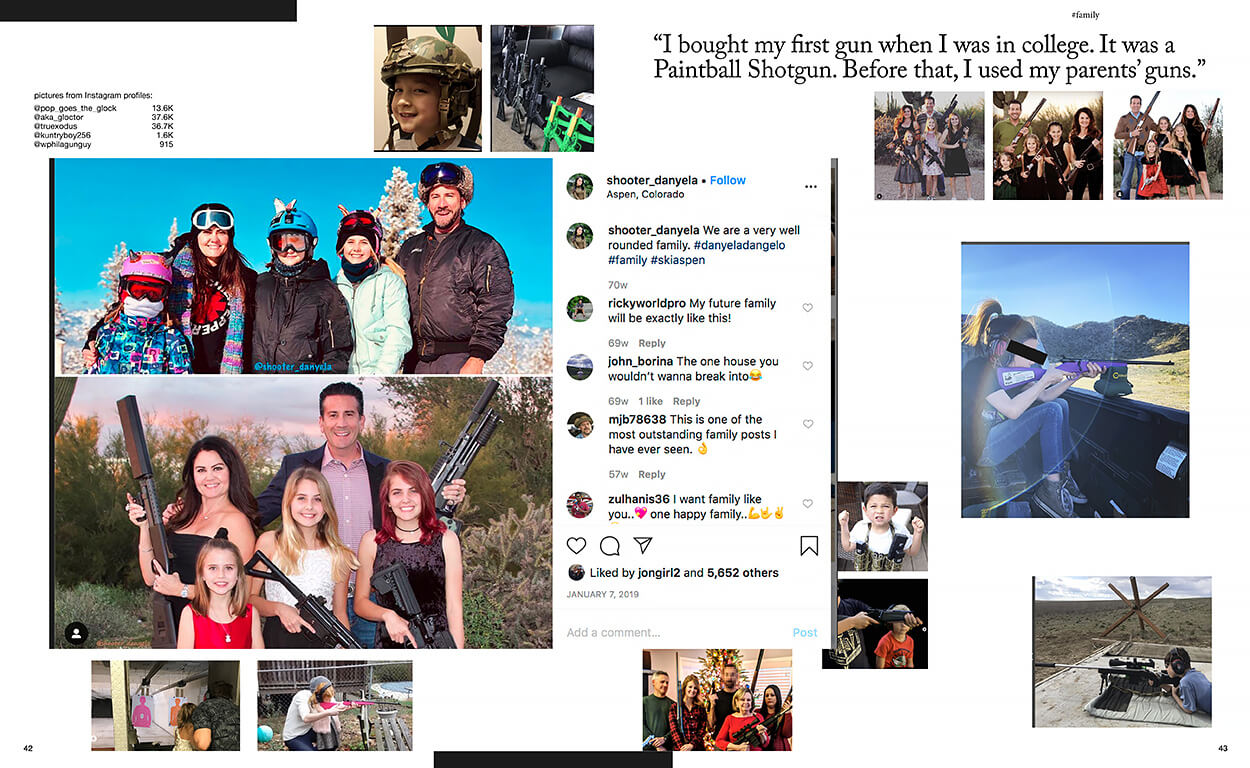 Instagram spreads from The Ameriguns © Gabriele Galimberti
Gabriele Galimberti's Website
Gabriele Galimberti on Instagram
Gabriele Galimberti is a Winner of All About Photo Awards 2020
All About Gabriele Galimberti