Photography has always occupied an important place in my artistic career. It's not just about correctly framing the subject and getting a nice picture. It's the concept itself of capturing a unique moment in the fabric of time and space that attracted me the most, since the beginning of my journey into this creative media.
My favourite subjects have always been abandoned buildings and places, and I can vividly remember the times at university - Fine Arts of Venice - when I was planning how to enter restricted areas to snap some extraordinary shots of abandoned industrial sites, close to Venice.
Those were not mere photoshoots, but intense life experiences. The adrenaline built up and the heart accelerated fast on approach to the fence of the abandoned location. The fear of the unknown swiftly swept away by a profound sense of peace - as I was starting shooting - wondering through those majestically decadent structures. It felt like visiting a museum of space and time.
When I moved to London, in 2009, I had to abandon that surreal photographic journey in order to focus on my professional career as a filmmaker, producing award-winning short films such as Stand Up and Lightning, while working in the commercial field, developing creative assets for clients.
Photography remained an essential part of my professional career through product and lifestyle photoshoots, but there had been no time for personal projects until March 2020, when the lockdown was imposed on the population of the UK.
Everything stopped, and finally there was all the time in the world for most of us to focus on those things we left behind.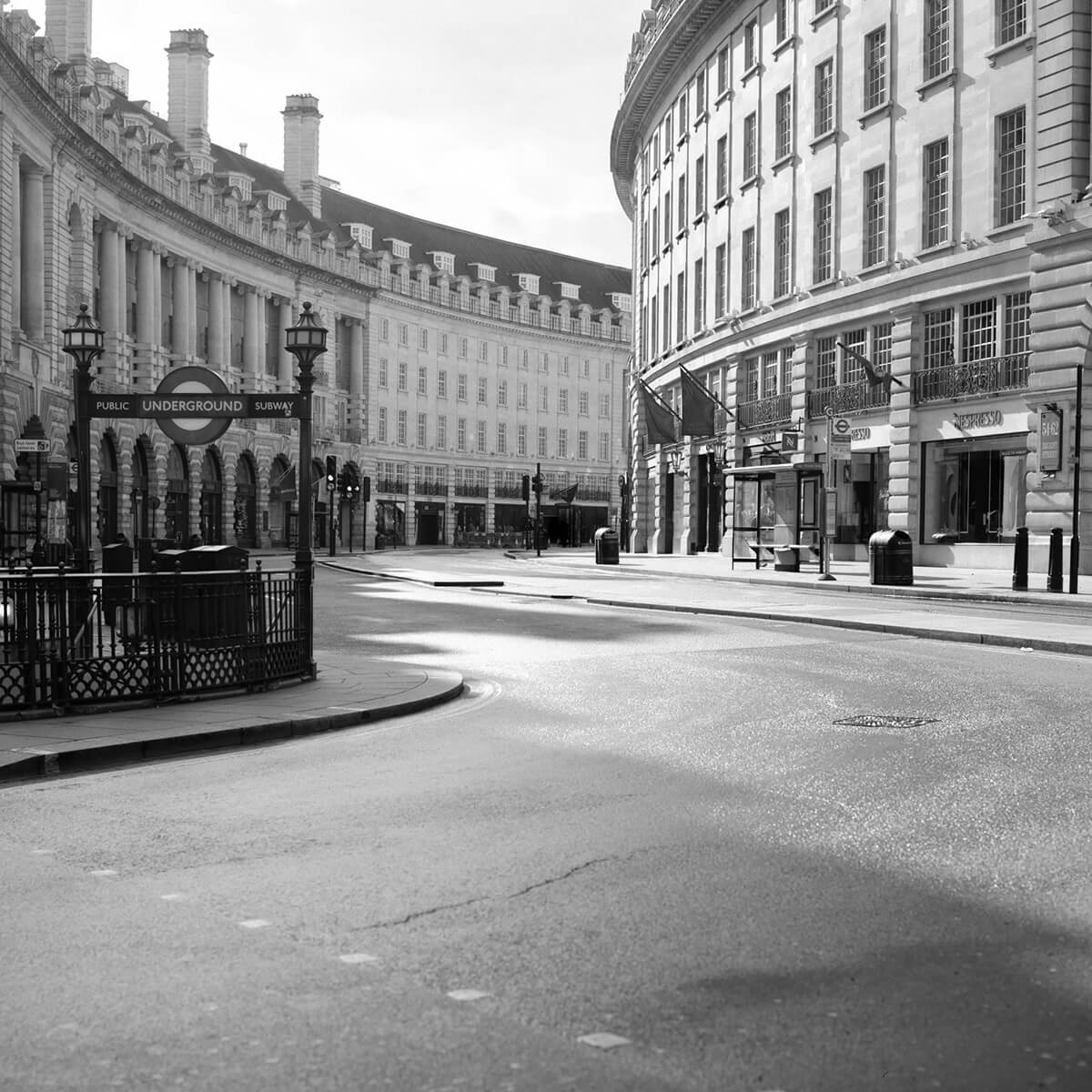 It was at that point that I realised I could do something about it, and it felt obvious that documenting the lockdown would be the best thing to do, in order to capture that unique historical moment, so that one day we could look back into it, reflect on what we have been through and hopefully make this world a better place.
That was the beginning of the project LCKDN20, documenting the abandoned streets of London to commemorate - and never forget - a population that stood together against an invisible enemy.
Instead of shooting in digital, I opted to go with film - Ilford FP4 and HP5 - and the Hasselblad 500 CM, to enrich the project with more historical and archival value, but not only.
Because we live in a digital world, where everything is so connected and almost automatic, choosing analogue over digital meant going back to a rather more manual process - a very slow and articulated one - which would allow me to have full creative control over every aspect of the work.
Shooting on film forced me to take countless steps to get everything done right, starting from the choice of films to shoot on, ordering the film rolls, making sure they were conserved in the correct way (in the fridge), making sure no dust was left in the film back while loading the film rolls, bringing the films to develop, collecting, scanning and archiving them in acid-free archival quality boxes.
And all of that was just the first part of the process, since printing would have taken a whole new and equally articulated route.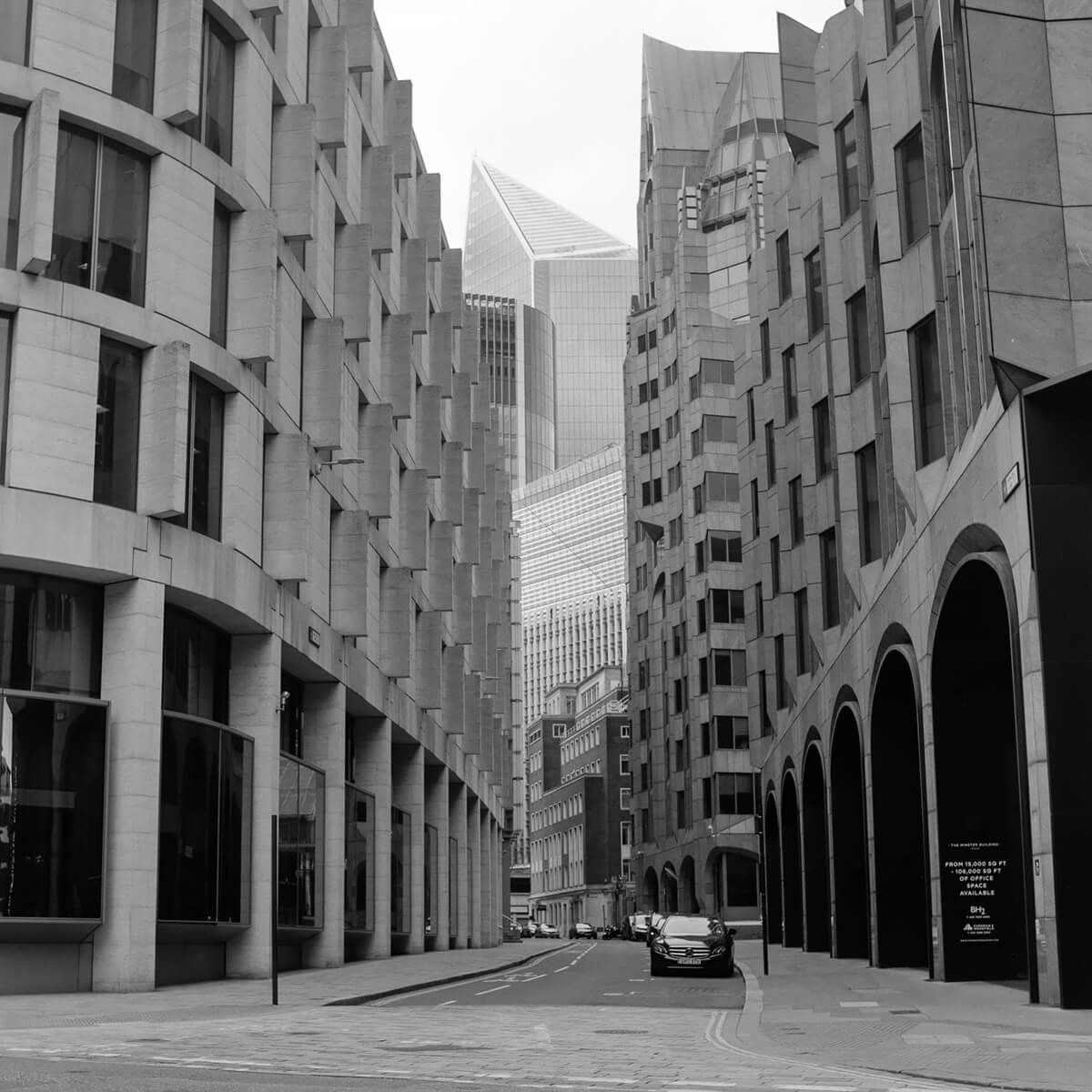 With that in mind I started planning. I took a map of London and pinpointed all the locations that would have been essential to document, created an effective 20 day shooting plan to cover all these areas, and on the 30th March, I started shooting.
In order to reduce the risk of spreading the virus, I wore a mask and gloves at all times and used Jump electric bikes to move freely through the city. Those bikes could be picked up and dropped literally on any street, meaning I could move through different areas, with no effort.
The first shooting location was Camden Town. From there I started covering all the main areas in central London, capturing incredible shots of a London never seen before - not even in movies.
Shooting the deserted city was like going back to my old photographic journey through the abandoned architectures, almost a decade before. And the feelings I experienced were quite similar too. Adrenaline was kicking in as I was leaving my place and cycling to the first location of the day. Tension was high, because of the hope of reaching the place at the perfect moment, with not a single person obstructing the shot.
Each time I reached a new location, the adrenaline level dropped back to normal, and all I could feel was the eerie atmosphere, which permeated every single place I have visited. On one hand, the emptiness oppressing the city felt quite disturbing and sad, especially thinking about all the people that were affected by the virus, in that same moment. On the other hand, seeing London that way was doubtlessly a unique and surreal experience, which is difficult - if not impossible - to express in words. It felt as if time stopped, almost like being on a film set with nobody around. Birds gathering in the streets, the absolute silence, the cleaner air and the peace.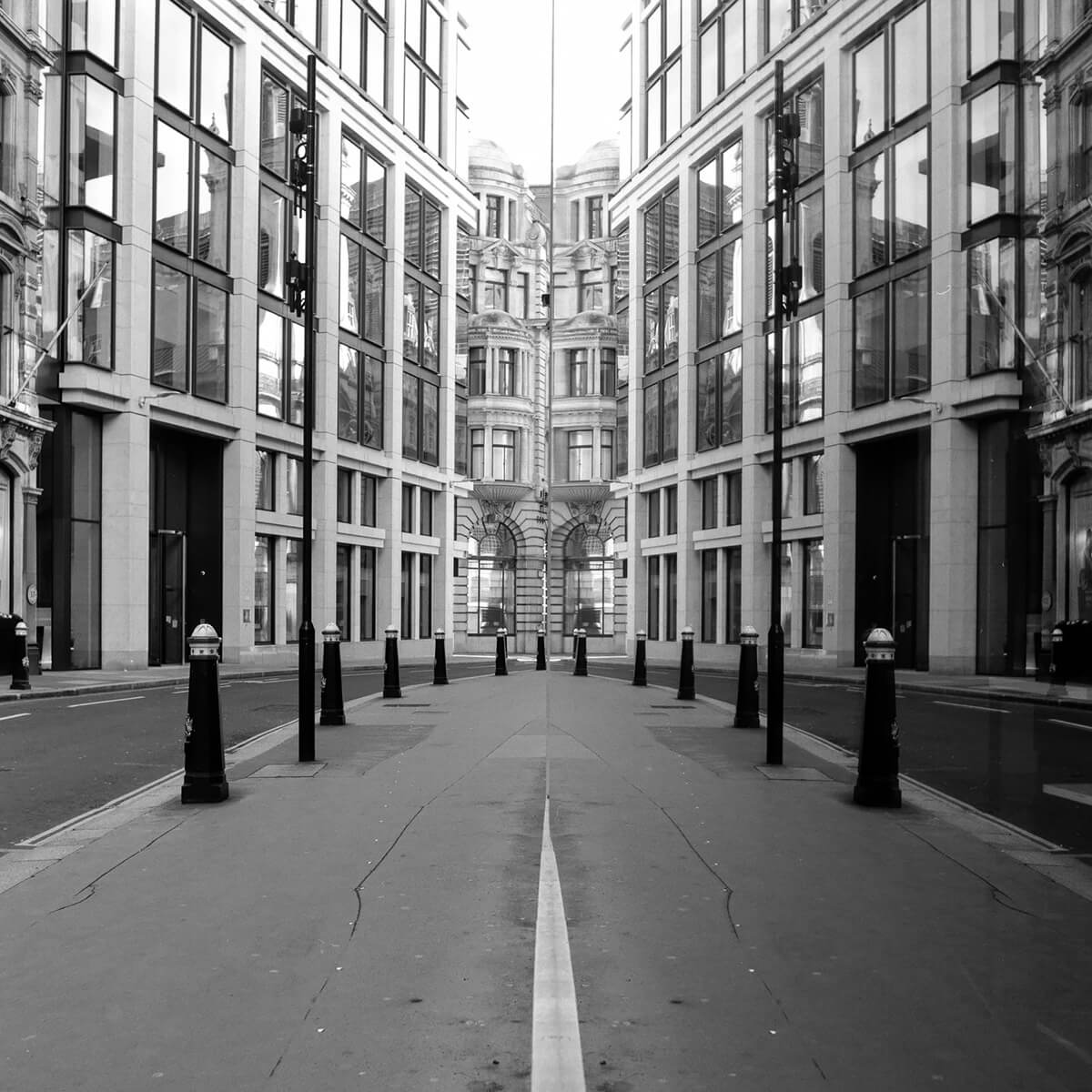 The few people I have encountered from time to time were workers going to and from work. Their walks were much slower than the standard Londoner's walk, more relaxed and not in rush at all. They seemed to enjoy the new London, an empty concrete jungle, frozen in time.
A few of them even stopped by for a chat, something that would have never happen in pre-lockdown London.
Time flew from the first shooting day, and location after location I managed to cover the entire map in just 20 days - as originally prognosticated - exposing a total amount of 150 film rolls, quite possibly giving life to the most exhaustive documentation of the empty streets of London, entirely shot on film.
The shooting process has not been easy at all, indeed I faced many issues - both technical and logistical. An entire batch of 10 rolls was compromised by a production issue, and a nasty eye infection kept me sleepless and in pain for a good week, slowing down my already tight schedule.
And on top of that, it's also worth mentioning the huge amount of film rolls I had to constantly take to the lab for development, then collect, scan and archive them, almost on a daily basis.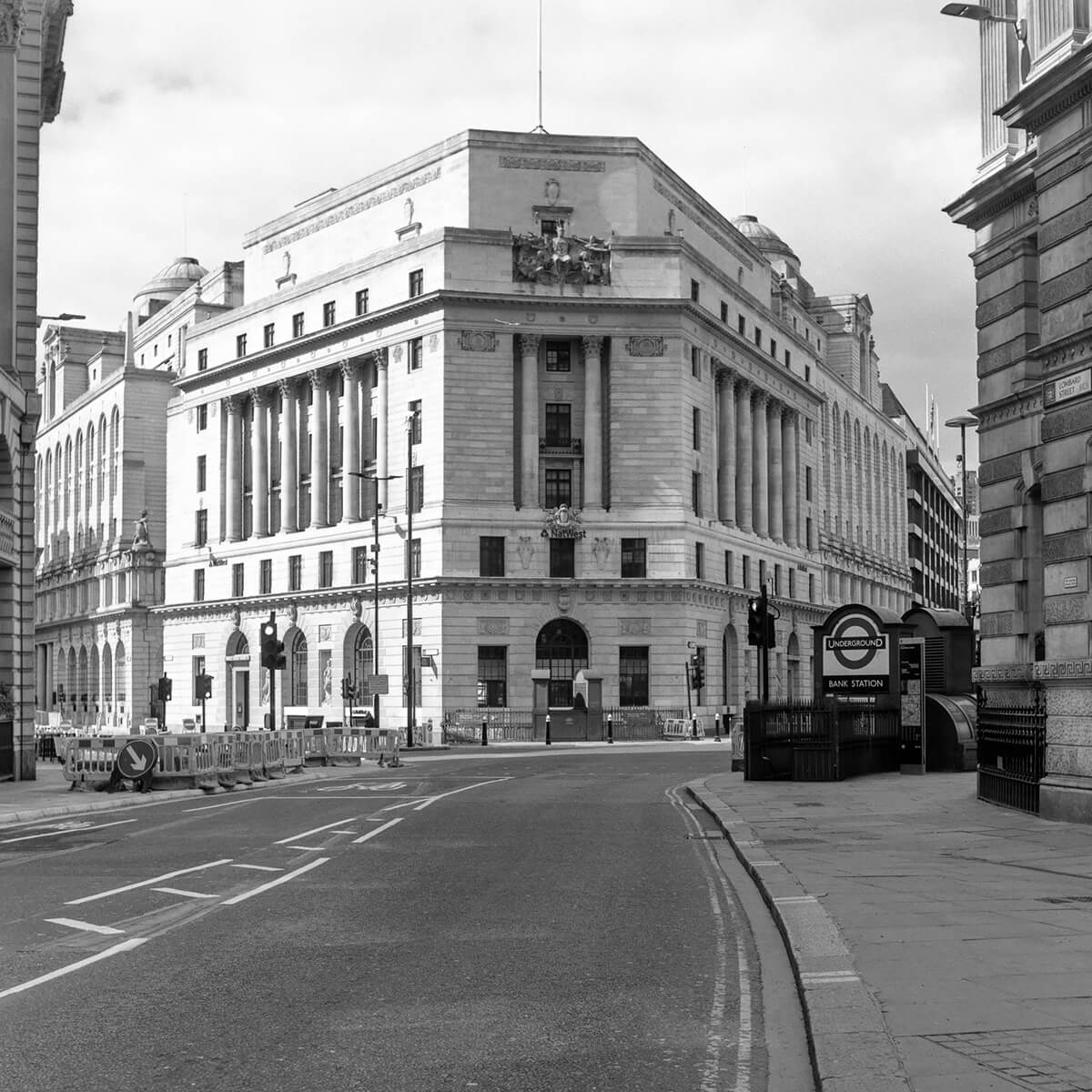 Yes, it was very intense but also — and without a doubt — the most unique experience for an artist to live. An adventure from which I learnt a lot and came out with an amazing collection of extraordinary shots.
With the shooting process done, it was finally time to move to the next step: printing the pictures.
First of all, I had to choose the right paper for the prints.
Ilford - leading manufacturer of photographic film, papers and chemicals - kindly decided to support the project, offering testing papers and a sponsorship discount, to allow me more peace of mind during this very expensive and delicate process.
Thanks to that I have managed to try their best fibre-based papers - well known both for their quality and archival feature - and after rigorous tests I have decided to go with the MULTIGRADE FB CLASSIC Glossy, 20 x 24 inch. A superb variable contrast paper, on a heavyweight baryta coated, fibre base, which is designed to provide top notch creative results, with rich deep blacks, neutral image tones and great clarity.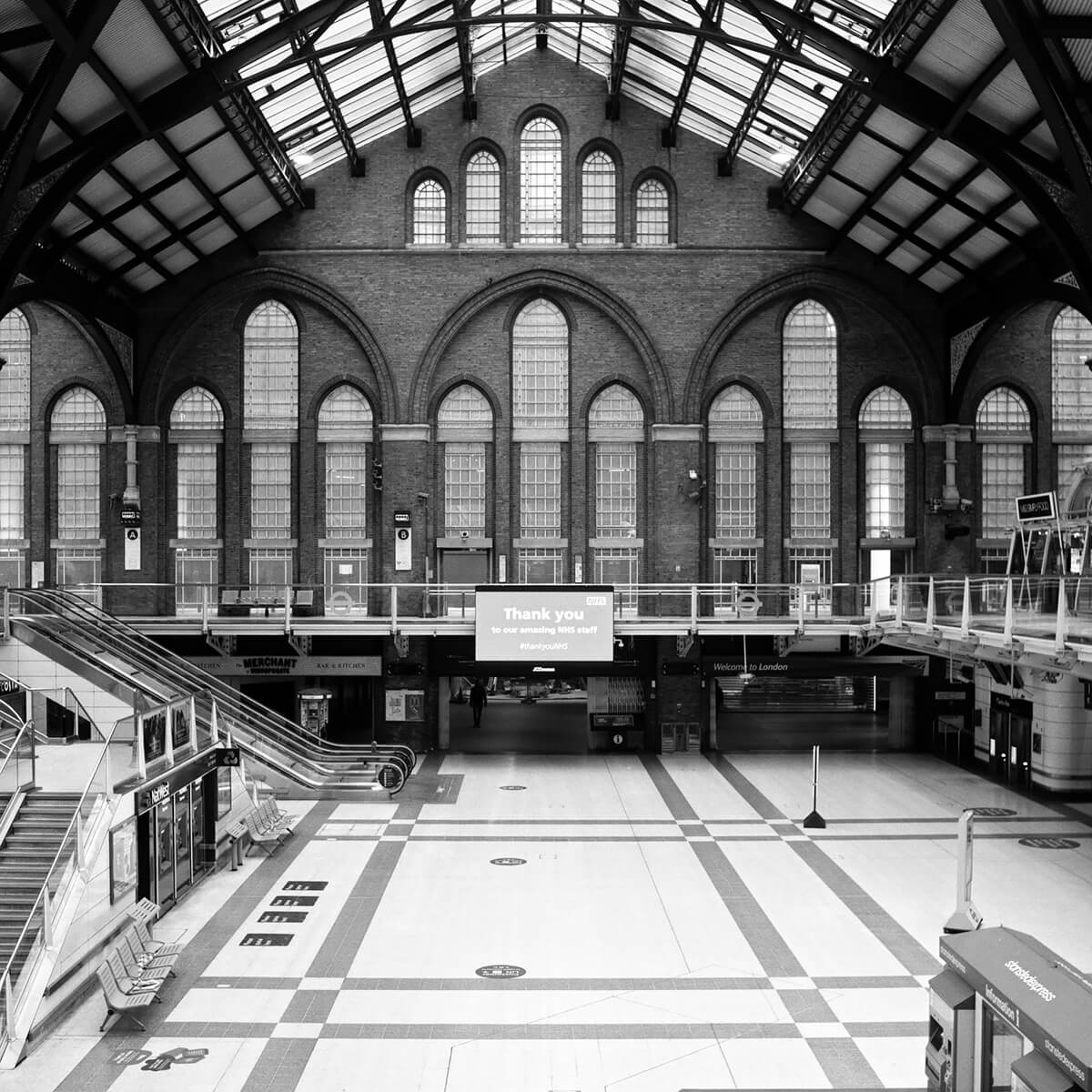 The big downsides of fibre-based paper, though, are both the washing process - which requires longer time than normal paper - and the dry method, since prints tend to become kind of wavy once they are dry. That alone has been one of the issues I struggled with the most.
In fact, having tried all the traditional drying and pressing methods, I found out that the one method that produced the very best results consists of placing a moist print under a glass, and leaving it there for a couple of days. This method delivered almost completely flat prints.
It took quite a few big failures to get there - as I not only needed to find out the perfect balance of moisture, but also understand whether it was better to place the print in-between two sheets of blotting paper, or in direct contact with the glass. In both cases, if the print was too wet, the emulsion would end up glued to either the blotting paper or the glass, and therefore be damaged. While if the print was too dry, the waves would have been compressed by the glass, creating permanent wrinkles.
With the best flattening method confirmed, I could finally start printing the very best pictures and create a portfolio, which is going to be presented to galleries interested in organising exhibitions, all over the globe.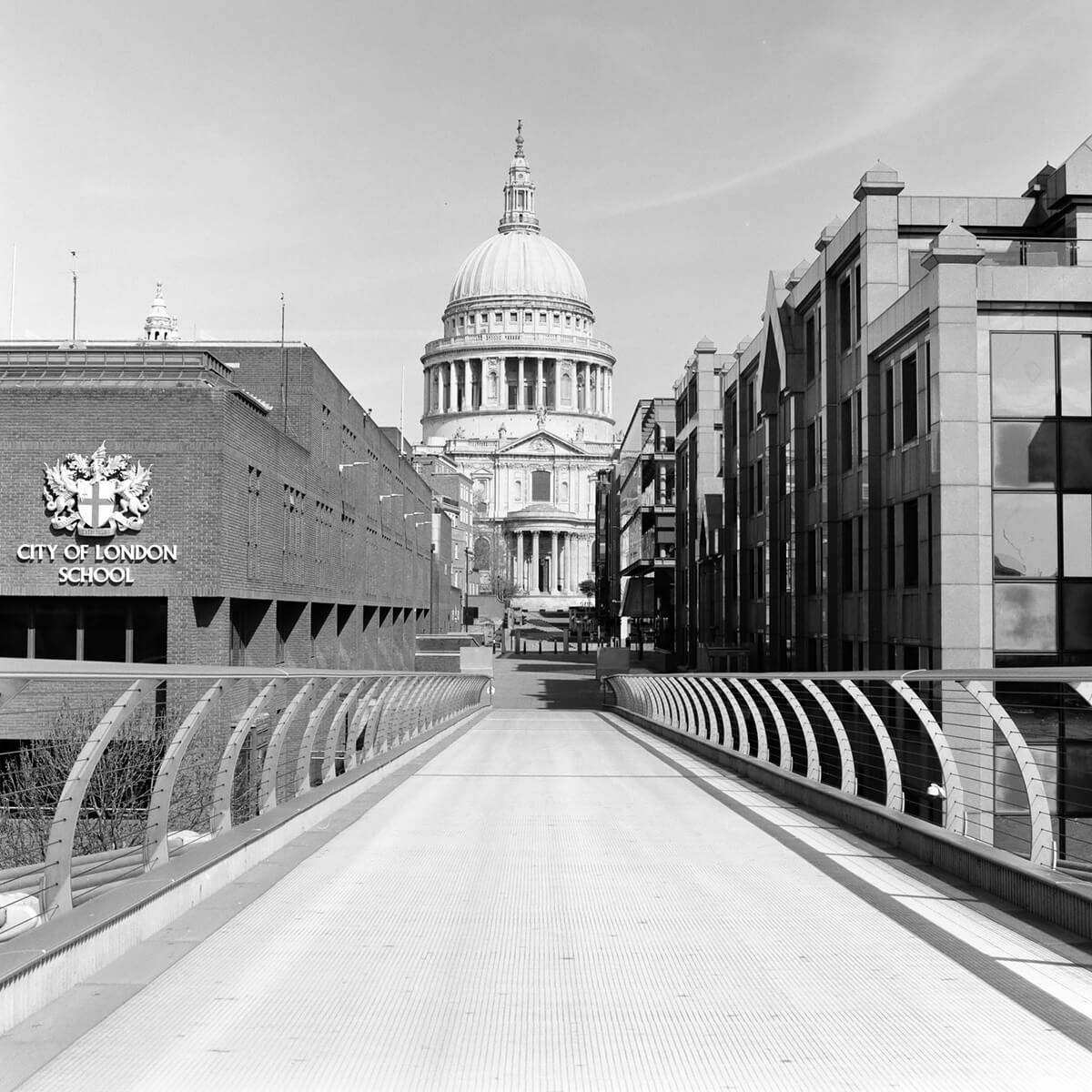 As 2020 lockdown is going to make it into history books, so will the art related to it. With that considered, LCKDN20 is not just a photographic project. It's a window to a unique historical moment... a moment in which an invisible enemy forced us to stop and proved that we have the power to change. When you look at those beautiful shots, you are not just looking at empty streets but at a population that chose to barricade at home, to protect and save each other - especially the weakest - which is probably the most beautiful thing we have ever done as a species, and that's why LCKDN20 should be considered an emblem for all of us to be inspired and never forget.