Catherine Edelman Gallery is excited to open the Fall season with What is Home? featuring work by Keliy Anderson-Staley, Omar Imam and Rubén Martín de Lucas.
The Webster dictionary defines home as one's place of residence; the social unit formed by a family living together; a familiar or usual setting. If you ask most people how they define home, it is either where they currently live, or where they grew up. But for many people today, home is not always tangible, due to displacement, border restrictions, or lack of safety.
What is Home?
brings together three photographers who each interpret the concept of home in very unique ways.
For more than fifteen years,
Keliy Anderson-Staley
[b. 1977, Boston, MA] has been working on [Hyphen]-Americans, a photographic tintype portrait series that encapsulates what America looks like today. Using a large-format camera, Anderson-Staley photographs anyone interested in having their portrait taken, regardless of age, sex, or ethnicity, as she continually adds to her collection of more than 4000 portraits. In 2017, after her Houston home and studio were flooded by Hurricane Harvey, she created Shelter in Place, a wooden house constructed of 560 portraits of local residents, as a testament to the strength and resilience of Houstonians. The idea of building a house of strangers redefines the concept of home.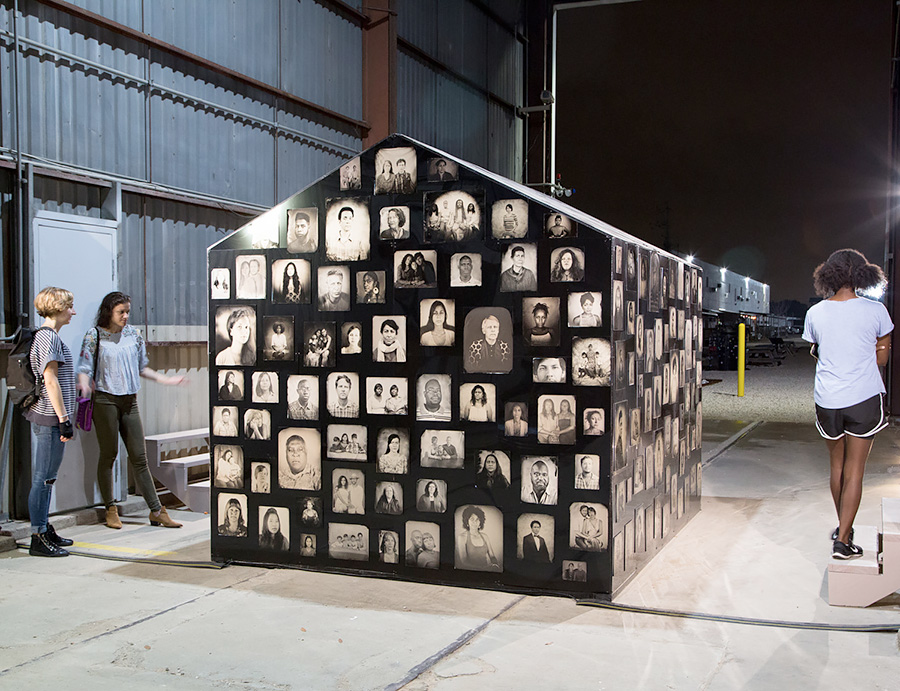 Shelter in Place, Install Shot 2, 2018 © Keliy Anderson-Staley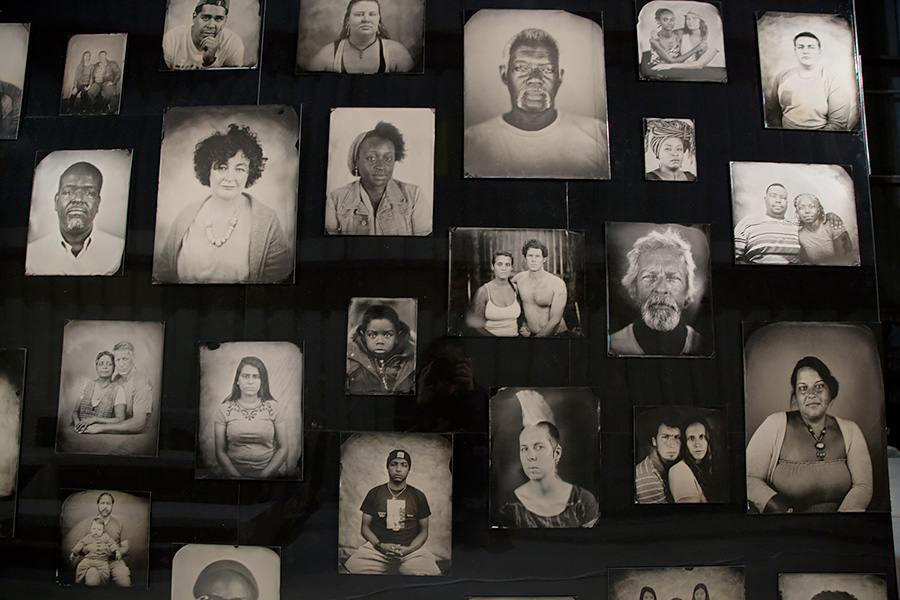 Shelter in Place, Detail, 2018 © Keliy Anderson-Staley
In 2012, Syrian activist turned photographer
Omar Imam
[b. 1979 Damascus, Syria] was kidnapped and tortured by a militia and only let go when a friend intervened. Soon after, Imam left Damascus, first settling in Beirut, and now residing in Amsterdam with his wife and children. Syrialism is Imam's response to the reality of torture experienced by himself and other refugees who settled in Lebanon and other European countries. Like his earlier work, Imam met and talked with numerous refugees who had been abducted, recreating painful memories to bring awareness about the psychological and physical torment that continues today. No longer able to live in their native homelands, each person pictured has had to adopt a new place to call home.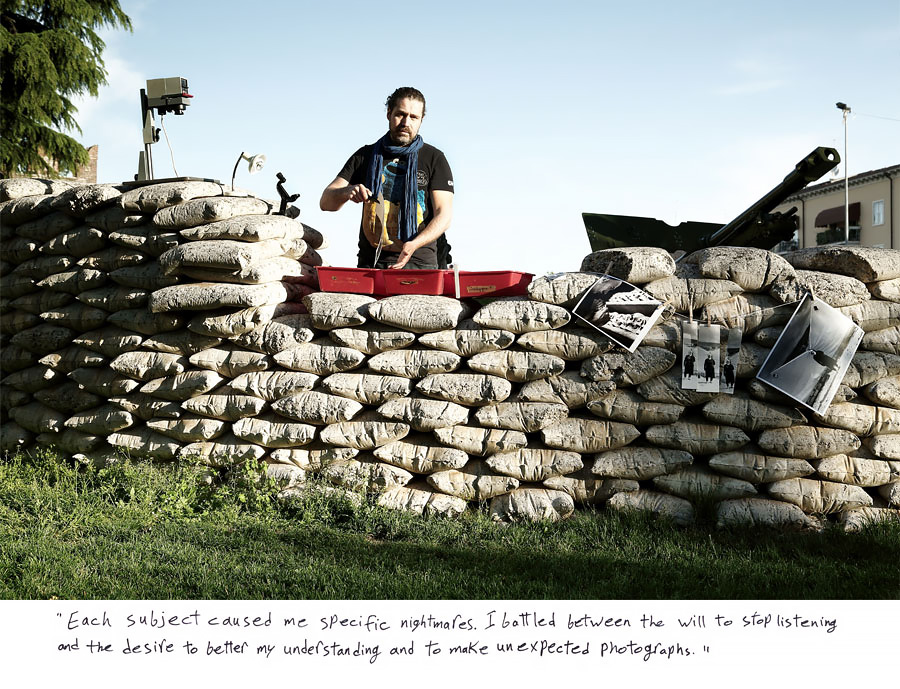 Untitled, 2017 (unexpected photographs), From the Syrialism series © Omar Imam
Untitled, 2017 (wedding dresses), From the Syrialism series © Omar Imam
Rubén Martín de Lucas'
[b. 1977, Madrid, Spain] work challenges the concept of home by constructing arbitrary boundaries in unexpected places. In Minimal Republics, he creates photographs about the concept of borders and our need for the structure they provide. Martín de Lucas creates each image the same: define and allocate 100m2 of space and inhabit it for 24 hours. From wheat fields to soccer fields to expanses of dried earth, unidentified pieces of land are transformed into a temporary residence for one.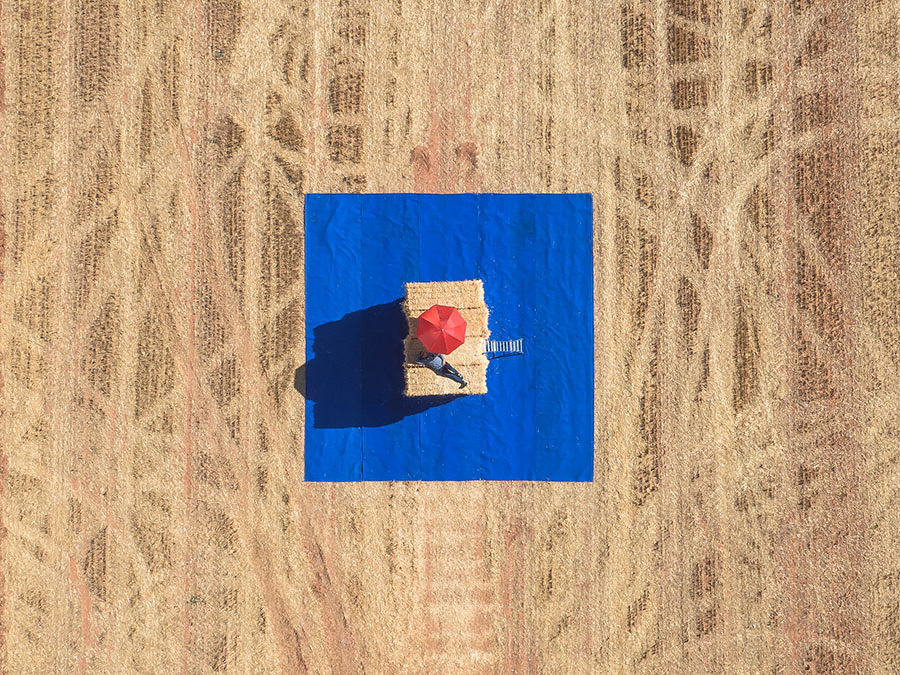 Minimal Republic 7 (Top), 2016 © Rubén Martín de Lucas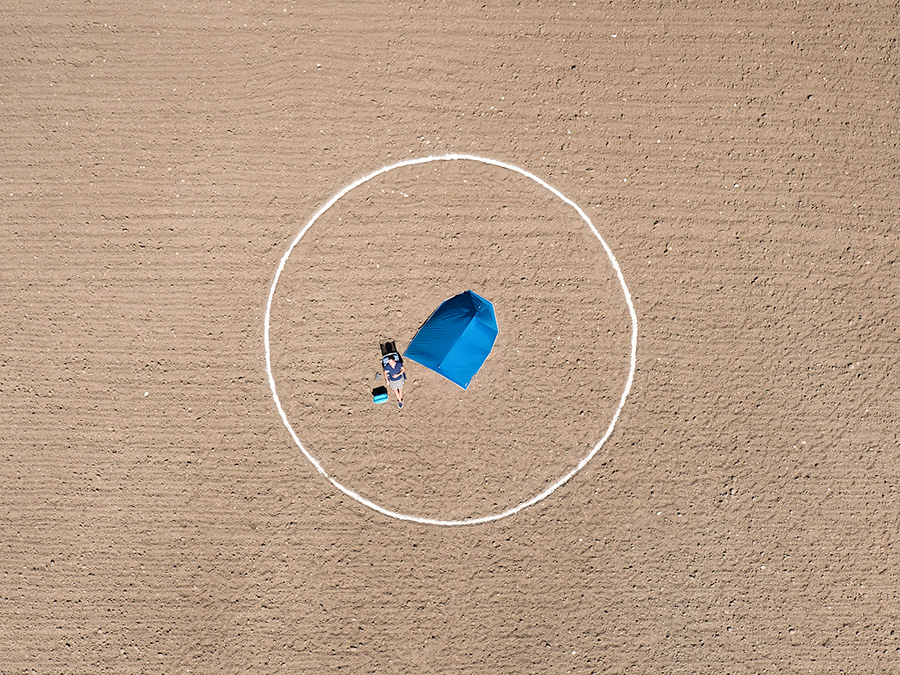 Minimal Republic 1 (Top), 2015 © Rubén Martín de Lucas
All three artists create work that invites us into different physical spaces that challenge the definition of home. We hope this exhibition inspires visitors to think about the concept of home and the inherent complexities this word invokes.