The World Photography Organisation is pleased to reveal the finalist and shortlisted photographers in the Professional competition for the Sony World Photography Awards 2020. Also included are details of new photographic projects by Sony Professional Grant 2019 recipients. Works by both Professional competition finalists and Grant recipients will go on display as part of the Sony World Photography Awards 2020 exhibition at Somerset House this April.
Now in its 13th year, the Awards' Professional competition rewards a remarkable body of work for technical excellence and a fresh perspective on contemporary subjects. The winner of Photographer of the Year 2020 will be selected from the group of Professional finalists and announced during the Sony World Photography Awards 2020 ceremony in London on 16 April.
Over 345,000 images from 203 territories were submitted across the 2020 Awards' four competitions and over 135,000 were entered across the Professional competition's 10 categories - the highest number of entries to date. A new Environment category has been introduced this year in recognition of the growing importance of this topic in both fine art photography and photojournalism.
This year's finalist projects engage with a wide array of topics, photography techniques and presentation methods, covering personal subjects and observations, inventive approaches to storytelling and shedding light on little known but critical issues.
Sony World Photography Awards 2020 finalist photographers and projects are:
ARCHITECTURE
Forms and textures are the focus of abstract photographs by
José De Rocco
(Argentina), featuring vibrant building exteriors in Formalism, as well as
Jonathan Walland
's (UK) Structures a minimalist black & white series depicting modern constructions.
Sandra Herber
's (Canada) Ice Fishing, Lake Winnipeg presents whimsical images of the colourful ice fishing huts that dot the frozen surface of the lake in winter.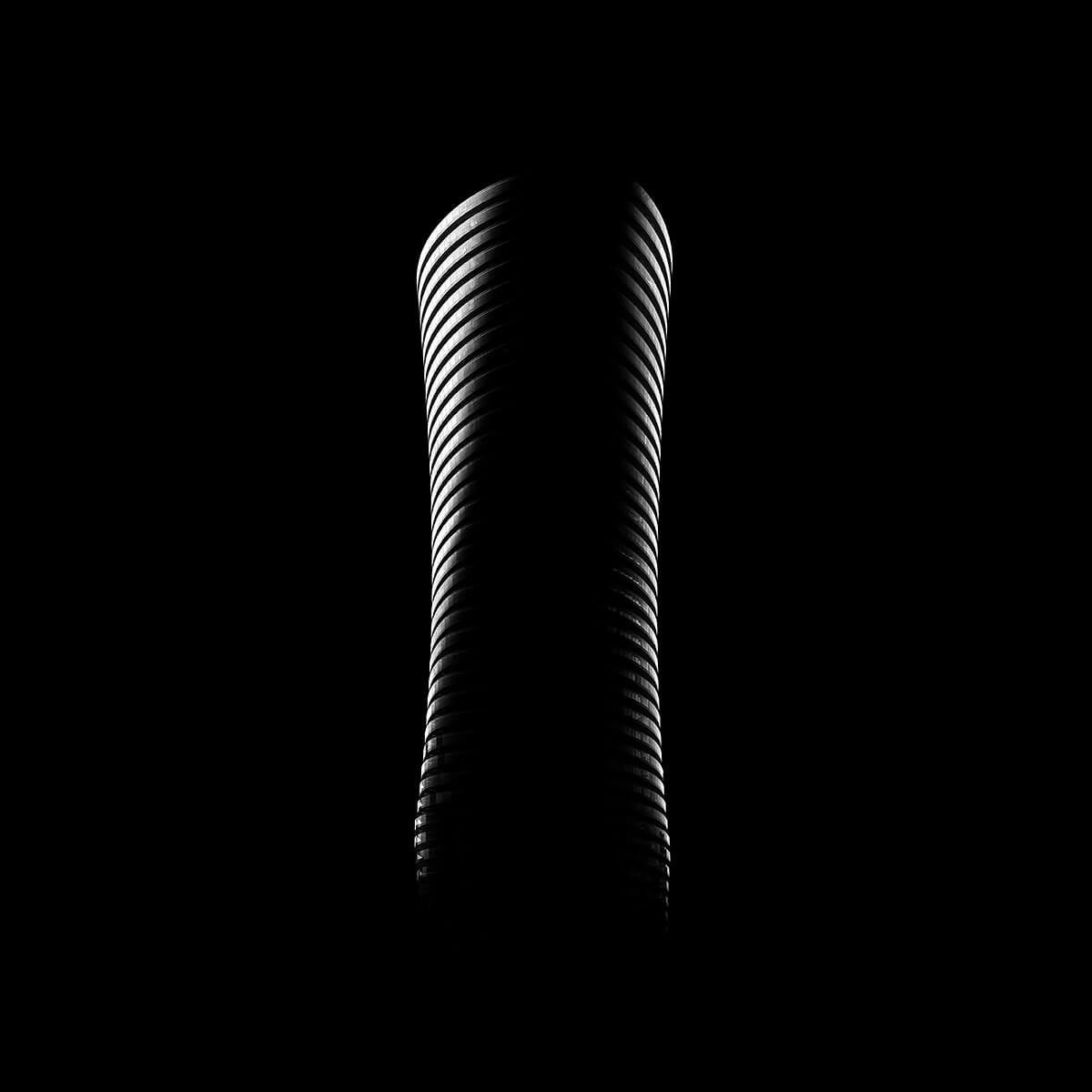 ©Jonathan Walland, United Kingdom, Finalist, Professional, Architecture, 2020 Sony World Photography Awards
Arena Tower - Skidmore, Owings & Merrill, Series Structure. For me, minimalism is a way of enabling clarity. I approach modern architecture in a way that eliminates distraction, keeping the viewer focused on the purest elements of photography: form, light, texture and the way that these components amalgamate. This body of work required rigid consistency in order to document the structural forms of each building.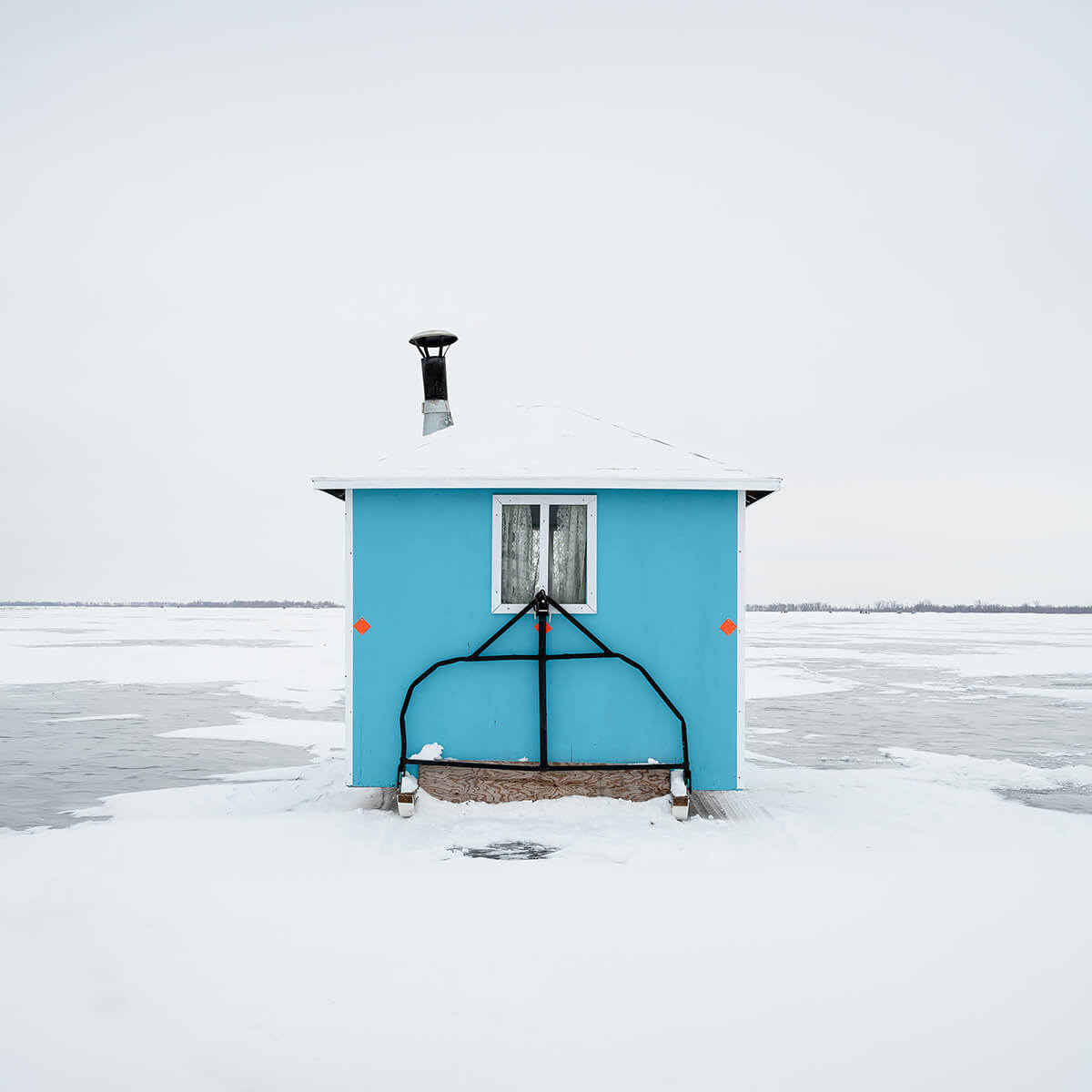 © Sandra Herber, Canada, Finalist, Professional, Architecture, 2020 Sony World Photography Awards
Ice Fishing Hut XIV, Series Ice Fishing Huts, Lake Winnipeg. Winters in Manitoba, Canada, are long and often bitterly cold. When the temperature drops many lakes and rivers in the province play host to some amazing architecture in the form of ice fishing huts. These huts, shacks or permies (as they are called in Manitoba) must be transportable, protect their occupants from the elements and allow access to the ice below for fishing. With these requirements met, the mostly male owners are free to express their personality and creativity as they wish. The huts can be large or small, decorated or plain, luxurious or utilitarian, but they are all wonderfully unique. I captured these pictures on Lake Winnipeg in December 2019. My hope for this series, which is a continuation of work I started in 2018, is to capture the charm of the huts. By displaying them in a typology, I also hope to allow the unique beauty of each one to shine through.
CREATIVE
In Seeds of Resistance,
Pablo Albarenga
(Uruguay) pairs pictures of landscapes and territories in danger from mining and agribusinesses with portraits of the activists fighting to conserve them. Using shots of social media posts, chats and Skype or WhatsApp calls, Kill Me With an Overdose of Kindnessby
Dione Roche
(Italy) examines the way in which relationships and intimacy are lived and expressed online. Witness Objects by
Luke Watson
(UK) comprises images of pinhole cameras made using historical objects from the Bosnian War alongside photographs taken with these makeshift cameras of meaningful locations around Sarajevo.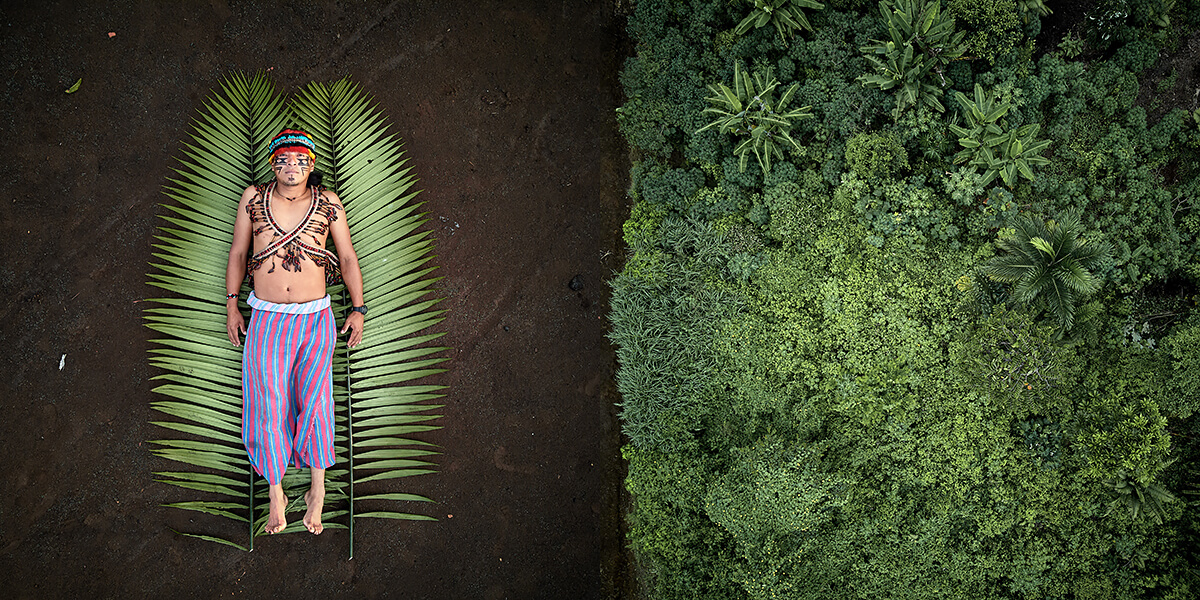 © Pablo Albarenga, Uruguay, Finalist, Professional, Creative, 2020 Sony World Photography Awards
Seeds of Resistance. Nantu is an indigenous young man from the Achuar Nation of Ecuador who leads a project of solar-powered river boats for collective transport. By installing solar panels on a specially designed boat's roof, he is working to end Achuar's dependence on petrol. Left: On his land, Nantu lies dressed with traditional Achuar clothing. Right: the pristine rainforest from the Achuar territory. Sharamentsa, Pastaza, Ecuador. Photo-composition: Pablo Albarenga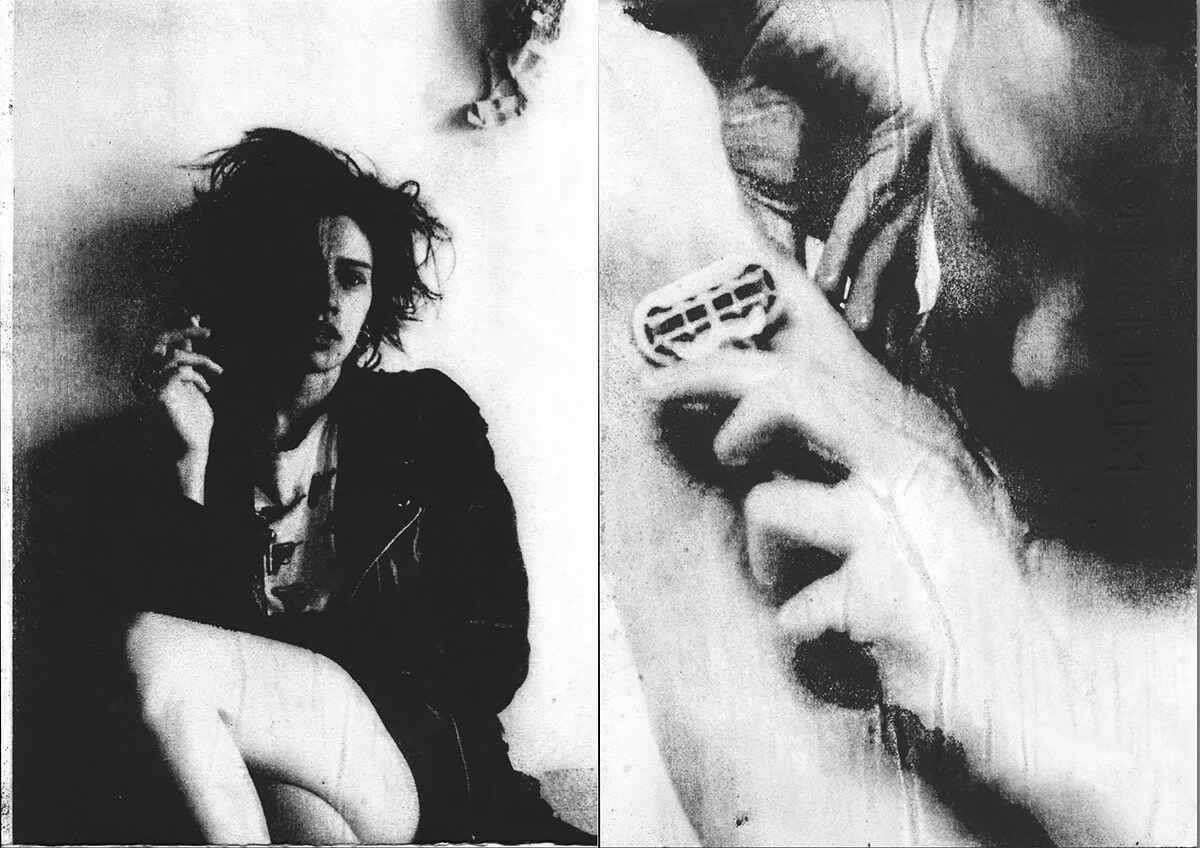 © Dione Roach, Italy, Finalist, Professional, Creative, 2020 Sony World Photography Awards
kill me with an overdose of tenderness 2. This composition was created in London in 2017. The photographs were taken in London in 2015. Both the girls in the photographs are friends and both are in their early twenties. I used these photos in my series since it involved an exploration on gender and representation. Images were processed on Photoshop and then transformed through a paper photo-transfer print.
DISCOVERY
In Invisible Wounds,
Hugh Kinsella Cunningham
(UK) stains his images in red to communicate the suffering and distress caused by a viral Ebola outbreak in North Kivu, Democratic Republic of Congo while in The Cave,
Maria Kokunova
(Russia) uses symbolism and allegory to examine personal trauma. Cast Out of Heavenby
Hashem Shakeri
(Iran) looks at the lives of those forced to leave Tehran due to the economic downturn and move into inadequate state-funded housing projects.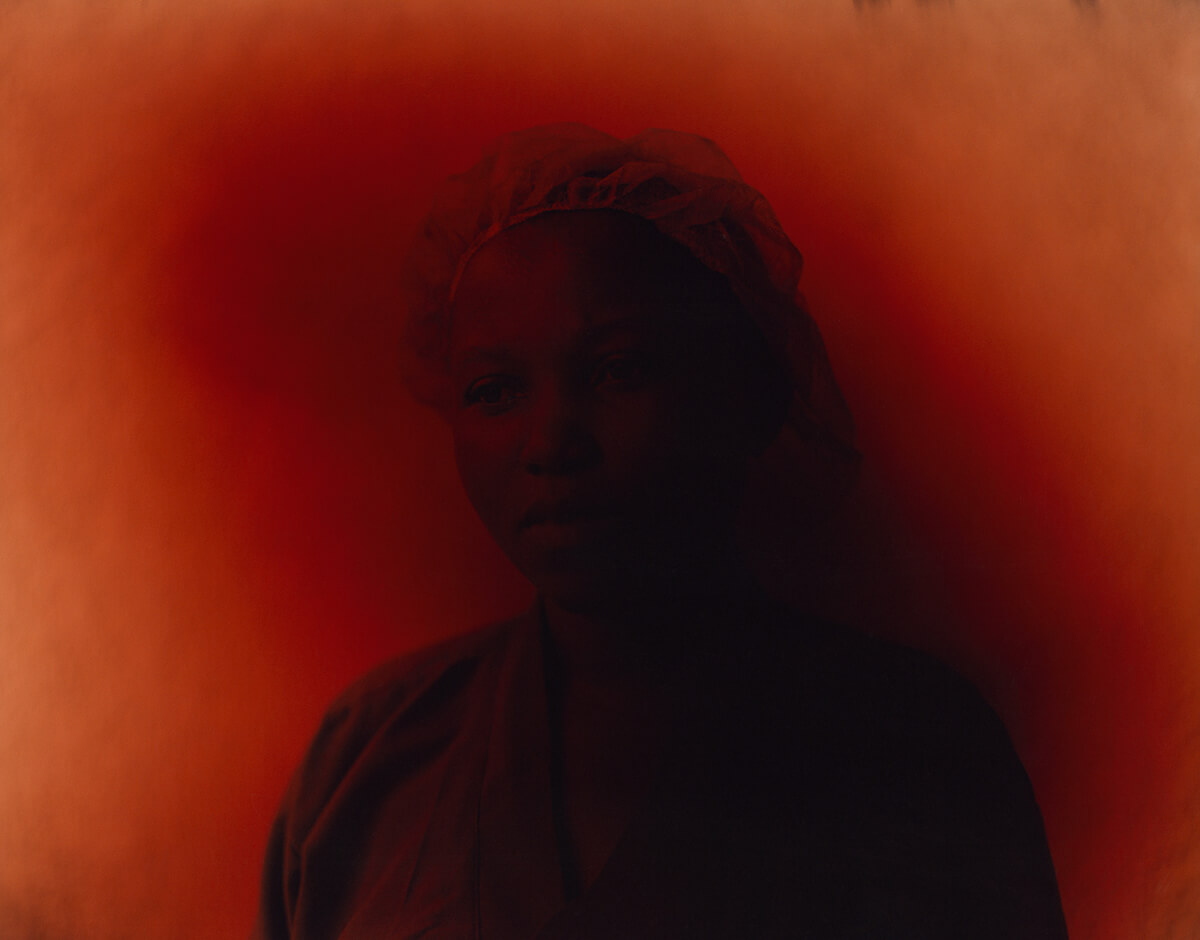 © Hugh Kinsella Cunningham, United Kingdom, Finalist, Professional, Discovery, 2020 Sony World Photography Awards
Invisible Wounds. Masika, a triage nurse in a community health clinic. Ebola is spread by body fluids, so health workers bear huge risk as patients with symptoms can easily transmit the virus while seeking treatment. Beni, North Kivu Province.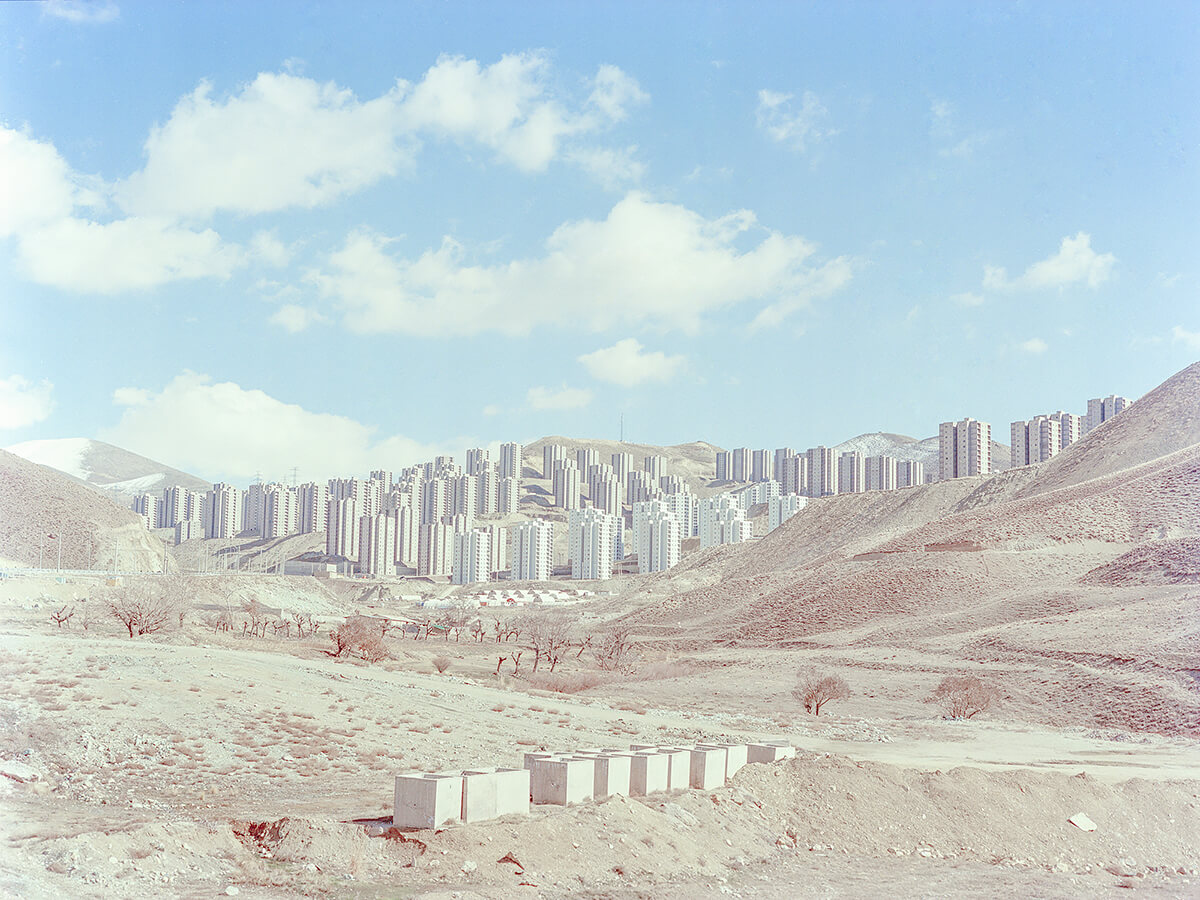 © Hashem Shakeri, Iran, Finalist, Professional, Discovery, 2020 Sony World Photography Awards
Cast Out of Heaven. A view of half-constructed buildings in the new town of Pardis. Pardis is located 17 km northeast of Tehran province. Although some parts of the town have been already settled, almost half of the buildings in the town are yet to be completed. Many of the apartments are owned by people who had pre-purchased them many years ago and are still waiting for their apartments to be completed so they can move in. However, the timing of the completion is being constantly postponed.
DOCUMENTARY
Didier Bizet
's (France) series Baby Boom examines the reborn phenomena, a lifelike baby doll collected by enthusiasts and used by adoptive parents in preparation and by elderly patients in need of companionship. Poignant portraits of Hongkongers injured during the protests are the focus of
Chung Ming Ko
's (Hong Kong) project Wounds of Hong Kong, whereas
Zhang Youqiong
's (China) From 'Made in China' to 'Made in Africa' documents workers in the Chinese funded venture, the Ethiopian Oriental Industrial Park, a key enterprise in China's 'Belt and Road Initiative' in Africa.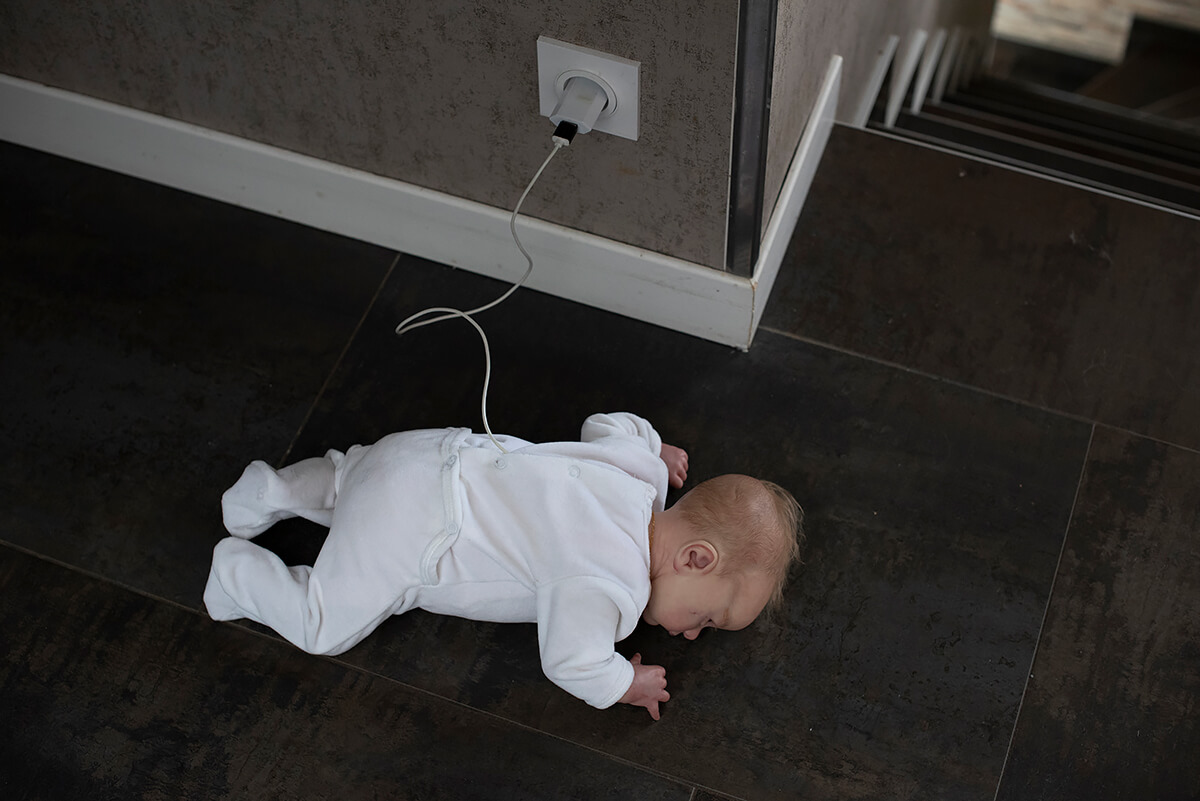 © Didier Bizet, France, Finalist, Professional, Documentary, 2020 Sony World Photography Awards
Baby Boom. Some reborn dolls are equipped with devices that mimic heartbeats, breathing, sucking or even head mobility. Rechargeable by USB, they are carefully hidden in the doll's padding. Valencia May 2019.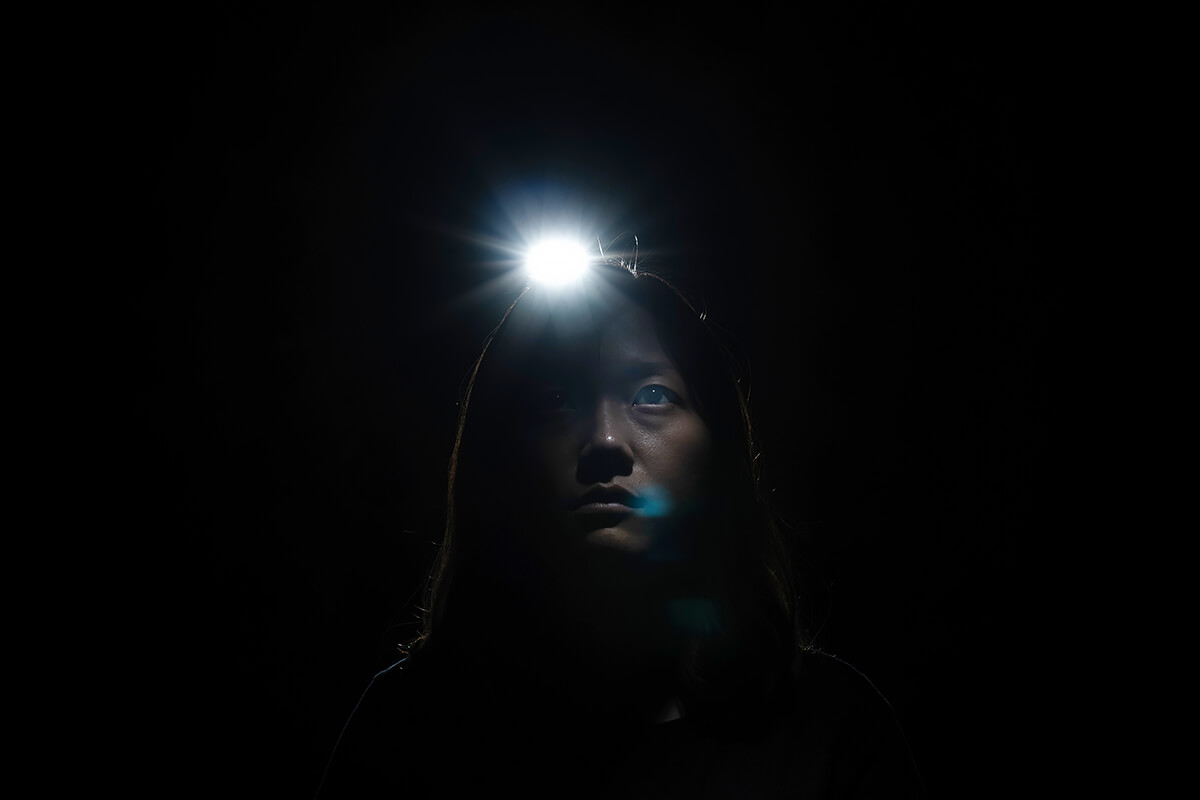 © Chung Ming Ko, Hong Kong, Finalist, Professional, Documentary, 2020 Sony World Photography Awards
Wounds of Hing Kong. Sonia Ng, a student at The Chinese University of Hong Kong (CUHK) was arrested and detained at Kwai Chung police station, Hong Kong, on 31 August 2019. She removed her mask in front of the university's vice chancellor at a public forum on the campus.
ENVIRONMENT
Wahala by
Robin Hinsch
(Germany) documents the devastating effects of continued oil spillage and natural gas flaring along the Niger delta river. In Atlas from the Edge,
Álvaro Laiz
(Spain) explores the concept of 'natural symmetry' as practiced by the indigenous group, the Chukchi, whose traditional lifestyle evolved according to their mode of subsistence. In The Future of Farming,
Luca Locatelli
(Italy), portrays high tech agrofarming systems from around the world, a possible solution to future food shortages.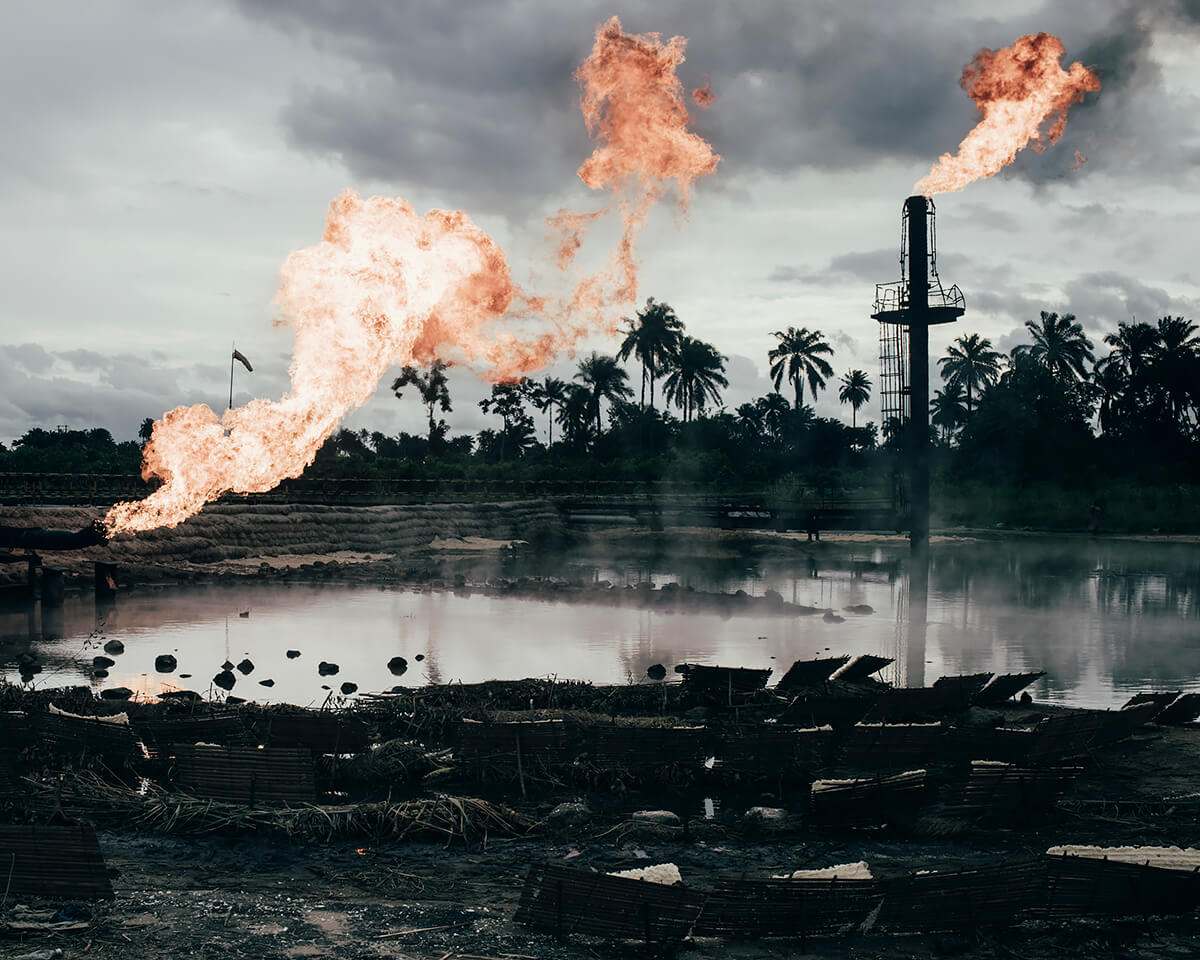 © Robin Hinsch, Germany, Finalist, Professional, Environment, 2020 Sony World Photography Awards
Wahala. Natural Gas Flaring Site in Ughelli, Niger Delta, Nigeria.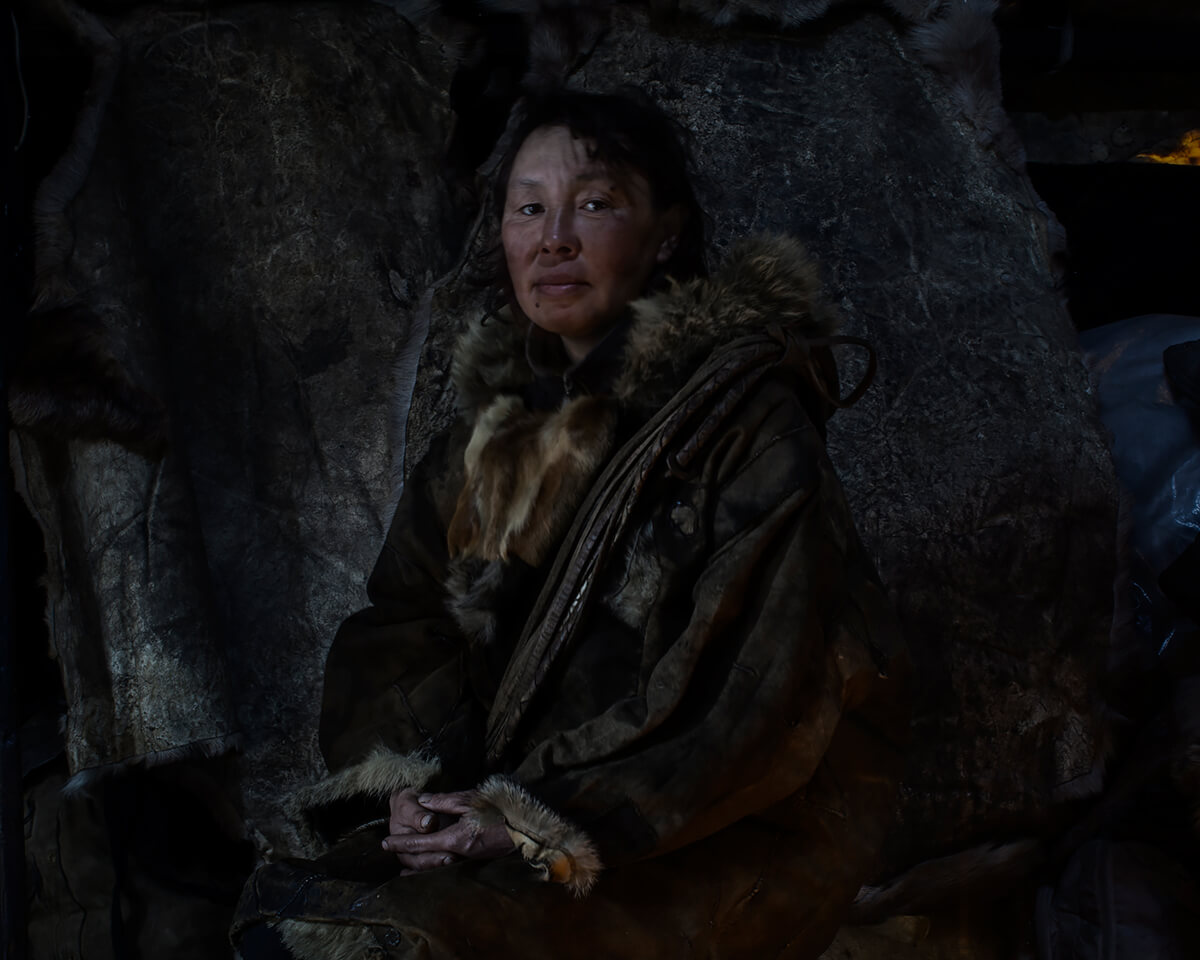 © Álvaro Laiz, Spain, Finalist, Professional, Environment, 2020 Sony World Photography Awards
Atlas From the Edge. Galina Y, a chukchi reindeer herder poses for a long-exposure portrait inside her family's yaranga. Reindeer herder camp. Chukotka. Russia
LANDSCAPE
Torii by
Ronny Behnert
(Germany) features photographs of Buddhist and Shinto temples across Japan, while New Homeby
Chang Kyun Kim
(Korea), comprises photographs of Japanese Internment Camps in which thousands of US citizens and residents of Japanese ancestry were imprisoned during the Second World War. Project 596 by
Florian Ruiz
(France) depicts the barren landscape of Lop Nor, a former salt lake in China previously used as a nuclear weapons test site.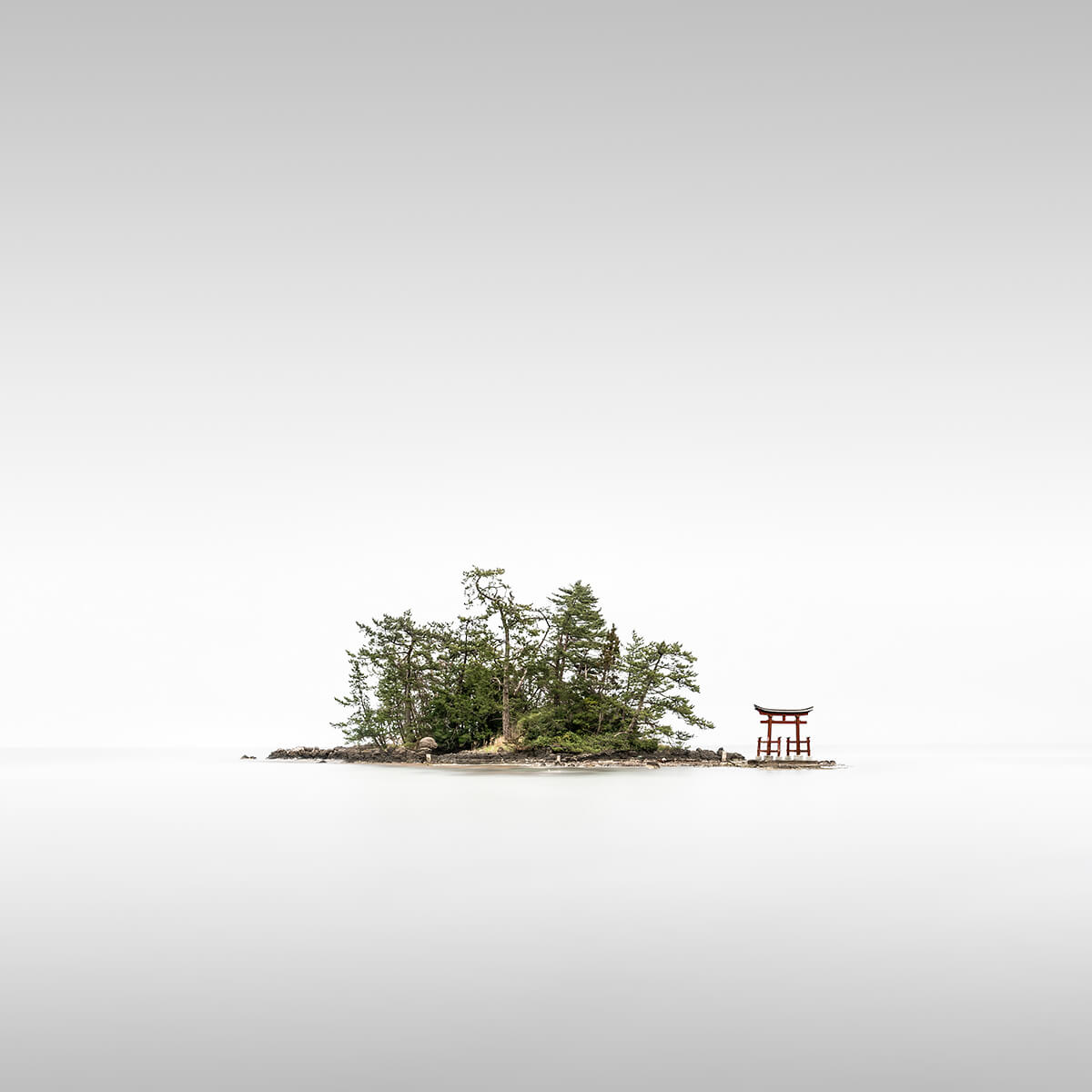 © Ronny Behnert, Germany, Finalist, Professional, Landscape, 2020 Sony World Photography Awards
Torii. Bentenjima, on the west coast of Japan, was like a little paradise, waiting for it's visitors. I so liked the combination of the detailed, green trees and the beautiful red torii gate. Really hope you like it like I do. It's one of my favourites.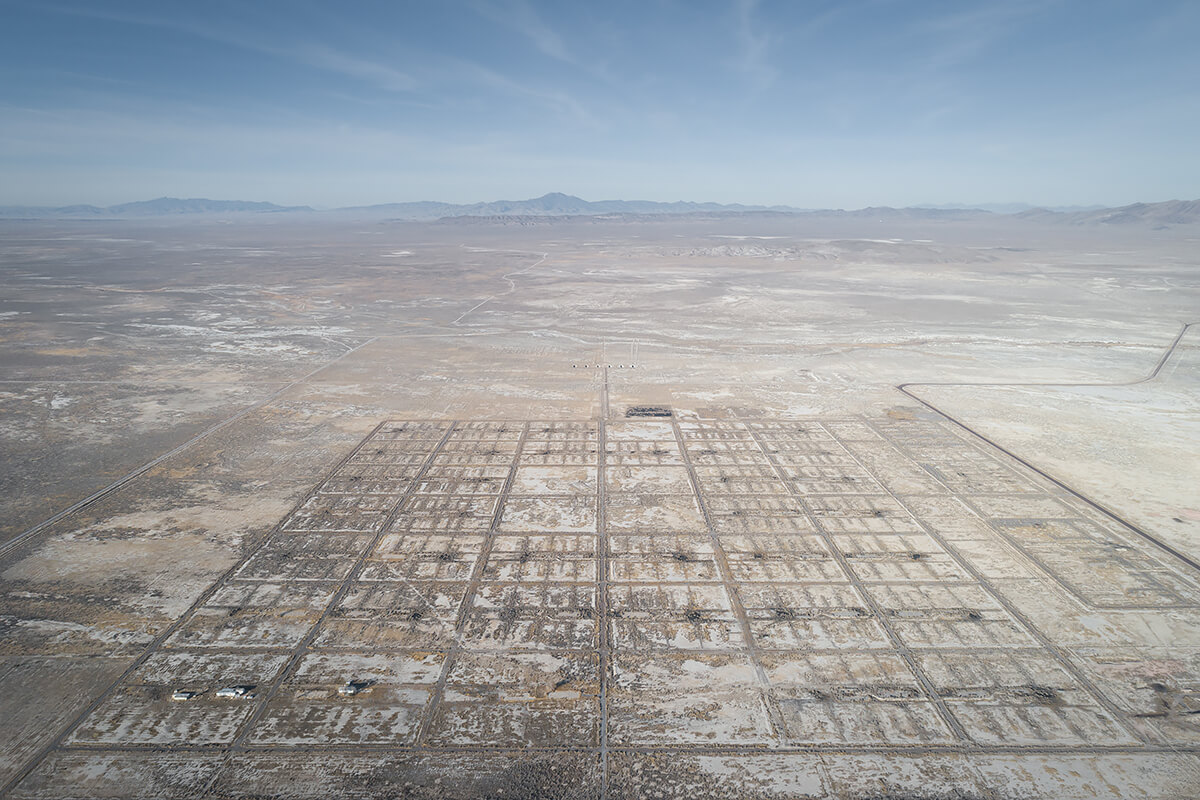 © Chang Kyun Kim, Korea (Republic of), Finalist, Professional, Landscape, 2020 Sony World Photography Awards
New Home ( Japanese concentration camp sites in U.S.). The lower part of the image shows the massive grids where the prison barracks of Topaz War Relocation Center that incarcerated 10,000 Japanese people living in U.S. were constructed. I tried to show the long lasting artifact and the harsh landscape that surrounds the camp site. It was taken with my drone in Nov 2019 in Delta, Utah.
NATURAL WORLD & WILDLIFE
Masahiro Hiroike
(Japan) captures the enchanting lights emitted by fireflies in the forests of Tottori, Japan in Himebotaru and in Macro,
Adalbert Mojrzisch
(Germany) uses macro lens technique to provide a closeup view of the intricate colours and patterns of insect and amphibian eyes. Pangolins in Crisis by
Brent Striton
(South Africa) looks at the illegal trade and rescue efforts of pangolins, the world's most illegally trafficked mammals.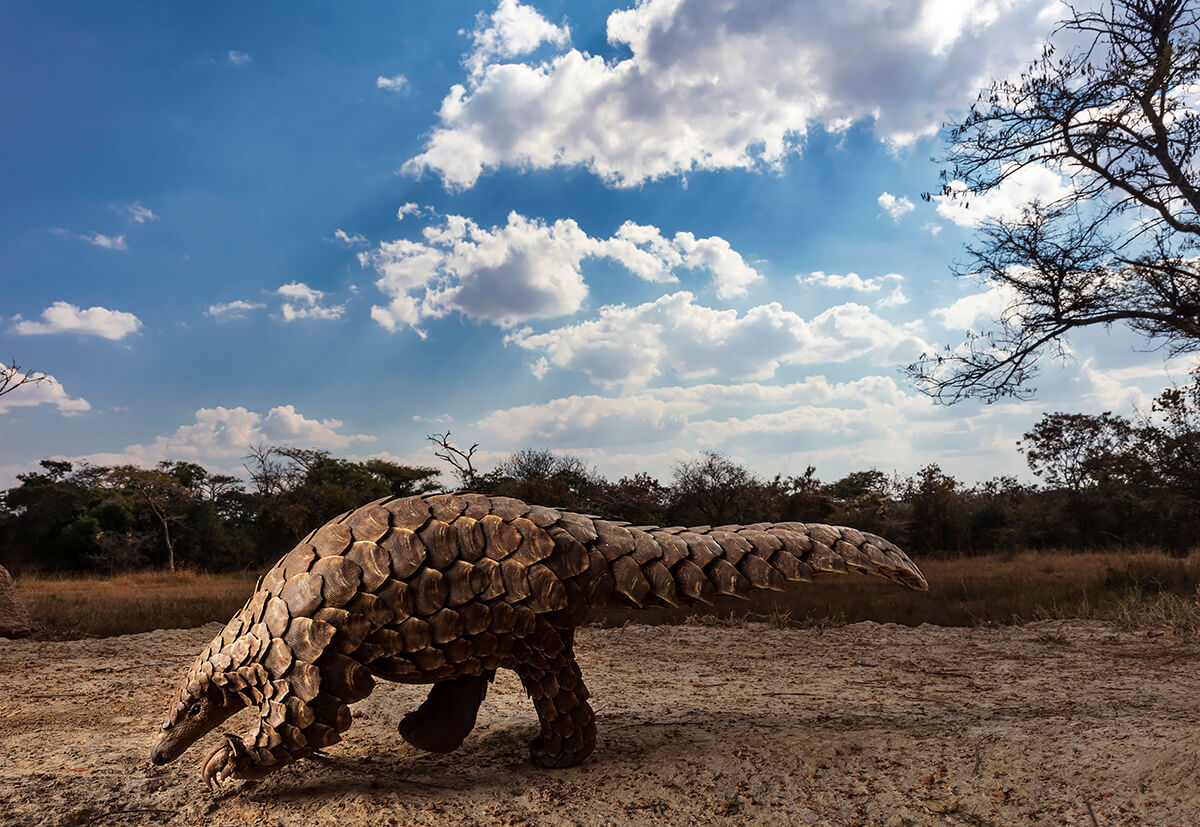 © Brent Stirton, South Africa, Finalist, Professional, Natural World & Wildlife, 2020 Sony World Photography Awards
Pangolins in Crisis. HARARE, ZIMBABWE: A Temminck's Pangolin learns to forage again after being rescued from traffickers on the Zimbabwe/South Africa border. Pangolin caregivers at this anonymous farm care for rescued, illegally trafficked pangolins, helping them to find ants and termites to eat and keeping them safe from predators and poachers. This is one of only three true Pangolin rescue and rehabilitation sites in the world. Pangolins are the world's most illegally trafficked mammals, with an estimated one million being trafficked to Asia in the last ten year. Their scales are used in traditional Chinese and Vietnamese medicine and their meat is sold as a high-priced delicacy. As a result, pangolins are listed as critically endangered and all trade or consumption is illegal. The Tiki Hywood trust undertakes public awareness campaigns on Pangolins, trains law enforcement and judiciary personnel, conducts research, and rehabilitates pangolins that have been confiscated from the illegal trade. They are based in Zimbabwe but operate with partners across Africa and Asia.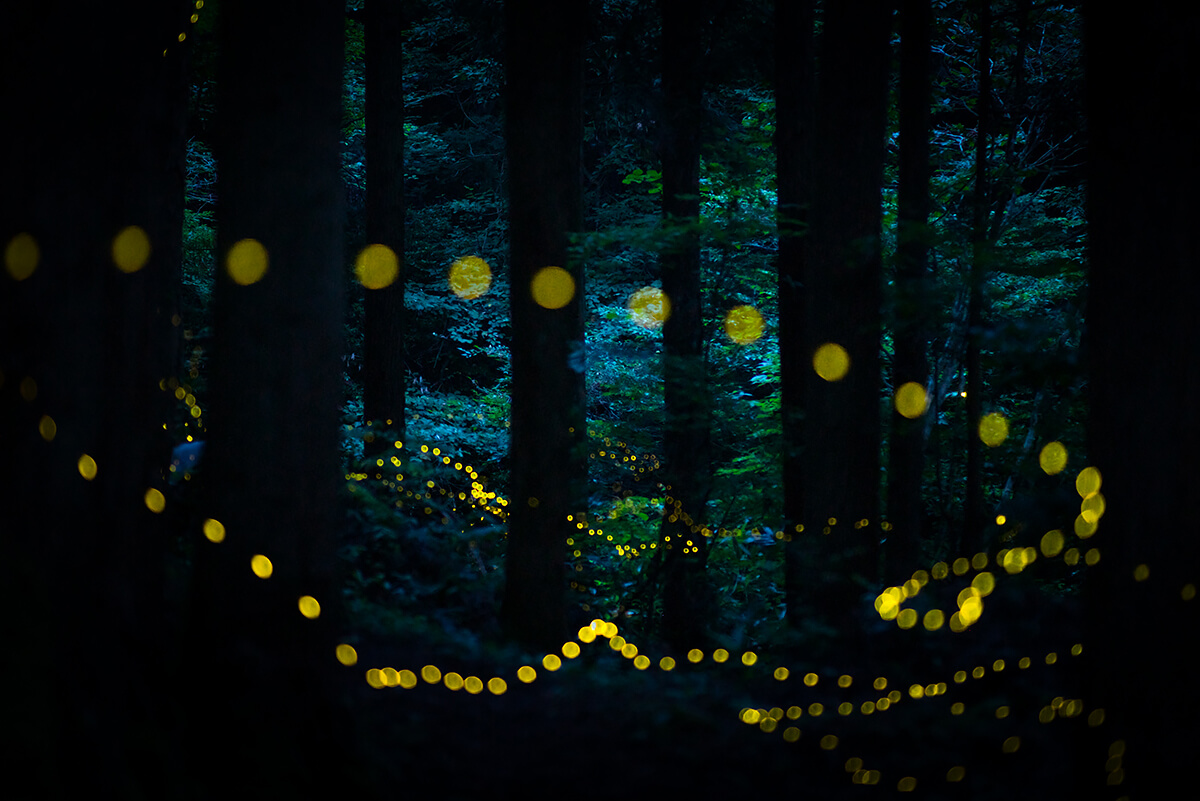 © Masahiro Hiroike, Japan, Finalist, Professional, Natural World & Wildlife, 2020 Sony World Photography Awards
Himebotaru. This photo was taken on July 17, 2019 in the mountains of Tottori, Japan. The purpose is to publish this photo on the web and in photobooks, and to protect the environment where fireflies live. I attached a release with a timer function to the camera and shot with a 121-second exposure.
PORTRAITURE
In Passengers,
Cesar Dezfuli
(Spain) juxtaposes striking portraits of migrants taken in 2016 as they first arrived on European shores with more recent images that better convey their personalities and the transformation they've experienced. Unsung Heroes by
Denis Rouvre
(France) presents the portraits and harrowing tales of women who have been victims of violence and in Ukrainian Railroad Ladies,
Sasha Maslov
(Ukraine) portrays the women who work as train station guards and explores their social role as a symbol of continuity in a country torn by war and political upheavals.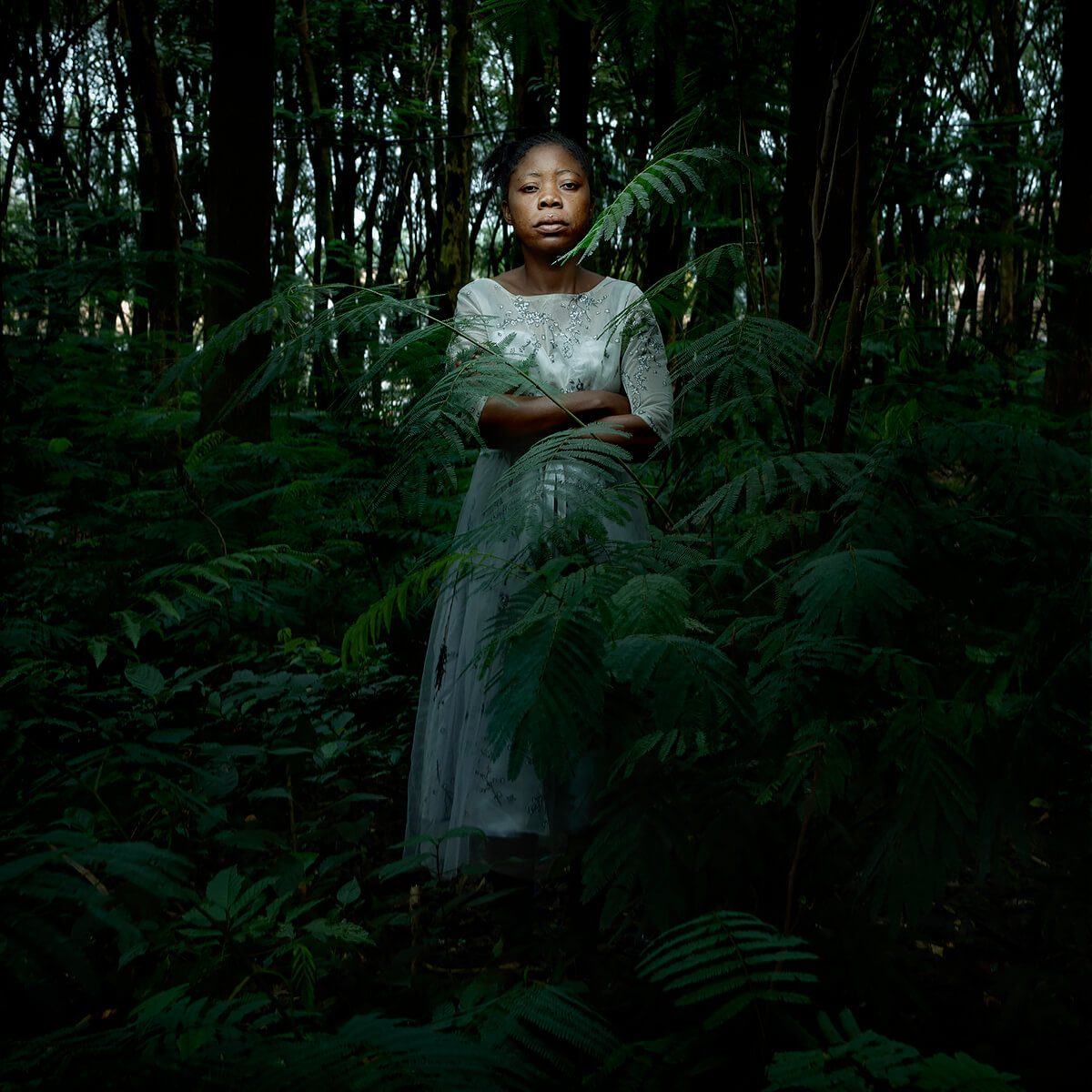 © Denis Rouvre, France, Finalist, Professional, Portraiture, 2020 Sony World Photography Awards
Unsung Heroes. My name is Chantal, I am 30 years old and I live in South Kivu in the Democratic Republic of Congo. I was harvesting the cassava leaves when I saw them. They were about twenty dressed as soldiers. One of them started to take my clothes off. He laid me down on the ground and on the grass. He didn't even spread a loincloth. I saw the man take off his pants. This man got on me and got into my vagina. When he started raping me, I started to cry. As he was coming out of me, I saw another one undressing. He also penetrated me and started raping me. The others were still standing spinning with their weapons. This one also raped me. When he was finished, another was taking off his clothes. By realizing what they were doing, it made me gone crazy. I lost myself. I saw with my eyes but my brain was no longer there.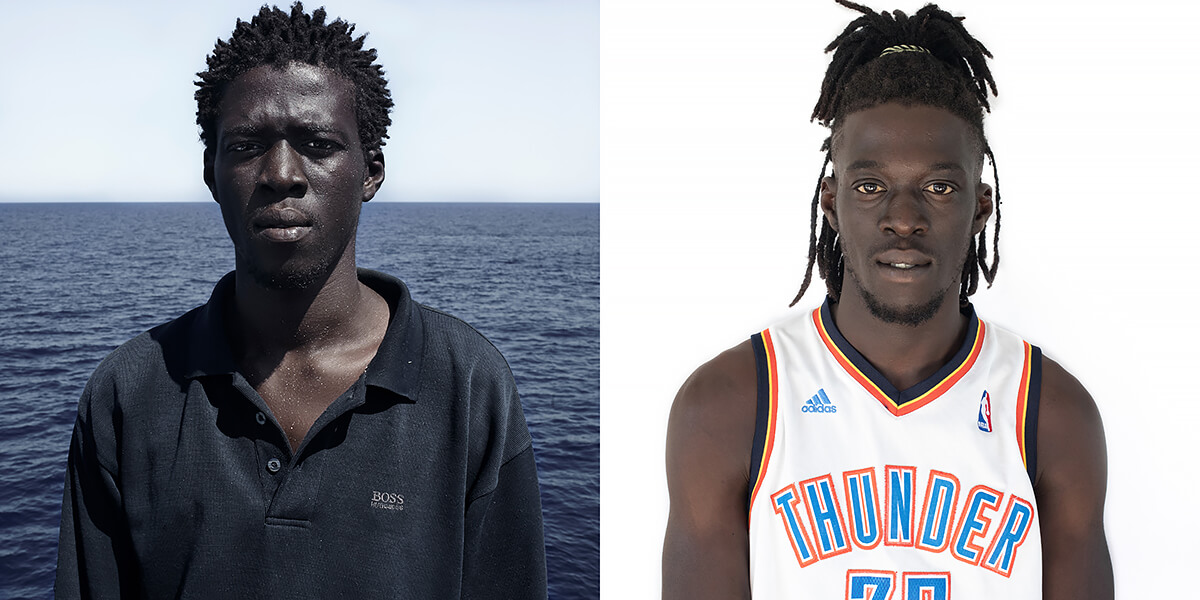 © Cesar Dezfuli, Spain, Finalist, Professional, Portraiture, 2020 Sony World Photography Awards
Passengers. Malick. Gambia. (1998) LEFT: Malick portrayed on 1st August 2016 on board of a rescue vessel in the Mediterranean sea. RIGHT: Malick portrayed on 26th June 2019 in Italy, where he currently lives.
SPORT
Wrestling has become the number one sport in Senegal and is also a means of social ascendance steeped in tradition and ritual, in Senegalese Wrestlers,
Angel Lopez Soto
(Spain) explores these practices through images of young wrestles in training, whereas Dives by
Andrea Staccioli
(Italy) presents poetic portraits of athletes in mid-dive at the Gwangju Diving World Championships.
Lucas Barioulet
's (France), The Long and Difficult Path of the Mauritanian National Women's Football Team looks at the challenges and cultural tensions faced by the female players in the Islamic Republic of Mauritania.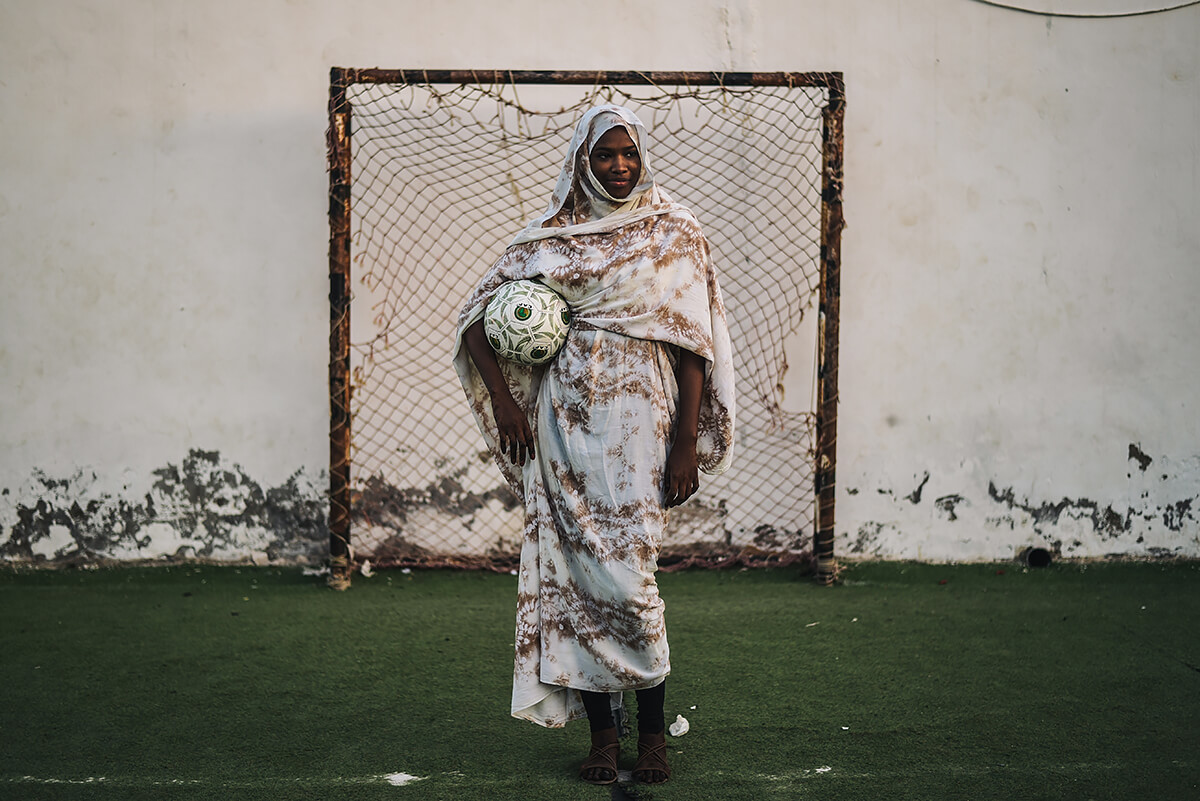 © Lucas Barioulet, France, Finalist, Professional, Sport, 2020 Sony World Photography Awards
The long and difficult path of the Mauritanian national women's football team. Marietta, a 17 years old soccer players, poses for a portrait on a playground next to the Cheikh Moussa school in Nouakchott, Mauritania, on december 14 2019.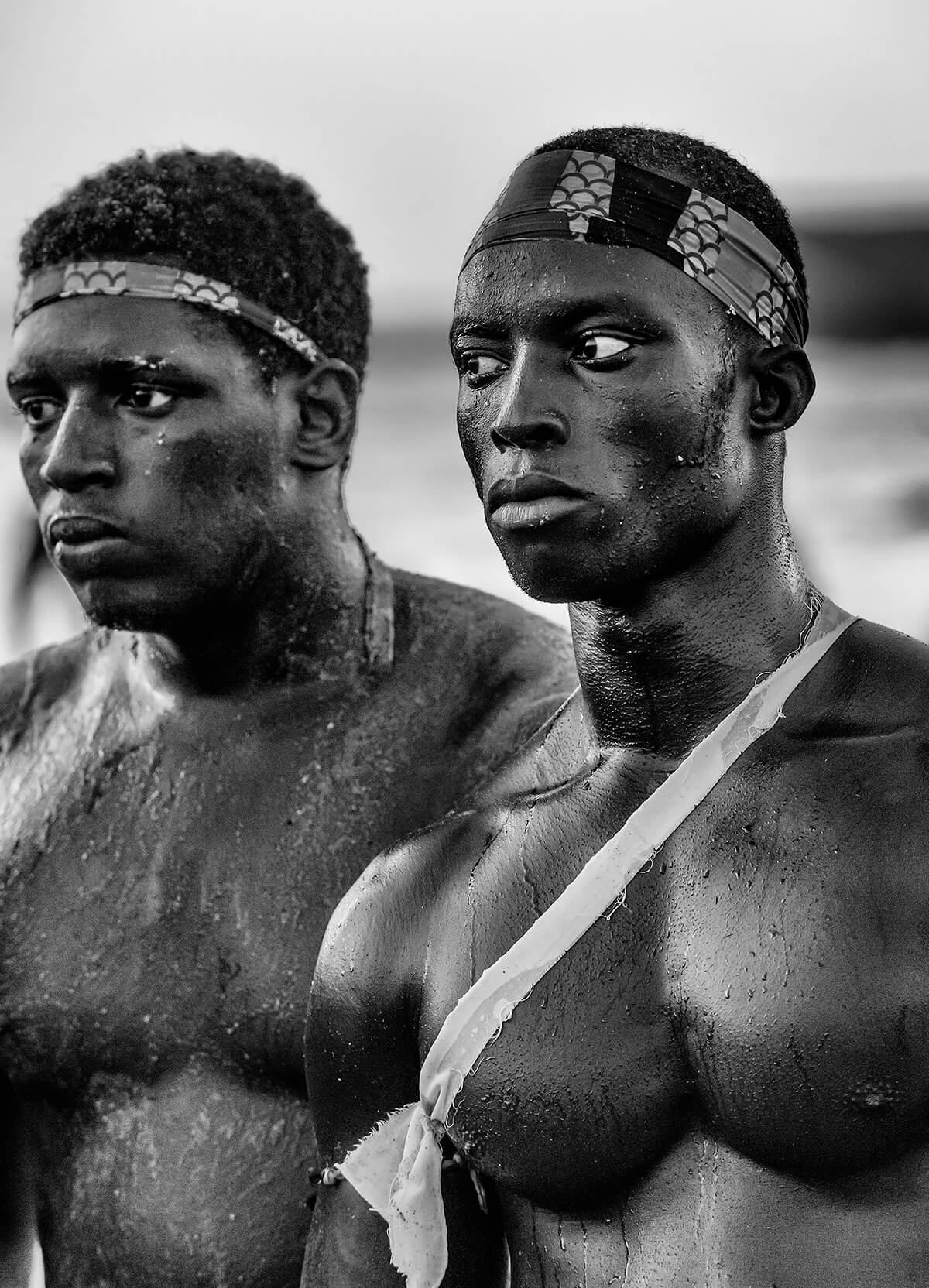 © Ángel López Soto, Spain, Finalist, Professional, Sport, 2020 Sony World Photography Awards
Senegalese Wrestlers. Wrestling has become the number one national sport in Senegal, ahead of football (soccer), and has also become a means of social ascendance. Wrestling is not just seen as a sport, it is also a slice of African life, tradition, and culture, in which there is a curious mix of animist and Muslim beliefs. These pictures show hor young wrestlers train at Dakar's beach.
STILL LIFE
Disassembled Memory is a catalogue of photographs depicting the disassembled parts of
Fangbin Chen
's (China) childhood bicycle in an attempt to recall and preserve his memories from that time,while in Plexus,
Elena Helfrecht
(Germany) delves into her family's archive to examine the effects of inherited trauma and collective memory. In IMMORTALITY, INC.
Alessandro Gandolfi
(Italy) goes into research labs and institutions to document the processes and objects which represent modern science's advancements in its pursuit to overcome death.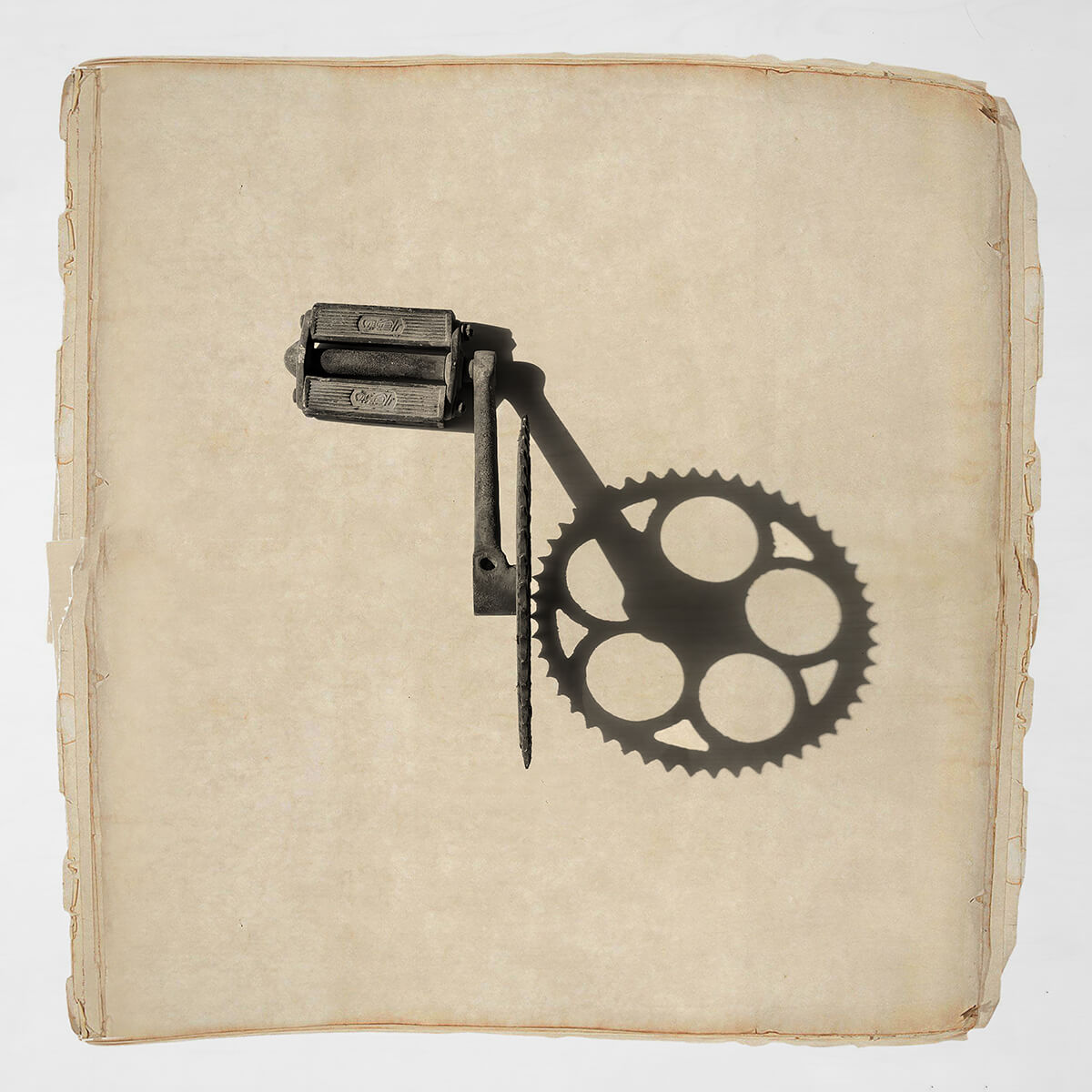 © Fangbin Chen, China, Finalist, Professional, Still Life, 2020 Sony World Photography Awards
Disassembled Memory. As the most important means of daily life for ordinary people in the 1980s and 1990s, 28 bicycle carrying not only the burden of life, but also the memory of many people. To me, it is more like a companion who accompanied me during my childhood. There was a relationship between us that taught me the joy of moving forward, and also left painful scars when I fell. Now that it has lost its former value, I choose to disassemble it and record it in a specimen-like manner, hoping that I can freeze it forever.But maybe more I want to remember my childhood memories.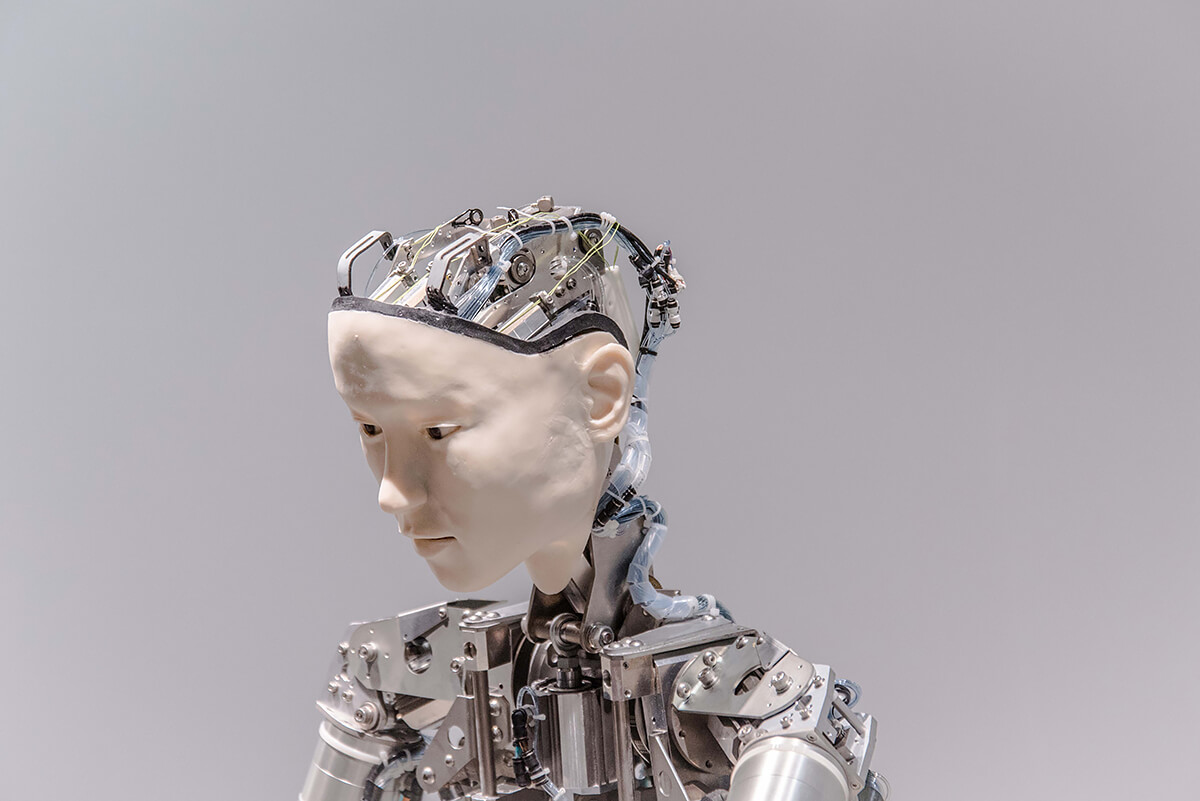 © Alessandro Gandolfi, Italy, Finalist, Professional, Still Life, 2020 Sony World Photography Awards
IMMORTALITY, INC. Tokyo (Japan), Miraikan, The National Museum of Emerging Science and Innovation: a close-up of Alter, a robot on display at the museum. Some believe that the in the future, it will be possible to completely "download" our minds into humanoids similar to this one, and therefore, by overcoming the physical limits imposed by the human body, it will be possible to live forever.
The work of finalist and shortlisted photographers in the Professional competition was judged by: Claudi Carreras Guillén, Independent curator, editor, and cultural manager; Touria El Glaoui, Founding Director of 1-54 Contemporary African Art Fair; Katie Hollander, Director, Annenberg Space for Photography; Gwen Lee, Director, Singapore International Photography Festival; Brent Lewis, Photo Editor, The New York Times / Co-Founder, Diversify Photo; and Chair and exhibition curator Mike Trow, picture editor and consultant.
ABOUT SONY WORLD PHOTOGRAPHY AWARDS
Produced by the World Photography Organisation, the internationally acclaimed Sony World Photography Awards is one of the most important fixtures in the global photographic calendar. Now in its 13th year, the free-to-enter Awards are a global voice for photography and provide a vital insight into contemporary photography today. For both established and emerging artists, the Awards offer world-class opportunities for exposure of their work. The Awards additionally recognise the world's most influential artists working in the medium through the Outstanding Contribution to Photography Awards; previous recipients include Martin Parr, William Eggleston and Nadav Kander. The Awards showcase the works of winning and shortlisted photographers at a prestigious annualexhibition at Somerset House, London.
Book your ticket