I don't only see Charlotta's works, I am with them. I am in them. I feel their touch, I even hear sounds and feel movements in the landscapes. I feel myself being moved in them. Rather than seeing the landscape as a photograph, I see and feel the photographs as a landscape I can dwell in.
-- Guðbjörg R. Jóhannesdóttir, Doctor of Environmental Philosophy and an associate professor in Iceland
In 2003, photographic artist Charlotta María Hauksdóttir moved from her native Iceland to California to study photography. The relocation stirred in her a sense of rootlessness and a yearning for the landscapes of her childhood. She began making regular trips to Iceland to take photographs of the breathtaking landscapes of fjords, mountains, craggy shorelines and glaciers that she would then reconstruct and repurpose in her studio, as we do our memories. The resulting images are published in A Sense of Place: Imprints of Iceland by Charlotta María Hauksdóttir (Daylight Books, January 2020). The book reveals how the physical space of landscapes can be closely tied to a person's identity, sense of being, and personal history.
The centerpiece of the book is the series imprints featuring complex photographic assemblages that recreate places and scenes from an estranged homeland. Images with natural patterns such as human fingerprints evoke our own personal connection to, impact on, and interplay with nature. Abstract landscapes where sheets of photographic paper with variable cutouts are stacked one on top of another imitate landforms that have developed over time. The visible and obscured parts of the landscape suggest the interplay between man and the natural world as well as the imperfections of memory, with disparate textures emphasizing the mind's inability to retain and fully comprehend its environment. The discontinuity between the images induces the viewer to draw on their own experiences to complete the work of art.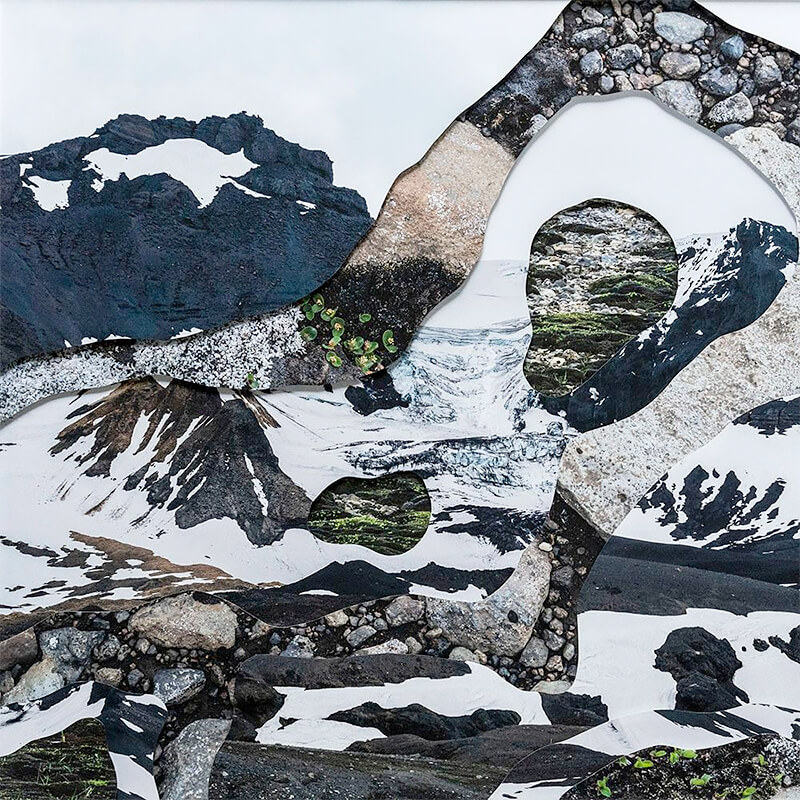 In her essay in the book, Guðbjörg R. Jóhannesdóttir writes: When we internalize the way we are touched by our environments, we also realize the impact of our external touch upon them, and how the manner of touching them matters. Are we touching the Earth softly or violently? A touch with fingers that leaves fingerprints is a soft touch. Let's be aware of our touch with the Earth and the manner in which we touch it.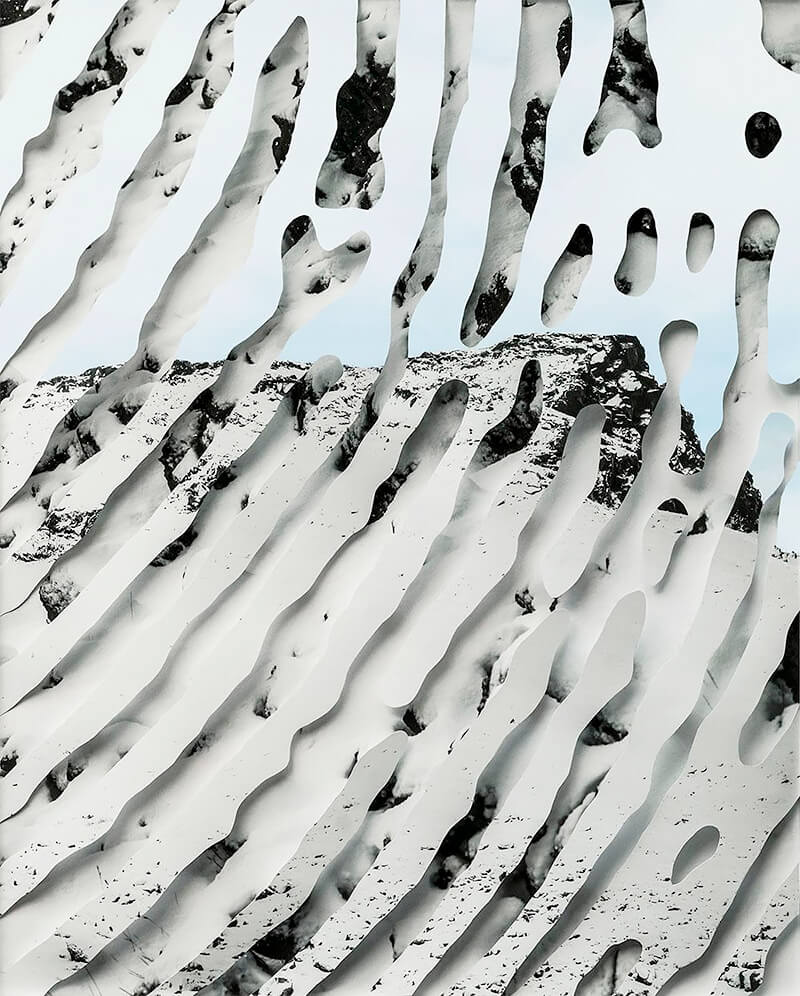 A Sense of Place also presents two earlier works. In Dreamscapes, Charlotta ... aimed to visually represent the feeling of being present in a place and an environment, rather than simply viewing it. The blurring and fragmenting of the landscape was intended to visualize the sense of distortion and loss created by shifting viewpoints, the ever-changing light, and the passing of time.

In Scapes, the artist ... began taking multiple photographs from all vantage points in each place I traveled, and when I was back in California, I would assemble three photographs creating an alternate view of the space. Printed human scale, the vertical triptychs created an intimate perspective that could transport me back. At first glance the scenery flows together, but closer inspection reveals the transitions between the photographs: a reminder that experiences are never seamless, and can never be fully comprehended or retained.
Charlotta María Hauksdóttir
is an award-winning Icelandic artist based in California. Her work has been shown in numerous solo exhibitions and group shows in the US and internationally. For more information, go to the artist's website here.
Guðbjörg R. Jóhannesdóttir
is a Doctor of Environmental Philosophy and an associate professor in Iceland. David Rosenberg is a photo editor, photographer, and journalist. He currently serves as the Communications Director at Tedx.
About the Publisher:
Daylight
is a non-profit organization dedicated to publishing art and photography books. By exploring the documentary mode along with the more conceptual concerns of fine art, Daylight's uniquely collectible publications work to revitalize the relationship between art, photography, and the world-at-large.