Barry Salzman
is an award-winning contemporary artist who currently works in photography, video and mixed media and whose projects have been shown widely around the world. His photographic work in particular, began with a fascination for the practice as a teenager, during a time when it served as a way for him to grapple with the racial segregation in Apartheid South Africa.
Today, his work continues to explore challenging themes around social, political and economic narratives, often coming down to the core concept of identity. Acutely relevantand brave in its willingness to confront, Salzman's photography garnered the 2018 International Photographer of the Year Award in the Deeper Perspective category at the International Photography Awards (IPA).
Born in Zimbabwe, Salzman's family relocated to South Africa, but he elected to leave the country in the mid 1980s, and has been based in New York City, USA for the last 30 years. That being so, his experience of the USA has largely been limited to Manhattan, with the artist identifying more as a New Yorker than an American, and a naturalized citizen at that. He struggled to assimilate into American culture, often identifying as foreign to his fellow Americans - a tension which bleeds into his work and forms the basis for his exhibition,
The Other Side of Christmas
. He currently lives between Cape Town and New York.
In his artist statement for the show, Salzman writes: When the time came for me to consider the next phase of my life as an artist, I first set out to understand what other parts of America really looked like. I wanted to see beyond the flimsy veil of its official image of equality and opportunity, comfort and confidence - 'the land of the free and the home of the brave'.
To do so, he set out across the Southern USA, documenting his observations through the lensand building a substantial body of work exploring and responding to this stimulus. In The Other Side of Christmas, Salzman mines numerous themes - identity, place, belonging - andin large part examines what it means to be an 'American'.
He began working on the resulting documentary series around the time of the 2014 American midterm elections, the precursor to the divisive 2016 Presidential elections and continued through Christmas of that year. Now, in 2019, the series has become even more pointed, not just in the America of the Trump administration, where issues of identity, naturalization, citizenship and belonging are so heightened; but across the socio-political globe, in a world irrevocably affected by mass movements of refugees and asylum seekers. The Other Side of Christmas's penetrating gaze can indeed be extrapolated outwards.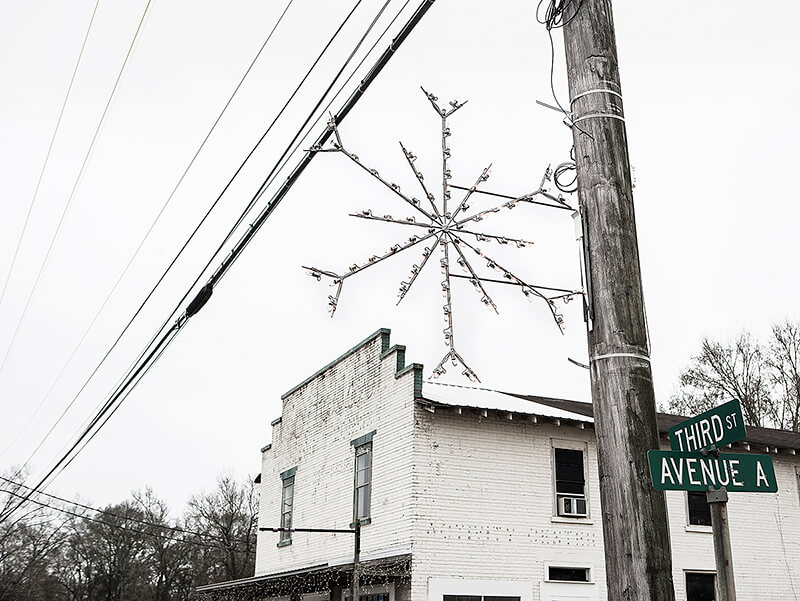 In its stylistic execution, the photographic series draws on the rich tradition of the road trip -that journey of discovery that the open road presents and its capacity to facilitate understanding. Salzman states: As I traversed the country, it was blatantly apparent that for many Americans, perhaps even the majority, the lives they live have little bearing on the promise of that often romanticised dream held by so many who seek to be 'American'.
An historic and defining example of the road trip across America as the subject and vehicle of the documentarian is provided by Swiss photographer Robert Frank - specifically, his workin 1955 to 1956. Indeed, Frank inspired subsequent explorations by many other photographers, including Salzman, who duly credits Frank as an influence.
Frank's ambition for observation and record of what one naturalized American finds to seein the United States... was instrumental in terms of his memorialization of the everyday: I speak of the things that are there, anywhere and everywhere - easily found, but not easily selected and interpreted.
The same level of engagement and intense powers of observation are revealed in Salzman's own ouevre. South African contemporary art commentator Ashraf Jamal describes Salzman's
The Other Side of Christmas
as a sobering reminder that there is no indifferent place (using the description by poet Rainer Maria Rilke).
No matter how dispassionate or detached our everyday encounters might appear, Jamal writes in his thoughtful essay on Salzman's project, it is within these fleeting moments that our existence assumes its deepest traction. We know ourselves best not through special or extraordinary circumstances, but in-and-through the indifferent bilge and bric-a-brac whichis the binding sump of life.
Jamal's essay goes on to note the depiction of fleeting moments - everyday objects, the forgotten the discarded, the abstract. This includes the presence of the exhibition's central theme, Christmas, which is captured most directly in three photographs, where aless-than-festive season is commemorated by randomly placed, dejected-looking Xmas garden decor and an unlit star on a lone lamppost.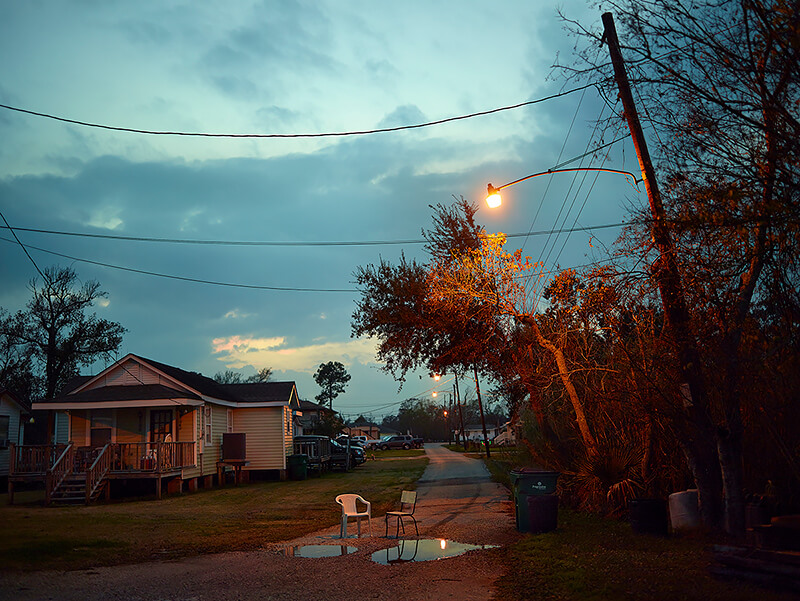 Apparent too is the lack of physical human presence: It is the mise-en-scene of everyday life, the structures both man-made and natural which are uppermost in the photographer's sight-line, comments Jamal.
In Salzman's collection of photographs we see too the fingerprints of other artists who havebeen informed by Frank. These include some of the genre's luminaries - Garry Winogrand, William Eggleston, Lee Friedlander, Joel Meyerowitz, Stephen Shore, Alec Soth, Todd Hido and South Africa's David Goldblatt - all of whom Salzman credits with influencing, either directly or indirectly, his own work.
The Other Side of Christmas
will be showing at Deepest Darkest gallery in Cape Town from 7 November to 28 December 2019.The opening evening on Thursday 7 November 2019 begins at 18h00 and forms part of First Thursdays.