If you're running (or just starting a photography business), marketing is the key. People need to find you and know you to book your services. Of the many marketing options photographers can choose from, Facebook is one of the most popular.
With over 2 billion users around the world tuned in, Facebook as a marketing platform is hard to beat. Thousands of said customers could already be right near you in your local city. Additionally, Facebook's visual nature supports photography in a very real way. In other words, Facebook is a solid platform to use for marketing your photography business.
So how do you get the best out of Facebook? By using these nine tips on marketing your photography business on Facebook.
Optimize your page first
The first marketing tactic any photographer should employ is Facebook page optimization. Optimized pages rank better and result in higher conversions. To optimize your page, do the following:
- Fill out the 'About' section of your page completely. Throw your backstory in there, your views, motivations and more. Also, note your physical address if you have one.
- Use a captivating CTA button on your page, such as Call Us or Book Now. Call-to-Actions buttons tell people what to do after seeing your page, so they need to be active and visible.
- Display links to your social accounts in your 'About' section. Links to Instagram, Twitter, Flickr and your own website are very vital.
- Use a professional-looking cover photo and profile picture. You can use your business logo for a profile picture and a unique, eye-popping photograph for your cover picture.
- Automate your Instagram-to-Facebook post schedule. Facebook allows you to re-share your Instagram photos to your Facebook in one move. The best part is that you can automate this process, such that both your Instagram and Facebook accounts get enough content with less effort.
Use Facebook Ads
No marketing campaign on Facebook is complete without Facebook Ads. Yes, you don't have to use them, but would you rather skip something that could boost your photography business a hundredfold or more? Facebook Ads get your business all over Facebook, in front of millions of users directly associated with your kind of product.
First, you need to understand your potential audience, depending on your photography niche. Are you looking to draw in students heading to the prom, potential grooms and brides or everyone else? Next, you must understand what kind of posts your chosen audience prefers, and then plan to design your Facebook ads in that style.
When you decide to employ Facebook ads, start with a smaller budget and see how it goes.
Use Facebook Live
Facebook Live is a wonderful offering from Facebook that allows you to express yourself in real-time, to your followers. This is an opportunity for photographers to subtly market themselves and their work.
You can set up Facebook LiveStreams where you talk about your work, your processes, the motivation behind different photos, your views on society and other hot topics.
It's also a perfect platform to announce hideaways or campaigns in person. People live getting to know the people behind brands in a personal way. Facebook Live may not work for you if you're a highly private person.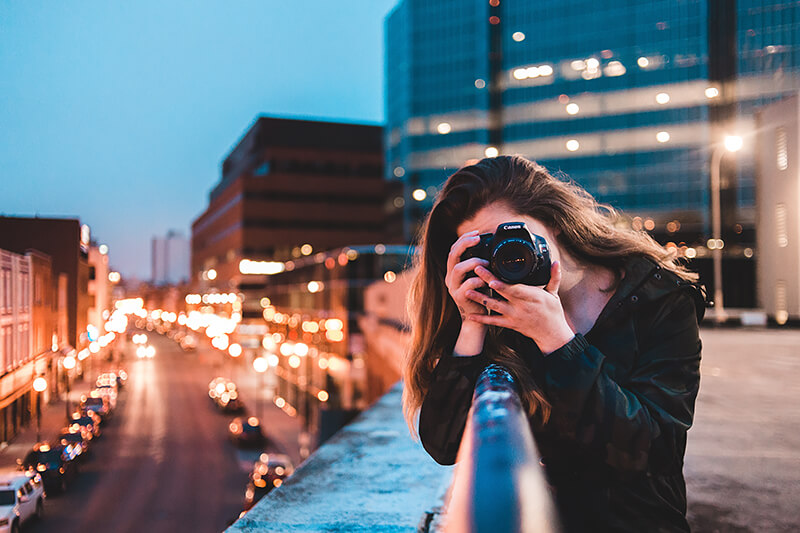 Upload regularly, both photos and videos
Consistency is always good for business. Keep your followers visually satiated with regular uploads of new photos you've taken. Make sure to attach the story behind each photo, because people love a good story.
With the same effort, upload videos whenever you can. Facebook's algorithm favors videos and that's good news for your page's visibility. You can employ tools such as Buffer to schedule your Facebook posts at certain hours even when you're not in the office.
Upload behind-the-scenes content from your photo-shoots
The best photographs are always intriguing, and for many viewers, there's always genuine wonder about how the photo came to be. As any photographer knows, the best photos require unique creativity when building shots.
Every once in a while, entertain your viewers by uploading photos and videos from behind-the-scenes set of your best photographs. Make sure to pick photos that required a unique creation process.
Upload your best photographs, and bundle them up
This is an easy task; uploading only your best photos. Don't upload any photograph that's not great. Constant quality gets you admirers and potential clients.
One other tactic that's proven successful for many photographers on Facebook is 'bundling.' Bundling involves creating categories for different photos based on a theme or subject. It can be anything from babies to weddings to autumn to skateboards, as long as it fits within your niche. Viewers love these categories.
Cross-promotion
Cross-promotion isn't a new concept, especially on Facebook. How about you create a promotion that includes free photography sessions for a set number of people in your immediate area in exchange for promotion on people's timelines? It works.
If you don't feel like soliciting compliments, you don't have to ask for a promotion. Just make sure the photos are great and you'll see photo credits roll out automatically.
Post some non-business-related content
You don't want your business to appear selfish, aloof, or self-centered. Every once in a while, publish some posts about topics other than photography. It could be a reaction to the news or something about your environmental or Buddhist beliefs. Posts celebrating someone in your community on a special occasion are always popular.
Engage with your audience often
The average Facebook user sees nearly four adverts on their timelines in one session. Most of those advertisers only stop at advertising; they don't reach out and engage. Be the difference by engaging with your followers regularly.
Start by replying to their comments on your page's posts as early as possible. Make sure your response is respectful and not too promotional. It should also trigger more conversation.
Next, respond to your followers' personal Facebook posts using your page. It establishes a camaraderie that can easily result in a business arrangement. Experts also recommend sending out individual messages to followers every once in a while, checking on them.
Conclusion
Facebook is a wonderful opportunity for photographers to get in front of photography lovers and potential clients. It's important that you understand the platform's rules and regulations first, to avoid getting dismissed. And when you get some followers to your page, don't forget to keep engaging them.
All about Sandra Dufrene
Sandra Dufrene is a freelance writer and an editor at
essay writing service reviews
. She has a keen interest in photography and dedicates all her free time to it. Sandra has extensive knowledge in different fields such as marketing, education, and blogging. Feel free to contact her on
Twitter
.