British photographer
Lee Jeffries
started photographing homeless people in the streets after meeting with a young homeless girl in the streets of London.
This encounter changed his artistic approach forever. We asked him a few questions about his life and work.
All About Photo: When did you realize you wanted to be a photographer?
Lee Jeffries:
I'm an accountant actually. Photography is something I do when I'm not doing that.
AAP: Where did you study photography?
LJ:
Self taught. No formal qualifications whatsoever.
AAP: Do you have a mentor?
LJ:
Nope.
AAP: How long have you been a photographer?
LJ:
About 5 years now.
AAP: Do you remember your first shot? What was it?
LJ:
My first street photograph was a young girl homeless girl in London. The story is all around the net now. My first real photograph was the woman praying in Rome. That's where the artistry began.
AAP: What or who inspires you?
LJ:
Emotion. People. Empathy for the suffering of others.
AAP: How could you describe your style?
LJ:
My own. If it looks good to me then I'm more than happy. Much more than that though...i have to feel an image. I throw it out if I dont.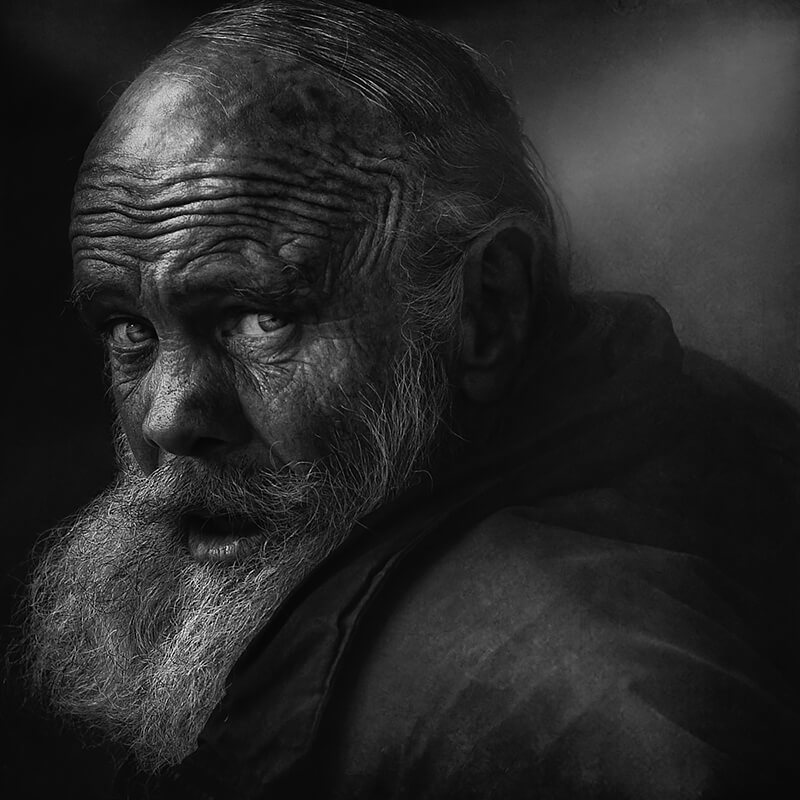 AAP: What kind of gear do you use? Camera, lens, digital, film?
LJ:
Digital. Old beat up Canon 5d mark 1.
AAP: Do you spend a lot of time editing your images?
LJ:
Some take 5 minutes...some take longer...much longer. Depends on my mood. If I'm particularly into an image emotionally I will linger for hours listening to classical music over all the details.
AAP: Favorite(s) photographer(s)?
LJ:
James Nachtwey,
Stephan Vanfleteren
.
AAP: What advice would you give a young photographer?
LJ:
Concentrate on shooting an image. There is no substitute for emotion. A $5,000 camera wont save an image nor will hours in PS. You have to capture something from the outset. always get that bit right.
AAP: What mistake should a young photographer avoid?
LJ:
Not trusting their instincts.
AAP: An idea, a sentence, a project you would like to share?
LJ:
Just completed a year long project for Terrence Malick.
AAP: Your best memory has a photographer?
LJ:
Every time I meet somebody on the street. nothing beats being out there.
AAP: If you could have taken the photographs of someone else who would it be?
LJ:
My fave image from anyone, anywhere:
Katarina Smuraga
. Emotion. Genuine or not it has me totally convinced and shakes me to the core each time I view it. I often linger for hours into those watery eyes.
AAP: Anything else you would like to share?
LJ:
Exhibition opens in Rome on 18th October at the Museo di Roma in Trastevere.