A creative hobby such as photography can not only be rewarding but can also have positive health effects.
However some people, especially complete beginners, can find it a daunting pastime to get into.
Not only are there many different types of cameras, from small compacts to DSLRs, but also a whole new lexicon to contend with. Words and phrases like 'pixel count' and 'image stabiliser system' can be off putting and a little scary if you don't know what they mean.
The following comprehensive guide to selecting a camera will also explain the science behind key features in simple terms.
On a personal level, I have been taking photographs for many years, starting out with a simple film compact before moving onto a DSLR and now back to film photography. I hope that by sharing some of my knowledge and experience you will be able to find a camera that not only suits you but allows you to grow and develop in your new hobby, creating satisfying images for years to come.
The Different Types Of Camera
It is a common belief amongst people embarking on photography as a hobby that an expensive camera will allow them to capture great photographs. However, as with most forms of art, this is not the case. The instrument can only do so much. The success of a photograph depends on so much more: composition, lighting, the subject etc. Basically you can have the most expensive piece of kit on the market but if you don't know how to use it your images will be average at best.
The first part of this guide will look at the different types of camera that are available. Highlighting the pros and cons of each will help you to get a sense of what type of camera will suit you best. Also if you are interested in a certain type of photography then you may find that one camera will suit your needs far better than the others.
We will then go on to discuss the science behind the technology. Explaining how cameras work and which features will most benefit you. This should help to narrow down your choices allowing you to not only make an informed decision but to get the most out of your hobby.
Different Types Of Camera:
Standard Compact
Adventure Camera
Bridge Camera
Compact Mirrorless System
DSLR
Medium Format
Specialist
Standard Compact
Often referred to as Point and Shoots, Standard Compacts are an excellent starting point for those either just getting into photography or don't want anything too complicated. Small, light and relatively cheap they are also reliable and, usually, fully automatic. Coming in a range of shapes and sizes you will be able to find one that feels good in your hands.
Almost all Standard Compacts come with an optical zoom lens which, when not being used, folds back into the body. A lens that stretches from 35- 105mm, or a 3-10x optical zoom, will be more than adequate for general purpose use. Lenses that start slightly smaller, around 28mm, are fine for both group shots and landscape photographs while those that stretch to 150mm will capture distance shots in great detail. This size lens means that the Standard Compact is fine for everyday photography.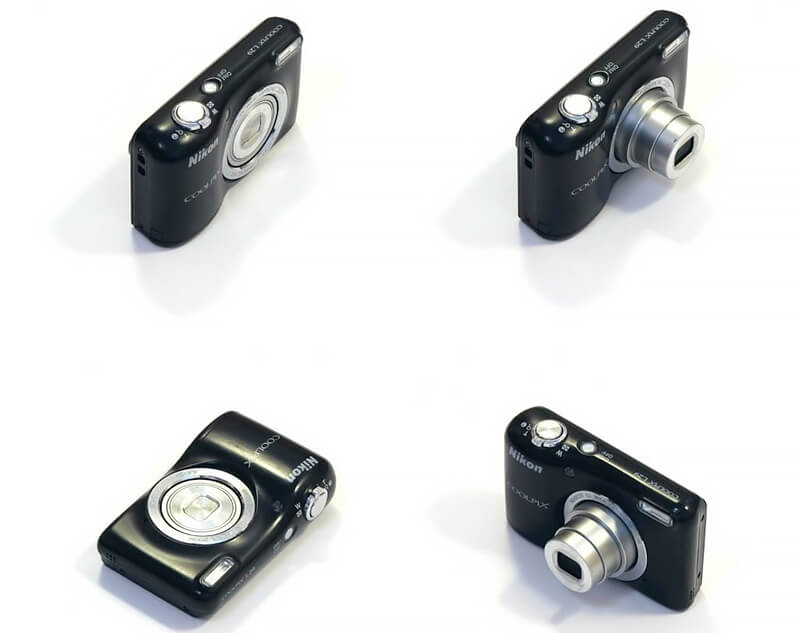 With a Standard Compact the lens is permanently attached. This means that you don't have to go to the trouble or expense of acquiring additional lenses. However some Standard Compacts do have the option of wide and telephoto converter lens add ons.
In addition to being fully automatic many Standard Compacts also offer some manual controls, such as the ability to alter the exposure settings. While beginners or less confident photographers can ignore these features, for those with a bit more experience who want to develop their skills this is a great way to start.
Another feature to look out for when considering a Standard Compact is image stabilisation. While we will discuss this in depth later in the article it is basically a means of eliminating the effects of movement, such as shaking hands or an unsteady camera, on an image. Again this is especially beneficial to nervous or new photographers. Even though the image stabilisation systems on Standard Compacts isn't as advanced as on other options it is more than good enough to help you capture good, sharp images.
With the rise of the smartphone many people feared that Standard Compacts would become obsolete. However the quality of image you get from even a basic Standard Compact still outperforms a smartphone.
In short, a Standard Compact is good for users who prioritize portability and simplicity, while still delivering quality images.
More advanced compacts are available. These are intended for more experienced photographers who want the interaction of a DSLR without having to carry around a bulky piece of kit. Advanced Compacts allow you to control elements such as exposure and focus as well as offering features such as optical viewfinders and external flash connections.
This increased interaction makes them more expensive than Standard Compacts. While the lack of interchangeable lenses means that they are not as versatile as a DSLR.
PROS: Great portability, easy to use, affordable without compromising on quality.
CONS: A more experienced photographer may feel limited by the available options.
Adventure Cameras
Largely similar to a Standard Compact. These are a robust piece of kit as they are designed to withstand the elements. As a result they tend to be waterproof, shockproof and sometimes even freeze proof.
The downside is that Adventure Cameras are not the most advanced when it comes to the features that they offer. As well as being fully automatic they usually offer a few basic controls such as manual exposure and a standard zoom lens.
Despite these limitations they are a good option if you want a basic camera that will do a reliable job in tricky conditions such as snorkeling.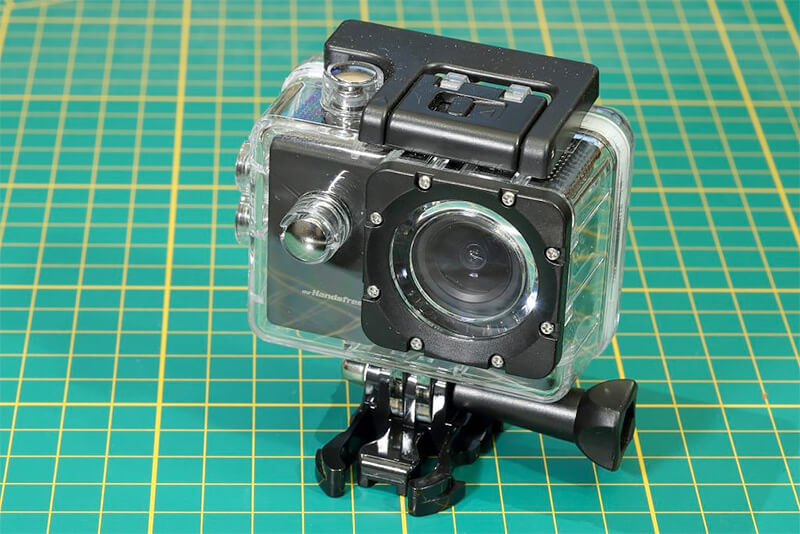 Most Adventure Cameras also tend to feature a wide angle lens. This gives an immersive quality to your photographs.
While these can be tempting option unless you do a lot of extreme activities, which you intend to photograph, then you may be better opting for a Standard Compact. These are robust enough for most people.
Pros: Robust, great option for recording extreme activities.
Cons: Limited features, small sensors mean that photo quality is not good enough for larger prints, better options available for everyday use.
Bridge Cameras
The the stepping stone between Compacts and DSLRs, hence the name. Otherwise known as Zoom Cameras they are similar to Compacts but benefit from a far more powerful zoom lens.
Combining the flexibility of a wide focal range with a compact body they also tend to be slightly larger and more robust than regular Compacts. Like Advanced Compacts these also allow you to manually alter the exposure and focus settings. This gives you far more control over the image that you produce.
The key to a good Bridge Camera lies with its image stabilisation system. We will discuss in depth the science behind this later in the article but it basically means that when shooting at longer focal lengths it is difficult to keep the image stable. An image stabilisation system, as the name suggests, helps the camera to achieve this, allowing you to take crystal clear photographs.
Another popular Bridge Camera feature is the articulated LCD screen. This allows you to comfortably shoot subjects at awkward angles. It can also be utilised to minimise glare when taking photographs in bright conditions.
Many models also offer HD video recording as well as other bonus features such as GPS for automatic geotagging. This is a great feature if you are planning on using the camera while travelling.
Many see Bridges as being neither here nor there. They are not as convenient as Standard Compacts and are not as advanced as DSLRs. As they cater to a slightly more specialised market they also tend to be slightly more expensive than Standard Compacts. However despite their limitations however they remain a popular choice.
Pros: Robust, powerful zoom, allows the photographer a degree of control over their images, great for outdoor activities and travel.
Cons: No interchangeable lenses, slightly bulkier than a regular compact.
Compact Mirrorless System
A relative newcomer to the market these combine the capabilities and features of the DSLR with the portability and affordability of the Compact. Seen by some as the future of photography the Compact Mirrorless System is rapidly growing in popularity.
As the name suggests these cameras don't have the internal mirror which is a standard feature of DSLRs. This means that they are can be significantly smaller than DSLRs, often only slightly bigger than a Standard Compact. The downside is that they also lack the optical viewfinder of DSLRs. However the presence of an electronic viewfinder compensates for this somewhat.
Unlike a Standard Compact or Bridge Camera the Compact Mirrorless System has interchangeable lenses, which are often lighter and more portable than those that come with DSLRs. This offers the photographer more versatility and control over their image, as well as better portability when compared to a DSLR. However as they are newer to the scene there are not as many compatible lenses available when compared to a DSLR.
Despite these limitations they are growing in popularity as an option and the better quality Compact Mirrorless Systems are slowly being adopted by professional photographers. A good quality option will also come with all the mod cons such as image stabilisation, wireless capabilities and video recording.
Pros: Good image quality, lightweight, good range of features, cheaper than a DSLR, versatile relatively portable.
Cons: Limited lens options, DSLRs can offer more depth/ range.
DSLR
These are the established choice for both professionals and serious hobbyists.
DSLRs are similar to old school film SLRs. If you have lenses from a film SLR then they might be compatible with a DSLR. This can save you money when purchasing your camera and allows you to quickly increase your photographic range.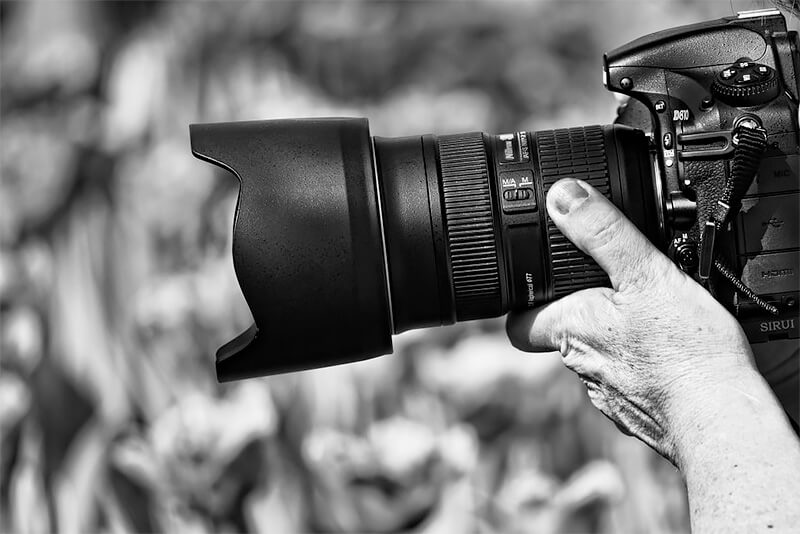 Remember that if you are purchasing an interchangeable lens camera such as a DSLR then you will be confined to the brand. Generally lenses aren't interchangeable across brands because they use specific mounts.
By using either APS-C or full frame image sensors, which we will explain later on, DSLRs give you great image quality. Autofocus and general photographic performance are both also, usually, excellent. A good quality DSLR will give you a good degree of creative control over your photographs. To see what options are on offer you can view our guide to the best DSLRs here.
The downside is that what you gain in quality you lose in portability. DSLRs can be bulky and difficult to transport if you are also carrying multiple lenses. Additionally, because of the mirror, burst shooting speeds are limited. In some models the video function can also seem more of an afterthought than a fully integrated feature.
Pros: Superb image quality, creative features, great range of accessories and lenses.
Cons: Bulky, heavy to carry around, can be expensive- especially if you buy a lot of lenses straight away.
Medium Formats
Medium Formats are the ultimate camera. A step up from the full-frame DSLR they have large image sensors which allow for higher image resolution. This allows you to take excellent quality images.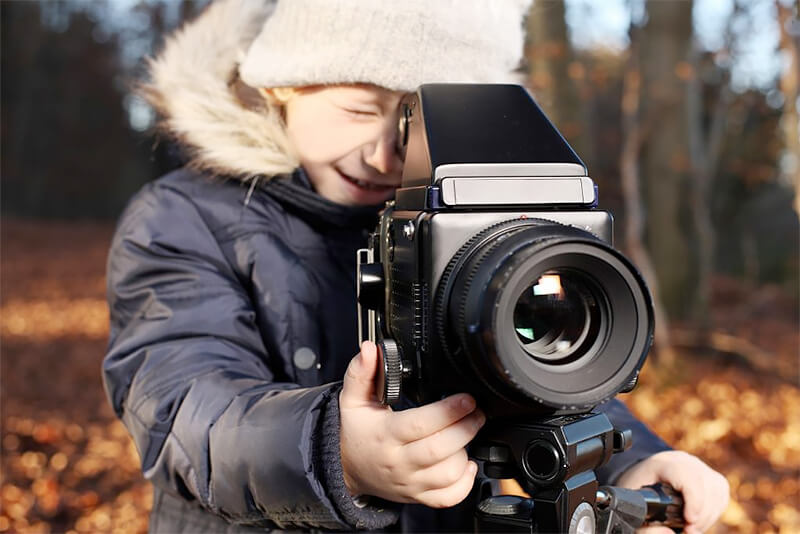 However quality isn't cheap. They are expensive to purchase and can be heavy and bulky. While they do produce excellent images unless you are incredibly serious about photography a good quality DSLR will give you just as much satisfaction without the bad back.
Pros: Excellent picture quality.
Cons: Very expensive, bulky, heavy.
Specialist Cameras
So far the options that we have discussed have been largely general purpose pieces of kit. In other words they are versatile enough that can be used in most situations.
However there are also more specialist options available. These include things such as the 360 degree camera, waterproof cameras as well as polaroid and traditional film cameras that, like vinyl records, are currently undergoing something of a resurgence in popularity.
As these are for specific branches of photography these can be either more expensive or seem restrictive. Sometimes they require the user to have knowledge of what they are doing and how the camera operates. Unless you have a strong interest in a certain branch of photography these are probably best avoided.
Now that we have explored the various options that are available to you, you should have a better idea of what sort of camera will best suit you.
To find out more about The Science Behind The Camera read the rest of the article click
here