We've got less than a week to finish jurying
PhotoLucida's Critical Mass
competition. (And when I say we, I mean me and the other 200 museum curators, gallery directors, editors, publishers, media producers and other industry professionals who are looking at all of the images submitted to Critical Mass). Usually by this time, 200 photographers in, I've lost my sense of humor. But here, wading through these final portfolios, I came upon a series of pictures that made me not only laugh, but also fall in love with humanity again.
Takayuki Narita
's project, Rose Garden, at first reminded me of Martin Parr's Last Resort for a moment in the way he used the flash in the sun, but here these people are not clad in bathing suits or waiting in ice cream parlors or clamoring across rocky beaches. They are out photographing in the world's rose garden. Look at this place, full of blooms and flowers and the brightest sky…and also full of photographers and people being photographed, and oh, dogs being photographed too. Narita has brought us to a place where we can be voyeuristic and watch people in action, sometimes absurd, sometimes humorous, sometimes outrageous, all photographed in a style that is uniquely his own, the brightness of the flash highlighting the individual moments all the more. The photographer had me with the picture of the four miniature poodles on the bench against a backdrop of roses. I have revisited the set now multiple times and each time chuckled all the more. Thank you, Takayuki Narita.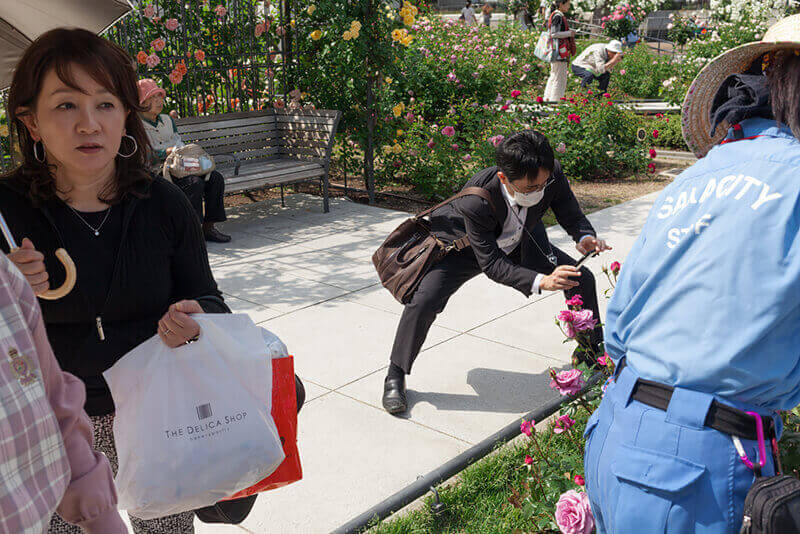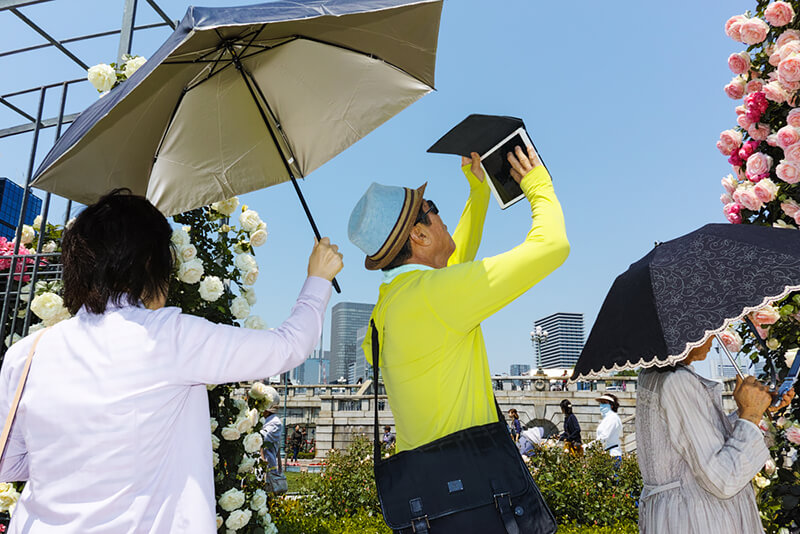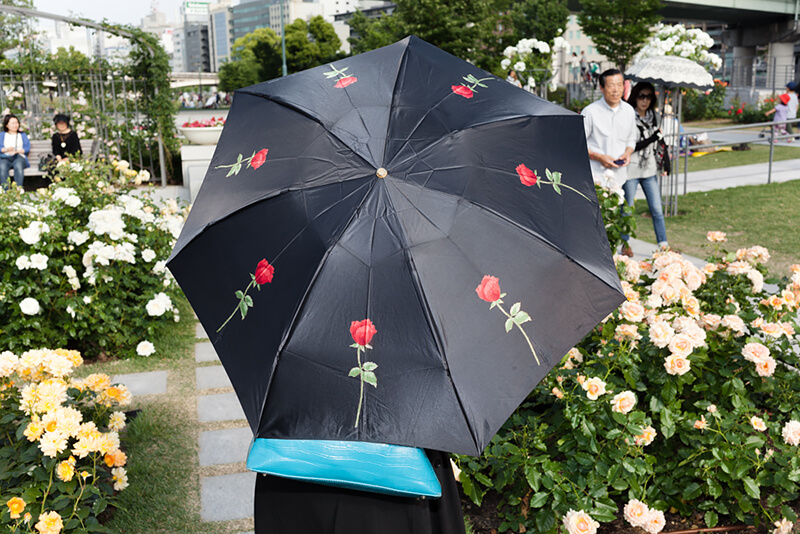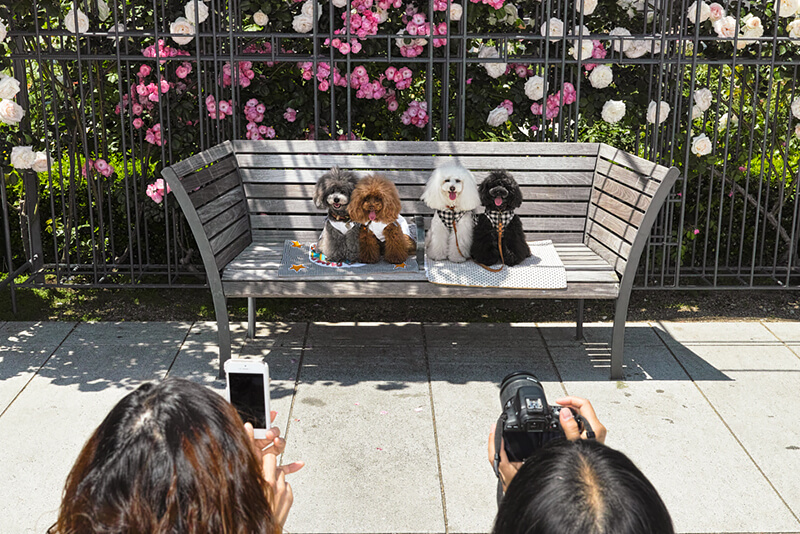 Here is what the photographer had to tell us about the series:
More often than not, people behave rather oddly when they face roses.
One day, shortly after I moved to Osaka, I encountered a tribe of people obsessed with roses in an urban rose garden I found purely by chance.
Almost all visitors to this rose garden whip out their smart-phones and cameras, and start taking pictures as soon as they see the first flower.
They look very serious indeed, and probably because of that, strangely stiff at the same time. I couldn't tell which is more important to them, embracing the flowers or taking pictures of them.
That brought me to the methodology of using carefully controlled daylight-synchronized strobe in order to restore and even out the visual impacts of the beautiful roses, and the appearances and behaviors of the visitors within calculated, two-dimensional frames.
The images I photographed of the rose garden ended up confusing me even more, contrary to my original intention. The photographs make the visitors look more theatrical, but whether their priority is to embrace the flowers or take pictures of them still remains a mystery to me.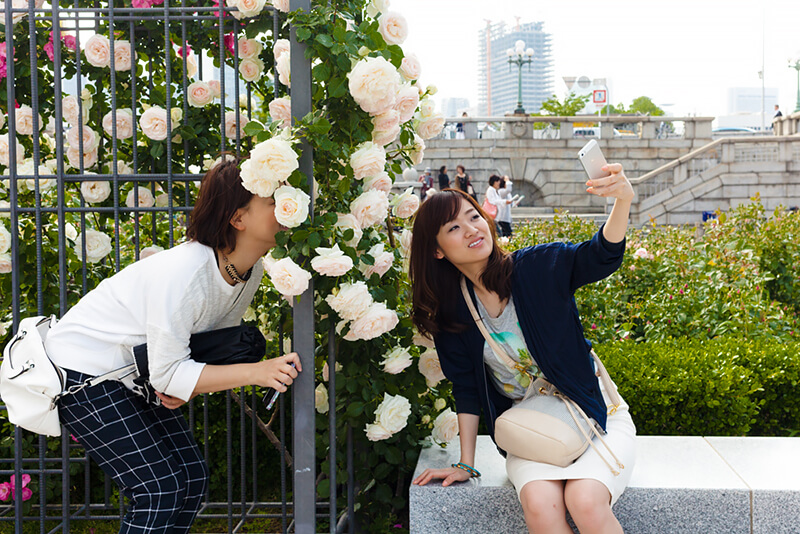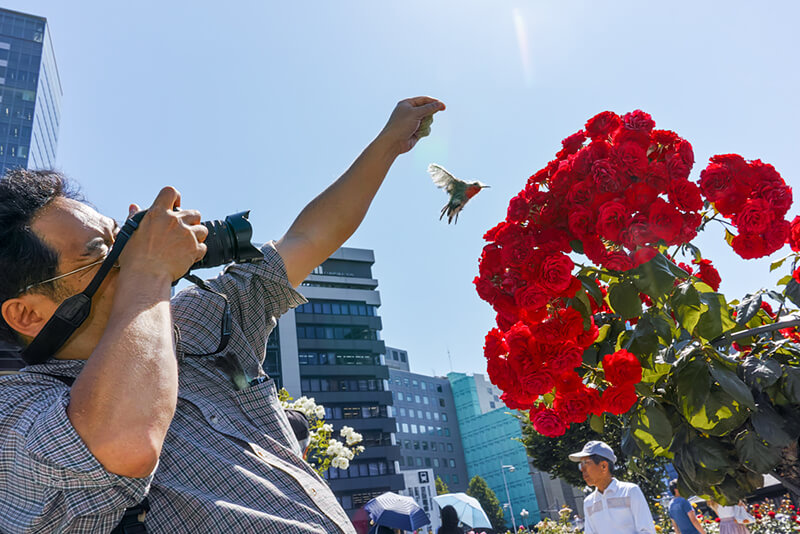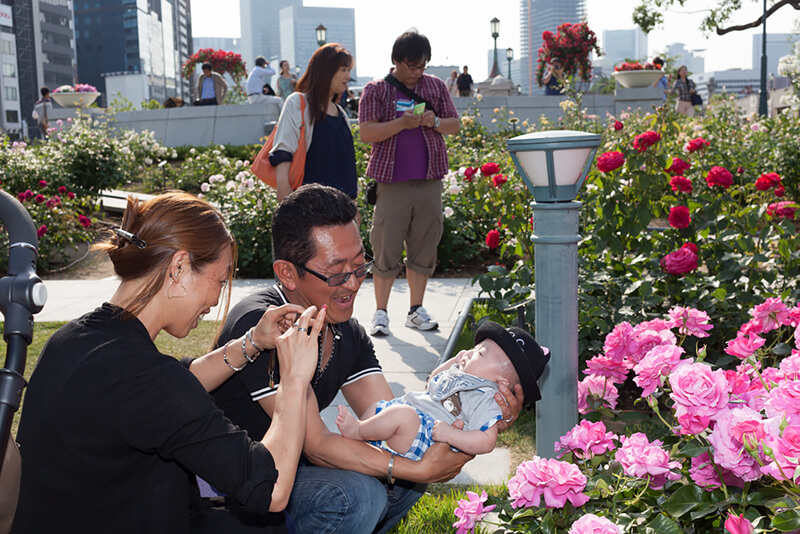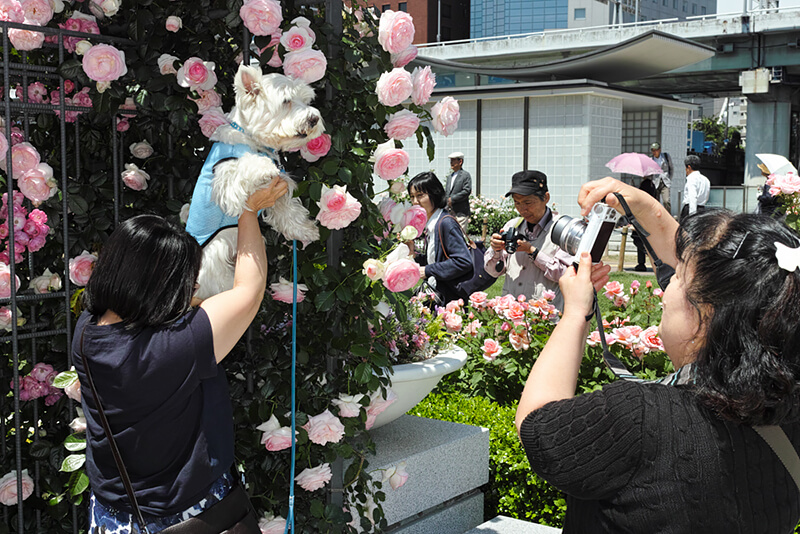 In fact, I came to a conclusion, that the object of their admiration doesn't have to be flowers in a rose garden. It could be a zoo, a famous tourist site or even a lunch with friends at a nice restaurant.
Biography
1971 Born in Aomori Prefecture, and brought up in Aichi Prefecture, Japan
1997 Nagoya Zokei University of Art & Design, Bachelor of Art & Design, Craft &Industrial Design
2013 Based in Osaka, JAPAN