There's always a challenge when jurying a show. I prefer best when the work is anonymous. Just photograph after photograph appearing on my screen, unencumbered by words, names, titles. Just the image to absorb and process and respond to. This was the case with the NYC4PA's recent competition,
Primary Colors
. In my years as an instructor, I used to teach a class in color photography called Color Vision and each year the students would not just explore technical tests with different types of film and different types of light, but they would also create works dependent on color, with color as subject, object, determiner of mood, determiner of all. I loved this class and the surprises that would come from it, especially during a hard Maine winter when the landscape seemed to be colorless and the days short and grey and then darkness. Just darkness. But no. The students made images that were reminiscent of the devastating movie,
Blue
by Krzysztof Kieślowski and I knew then the power of color and what it could evoke and emote.
Jurying this exhibition, I was moved by myriad images, some for content, some for color, some for the power of the moment. I have one in my mind's eye now, a picture by Kevin Jones of a room full of people in what could be a chapel, their red sleeved arms raised to the pulpit, the women's heads covered in the gentlest lace while the power of the gesture is something that invokes a charge, a change, a response, power to the people, the color red emphasizing the atmosphere of this electrified place. Especially at this time, in this week after around the world marches, I think, yes, whoever is speaking at the front of this room with Kevin Jones, I will go forth too. Arms raised in solidarity. Yes.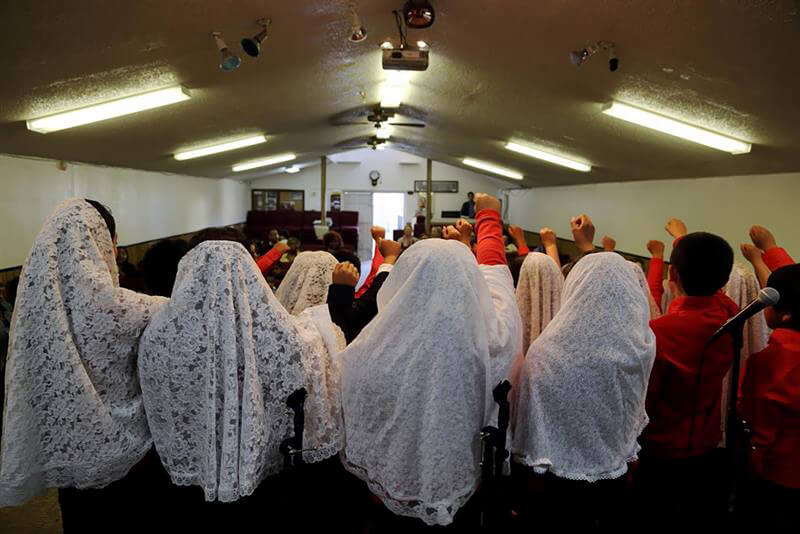 There are other images, of course, like Best of Show winner Yoong Wah Wong, whose moment of letting the arrow fly on the frozen tundra is another feat with the red robed figure surrounded by those in blue heralding the unseen mark.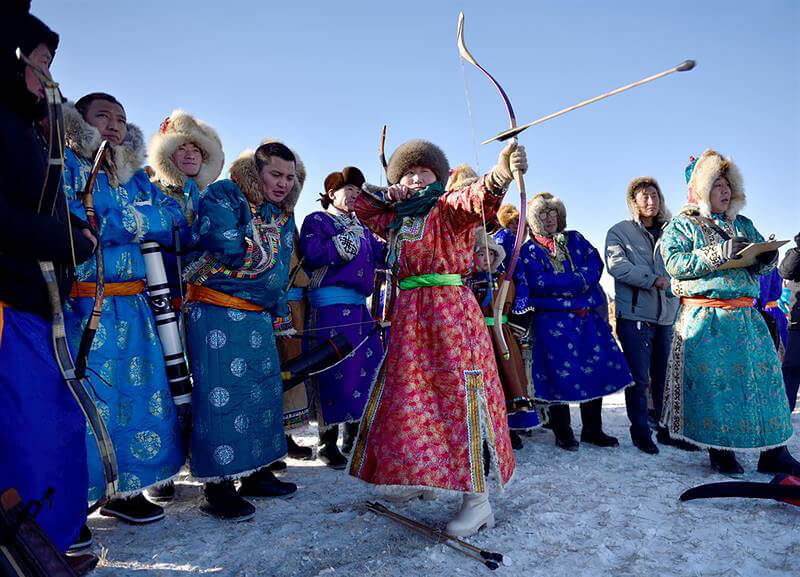 And simpler images that aren't documentary in nature, but which move me through the quiet way they are built, like one by Ildiko Voros of a wall washed in the golden yellow sun of a Mediterranean winter or the captured gesture by Kristen Dillon of an extended arm, hand stained red from strawberry season pulling me back to my east coast childhood or a diptych of what could be the peninsula I lived on in a lake in Maine where the water was as cold as the blue of this cyanotype by David Underwood.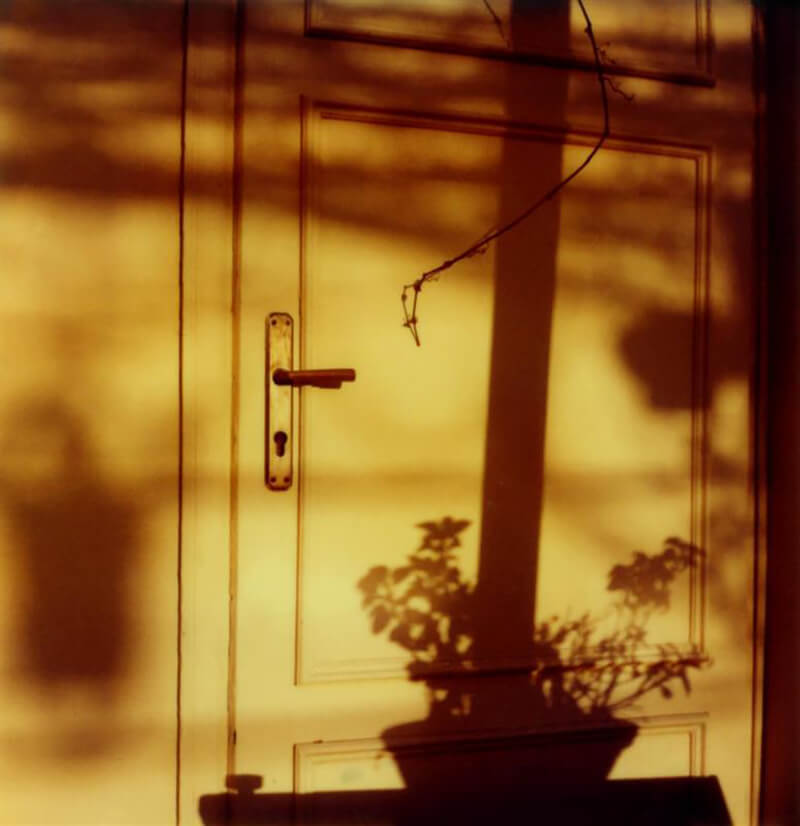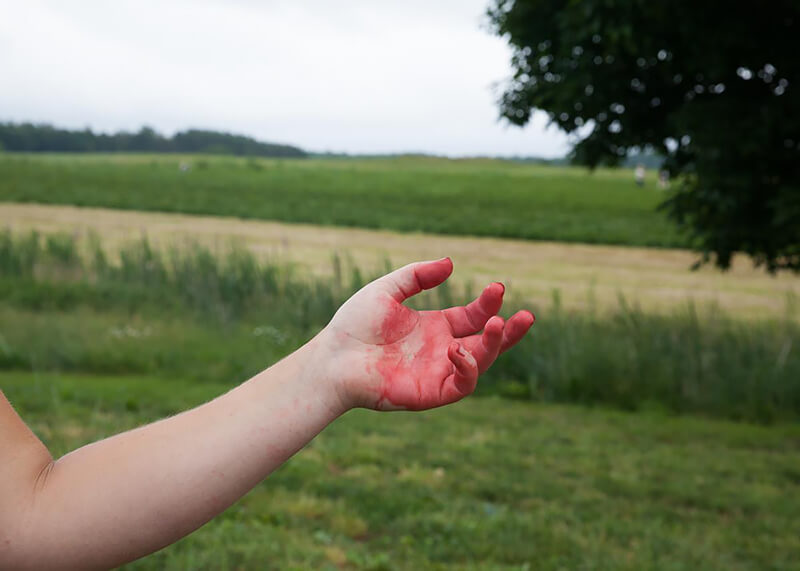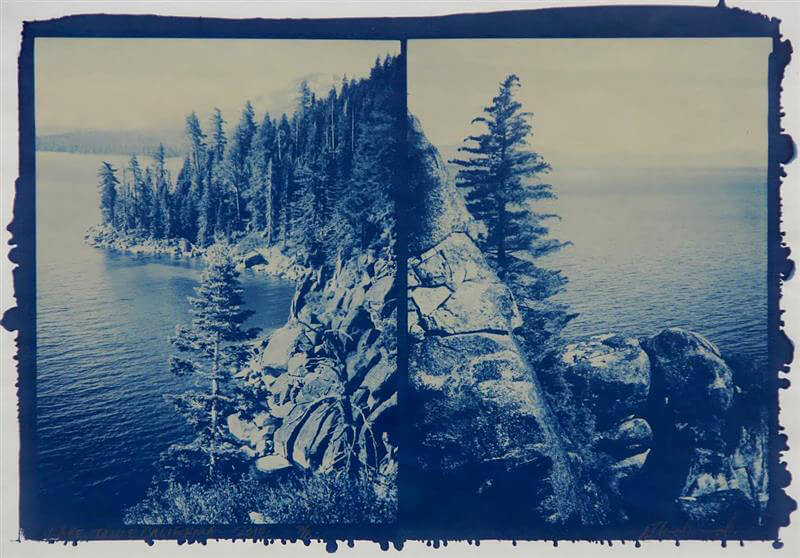 I shift in my seat and sometimes sigh and sometimes roar at the memories and emotions that are elicited by these artists use of color. Many thanks to the folks at the New York Center for Photographic Art for giving me this opportunity to recall the impact that color can have on every aspect of seeing. It was a pleasure and a reward to judge all these compelling and potent images. There will be an exhibition of the winning photographs at the Jadite Gallery in the Hell's Kitchen area of Manhattan April 18-27, 2017, so mark your calendars!
About the New York Center for Photographic Art
The mission of the New York Center for Photographic Art (NYC4PA) is to provide exhibition opportunities in the vibrant New York City gallery world to photographers around the globe, and to take photographers around the globe for exciting photo opportunities. NYC4PA offers international, themed, open call competitions juried by recognized experts in the field of photography. Prizes include cash awards, online gallery, catalog and New York City gallery exhibition. NYC4PA is proud to advance the art of photography.
The New York Center for Photographic Art was conceived and developed by Patricia Gilman and Maddi Ring to offer photographers from around the world opportunities to exhibit their work in the vibrant and important New York art scene. Maddi and Patricia are experienced photographers and exhibition producers who understand the value of gallery exhibitions. They have marketed their own work, both together and individually, in a variety of venues. These exhibitions have been in New York City as well as New Jersey and Connecticut, creating imaginative and well-received shows.
Gallery presence in New York has grown significantly in the past few years. Where neighborhoods like Madison Avenue, SOHO and Tribeca were the destination for art collectors, they have been joined by new centers for art. Brooklyn's DUMBO and Williamsburg, once decaying neighborhoods, now feature upscale restaurants, boutiques, and nightlife with great new galleries interspersed. The Lower East Side (LES) of Manhattan features store front galleries among the clothing stores, a famous delicatessen, and a nostalgic candy shop where one can buy the penny sweets that a New York child used to get in the corner candy store. Last, but certainly not least, the West 20's, where industry once thrived, now boasts building after building of exhibition space where gallery hopping has become an art collector and tourist pastime. Most of these locations publish a gallery guide and many sponsor gallery walks. The story is not over; more and more neighborhoods are adding galleries to the shops that line their streets. The New York art scene is thriving and the New York Center for Photographic Art provides opportunity for photographers around the world to participate.