When a successful artist collects other artists' work, it pays to pay attention to what he collects. In the case of Dr. Paul Greenberg, a photographer whose work is in the permanent collections of some of the most renowned institutions that collect photography - including the Amon Carter Museum of American Art, the Museum of Fine Arts, Houston and the Harry Ransom Center at the University of Texas at Austin - we have a bona fide artist gathering about him the work of the most iconic photographers of the last century, including Lee Friedlander, Berenice Abbott, Robert Frank, Henri Cartier-Bresson and more. Think of the phenomenon - artists collecting artists - as a confident insider endorsement of the inarguable talent and legacy of those who came before, a desire to honor the trailblazing instincts of one's progenitors. Greenberg loved Friedlander's work because game recognizes game.
On April 4, Heritage will offer a selection of the late
Dr. Greenberg's extraordinary collection
in its
Photographs Signature® Auction
, with the aforementioned photography luminaries on tap, and many other top lots from other consigners that bring considerable rarities, surprises, and collector favorites. This event encompasses an incredible selection of wilderness and nature photography with fourteen Ansel Adams photographs (including his masterpiece Moonrise, Hernandez), as well as three portfolios from Eliot Porter, the master of color nature photography. There's a set of cheeky (so to speak) nudes by Herb Ritts and Peter Beard, naked Marilyns by Bert Stern, a coterie of Warhol & Factory Co. and much more: a collection of photographs by one of the top British photographers, Bill Brandt, and three ultra-rare early Beatles photographs by Mike Mitchell - the intimate images that most encapsulate the Fab Four's initial invasion of America and only the second time they have appeared at auction.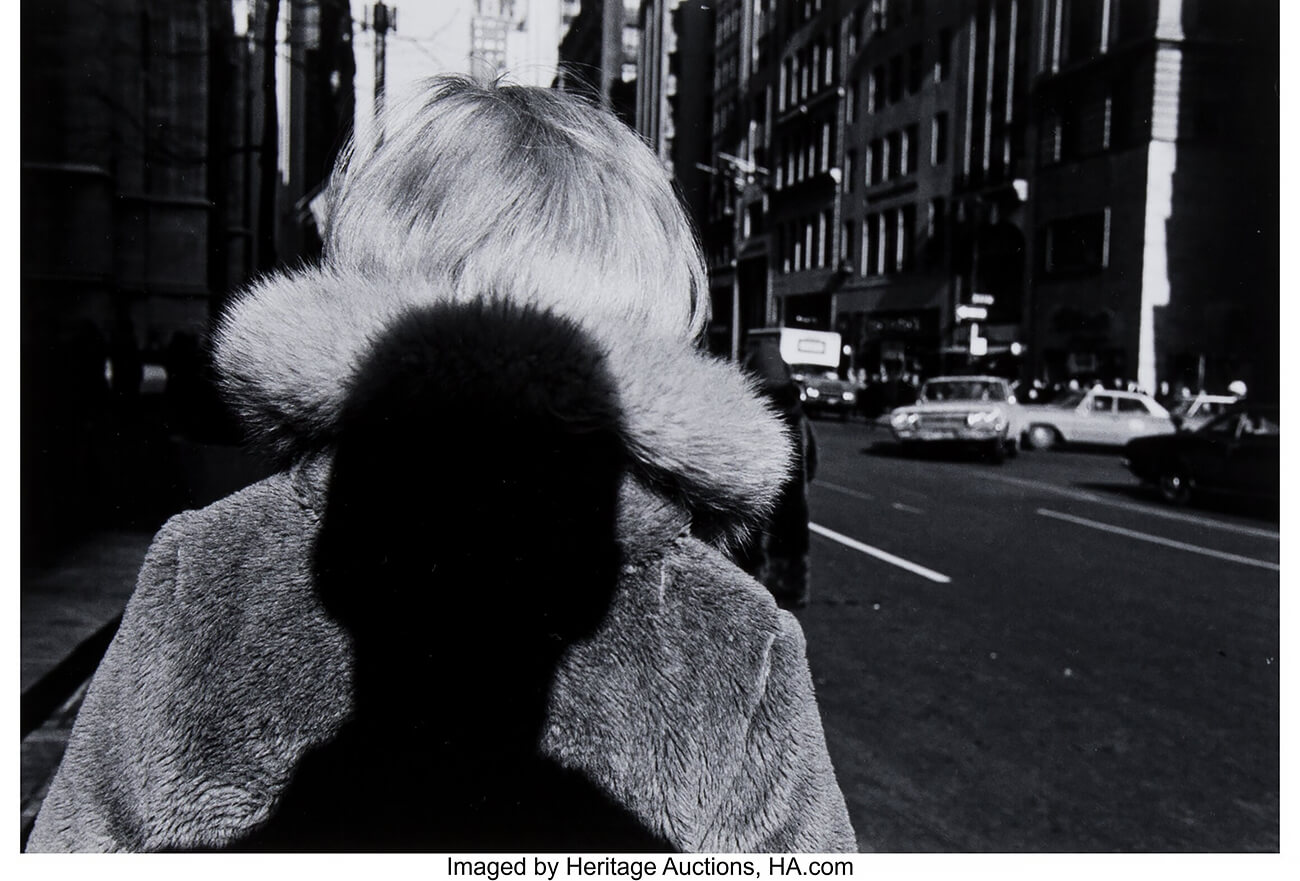 © Lee Friedlander, Heritage Auctions, HA.com
''This auction offers the rare opportunity to collect photographs that have only ever been offered for sale once or twice before,'' says Nigel Russell, Heritage's Director of Photographs. And as for the artist-collecting artist: ''We are privileged to offer the collection of Dr. Paul A. Greenberg, a long-time Dallas resident and an accomplished photographer in his own right, who had a keen eye in acquiring some of the best examples of 20th-century photography.''
As for Dr. Greenberg and his exceptional eye: The most notable offering from his collection includes the iconic Lee Friedlander 15 Photographs full portfolio, shot between 1962 and 1972. No other tightly-conceived series of social landscape photographs - shot primarily in cities and small towns that encompassed the chaos and community of America's evolution as a modern society - more successfully tells Americans who we are, and how enduring Friedlander's visions are despite the decades that have since transpired. To say Friedlander influenced countless photographers and our very understanding of American photography is an understatement. In his exceptionally clear-eyed shots, rural street signs give way to busy traffic streets to intimate bar scenes to overstuffed shop windows. This is the collective national self-portrait we can't deny. The portfolio lot comes with a colophon and an introduction by Walker Evans in a silver cloth-covered clamshell case with an embossed title.
Other selections from the Greenberg collection include works by Czech photographer Josef Koudelka; a few choice 1930s and '40s offerings by Henri-Cartier Bresson; portraits by Irving Penn; a 75th-anniversary portfolio by Aaron Siskind; a handful of gems by Bresson's successor Willy Ronis, and more. The Dallas-based Dr. Greenberg's efforts have well served photography enthusiasts by building such a thoughtful and thorough collection - a Greatest Hits of the modern age.
Elsewhere in this auction: 14 Ansel Adams works mentioned above are a selection of his famed portraits of Yosemite and the aforementioned Moonrise, Hernandez, New Mexico(1941), one of his most famous photographs in all its expansive and atmospheric glory. Continuing the nature category, three of Eliot Furness Porter's iconic color portfolios of epic Western landscapes are awash in strikingly recognizable ochres, greens, blues and shadows - much like the way our own eyes record nature in its unfolding glory. American photographer Richard Misrach's landscape works, notably from his Battleground Point and Golden Gate Bridge series, also make an appearance in this event and round out the auction's strong ties to America's Western sublime.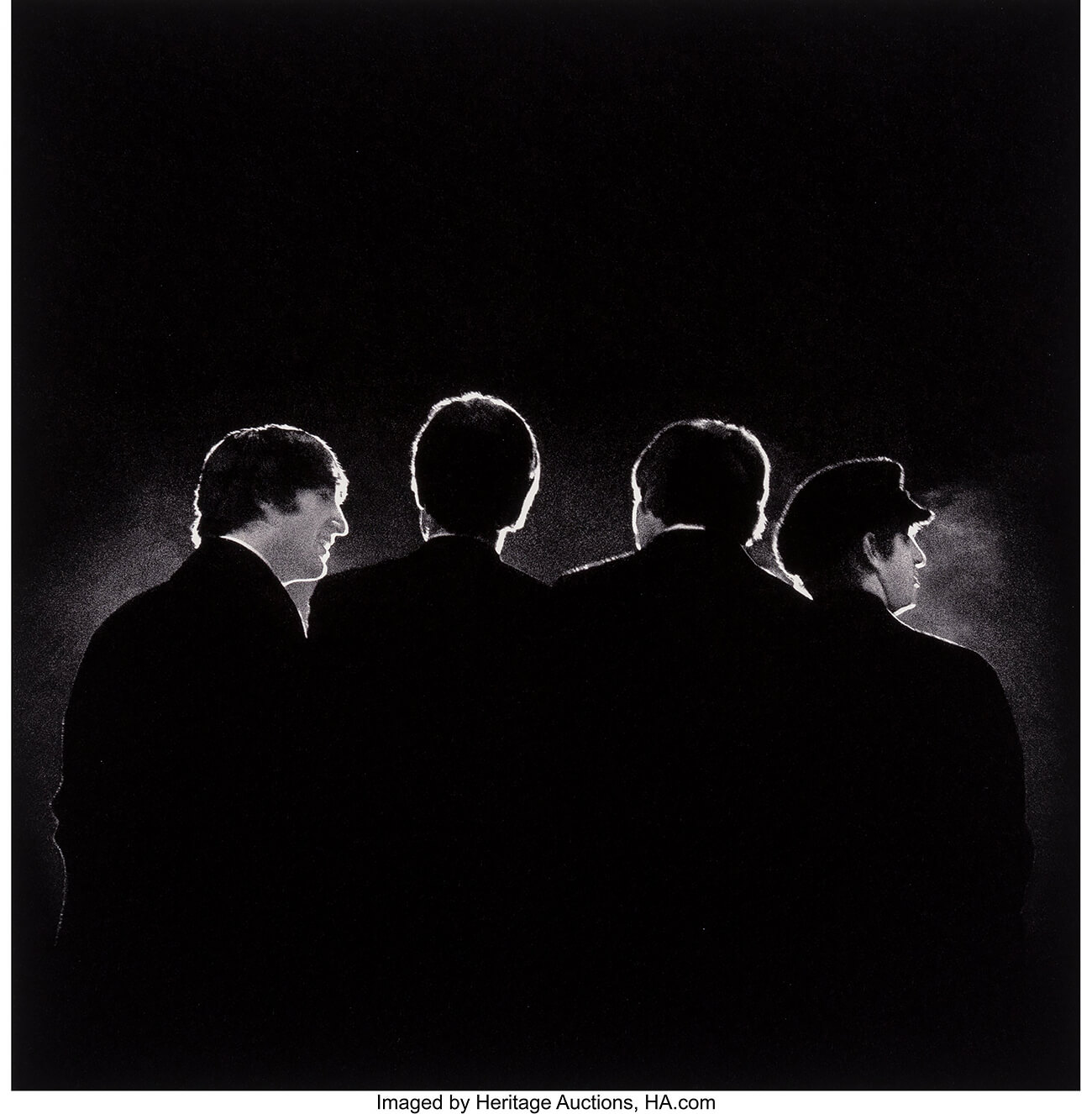 © Mitchell The Beatles at the First US Concert Tour, Heritage Auctions, HA.com
The three 1964 Beatles photographs offered here are by a then-green shutterbug. ''Mike Mitchell had a keen interest in photography as a teenager and by 18 was freelancing for two Washington, DC, publications. To his surprise, one of these publications managed to get him a press pass that allowed not only access to the press conference but unrestricted front-stage access,'' to the Beatles first foray into the United States, including the band's famed concert at the Washington Coliseum. The image of John, Paul, George and Ringo, shot from behind in silhouettegives us an up-close and very personal view of four very young men facing an overwhelming audience and the engine of fame and adulation that was coming at them faster than they could process it. It captures a moment the Beatles became the group that brought us into the 1960s and the future of rock and roll, if not the phenomenon of modern fame itself.
Seven photographs by English photographer Bill Brandt take a special spot in this event. He studied under Man Ray in Paris and upon his return to London exemplified photographic modernism; these gritty-yet-elegant slices of English life before and after WWII include drinkers in a Limehouse pub from 1942 and a stunning deep-perspective portrait of rainswept terraced-house rooftops from 1933.
Speaking of England: this sly portrait by Lewis Morley of model Christina Keeler, the infamous woman at the heart of the Profumo Affair, like a modern-day Helen of Troy, gives us a sense of how one woman's appeal threatened to take down an empire.
We'd be remiss to not mention an especially charming and almost heartbreakingly nostalgic photograph for Boomers and Gen X alike. The poster versions of Harvey Edwards' Leg Warmers, from 1978, adorned countless New York City co-ops and teenage dancers' bedrooms; it epitomizes the grit and determination of the Bob Fosse milieu. The close-up of a dancer's legs in fifth position plié is not of a ballerina but of a male dancer Bruce Wurl; the poster image sold 3.2 million copies in 86 countries, appeared in more than 256 movies, commercials, and print media, including Sixteen Candles, Fame, and Center Stage, Saturday Night Live, Friends, Sex and the City and more. This oversized dye bleach print, printed in 1981 and offered by Heritage is the last Cibachrome print available from Edwards' official run of 50. A fire destroyed the original transparency; the only other original photograph of Leg Warmers to ever come to auction was a dye coupler print offered two years ago.
Images and information about all lots in the auction can be found at
HA.com/8128
.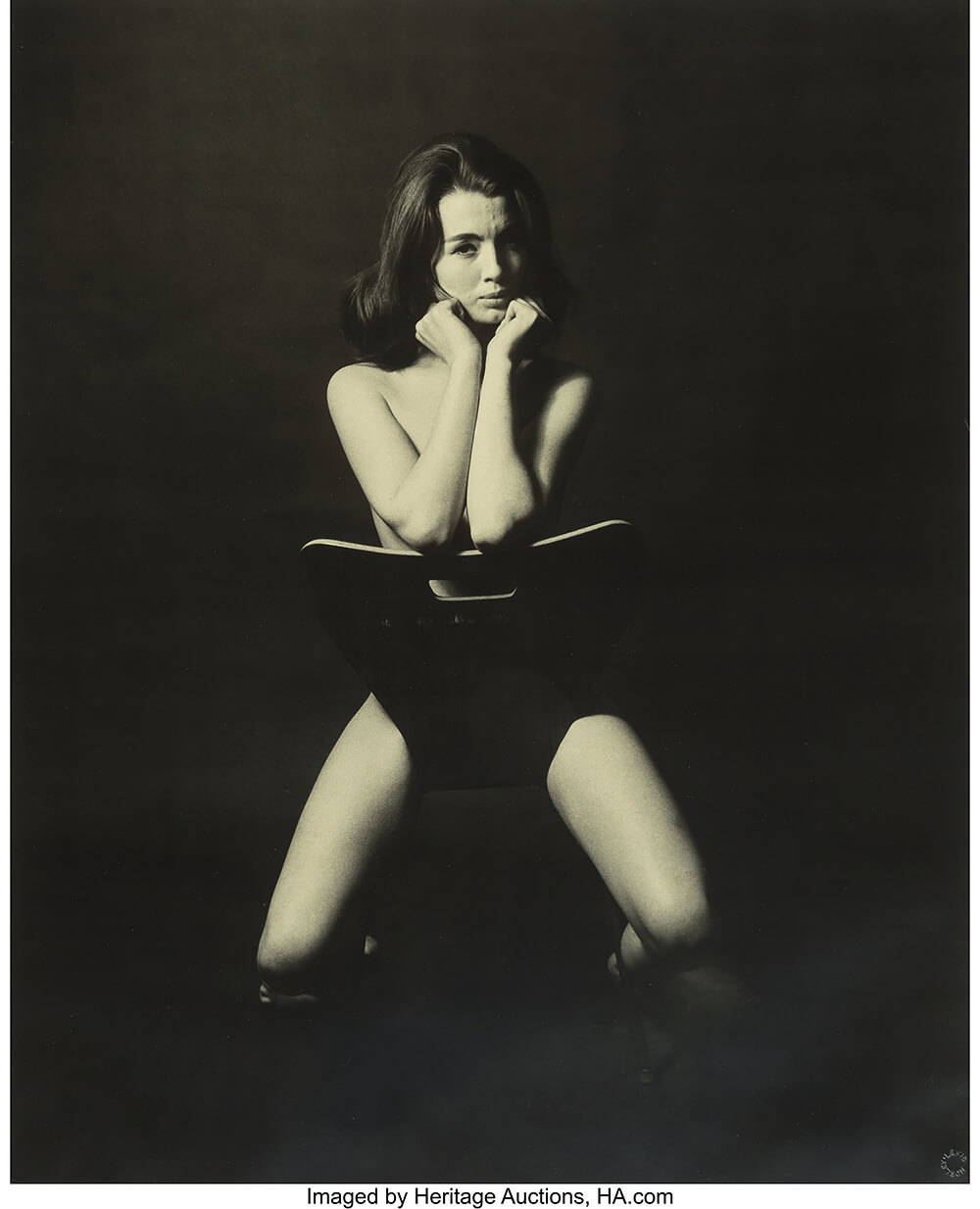 © Morely Christine Keeler, Heritage Auctions, HA.com