Do photographers need specific apparel to perform their job and produce better content? Not at all. Does having proper clothing make things easier in the field, especially in harsh conditions? Certainly. On top of that, you can add the word "fun" to that experience. This is the gap that Haukland is filling with their 7-in-1 Jacket tailored to photographers.
Before going into detail, let's talk about the brand and its founder.
Haukland
is a European brand that has its origins in a team of fashion specialists led by adventure photographer
Benjamin Jaworskyj
. Haukland has already been consolidating in Europe for some years and recently ventured into the US market. The centerpiece of the brand is the 7-in-1 jacket for photographers, consisting of three jacket layers that can be combined in more than seven ways, for any type of weather.
The 7-in-1 Modular System
The jacket consists of a colored outer jacket, an insulated jacket, and a fleece jacket. The three pieces could be worn together or separately according to the weather, different temperatures, and your needs. There are seven combinations for wearing this single set of clothing. The benefits of this jacket are tailored to visual content creators. Overall, the jacket highlights 27 pockets, so you can easily leave your camera bag at home.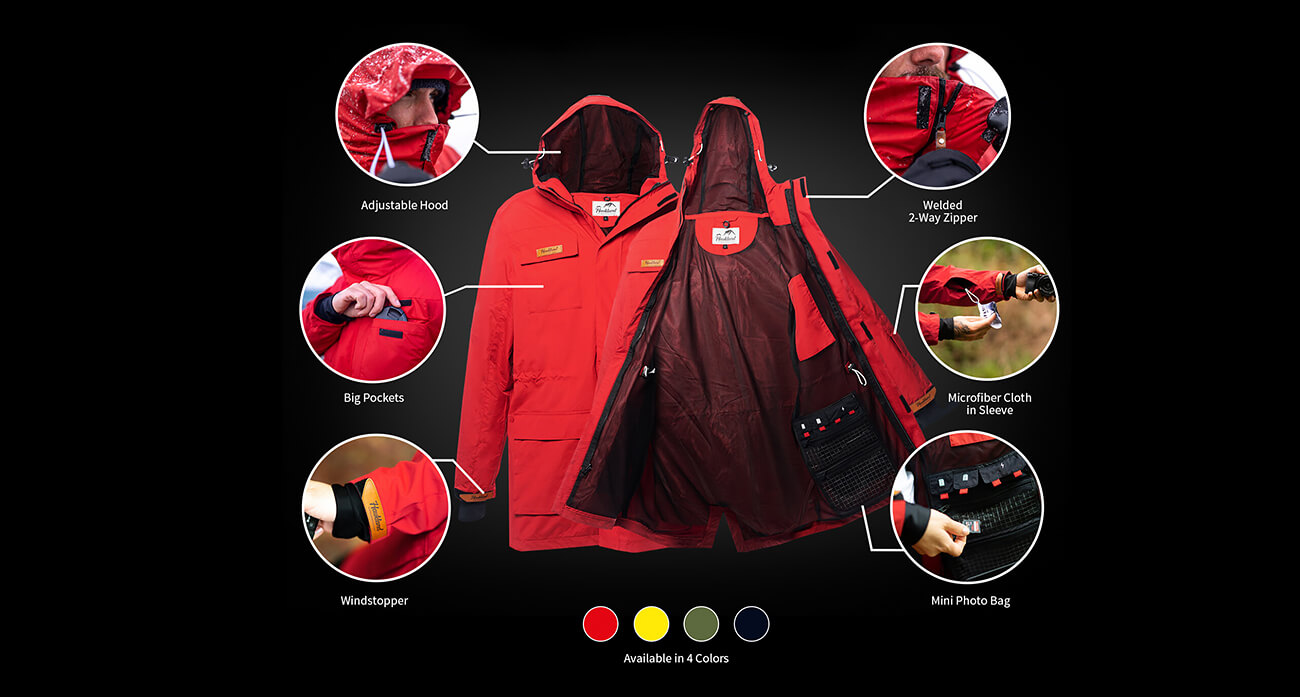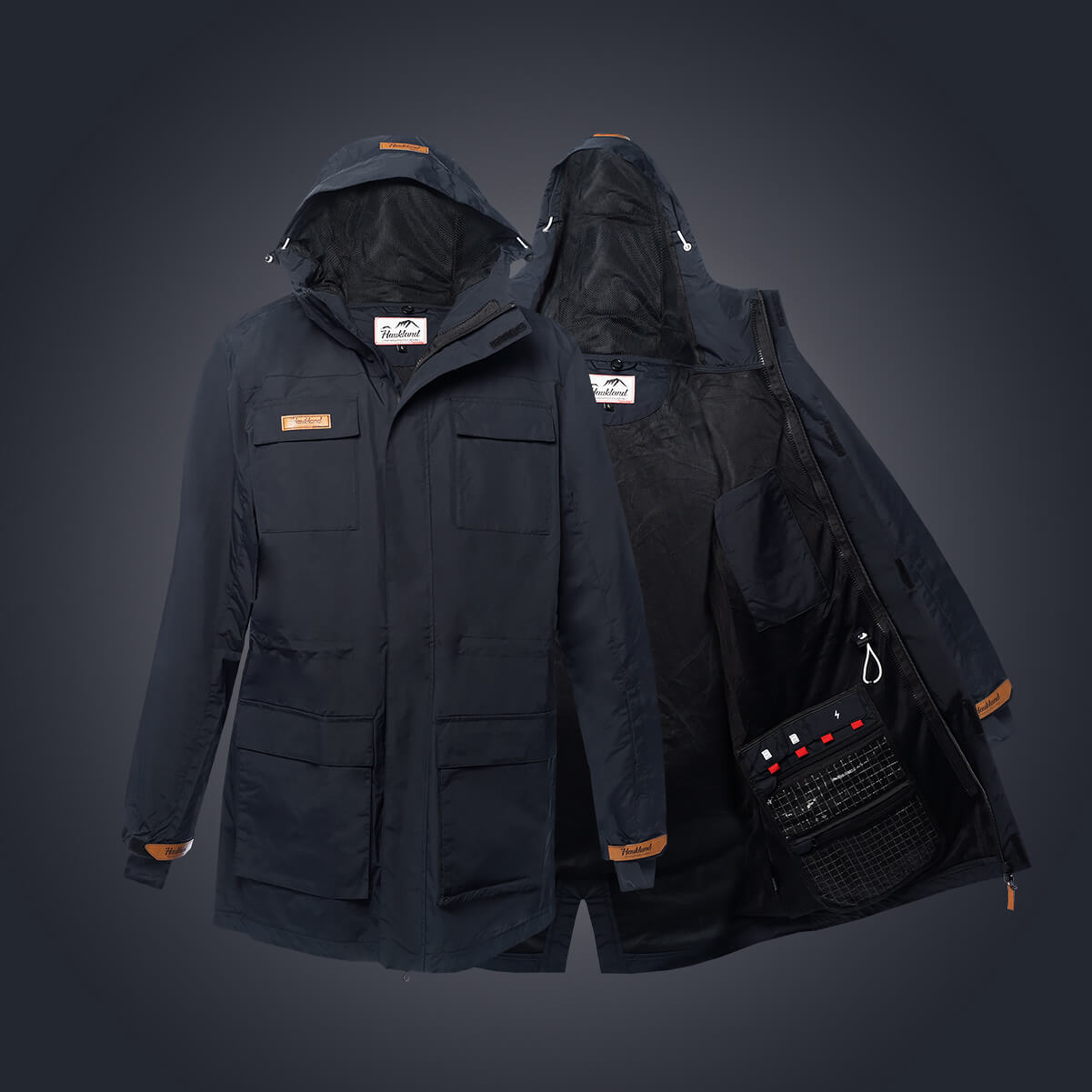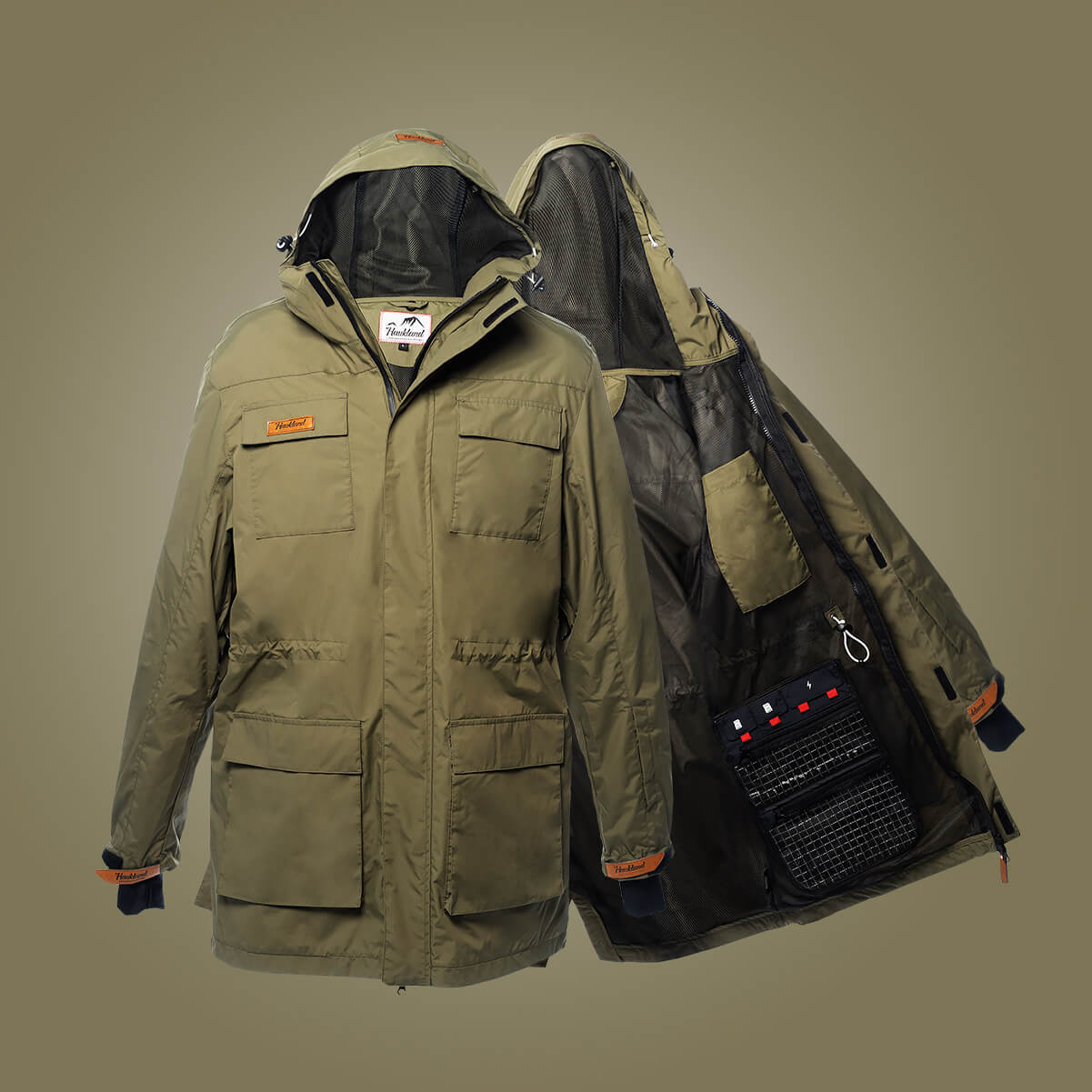 Weather Conditions
The 7-in-1 jacket will not be taken out of the wardrobe once a year. Its modularity offers the possibility to wear it in any season and weather through different combinations. Photographers can use this clothing under warm and humid conditions (25°C) or in the coldest situations (-20°C with winds of over 100km/H).
Overall, this is a winter jacket, a spring jacket, an autumn jacket, a rain jacket, and a windbreaker, all in one. In the end, the choice is yours.
Outdoor Layer
Four color options are available: yellow, red, black-blue, and olive. The jacket has been designed as a stylish parka to be easily worn in everyday life and not necessary during adventure conditions only. The outdoor jacket is water and wind-resistant (6000 mm) and made of tear-resistant 228T nylon-treated fabric. The wrist has stoppers to keep the sleeves sealed and the hood sits tight when closed to prevent the filtration of water drops.
As an adventure jacket, it must be breathable as well when hiking. Therefore, the inside mesh provides better air circulation, and there are zippers under the arms that can provide additional ventilation if needed.
For guaranteeing optimal mobility, the jacket has a welded two-way zipper that opens and closes from the top to the bottom or vice versa. This is useful when you are bending your body at low angles to get your preferred composition in a frame or when performing everyday activities, such as biking.
The outdoor jacket has 11 pockets to offer different solutions. For instance: two chest pockets to accommodate lens caps, two large pockets that hold 100 x 100 or 100 x 150 filters, five pockets to store memories, batteries, or power banks, and one pocket in the sleeve with an elastic strap that attaches to a cleaning cloth.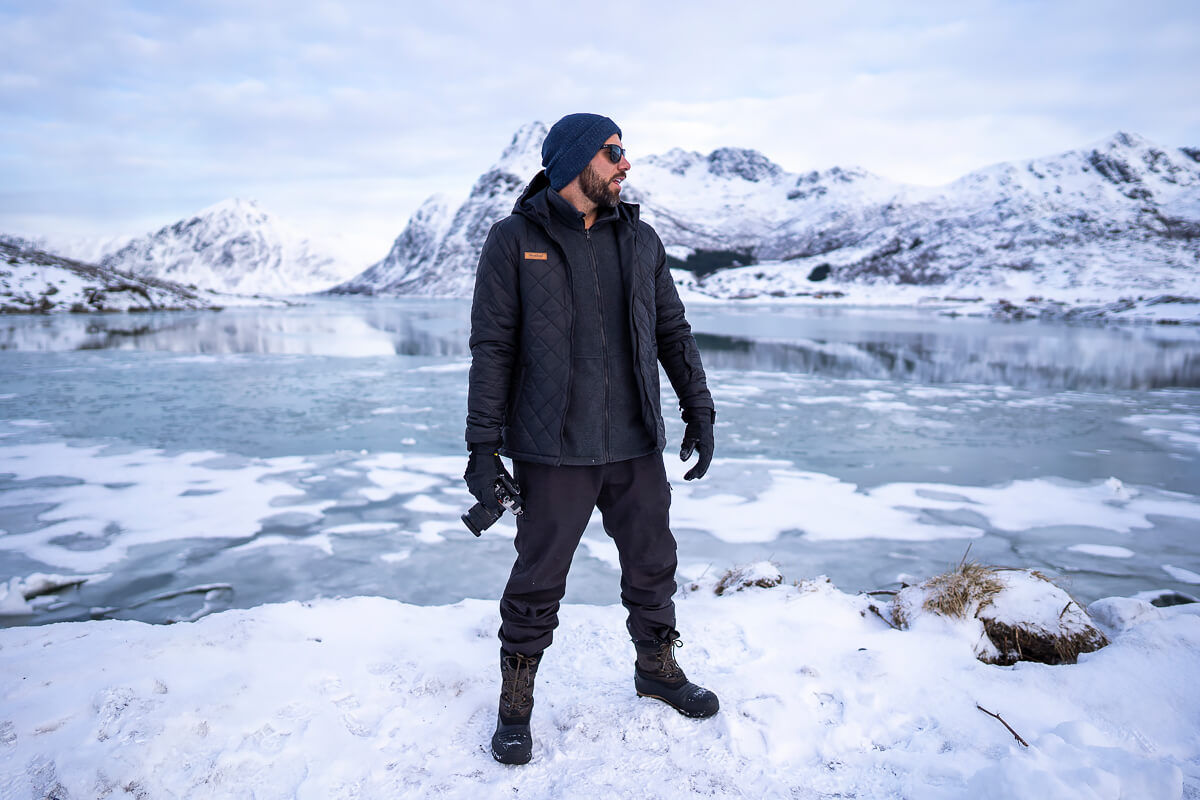 Padded Layer
The second jacket is an insulated padded layer for colder days that can be connected to the outdoor jacket, or you can use it as a standalone. It is available in black color only.
It is not waterproof (that's why it connects to the outdoor layer), but it offers protection against low-temperature conditions. The design offers a longer cut than other regular padded jackets to keep extra protection, and it doesn't peek out under the outdoor jacket.
This jacket has eight pockets with a waterproof film to be better used in winter conditions, such as snow: two large front pockets secured with a zipper, one pocket in the left sleeve that stores a cleaning cloth, and five internal pockets to store similar items such as those mentioned above.
Fleece Layer
The third layer is a fleece jacket to keep your body warm on chilly days. It is also the best alternative to wear this jacket out of the winter season in everyday life situations. As with the padded layer, the fleece jacket has been designed with a longer cut against the most common fleece jackets in the market to keep the seam between the jacket and pants warm and protected.
At the moment, it is offered in dark gray, blue, and olive colors. It is not water resistant and to have that additional protection, you just need to attach it to the outer jacket by connecting eyelets, buttons, and zippers.
The fleece jacket has the same number of pockets as the padded layer to store equivalent items. The main difference is that it doesn't have a waterproof film. Instead of that, the interior has a mesh fabric to keep extra comfort during non-wintery days.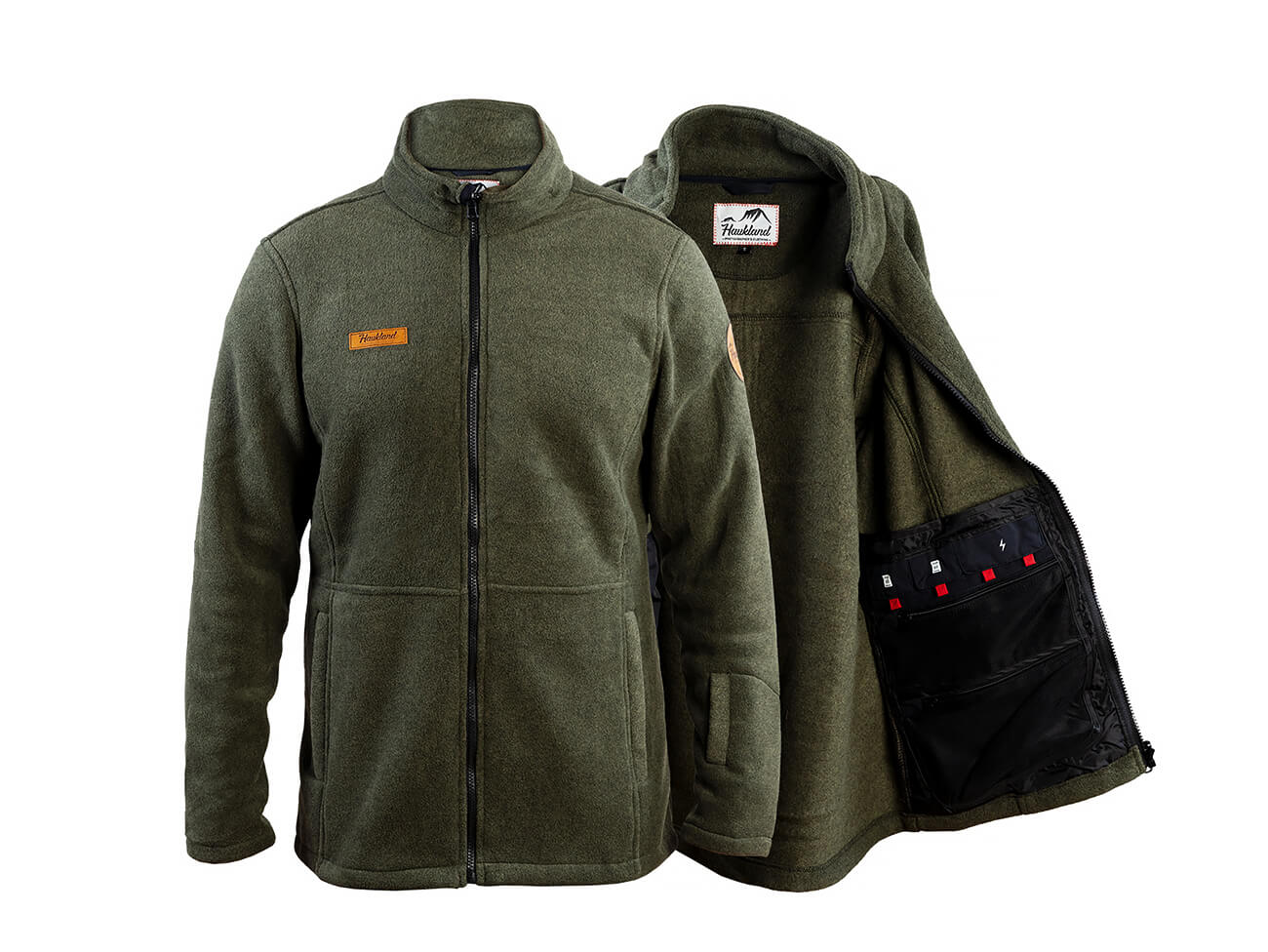 Where does the 7-in-1 name come from?
These lines are textually taken from the manufacturer's site to illustrate under which conditions you can use the different combinations of layers:
1. Need a simple, lightweight rain jacket and a windbreaker?
Go with the Haukland outer jacket layer alone.
2. Need the right jacket for a sunny, cool day in the woods?
Take the Haukland fleece layer on its own.
3. Out and about on a normal winter day with no rain?
Go for the Haukland padded jacket layer.
4. Want to shoot at 32 °F/0°C and it is snowing/raining?
Put on the Haukland padded jacket layer and the Haukland outer jacket layer.
5. Want to hike at 41°F/5°C?
Wear the Haukland fleece jacket layer with the Haukland outer jacket layer.
6. Want to take photos at 32 °F/0°C and in good weather?
Put on the Haukland padded jacket layer and the Haukland fleece jacket layer.
7. Need a warm jacket for winter below 23 °F/-5°C?
Wear the Haukland Fleece jacket layer, the Haukland padded jacket layer, and the Haukland outer jacket layer combined."
For all genders
Haukland has adapted its 7-in-1 jacket for both women, and men. If you believe that tailoring a jacket for photographers was something already out of the blue, women can be sure that the same concept has been applied to a jacket with special cuts that will fit better to their bodies. The layers, distribution of pockets, and colors remain the same.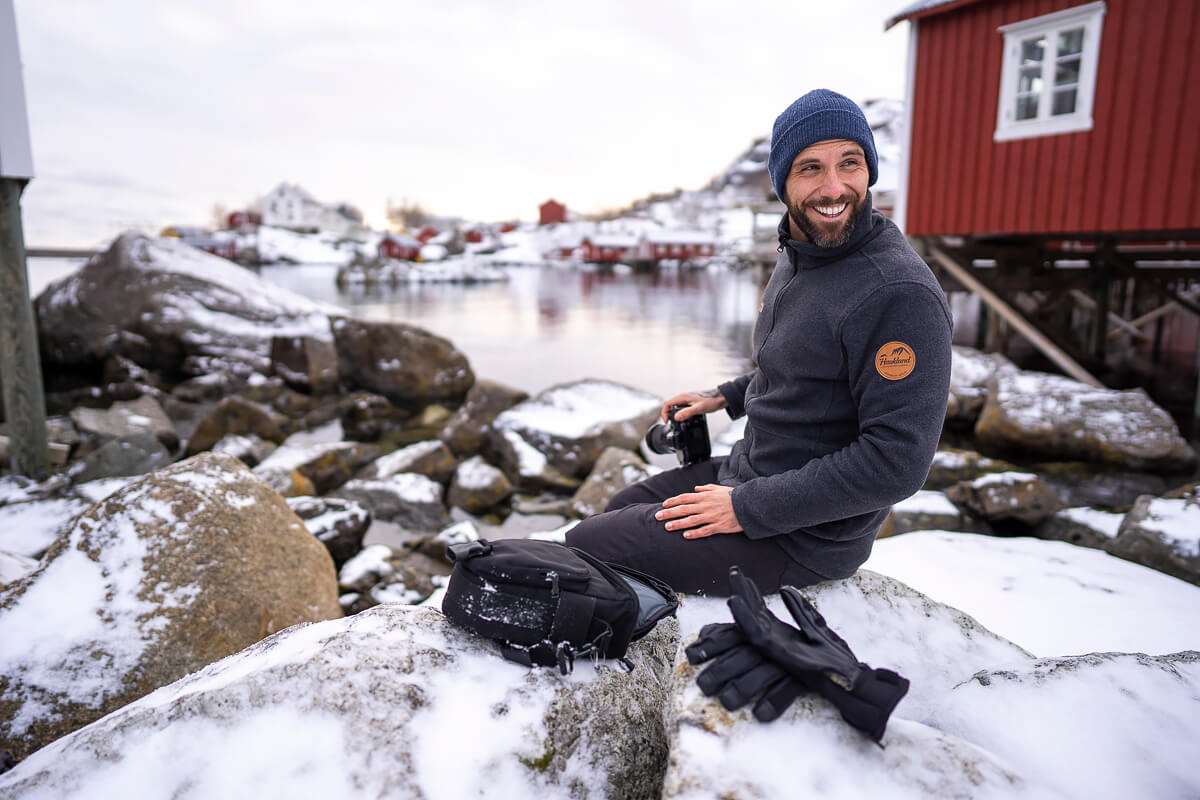 Takeaways
Besides the quality material, the feature that photographers will appreciate the most is the dedication that the research and development team put into designing the different pockets to accommodate photography gear.
It is fair to say that this jacket won't replace your dedicated camera backpack as the distribution of weight is not optimal after many hours of use. However, it is possible to do so for shorter periods, and this is extremely rare to find in other alternatives within the photography market. This is simply not a common jacket; it is a solution tailored to visual content creators.
In addition to the aesthetics (which are very pleasant but that's subjective), the comfort and weatherproof that this jacket offers are worth mentioning. It will keep you warm and dry under sub-freezing temperatures for a long time, and be sure that your equipment will remain safe as well.
The price tag of $349 ($49 shipping costs included) is affordable for the value offered. Most importantly, due to its modularity, this jacket won't be forgotten inside your wardrobe for the majority of the year. On the contrary, the different combinations of layers will allow you to get the most out of this jacket during all seasons and weather conditions.