[One summer day in 1972, a cryptic order was given, a place was selected - the conductor and the engineer followed the orders in a listless mood, and slowly backed the stream-liner and the attached double deck passenger cars onto an industrial siding, meant for freight cars. The engineer, a forty-six year old, held the throttle fast in his right hand as train protested to a halt. He swallowed hard the bitter bile that had welled up in his throat, and reluctantly took his hand off the throttle and engaged the eternal brake. He then stroked his chest, looked with glazed eyes at his cab, then pried off the serial number plate off the console with his flat-head screwdriver and pocketed it, and then joined his young conductor. They then vanished into the sidings of life. Who they were we would never know. Why was a commuter train abandoned in an industrial park freight car siding? Who had ordered it? The questions remain unanswered, and those who could have, are retired or dead. In the ensuing decades, big warehouses sprouted up around it obscuring the train from the York road traffic. In 2021, a young construction worker, gutting out a small house in Franklin Park, spots the aluminum plate with an EMD-GM serial number, turns it in his hand, and tosses it atop the debris. Time will shape all that is abandoned. Everything ends up like that, even memories. Nevertheless, this did not stop me and my son from creating one for ourselves.]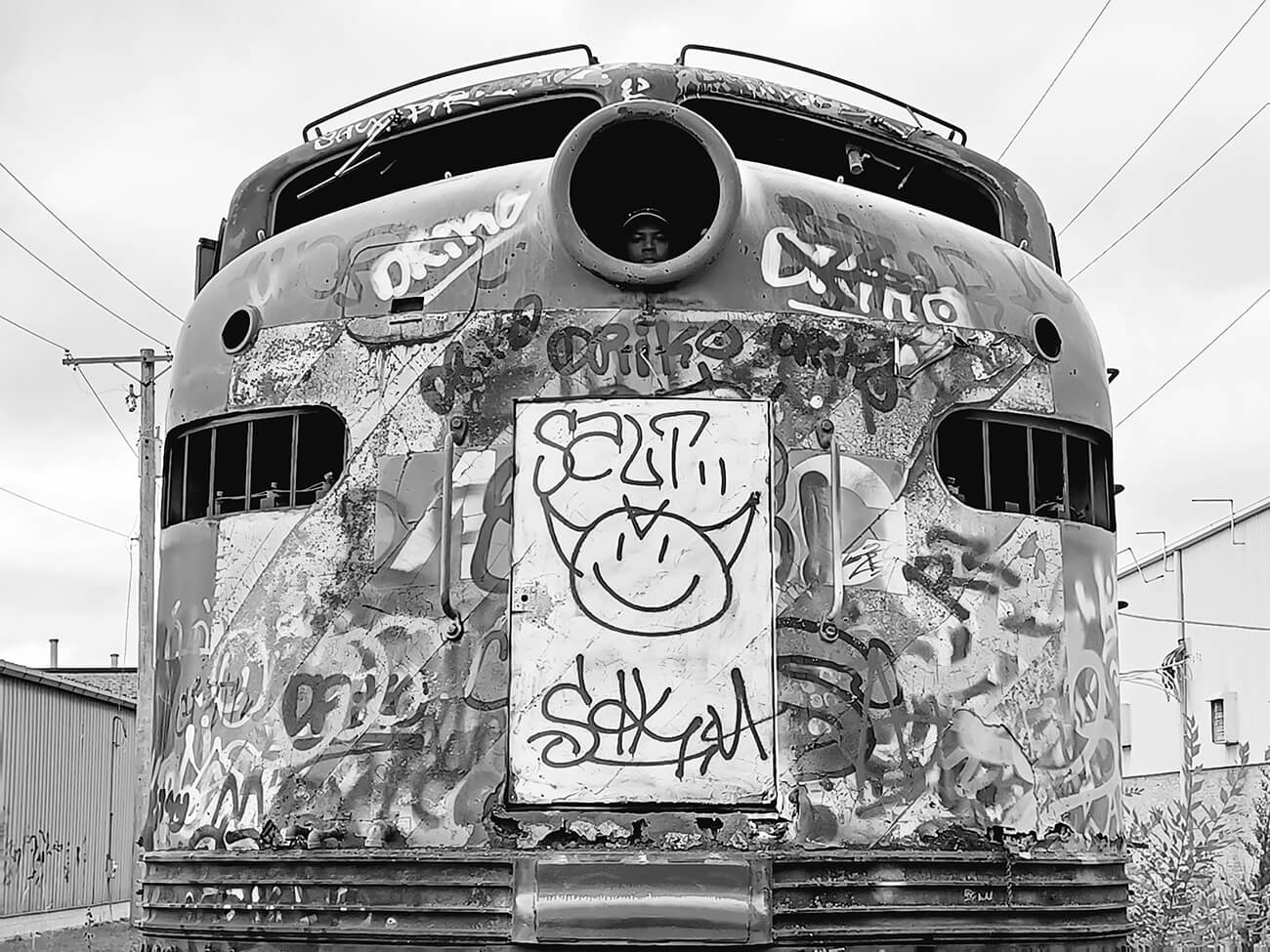 My younger son had insisted. It was about 7am, and instead of driving to our breakfast, we turned off of York road, parked our car on Foster avenue by an empty lot, and broke through the thick brush and emerged onto the tracks. And to my left, flanked by overgrown brush, staring at us with it's gouged out eyes was the stream-liner - I froze. Trains generally traveled through landscapes while passengers gazed out at their blurring existence - but this one was still rolling through time, for almost two generations. The change in the landscape was within, a slow return to the elements. Commuters that had traveled on it in the East (MARC) and in the West (CAL-Train) coast through the years had long ago reached their destinations and destiny. Most trains reached the end of their line - this one was still traveling, arriving at different stations as the years rolled on.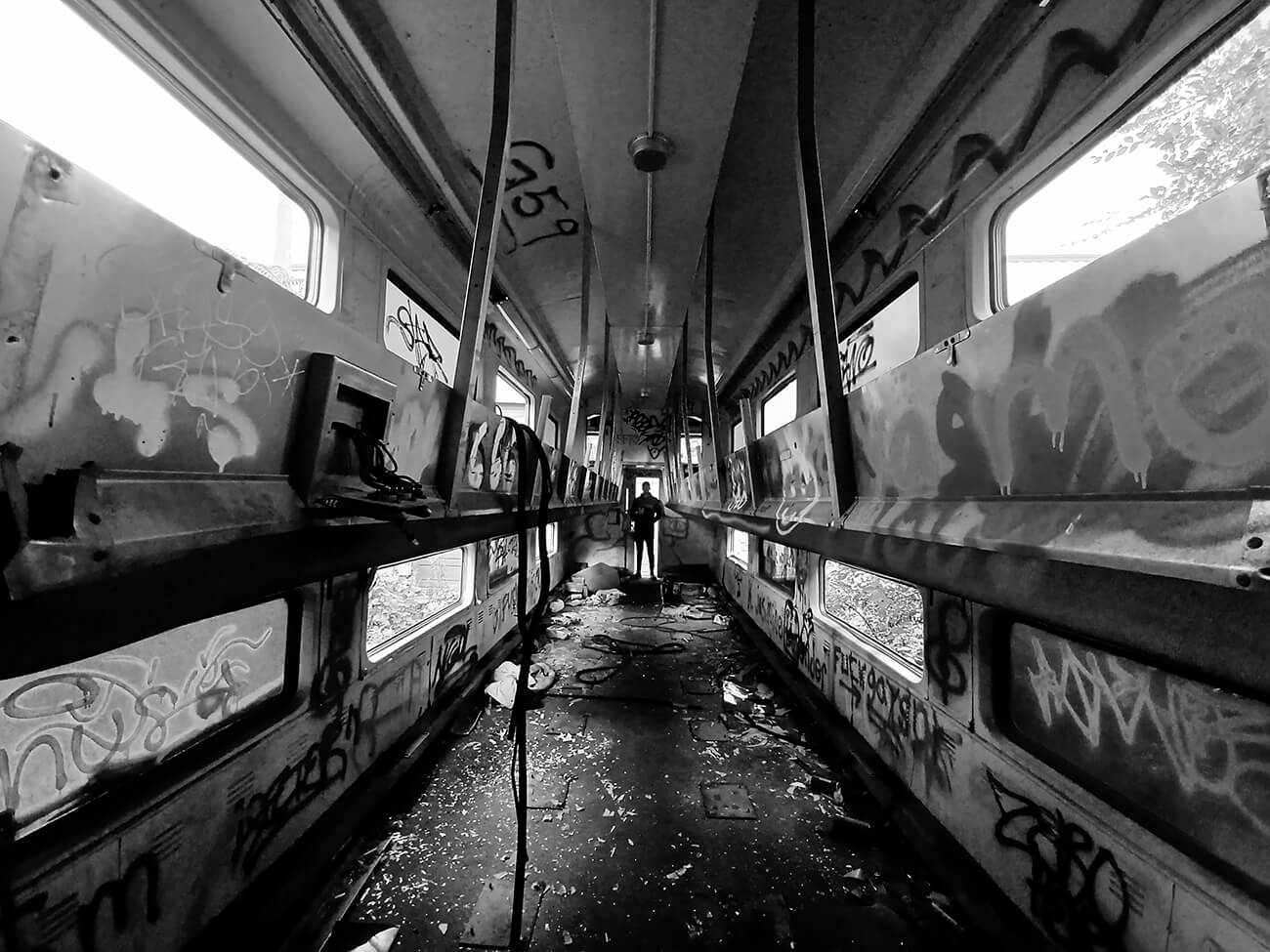 Why is it that we gravitate towards the abandoned - ancient or contemporary? What is it within our conditioning or that psychological component that draws us to old abandoned things? Is it the fear or the perverse beauty of a state of existence that is patterned as well as random? Or is it metempsychosis, transmigration of our soul, to commiserate with state the abandoned? I don't want to get side tracked into a psychic or a psychological disquisition. I am sure that we can possibly find some rationale, possible explanations as to why abandoned-ruins tend to unite the aspects of adventure, beauty with melancholy - something explored by Constantin-Francois, Marquis de volney's in his book ''The Ruins...'', or in Montaigne's Essays.
This ruin was a vast multi-dimensional composite of experiences, and photographs do only limited justice. The job of a good photograph is to be the trigger, to provoke, evoke and transport all those abstract dimensions that could lay dormant, to our imagination. How must we study, understand and analyze a photograph? How do we get at the hive of stories that lay compressed and unseen in a two dimensional image? The trident, of imagination, contemplation and speculation might pry some mysteries. But, getting to understand the labyrinthine facets in a photograph is a mental-emotional-speculational archaeology.
At first, we must always consider the conditioning of the photographer - his background, the psychological make up and the experiences. This helps in understanding the type of photograph that will be attempted: mere documentary or emotional or intellectual POV. The second aspect is the viewer. The perceptive connect with photographs like they connect with relatives or loved ones. Matthew Brady (1822-1896), during the American Civil War had said that there would be two distinct categories of people who will see the photographs in different light, ones who had lost, and the ones who hadn't. War correspondent, Ernie Pyle (1900-1945) had once expressed that a ticker tape parade was two faces of the same coin for people, a celebration, and a tragedy. Then it was the object: the train in this case, and the subject: the abstract aspects of the object, like contemplation, speculation and discussions that bring forth the stories.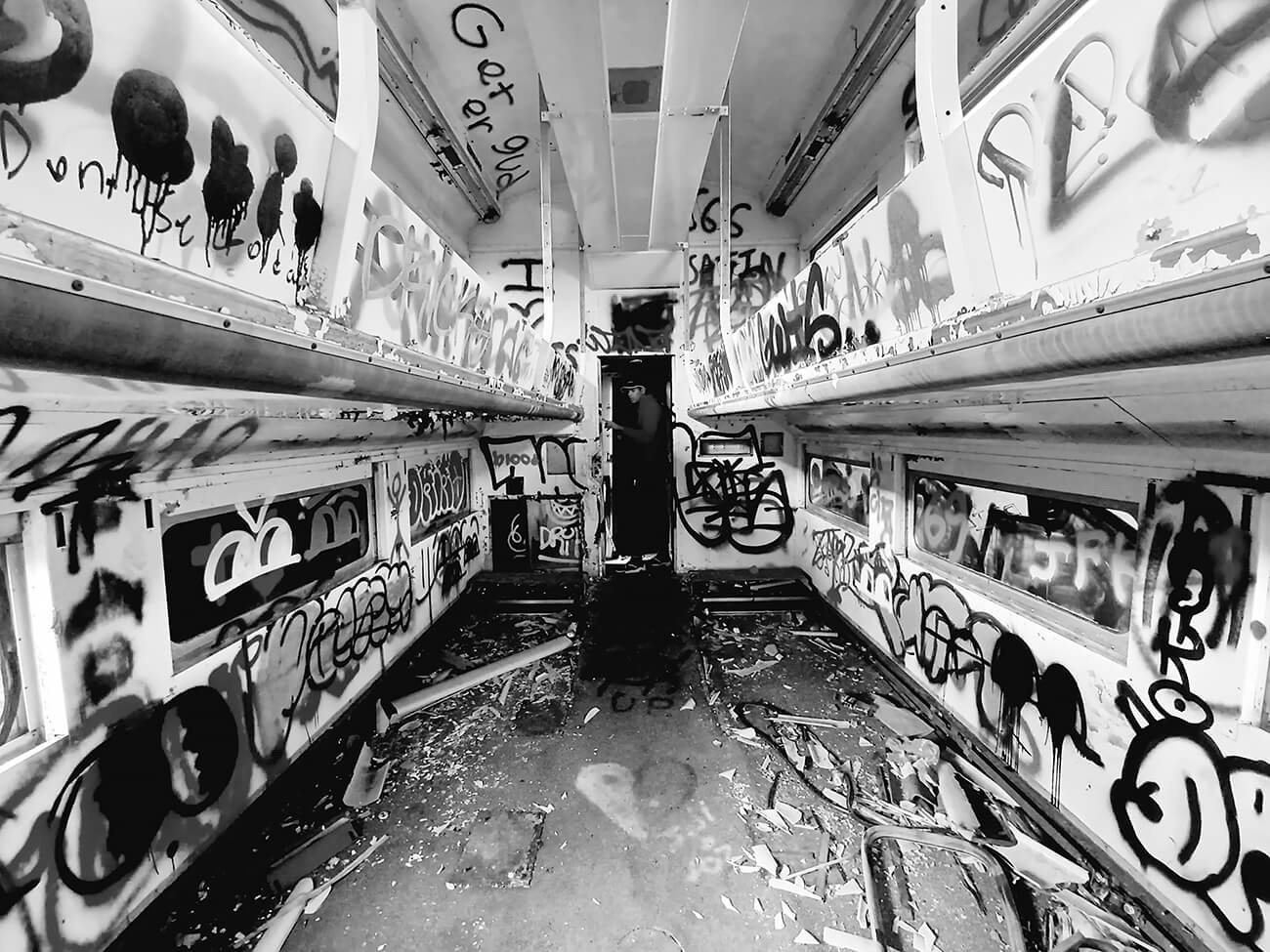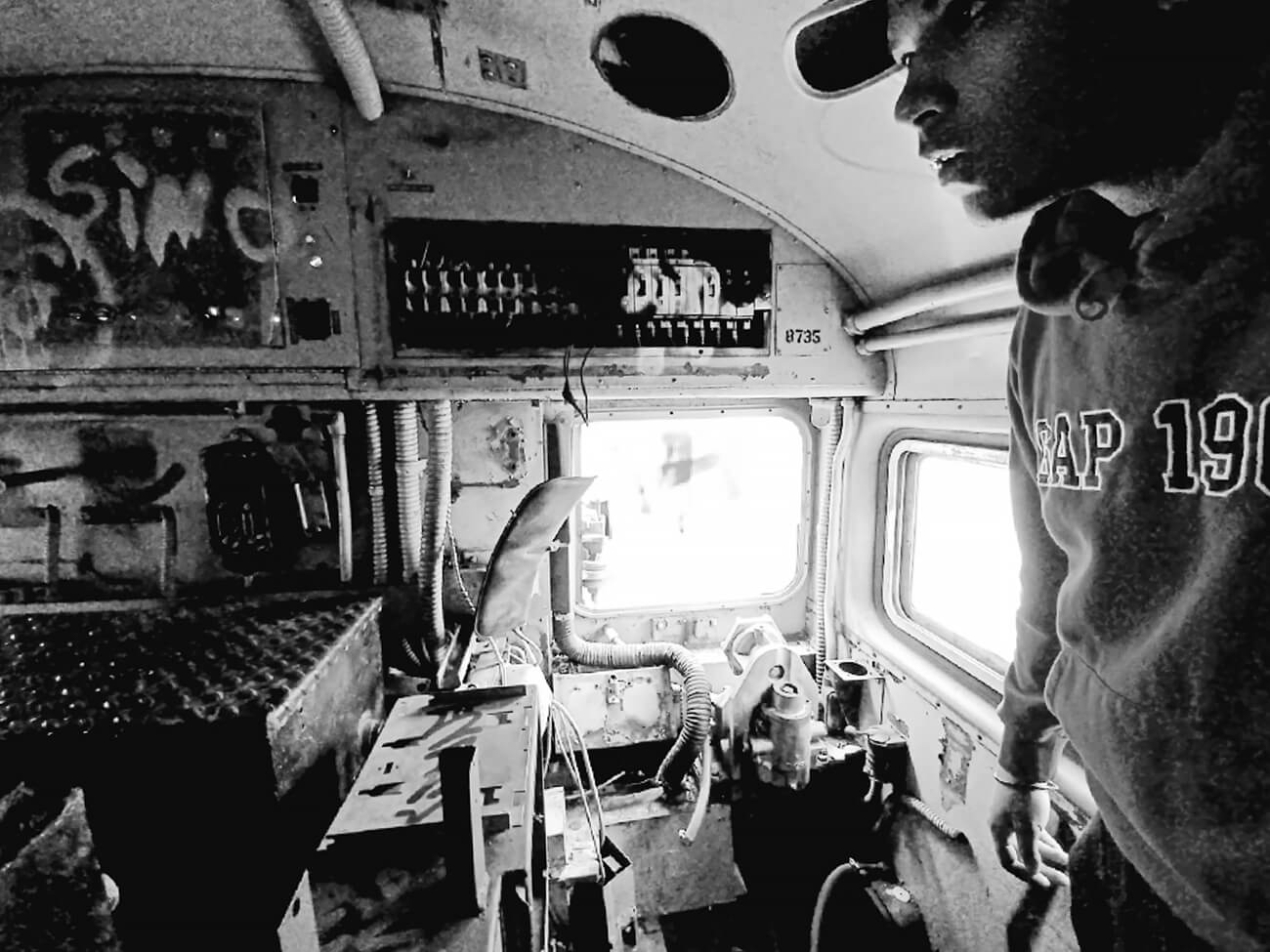 There are so many latent dimensions to this train, which stands stoically reticent, staring far into the future, daring us to delve into our own train of possibilities. First of all, why did my son think of taking me there? I think he knew his and my aestheticepinephrine quotients were almost the same. The other story needs a much bigger spade, which is the object itself. Who produced this type of an engine and cars, which years? Who had made the decision to abandon it? What type of computation was behind it? And why not where it served, in the east or the west, why here? Then there are the two agents: the conductor and the engineer that left the train where it stands - who were they, what was their story? And, the thousands of commuters that had boarded the train, in their happiness, contentment, anxiety or anticipation, in misery, angry, or disillusioned and or tragic - thousands of stories, all vaporized into a nothingness, merely evoked in a mere line or thought between us - validation of all those stories in our simple banter.
It had turned into a theme park for teenagers with spray cans, playing hide-n-seek, a haven for druggies and the seekers of fetishes. A laboratory for excitement addicts that reveled in destruction, mainly by fire, finding excitement in the transformation of materials, and a dumping place for rejected plane seats, the airport being right across the fence. It's a repository of experiences for which the camera was woefully inadequate - however, it was an adequate trigger, that fired our imagination. The camera cannot capture everything, exactly like a writer cannot write everything, other than provide impressions that induces us to put the puzzle together. Camera provides a narrative, just like a someone's journal, with a specific POV. In this case, I deliberately borrowed a Stanley Kubrick technique, the direct center shot with vanishing and converging lines - that symbolized many converging facets that made up the whole - the whole, being ambiguous at best.
(Copyright October 25, 2022, Raju Peddada / All Rights Reserved on Text & Images)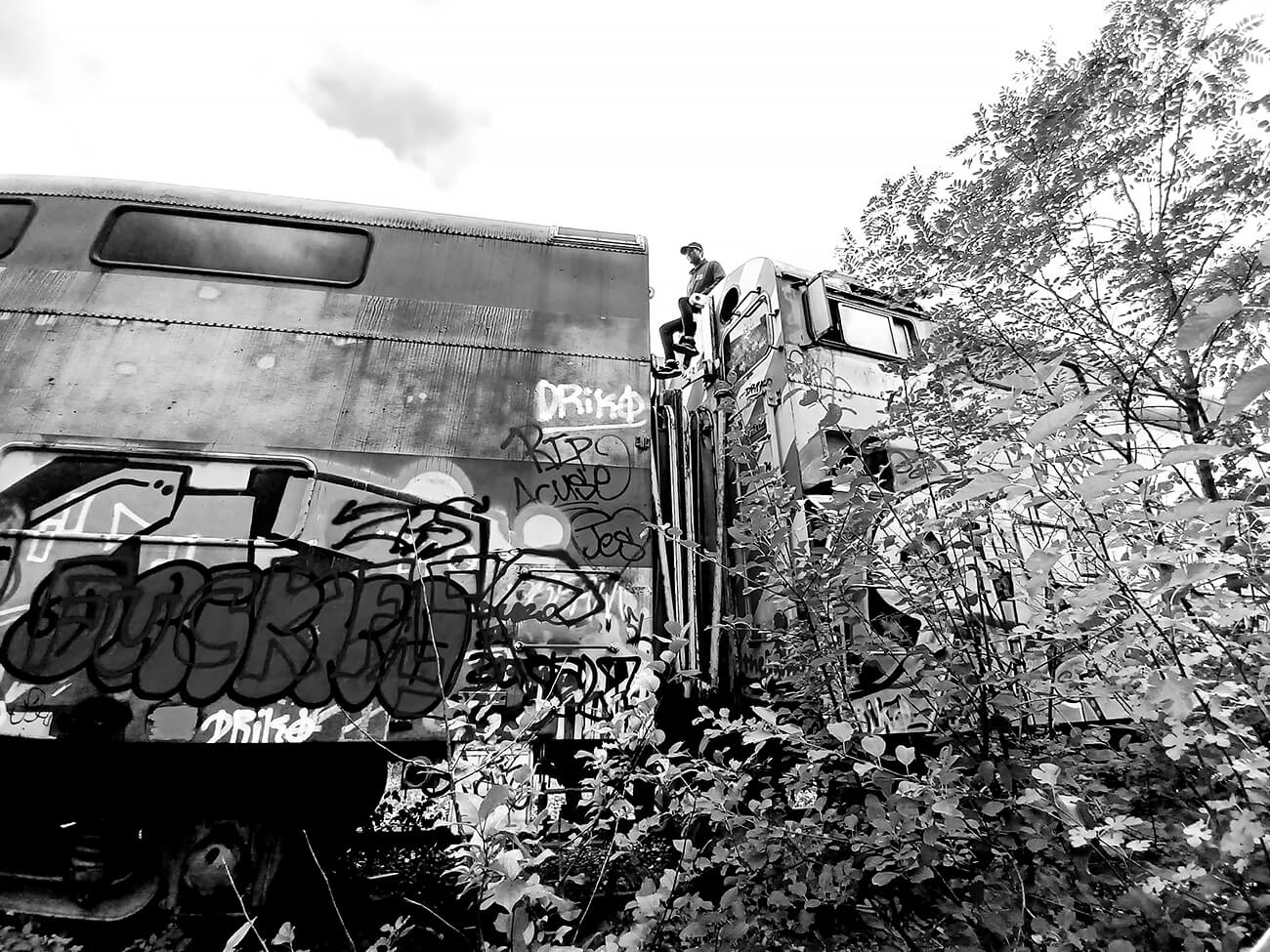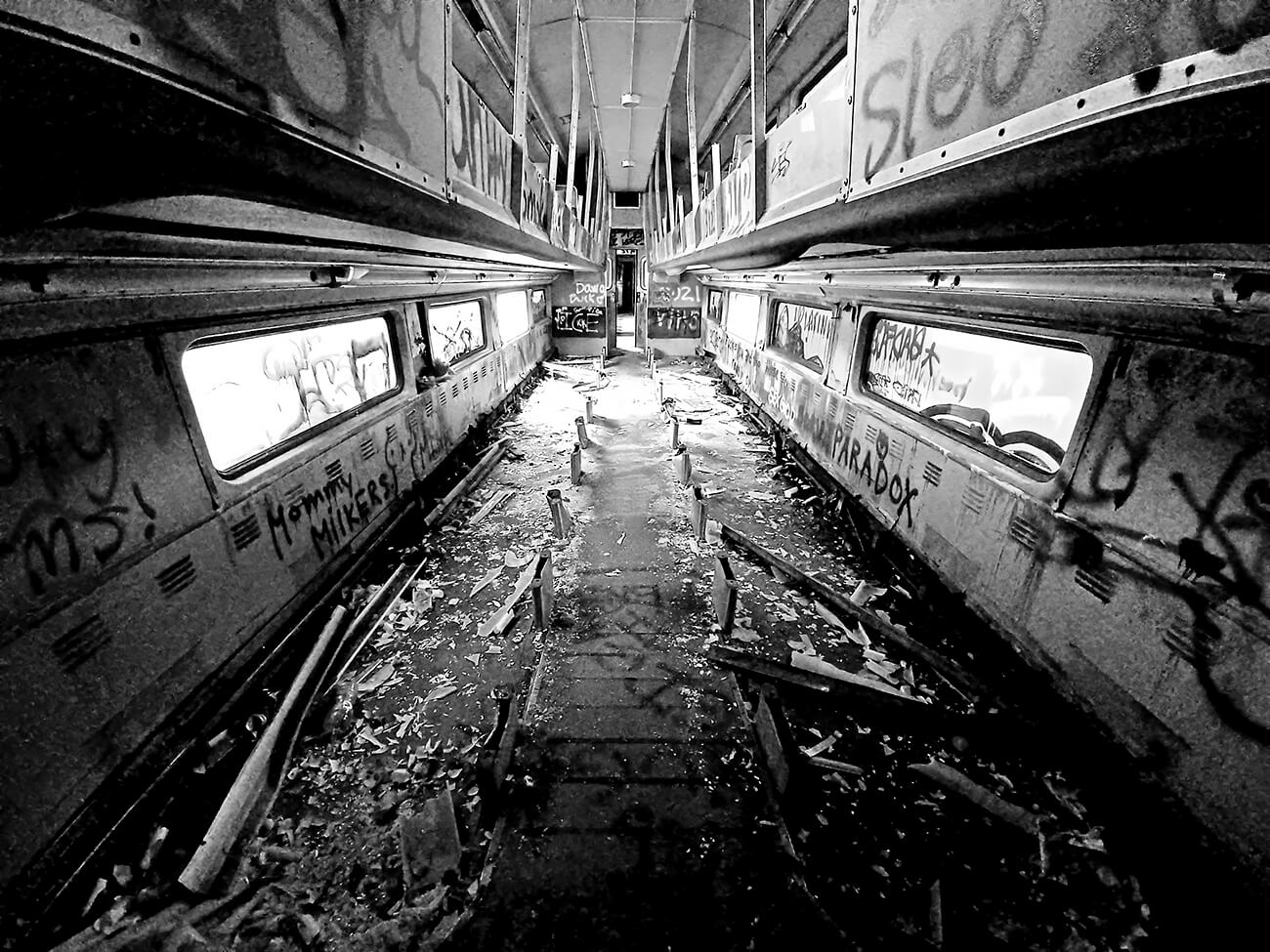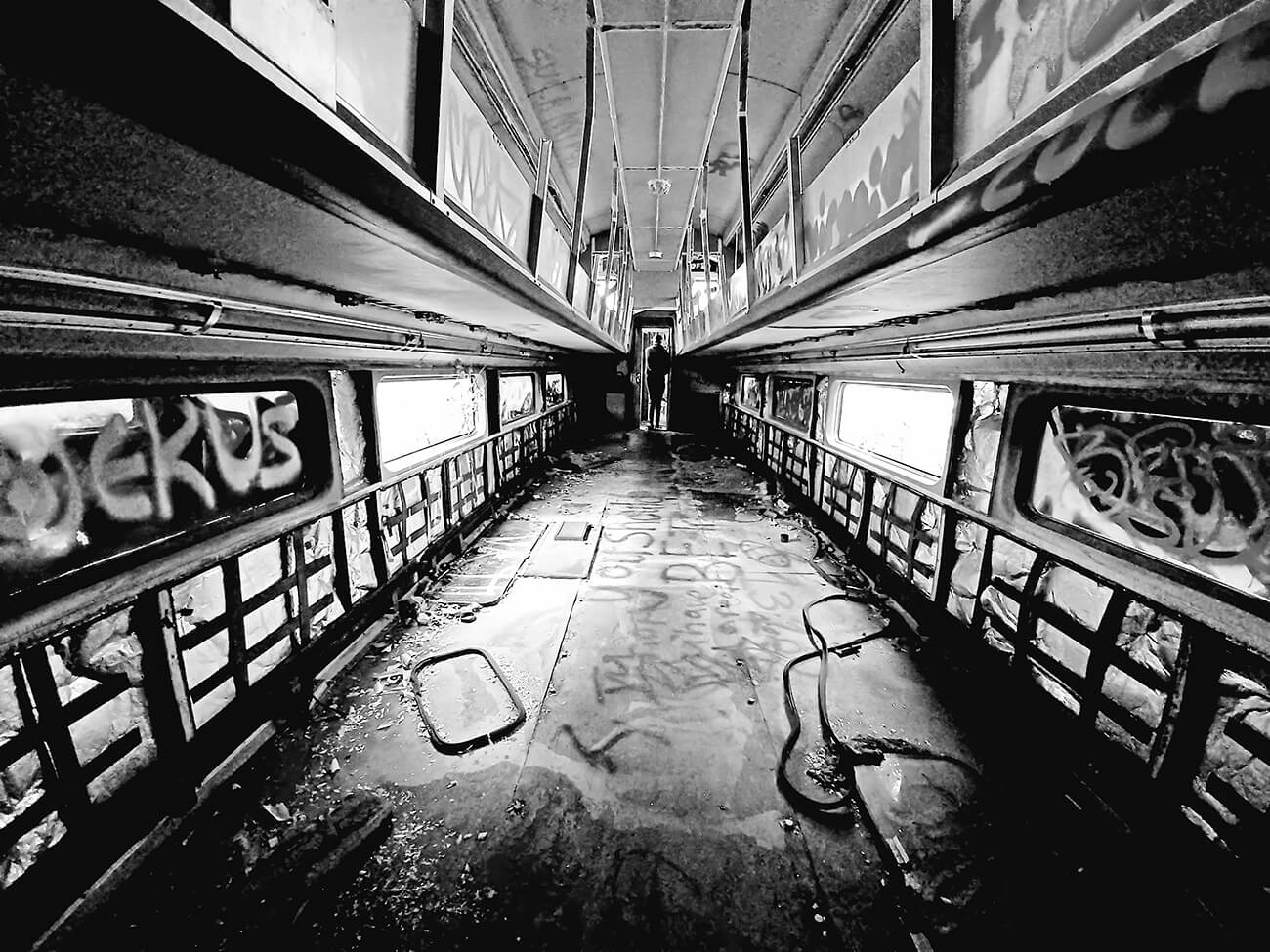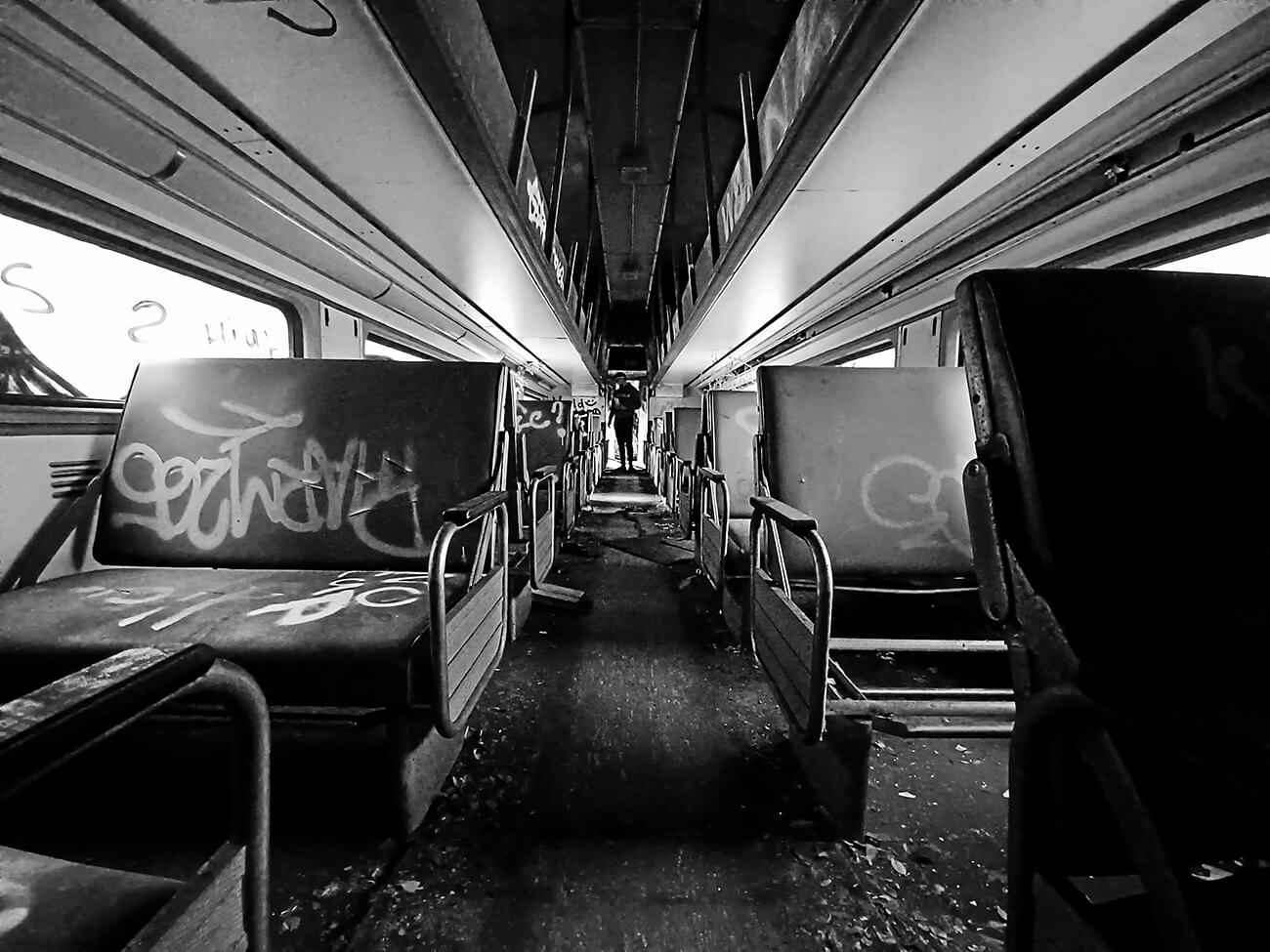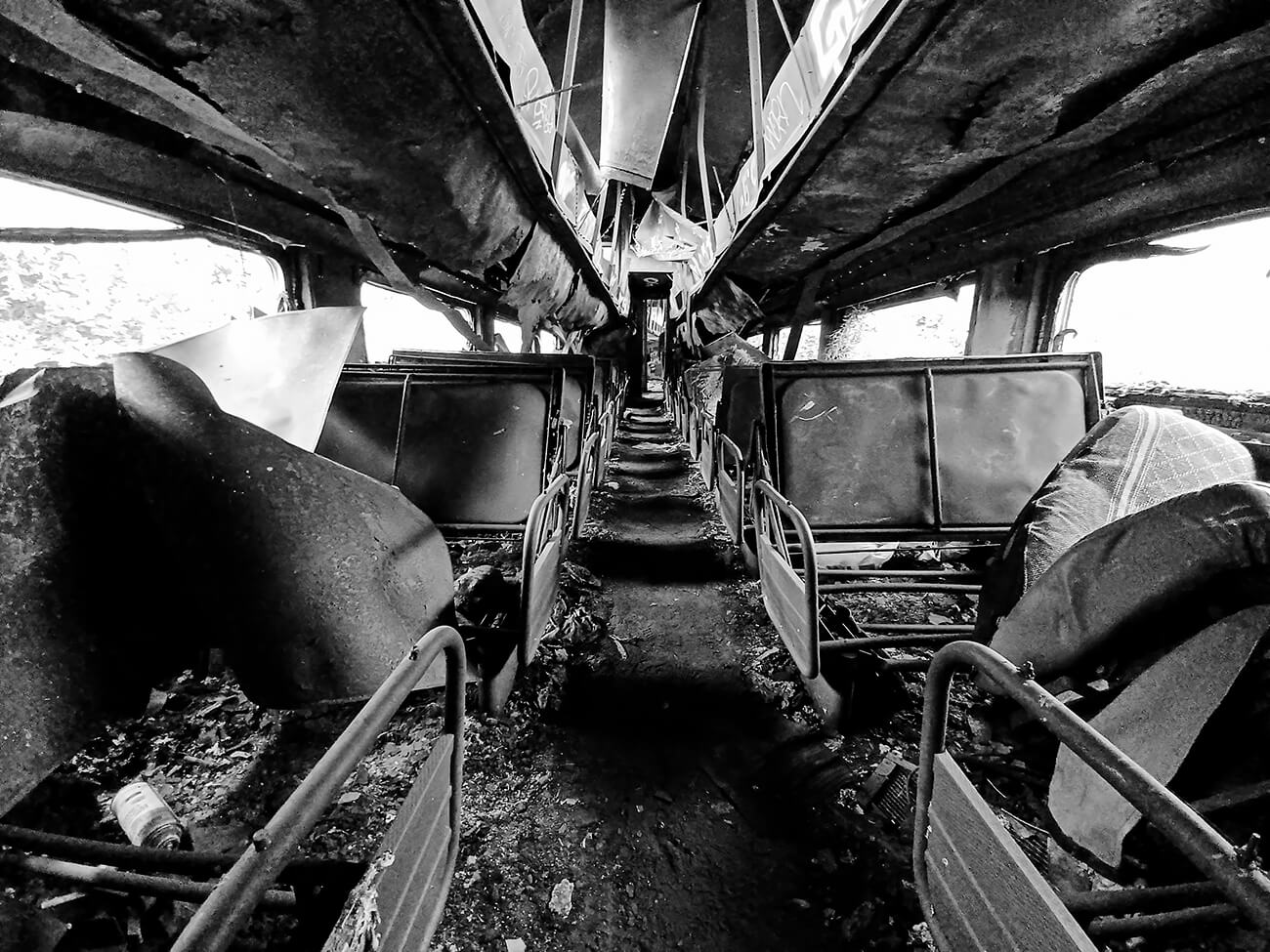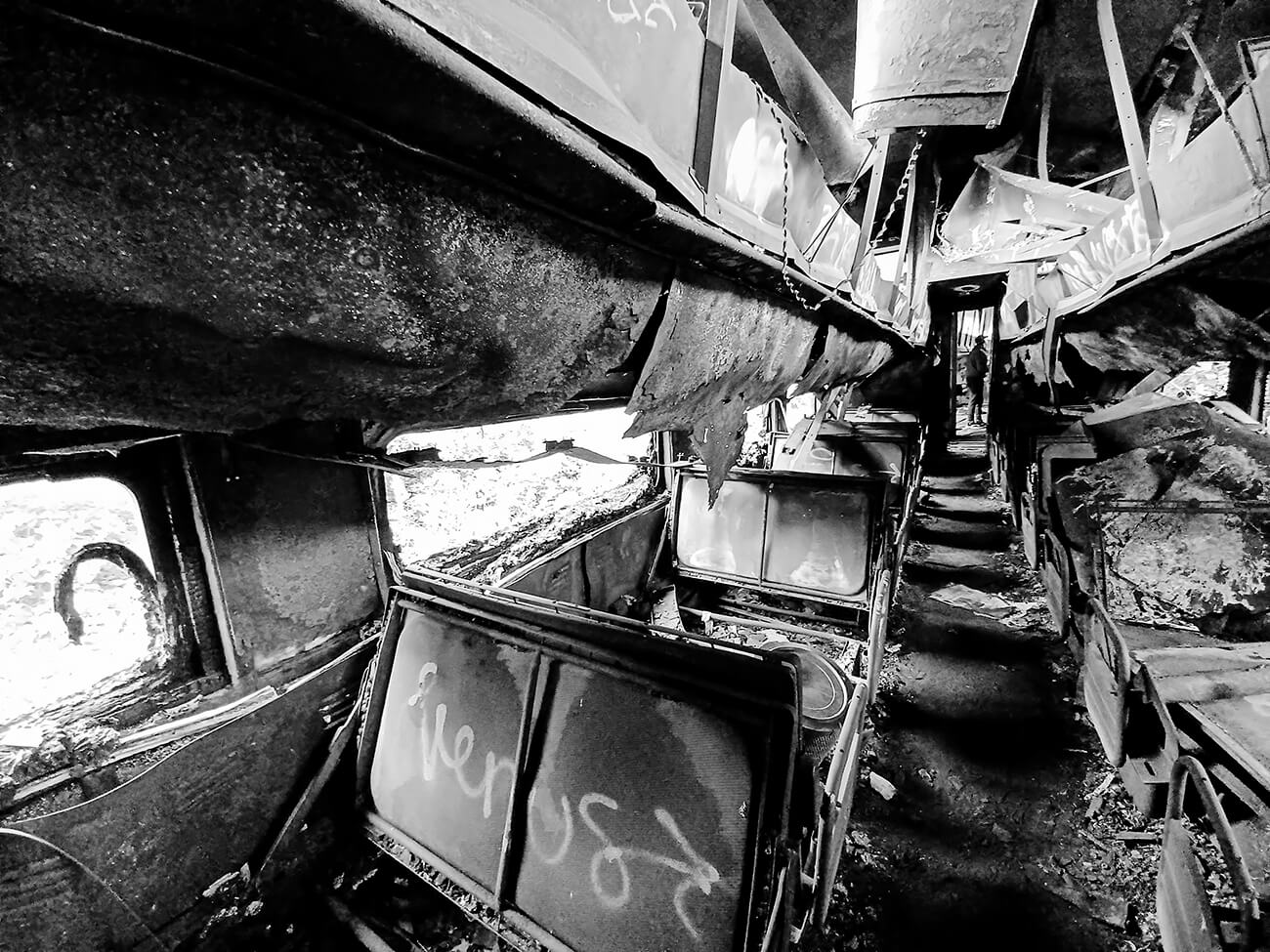 More Articles by Raju Peddada
Dichotomic Photography
The Surreal is Real
Aberration as Art
A Pinhole of Possibilities