In the era of digitalization, most of the customers, including local, multinational, and international businesses, prefer online to buy products. In 2021, retail and eCommerce revenues increased to 180.5 billion U.S. dollars.
Isn't the ratio inspiring you to open up your online store?
To grab the attention of online customers, you need to showcase your product in the best possible way. And the effect of photoshop ensures both the product's inner and outer parts to give the customer a better visualization.
Ghost Mannequin Effect
is the most powerful and cost-effective method in photoshop that presents a realistic and professional view of clothing products. Are you an owner of an eCommerce apparel store or retail store? Needless to say, when your product images improve, your sales increase gradually.
We include an easy hollow man or ghost mannequin tutorial in this article so that you can serve unique and professional product images for your apparel.
What is a Ghost Mannequin Effect?
The ghost mannequin effect is also called
invisible mannequin
or
3D mannequin,
which is a
clothing product photography
technique. Buyers can get a better grasp of the clothing products and experience the wearing feeling.
Suppose, you use the effect on jeans or jackets, it would give an exact look that someone is wearing. Undoubtedly, you will not find any dummy or mannequin after applying the effect, and this gives a 3D outlook to your attires.
How Does the Ghost Mannequin Effect Help Ecommerce Ventures?
In the eCommerce business, a high-quality and natural looking image plays a vital role to attract the attention of customers. Your clothing products need displaying different views and angles. The purpose is to find how it looks in a human body. For this reason, the
ghost mannequin photo editing
for clothing images has grown successful as it helps the viewers experience the feeling of wearing them.
Here's how ghost mannequin help ecommerce ventures:
Unique and Smooth Presentation
We all know that the first impression lasts longer. If your clients are impressed with your clothes showcasing, they rely on your online store. Nowadays, most apparel and fashion businesses buy their products via e-commerce platforms. If you want to compete with your competitors, you should focus on displaying correctly and uniquely.
Increase More Conversion Rates
In the online marketplace, customers make the decisions to buy products based on image quality and transparency. For this reason, most of the eCommerce sites rely on models or dummies to showcase their dresses. But this won't give the same look and feel. Hence, using a 3d mannequin effect helps you to get a positive mindset of your clients at first glance.
Professional Look
Customers make the decision by depending on the images of products, whether they buy them or not. By serving a clear and professional look of your apparel products, you can stick your customers into your services.
Save Expenses
Are you an entrepreneur or new to the online garment business? The invisible mannequin technique helps you the most. Suppose you use models to shoot your clothes there; you need to do extra work for reducing shadow, modifying the position, and many more. Using the 3D mannequin method, you do not need to worry about these costs and promotions.
Perfect Visualization
The growth of a business depends on trust and reliability. Customers can not visit your store physically, but you can give them the same feel by showing a professional and real view of your products.
At times, the viewers skip clicking the product links because they don't find it realistic. That means you do not make the image clear or fail to give perfection of your product showcasing. With the help of the mannequin effect, you can overcome these issues easily.
From this article, we think you get proper knowledge about the ghost mannequin effect technique and the impact of eCommerce businesses. As we mentioned earlier, it helps the online marketplace to get more efficient clients.
How to Apply Ghost Mannequin Effect on Your Product Images?
The 3D effect or invisible mannequin helps customers envision themselves in the clothing and visualize its feel and fits. Now, it is time to describe how you can apply the technique or effect on your product images. There are two ways
a- by editing each file yourself
b- by hiring a full-fledged photo editing company
Here is a tutorial on how you can do it by yourself.
How to Create a Ghost Mannequin Effect in Photoshop?
If you want to edit your product images by yourself then here is a step-by-step guide on how to add a ghost mannequin effect with the help of Adobe Photoshop.
Step One:
Minimize your image background by using the crop tool on the left-aligned toolbar.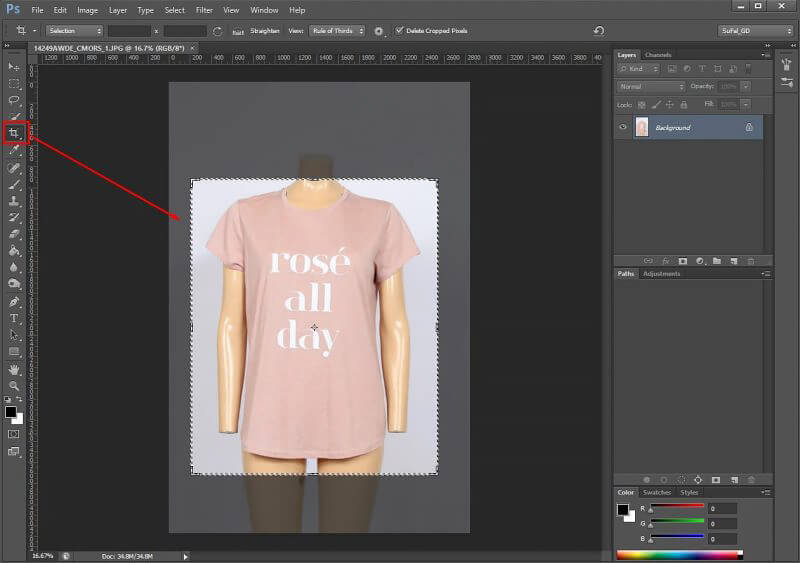 Step Two:
First, create a duplicate of the active layer by pressing Ctrl+j. This will save you from any unintentional mistake.
Step Three:
Cut out your dress by using a Pen Tool. Now you need to cut out the t-shirt in the image. Select the Pen Tool and then draw a line aligning the whole dress. Start with the collar and leave the unwanted parts.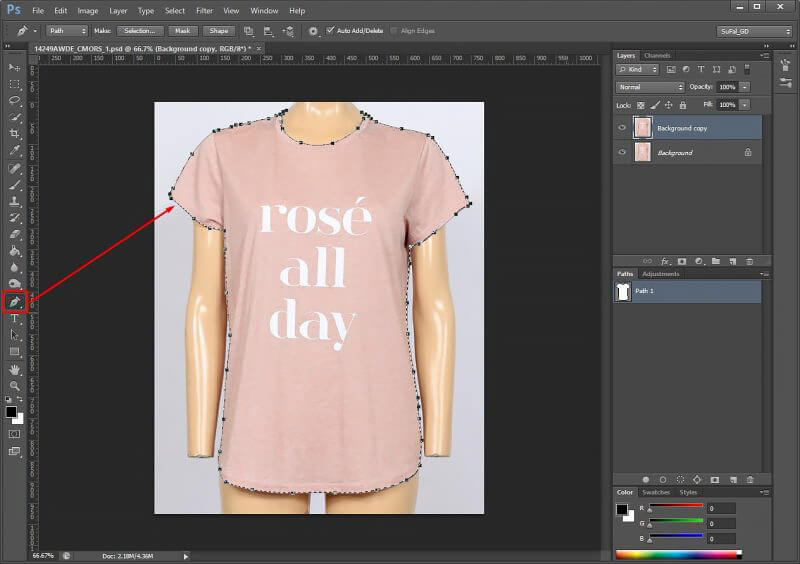 Step Four:
To select the paths, now hold Ctrl and click on path palate.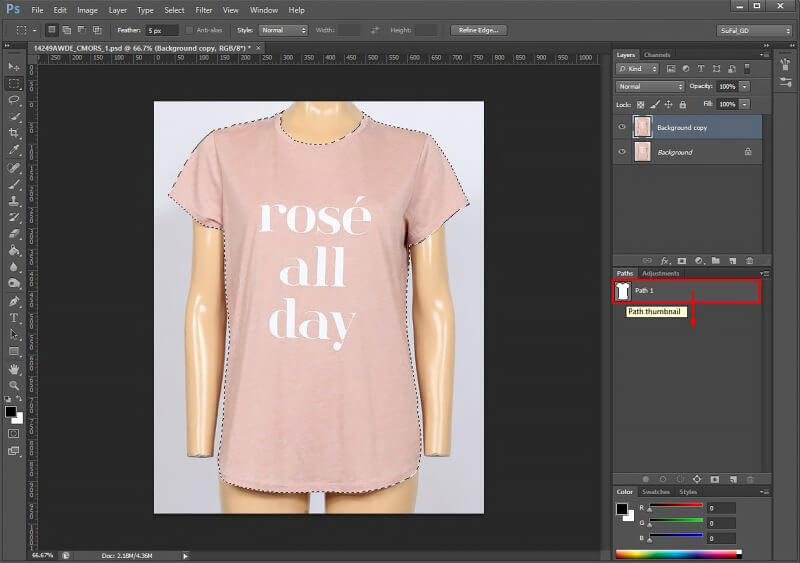 Step Five:
Inverse the selection by pressing Ctrl+Shift+I.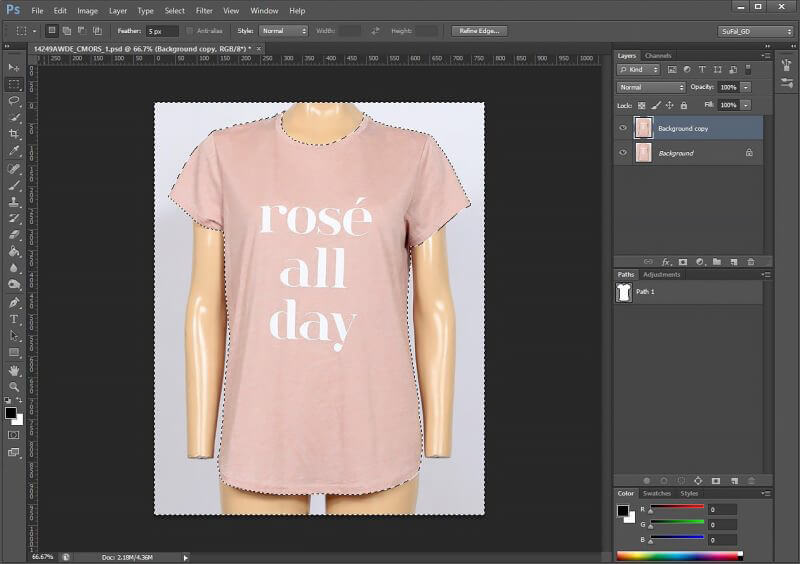 Step Six:
Press the Delete key to remove the selected background. Now turn off the Background layer to verify if your work is done properly.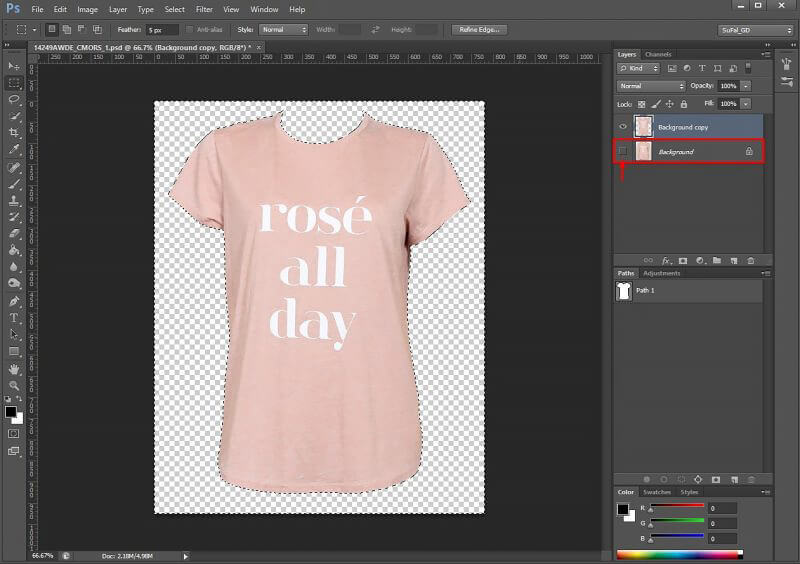 Step Seven:
Open the inside back of the T-shirt and crop the collar area with the label.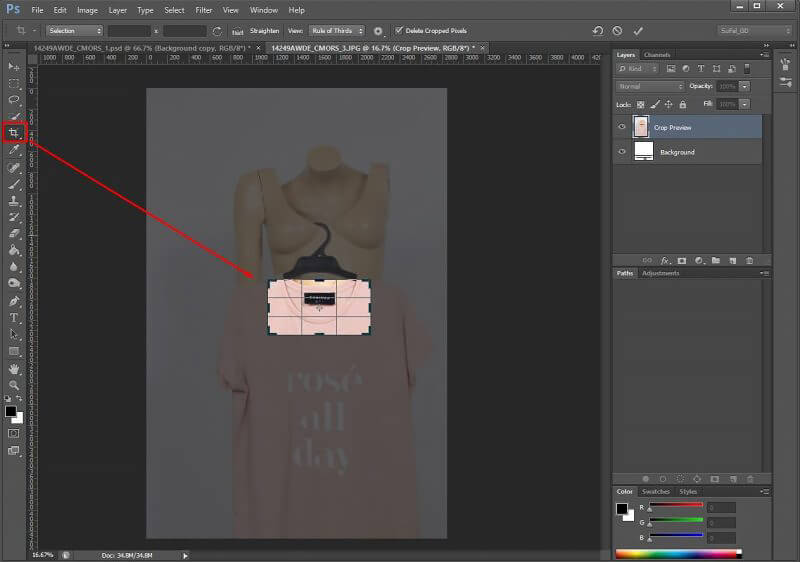 Step Eight:
Take your collar's image with a label and position it on the other layer. Move the collar's image underneath the first layer of the front.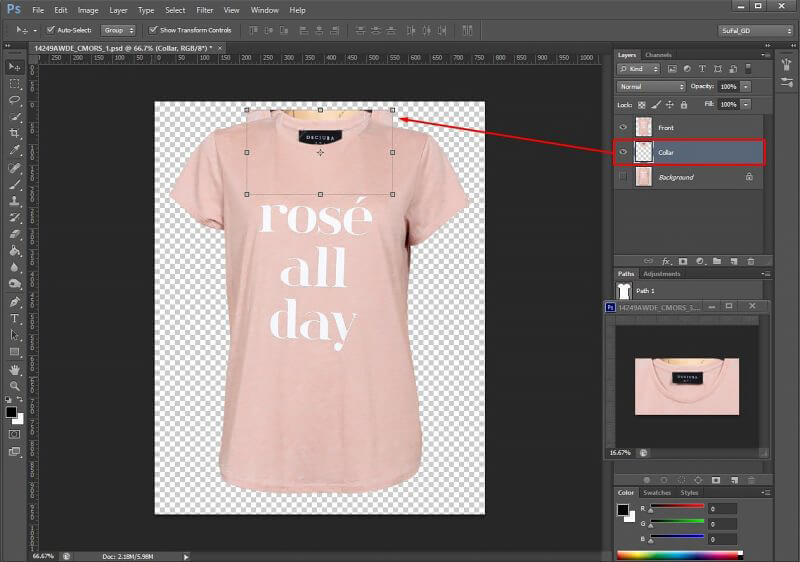 Step Nine:
Click on the Eraser tool and smooth out the extra bits and use a brush about the size of 25 and 0 feather.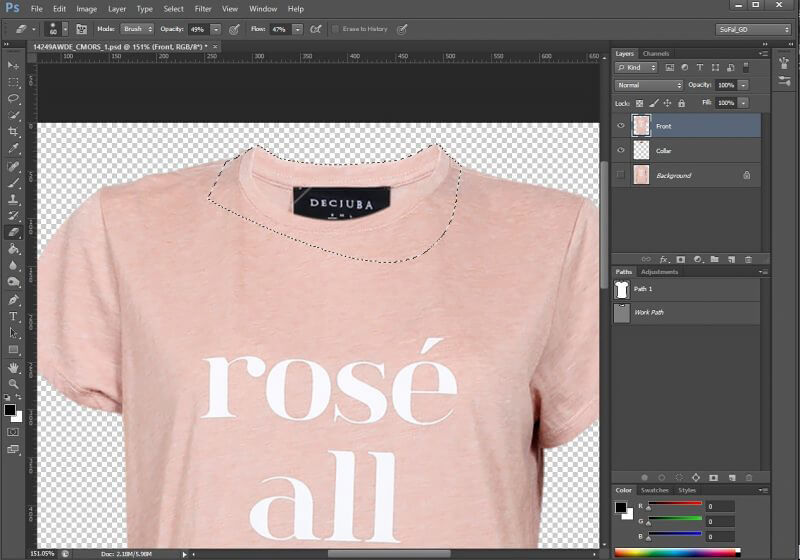 Step Ten:
Add a new layer to create shadow.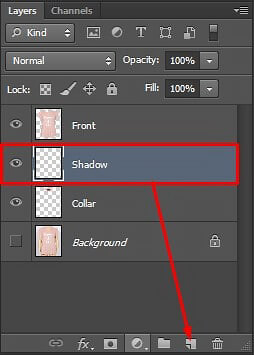 Step Eleven:
Select the Brush Tool (Opacity between 35% and 40%) and add shadow in the image when the Shadow layer is selected.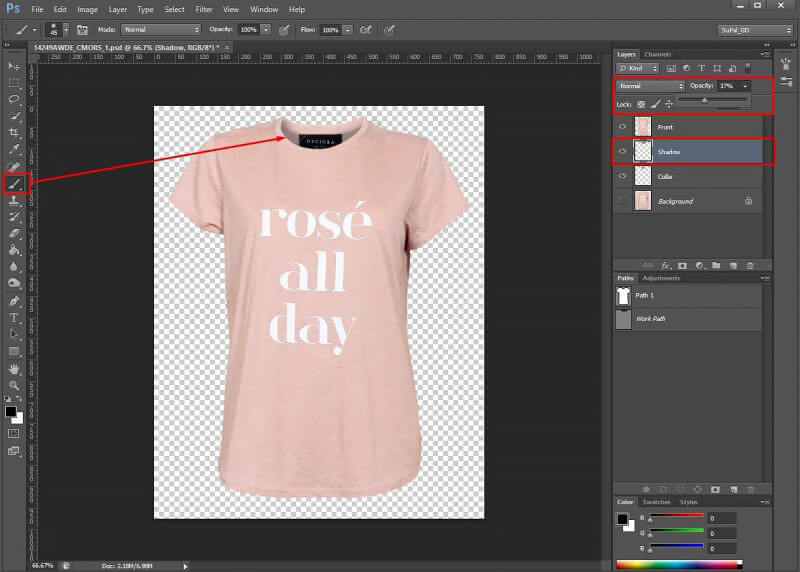 Step Twelve:
Select a solid color from the adjustment layer while the Background layer is selected.
Step Thirteen:
Now save the file with Ctrl+Shift+S.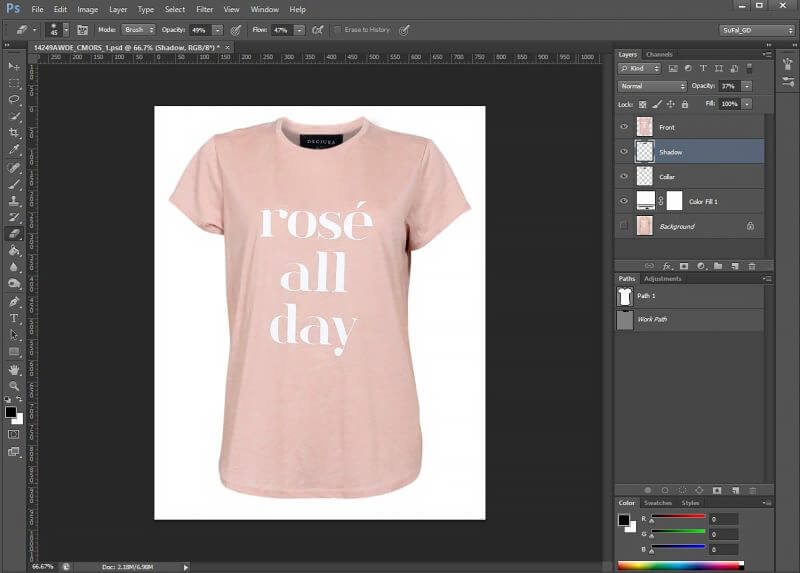 Wrap Up
Hope you get proper details about the ghost mannequin effect by following this tutorial. Practice, and you will master it. Then your images will be ready to serve in the online marketplace.
So, when you need to showcase your clothing products on different eCommerce sites like Amazon, eBay, AliExpress, or other giant marketplaces, using this effect will result in positive.