CatchLight
- a San Francisco, CA-based visual media organization that leverages the power of visual storytelling to inform, connect, and transform communities - is proud to announce the recipients of its 2022 Global Fellowship: Adama Delphine Fawundu, Daro Sulakauri, and Rafael Vilela.
The CatchLight Fellowship provides visionaries in the field $30,000 grants to develop long-form storytelling projects, engage audiences and continue their work as innovators and leaders defining the future of the field.
Adama Delphine Fawundu
uses photography and visual art to uncover the past, activate the present and meditate on equitable futures;
Daro Sulakauri
documents the struggle of people to survive in the shadow of an oppressive superpower; and
Rafael Vilela
reports on Indigenous way of life and the climate crisis in the largest city in the Americas, São Paulo.
Made possible in part through a partnership with MPB.com, the CatchLight Global Fellowship serves as an incubator — a place for innovative leaders in the visual storytelling field to receive financial support, unlock individual potential, and grow and leverage partnerships. The Fellowship cultivates a vibrant community of creative thought leaders whose work is enhanced by collaboration, personal development and networking.
" This year's CatchLight Global Fellowship recipients are not only amazing visual storytellers with great impact, but they are also dedicating their practice to advancing key pillars which will define the future sustainability of the field overall: educating the next generation of visual storytellers, collaborating with communities, advancing democratic access to information and the revitalization of independent media. We are confident that their leadership will inform the field in significant ways and we are proud to welcome them." Elodie Mailliet-Storm, CEO of CatchLight
"We are thrilled to partner with CatchLight to support, amplify and sustain visual storytellers through the CatchLight Global Fellowship program," said Sophie Collins, Chief Marketing Officer of MPB. "As the largest global platform to buy, sell and trade used photo and video gear, MPB is committed to making visual storytelling more accessible and sustainable for everyone. Supporting the CatchLight Global Fellowship is not only a way to support individual talent, but also to cultivate a more diverse and resilient creative community across the globe."
CatchLight is committed to leveraging the unique power of visual communication as a tool to inform, connect and transform communities. The CatchLight Global Fellowship's focus on building innovative ways to engage audiences is a key pillar to defining the future of the field and counter the rapid general decline of media across the world. In addition to the Global Fellowship program, CatchLight is building a new model for non-profit visual journalism at the local and community level. The CatchLight Local shared visual desks pair emerging visual journalists with local newsrooms, which lack visual resources. Together, these two programs are aimed to define the future and sustainability of visual storytelling.
Adama Delphine Fawundu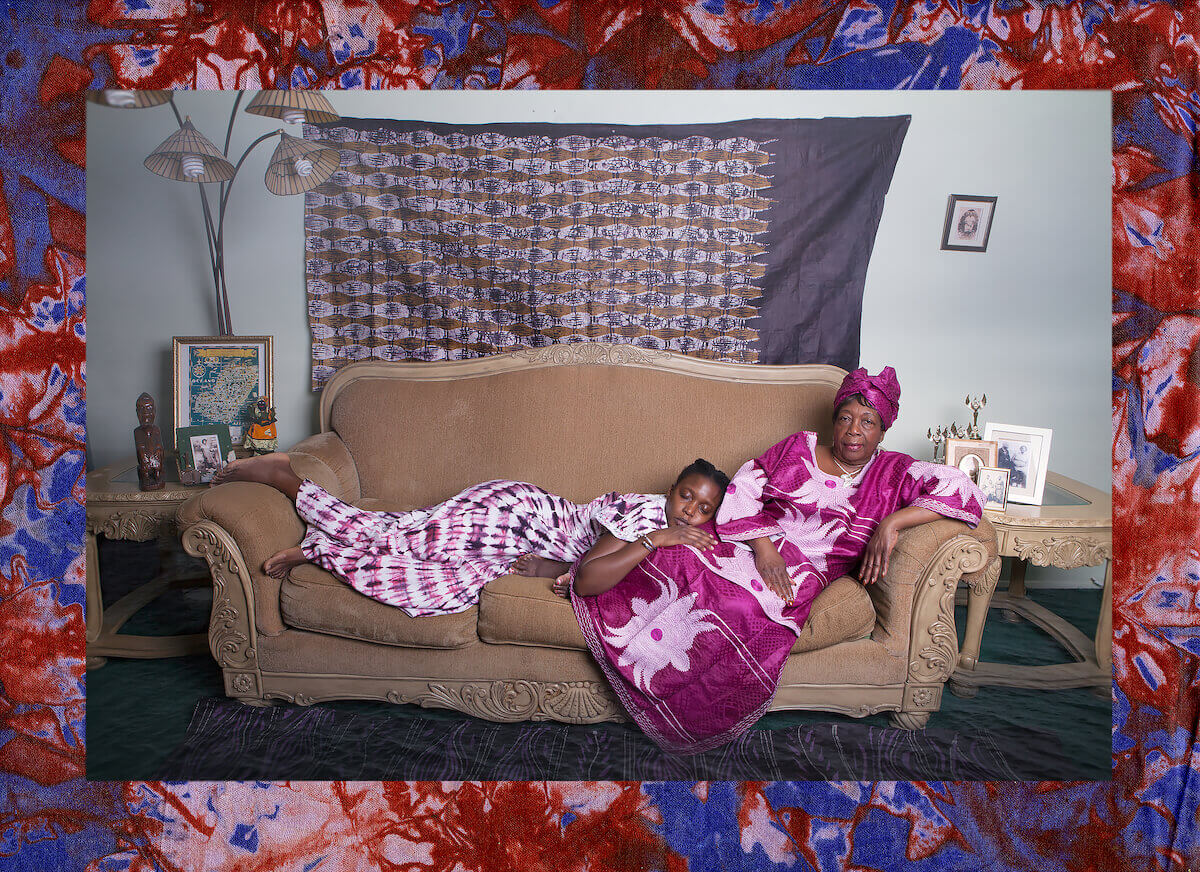 Passageways #2, Secrets, Traditions, Spoken and Unspoken Truths or Not, 2017 © Adama Delphine Fawundu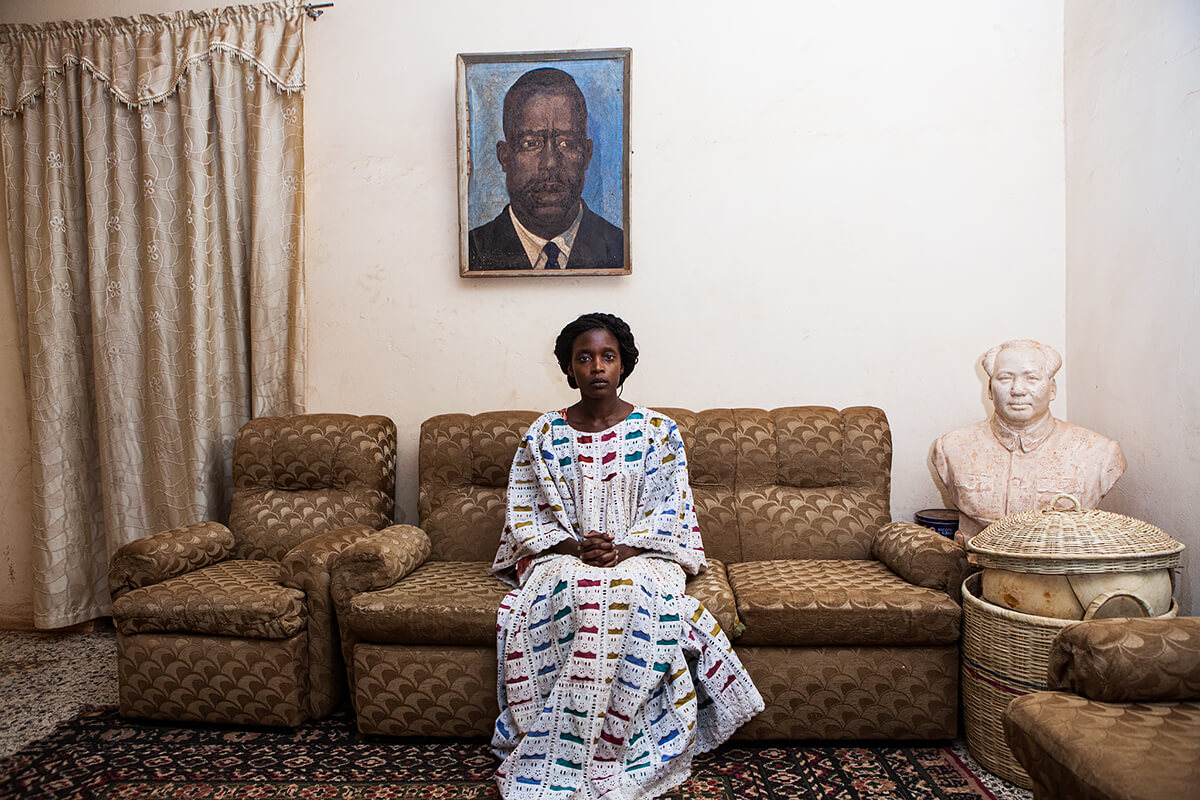 The African Dream, Bamako, Mali, 2014 © Adama Delphine Fawundu
Adama Delphine Fawundu is driven by research, uncovering, sharing and amplifying complex stories across multiple mediums. A visual storyteller with a background in education, she strives to create spaces where young people can look at visuals and build their own stories, use them as historical context, or dive deeper into literacy, from writing to thinking to reading. Her practice is an invitation to dive into the past, understand the present, and envision the future.
Using her upcoming year-long solo exhibition as a focal point, Adama Delphine Fawundu will lead hands-on workshops for early-career artists and create an open-source curriculum for educators. This public education and visual storytelling project will engage multigenerational community members in New Jersey, Sierra Leone and Uganda, in using contemporary art as an inspiration to uncover the past, activate the present and meditate on equitable futures.
Biography:
Adama Delphine Fawundu is a photographer and visual artist of Mende, Krim, Bamileke and Bubi descent. Her distinct visual language, centered around themes of indigenization and ancestral memory, enriches and expands the photographic canon. Fawundu co-published the critically acclaimed book "MFON: Women Photographers of the African Diaspora." She lives and works in New York.
Adama Delphine Fawundu
Daro Sulakauri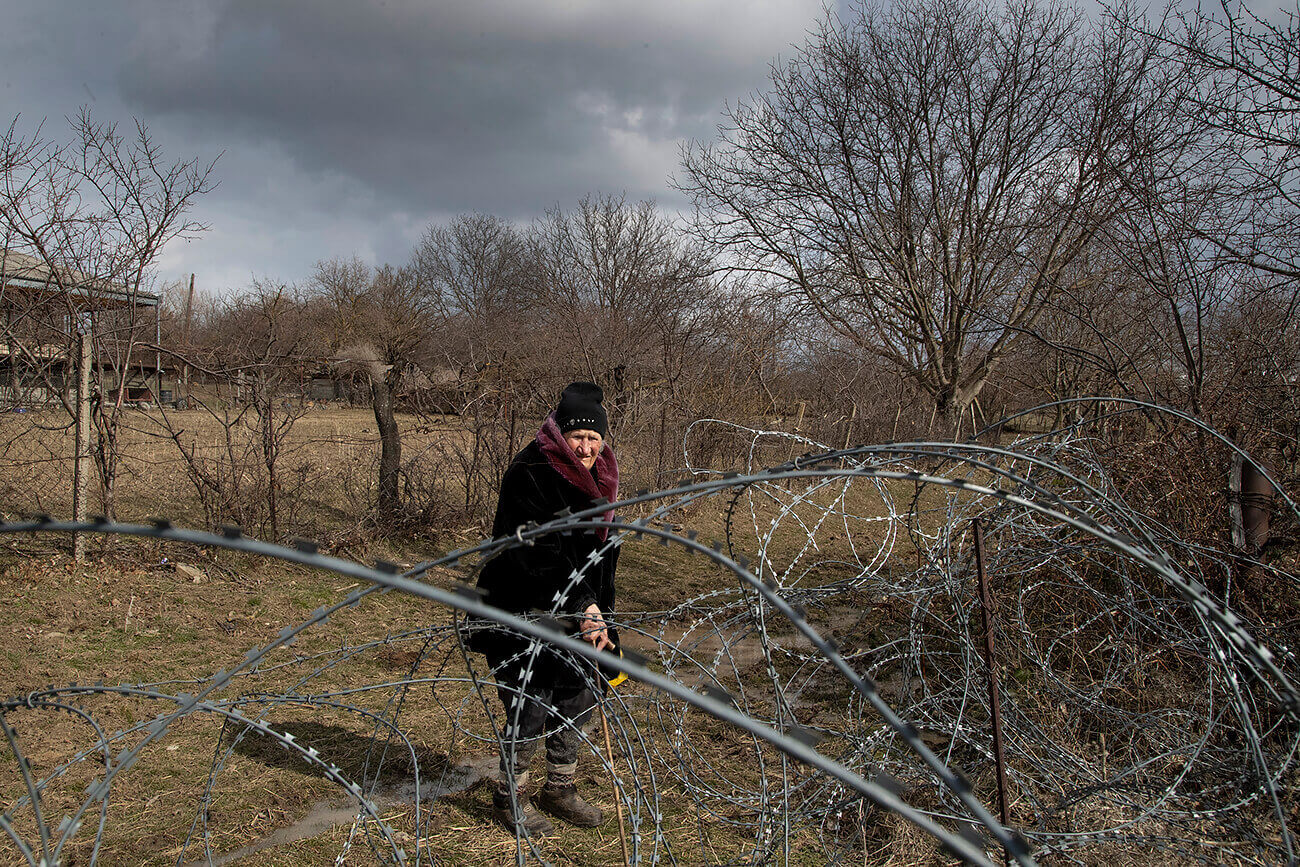 Georgia-born 88-year old farmer, Valia Valishvili, stands on the Russian controlled territory of South Ossetia in Khurvaleti village on May 23, 2022 © Daro Sulakauri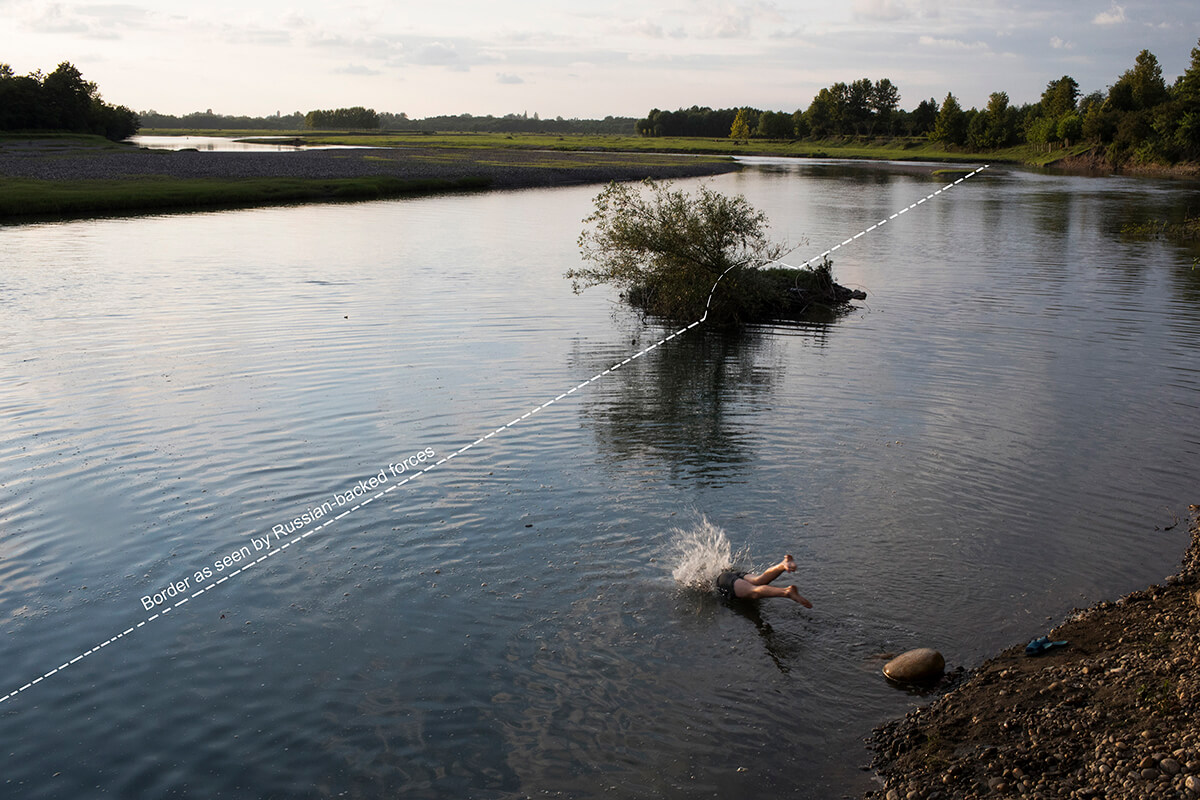 A child takes a swim in the Enguri River, which is used as the borderline of the Russian-supported separatist territory of Abkhazia © Daro Sulakauri
After publishing her photo story "Terror Incognita" — which documented the lives of refugees escaping the war in Chechny, Daro Sulakauri realized the impact photography could have with people's perspectives on current events or social issues. Focusing on issues that are considered taboo in her home country of Georgia, such as early marriages, or the cultural and community impacts of three decades of Russian occupation in sovereign Georgian territories, she creates images that offer a different understanding to viewers. Whether sharing her work on social media, creating installations for public exhibitions, or publishing in international magazines, she strives to find new ways to engage with the audience.
Biography:
Daro Sulakauri is a Georgian photojournalist. Using mixed media with documentary and contemporary approach, her work chronicles the social and political issues in the Caucasus. She graduated from the International Center of Photography in New York. Upon completing her studies, she returned to the Pankisi Gorge in Georgia to document a hidden narrative of the Chechen conflict in an outpost of refugees which won her Young Photographers in Caucasus Award from Magnum Photos in 2009. Her work on early marriages in Georgia was awarded the first prize by LensCulture, EU prize for journalism. She was a participant of the World Press Photo Joop Swart Masterclass 2017 and Reuters Photojournalism grantee. Her work has appeared in The New York Times, National Geographic, Forbes, Der Spiegel, Times, The Economist, Bloomberg, Die Zeit, among others. She currently lives and works in Georgia.
Daro Sulakauri
Rafael Vilela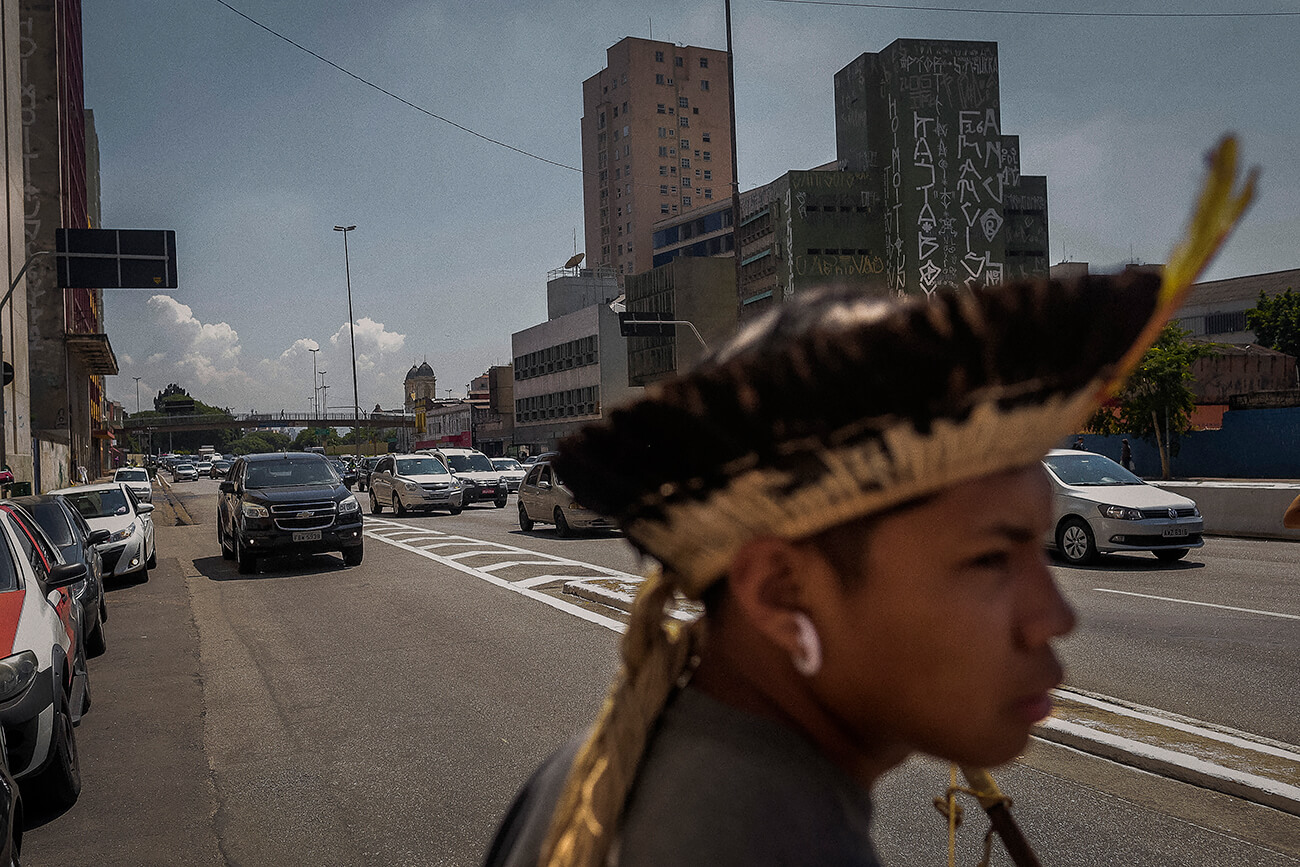 Guarani Mbya people hold demonstrations in downtown São Paulo to demand an end to deforestation and the transformation of the occupied land into an environmental park. March 9, 2020 © Rafael Vilela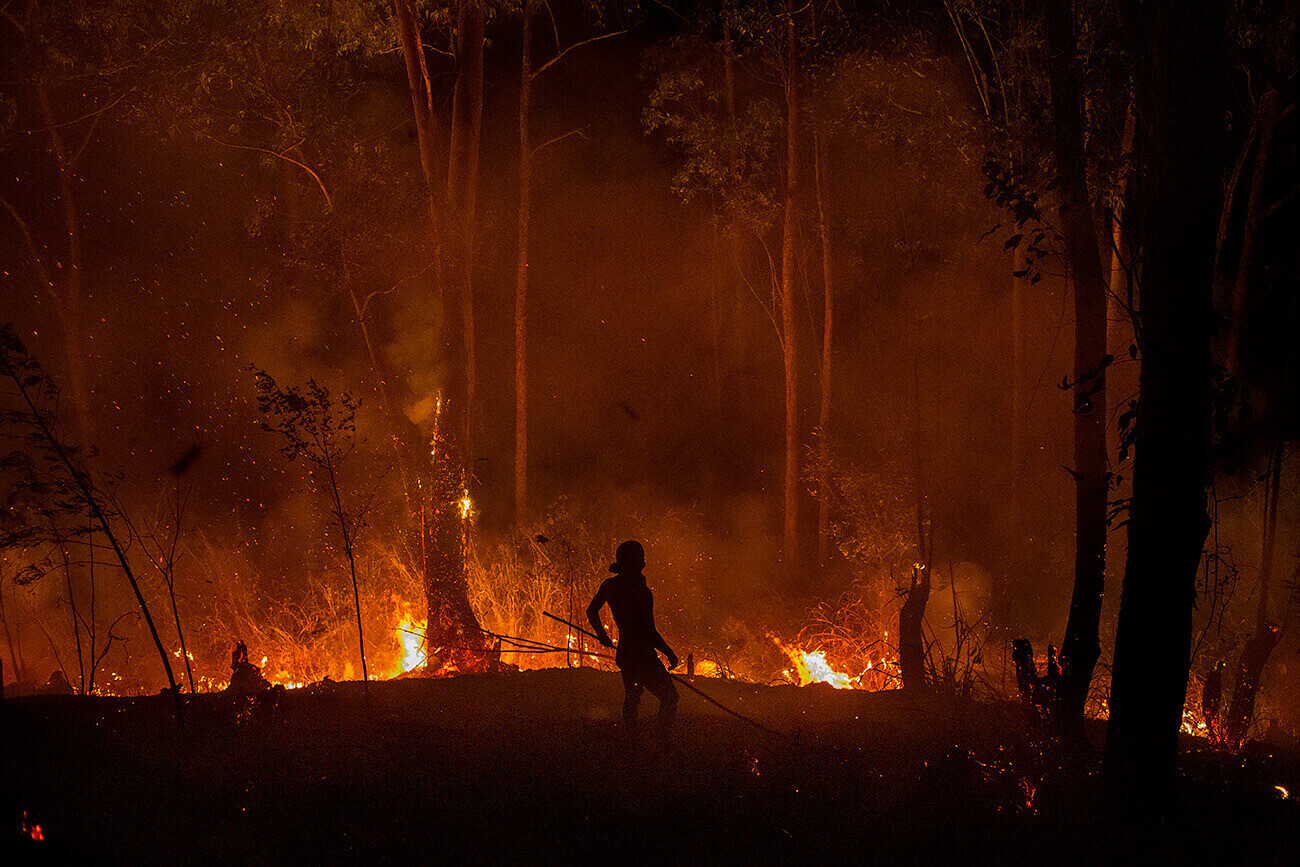 Guardians of the Forest fight fire in Guarani territory on June 2020. In total about 18 hectares were destroyed after the incident of unknown origin. © Rafael Vilela
The Brazilian photographer Rafael Vilela is currently reporting on climate and economic crisis in his country. As a visual storyteller, he considers access to information a human right, not a privilege. As a co-founder of Mídia NINJA, one of Brazil's largest independent media platforms, he has been working on the democratization of the media for the past 10 years. His focus was on generating the capacity for Brazilian social movements and indigenous communities to organize and create their own media platform. His ongoing project 'Forest Ruins', which addresses the role of cities in the climate crisis from the perspective of the Guaraní Mbyá Indigenous people in the city of São Paulo, Brazil, includes photography workshops with young Guarani Mbyás and their leaders. Empowering them with tools and knowledge of visual journalism will help raise awareness of their existence in the world. Because as Vilela puts it "communicating is existing in the world of media that we live in today."
Biography:
Rafael Vilela is an independent Brazilian photographer currently reporting on the climate and economic crises in his country. He is co-founder of Mídia NINJA, launched by a grassroots collective of citizen journalists who believe the structures and narratives of corporate media are failing to serve public interest. His photographs are part of São Paulo's Museum of Modern Art (MAM-SP) permanent collection.He has collaborated on international publications such as The Washington Post, The Guardian, VICE, The Intercept and National Geographic. His work with Covid Latam won the POYLatam and the FotoEvidence Book Award with World Press Photo.
Rafael Vilela