Instagram is one of the fastest-growing social media networks and its popularity is on the rise.
People love taking photos and they upload around
95 million photos
to Instagram each day, so every user is a photographer. When taking photos and uploading them to their profiles, people hope for approval in the form of likes and comments from other users.
When you run a photo contest on Instagram, not only do you help users show off their creativity, but you also give them a chance to win something valuable. Simply put, photo contests are popular among Instagram users.
Why Should You Run a Photo Contest on Instagram?
As a photo-sharing app with
2 billion monthly active users
, Instagram is a great place to attract more participants for your photo contest. Running a photo contest on the platform, you can also bring your company to the next level as it helps to achieve the following goals:
Build a solid following:
When people get a chance to win something valuable from you, it attracts new visitors to your profile and encourages them to follow your brand on the platform. All in all, it gives users a reason to become followers which means building a following.
Drive user engagement:
Most businesses ask contest participants to like, comment, or tag their friends as the participation requirements which leads to a higher engagement rate. As a result, the Instagram algorithm finds this post useful for the audience and prioritizes your content over other competitors.
Collect user-generated content:
Obviously, a photo contest is aimed at collecting fan-made photos which means your business gets UGC fast. Since modern customers trust other consumers, posting these photos on your profile or website is a great way to increase brand trust & loyalty.
Now that you know about the benefits of running a photo contest on Instagram, it's high time to learn from seven best practices on how to do it right.
1. Create an Eye-Catching and Descriptive Image
If you're about to run a photo contest on Instagram, the first thing is to create an Instagram post that announces your photo contest and informs followers about its terms & conditions as well as tells them about the prizes.
However, you should remember about an eye-catching and descriptive image for your post. Since Instagram is a visual platform and the majority of people perceive visual information better than texts, it's no wonder that publishing
amazing Instagram photos
is what grabs your audience's attention.
When people scroll the feed, they pay attention to images, so it's important to make your hero image informative and eye-catching. It should tell followers about your contest or giveaway, just like an example from Passion Planner:
Making visuals for your photo contest announcement, consider using the following data on your image:
- Put words like 'photo contest' or 'photo giveaway' on your image
- Showcase your prizes
- Write about the start and end times
2. Use A Unique Branded Hashtag
Practically every marketer knows about the importance of using giveaway hashtags like #giveaway or #contest to reach a wider audience of potential participants. However, just a few of them invest time and effort into creating a unique branded hashtag.
But if you run a photo contest, it's also a good idea to use a specific hashtag that represents your brand and tells about your contest idea.
For example, Starbucks released plain red cups in honor of the holiday season and the company invited consumers to let their creativity run wild, create their designs, take photos, and upload them to profiles with a special hashtag #RedCupContest.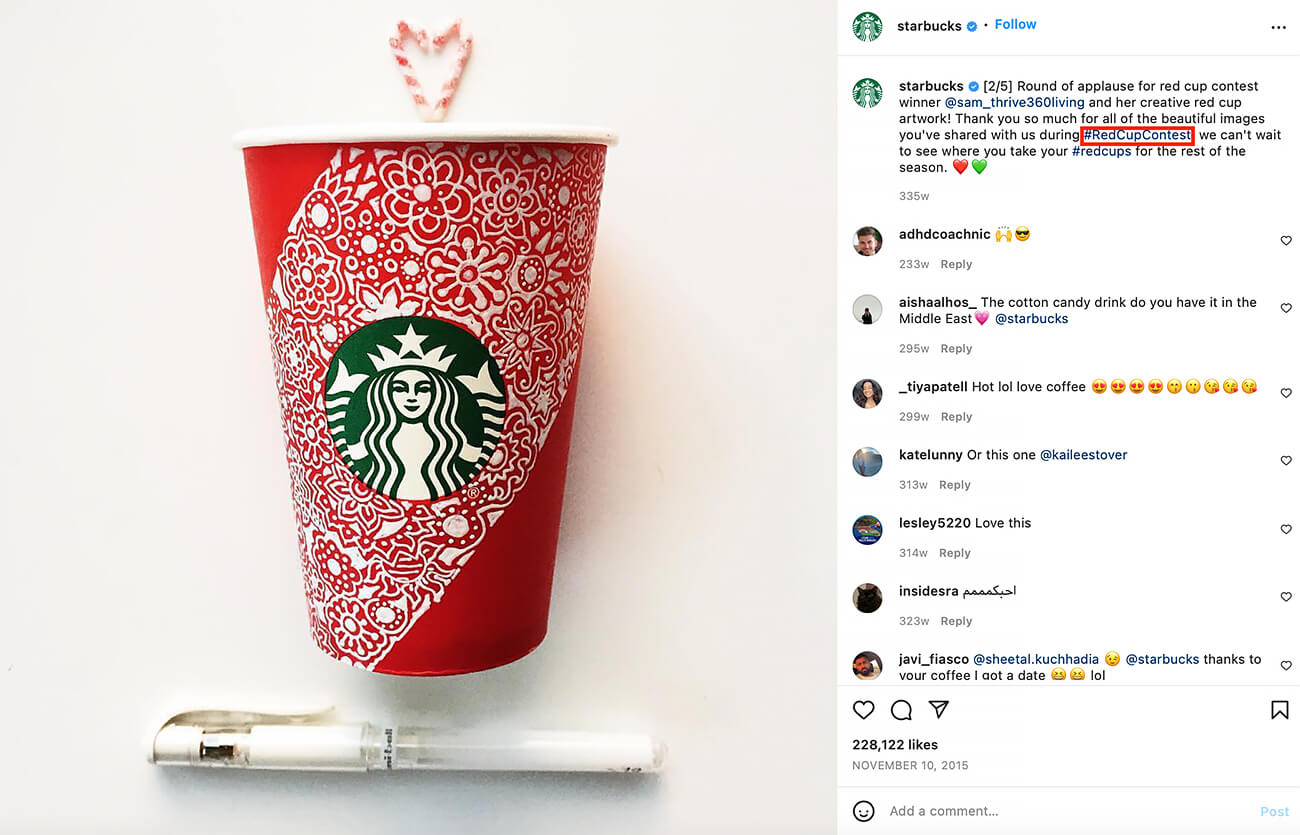 Using a hashtag, it was easier for the company to monitor and collect all photos on the platform as only participants used it when uploading their visuals.
3. Describe Your Entry Rules in the Caption
To get more participants, it's important to give clear directions on how to enter a contest. When it's confusing or difficult for your potential participants to enter your contest, people lose interest in your contest or even brand which can ruin your online reputation.
The solution is simple: make it easy for followers to understand your entry rules. The most effective way that doesn't require much time or effort for users to understand your participation requirements is to describe the entry rules in the caption.
Here's an informative Instagram caption from BVLA: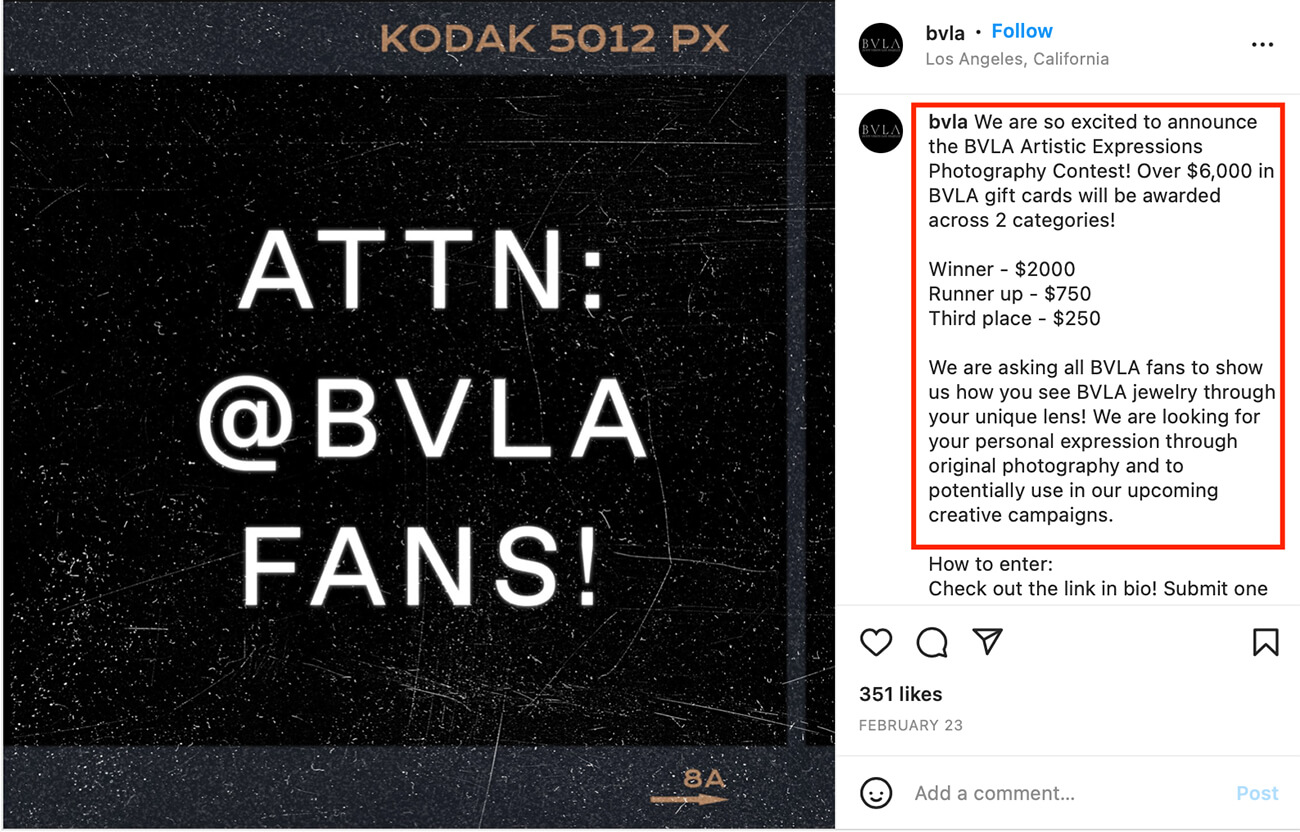 To write a similar caption for your Instagram photo contest, make sure to include the following information:
- Inform the audience about your photo contest
- Tell about your gifts
- Mention the time frame
- Use bullet points to describe the entry process
- Include hashtags
4. Make the Most Out of Your Instagram Links
Instagram has the most engaged user base and its community grows fast, so many photographers know that it's a perfect place to redirect followers and
drive traffic to your portfolio
When it comes to running a photo contest, you can put terms & conditions on your website. Or, you can create a lead generation landing page where your participants can submit their photos. All in all, it's a good idea to make the most out of Instagram links.
Now, Instagram allows all users to include ONE link in the bio section. Obviously, it can be daunting for businesses and photographers to decide which link to promote, so it's no wonder that users seek out ways to include multiple links. Luckily, there are several tools that help to create a unique URL link with different links.
Here's how it looks like in action:
If you're looking for more ways how to use Instagram links, keep in mind the following options:
- Use clickable Instagram Stories (available for accounts with 10k+ followers)
- Include a link in the description of your IGTV
- Ask influencers to add your link in their Stories
5. Communicate with Contest Participants
Running an Instagram contest is a proven way to boost your social media presence. One
research
has found that an Instagram contest can help your account grow 70% faster and get more engagement. It's no secret that contest participants are active communicators who crave communication with your brand.
This means you can receive a great number of comments or direct messages. Since people feel valued when you reply to their questions and concerns, it's important to communicate with contest participants.
Having a
strong social media team
, not only can you monitor the comment section, but you can also create Instagram Story Highlights that provide self-service customer care for interested visitors. Check out how Nikon did it: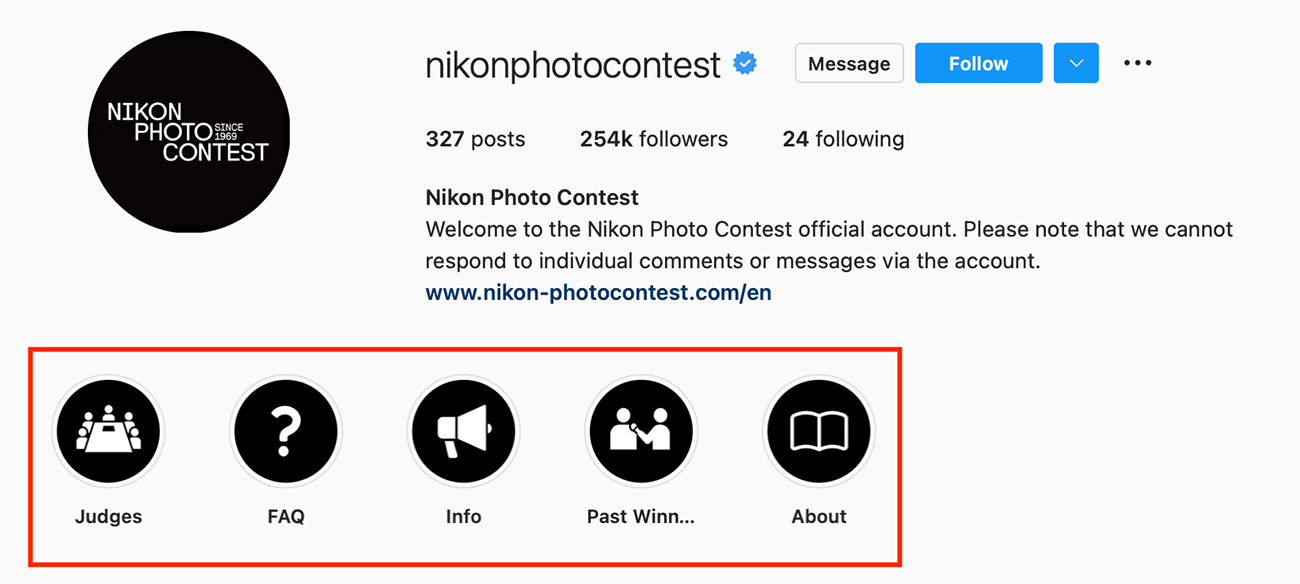 6. Provide Instagram Customer Care
During the contest period, both followers and participants may have more questions or concerns. Moreover, running a photo contest can spark interest in your business and products which can lead to more sales.
Some people who leave comments may need customer service, just like in the example below: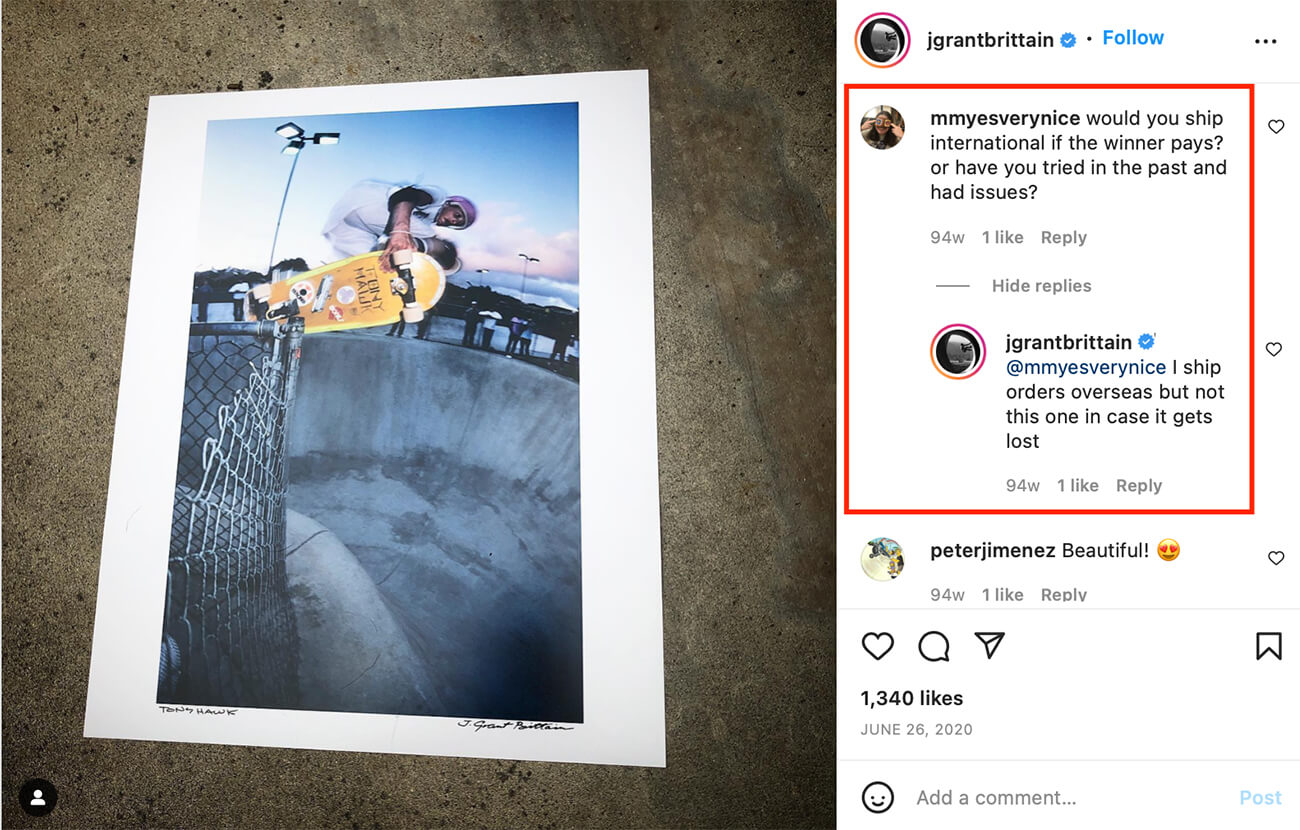 This means the importance of Instagram customer care. If you have a dedicated team of social media moderators who can solve customer issues, that's great. But if you want to focus on other tasks without leaving your participants with their questions unanswered, consider using
virtual phone numbers
–an effective way to get replies to concerns fast.
7. Spread the Word about Your Photo Contest
Contest promotion matters. The more people know about your photo contest, the more participants may enter it. As a content organizer, you should seek out all creative ways to spread the word about your photo contest.
Here are several ways to promote your photo contest on Instagram:
- Repost your photo contest post to Instagram Stories so that more followers could see it
- Create Instagram Reels that tell about your photo contest to reach a wider audience
- Promote your photo contest with paid ads
- Collaborate with Instagram influencers who have the same target audience
It's you who decides on the best promotion option for you, but remember that word-of-mouth marketing works best for all businesses. People trust recommendations from influencers, so working with opinion leaders is a proven way to reach more participants who are more likely to be loyal to your brand.
Here's an example of a partnership between an Instagram influencer and one company: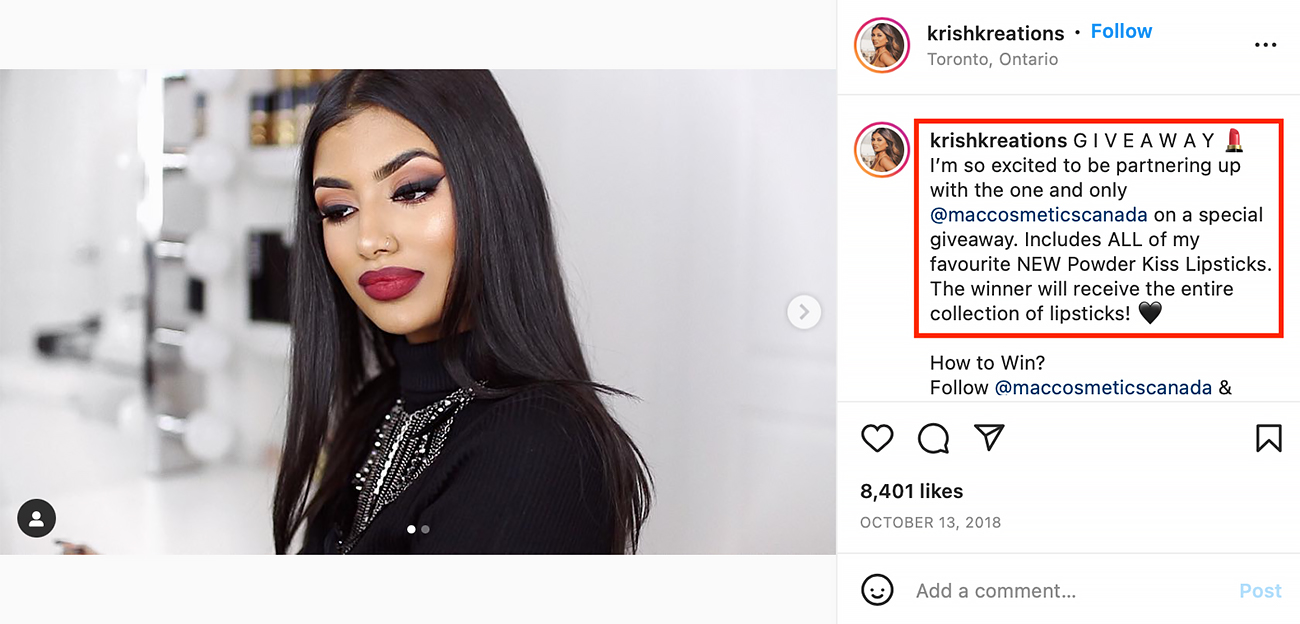 But if you want to grab the attention of more users, you can create
stunning motion graphics
that explain everything about your contest and ask Instagram influencers to post them on their feed or Stories.
The Bottom Line
As a photo-sharing app, Instagram's community includes a great number of people who are interested in photography, so it's just a perfect platform to run a photo contest. When you know the best practices for running a photo contest, it doesn't take much time or effort to get wonderful results with your contest. Don't miss your chance to organize an effective photo contest on Instagram that results in many submissions and turns participants into loyal followers who may become your customers.
About the author
Val Razo
is a freelance SMM consultant who helps small and medium businesses create and maintain a social media presence. In the last few years, Val lays a bet on Instagram marketing and writes for marketing blogs to share her tips.