Red Bull Illume is the world's greatest adventure and action sports imagery contest which has been going on for over a decade. It showcases the most creative and captivating images on the planet, while illuminating the passion, lifestyle and culture behind the photographers that shoot them.
In 2006, Red Bull Illume was founded by Ulrich Grill, a passionate photographer and former Red Bull athlete. At the time, he was running training workshops for photographers, and he realized there weren't any photo contests dedicated to adventure and action sports. The idea for the Red Bull Illume Image Quest was born – a contest to celebrate not just the images, but the people behind the lens who go to such extraordinary lengths to capture the shot.
Since then, Red Bull Illume has established itself as one of the biggest photography contests around the world. Each year an international judging panel of 50 photo editors and photo experts select around 50 finalist images. The winners of Red Bull Illume Image Quest 2021 just have been announced and were awarded with beautiful trophies and incredible prize packages from our partners!
The finalist images then tour the world as part of the unique Red Bull Illume exhibition. In addition, the winning images will also be printed in the limitededition Red Bull Illume Photobook, to give credit to the photographers and honor their hard work.
The Image Quest 2021 is the sixth edition bringing together the amazing work of photographers and content creators from around the world. Submissions for the contest ran from March 1 to August 1, 2021, and were entered on redbullillume.com and Instagram.
A judging panel of 53 photo editors and experts selected the 56 finalists, 11 category winners and 1 overall winner. This year, the total value of prizes for the winners exceeded €200,000. However, the real prize is priceless – which is all of the prestige and exposure associated with being an official Red Bull Illume Winner!
From November 29, the Red Bull Illume Finalists and the 11 Category Winners were announced daily, building up to the unveiling of the Red Bull Illume Overall Winner on December 4, 2021. Twice a day for five days, the finalists and winners of two categories were announced live on social media and on redbullillume.com, bringing the experience to fans all over the world for the first time.
Will Saunders was unveiled as the overall winner on Saturday, December 4, 2021, during the opening of the exhibition in Aspen Snowmass, CO, USA.
Official partners for the Image Quest 2021 include global computing leader Lenovo, storage specialist SanDisk Professional, creator of mountain sports equipment Black Diamond, German camera manufacturer Leica, the best photo lab for everyone who loves photography WhiteWall, and producer of photography apparel and accessories COOPH. CCS fabric frame® is the manufacturer of the 2x2m T-shaped lightboxes for the Red Bull Illume Exhibition.
Overall Winner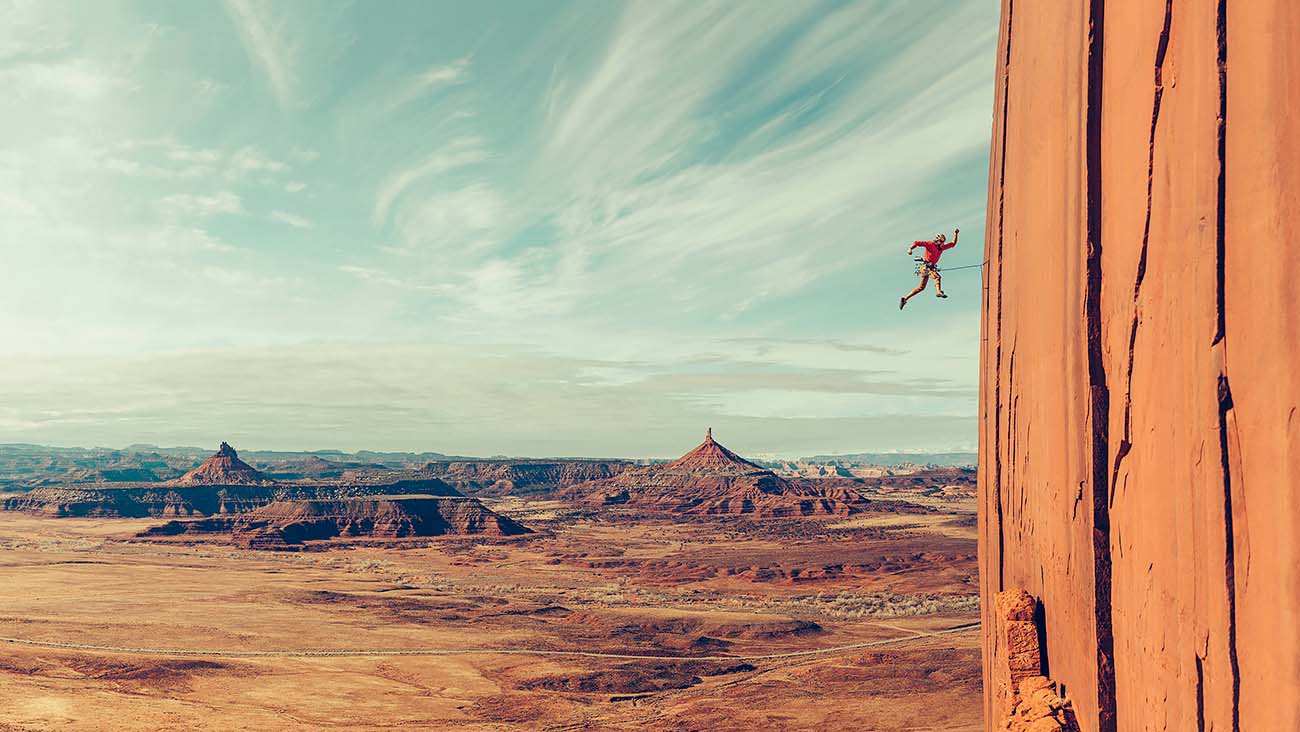 Dirtbag Superhero © Will Saunders / Red Bull Illume
Chase after those conceptual thoughts because that is where unexpected moments come to life.
Whenever I go out to make some images, I do my best to come back with something that I haven't done before. I've shot whippers many a time, but this time I wanted to try something a little different. A group of us rallied out to my favorite place in the desert to get some climbing in and make some imagery along the way. I asked Jake to really shape his body into more of a powerful movement rather than the classic falling position. With grace and style, Jake pulled this shape out of the air, allowing me to capture an image that is unique compared to most of the literal climbing imagery we see. His body reminded me of a superhero, which is fitting to me because most of my friends in this action sports world are my heroes. The ticket here was to just push the conceptual idea enough while also grounding the image in reality.
Will Saunders
I grew up in a small town of 2,000 people where half the crowd were hippies and the other half were cowboys in the heart of Oregon. We all got along and I kinda rode the line down the middle. I always hung out with both sides, constantly in awe of my friends and what they do in their daily lives. It wasn't until I was 19, when a professor convinced me to pick up a camera for the first time. I fell completely in love with the art of making an image, I was truly obsessed. Making images of my friends who were badass kayakers, bikers and climbers. Working closely with mentors and constantly learning, I started to build my own style and understanding of the industry. Today I live in Utah still chasing this obsession of making images that impress my mind. I'm lucky to be surrounded by an incredible team and a talented group of good humans that push me every day.
Will Saunders' Website
Category Winners
Best of Instagram by Lenovo: Yhabril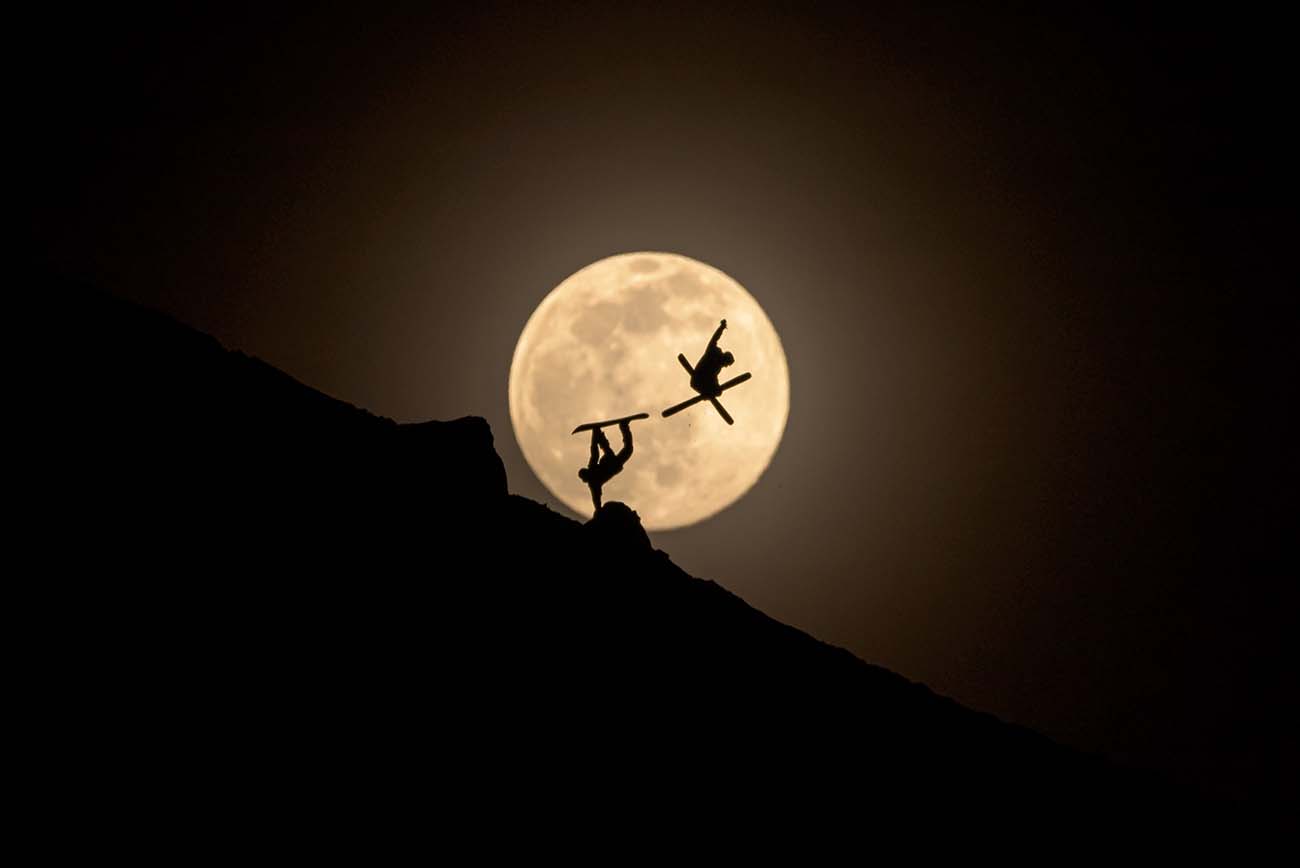 © Yhabril / Red Bull Illume
We worked hard for a week, just planning and preparing the terrain for this shot. What's particularly difficult to achieve in a shot like this one is to place the two kickers in the right place a couple of days before. Even more tough is that it needs to be taken at 3,000m high with the heavy gear you need to take the shot. Once you have the scenery ready, you just have to wait for the moment and pray for a bluebird sky that day, along with being confident in the riders to synchronize the jump and the handplant. That's the real challenge. On the day, we went for an epic sunset session, testing the kickers and training for the moon shot. Then, when the moon was rising I went to my place 300m away, communicating via walkie-talkies. What's really amazing is that we took the shot on the second try – the photo is the result of great teamwork.
Yhabril's Website
Creative by Skylum: Jan Kasl
The Spiral © Jan Kasl / Red Bull Illume
The idea of capturing this shot snuck into my mind as a side effect from a campaign I produced based on an optical illusion called 'forced perspective'. It sounds like a pretty sophisticated technique, but it's basically exactly what thousands of tourists do when holding the leaning Tower of Pisa, hoping to get a unique photo of their holiday in Italy. It's very similar for most adventure and action sports photographers. It doesn't really matter if we're on vacation, on a shoot, or just going on a random walk through the city – our imagination recreates interesting pieces of architecture into an action sports playground. With a tool like forced perspective, I felt like I could push it a little further, bending reality and bringing the athlete into an absolutely surreal environment.
Jan Kasl's Website