As a professional photographer, you probably need photo editing software to enhance the pictures you upload on your website.Whether it's for basic editing or specialized touch ups, editing is an enjoyable yet tiresome task. But there is rarely enough time to spend on editing, and if there is, not good enough software!
With so many options in the market, can any be regarded as the best photo editing software for photographers? It may be difficult to answer this question, but not impossible, because you can answer it yourself with the help of this comprehensive guide.
We have compiled a detailed list of all kinds of photo editing software - modern, vintage, online, offline, basic, fancy, and more!
Why is Photo Editing Important?
Photo editing is important to make your work appear professional. Whether you are editing a product photo, portrait, a landscape, graphics - everything requires editing. A professional publication will
require photo editing
no matter which platform you publish it in.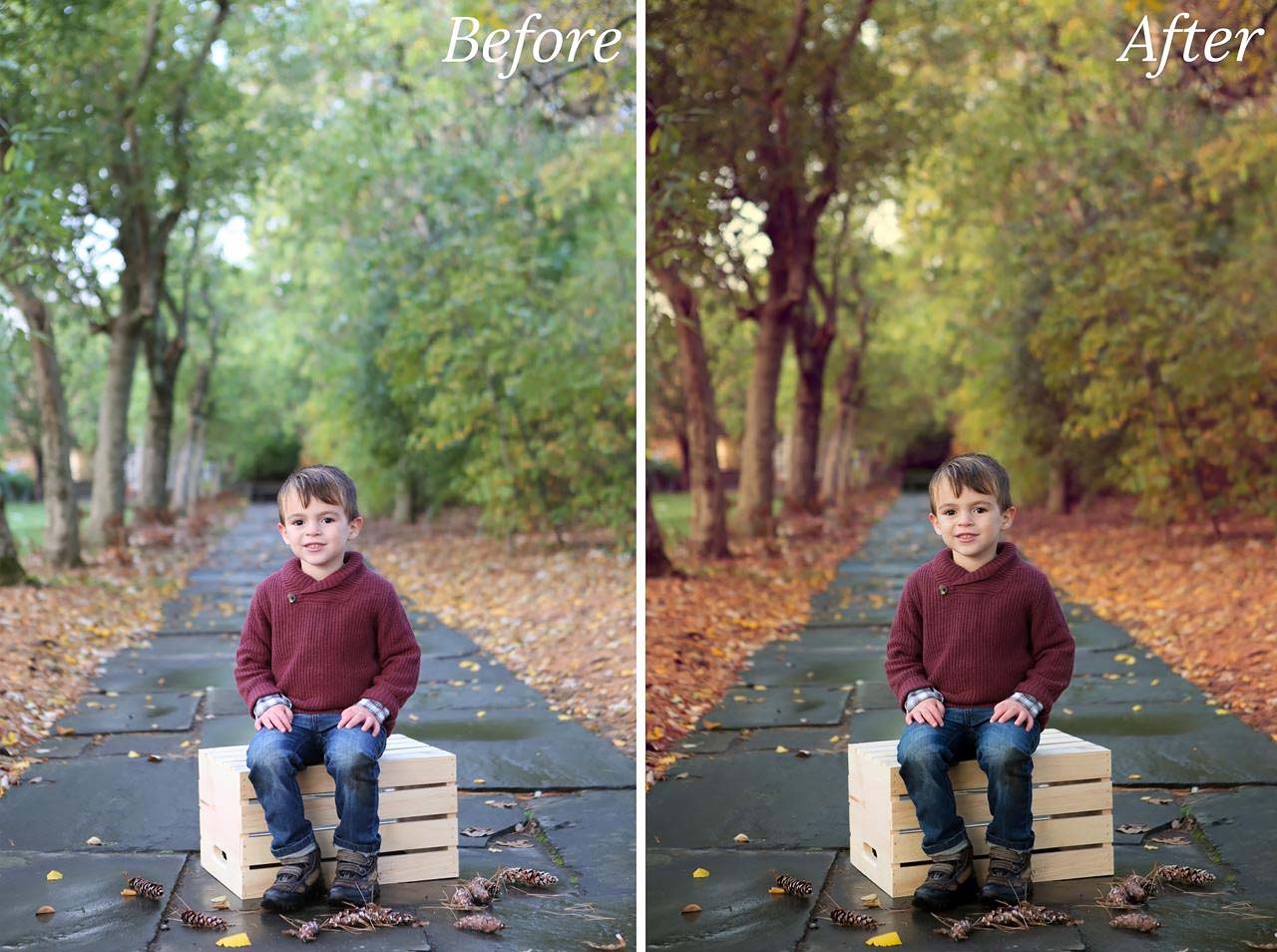 The image above shows the power that photo editing has. It's not that the unedited image was bad. But the edited version has that something special. And of course, if you want to do creative work with images, you must edit it too.
What Should You Look for in Photo Editing Software?
Every editor's needs vary. Some need photo editing software for their personal work; some may need it for professional work. The best software for you may be the worst for someone else. Thus, always use the trial option to determine whether you like it or not.
Liking the software isn't everything either. There needs to be a practical purpose. In general, these are the 3 practical things to look out for in photo editing software
Usability
- Starting from the interface all the way to the editing smoothness, usability should always be a focus. No matter how many features a software offers, if those features aren't properly usable, it's not good software.
Affordability
- This doesn't only stand for the price, but also for factors like requirements of a high-end computer, photo editing skills, etc. Can you afford time and money for this software? If yes, go for it. If not, look for a more affordable option.
Creativity
- Not all photo editors need to do creative work, but it's always good to have the option. You never know when you might need it.
12 Best Photo Editing Software for Photographers
Below is a comprehensive list of the 12 best photo editing software in the world! We have assembled this list based on deep research on each software.
1. Canva X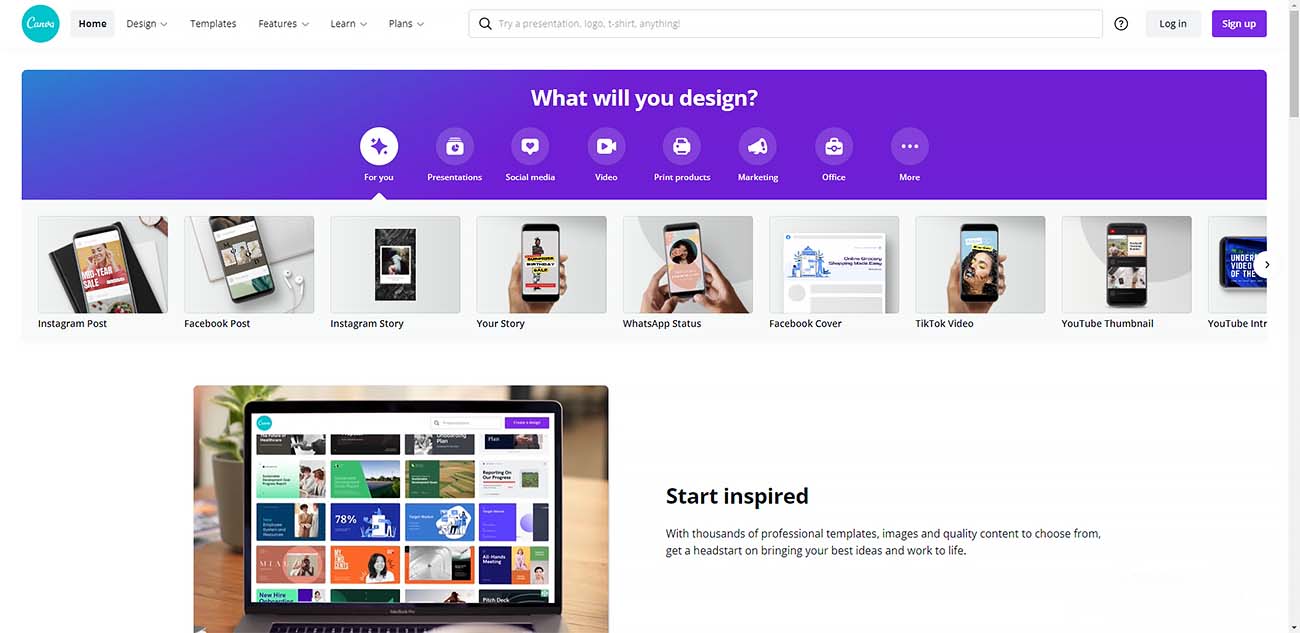 Canva is a browser-based graphic design application that can be used to create graphics, posters, images, documents, presentations, and various forms of visual content. It was founded in Perth, Australia and now serves consumers worldwide.
This software is great for eCommerce stores, small business owners, entrepreneurs, and marketers. It gets work done swiftly without sacrificing design quality.
Canva provides a free plan which is quite lucrative. The free plan consists of over 250,000 templates, 100+ design layouts, thousands of free photos and graphics, and 5GB of cloud storage! What more does a person need?
The pro and enterprise plans provide premium solutions for people who want to take their designs to the next level. This includes scheduled social media posting, background removal tools, premium templates, premium graphics and audio-visual content, and a lot more.
Key Features
Great array of templates
Incredibly collection of icons, shapes, stickers, and fonts
All-in-one graphics and image creator
Pros
1. Can be done on an internet browser
2. Content planner and scheduled social media posts
3. Inclusive free plan
4. Multi-page creation
Cons
1. No option to create unique elements and shapes
2. Templates can be a bit generic
3. Not enough photo editing features
Price
Canva's PRO plan starts from $120/year with access to 5 users! For enterprise solutions, you need to contact them directly. They also provide free premium plans to nonprofit and educational institutions.
2. Adobe Photoshop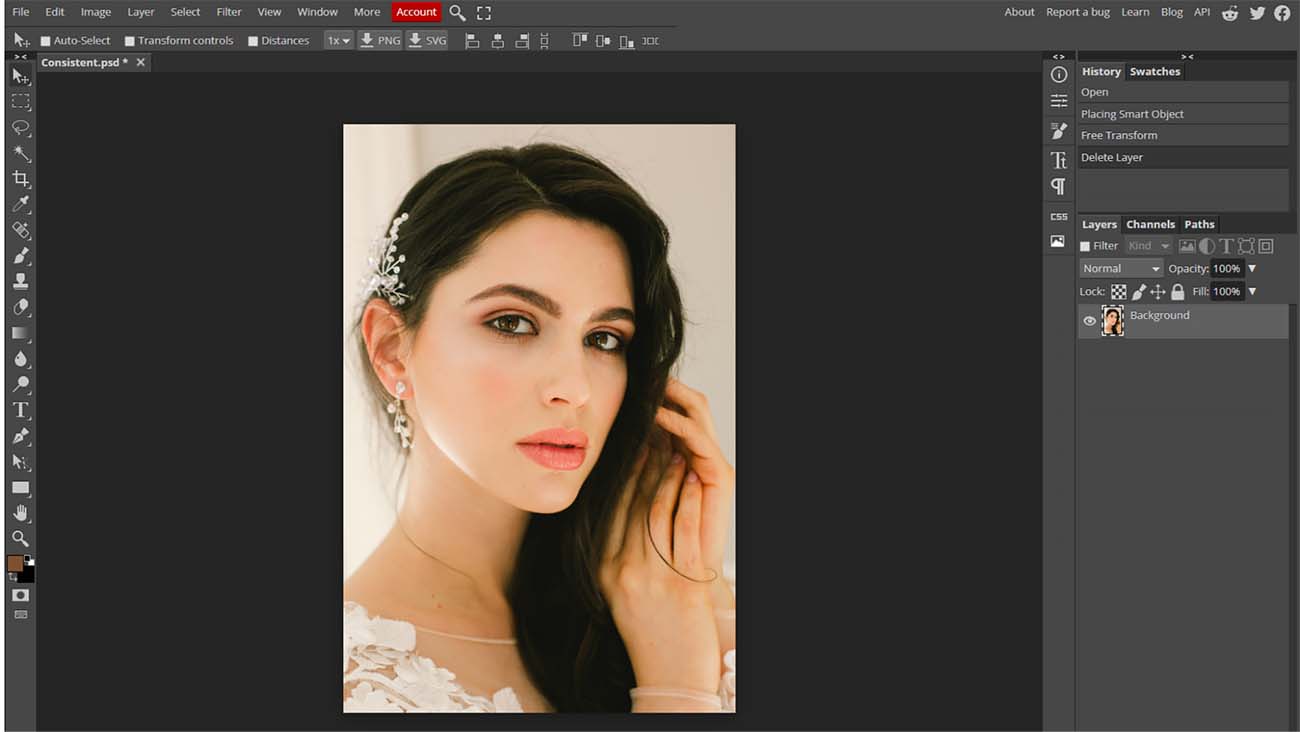 The holy grail of photo editing, Adobe Photoshop is widely regarded as one of the best software, if not the best. Adobe has spent years perfecting this program, so you can expect it to be great.
Adobe Photoshop is for anyone and everyone. Whether you do basic level editing or detailed product photo editing, Photoshop can help you achieve it all. Though for minimal work, Photoshop is not recommended as it can be time-consuming. Simpler alternatives mentioned in this list are preferred for those kinds of works.
Photoshop is incredibly precise but at the cost of a learning curve. If you want to edit using it, you need to spend a reasonable amount of time learning various functions and features of it. The AI tools in it are great but aren't as useful as some others in this list. Thus, if you're looking for software to automatically fix your image, Photoshop may not be the one.
Adobe Photoshop certainly requires investment, both for a computer and the software. It does not operate smoothly on lower-end or even mid-tier computers. You'd need a very good system in order to do heavy-duty work on Photoshop.
Key Features
Industry-standard photo editor
Expansive drawing and typography tools
High specialization and customization in editing
Pros
1. Can be used for a wide array of edits
2. Graphics and images can be created from scratch
3. Can be expanded with presets and plugins
4. Has 3D design ability with cloud sync
Cons
1. Steep learning curve for beginners
2. May be expensive for non-professional photo editors
3. Newer updates tend to make drastic changes which require relearning4. Has 3D design ability with cloud sync
Price
There is a free software trial option. When the trial ends, you must pay $21 a month to continue using it. Quite a nifty price for the number of features it offers!
3. PhotoScape X

In its own words, "PhotoScape is a fun and easy photo editing software that enables you to fix and enhance photos". It's quite basic in terms of productivity, as the features and user interface is outdated for today's photo editing software.
However, its newer counterpart, the PhotoScape X offers much more. With multiple features and a pleasant UI, this software is splendid for all kinds of image editing. Such features include Photo Viewer, Editor, Cut Out, Batch, Collage, Combine,
Create animated GIFs
, Color Picker, Screen Capture, and RAW images. It's well-known for a lot of creative effects.
This software is made by Korean developers called MOOII Tech. Photoscape and Photoscape X are complete freeware. Photoscape X offers a Pro plan which has more features and no limitations.
If you want a creative photo editor which does not require a tech-heavy machine and sharp editing skills, Photoscape X may be a perfect choice. The Pro plan is relatively cheaper which is a major plus point. It is inarguably one of the best photo editing software for amateur photographers.
Key Features
Wide range of editing tools
Easy-to-apply creative effects
Fresh User Interface
Pros
1. Perfect for the essential features
2. No pre-required photo editing skill
3. Useful batch-editing feature
4. Low cost for pro plan
Cons
1. Software navigation needs time to get used to
2. Lacks highly specialized or industrial features
3. Has a tendency to lag and/or crash
Price
Photoscape X's PRO version costs $40 and is a one-time payment. This is great for beginners or fresh editing enthusiasts.
4. Fotor
Fotor exists everywhere! It's available as a mobile application, computer software, and browser-based software. This cross-platform compatibility has made it one of the rising stars of
nline photo editing programs
o.
This application has quite a lot of unique features. Fotor's 1-Tap Enhance is a tool designed to improve the most common imaging problems in a single click. For touching up selfies and portraits, it has features like Wrinkle Remover, Blemish Remover, Photo Reshaping, Teeth Whitening, Red-eye Remover, Eye Tint, Blush, Lip Tint.
Fotor is developed by a UK-based company called Everimaging. The software is available for free to use on all platforms. However, there is also a paid plan available.
For a lightweight application, it's quite powerful. It provides quite a lot of specialized editing tools usable by the experts. You have options to Fine-tune images and treat HDR photographs separately.
Key Features
Specialized tools if needed
Cross-compatibility with multiple platforms
RAW File Converter
Pros
1. A good amount of templates
2. Competitive price in comparison to others
3. One of the easiest photo collage tools
4. Makes complicated editing much simpler
Cons
1. Online editing sometimes causes issues
2. Certain effects and filters aren't that definitive
3. The free version is quite limited
Price
Fotor provides a paid subscription at $9/month or $40/year. The yearly package is definitely cost-effective. There is a trial version available before adopting the paid subscription.
5. GIMP

One of the oldest software on the list, GIMP is a completely free photo editor. It is open-source, meaning the development of this software is contributed by multiple people all over the world. It doesn't belong to any single company.
Because of its global development, GIMP has one of the largest palettes of tools and effects in the world. It is often compared to Adobe Photoshop in terms of functionality and specialization. Certain video game artwork including Lucas The Game was created mostly using GIMP, which says a lot about its professional potential!
GIMP is great for personal work too. It has quite a lot of essential photo editing features, though this is not why GIMP was created. It's focused primarily on photo manipulation and graphics creation, and editing. With the function of adding extensions, the tools that you can integrate with GIMP are nearly limitless.
This software is not for basic photo editing. It might seem too complicated for that. If you want to do purely creative work that includes photos and/or graphics, GIMP is the software for you. Top assignment
writing services
use GIMP because of its compatibility and ease.
Key Features
Fine-tuned retouching and enhancement tools
Graphics creation, image manipulation, image editing, drawing, transcoding, and more
Functions can be automated using plugins and programming scripts
Pros
1. Works with almost any visual file format
2. Expandable with multiple extensions and open-source updates
3. Several tutorials available due to age and popularity
4. Completely free to use
Cons
1.Interface is quite cluttered
2.Lack of templates
3.Has a steep learning curve
Price
None! GIMP costs absolutely nothing. It's completely free to download, use, and share.
6. Aviary Photo Editor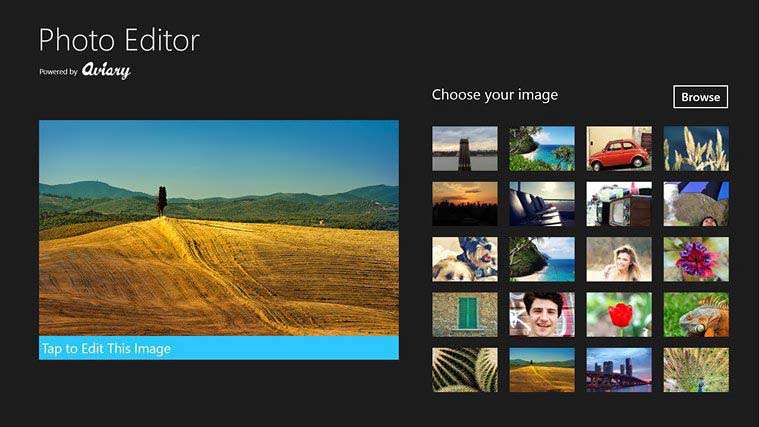 An application dedicated specifically for smartphones, Aviary is a new contender in the photo editing market. Though it launched in 2013, it's relatively new in comparison to others on this list.
Aviary is primarily for photo editing and effects on a basic level. However, there are quite a few professional-looking effects. A lot of these effects require you to subscribe to a paid plan. Although, this plan may be defunct as the product is discontinued.
If you want a quick and easy application to edit photos on your smartphone, Aviary is a good choice. It has an incredibly simple user interface that can even be operated by a child.
Fun fact - Aviary is a product of Adobe! It was founded by Avi Muchnik in 2007 but acquired by Adobe in 2014.
Adobe offers better applications for mobile now, but Aviary is still available to download. It's certainly a lot better than stock smartphone photo editing applications.
Key Features
Mobile editor with professional effects
Plain and simple interface
One of the first prominent iOS photo editors
Pros
1. Simple user interface
2. Options to share your work
3. Instagram-like effects and filters
4. No ads
Cons
1. Outdated in comparison to modern apps
2. Android version does not offer as much as the iOS version
3. Discontinued Officially
Price N/A as it is discontinued officially from stores. But can be downloaded from other software hosting sites.
7. On1 Effects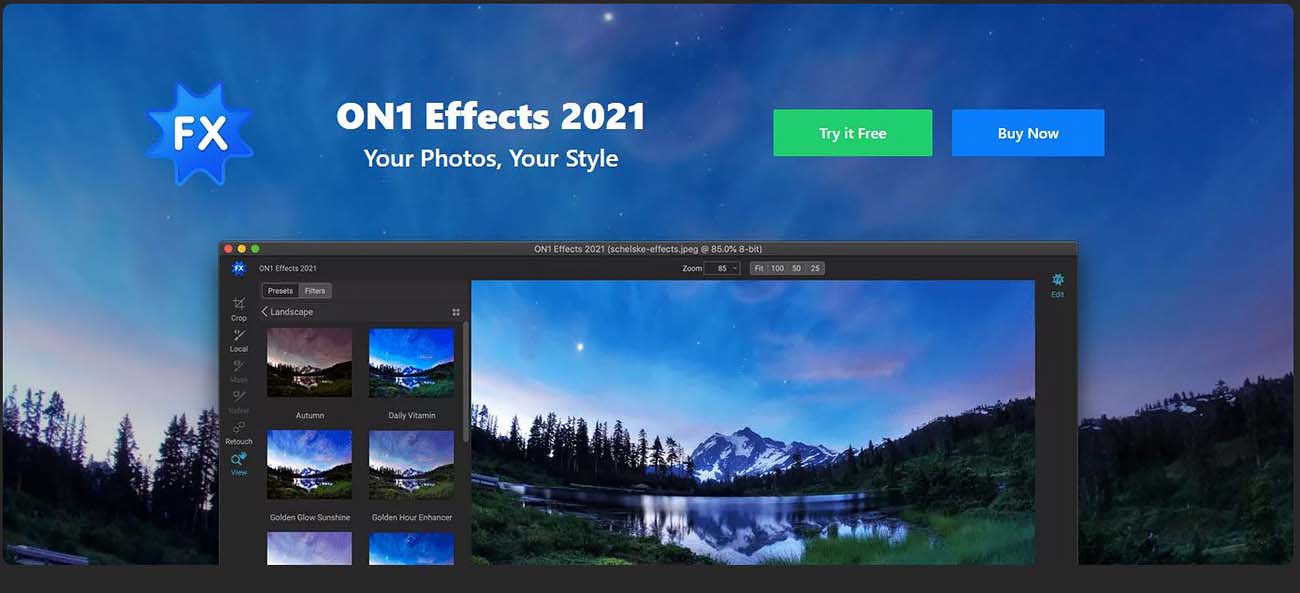 On1 Effects is an editing application that's focused on delivering the best results in the shortest time possible. Its goal is to provide a wide range of filters and effects to achieve the desired edits without having to manually edit the photo.
It does have manual and specialized editing tools if you need them, starting from spot healing brushes, custom brushes, and more. There are hundreds of filters that you can layer, build, and save. It even has dedicated filters for only adjusting one characteristic of the photo e.g. the texture.
ON1 is an American-based company. The ON1 Effects quite often gets compared to Lightroom. What's even better is that it can be integrated with Lightroom too!
This software is great for making professional touch-ups and edits in a short amount of time. If you shoot a lot of dynamic scenery or portrait shots, the wide array of filters may benefit your final result.
Key Features
Does all-in-one work quickly
Filters and effects are all of high quality
Useful AI for portrait photo editing
Pros
1. User interface is simple but not basic, good for intermediate users
2. Lens profile adjustments
3. Can be synced with mobile and directly shared to social media
Cons
1. Very short trial period
2. Requires a good workstation
3. Certain tools work slower than expected
Price
A 14-day trial option with no limitations to features. After that, you must purchase it for $70 to continue using it.
8. Adobe Lightroom

Another Adobe giant in this list, Lightroom dominates the photo editing market by a stretch. It is highly regarded as the go-to application for editing by photographers around the world.
Lightroom is more focused on the editing aspect rather than creation. It offers a vast number of editing parameters that anyone can adjust to get desired results. If you're not sure what to edit, there are quite a few effects and filters to get you started.
Lightroom has the option of making localized adjustments, meaning you can make edits to only specific spots in the photograph.
You can also edit in RAW, which is always helpful. This software is for professional photographers or photo editors who want to make detailed edits quickly. With the help of a clean User Interface, professional editing becomes quite fast. Lightroom is not an image manipulation software, as Photoshop is developed for that.
Similar to Photoshop, Lightroom requires a good system. It does not need to be high-end, but just good enough to get the job done. Adobe Lightroom is certainly not recommended for low-spec machines and for minimal editing.
But it is certainly one of the best photo editing software for professional photographers, so the investment may be worth it. It has a
WordPress integration
that helps people find you easily and do business with you.
Key Features
Automatic and manual correction tools
Lens corrections and RAW editing
Unparalleled photo organization, management, and search
Pros
1. Simple UI without sacrificing specialization
2. Can stitch panorama and HDR images
3. Expandable with plugins
4. Ability to layer effects and create your own presets
Cons
1. No ability to print locally directly
2. Requires sign in to use, cannot be used offline
3. Can be confusing for beginners
Price
Adobe Lightroom has a subscription-based plan which starts from $10 per month. It does include a Trial feature before purchase.
9. Portrait Pro
Portrait pro does what it says - it edits portraits! It's not that popular compared to other software, but it's powerful nonetheless.
Portrait Pro has a lot of critical features for enhancing portraits. However, it also makes a lot of high-end editing, like
background removal
, quite simple. Rather than doing it manually, the software automatically detects objects in the photograph and removes the background. This is made for a much faster workflow.
It has video tutorials embedded within the software, which is helpful. You don't need to go around searching Youtube and photo editing forums to know which tool does what.
Portrait Pro provides an easy-to-use reshaping tool. With this tool, you can reshape textures and faces quickly. Such tools also contain auto-detection and templates which makes editing work undoubtedly fast.
Key Features
Brilliant AI with face detection
Incredibly collection of icons, shapes, stickers, and fonts
All-in-one graphics and image creator
Pros
1. One of the best picture editing software for portraits
2. Makes drastic changes quickly
3. Quick background replacement
4. Intuitive User Interface
Cons
1. Quite costly
2. Can make the final result look artificial if not careful
3. Certain tools like hair color aren't very useful
Price
Portrait Pro provides three plans. A Standard version for about $55, the Studio version for $85, and the Studio Max version for $170. It's quite expensive but worth it if your niche is portrait photo editing.
10. Snappa
Snappa can be regarded as a direct alternative to Canva with similar functionalities. But, Snappa is powerful in its own right.
It's a browser-based software that provides a large collection of templates to choose from. The great thing about online software is that they require no installation nor a powerful workstation.
This software is targeted mostly towards beginners and non-designers. Not everyone has the time or ability to create detailed graphics even if they need it. Thus, use Snappa! Marketing executives and small business owners can greatly benefit from using this application.
Snappa provides social media scheduling which is a neat feature. You can integrate it with your accounts and schedule posts ahead of the actual date.
Key Features
Great array of templates
Incredibly collection of icons, shapes, stickers, and fonts
All-in-one graphics and image creator
Pros
1. Very easy to use
2. Thousands of templates
3. Easy and fast to operate
Cons
1. Costly in comparison
2. No ability to make specialized edits
Price
Snappa's pricing is as follows - Pro: $15/month, $10/month (billed annually) Team: $30/month, $20/month (billed annually).
11. Pixlr Editor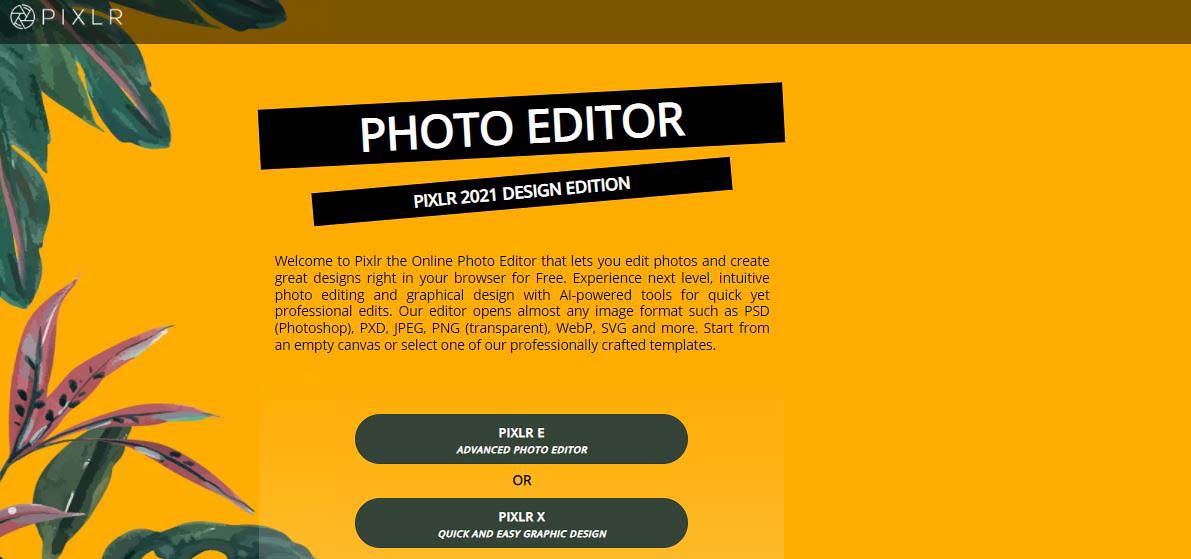 Image manipulation, editing, creation - Pixlr Editor does it all! That too, on an online platform.
Pixlr Editor provides almost all of the essential functionalities of photo editing and graphic creation in browser-based software. No requirements for an advanced system.
It's great for all kinds of editors - Basic editors who want to just polish their photos, advanced editors who want to make high-end editors, creators who want to design their own graphics from scratch.
A lot of people call this an online alternative to photoshop, as a lot of the tools are similar. It does not provide the high amount and fine-tuned tools that Photoshop does but has a decent collection nonetheless.
Pixlr has two versions, one called Pixlr X and the other called Pixlr E. Both of them are free. The first is a basic editor, and the latter is an advanced editor. However, there are some Pro features in Pixlr E that can be attained with a monthly subscription.
Key Features
Two equally powerful and distinct versions
Industry-standard editing and tools
Web-based application
Pros
1. Usable both by beginners and experts
2. Specialized edits can be done quite easily
3. Inclusive free plan
4. One of the cheapest pricing software
Cons
1. Not enough templates to choose from
2. Requires a bit of time to learn
3. No cloud storage solutions
Price
Pixlr's pro features cost $5 per month. Otherwise, it's all free.
12. DxO PhotoLab

Previously known as DxO Optics Pro, DxO PhotoLab aims to revolutionize the photo editing industry.
It can be considered as a cross between Photoshop and Lightroom. It contains the editing features that Lightroom has but with a deeper level of customization. But this software does not focus on graphics creation that Photoshop does.
Professional photographers can benefit from using this software. It can turn a great landscape shot into a world-class one. As the name says, the user interface is quite like an actual Lab with an immense amount of real-time adjustments.
It is one of the highest costing photo editing applications in the market, and for good reasons. Professionals use this software for mainstream uses like film banner creation, photography competitions, marketing edits, and more.
Key Features
In-depth photo editor with limitless functionalities
Industry-standard noise reduction and optical correction
Localized editing makes a significant difference
Pros
1. Great user interface despite the high amount of tools
2. Performs fast without a need of a high-end system
3. Does great autocorrection while importing, if enabled
4. Workspace can be customized
Cons
1. High price tag
2. Limited support with certain DNG formats
3. For the price, should've given support for Fujifilm X-Trans CMOS sensors
Price
DxO PhotoLab comes in two versions. DxO PhotoLab Essential and DxO PhotoLab Elite. The first costs $129 while the latter costs $199.
FAQs
What is the best photo editing software for mac?
Adobe Lightroom and DxO PhotoLab are great photo editing software for Mac. These two softwares provide full support and updates to the Mac platform.
Which is the best photo editing software for PC?
Adobe Lightroom and DxO PhotoLab are great photo editing software for PCs. ON1 Effects is another excellent choice. The main thing to consider is whether regular updates of these software are released for PC.
Which photo editing software is best for beginners?
Canva and Pixlr are all great browser-based choices for beginners. Photoscape X and Adobe Lightroom are also excellent for offline photo editing.
What is the best software for pro photographers?
DxO PhotoLab, Adobe Lightroom, and Portrait Pro are undoubtedly great software for professional photographers. These programs provide high-fidelity tools and functionalities that are also unique. You will certainly get professional results by using these.
Final Thoughts
That was quite a long list! We hope you have been able to make your decision based on our review of the best photo editing software for photographers. If it has helped you, do share.
About the Author
Amy Grace
, a devotee writer of Clipping Path Studio, has long experience in the commercial photography field. Merging competency and skill in her profession, she has nailed the task up to the mark and has helped a lot of entrepreneurs create their brands. Aside from photography, Amy is involved in photo retouching work as well. Follow her on
Twitter
,
Instagram
.