Country: Canada | Born: 1958
Chris Rainier is a National Geographic Society EXPLORER and documentary photographer/filmmaker - who is highly respected for his documentation of endangered cultures and traditional languages around the globe. In 2002 he was awarded the Lowell Thomas Award by the Explorers Club for his efforts on cultural preservation, and in 2014 he was elected a Fellow of the Royal Geographic Society of London/UK -specializing in cultural preservation

He is the Director of The Cultural Sanctuaries Foundation - a global program focused on preserving Biodiversity and Traditional Cultural Knowledge.

During his continued tenure with the National Geographic Society he has been the co-founder and co-director of both the Enduring Voices Language Project and Director of the All Roads Photography Program, designed to support indigenous groups with modern technology desiring to document their traditional culture and create sustainable solutions to preserve the planet in the 21st Century. In addition as a NG Fellow he was an Editor for NG Traveler focused on documentation of traditional culture.

Rainier has completed photographic projects for the United Nations, UNESCO, Amnesty International, Conservation International, the Smithsonian Institution, Time Magazine, the New York Times, LIFE Magazine, and the National Geographic Society. Rainier has photographed global culture, conflict, famine, and war in such places as: Somalia, Sarajevo/Bosnia, Sudan, Ethiopia, Rwanda, Cambodia, and Iraq for TIME Magazine, - and for NPR Radio.

In the early 1980's Rainier was Ansel Adams last photographic assistant- during his tenure with the noted photographer- he worked with Mr. Adams to amplify the use of Art Photography as a social tool - helping to preserve threatened wilderness areas and National Parks. Rainier went on to collaborate with UNESCO and IUCN on a Global Project using photography to preserve endangered wilderness areas around the world.

Rainier's photography and books have been widely shown and collected by museums around the world, including the Australian Museum in Sydney, the Bibliothèque Nationale in Paris, the International Center of Photography in New York, the George Eastman House International Museum in Rochester, New York, The National Geographic Society, and the United Nations.
Websites: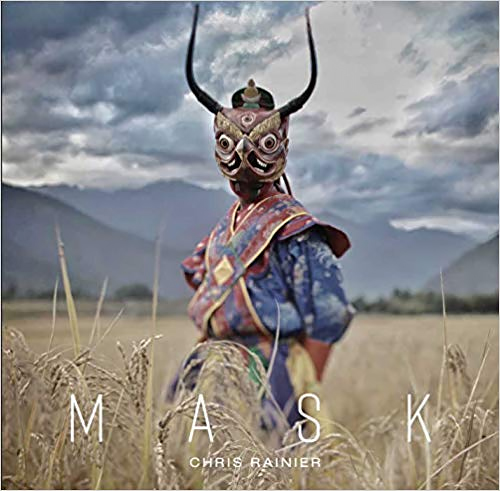 Author: Chris Rainier
Publisher: Insight Editions
Year: 2019 - Pages: 264
Mask presents a striking collection of rare masks steeped in ancient tradition, captured through the lens of one of the world's most celebrated documentary photographers.

Celebrated photographer Chris Rainier has documented indigenous and endangered cultures worldwide. What began as a focus on the masks of New Guinea-where modernity threatened to erase ancient rituals and cultures-became an expansive journey to find and photograph traditional masks that has taken Rainier across six continents over the past thirty years.

The result is this mesmerizing photographic collection of masks-some of them ancient, some newer, many hidden at the edges of the known world and rarely revealed to outsiders. Traditional masks are so often seen behind the glass of museum cabinets, divorced from their spiritual significance. But the masks in this collection are still being danced today, in countless cultures all over the world. Rainier conveys them pulsing with the rhythms of life, full of power and spiritual relevance.

Through his stunning photography-at once mysterious and unguarded-Rainier takes us on a pilgrimage to experience masks and mask rituals: from those found at initiation rituals in Burkina Faso to Bön Buddhist masks long hidden in a Nepalese monastery in the high Himalayas, the raven and bear regalia of North American First Nation potlatches, and the terrifying, child-chasing Krampus masks of the Austrian Alps.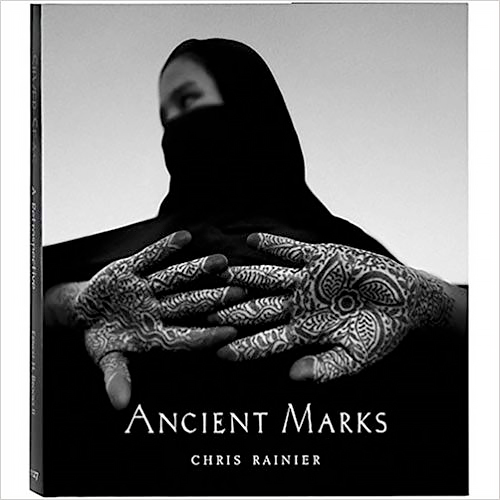 Author: Chris Rainier
Publisher: Media 27, Inc.; 1st edition
Year: 2004 - Pages: 204
"The human form," writes Wade Davis in the Foreword to Ancient Marks, "became, through the brilliance of inspired artistry, a sacred geography of the soul, a map of culture and myth expressed through the simplicity of forms painted, carved, incised, or etched upon the canvas of the body." By turning his lens to this multifaceted worldwide art form, photographer Chris Rainier has given us a compelling book that connects body marking traditions to the great themes of mankind while documenting an aesthetic that goes far beyond skin deep.