Country: France | Born: 1912 - Died: 1994

Born in April 1912 in an upper middle class family, in the Parisian suburbs (Gentilly), Robert Doisneau started showing an immoderate interest in the arts at a very early age. Robert Doisneau lost his parents at an early age and was raised by an unloving aunt. Aged 14, he enroled at the Ecole Estienne a craft school where he graduated in 1929 with diplomas in engraving and lithography. A year later, he started working for « Atelier Ullmann » as a publicity photographer. In 1931, Robert Doisneau met his future wife Pierrette Chaumaison, with whom he will have three children and also started working as an assistant for modernist photographer, André Vigneau. André Vigneau will introduce Robert Doisneau to a « new objectivity in Photography ». In 1932, Robert Doisneau sold his first photographic story to Excelsior magazine. In 1934, car manufacturer Renault hired Robert Doisneau as an industrial photographer in the Boulogne Billancourt factory. He was fired in 1939 as he was consistantly late. Without a job, Robert Doisneau became a freelance photographer trying to earn his living in advertising, engraving and in the postcard industry. Shortly before WWII, Robert Doisneau was hired by Charles Rado, founder of the Rapho Agency. His first photographic report on canoeing in Dordogne was abruptly interrupted by the war declaration. Drafted into the French army as soldier and photographer he was relieved from duty in 1940. Until the end of the war, he used his skills to forge passports and identification papers for the French Resistance.

After the war, Robert Doisneau became a freelance photographer and rejoined with the Rapho agency (1946). It is probably at this time that mutual influence with Jacques-Henri Lartigue found its origin. He started producing numerous photographic stories on various subjects: Parisian news, popular Paris, foreign countries (USSR, United-States...). Some of his stories will be published in prestigious magazines, LIFE, PARIS MATCH, REALITES...

In 1947, Robert Doisneau met Robert Giraud with whom he will have a life long friendship and a fruitful collaboration. Doisneau will publish more than 30 albums such as "La Banlieue de Paris" (The suburbs of Paris, Seghers 1949) with texts written by French Author Blaise Cendrars. From 1948 to 1953, Robert Doisneau also worked for Vogue Magazine as a fashion photographer. It is also at that time that he joined Group XV and participated alongside Rene Jacques, Willy Ronis and Pierre Jahan in promoting photography and its heritage preservation. In 1950, Robert Doisneau created his most recognizable work, le Baiser de l'Hôtel de Ville for Life magazine. Although Doisneau's most recognized work dates from the 1950's and old style magazine interest was declining in Europe in the early 1970's, Doisneau continued to produce children's books, advertising photography and celebrity portraits.

His talent as a photographer has been rewarded on numerous occasions:
Kodak prize 1947
Niepce Prize recipient in 1956
In 1960, he held his first solo exhibition in Chicago (Museum of Modern Art)
In 1975 he is the guest of honour of les "Rencontres d'Arles"
Grand prix National de la Photographie 1983
Balzac Prize recipient 1986
In 1991, the Royal Photographic Society awarded Robert Doisneau an Honorary Fellowship (HonFRPS)

Robert Doisneau died in 1994, six months after his wife. He is buried alongside her in Raizeux.
Galleries:
Website: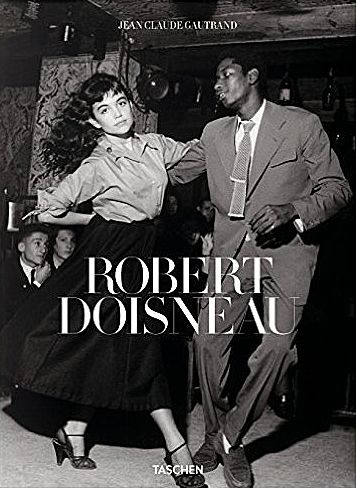 Author: Jean Claude Gautrand
Publisher: Taschen
Year: 2014 - Pages: 540
As sensitive to human suffering as to the simple pleasures of life, Robert Doisneau is one of the most celebrated exponents of the Photographie humaniste that swept through the 1950s. Cherished in particular for his soulful portraits of Paris, Doisneau demonstrated a unique ability to find – and perfectly frame – charismatic characters, entertaining episodes and fleeting moments of humor and affection.

A summation of a spectacular career, this is the most extensive Doisneau collection ever published, including all his best loved images alongside many lesser-known compositions which equally rejoice in "the ordinary gestures of ordinary people in ordinary situations." The many quotations from the photographer throughout the volume immerse the reader in Doisneau's thoughts and give verbal expression to the sensitivity, warmth, and wit which characterize his pictures.

Through more than 400 images, we are transported to the grim suburbs of Doisneau's youth; through the world of manual labor whose nobility he so admired; and to the studios of the many groundbreaking artists that Doisneau captured in moments of reflection and creativity. A number of color shots of Palm Springs and the transformed suburbs of Doisneau's childhood reveal a different, more critical, eye to the master photographer.

For this new monograph on all aspects of the life and oeuvre of Robert Doisneau, his long-time friend and TASCHEN author Jean Claude Gautrand had unlimited access to the extensive photo archive Atelier Robert Doisneau. The preface is by Doisneau's daughters Francine Deroudille and Annette Doisneau.

Text in English, French, and German.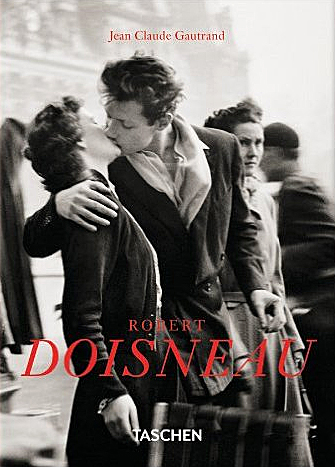 Author: Jean Claude Gautrand
Publisher: Taschen
Year: 2012 - Pages: 192
Robert Doisneau (1912-1994) is best known for his magical, timeless 35mm street portraits taken in Paris and its suburbs. Fresh, unstaged, and full of poetry and humor, his photographs portrary everyday people (in everyday places, doing everyday things) frozen in time, unwittingly revealing fleeting personal emotions in a public context. Doisneau's gift was the ability to seek out and capture, with humanity and grace, those little epiphanies of everyday Parisian life. This book traces Doisneau's life and career, providing a wonderful introduction to the work of this seminal photographer.

Jean Claude Gautrand, born in 1932, is one of France's most distinguished experts on photography. An active photographer since 1960, he has also made a name for himself as a historian, journalist and critic, with numerous publications. He is the author of the TASCHEN books Paris mon amour (1999), Doisneau (2003), Brassaï (2004), Ronis (2005) and Paris, Portrait of a City (2011).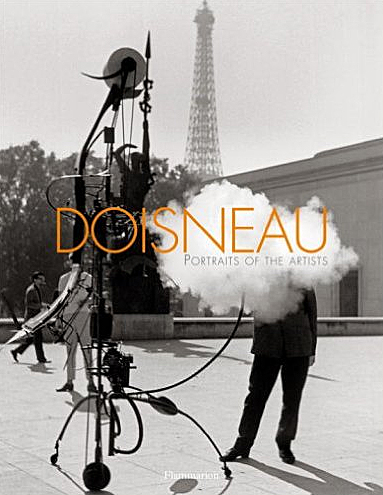 Author: Robert Doisneau
Publisher: Flammarion
Year: 2008 - Pages: 192
During the golden age when Montparnasse was teeming with artists, Robert Doisneau gained remarkable access to the artists working in Paris from 1937 onwards, and he visited their studios and caught them in various private moments: working, reflecting, and even playing with their children. This book, which includes some previously unpublished photographs, shares Doisneau's intimate view on the work and lives of these artists. Many remain famous—Picasso, David Hockney, Jasper Johns, Giacometti, Saul Steinberg, Marcel Duchamp, Le Corbusier, Foujita—while others have fallen into obscurity, perhaps one day to be rediscovered. Regardless of the artist's social status—whether major figure of the day or struggling newcomer—Doisneau approached each subject with the same humble eye. His signature black-and-white photographs capture the nostalgia of the period and bear witness to these artists in the act of creating some of the world's finest art. This book, published in cooperation with Doisneau's daughters, is a fascinating document of the daily lives of artists by one of the world's most famous and popular photographers.