Japanese Photographer | Born: 1940
Nobuyoshi Araki is a Japanese photographer and contemporary artist. He is also known by the nickname Arākī. Araki was born in Tokyo, studied photography during his college years and then went to work at the advertising agency Dentsu, where he met his future wife, the essayist Yōko Araki. After they were married, Araki published a book of pictures of his wife taken during their honeymoon titled Sentimental Journey. She died in 1990. Pictures taken during her last days were published in a book titled Winter Journey. Having published over 350 books by 2005, and still more every year, Araki is considered one of the most prolific artists alive or dead in Japan and around the world. Many of his photographs are erotic; some have been called pornographic. Among his photography books are Sentimental Journey (1971, but later reissued), Tokyo Lucky Hole (1985), and Shino. He also contributed photography to the Sunrise anime series Brain Powerd. In 1981, Araki directed High School Girl Fake Diary a Roman Porno film for Nikkatsu studio. The film proved to be a disappointment both to Araki's fans, and to fans of the pink film genre. The Icelandic musician Björk is an admirer of Araki's work, and served as one of his models. At her request he photographed the cover and inner sleeve pages of her 1997 remix album, Telegram. More recently, he has photographed pop singer Lady Gaga. Araki's life and work were the subject of Travis Klose's 2005 documentary film Arakimentari. His works are held in numerous museum collections including the Tate and the San Francisco Museum of Modern Art. Araki was diagnosed with prostate cancer in 2008, and has since undergone surgery which successfully removed the tumor.
Source Wikipedia
Gallery:
Website: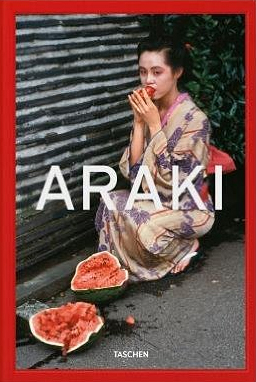 Author: Nobuyoshi Araki
Publisher: Taschen
Year: 2014 - Pages: 568
Decades' worth of images have been distilled down to 568 pages of photographs in this ultimate retrospective collection of Nobuyoshi Araki's work, selected by the artist himself. First published as a limited edition and now available as a standard TASCHEN edition, the curation delves deep into Araki's best-known imagery: Tokyo street scenes; faces and foods; colorful, sensual flowers; female genitalia; and the Japanese art of kinbaku, or bondage. As girls lay bound but defiant and glistening petals assume suggestive shapes, Araki plays constantly with patterns of subjugation and emancipation, death and desire and with the slippage between serene image and shock. Describing his bondage photographs as a 'a collaboration between the subject and the photographer', Araki seeks to come closer to his female subjects through photography, emphasizing the role of spoken conversation between himself and the model. In his native Japan, he has attained cult status for many women who feel liberated by his readiness to photograph the expression of their desire.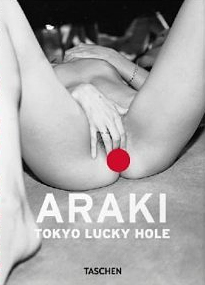 Author: Nobuyoshi Araki
Publisher: Taschen
Year: 2012 - Pages: 704
It started in 1978 with an ordinary coffee shop near Kyoto. Word spread that the waitresses wore no panties under their miniskirts. Similar establishments popped up across the country. Men waited in line outside to pay three times the usual coffee price just to be served by a panty-free young woman. Within a few years, a new craze took hold: the no-panties "massage" parlor. Increasingly bizarre services followed, from fondling clients through holes in coffins to commuter-train fetishists. One particularly popular destination was a Tokyo club called "Lucky Hole"" where clients stood on one side of a plywood partition, a hostess on the other. In between them was a hole big enough for a certain part of the male anatomy. Taking the Lucky Hole as his title, Nobuyoshi Araki captures Japan's sex industry in full flower, documenting in more than 800 photos the pleasure-seekers and providers of Tokyo"s Shinjuku neighborhood before the February 1985 New Amusement Business Control and Improvement Act put a stop to many of the country's sex locales. Through mirrored walls, bed sheets, the bondage and the orgies, this is the last word on an age of bacchanalia, infused with moments of humor, precise poetry, and questioning interjections.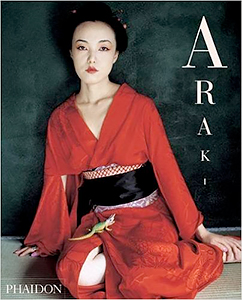 Author: Nobuyoshi Araki
Publisher: Phaidon Press
Year: 2011 - Pages: 196
Nobuyoshi Araki is arguably Japan's greatest living photographer, and certainly its most controversial. The more than 300 books he has published over the last four decades attest to his inexhaustible creative energy, while his work, which often challenges social taboos surrounding sex and death, has drawn critical attention both at home and abroad. This new abridged edition of Phaidon's highly acclaimed Self, Life, Death, includes the finest and most iconic images from throughout Araki's career, all presented in a beautiful, expanded format that allows the pictures room to breathe. This accessible and affordable format will bring a new audience of students and photography enthusiasts to the work of this influential photographer.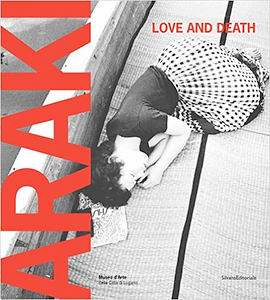 Author: Nobuyoshi Araki
Publisher: Silvana Editoriale
Year: 2011 - Pages: 400
Japan's most famous photographer, and one of photography's most prolific bookmakers, Nobuyoshi Araki is notorious for his erotic photographs of women in bondage. Japanese bondage, which differs from western bondage in its orchestration of knots and binding to arouse specific points upon the body, offers visual as well as erotic rewards that Araki has scrutinized with great zeal. Araki is able to bestow eroticism upon all manner of natural imagery, but is also celebrated for series such as Sentimental Journey and Winter Journey, which record his marriage and the death of his wife. Driven by an attraction to the uncensored facts of Eros and Thanatos, Araki has always made humanity the center of his concerns; but at several junctures in his career, the authorities have evinced indifference to such motives, removing his work from sale and arresting curators for exhibiting his work. Nonetheless, the craft of Araki's photography is not in doubt, and in recent years, his work has expanded to accommodate broader aspirations, inflected by age: "When I photograph unhappiness I only capture unhappiness," he told Nan Goldin in an interview, "but when I photograph happiness, life, death and everything else comes through." With over 300 photographs, this monumental survey provides a careful selection from his most important photographic cycles, from Satchin and Sentimental Journey to Winter Journey, Cityscapes Polart, Sensual Flowers, Bondage and others, to his most recent works.