Country: Canada | Born: 1959
Adams works as a photographer as well as musician, aside from being published in British Vogue, L'uomo Vogue, Harper's Bazaar, Esquire, Interview magazine and i-D, among others, he has also shot advertising campaigns for Guess Jeans, Sand, Converse, Montblanc, John Richmond, Fred Perry, and more recently for Escada.
He has won Lead Awards twice in Germany for his fashion work, most recently June 2012 and previously in 2006. Other photographic endeavours include founding the art fashion Zoo Magazine, based in Berlin, Germany for which he shoots for regularly.
His first book of photos will be released by Steidl in 2012 entitled Exposed. Previous published collaborations include; American Women June 2005, for Calvin Klein in the United States; proceeds from this book went to Memorial Sloan–Kettering Cancer Center in New York City for their breast cancer research for programs,[58] and Made in Canada December 1999 for Flare Magazine in Canada; proceeds went to the Canadian Breast Cancer Foundation. Both books were dedicated to his friend Donna, who died of the disease.

As a photographer, Adams has worked with many of his musical peers, including Lana Del Rey, The Who, Sting, Shania Twain, Mick Jagger, Arcade Fire, Ray Charles, Tina Turner, Rod Stewart, Robert Plant, Take That, Joss Stone, Plácido Domingo, Sarah McLachlan, Celine Dion, Billy Idol, Moby, Lindsay Lohan, Amy Winehouse, Annie Lennox, Peter Gabriel, Bryan Ferry, Lenny Kravitz, Die Antwoord, and Morrissey to name a few. On 27 November 2000 Adams played onstage with The Who at the Royal Albert Hall. A DVD of the concert was issued. Adams photographed the band and his photos appear in the DVD booklet. In 2002, Adams was invited, along with other photographers from the Commonwealth, to photograph Queen Elizabeth II during her Golden Jubilee; one of the photographs from this session was used as a Canadian postage stamp in 2004 and again in 2005 (see Queen Elizabeth II definitive stamp (Canada)), another portrait of both Queen Elizabeth II and Prince Philip is now in the National Portrait Gallery in London.
Adams supports the Hear the World initiative as a photographer in its aim to raise global awareness for the topic of hearing and hearing loss. He photographed Michael J. Fox and Tatjana Patitz in the 2011 Carl Zeiss AG company calendar in New York City in the summer of 2010. The focus was about the size difference of the subjects in a comedic presentation.[62] In 2011, Adams provided the cover art for Lioness: Hidden Treasures, a posthumous release by Amy Winehouse.
Source Wikipedia
Agency:
Website: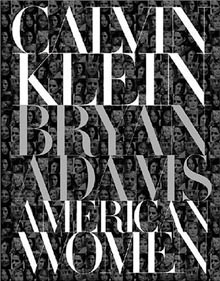 Author: Bryan Adams
Publisher: powerHouse Books
Year: 2005 - Pages: 128
In November 2003, musician and photographer Bryan Adams began photographing a cross section of influential American women dressed in Calvin Klein. Shot mainly in New York and Los Angeles throughout 2004, American Women is a tribute to the beauty, strength, and character of American women. Actors, journalists, musicians, artists, businesswomen, athletes, and philanthropists are included-the binding theme being that they are all American women known for excelling in their field. Proceeds from American Women will support breast cancer research programs at Memorial Sloan-Kettering Cancer Center through The Society of MSKCC. Hillary Rodham Clinton, Katie Couric, Jennifer Aniston, Gwyneth Paltrow, Scarlett Johansson, Hilary Swank, Serena Williams, Venus Williams, Lindsay Lohan, Christie Brinkley, Sarah Jessica Parker, Eartha Kitt, Aerin Lauder Zinterhofer, Nan Kempner, Paula Zahn, Cindy Crawford, Alice Sebold, Amber Valletta, Katie Holmes, Eve Ensler, and Lauren Hutton are just a few of the women Adams selected from among America's most notable women, all lovingly and glamorously captured by the camera of a rising star in the field. Produced in close collaboration with Calvin Klein, Inc., American Women is Adams' third book presenting portraits of important women.